Katie Rough death: Girl pleads guilty to manslaughter
A 16-year-old girl has pleaded guilty to killing seven-year-old Katie Rough.
The girl, who cannot be named for legal reasons, pleaded guilty to manslaughter by diminished responsibility.
Katie was smothered and slashed with a Stanley knife by the teenager on a playing field in Woodthorpe, York, on 9 January. She died later in hospital.
Leeds Crown Court heard the killer suffered with severe mental health issues and was convinced people "weren't human and were robots".
Katie's family were in court to hear the guilty plea.
Nicholas Johnson QC, defending, asked the court if the charge of murder could be put to the girl again and she wrote her plea on a piece of paper.
Her solicitor told the court: "I can confirm she has indicated not guilty to murder but guilty to manslaughter."
Graham Reeds QC, prosecuting, said: "We are going to accept that plea of manslaughter by diminished responsibility."
Mr Reeds said the the defendant had developed severe mental health problems during 2016 and had been taken out of school as a result.
He said that she had been self harming since Christmas 2015 and suffering from delusions, believing that people around her "may not be human and may be controlled by a higher and hostile force".
He said that although psychosis was being investigated prior to the killing, it had not been diagnosed.
However, he said since the killing she had undergone four psychiatric and psychological assessments and there was no dispute that her mental health problems meant she was suffering from diminished responsibility at the time she killed Katie, even though the killing was planned.
He told the court that when the teenager was found in the street in York by a member of the public, she told him Katie was dead and asked where she was.
The man then found Katie lying on a nearby piece of land with a cut to her neck.
A post-mortem examination showed Katie had two severe cuts to her body - one to her neck and the other to her torso - but neither caused her death.
The prosecutor said Katie had been smothered before the cuts were made.
'Nice but weird'
The court heard the teenager handed police a blood-stained Stanley knife which she had taken from her grandmother's kitchen.
Police also recovered a number of items from the scene and the teenager's home.
Among the items were drawings of stick-men in various poses depicting killing and death, and a reference to "they are not human".
The paper was blood-stained and the court heard it had been cut with the same knife used to slash Katie.
Mr Reeds said she had displayed "strange behaviour towards other people and herself", and had started to self-harm before she killed Katie.
A friend interviewed by police following Katie's death told them she was "nice but weird" and said she liked to talk about death.
The judge, Mr Justice Soole, said he wanted more questions answering by the medical experts before he could pass sentence. He adjourned the case to 20 July.
Katie was a pupil at Westfield Primary School in the Acomb area of York.
In the days after Katie's death Tracey Ralph, head teacher at the school, described her as a "kind and thoughtful child who was well-liked by both pupils and staff".
More than 300 people attend Katie's funeral service, which took place at York Minister in February and was led by the Archbishop of York, Dr John Sentamu.
Her coffin was decorated with characters from the Dr Seuss children's books.
During the service Katie's uncle described her as a "smart, fun, beautiful child".
He said she had selective mutism, but that it did not stop her from having fun.
"Her family were her world," he said.
"She loved her mum and dad but she was definitely described as a daddy's girl."
Katie Rough killing timeline:
9 January - A seven-year-old girl is found seriously injured near a playing field in the Woodthorpe area of York. She was taken to hospital but died a short time later
10 January - Police name Katie Rough as the dead girl and appeal for witnesses who may have seen two girls, aged 15 and 7
11 January - A 15-year-old girl appears at York Magistrates' Court charged with murder and possession of an offensive weapon, namely a knife
11 January - The prime minister and leader of the opposition both pay tribute to Katie in the House of Commons
13 January - The 15-year-old charged with Katie's murder appears at Leeds Crown Court via video-link and denies the charges against her
16 January - Balloons released in Katie's memory at her school, Westfield Primary School, on what would have been her 8th birthday
30 January - Inquest opened and adjourned
13 February - Public funeral in York Minster for Katie led by the Archbishop of York
16 February - Second appearance at Leeds Crown Court by teenage girl who formally denies both charges through her solicitor
3 July - Girl, now aged 16, admits manslaughter due to diminished responsibility on the first day of her trial for murder
More on this story
Related Internet Links
The BBC is not responsible for the content of external sites.
Sours: https://www.bbc.com/news/uk-england-40478679
(OPRAH.com) -- Every day, unthinkable tragedies shatter the lives of many families. For Lisa and David, July 2, 2005, began as a perfect wedding day. More than 200 close friends and relatives gathered on the beach. Lisa's fondest memory of the day was of her nieces, 5-year-old Grace and 7-year-old Katie, dressed like princesses, throwing rocks into the Long Island Sound.
Jennifer and Neil hope that sharing their story will save lives.
After a day full of celebration, Lisa's parents, Christopher and Denise, along with her sister, Jennifer, Jennifer's husband, Neil, and their daughters, Grace and Katie, all headed home in a limousine.
"I remember looking in on the limo and seeing Kate and waving goodbye and she waved goodbye and never thought that was going to be the type of moment where you're seeing people for the last time," says David, the groom. "It's, I guess, a moment I see every day."
On the ride home, the limo was struck head-on by a drunk driver. Police reports indicate the driver, 24-year-old Martin Heidgen, had at least 14 drinks, and his blood alcohol level was more than three times the legal limit. Police say he was driving 70 miles an hour down the wrong side of a major highway for at least two miles before he crashed into the limousine.
An off-duty security officer returning home from work was first on the scene. "I approached the limo driver, and I guess I went into shock," says New York State court officer Michael Lerardi. "It looked like an explosion. The motor, basically, was just sitting on top of him. I knew he was dead." The limo driver, 59-year-old Stanley Rabinowitz, was killed instantly.
Next to arrive was Lt. Michael Tangney, the bride's uncle, who had attended the wedding just hours before. "I was walking to the rear of the limousine when a gentleman was coming away from it, and he said, 'Don't go back there. It's bad,'" Lt. Tangney says. "I opened the rear door to the limousine and realized it was my family."
Lt. Tangney's brother -- Jennifer's father, Chris -- was lying on the floor, his legs wrapped around the service bar, broken in numerous places. The rest of the family was piled on top of each other. Jennifer's mother, Denise, was severely injured, as was Jennifer's husband, Neil, who tried to crawl out of the limo to get help despite his broken back.
Five-year-old Grace was also trapped inside the wreckage. Jennifer, whose foot was injured, managed to climb out and was searching for Katie, who had been lying on the side seat before the crash. "We couldn't find Kate," Lt. Tangney says. Then, Jennifer made a devastating discovery --Katie had been decapitated by her seat belt.
"Then all of a sudden Mrs. Flynn came out of the car with her child's head in her hand," says Michael Lerardi, one of the 70 paramedics and police officers who were called to the scene.
"I got numb. I thought I was going to collapse," says Officer Christopher Pandolfo. "I looked into the back of the limousine, and I saw Katie's remains. She was wearing this dress, and I just started shaking."
Jennifer walked to side of the road and sat for about an hour with her daughter's head on her lap as she watched her family being cut out of the limousine. Lt. Tangney had to tell his niece it was time to leave. "She very lucidly, very calmly said she wasn't going anywhere. She wasn't leaving Kate," he says. "I climbed into the ambulance, and I told Jennifer that she'd have to come inside now because Grace needed her, and she said she's not going to let go of Kate. And I asked her if she would give her to me, and at that point she turned her over, kissed her goodbye and handed her to me."
'Hopefully we'll save lives'
The accident took the lives of Katie and Stanley and left the rest of the family severely injured, physically and emotionally.
Now, Jennifer and Neil are sharing their story. "Because no one should live the life that I live. I felt a responsibility, an obligation, to come and to tell our story," Jennifer says. "I hope that by knowing the devastation that we lived through that night and still continue to live through, hopefully people are able to see and view the crime [of drunken driving] as it should be seen and viewed and that hopefully we'll save lives."
Jennifer says her back was to the windshield when the crash occurred. She was holding Grace, and Katie was lying down on the side seat of the limo with her seat belt on. Jennifer says she felt a sense of calm at the scene, although others told her she had been screaming. "I wasn't worried for Kate because I do believe she's in heaven," she says. "At the time, I was more worried for us. I never, ever thought that Neil and I would be able to live without her."
Neil, who had broken his back, tried to crawl out of the limo. "I heard my wife screaming, 'Katie's dead,' and I didn't want to accept it so I screamed back, 'No, she's just hurt real bad,'" he says. "I didn't know what Jen knew then."
Jennifer's sister Lisa and brother-in-law David continue to suffer feelings of guilt even after making every effort to ensure no one would drink and drive after their wedding. "We planned better than most would plan. We had a bus to take people back and forth from the hotel to the reception," David says. "We had a whole slew of rooms for people to stay in. We had limousines for parents and family, and that wasn't enough."
Lisa says she feels guilt about everything. "We had it on the Fourth of July weekend. If you look at the statistics, that's DWI season," she says. "Would this have happened if it wasn't on such a big night? Maybe not. Those are the decisions that ultimately killed my family.
"How do we start a life when your start is death?" Lisa asks. "It's your wedding day, and now they don't have their child."
Second-degree murder
Every day is a struggle, Neil and Jennifer say. "Everything I see my children do, I think Kate should be doing. Everything I know they're going to do, I know Kate won't do," he says. "Every time you wake up, you say to yourself, 'This is terrible. I went another day without her,' you know? Or, 'I have to face another day without her.' And every night when I go to sleep, I made it through another day, and I know it's not going to get any better as long as I'm awake."
Denise and Chris, Jennifer's parents, were also severely injured in the crash. Chris, a respected police officer, had to have his leg amputated. Still, the emotional wounds run deeper -- they say the accident destroyed their once close-knit family. "We struggle to be a family that celebrates holidays together," Denise says.
As a police officer, Chris says he's seen drunken drivers and pulled them over, but he never thought drunken driving could affect his family. "It really never occurred to me that this could happen to me."
Stanley, the limo driver, was known to give drunken drivers free limo rides home during his eight and a half years as a driver. His two sons, Keith and Nolan, still grieve the death of their dad. "He was always proud of me and Nolan, no matter what," Kevin says. "Most of his happiness came from us and watching us grow up."
On July 14, 2005, Martin Heidgen was charged with the second-degree murders of Stanley Rabinowitz and Katie Flynn. After five days of jury deliberations, he was convicted on two counts of second-degree murder and related charges. He's serving his 18-year sentence at a correctional center in New York and is now appealing his case.
Jennifer hopes the verdict will demonstrate that not all drunken driving charges can be treated the same. "The way the jury deliberated over it, I think for people, they don't want to think of drunk driving as murder," she says. "So I think that that's something that we hope, that you don't have to lump all drunk driving into one charge. There is the extraordinarily reckless drunk driving, which happened to us."
Although Neil sought counseling after the crash, he says the absence of his daughter is something counseling can't address. "I'm here. This is what I have to deal with, and I will. But like I said, the good part's over," he says. "We had our plan. We decided we were going to have four kids, and that was what we were going to do, you know, and we were set. We were fine. That five-second smash defined my life."
Jennifer says she and Neil are active parents to their three other children. "We continue to do a ton with the children that live. Even more because of that & but there is that feeling that when they do something, you do wish Kate was there to enjoy it as well," she says. "It's hard not to feel it."
In November 2006, Mothers Against Drunk Driving (MADD) launched a campaign to eliminate drunken driving within the next 10 years. Part of their goal is for all states to require mandatory ignition interlock devices, which have been shown to be up to 90 percent effective in keeping repeat drunken drivers off the roads.
Before drivers with prior DUIs can start cars with these devices, they must blow into a device that measures their blood alcohol levels. If alcohol is detected, the car will not start.
Currently, only four states require this device for all first-time offenders -- New Mexico, Arizona, Louisiana and Illinois. MADD says 4,000 lives would be saved every year if they were required in every state.
What does Jennifer think of the idea? "I think that's great for the repeat offenders, but I think that for drunk driving to be curbed that it needs to hurt if you were to get caught drunk driving," she says. "So I think that for even the lesser or the first-time offender & it should be the fine with the license, with the community service, with going to a class."
Ultimately, Jennifer believes people need to know that all actions have repercussions. "Actions have consequences, and I think everyone needs to know that and recognize it, and it doesn't make us bad people for not wanting to live in a world of chaos," she says. "If you're going to commit the crime, you're going to get in trouble, and it should be that way. We should all want that."
From "The Oprah Winfrey Show"
Subscribe to O, The Oprah Magazine for up to 75% off the newsstand price. That's like getting 18 issues FREE. Subscribe now!
TM & © 2009 Harpo Productions, Inc. All Rights Reserved.
All AboutDrunk Driving • Mothers Against Drunk Driving
Sours: http://edition.cnn.com/2008/LIVING/personal/05/29/o.lifesaving.lesson/
Daughter's murder puts focus on toll of autism
"She just seemed really upset," said Hislope, who last saw McCarron in March. "She felt like there was a regression in the things [Katie] had been learning, and I think [McCarron] was losing hope."
Laura Cellini, a Springfield mother of an autistic child and a parent advocate, said she received tearful calls from McCarron in the weeks before Katie's death. Cellini said McCarron started to blame herself for Katie's condition, particularly for trusting vaccines that some parents worry might be a trigger for autism. McCarron expressed concern for Katie's future.
"[McCarron] said she had seen some good things, some gains in Katie's progress but she also hit some bumps in the road," Cellini said. "I think [McCarron] was worried that she wasn't just hitting a bump in the road but facing Katie's whole future."
On May 13, McCarron drove her to daughter to her parents' house, knowing they were not home, and smothered her, police say. She then drove home and carried Katie's lifeless body into the house, past visiting family members and up to bed, as if the child were asleep.
She then went to the grocery store to buy ice cream, a trip captured on the store's security cameras. A couple of hours later, police say, McCarron went upstairs, told relatives Katie wasn't breathing, and began performing CPR.
Paramedics didn't suspect foul play immediately, but at 1 a.m. the next morning, a relative called police and said McCarron was trying to overdose on over-the-counter medication.
When police arrived, the woman was embracing her husband, who had just arrived home from a business trip. Police say Paul McCarron was crying, but his wife was subdued. He asked her to tell the authorities what she had told him.
At first, she declined, telling police, "Nothing is going to help, and it's not going to make any difference."
Later, after she was taken to St. Francis Medical Center in Peoria, police say, she confessed to killing her daughter.
----------
Sours: https://www.chicagotribune.com/news/ct-xpm-2006-06-09-0606090155-story.html
The Ring (2002) - Samara Morgan's FULL Death Scene (with Deleted Scenes)
'WHERE'S KATIE?' CRASH MOM RECALLS GIRL'S GRUESOME DEATH
A Long Island mother described in heart-wrenching detail yesterday how a drunken driver plowed head-on into a wedding limousine carrying her family, instantly killing her 7-year-old daughter and the limo's driver.
"I started to cry because I knew I would never hold her again," Jennifer Flynn, 37, told a Mineola jury, her voice breaking with emotion as she recounted cradling daughter Katie's severed head until rescue workers coaxed her into an ambulance.
The mother of four said she, her husband, Neil, and their other daughter, Grace, now 6, were returning with her parents from a July 2005 wedding at which Katie had been a flower girl.
The family was riding along the Meadowbrook Parkway when their stretch limousine was struck by a pickup truck being driven in the wrong direction by Martin Heidgen, whose blood-alcohol level, police said, was .28, more than three times the legal limit.
Heidgen, 25, is on trial, facing rare second-degree depraved-indifference murder charges.
The slain limo driver was Stanley Rabinowitz, 59.
Flynn recalled how a lovely family celebration was instantly turned to unspeakable tragedy when the speeding truck plowed into the limousine.
The girls were asleep in the limo. Flynn was holding Grace by her side. Katie was on the seat across from her.
"Then the car exploded," Flynn told a hushed Mineola courtroom. "It was loud. And it screeched. There was an incredible screeching."
Passengers went flying, and the limo came to a thudding halt.
"And then everything stopped," Flynn said, "and it was kind of sizzling like a hissing sound and smoke."
Flynn said she was the only one able to move around. She felt where her father's foot should have been and it was missing.
"I ran into traffic and screamed for help, but nobody approached," she said.
She went back in the car, where her parents, Chris and Denise Tangey, were moaning, and the limo driver lay dead. Grace was crying.
"I said, 'Where's Katie?' "
She said she reached for her daughter "thinking I'll just get all of her, but it was just her head. I picked her up and I held her."
"I stated to my father, 'Katie's dead.' My father started crying, 'No, not Katie.'
Her husband began saying over and over, "Katie angel, Katie angel."
"I waited and I waited," Flynn said, "and I held her."
Flynn got out of the car, still holding her daughter's head until the rest of the family was out of the limo.
"I sat on the guardrail with Katie and I was holding her."
Then the rescuers convinced her to let go.
Jurors sat in stunned silence as Flynn recounted the crash. Family members sobbed. Heidgen sat passively, showing no emotion.
Earlier, as he arrived at the courthouse, Heidgen expressed concern for the victims.
"I just want to say my thoughts and my feelings and my prayers are with the other families," Heidgen said.
His words were no comfort.
"He's not sorry," said Neil Flynn. "He doesn't care that my daughter is dead. He cares that he's in trouble."
Sours: https://nypost.com/2006/09/12/wheres-katie-crash-mom-recalls-girls-gruesome-death/
Head death katie
Shane Robertson jailed for killing partner Katie Haley with dumbbell bar at Diggers Rest
A Melbourne man set up a fake Facebook account to try and prove his partner was being unfaithful in the months before he bashed her to death last year, the Supreme Court has heard.
Key points:
Ms Haley died after receiving at the least three blows to her face and at least two to her throat
The judge said Robertson became "increasingly jealous" as Ms Haley made new friends after starting a new job
Robertson will have to serve at least 19 years in prison before being eligible for parole
Shane Michael Robertson, 29, was today sentenced to 24 years in jail for murdering Katie Haley, his partner of four years, after he got "angry and lost it" at her at their home in Diggers Rest in Melbourne's north-west on March 9 last year.
The Supreme Court heard Robertson hit Ms Haley with a 40-centimetre dumbbell bar because he did not want her to leave him.
The court heard Ms Haley died from blunt force injuries to her head after the couple argued when the 29-year-old mother of two told him she "was over it".
"It is clear to me that you attacked your partner in uncontrollable rage and it was your intention to kill her," Justice John Champion said to Robertson.
Their 11-month-old daughter was sleeping in the next room at the time.
Justice Champion told the court Robertson had become increasingly jealous in the months leading up to the murder.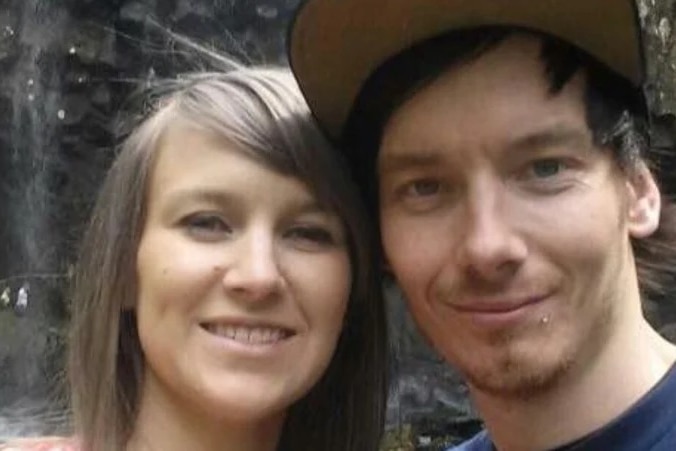 "You persistently questioned her activities, placed her under forms of surveillance," he said.
Robertson set up a Facebook account under a woman's name and tried to get information about who Ms Haley was talking to from her and her friends.
He also set up a fake Instagram account and constantly called her and sent her text messages checking on her whereabouts when she started working at a tavern.
"You became increasingly jealous as she made new friends and you were convinced she was being unfaithful," Justice Champion told the packed court.
Several members of Ms Haley's family were in the courtroom, along with a number of supporters.
Many of them wore the colour red or a red heart in support of the Red Heart Campaign, which aims to give domestic violence victims a voice.
Robertson was seated in the jury box rather than the usual place for offenders at the back of the court.
'Katie deserved better'
Outside court, Ms Haley's father Boyd Unwin said the jail term was in many ways "irrelevant" to the family as they suffered the ongoing loss.
"We've all got a life sentence. My wife and I, we don't get to see Katie again," he said.
"My daughter, my son, don't get to see their sister again.
"And more importantly, two young children never get to spend any more time with their mum."
Mr Unwin said his daughter's killer was a "weak, gutless coward" who he felt had never shown remorse to the family over the killing.
Ms Haley's sister, Bianca Unwin, made a passionate plea for the community to renew its efforts to stamp out domestic violence.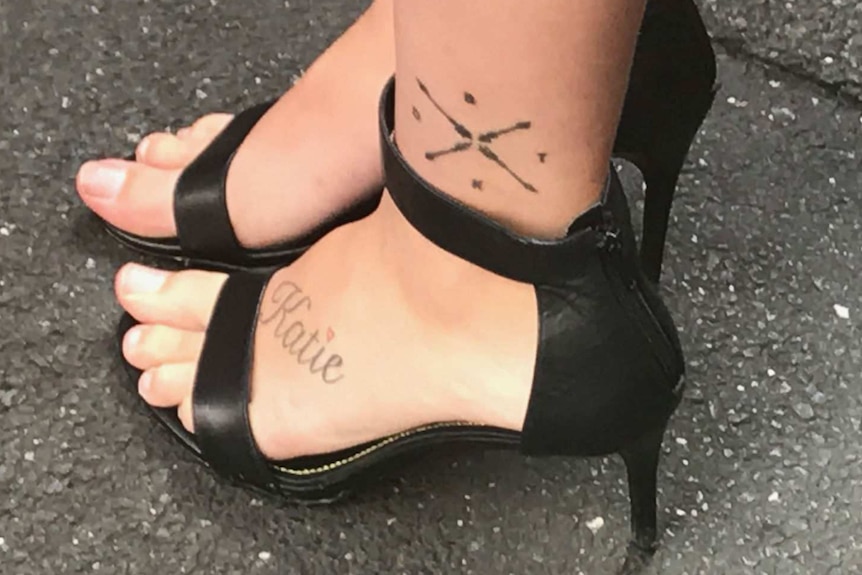 "Katie deserved better — we all deserve better — and we need to be better. It's not good enough and I'm tired of it," she said.
"So whenever you wear red, think of the Red Heart Campaign, think of all the victims who are nameless, all the victims who didn't get this kind of platform, and use your words and speak out against domestic violence. We need to stamp it out now."
Robertson to serve at least 19 years
The court heard Ms Haley died after receiving at least three blows to the face and at least two blows to the throat.
Justice Champion described the crime scene as "gruesome and horrific".
The court heard in the hour before Ms Haley's death, Robertson sent her a message with an ultrasound picture of their daughter and the words: "Don't give up on us now — we didn't go through all of this for nothing."
The court heard before he fled the house with the baby after killing Ms Haley, Robertson left two notes of apology on the kitchen table saying he could not live without her.
The court received eight victim impact statements, including one from Ms Haley's biological father Chris Shaw.
"He has terrifying dreams and is haunted by violence and pain," Justice Champion said.
The court heard Ms Haley's grandmother Lorraine Haley had a "deep heartbreak" because her granddaughter would "never see her beautiful children grow up".
Robertson will have to serve at least 19 years in prison before he will be eligible for parole.
"No sentence can bring back Ms Haley and undo the damage and pain you have caused," Justice Champion said.
Sours: https://www.abc.net.au/news/2019-03-06/shane-robertson-sentenced-for-murdering-partner-katie-haley/10874650
Jake \u0026 Katie// Katie's Death
What happened to Katie Rough and how did she die? Teen girl given life sentence for seven-year-old's manslaughter
KATIE Rough was just seven years old when she was found with her throat cut in a playing field near her home in Woodthorpe, York.
The death of the little girl, a bridesmaid at her parents' wedding just two weeks earlier, left the community reeling.
Who was Katie Rough?
Katie was a seven-year-old girl from York who died after she was found in a field with fatal knife wounds on January 9.
She had been smothered then slashed and stabbed with a Stanley blade.
Residents told of the heart-wrenching scenes when devastated mum Alison found Katie and fell to her knees, screaming "no, no my little girl".
Little Katie had been a bridesmaid at her parents' wedding just two weeks before she was killed.
She was pictured wearing a silver sequined dress as she proudly stood by mum Alison and dad Paul.
The little girl's death shocked her local community, with people banding together to support the family.
Katie was described as a "kind and thoughtful child" by her teachers at Westfield Primary School.
Katie's parents were pictured in January at a memorial service on what would have been the young girl's eighth birthday.
Tearful Paul and Alison, who were accompanied by family members and the Archbishop of York John Sentamu, released six multicoloured balloons.
Following her death, Katie's distraught mother said "life will never be the same" after changing her Facebook profile photo to two wrists with tattooed tributes to the tragic seven-year-old.
In one of the tattoos, a Dr Seuss-inspired message reads: "Today you are You, that is truer than true.
"There is no one alive who is youer than you".
The family of the little girl released a poignant video tribute to Katie, with her mother writing: "I wish I could have her back".
What happened to Katie Rough?
Little Katie Rough playing after school when she was smothered and hacked to death in a playing field close to her home in Woodthorpe, York on Monday January 9, 2017.
The killer had suffocated Katie with a gloved hand before slashing her throat with a Stanley knife and stabbing her in the chest.
At 4.37pm her attacker called 999 to say: "She's dead."
Officers used mobile phone technology to locate the caller. They then frantically launched a search for Katie.
Thirteen minutes later Katie's mum, Alison, 38 — unaware of the horror — rang police to report her missing.
She said she had not seen Katie for 45 minutes, it is understood.
Officers found Katie unconscious in a playing field behind a row of houses.
Her parents rushed to the scene, and Alison cradled her daughter's bloodied head as she screamed out: "She's killed my daughter", a court heard.
Prosecutor Graham Reeds, QC, said in July: "Upon seeing the bleeding in Katie's hair, Alison started to scream.
"She tried to cradle Katie's head and the officer led both parents away in considerable distress."
Katie was taken to hospital but was pronounced dead shortly after.
Who has been convicted of Katie Rough's murder?
A 16-year-old girl was charged with the murder of seven-year-old Katie Rough.
The girl, who cannot be identified for legal reasons, was 15 at the time of the horror attack.
A court heard the teen was suffering from a schizo-personality disorder at the time of the attack and had a history of depression, delusional beliefs - which included thinking other people were "robots" and "not real" - and self harm.
Prosecutor Graham Reeds QC said the defendant got stressed when a psychologist asked her whether she killed Katie "to test if she was human".
Mr Reeds told the court: "She thought that Katie was not human and was a robot.
"A letter at the scene said 'they are not human'."
The court also head the teen had planned to kill and cops found a Lion King stuffed toy in her bedroom with its ears ripped off and chest sliced open.
The accused denied murder but admitted the manslaughter of Katie by means of diminished responsibility.
The girl sobbed at Leeds crown court as she was told she would be assessed in a specialist hospital for 12 weeks.
The judge Mr Justice Soole told her: "It is not in dispute that you currently pose a high risk of serious harm to others and to yourself."
She was handed a life sentence for manslaughter and ordered to be detained for a minimum of five years by a judge at Leeds Crown Court on November 24.
What was said at Katie Rough's inquest?
An inquest into Katie Rough's death opened in York in January.
It heard how hospital staff tried to save the seven-year-old but were unable to resuscitate her.
Det Insp Mark Pearson of North Yorkshire Police was the only witness.
He said that on the 9th of January 9, 2017, following a call to police, officers attended a field where they found Katie Sharon Rough with severe injuries.
She was taken to York Hospital where, despite best efforts, she could not be resuscitated.
Katie was confirmed dead at 5.45pm the same day and identified by her dad, Paul Rough.
Senior coroner Rob Turnbull adjourned the inquest until the conclusion of the criminal proceedings.
Sours: https://www.thesun.co.uk/news/2584801/katie-rough-york-teen-girl-guilty-manslaughter-sentence/
Similar news:
Fatal crash ruled murder after autopsy uncovers gunshot wound to victim's head
INDIANAPOLIS — A fatal crash over the weekend is now a homicide after an autopsy uncovered a gunshot wound to the victim's head.
Indiana State Police first responded to the two-vehicle crash on I-70 near the 96 mile marker around 7:23 p.m. Saturday.
The victim, 27-year-old Devon Anderson, was found unresponsive inside one of the vehicles and pronounced dead at the scene. Anderson's injuries were believed to have been from the collision, state police said.
The second driver, 24-year-old Juan Garrado Vivas, was taken to the hospital with non-life threatening injuries.
During the autopsy that week, the Marion County Coroner's office's recovered a bullet from inside Anderson's head, which was determined to be his cause of death.
The new information led Indiana State Police to begin a criminal investigation into Anderson's death. Detectives believe Vivas fired a shot from a handgun while driving on the interstate and struck Anderson in the head. Anderson's vehicle then crossed into the path of Vivas' vehicle causing a crash.
Vivas was arrested on September 25. He's currently facing a charge of murder in connection with Anderson's death.
The incident remains under investigation.
Sours: https://www.turnto23.com/news/local-news/crime/fatal-crash-ruled-murder-after-autopsy-uncovers-gunshot-wound-to-victims-head
1024
1025
1026
1027
1028