Easy How to Draw a Horse Tutorial and Horse Coloring Page
Below you'll find an easy step-by-step How to Draw a Horse Tutorial and Horse Coloring Page. Scroll down to learn more and download yours for free.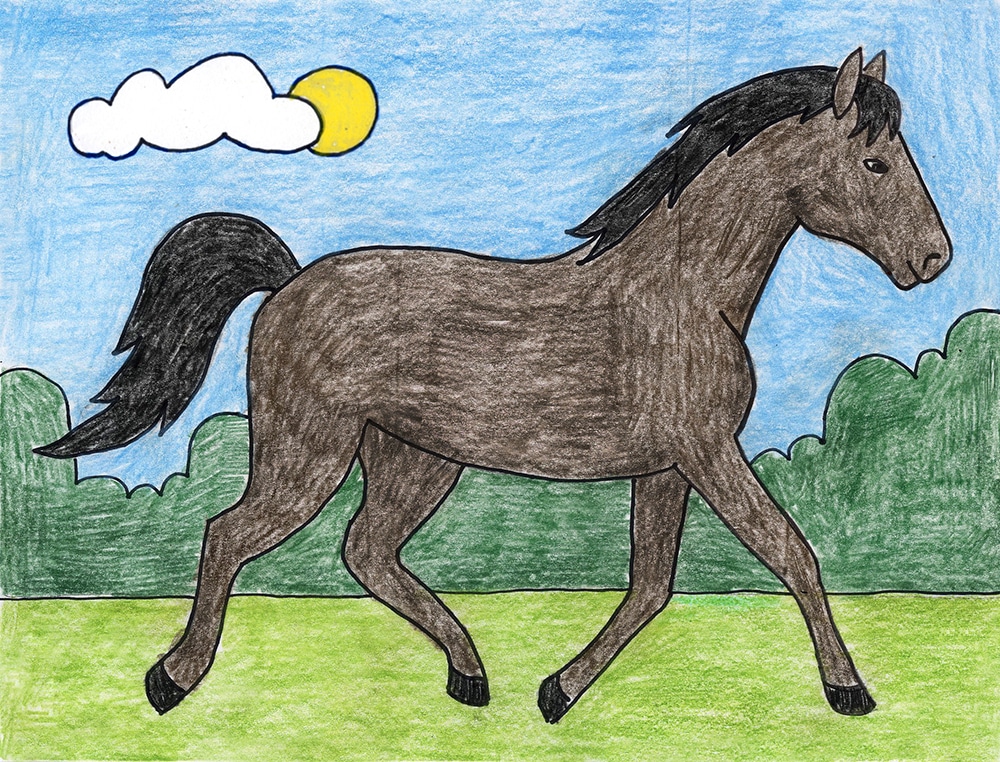 Horses in Art
The appearance of horses in art dates all the way back to the prehistoric Lascaux cave paintings found in France, estimated to be about 17,000 years old. Of the 6,000 images found there, 364 are of horses.
Later on, Renaissance period artists were also very inspired by them. A few who loved to make art with them include Leonardo da Vinci, Albrecht Dürer, Raphael, Andrea Mantegna and Titian. In 1482 the Duke of Milan commissioned Leonardo da Vinci to create the largest equestrian statue in the world, however Leonardo's horse was never completed, (until it was replicated in the late 20th century).
Fast forward to the time of the cowboy and native Americans in the west, and you can find more who dedicated drawings, paintings and sculptures to these beautiful animals. Two of the more famous examples are Frederic Remington and C.M. Russell.
Today, kids who would like to make their horse drawings look a little more realistic can get some help with a step by step tutorial. Horse bodies are made of lots and lots of subtle curves from all those amazing muscles. Breaking them down into some simple shapes that get connected, makes it a lot easier for students to see and understand.
How to Get Started
The best way to get students off to a good start to any drawing project is with the help of drawing guides.
You may have noticed that there is a grid of three dashed lines, both in horizontal and vertical directions, on every step of this tutorial. If students make their own centered lines on their own paper, before drawing, they will have an easy reference to follow.
For instance, as seen in Step 1 below, the horse body shape starts with an oval that sits in the center of the paper, both horizontally and vertically. It is tilted just a bit to and touches guide lines on both ends.
Drawing skills are all about getting the size and placement of lines on paper, so having some visual reference point to get started, will always help anyone learn how to be a little more accurate.
So does that mean students need to draw a big fat pencil lines one their white paper before they start? Goodness no, please don't! That will most likely be hard to erase and distract from any finished art. No, simply fold the paper in half twice, both ways, make a crease, and unfold. The beauty is that by the time the drawing is done and colored in, the creases will disappear.
And now, on to our horse drawing project.
Use Button below to Download a PDF Tutorial
New! Coloring Page Gallery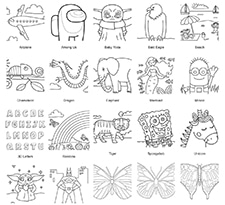 Here's a new option for busy teachers and parents. You can now easily download this drawing as a coloring page with the red button below. Just click to open it as a PDF, and save it to your desktop. You'll have a free coloring page that you can print as often as you want, for whatever kind of project you want. Use it for younger students that want in on the coloring fun, or as a full size visual aid for those that are following the drawing tutorial. For many more fun things to color, please see my COLORING PAGE GALLERY It's never been easier to see and download so many all in one place!
Horse Coloring Page
Materials for How to Draw a Horse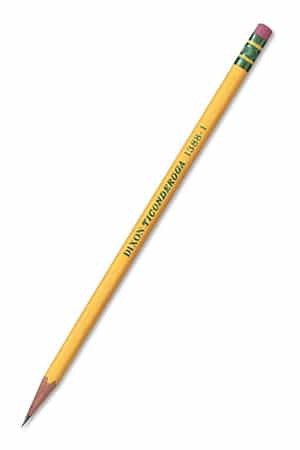 Pencil. The Ticonderoga brand are the most reliable, make nice dark lines when you need them, and are the easiest to erase. Buying the pre-sharpened ones will save busy teachers a lot of time.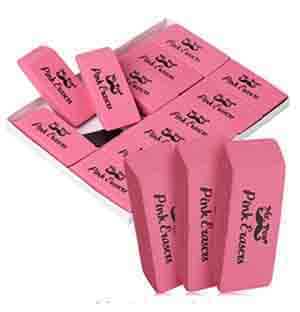 Eraser. Large ones you can hold in your hand do a much better job than just the pencil tip erasers, especially when erasing leftover pencil lines after tracing.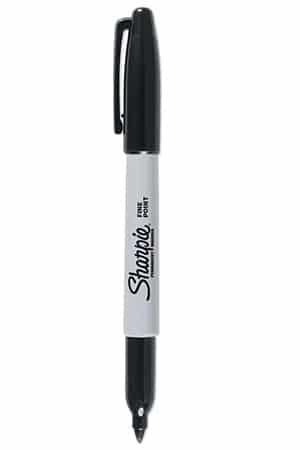 BlackSharpie Marker. These fine point permanent marker pens make nice black outlines, have a good tip for coloring, and never bleed when they get wet. Use them with good ventilation and add extra paper underneath to protect your tables.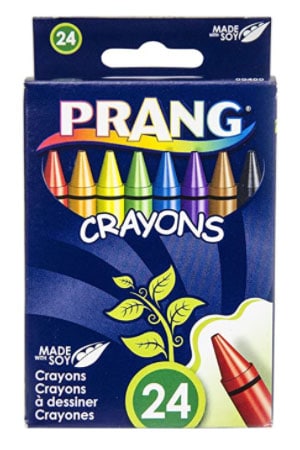 Prang Crayons. These are a bit softer than other crayons so they sometimes look like oil pastels. They also have a some nice brown shades that Crayola does not have unless you buy their larger boxes.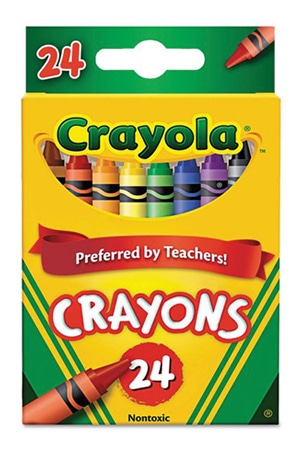 Crayola Crayons. The reliable brand that always works well. The 24 pack has some of my favorite golden orange and yellow colors that seem a bit richer and warmer than the ones Prang has.
Directions for How to Draw a Horse Step by Step
Time needed: 1 hour.
How to Draw a Horse in 9 Easy Steps
Draw a slightly tilted oval for the body.

Add a simple horse head shape above.

Connect both with a neck.

Erase inside lines and add horse ears and a face.

Draw the mane over the neck.

Erase inside line and add two a front leg and a back leg with hooves.

Erase inside lines and add two more legs.

Draw a tail and add a background.

Trace with marker and color with crayons.
More How to Draw a Horse Projects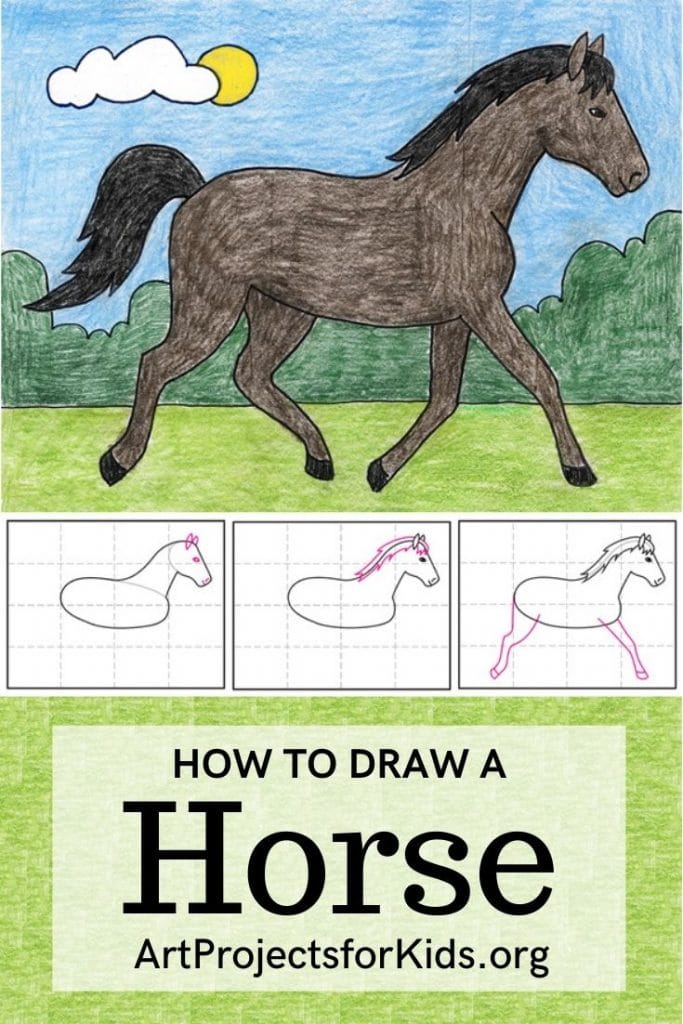 Sours: https://artprojectsforkids.org/how-to-draw-a-horse/
Measured Drawing of a Horse Facing Left (recto)
×
Crop your artwork:
Scan your QR code:
Gratefully built with ACNLPatternTool
Andrea del VerrocchioItalian
Not on view
This drawing is a remarkable example of the Renaissance preoccupation with ideal proportions, as seen in the Vitruvian Man by Leonardo da Vinci, Verrocchio's most famous pupil. Verrocchio began this drawing by making a semi-stylized outline of the subject. He then further schematized the body by dividing it up and inscribing it with detailed measurements. The precision of the measurements supports the idea that this study was related to the bronze equestrian statue for Bartolomeo Colleoni— a commission Verrocchio won in a competition announced by the Republic of Venice in 1479 and was awarded in 1483.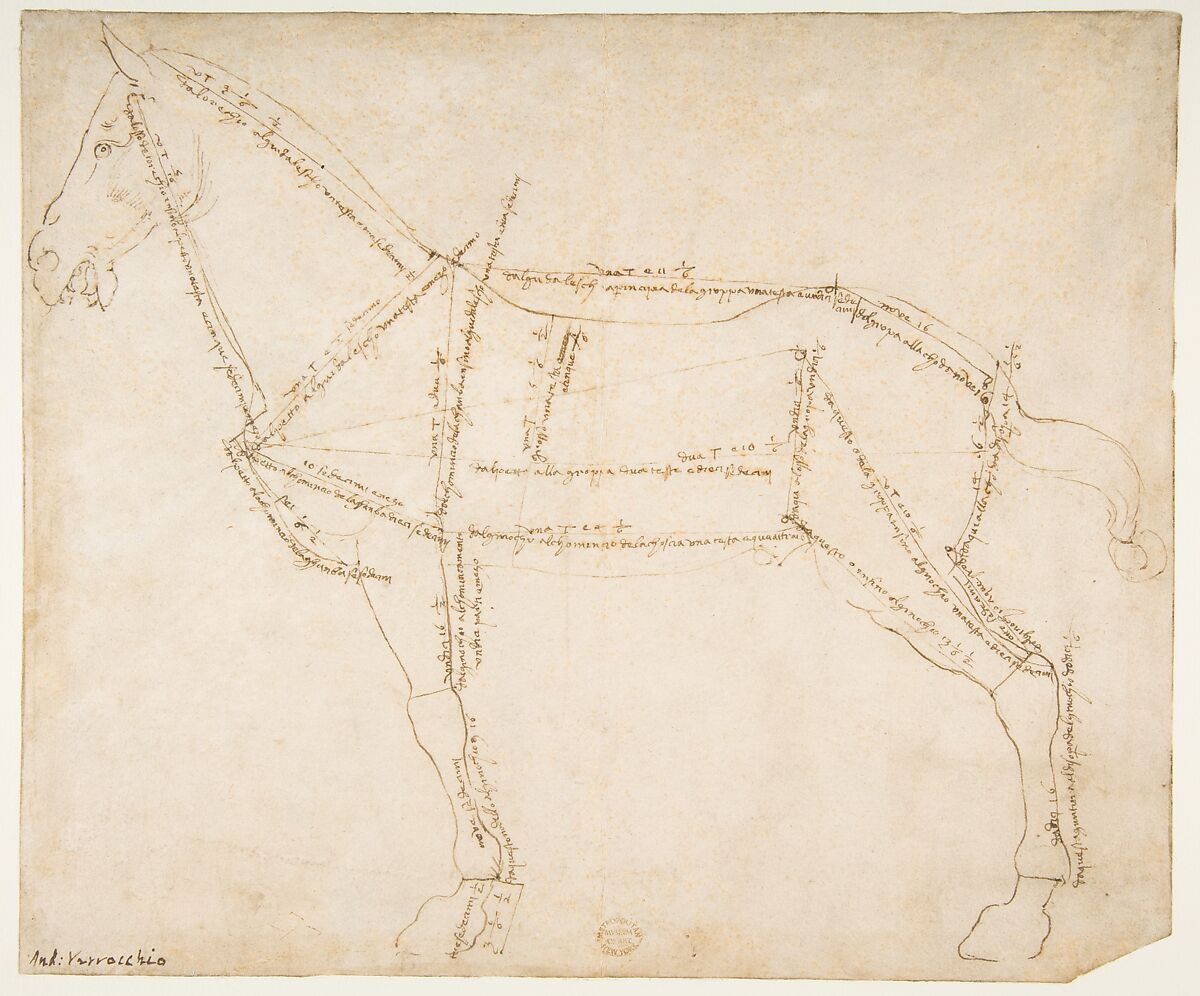 This artwork is meant to be viewed from right to left. Scroll left to view more.
Title:Measured Drawing of a Horse Facing Left (recto)
Artist:Andrea del Verrocchio (Italian, Florence 1435–1488 Venice)

Date:ca. 1480–88
Medium:Pen and dark brown ink, over traces of black chalk
Dimensions:Overall: 9 13/16 x 11 11/16 in. (24.9 x 29.7 cm) maximum
Classification:Drawings
Credit Line:Frederick C. Hewitt Fund, 1917
Accession Number:19.76.5
Inscription: Inscribed by the artist in pen and the same brown ink as the drawing with measurements, starting at upper left, from ear to chest. Transcription by Carmen C. Bambach. " The recto is annotated by another hand, apparently by Giorgio Vasari, in pen and a darker brown ink on lower left: "And: Verrocchio."
Giorgio Vasari (Italian); (?) Jonathan Richardson Sr. (British); possibly acquired by Thomas Herbert, 8th Earl of Pembroke (British); Henry Herbert, 10th Earl of Pembroke (British), by 1772 (was in Pembroke volume XU.2., dated 24 Nov. 1772); by descent to Reginald Herbert, 15th Earl of Pembroke (British); Pembroke sale, Sotheby's, London (British), July 5–6, 9–10, 1917, no. 358 (as Verrocchio)
The Metropolitan Museum of Art. "Drawings and Prints: Selections from the Permanent Collection," May 6, 1996–July 28, 1996.

The Metropolitan Museum of Art. "Leonardo da Vinci: Master Draftsman," January 22, 2003–March 30, 2003.

Civiche Raccolte, Castello Sforzesco, Milan. "Leonardo: dagli studi proporzionali al Trattato della Pittura," December 5, 2007–March 2, 2008.

The Metropolitan Museum of Art. "Drawings and Prints: Selections from the Permanent Collection," November 19, 2013–February 10, 2014.

Isabella Stewart Gardner Museum, Boston. "Donatello, Michelangelo, Cellini: Sculptors' Drawings from Renaissance Italy," October 8, 2014–January 19, 2015.

Florence. Palazzo Strozzi. "Verrocchio: Master of Leonardo," March 9–July 14, 2019.

Washington. National Gallery of Art. "Verrocchio: Sculptor and Painter of Renaissance Florence," September 15, 2019–January 12, 2020.


Sandford Arthur Strong Reproductions in Facsimile of Drawings by the Old Masters in the Collection of the Earl of Pembroke and Montgomery at Wilton House. London, 1900, part 6, no. 58 (as Attributed to Verrocchio).

Bernard Berenson The Drawings of the Florentine Painters: Classified, Criticised and Studied as Documents in the History and Appreciation of the Tuscan Art, with a Copious Catalogue Raisonné. 2 vols., London, 1903, vol. 2, p. 136, no.1951A ( School of Antonio del Pollaiuolo), vol. 2, p. 136.

Bryson Burroughs "Drawings from the Pembroke Collection." in The Metropolitan Museum of Art Bulletin. The Metropolitan Museum of Art, vol. 14, no. 6, New York, June 1919, p. 137 (as Antonio del Pollaiuolo).

Osvald Sirén Léonard de Vinci: L'artiste et l'homme: Edition entièrement refondue et mis à jour.. 3 vols., Paris and Brussels, 1928, vol. 2, pl. 81B (as Leonardo da Vinci), ill.

Wilhelm Suida Leonardo und sein Kreis. Munich, 1929, pp. 64, 65.

Wilhelm Reinhold Valentiner "Verrocchio's Lost Candlestick" Burlington Magazine. vol. 62, no. 362, 1933, p. 232 (as Verrocchio).

Otto Kurz "Giorgio Vasari's 'Libro de' Disegni." in Old Master Drawings. vols. 11, 12, nos. 45, 47, 1937-1938, p. 14.

Bernard Berenson The Drawings of the Florentine Painters. 3 vols., amplified edition. Chicago, 1938, p. 271, no. 1947B (as School of Antonio Pollaiuolo).

Bernhard Degenhart "Unbekannte Zeichnungen Francescos di Giorgio." in Zeitschrift für Kunstgeschichte. vol. 8, nos. 3-4, 1939, fig. no. fig. 57, pp. 140 - 141, ill.

Walter Mehring European Drawings from the Collections of The Metropolitan Museum of Art: A Portfolio of Collotype Reproductions [Vol. 1: Italian Drawings; Vol. 2: Flemish, Dutch, German, Spanish, French, and British drawings; Vol. 3: "New Series": Italian, Flemish, Dutch, German, Spanish, French, and British drawings]. The Metropolitan Museum of Art, 3 vols., New York, 1942–44, cat. no. 4 (vol.1), fig. no. 4, ill.

"Some Italian Drawings in The Metropolitan Museum." Connoisseur. vol. 110, New York, January 1943, p. 151.

Bernard Berenson, Luisa Vertova I disegni dei pittori fiorentini. 3 vols., Revised and enlarged. Milan, 1961, p. 453, no. 1947B.

Licia Ragghianti Collobi Il libro de' disegni del Vasari. 2 vols., Florence, 1974, vol. 1, p. 82, vol. 2, fig 230, ill.

Enrichetta Beltrame Quattrocchi Disegni Toscani e umbri del primo rinascimento dalle collezioni del Gabinetto Nazionale delle Stampe. Exh. cat., Istituto Nazionale per la Grafica, Villa alla Farnesina alla Lungara. Rome, 1979, pp. 25, 26, under no. 7, fig. 10bis (as Verrocchio), ill.

The Horses of San Marco. [Supplementary exhibition catalogue, MMA]. The Metropolitan Museum of Art, New York, 1980, no. 82 (as Follower of Verrocchio).

I Cavalli di San Marco. Exh. cat. Milan, Palazzo Reale. Palazzo Reale, Comune di Milano, Milan, 1981, no. 47 (as Follower of Verrocchio).

Jacob Bean, Lawrence Turčić 15th and 16th Century Italian Drawings in the Metropolitan Museum of Art. The Metropolitan Museum of Art, New York, 1982, pp. 264-66, no. 270 (as Verrocchio?), ill.

Gustina Scaglia "Leonardo's Non-inverted Writing and Verrocchio's Measured Drawing of a Horse." Art Bulletin. vol. 64, no. 1, 1982, pp. 32-44, figs. 7-8 (as Verrocchio).

Jean K. Cadogan "Verrocchio's Drawings Reconsidered." Zeitschrift für Kunstgeschichte. vol. 46, Berlin, 1983, pp. 388-89, no. 55.

Dario A. Covi "Verrocchio and Venice." Art Bulletin. vol. 65, New York, 1983, p. 262, no. 69.

Carlo Pedretti, Jane Roberts Leonardo's Horses: Studies of Horses and Other Animals by Leonardo da Vinci from the Royal Library at Windsor Castle. Exh. cat., Florence, Palazzo Vecchio; Washington, D.C., National Gallery of Art; Houston, The Museum of Fine Arts; San Francisco, The Fine Arts Museums of San Francisco. Florence and New York, 1984-1986, pp. 38-39, under no. 8.

Carlo Pedretti, Jane Roberts Leonardo da Vinci, Drawings of Horses and other Animals from the Royal Library at Windsor Castle. Exh. cat., Washington, National Gallery of Art (February 24 - June 9, 1985), Houston, Museum of Fine Arts, (June 22 - October 13, 1985), The Fine Arts Museums of San Francisco (November 9 - 23 February 23, 1986). American edition. New York, 1984, pp. 38-39, under no. 8.

The Drawings and Miscellaneous Papers of Leonardo da Vinci in the Collection of Her Majesty the Queen at Windsor Castle. Vol. 2: Horses and Other Animals. Edited by Carlo Pedretti, London and New York, 1987, p. 44, fig. 31.

Martin Kemp, Jane Roberts Leonardo da Vinci. Exh. cat. London, Hayward Gallery. Exhibition held by the South Bank Center. London, 1989, pp. 168-169, under no. 92.

Martin Kemp "Leonardo's Drawings for 'Il Cavallo del Duca Francesco di Bronzo': The Program of Research." in Diane C. Ahl, ed. Leonardo da Vinci's Sforza Monument Horse: The Art and the Engineering.. 1995, pp. 65-66.

William Chandler Kirwin "The Bubble Reputation: In the Cannon's and the Horse's Mouth (or The Tale of Three Horses)." in Diane Cole Ahl, ed. Leonardo da Vinci's Sforza Monument Horse: the Art and the Engineering.. Bethlehem, PA, and elsewhere., 1995, pp. 97, 109, no. 53.

Andrew Butterfield The Sculptures of Andrea del Verrocchio. New Haven and London, 1997, fig. no. 255, pp. 185, 191.

Martin Clayton Leonardo da Vinci: The Divine and the Grotesque. Exh. cat. Edinburgh, The Queen's Gallery, Palace of Holyroodhouse; London, The Queen's Gallery, Buckingham Palace. London, 2002, p. 34, fig. 7.

Carmen C. Bambach Leonardo da Vinci: Master Draftsman. Exh. cat., The Metropolitan Museum of Art, New York (January 22 - March 30, 2003). The Metropolitan Museum of Art, Yale University Press , New Haven and London, 2003, pp. 267-70, no. 9 (entry by Carmen C. Bambach), ill.

Dario A. Covi Andrea del Verrocchio: Life and Work.. Florence, 2005, pp. 234-337.

Paolo Galluzzi La mente di Leonardo: Nel laboratorio del Genio Universale. Exh. cat. Florence, Galleria degli Uffizi ( March 28, 2006 -January 7, 2007). Florence and Milan, 2006, pp. 216-17, no. IV.5B.

Pietro C. Marani "Leonardo, l'antico, il rilievo e le proporzioni dell'uomo e del cavallo." Leonardo: dagli studi proporzionali al Trattato della Pittura. Ed. by Pietro C. Marani, and Maria Teresa Fiorio, Milan, 2007, pp. 25, 27 n. 41, ill.

Carmen C. Bambach in Leonardo: Dagli studi proporzionali al Trattato della Pittura Exh. cat. Milan, Castello Sforzesco, Sala delle Asse. Pietro C. Marani, Edited by Maria Teresa Fiorio, Milan, 2007, pp. 59-61, no. 2.


The Met Collection API is where all makers, creators, researchers, and dreamers can now connect to the most up-to-date data and images for more than 470,000 artworks in The Met collection. As part of The Met's Open Access program, the data is available for unrestricted commercial and noncommercial use without permission or fee.

Learn more
Sours: https://www.metmuseum.org/art/collection/search/340981
Horse Art

HORSES AND MOVEMENT from PAINTINGS and DRAWINGS
by Lowes Dalbiac LUARD
With a Note on the Drawing of Movement, by the Artist, and a Foreword by MARTIN HARDIE
An Introduction by ArtGraphicA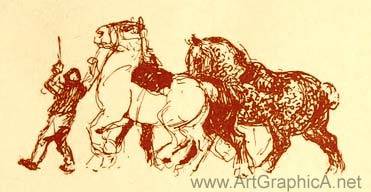 Horse Art.
Lowes Dalbiac Luard was an English artist and expert in horse art and anatomy. Luard had studied in Paris and was captivated by the sights of Percheron horses (a breed of draft horse from Northern France), moving heavy loads of stones and timber in the French capital during the early 1900's.
During his 30 year stay, Luard painted oils and undertook drawing studies, capturing the activity of horses in Paris bearing heavy loads by the banks of the Seine river. Their sheer power and movement enthralled Luard who was able to capture their rhythm and beauty quite unlike any other artist before him. He seemingly shunned any artists' total dependency on photography to capture their movement, stressing the importance of observation to portray their dynamism, devoid in that of the mechanical camera.
When inevitably the workload of horses gave way to machinery, the artist took to observing and painting horses from the racetrack. Sadly Luard (who was famous in his own time) has been somewhat forgotten today and we associate horses and art more with the likes of Edgar Degas or George Stubbs.
Whilst this book does not teach the artist how to paint or draw horses, it does offer great insight into how we might better observe them, and provides great inspiration into really expressing the dynamism of their movement and actions without creating stiff and emotionally detached works of art.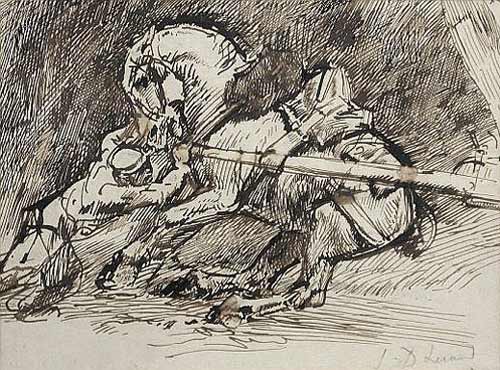 FOREWORD
THE keynote of the paintings and drawings reproduced in this volume is Movement. Work so full of force and originality speaks for itself, but its interest is enhanced by an introductory article in which the artist explains what he maintains to be fundamental principles in the drawing of movement. " The words, Life is Movement," he once remarked in conversation, " should be in capital letters over the studio door. " And in a sense it is true, for even the massive and apparently immovable cathedral is obeying the laws of movement, gaining stability as the outcome of the balance of opposing forces thrusting and resisting. In this article Mr. Luard tells us also from a scientific point of view just how we are impressed by movement in nature, though he does not mean to imply that movement in Art needs to include all such impressions.
In his Introduction he speaks with so much authority and writes with so stimulating an appeal to every student of drawing, that one feels that any further preface is superfluous. If, therefore, I have the sense of trespassing on another man's private property, my excuse and justification must be my own admiration of Mr. Luard's work, and the hope that a fairly intimate knowledge of the artist and of his aims and methods may enable me to show how admirably these drawings embody the principles which he upholds. At any rate, it is possible for me to refer more directly to his work than the artist's own modesty would permit, and to emphasize the close relationship between Mr. Luard's theory of drawing movement and his own practice, as illustrated in what I feel to be the remarkable, and in many ways unique, series of paintings and drawings reproduced in this volume.
But first, for the benefit of students who are interested in these drawings, as they surely must be, something should, I think, be said as to Mr. Luard's own training and career, and I hope that the artist will forgive a critic, who is fully conscious that good wine needs no bush, for playing the showman.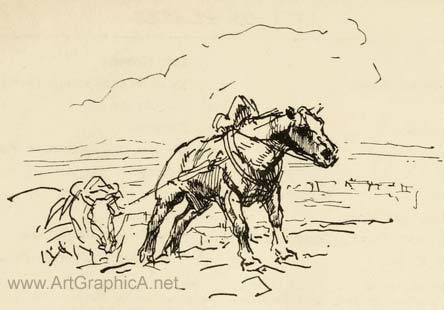 Lowes Dalbiac Luard, as the name shows, belongs to an old Huguenot family of Norman-French origin, and it is interesting to note that one of the capitals in the Abbaye aux Femmes at Caen, from which town the family fled after the Edict of Nantes, was designed and carved by a Luard. It is clear that the family's artistic bent has always been strong and persistent. His grandfather, though a soldier by profession, was also a noteworthy artist. For sufficient testimony we may refer to his " Views of India " and his " Dress of the British Army," and more remarkable still, a series of water colours executed for a diorama of Indian life, which was painted in oils by Louis Haghe and shown at the old " Globe " in Leicester Square, and afterwards in America.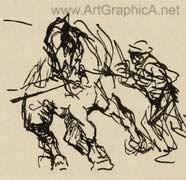 Mr. Luard's uncle, John Luard, also a soldier, became an artist, joined the Pre-Raphaelite movement, and for some time shared a studio with Sir John Millais. One of his Crimean subjects had so great a success at the Academy that it had to be railed off from the crowd. As Colonel Luard, R.E., his father, was also an extremely clever water-colour artist, it is hardly surprising that Art should have claimed Mr. Luard for her own.
Mr. Luard was born in India and educated at Clifton College, where the neighbouring Zoo was an unfailing attraction to a boy keenly interested in drawing living animals. But even before that time movement was his great interest. From the age of five he was constantly drawing horses, always in motion ; and family tradition tells how, when only eight years old, he actually lost his dinner one day through following a milkmaid carrying cans on a yoke, keenly alert to watch the balance of her pails and swing of her skirt, of which he afterwards made a complete water-colour drawing from memory. Even at that early age it never occurred to him not to draw a thing just because it was moving.
On leaving Clifton, he worked for a time at a class in Gower Street, conducted by Davis Cooper, son of Abraham Cooper, R.A. Passing to the Slade School, he studied under Professors Brown and Tonks. At the Slade, though he profited by close study of the figure, he was never really stimulated by the posed model. It was when the model rose from the throne, and moved naturally and freely, relaxed his limbs, and stretched his arms, that Luard began to draw with real interest and zest. He was not a School draughtsman.
His school was the world of real movement outside as recorded in the rapid and concentrated notes and memoranda made from quick observation in his own sketch books.
Though he settled down in London and painted a few successful portraits, it is obvious, from what has already been said, that ordinary forms of laborious portraiture could never be the first interest of such a temperament. In most of his sitters he found little to stimulate his artistic interest ; he felt again his instinctive dislike of the posed figure, though with children, who cannot pose, he was often particularly happy. He felt, rightly, that, as a rule, his first swift sketch in chalk conveyed more of vitality than the finished work in oil.
It was with this feeling that he determined, in 1904, to follow out a course of drawing in the studios of Paris. He went there intending to stay for three months ; he has stayed there ever since. It so happened that soon after he arrived the boulevard opposite to his flat was dug up for repair, and became monumente with the going and coming of carts and horses, the lift and heave of figures hammering and digging. Movement, as always, held him at once in thrall, but it was the French draught horse that really kept him in Paris. As he once remarked to me, the horse is interesting because it is the only real nude we can see daily at work. And here on the banks of the Seine, in all weathers and with untiring concentration, he would watch these splendid Percheron horses, which pull as much by energy as by weight, struggling up the steep slopes with their heavy loads of sand and stone. This it was that first inspired the characteristic series of subjects that have held him ever since, and have been shown year after year in his paintings and drawings at the New Salon in Paris, the Goupil Gallery in London, and elsewhere.
Subject and treatment are a matter of temperament. Ingres was all for pure and severe line. Chardin, to take another example, liked to sit and study and contemplate. Most people prefer the static to the dynamic, and Mr. Luard would grant that a picture representative of movement makes many people uneasy. He realizes that movement tends to make a picture restless, and that to many eyes repose has become one of the essential qualities of art. But Mr. Luard does not feel this any more than did such painters as Rubens, Goya or Millet.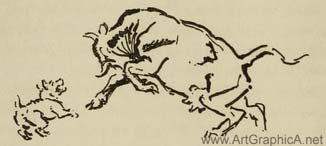 He can paint a horse in a stable, a lamb browsing among buttercups, and paint them well, and for him they would be interesting studies enough, but unstimulating ; and he is right in letting the personal factor overcome impersonal facts. Was it Renan who said : " Le plus grand peintre n' apercoit dans le monde que ce qu'il aime y voir ; it y a une preference au fond de chaque talent? "
* The painter's problem is not to represent facts, but to express the feeling stirred in him by what he sees. It is not so much the man and the horse that interest Mr. Luard as the infinite variety of rhythm and music in the toil and struggle that express vitality and life.
The drawing of movement should appear inevitable and spontaneous, like the lyric in poetry. It must convey with rapidity the keen spell of some intense emotion or experience. The draughtsman's work must run to its end with a rush of swift decision, without halt or obstruction, and in its unity it must incorporate and express the unity of the experience which inspired it. Being, in this way, the direct result of creative impulse, it must be red- hot : it cannot be produced in cold blood. Ingres uses a line that is inevitable in its perfection, but a line which is opposed to the expression of movement. In his case it is an instrument forged and tempered by an artist of cold passion, whose instinctive preference was for patient searching observation, only possible of things at rest, one who from his heart hated the swirling Rubens and all his works.
* The really great painter has eyes only for what he wants to see in the world about him. At the root of all true talent there lies an instinctive preference.
LIST OF ART PLATES
1. CHESTNUT HORSES
2. UP THE BOULEVARD
3. COUP DE COLLIER
4. TOURNANT LE TOMBEREAU
5. PLOUGHING NEAR SALISBURY
6. CHARGING THE SLOPE
7. AT WATER : UP THE SEINE
8. TROTTING : PARIS BUS TEAM
9. BETWEEN THE STAGES : PARIS
10. ON THE TOP OF THE BANK
11. UNDER THE TREES (Colour)
12. HARROWING
13. UP THE RAMPE
14. TIMBER-HAULING ON THE SEINE
15. SPRINGING 'EM
16. A SUMMER SKY
17. THE SHIRKER
18. NIGHT WORK
19. THE BLACK HORSE
20. STONE-CART : BIRD'S EYE VIEW
21. TURNING THE CORNER : FRENCH STONE-CART
22. THE SUNNY QUAY
23. LED HORSES
24. DEAD BEAT : FRENCH ARTILLERY, THE SOMME, 1916
25. AN EFFORT
26. BACKING
27. ON THE HILL-TOP NEAR PARIS
28. FALLEN
29. BLOWN
30. SAND-CARTS
31. GUN TEAM IN A CRATER
32. THE SEINE : WINTER



Next Page
Drawing Horses

Prev Page
Art Books

Sours: http://www.artgraphica.net/free-art-lessons/horse-art/horse-art.html
10 Tips to Drawing Horses
Christmas is Coming
Holiday Cheer Starts Here!
Share Your Joy
Send custom holiday cards to your favorite people.
Spread the Love
Create custom gifts this holiday season.
Deck the Halls
Get your home holiday ready.
All Wrapped Up
Send Something Extra Special.
Share Life Moments
Personalized cards, invites and mailing accessories to match!
Customize Thousands of Designs
Discover endless design options for any style, any budget, and any occasion.
Send With Love
Add photos and text with our easily customizable templates.
Banish Boring Stationery
Update your office or family command center with custom notepads, Post-it® notes and more!
Seal The Deal
Complete your suite with custom envelopes & personalized mailing accessories!
Plan Your Dream Wedding
The perfect wedding day, designed by you!
Cue the 'I Dos'
Put together your perfect day with custom invites and thank yous.
A Kiss to Wedded Bliss
Plan your special day down to the smallest of details with custom supplies.
Show Your Appreciation
Treat your 'I Do Crew' to items that commemorate your big day.
Clothing For The Crew
Custom t-shirts and clothing for all ages & all genders!
Join Our Tee Party!
Whether for work or for play our t-shirts make a bold statement.
We've Got You Covered
From your head to your toes, find apparel that fits your unique sense of style.
Accessorize It
Customize fashion accents from our huge selection of bags, hats, bandanas, and more!
Restocking Business Supplies?
Add your logo and text to any product, or browse 1000's of templates created by Independent Designers.
Promote Your Business
Make your mark in the business word with personalized marketing materials!
Product Displays & Packaging
Make the most memorable first impression!
Let's get down to business
Customizable stationery to make your brand pop.
Show Off Your Business
Signs & posters for the best business advertisement!
Market Your Brand
Display your logo on personalized promotional products!
Maintain A Healthy Business
Protect your employees & customers with personal care products!
Create Your New Happy Place Home furnishings, pet supplies, kitchen accessories & so much more!
Home is Where the Heart is Create a comfy, unique abode with custom accessories.
Face Masks & Safety Products
View All
Slow the spread with face masks
Help protect yourself and your community with a custom face mask.
Celebrate Your Creativity
Add a special touch to your next event with custom craft and party supplies!
That's A Wrap
Wrap all your personalized gifts in custom wrapping paper!
Little Details Matter
Customize plates, signs, and more.
Blank Space?
Browse thousands of art pieces in categories from fine art to pop culture or create your own.
Game Changer
Take your love of sports and games and turn it into custom gear.
Tech Accessories
Stand out with personalized tech accessories.
Gear For Your Gadgets
Customize brands including Speck, OtterBox, LifeProof and more!
Office & School Supplies
Office essentials for your home office and schoolwork space!
Here's My Card
Customize Standard, Large, or Skinny sizes, 11 paper types, and over half a million designs!
Keep It Together
Infinite customization possibilities for gear as unique as you.
Oh, Baby!
Celebrate the newest arrival with birth announcements, name blankets & more!
Great Ideas Make Great Gifts
Give a personalized gift they'll never forget! Created by you, just for them.
Personalized Gifts For All
Gift ideas and gifting guides for everyone on your list!
Gift Finder
Find the perfect gift by recipient, price, category, and more.
Occasions & Moments
Shop for perfect personalized seasonal gifts!
Sours: https://www.zazzle.com/pencil+drawing+of+horse+art
Art drawing horse
Best Drawing Horse For Artists
ReviewsDisclosure: This post may contain affiliate links. That means if you buy something we get a small commission at no extra cost to you(learn more)
A drawing horse is like a bench that can support your weight along with an art board. This setup allows artists to work hands-free without an easel.
These drawing horses(also called "art horses") are most common in figure rooms when drawing from life. But what if you want one for your house or apartment?
Unfortunately they're tough to research because if you Google any phrase like 'drawing horse' you're just gonna find a ton of animal drawings. That's why I made this article: to help artists find the perfect drawing horse for their studies.
If you don't have time to read this whole post then I'll cut to the chase: my #1 recommendation is the Beechwood Belgian Art Horse by Creative Mark. The legs are sturdy enough to hold anything so it's a very safe horse for kids & adults.
The top part actually folds up so you have a back to rest the board against. This back measures a total of 32″ tall(just under 3 feet) from the floor when open. This should be plenty tall enough to rest a drawing board while still having a clear view ahead whether you're drawing an object or a model.
However the legs do not fold which means this is not great for a storable bench. Since the top part does fold down it can double as general seating for an art room.
But there are so many other benches to consider with varying styles, sizes, and even some with padded seats. So if you really want to compare & contrast let's dig into the best art horses you can find.
What To Look For
Every drawing horse needs to be sturdy. This is a given since you'll be sitting on it for hours. This means it also needs to be comfortable.
Most art horses do not have foldable legs so they're tough to put into a closet. So if storage is a concern you'll want a bench that can fold.
Also if you plan to drag this around the house then weight is another factor. Most benches are light enough to move around because they're just wooden blocks, usually sized around 1ft wide by 2ft long.
Every art horse should have little pegs or grooves near the front portion of the bench. These grooves hold your drawing board in place so it doesn't need to rest up against your lap.
It is possible to draw on a regular bench. But art horses are designed for artists and these grooves are a crucial feature.
So generally you'll need to weigh the drawing experience for each art horse against it's price. The biggest factors to consider:
Weight
Size
Build/sturdiness
Portability
Design
Price
If you have a dedicated room where you typically work then portability won't be a problem. But if you'll be lugging the horse inside, outside, or up the stairs then you'll want something lighter.
Since each person's situation is different it can be tough to nail down a single "best" art horse. But I've whittled this list down to only the best choices and you can read through each one below.
Beechwood Belgian Art Horse
I mentioned the Creative Mark Belgian Art Horse at the beginning of this post and still think this is the overall best choice.
It comes with a small storage compartment which is a great place to hold art supplies. This drawing horse can hold pencils, paint brushes, and almost anything you'd need to work from a drawing board.
Plus it's about the average weight of a drawing horse at about 20lbs. Most desk chairs average 35lbs so this horse weighs about half that much. If you can pick up your desk chair then you can definitely move this art horse.
All four legs are bolted into the horse so they don't fold or move at all. It's super sturdy which makes it one of the safest art horses you can get.
It may feel a little small at first but you'll get used to drawing in the seated position. The wood finish is fantastic and it really feels smooth to handle(carrying, adjusting, etc). I can't say if the wood can hold up in wet grass, but I have a feeling it'll do fine.
This horse comes with three individual grooves for placing your drawing board at varying angles. These grooves are deep so they can hold any size art board no problem.
The seating area is plenty large enough measuring about 40″ long. This should be enough room for any adult or child. Really this is a one-size-fits-all drawing bench.
Combining the fact that it's reasonably priced and very sturdy I have to say this drawing horse should work for any occasion. I'd recommend this to beginners and experts alike.
Padded Bench by Studio Designs
Some artists may not like how the wood feels on their butts drawing all day. For those artists I'd recommend this Padded Studio Bench made by Studio Designs.
This comes with a great price and it's super lightweight. The legs are built with some type of metal alloy rather than wood so it does feel incredibly strong.
The front pole can hinge down if you need to make it smaller or easier to carry. Adjusting the pole height also lets you work with a total height of 32″ or shorter. And this horse comes with six individual grooves for your board.
I didn't measure the precise angles for each groove but I'd estimate you can get anywhere from 5° fully upright to around 45° resting in the last groove. This offers a lot of flexibility depending on the size of your board and how you like to work.
This studio bench is totally safe for outdoor use and it weighs just under 20lbs.
In full this art horse spans about 30″ long which is about 2½ feet. The padded seating measures 20″ long which is a tad short but should be enough room. If you want a lengthy art horse then you might have to go with a wooden model.
But if you're OK with the slightly shorter design then this studio bench is incredible. It's perfect for beginner-level artists who don't want to spend much and want a padded seating area for maximum comfort.
Diversified Woodcraft AH Art Horse
The Woodcraft AH Art Horse made this list for its maple wood finish and sturdy design.
I have to say this is one of the simplest yet most professional-looking art horses you can get. If you're looking for simplicity then this is a great choice.
All metrics are similar to other horses. This Woodcraft Art Horse weighs about 20lbs measuring about 1ft wide, 2ft long, and almost 3ft tall(actually 33″). Unlike the prior two models, this one is built as-is with no flexibility.
You can't adjust the height or fold the back. This design makes it a lot more sturdy. But it also means this can be difficult to move since you have to watch where the front part sticks out while carrying.
This comes with two grooves in the front which isn't a lot but it should suffice. I do wish they were a bit deeper though. To me the indentations feel shallow and you may have trouble keeping a thick art board in place.
Because of this drawback I only recommend the Woodcraft horse to artists who use very thin drawing boards. It's still a great unit based on size, shape, and sturdiness. Not to mention the beautiful maple finish!
But if you want an art horse with lots of versatility then this isn't for you. It's actually best suited for the classroom or in a figure room, or in a fixed position in a home studio/home art space.
Jonti-Craft 0300JC Art Horse
If you have a child who loves to draw then the Jonti-Craft 0300JC Art Horse is absolutely the best choice. This art horse is specially designed by the team at Jonti-Craft to be kid friendly and super safe.
This is the lightest art horse in the entire list weighing only 15lbs. Yet surprisingly this horse still measures the same as others: 1ft width, 2ft long, and almost 3ft tall totaling 33 inches from the ground.
If you're doing the math then you'll realize this isn't just a child's art horse. It can work great for adults too!
It's super light, sturdy, and measures the same as other art horses. However the reason I don't specifically recommend this horse for adults is because of the design.
Just look at the bolts and the finish on the wood. It gives off a very childish feeling.
Can it work for adults? Absolutely! But I think there are better choices in this list for adults. This horse works best for kids around the ages of 3-12 who show early signs of pursuing art.
And it's an affordable model too so it can make a great birthday or Christmas gift.
Caballo Art Horse Bench
I've saved the most feature-packed one for last and it's quite a doozy. The Caballo Art Horse comes with everything you could possibly image.
Note this art horse won't come cheap. But it does come with a lot of great features:
Wheels & straps for easy portability
Storage drawer for supplies(16″ long)
Full easel built into the bench
Easel folds down for easy transport
With the Caballo Art Horse you're getting more of everything. It weighs more(about 30lbs) and when adjusted to its highest setting it measures 52″ tall. That's about 4½ feet tall from the ground!
The easel on this art horse means it functions differently than the others. Instead of placing your board into grooves you'll instead mount the board into the easel. This can be adjusted based on the size of your drawing board or canvas.
But it can only hold canvases up to 27″ tall so be sure to measure your canvas before buying.
This drawing horse is really a beast. But there are many reasons why I don't recommend this as the overall best drawing horse:
It's very pricey
Heaviest option
Uses easel instead of grooves
The price alone is sky high compared to any other model. But that's not the primary reason why I moved this lower in the list.
My reasoning is that most people just want a simple drawing horse. This thing comes with so many features that it's almost too much for anyone.
The only artists who would enjoy this are trained professionals who want a specialized easel+art horse combo. It really is glorious and the structure feels incredibly sturdy(hence the weight).
But if you're just looking for a simple drawing horse for home then this is far beyond what you need.
It's worth considering if you like the design and like the idea of working on an easel while sitting. But it's tough to justify the costs unless you really want a more complex horse.
Best Drawing Horse For Beginners
As a complete beginner you probably want an art horse that'll grow with your skills and be around for years. That's why I still recommend Creative Mark's Belgian Art Horse for beginners and experts alike.
The pricing is very reasonable and it's a great intro horse with enough features to be valuable as you develop your skills. The little supplies cubby is fantastic and it offers a way to store all your art supplies in one place.
If you've never used a drawing horse before then you may feel intimidated with the buying process. If possible try to get out to a life drawing class or even take a trip to a nearby college and ask for a tour of the art rooms.
This way you can sit on the wooden horses, see what they feel like, and estimate how much room you'd need for one at home.
Almost every art horse you'll find online measures about the same. So what you want is a reasonably priced model that's durable, easy to use, and simple for beginners to pick up.
Creative Mark's horse is my pick for any art newbie. But you could also go with the budget option which I've listed below.
Cheapest Drawing Horse
If you want an art horse on tight purse strings then the Padded Studio Bench is your best choice.
It's one of the most comfortable art horses you can get and also one of the smallest. And even though it's made of lightweight metal it still operates just like any other horse. But the price is a lot cheaper so this can even be great for young kids or teenagers pursuing art.
It comes with six notches for varying degrees of tilt for your drawing board. This is the most variety out of any horse you'll find so it's a great way to cut your teeth(figuratively) with a drawing horse.
One thing to note is that the cushioned seating is not normal or even common in other art horses.
If you ever take a figure drawing glass with no easel then you'll need to adjust to the hard wooden drawing horse.
But for a comfy home choice on a budget the Studio Bench is stellar.
Final Pick: Best of the Best
Even though the padded studio and the Woodcraft models are close competition, I still have to side with the Beechwood Belgian Art Horse made by Creative Mark. It checks all the boxes for durability, size, weight, price, and extra features like the storage compartment.
This should hold any sized board and it's easy to get used to the positioning. The design works for beginners and experts alike so it really does offer the best solution across the board.
However I will make one exception for parents who have young kids pursuing art. If your child is 12 or younger then consider getting the Jonti-Craft 0300JC Art Horse instead.
That model is specifically designed for young children and it's a lot lighter to carry.
But as kids grow into teenagers and adults there's good reason to upgrade into a better model with more features and a stronger build. This is why the Creative Mark art horse fits perfectly for anyone from teenagers to retired empty nesters picking up art of the first time.
Art horses can be tricky at first. You need to adjust to sitting and drawing in that position without hunching or straining your back.
Most artists eventually learn to work from an art horse when drawing from life so it's a handy item to have. Especially if you're frequently drawing things around the house or drawing/painting outside in the beautiful weather.
And remember that whatever art horse you get won't make you a better artist. Only time, patience, and hard work can do that. But an art horse certainly helps you get one step closer.
---
Sours: https://conceptartempire.com/best-drawing-horse/
Drawing a Horse Head
Martha graduated. The girls were just going down. Masha was dressed in cream shorts and a tight-fitting T-shirt of the same color. The hair was neatly styled in a ponytail.
Now discussing:
When many people pull this hymen here and I have the same. " To which Nadia just smiled and winked at me. Pulling me up from her squatting position, she looked at what I was wearing with a gesture, showed that I would circle around.
1045
1046
1047
1048
1049