Eagle Power and Equipment evolved from the traditional Factory owned retail facilities that were located throughout the US and Canada.   In 1996 a 25 year employee of Case, named Jerry McDonald along with his family acquired both the Montgomeryville, Pa and New Castle, DE stores and the rest is history.
Most employees had the confidence in Jerry to stay with his new company that chose to call itself Eagle Power and Equipment Corp.  They knew and appreciated the heritage of the Case Company and Eagle Power and Equipment and decided to call it home.   We at Eagle Power and Equipment Corp have many years of experience and know the product inside and out.
The Complete Product Line from Case Available for Our Customers
Eagle Power and Equipment offers the complete line of Case Construction Equipment, including:
Compact Track Loaders.
Compaction Equipment.
Compact Track Loader.
Compaction Equipment.
Crawler Dozer.
Forklifts.
Excavators – Compact and Standard.
Loader Backhoes.
Loader/Tool Carriers.
Skid Steer Loaders.
Wheel Loaders- Compact and Standard.
In this blog post, let's focus on the two Case forklift models that are very popular with our customers.
Forklifts from Case
Case pours its long history of reliability and problem-solving technology into all of its equipment development, including its two models of rough terrain forklifts. We know that our customers are looking for long-lasting equipment that helps their crews get the job done quickly, safely, and with a good measure of comfort for team members who putting in those long hours. We're confident that all of those measures are met and surpassed with the H Series forklifts from Case.
With lifting speeds of 107 feet per minute and roading speeds of 24 mph, your team will be able to raise, haul and place quicker to finish the job faster. Plus, with a standard side shift of 3 inches in either direction and the optional power positioning forks, operators can precisely place their loads.
Here's a quick look at each of the two models available:
586H
Features intuitive controls and excellent comfort and ease of use.
Push-button parking brake.
Eye-level AIC (Advanced Instrument Cluster).
Spacious operating platform.
LIFT CAPACITY  – 6,000 lb. | 2722 kg
ENGINE POWER – 74 hp | 55 kW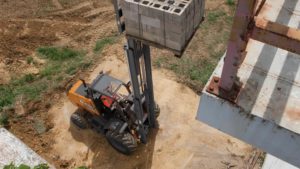 588H
Remarkably fast lifting speeds.
Roading speeds of up to 24 mph (38.6 km/h).
Lifting capacities of up to 8,000 lbs.
Special features to keep loads level and operators comfortable.
Offers unmatched visibility due to its wide-channel, dual-mast design.
LIFT CAPACITY – 8,000 lb. (3628 kg)
ENGINE POWER – 74 hp | 55 kW
Check out a video from Case highlighting some of the ways that H series forklifts can increase your team's productivity.
Are you interested in trying out a Case forklift before buying or do you just need one for a short timeframe? We offer the Case Model 586 as a rental.
> Read our rental equipment flyer here.
We're happy to discuss any questions you might have about Case rough terrain forklifts, or any other Case product. Visit our locations in Montgomeryville, PA, New Castle, DE or Eagle, PA. Or you can find out how to call or email us here.
Related Articles
Posted in CASE, Forklifts and tagged 586h, 588h, Case, forklift models, forklifts on by Eagle Power.
Sours: https://www.eaglepowerandequipment.com/blog/2017/12/forklifts-from-case-offer-speed-in-lifting-and-moving-loads/
Case Introduces Two New Rough Terrain Forklifts
Case Construction Equipment has announced the introduction of two new H Series rough terrain forklifts, offering enhanced fuel economy and productivity along with industry-leading lift speed and dependable, high-performance lift capacities.
The Case 586H and 588H forklifts achieve Tier 4 Interim certification through the use of cooled exhaust gas recirculation (CEGR) technology and a diesel particulate filter. Both models feature Case turbocharged engines rated at 78 net hp (58 kW) that deliver a minimum 5% increase in fuel efficiency and faster response times than previous models, while meeting current emission standards.
"While fuel economy is a top benefit of the Case H Series forklifts, the new models incorporate a variety of improvements that increase productivity, including an enhanced operator environment and easier serviceability," says Katie Pullen, Case brand marketing manager.
Case H Series forklifts are designed to operate in a variety of terrains, with optional four-wheel drive, standard differential lock, 60 degrees of mast tilt and optional load control to safeguard loads at travel speeds up to 24 mph (39 km/h). For operations in confined areas, both models feature a narrow, zero-tail swing design. The Case rough terrain forklifts feature an industry standard ITA Class 3 carriage and forks, allowing a wide range of aftermarket attachments.
With a standard 15-foot mast, the Case 586H forklift has a minimum operating weight of 13,228 lb. (6,000 kg), lift capacity of 6,000 lb. (2,722 kg), and lift speed of 107 ft/min (0.55 m/sec). The Case 588H forklift features a minimum operating weight of 15,639 lbs. (7,094 kg), lift capacity of 8,000 lbs. (3,628 kg), and lift speed of 106 ft/min (0.54 m/sec). Both models are available with 22-foot (6.7-meter) masts.
The Case H Series forklifts offer many of the same powertrain components that are standard on the company's industry-leading N Series loader/backhoes, including the engines and axles. Unlike the Case loader/backhoes, the H Series forklifts feature hydraulically actuated, wet disc brakes that do not include a power-assist capability.
"Brakes on the H Series machines provide greater operator control in the applications where rough terrain forklifts are used," Pullen says. "Customers that operated prototype units of the new H Series forklifts told us the traditional brakes gave them a better feel for inching forward while lifting and placing loads, compared with the performance of power-assist brakes."
Designed for operator comfort, visibility
The Case H Series forklifts feature a deluxe suspension seat and a spacious operating platform, keeping operators comfortable and productive on the job. Controls are easy to use which helps experienced and novice operators move more materials.
The tapered rear hood and wide-channel dual-mast cylinders result in unmatched visibility for the operator. The narrow operating console increases front visibility. Optional deluxe suspension seat and load control combine to provide a comfortable ride on any terrain.
Easy serviceability maximizes uptime
Case H Series forklifts help contractors maximize uptime by simplifying daily maintenance. No-tool swing-out access doors, vertical spin-on filters and grouped, ground-level service checks streamline engine access and routine maintenance.
The outboard wet disc brake design on the Case H Series forklifts enables technicians to service the brakes by removing only the outer components that are easy to access, such as the tires and rims, eliminating the need to drop the axles. This arrangement drastically decreases the time required to service the brakes. Also, the larger brake surface helps extend brake life and reduce the frequency of brake repairs.
The roller mast design, by minimizing the possibility of debris accumulation, assures smoother lifting, longer component life and reduced maintenance costs.
Sours: https://www.oemoffhighway.com/trends/hybrids/press-release/10760091/case-introduces-two-new-rough-terrain-forklifts
Home page
Advertising, Promotional Items, & Memorabilia
Airplanes & Helicopters
Apparel
Books, magazines, & calendars
Buses
Cars - Automobiles
Catalogs - Model manufacturers
Comic & TV show
Construction equipment
Cycles, bikes, and sporting vehicles
Decals (waterslide decals for models)
Displays & cabinets
Emergency vehicles
Engines & motors
Farms tractors & agricultural equipment
Figures, soldiers, and animals
Fire trucks & apparatus
Forestry equipment
General hobby
Lawn & Garden
Military tanks & equipment
Mining equipment
Miscellaneous
Modeling supplies
Parts
Posters, paintings, and photos
RC (Radio Control)
Sales literature
Scenery & Diorama supplies
Ships and boats
Slot Cars
Snow equipment
Space
Tools
Trains
Trucks - over the road
Videos - DVD & VHS
Custom decals
Shows & Expos
The shop
About Us
Contact us
New products
Search
Contact us
Sours: https://www.constructionscalemodels.com/en/case-586e-forklift-conrad-con2993
Is That A FORKLIFT Or A GARDEN TRACTOR?! Only 1 Known! J. I. Case 190 Fork Lift Tractor
Case 586E Forklift
Featured here is the CASE 586E which was manufactured approximately from 1987 to 1999. With a couple of exceptions these machines are very similar to earlier models. From an operating standpoint the learning curve is very small. The controls are almost exactly the same. The machines look alike but there are some changes. The mast is different in that the E model uses 2 small lift cylinders mounted to each side of the mast instead of a larger one in the middle. This improves visibility looking forward. Secondly, and a major reason we bought the later model to replace the older one, is that on the E model a mechanical four wheel drive (MFWD) was an optional feature and is present on the machine we got. This is makes a big difference in how well the machines get around as they have massive counterweights on the engine end and particularly without a load on the forks, the machine really doesn't get around that well in slippery conditions, but this is remedied by the MFWD as the wheels with weight on them become driving wheels.
The third change and the one that likely justified changing the model number was the change in engines. The CASE diesel engines were somewhat dated in design (think evolving emissions standards), and ultimately Case and Cummins jointly developed a series of small industrial engines which became 'Case engines' if sold in a Case product, and a Cummins engine if sold by Cummins. Although it the engine in these tractors are often called "Cummins" that is at least legally not true. They were made in a jointly owned factory without any identifying marks as to which owner they were intended for. Only when the engine was ultimately ordered shipped did the shipping clerk affix a serial number and trade mark tag to the timing cover designating whether the engine was a Case or a Cummins. The engines in the case equipment have CASE stickers on them and are therefore Case engines.
Case sold a "D" series from about 1981 or 1982 until 1986. The "D" series had the old Case engine.
I do have a 'spec sheet' on the Case 586E which may be viewed at the forgoing link.
Case introduced the G-series in 1999 and they have a completely reworked drive train.
Applications
As you can see these tractor based forklifts have been around for 35 or 40 years. The large tires make them capable of working outside which is something that traditional industrial forklifts don't do very well. Many lift trucks are confined to concrete or asphalt floors. Early on this design found considerable acceptance in the hoome building and construction industry for lifting building materials. However, the squirt boom 4 wheel steered machines easily outclassed these for that application. These are fast and have a smaller foot print which makes them functional in large buildings. They are now often referred to as 'field forklifts' which I think is reflective of the indoor/outdoor capability, particularly in loading and unloading trucks in unimproved areas such as around a farm.
The now commonly present mechanical 4x4 greatly extended the usefulness of this design. The thing sort of looks like a farm tractor and you would think it would go anywhere a farm tractor would go, but without the 4x4, this simply isn't so. The reason because of the massive counterweights on the 'engine' end. The two wheel drive model, though unlike the industrial designs which sink, still doesn't get around very well without a load because you have thousands of lbs of counter weights on surrounding the radiator, and no weight on the driving wheels. The 4x4 avoids the embarrassment of getting stuck on wet grass when unloaded.
This type of forklift has historically been offered in several lifting capacities, but the basic tractor isn't much different. The difference is mostly in the number of counterweights.
- - Updated 12/20/2012
- - Updated 08/12/2011
- - Updated 3/09/2011
Sours: http://www.vannattabros.com/
Models case forklift
Case Construction King 586C Forklift
Case entered the construction equipment market about 1960 with the Construction King series of backhoes. The very first ones were very much their farm tractor with some equipment added. The oldest backhoe I've seen was a farm tractor body with a steel 'grill guard' in front of the farm tractor grill and a hydraulic pump sort of exposed on the front, with a loader and backhoe attached.
The second generation from Case still had the farm tractor underneath but had most customization. Our Case 430 backhoe of about a 1964 vintage is typical of this. Still very much a farm tractor underneath, but the farm tractor grill is gone and a 'hard nose' has been added, and of course the yellow paint on the outside but the traditional Case red is retained on the wheels and chassis.
Ultimately Case separated their construction equipment lines and have separate dealers for them and ultimately the company even separated the ownership of the case construction equipment from what is now known as 'Case-IH' farm equipment.
Featured here is a Case 586C forklift which is approximately a 1979 or 1980 model. There is still a lot of farm tractor buried deep inside, but the frame is all for the industrial model, and of course as a forklift it has a massive steering axle. The chassis itself is identical to the backhoe models of the time, but instead of having a backhoe and loader, it has a forklift attachment on it and related modifications. Not only is the seat facing the back, but the switches and instruments are also turned around, unlike some earlier models that left many of the controls and instruments facing the other direction.
Often called a 'rough terrain' forklift, this type of forklift is designed to work off the asphalt. While it is a poor choice for getting a pallet off a top rack at Lowe's, they work reasonably well outside. This particular model lifts to 15 feet which is really quite a ways up there. Optional masks for this model go to 22 feet. This type of machine is fairly popular in the South but rarely seen in the Pacific Northwest. I suspect because lots of the new ones are sold to rental companies and the rental demand in this area is more for construction site forklifts, and the telescoping boom lifts do this job better. In California, this type of lifttruck is called a 'field forklift', because it is quite suited for working in agricultural applications, where crops are palletized.
The evolving change of the past 10 years or so is that most of the newer models (Case now has a 586G ) following the trend of farm tractors, are 4 wheel drive. We are sort of used to how well farm tractors get around and assume that one of these that sort of looks like a farm tractor will get around similarly under wet conditions. Unfortunately, that is not entirely accurate. A traditional farm tractor is designed with most of the weight on the driving wheels. With the fork lift this is deceptively untrue. The problem is the counter weight. To give the machine the 6,000 lbs of lifting capacity, there is nearly 4,000 pounds of cast iron in the form of a counter weight on the steering end of the machine, all on a machine that has a total weight of around 13,000 lbs. Practically speaking this machine has a weight distribution of about 50-50 (when empty). To be sure it works better than a classic forklift that really won't operate very well in loose gravel, but don't expect to wollow though the mud with it like you might with a farm tractor. One sort of expects a lift truck like this to in fact get around as well as a farm tractor, but the weight balance is wrong. The massive counterweight makes them too heavy in the wrong place if you don't have a load on the forks.
Once of the nice things about this machine is that the mast is short. It is only 9 feet high when the folks are 'down'. This means that you can haul it on a standard flatbed truck (which usually has a bed height of around 4 feet) without being over height.-- a good thing. It is also moderate in its headroom demands which is a good thing if you work partly inside a building. This contrasts to some lifts that have masts so high that you can't haul them without being overheight, and that quickly get into overhead problems.
The engine is a classic Case Diesel. I'm not sure of the HP. The 586G has 75HP and I surmise this is some less but probably in the 60 hp range. The transmission is a standard 4 speed. It has a converter and a power shifted johnson bar. The transmission itself is manual. The brakes are the traditional Case disk brakes, but are hydraulic activated with two master cylinders--- one for each wheel. The controls include 3 brake pedals. --- A 'two wheel' brake pedal on the left and individual pedals on the right. A differential lock is provided, but with steering brakes its usefulness is doubtful. There is a foot throttle for either foot, and a hand throttle as well.
The parking brake simply activates the foot brakes. If the foot brakes are out of adjustment then the parking brake won't work. The difficulty in adjusting the brakes is mostly in getting to the adjuster. It is a nut you turn, but particularly the one on the right side which is covered by the master cylinders requires a lot of imagination to get a wrench on. These sorts of features have plagued CASE for a long time. They designed the tractor for one thing, and then adapted it to another use. When you do this there are always some things that seem insane, and a brake adjuster that you can't get a wrench on is one.
As for forklift controls there is a side shift of a total of 6 inches which moves the whole mask. The teeth themselves must be manually adjusted. The canopy has a screen on top. This protects you from falling things and is likely that way so you can see up as you need to watch for overhead clearance issues all the time, but it doesn't keep the rain out which is a nuisance in Oregon weather.
FORKLIFT REPAIRS
>
Well, you buy a 25 year old folk lift and not have some issues with it. Case made the C models in 1979 and 1980. As noted the tractors are similar to their 'backhoes' of the day--- the 580C, though I am uncertain if the converter was used in the 580C. Anyway the first thing that needed attention was the forklift itself. An examination of things showed that the 'headache rack' of the forklift (the bars that the teeth hang on) was rubbing on the mast. This shouldn't be so we took it apart. We found the inner channel (that slides in the outer channel on the outside and has the fork assembly on steel wheels running inside it was shot.
The first order of business was to dismantle the mast. This wasn't too difficult. First we removed teeth which just hang on the head ache rack (and have stopper bolts on the ends to keep them from falling off). Next the headache rack is bolted with recessed allen head bolts to the assemblies that have the wheels on them that run up and down inside the main lift channel. they have the lift chains attached to them so when the cylinder expands--it lifts the inner mast and pulls up the forks on the trackage, thus in use the the forks run up the mast while the mast extends, allowing a 9 foot mast to have around 15 feet of lift.
Anyhow, unhook the chains, and unbolt the headache rack and the roller assemblies fall out of the channel on the ground. Next you unbolt the top end of the lift cylinder from the mast, and then with your 25 foot boom truck you just lift the inner channel part of the mast about 10 feet straight up and it lifts out of the outer channel and you have it. The photos on the right are of this inner channel in the defective condition. It should be of uniform thickness as the wheels run on it. Here it is thinned badly on one side and completely broken away on the other side. --- not a good thing.
We wash up the steel wheels that the fork assembly rides on and find that 3 of the 4 steel wheels have bad bearings in them. These are integrated wheel/bearing assemblies where the outer race of the roller bearing is the 'wheel'. The Wheel part is OK, but the bearings have issues. It is either buy a new wheel/bearing assembly, or fix the one's we have. We choose the latter. We strip the rollers out, turn out the small flange that holds the rollers in, and then turn a piece of plastic for a bushing. Since we had 3 to do we put a piece of Delrin in one (the white one), for a control and put UHMW (the pink stuff) in the other two, and just washed and cleaned well the roller bearing that seemed ok. This machine has been run in the dust and dirt and not greased very faithfully and the bearings were packed with dirt and sand. Our take is that bushings will likely last better than needle bearings under these conditions. Anyhow that is what it is going to have. We could have used brass, but this plastic stuff seems to work as well as brass in may applications and is a lot cheaper.
Review of the inside rail suggests a replacement of 24" on one rail and 40 inches on the other rail. The defective part is cut out with a plasma cutter and a new piece of 2 1/2" x 1" is dubbed in and welded. OEM rail appeared to be only 7/8" but there was lots of slack to to wear, so we took the shaper and trimmed a few inching of the end down 1/8" as you can see in a couple of the photos and then lapped a a3/16" piece on top of that and scabbed it onto the rest of the length of the rail to fatten it up a a a bit. You will notice that at the end we did not cut away clear to the end but left an inch down there for something to align to. The welds were ground down smooth. Finally we turned the assembly around and installed it the 'other way' so the repaired part would be on the front instead of the back. It will receive little wear there based on the fact that all the wear we found was mostly on the back.
The message here is that forklifts are pretty durable things, but they do need some care which hadn't been provided here. You need to keep the wheels turning in the mast head and keep grease on the slides, things that simply were not done here.
- - Updated 12/20/2012
- - Updated 08/23/2009
- - Updated 04/20/2008
- - Updated 10/19/2006
- - Updated 03/16/2008
Sours: http://www.vannattabros.com/
North America - CASE H Series Forklifts - Load Control
CASE Forklift – 586h
Pallets to pipes, the CASE 586H rough terrain forklift gets it done smoother, easier and faster. With intuitive controls like a push-button parking brake, eye-level AIC (Advanced Instrument Cluster), optional deluxe suspension seat and spacious operating platform – the 586H CASE forklift offers maximum comfort and ease of use. If low clearances are an issue, CASE offers freelift masts that allow you to raise the forks five feet off the ground prior to the mast protruding, keeping your overall travel height lower.
Productivity
The CASE 586H and 588H forklift increase productivity and efficiency with industry-leading lift speed and dependable, high-performing lift capacities. These rough terrain forklifts are able to operate in a variety of terrains with the optional 4 four-wheel drive and standard differential lock. No need to worry about your load, CASE offers maximum travel capabilities with their 60° of mast tilt and optional load control. If operating in tight areas is a concern, the 588H features a narrow zero-tail swing design, meaning if the rear tires clear it, the rear of the machine will as well. CASE rough terrain forklifts feature an industry standard ITA class 3 carriage and forks allowing a wide range of aftermarket attachments.
Fuel Efficiency
These CASE forklifts feature a simple, cost-effective Tier 4 Final solution. The 74 horsepower, 3.4 liter FPT engine uses a Diesel Oxidation Catalyst (DOC) to deliver a minimum of 5% better fuel efficiency than our previous models and faster response times while meeting current environmental standards.
Comfort and Visibility
Without a disruptive third mast, our wide-channel, dual-mast design gives the H Series unmatched visibility. A narrow operating console further help increase front view so operators can confidently secure materials and a low-profile hood provides a clear view behind the machine. The large operating platform provides ample room for any operator. Add the optional deluxe suspension and load control for a comfortable ride on any terrain.
Serviceability
From tool-free swing-out access doors and spin-on filters, to ground-level site gauges and grouped service points, you can do daily maintenance in a matter of minutes. It's the easiest way to help you get the most performance and longest life out of your machine. Axles are also easily serviced without complete disassembly for easy upkeep.
Sours: https://www.grofftractor.com
Similar news:
So we started dating. But the sexual adventure hasn't gone too far yet. Kissing, sucking papillae and that's it. She wouldn't even let me in my panties.
1219
1220
1221
1222
1223