I'm torn over the HP Omen 15.
Like the larger HP Omen 17 we reviewed (and heartily recommended) in late 2017, the Omen 15 isn't the flashiest notebook around, nor the fastest. It doesn't stand out from the wider crowd of gaming laptops with spectacular features. But nevertheless, it's a solid, attractive all-around gaming notebook that's light enough to actually carry with you. That's a rare combination in gaming notebook
Yet a few puzzling design decisions in the specific configuration we're reviewing tarnish its luster somewhat. One aspect might be a complete show-stopper depending on how you use your gaming laptop. The HP Omen 15 serves as a strong reminder that yes, the configuration you choose when buying a PC can matter deeply.
Let's dig in!
HP Omen 15 specs, features, and price
The Omen 15t gaming UHD (as this specific variant is formally known) is available with several customization options on HP's website. The base configuration includes an Intel Core i7-7700HQ, a GeForce GTX 1050, 16GB of RAM, a 120Hz 1080p IPS display, and a 1TB hard drive paired with a 128GB NVMe drive for $1,100. That's a very solid offering for the price! But if you need something more, every aspect of the machine can be changed except for the processor and memory. That includes details like the operating system and networking hardware.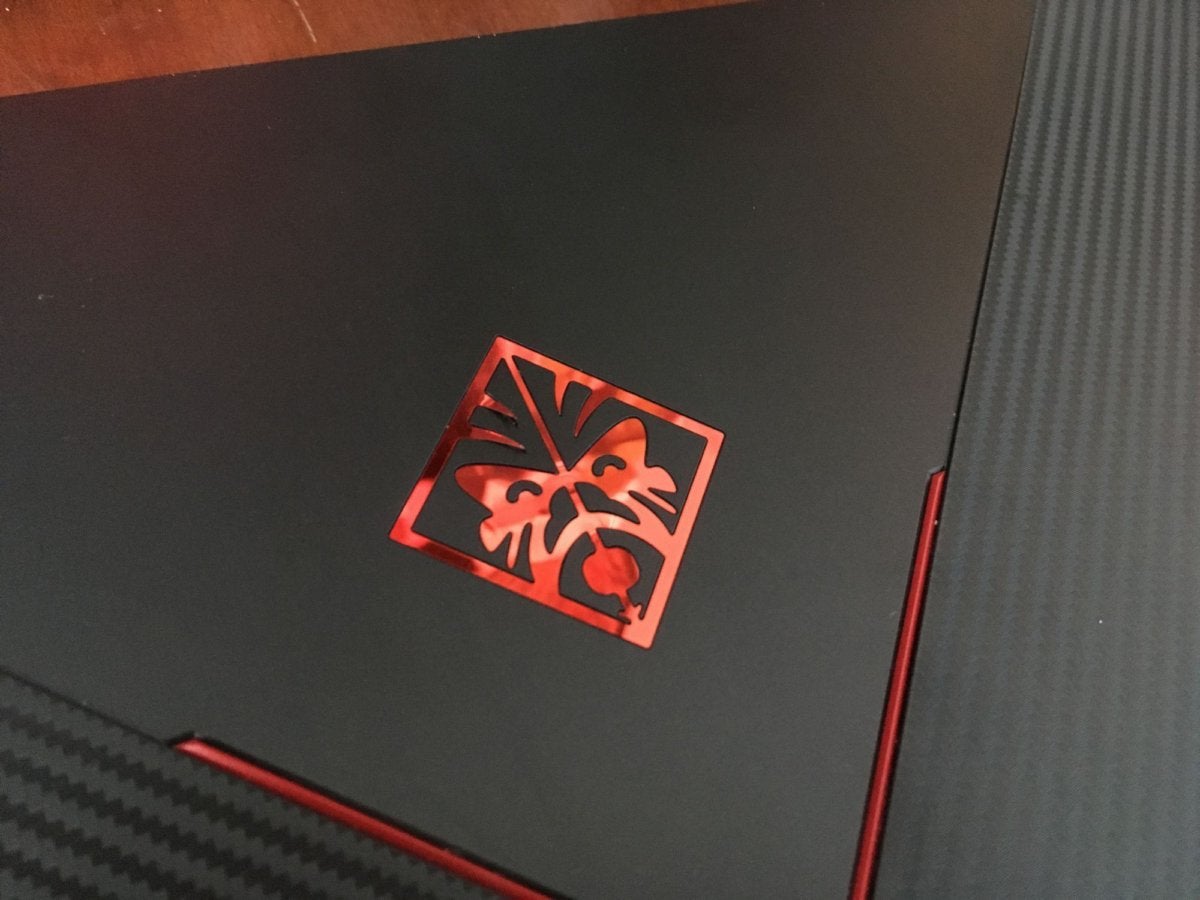 The HP Omen 15 we're reviewing represents one of the higher-end configurations available.
CPU: Core i7-7700HQ
GPU: Nvidia GeForce GTX 1060 Max-Q
RAM: 16GB DDR4/2400
Storage: 2TB Seagate 5400rpm hard drive, 256GB Toshiba NVMe M.2 SSD
Wireless: Intel dual-band 802.11ac Wi-Fi, Bluetooth 4.2
Display: 15.6-inch 3840×2160 (4K) IPS with G-Sync
Ports: 3x USB 3, Thunderbolt 3, HDMI, Mini-DisplayPort, SD card reader, ethernet, microphone jack, headphone jack, lock slot
Weight: 5.76 pounds, or 7.74 pounds with power brick
Dimensions: 15.3 x 10.85 x 0.98 inches
Webcam: 1080p IR webcam with dual-array digital microphone (supports Windows Hello biometric authentication)
Price: $1,100 baseline, $1,740 as configured
The specs largely align with what you'll find in many gaming notebooks, delivering plenty of prowess in gaming and productivity alike. The upgraded webcam includes an infrared sensor to support Windows Hello biometric authentication. Like I said: It's a smart, solid all-around gaming laptop. A few puzzling hardware choices in this model leap out, however—like the decision to include a pokey 5,400rpm hard drive alongside a speedy, yet small 256GB NVMe boot drive. Talk about a night-and-day performance difference!
Another puzzler: HP's configuration page lists the graphics card as a "6GB GeForce GTX 1060," leading you to believe it's the full-fat mobile GPU. But a quick dive into the Windows device manager shows the hardware is a GTX 1060 Max-Q part, instead. Nvidia's Max-Q tech tunes hardware and software to create more energy-efficient versions of their namesake GPUs, albeit with some loss in performance. Happily, as we've discovered in the Dell Inspiron 15 7000 (and will see later in this review), the Max-Q version of the GTX 1060 trails its beefier cousin by only a few frames and stands as a damned fine 1080p gaming option. Still, this potential confusion is worth pointing out. We asked HP for clarification, but the company was unable to provide any.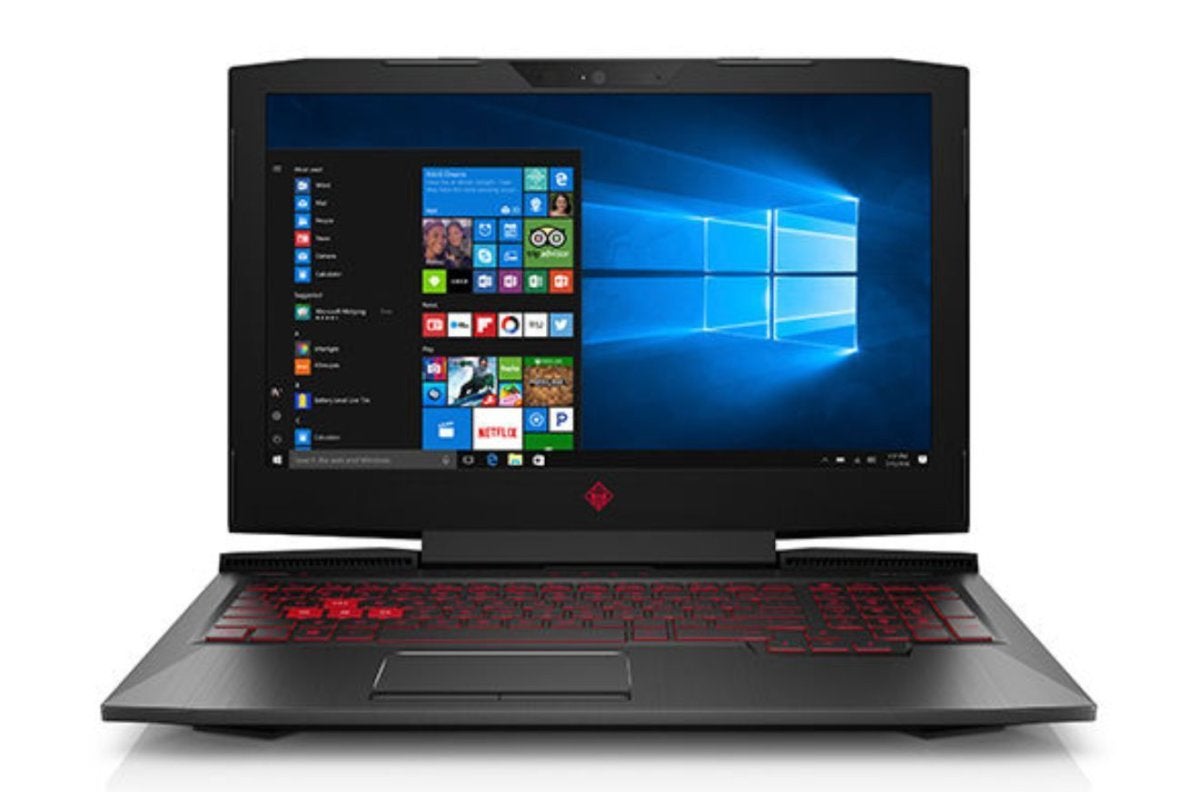 The Omen 15's 15.6-inch IPS panel is a stunner, dishing out wide viewing angles, vibrant colors, and a luminous 314 nits of brightness. The display includes Nvidia's G-Sync technology as well, which synchronizes the refresh rate of the GPU and panel to provide buttery-smooth gameplay free of tearing or stuttering. It's great!
The decision to include a 4K, 60Hz display as an option feels weird with this laptop, though. The GTX 1060 Max-Q inside realistically can't game beyond 1080p resolution in modern AAA games, and with so many pixels crammed into a modest 15-inch display, HP automatically scales text, apps, and other items up by 250 percent to make them legible, negating 4K's benefits in most day-to-day uses. G-Sync and 4K resolution each impose a massive penalty to battery life as well, as you'll see later.
The 120Hz, 1080p G-Sync display option that HP offers might be a better fit for the Omen 15's capabilities, though we haven't tested it directly. It's $200 cheaper, too.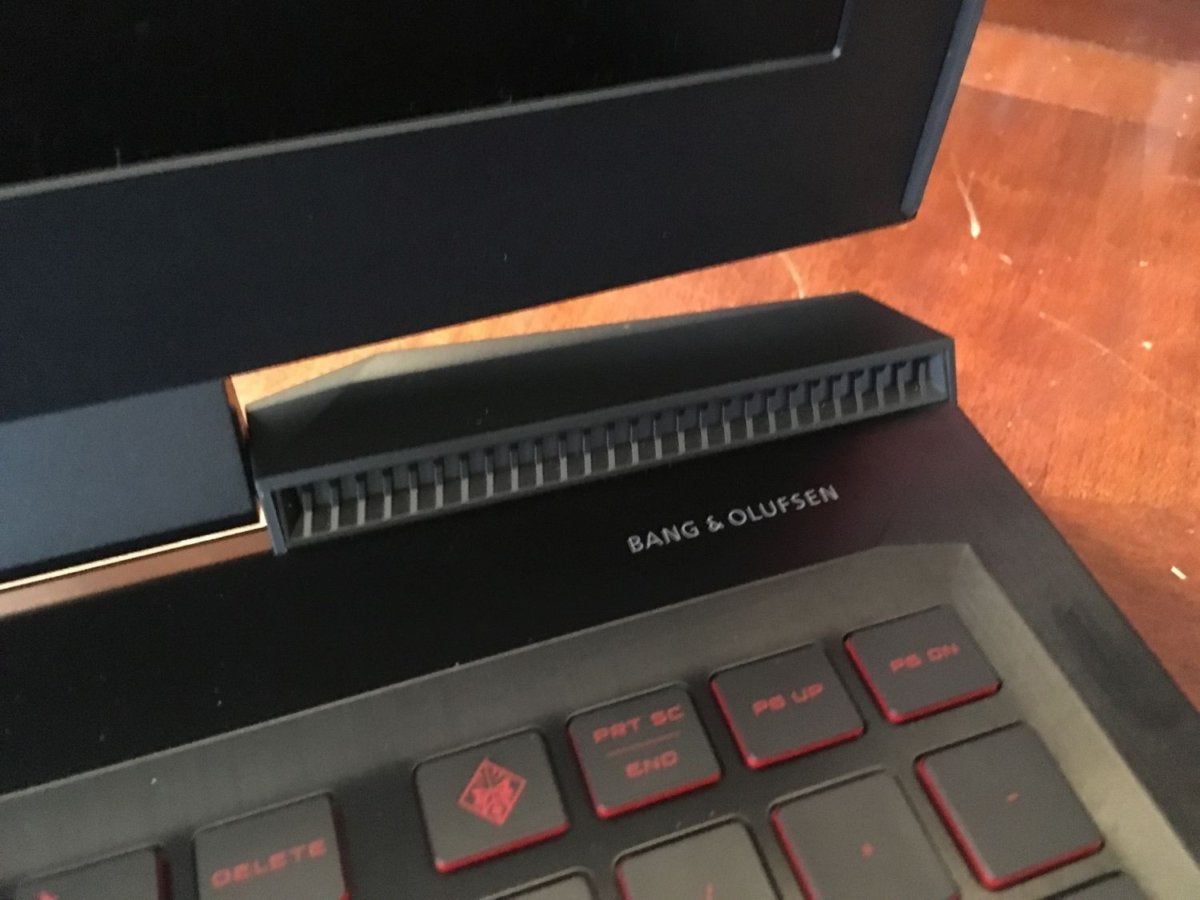 Visuals are only part of a solid multimedia experience, though. The HP Omen 15's Bang & Olufsen speakers produce clear, loud audio that sounds nice whether you're watching movies or blasting through Cabal hordes in Destiny 2. There's very little bass however, and while the lack of punch isn't a major detractor to the overall experience, you definitely notice it during action-heavy sequences. You might want to snag a nice gaming headset to toss in your travel bag, but I wouldn't consider it a must-have.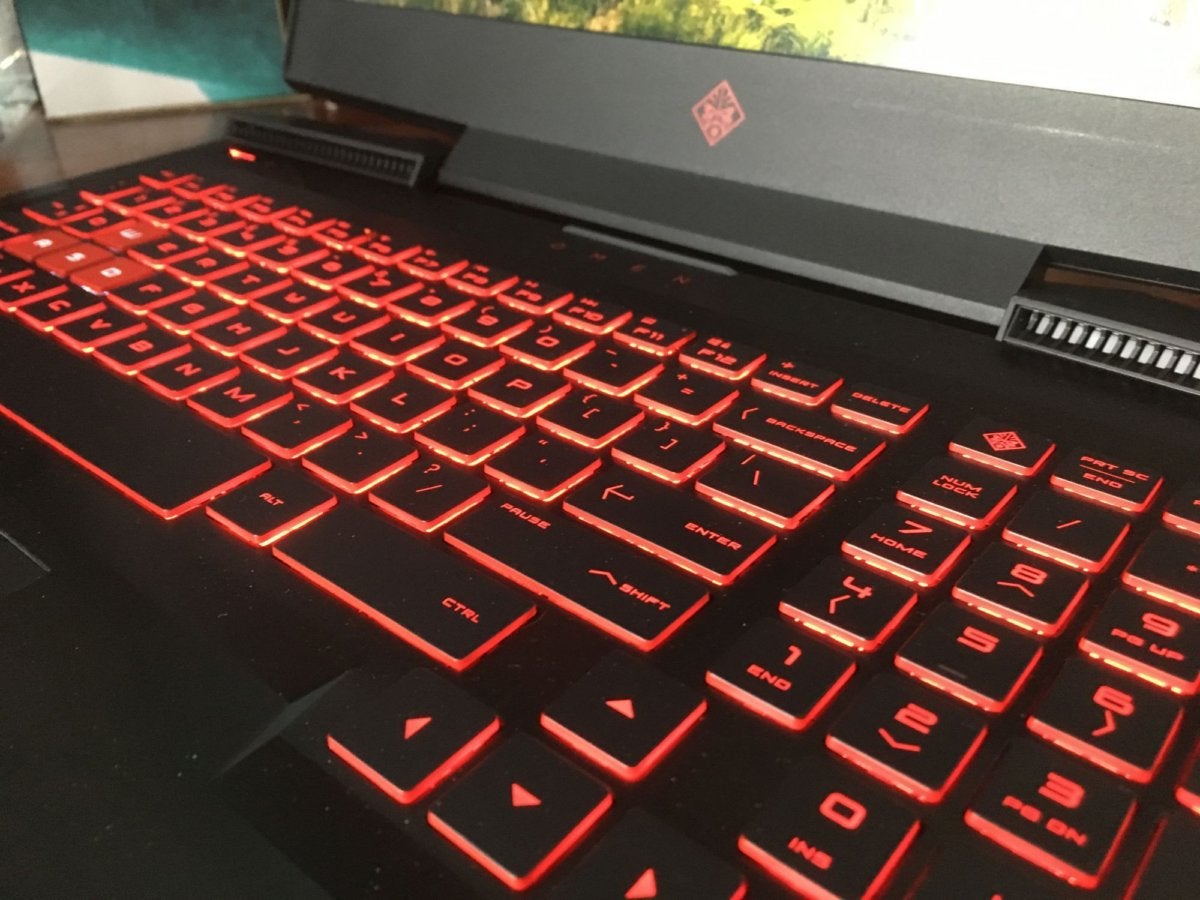 Like the rest of this laptop's design, the HP Omen 15's touchpad and keyboard deliver a solid core experience. The touchpad isn't quite as fluid as the gold standard set by the MacBook Air or Surface devices, but it's responsive (if slightly draggy-feeling) and responds well to gesture commands. It has physical left- and right-click buttons too, which I always prefer. The keyboard travel is limited, but it still feels nicely crisp and clicky. I enjoyed using it for gaming and plowing through emails even though it's not mechanical. The keys' lettering is virtually impossible to read unless you have the red keyboard backlight active, though, because HP decided to use red type on black keys. Overall, the Omen 15's input experience excels compared to many gaming laptops.
The overall design of the notebook is strong but also makes some small missteps. Even though HP sticks to the black-and-red aesthetic common on so many gaming laptops, it looks damned good—it's "gamer" done right! I just wish the Omen 15 used more consistent materials. The surface around the keyboard is crafted from gorgeous brushed aluminum, yet the lid itself consists of plastic designed to resemble brushed aluminum, as is the heavily ventilated bottom of the laptop. It's a bit jarring.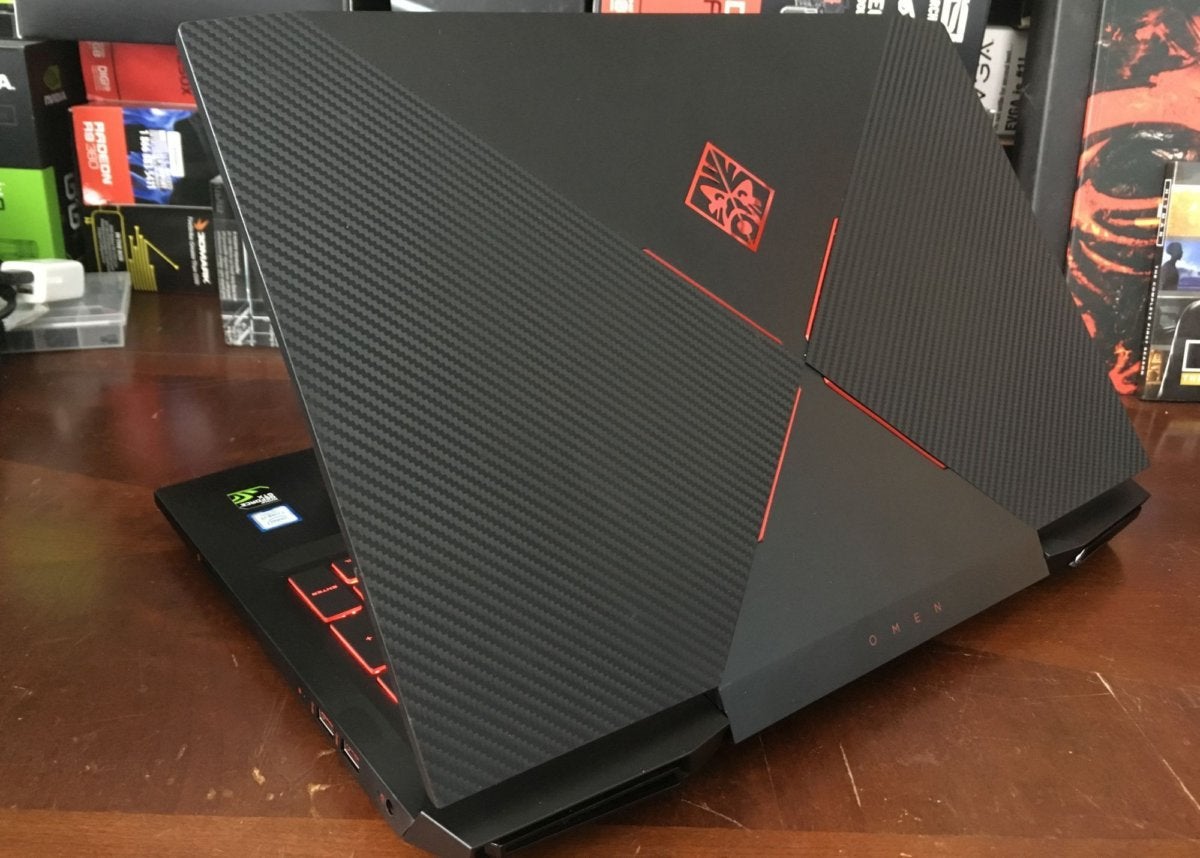 The lid's design looks great though. A red X in the center separates it into four quandrants, with the left and right quadrants covered in faux carbon fiber. A crimson Omen logo sits in the center of the upper quadrant, striking a beautiful contrast.
Note: The foil Omen logo on our unit was already starting to peel off when we pulled the notebook out of its box—and we saw plenty of similar complaints on HP's support forums. According to HP, however, this was a known issue with early devices like ours that has since been resolved.
At one inch thick and 5.75 pounds sans power brick, the HP Omen 15 is lighter than many gaming laptops, though not as sleek as some of the Max-Q laptops we've seen. The Asus ROG Zephyrus and Gigabyte Aero 15X both weigh in under five pounds despite using more potent graphics cards (they cost hundreds of dollars more, to be fair). You can't complain about the port selection, either: The HP Omen 15 is loaded, as you can see in the quick-hit specs above. It even has Thunderbolt 3 and a lock slot.
Next page: HP Omen 15 performance benchmarks and bottom line
HP Omen 15 performance benchmarks
Gorgeous displays and fancy carbon fiber lids don't matter if a gaming laptop doesn't game, though. Fortunately, the HP Omen 15 works and plays like a champ. We'll be comparing it against several similar systems in our tests, including the GTX 1060 Max-Q-equipped Dell Inspiron 15 7000 Gaming, the Gigabyte Aero 15 with a full-fat GTX 1060, the Gigabyte Aero 15X with a GTX 1070 Max-Q, and the larger HP Omen 17 with a GTX 1070 inside.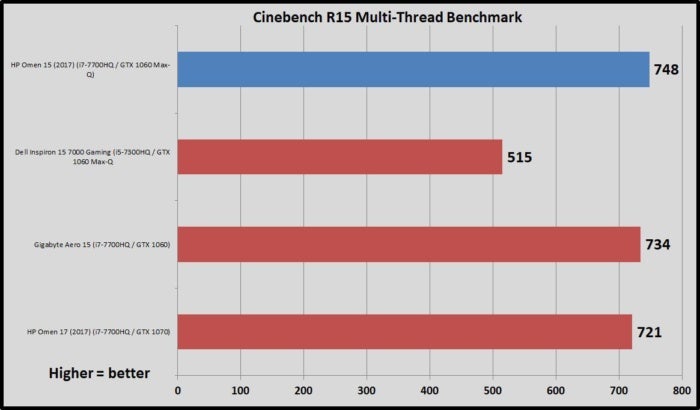 Maxon's Cinebench R15 measures raw CPU performance, and the more threads you can throw at it, the happier it is. Many of today's high-end gaming laptops lean on the quad-core Intel Core i7-7700HQ, including most of the machines compared here, and largely deliver similar results with some minor variations due to cooling design differences.
The Dell Inspiron uses a Core i5 chip instead. It stands strong in Cinebench's single-thread tests, but because the chip lacks hyper-threading support, Dell's laptop brings up the rear in Cinebench's multi-threaded benchmark by a large margin. The smaller HP Omen 15 actually outperforms the larger Omen 17 by a considerable amount.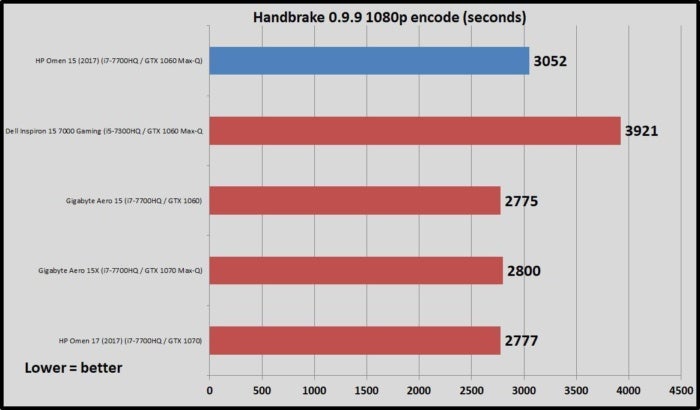 The Cinebench test has a short run time, but the file we encode in our CPU-intensive HandBrake test (which uses an older version of the software) takes around 45 minutes on a quad-core processor. The extended duration reveals how a laptop's temperature throttling affects performance over time. The Omen 15 finishes nearly five minutes after the Omen 17, despite its advantage in Cinebench. That suggests it throttles performance more aggressively during extended workloads to keep temperatures down.
But this is a gaming laptop, so let's get to the games! Note that we tested at 1080p. The GTX 1060 Max-Q excels at that resolution, but going up to the display's native 4K utterly cripples games. Keep that in mind if you pick this laptop up because you'll need to manually change the resolution to 1080p the first time you launch new games.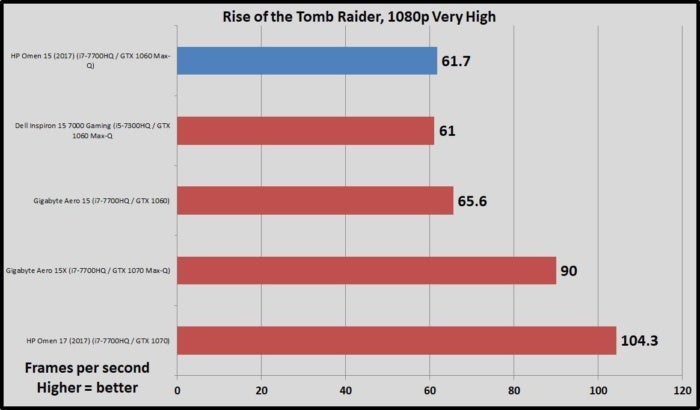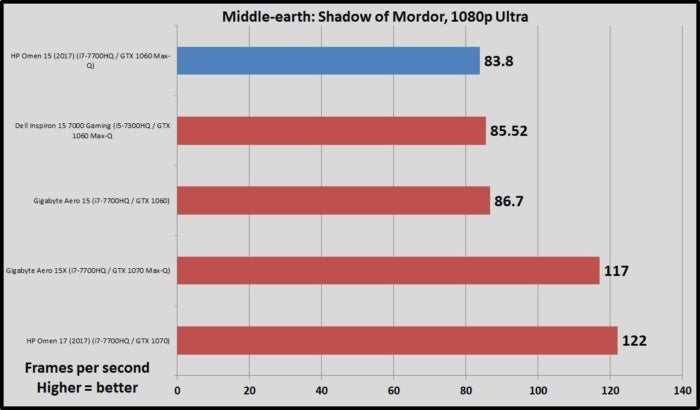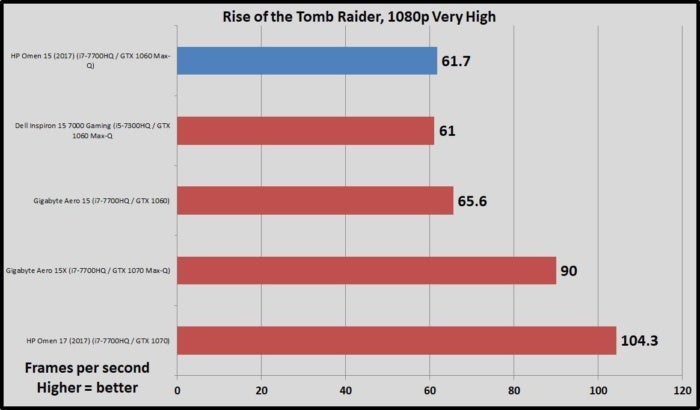 As you can see, the HP Omen 15 delivers in excess of 60 fps across the board at 1080p. The gorgeous G-Sync display makes every game look and feel marvelous. HP's Max-Q-equipped notebook hews closely to the Dell Inspiron 15 7000 Gaming, and lags behind the Gigabyte Aero 15's full-fat GTX 1060 by only a handful of frames per second. Moving up to a GTX 1070 provides a big jump in performance—and cost—as you'd expect.
We also ran the Rise of the Tomb Raider benchmark continuously for an hour. The only performance drop-off observed fell within the margin of error—around a frame per second. RoTR is a very GPU-intensive game; comparing the consistent results the Omen 15 delivered on it over an hour to the laptop's lagging Handbrake score, we're led to believe HP is more aggressive at throttling back the CPU during extended workloads.
The Omen 15's cooling is superb overall. The laptop didn't get overly hot during long gaming or benchmark sections, and while the fans indeed ramped up after a while, they never were so loud as to be distracting.
Now for the bad news: Battery life.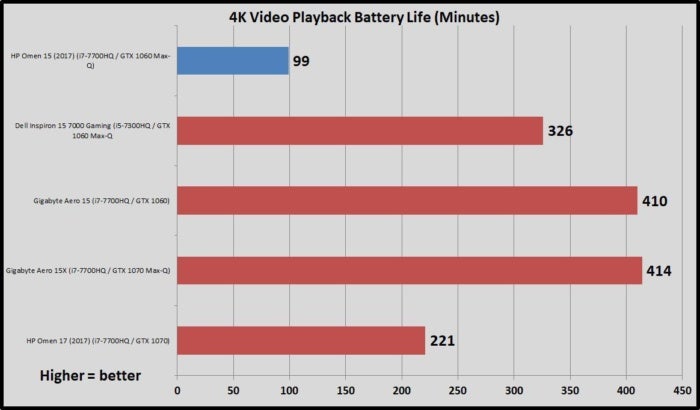 The HP Omen 15's battery life sucks, even after reducing the brightness to 250 to 260 nits to ensure a level playing field between all the machines. It's the worst we've ever seen in a gaming laptop, falling behind even the beastly Acer Predator 21 X and its dual GTX 1080s. It's so bad that we double-checked our settings and ran the test again to confirm our results.
Most Max-Q laptops we've seen pack modest batteries, and the Omen 15 is no different with its 64-watt-hour capacity. That's not enough to keep the screen fed for long with this particular configuration. 4K resolution is famous for murdering batteries. G-Sync is too, as it requires the Nvidia GPU to be active at all times—you can't switch over to integrated Intel graphics to increase endurance with a G-Sync display. The combination cripples this Omen 15. Keep your charger close.
Should you buy the HP Omen 15?
To finish where this began: I'm torn about the HP Omen 15. I thoroughly enjoy the core of system! It's not too bulky, the design looks good, there's plenty of ports, the keyboard and touchpad are comfortable, and the hardware delivers a top-notch 1080p gaming experience. That's everything you need for a competent all-around gaming laptop.
But HP repeatedly trips over the details in the specific configuration we were sent to review.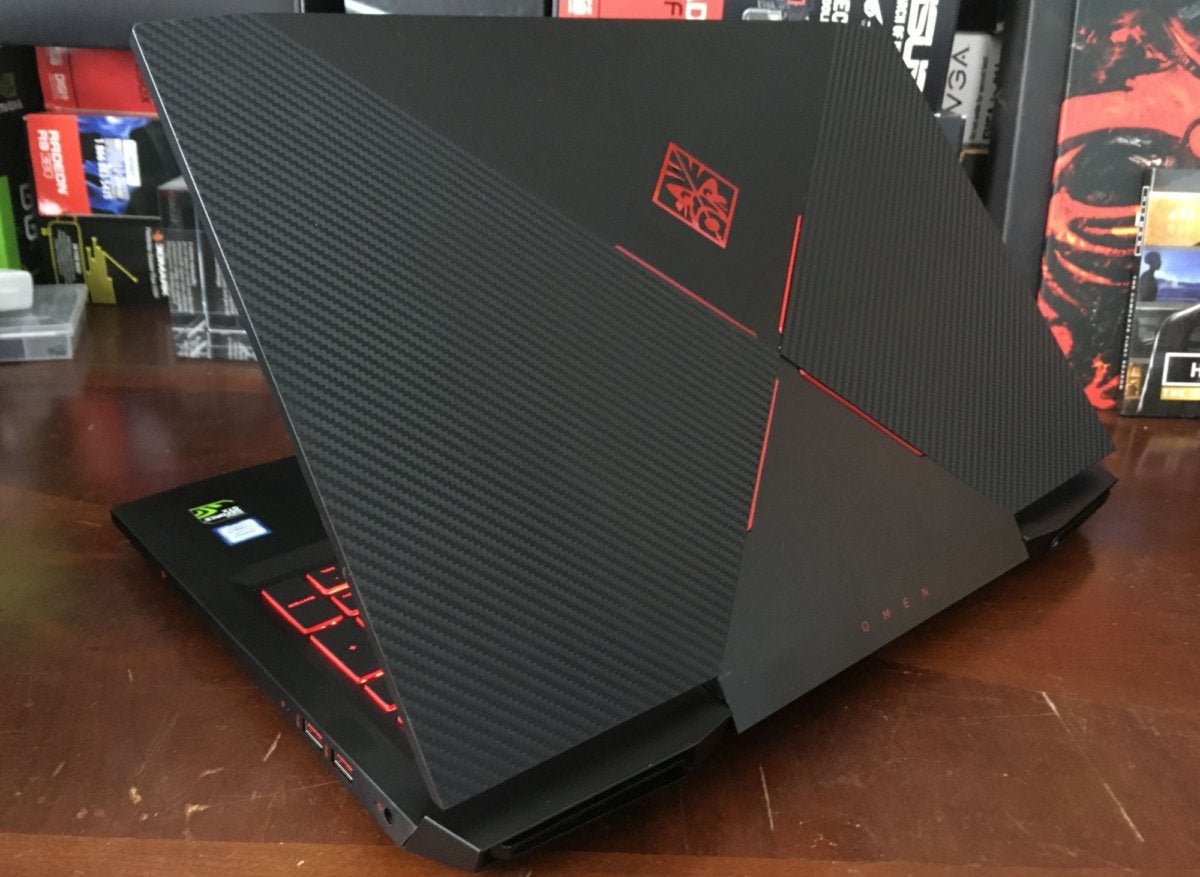 Pairing a tiny NVMe drive with a large but pokey 5,400rpm hard drive doesn't make sense. Gamers need 7,200rpm for mass storage—otherwise loading times and asset streaming in open-world games become excruciating. Mixing actual brushed metal and plastic designed to look like brushed aluminum feels cheap and jarring.
Worse, the Omen 15 is overflowing with bloatware. Not even counting HP's own software (of which there's an excessive amount) we counted roughly a dozen non-stock programs preinstalled on the system, including Netflix, Plex, a McAfee Livesafe trial, several meh games, and Dropbox (which sometimes pops up after you restart, asking you to register).
All those little nitpicks add up when you're spending $1,740 on a notebook, but it's the display that kills this particular laptop's appeal, as gorgeous as it is. If you always travel with your charger, the scant 1.5-hour battery life—while watching videos, not gaming—might not faze you. It's a complete showstopper if you have any desire to truck out to the library or coffee shop with your laptop alone. Worse, the sacrifice is needless. So many pixels crammed into the 15.6-inch screen forces HP to scale desktop elements to 250 percent to remain legible, and the GTX 1060 Max-Q can't game beyond 1080p anyway. The 4K display isn't just superfluous; you actively need to adjust options to keep it from hurting your computing experience. Ugh.
The HP Omen 15 is still a solid gaming laptop at its heart though. Most of these gripes can be mitigated by selecting alternative configuration options on HP's website and running PC Decrapifier on your PC.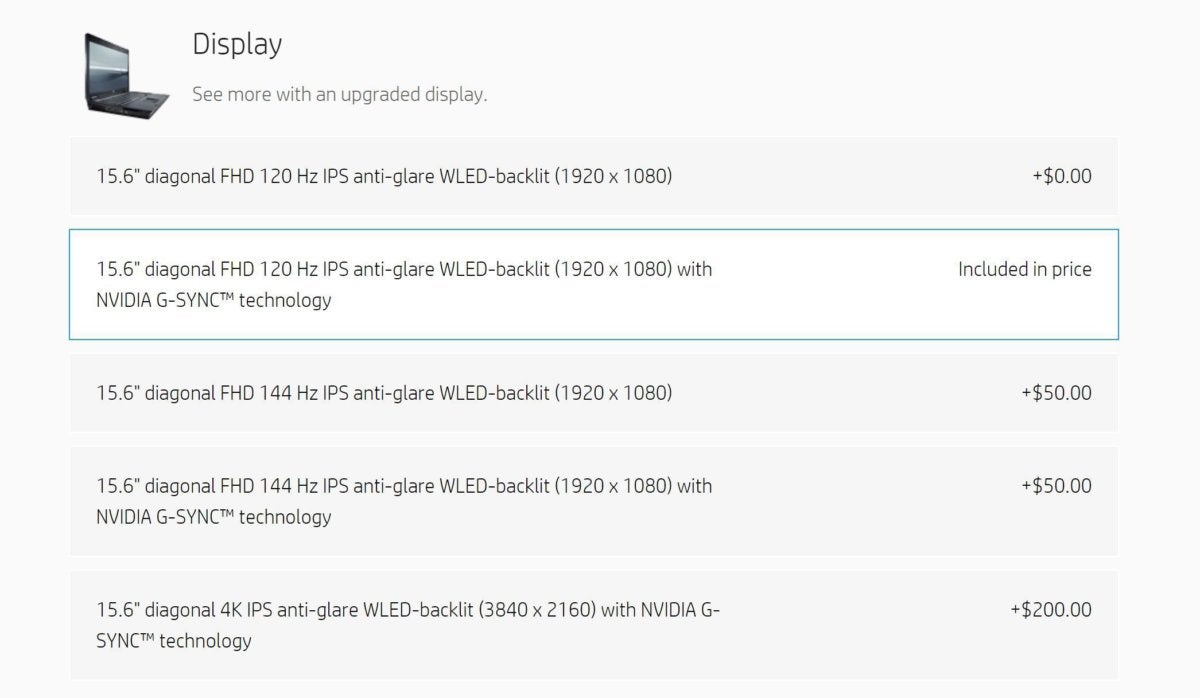 Swapping out the 4K display for a faster 120Hz, 1080p G-Sync screen would provide an objectively superior gaming experience, likely increase battery life by a significant amount, and shave $200 off the price. We'd also suggest skipping this model's 2TB, 5,400rpm storage option and going for the 1TB, 7,200rpm hard drive even though it's a smaller capacity. Doing so would also save another $40, bringing that configuration's total down to $1,500. If you don't need an infrared camera or fancier Intel networking gear, those can lop off another $20 each.
Make those tweaks and the only "problem" left is the plastic lid, which is more of an aesthetic quibble. The alternative configuration outlined above results in a superb gaming laptop, and at $1,440 to $1,500, it'd deliver a lot of value for the hardware you get. Too bad HP didn't send us that incarnation.
We don't recommend buying the $1,740 version of the HP Omen 15 that we tested, with a 4K G-Sync display and a terribly slow hard drive. But the cheaper, faster alternative configuration described above would strongly get our stamp of approval.
If you wouldn't mind abandoning G-Sync and downgrading your CPU to a Core i5, the Inspiron 15 7000 Gaming also packs a GTX 1060 Max-Q. It's a great value at $980 on Dell.com. Microcenter's homebrew PowerSpec 1510, on the other hand, only costs $1,200 and packs a more potent GTX 1070 with G-Sync. It's a classic big, heavy gaming laptop though, and G-Sync is quietly disabled by default (and enabling it is a convoluted hassle). Also, the PowerSpec 1510 can only be picked up in-store at physical Microcenter locations.
Sours: https://www.pcworld.com/article/407888/hp-omen-15-2017-review.html
Gaming laptops tend have a certain reputation in the design department. I guess that the teams that work on these systems do so in a vacuum, and they feed off of the designs of other gaming laptops in an attempt to one-up their competitors' audacity with each new release. It's the only explanation I can think of for why the recent Alienware 13 looks the way it does, and the only explanation I can fathom for the design of HP's latest release of the Omen, the Omen 15.
For the new Omen, HP has really gone all out in the gaudiness division. An X-shape pattern on the lid features a carbon fiber-like design on two of the four sections, red linear accents, and a funky voodoo logo up top. Narrow vents on the back give the impression of jet exhaust ports, and the whole thing is built with beveled cuts anywhere there's an edge or a corner. I think the machine looks downright silly, but my 11 year old son thinks it looks cool, so what do I know?
The 2017 model brings plenty of updates under the hood, the bulk of which are thermal in design. A dual fan system, relocated vents, and more heat pipes bring a 22 percent increase in airflow inside the system, which indeed does a great job at keeping things cool. The system never really heats up under load, and the fans don't even seem to have to work as hard as they do on competing systems. Say what you want about the way it looks, but the Omen 15 isn't going to melt down.
Naturally, components have been significantly upgraded to be brought in line with the state of the art. Specs on my test system include a 15.6-inch display with 3840 x 2160-pixel resolution and an Nvidia GeForce CTX 1060 GPU. For its main processor, the machine has a 2.8GHz Core i7 (seventh generation) chip, 16 gigs of RAM, and dual drives—a 256GB SSD backed up by a 2-terabyte spinning hard drive. Results are impressive, powering the Omen to some freaky benchmark numbers. (The Omen fell a bit short of the Alienware's scores, likely because the Alienware used a single SSD for storage.)
Connectivity is solid, including one USB-C port, three standard USB 3.0 ports, an SD card reader, HDMI output, a mini-DisplayPort, and a full-size Ethernet jack. Part of that is possible because the laptop is so physically large: 29 mm thick and tipping the scales at 5.8 pounds. The weight is significant, to the point where it's uncomfortable to use directly on your lap for more than a half hour or so.
At $1,500, the system isn't a budget laptop, but HP is at least being upfront about the system's value-conscious positioning in the often lofty gaming market. To keep prices reasonable, tradeoffs abound. The screen is quite dim, and battery life is wretched, with about two hours and 15 minutes of running time on a full-screen video test. But my biggest complaint is a simple design gaffe: The Omen 15 is the first laptop I can remember where I absolutely had to turn on the keyboard backlighting (which is red only) in order to be able to see the letters on the keys. Red letters on a black background just don't pop unless you're in bright lighting conditions.
For the intended purposes, though, the Omen 15 serves its purpose better than expected. It's not a performance record-breaker nor a slim and svelte traveling companion, but if you want to get your Mass Effect on at a semi-reasonable price and don't mind looking like you stepped out of the '80s, it's not a bad choice.
Sours: https://www.wired.com/2017/09/review-hp-omen-15-2017/
HP Omen 15 review (2017): A gaming laptop for everyone
HP went big with its Omen gaming machines last year, giving us some major VoodooPC flashbacks in the process. Unfortunately, the laptops felt like a downgrade from the slick Omen gaming notebook that HP launched in 2014. This year, the company decided to turn things around. The new Omen 15 fixes everything wrong with the previous model, thanks to a more stylish design and VR headsets with enough graphics power. It doesn't stand out from the increasingly crowded gaming laptop market, but it at least allows HP to stay in the fight.
Gallery: HP Omen 15 | 11 Photos
Pros
Perfect for 1080p gaming
Great keyboard and mouse
Gorgeous display
Attractive design (for gamers)
VR ready (with the GTX 1060 model)
Cons
Terrible battery life
Not powerful enough to actually play games in 4K
Hardware
The last Omen notebook tried to downplay its gaming sensibility with a somewhat boring aesthetic. Perhaps that was in an effort to make it appeal to a broader audience, but it's not the sort of thing most gamers are looking for. The new Omen 15 has a more aggressive, "fighter jet" design that emphasizes sharp lines and angles instead of friendlier rounded corners. You can tell it's a gaming machine just by looking at it, which should make it more tempting to people who view their rigs like hot rods.
The Omen 15's case is still made of plastic -- not machined aluminum like the gorgeous 2014 model -- but it's mostly sturdy. The aesthetic is all black and crimson, with a touch of faux carbon fiber for good measure. It's an elegant design overall, but I'm not sure how well it would hold up over time. I managed to somehow scratch the top of the case in the midst of this review, and I honestly have no idea how that happened. There's a bit of flex behind the Omen logo and the display as well, which makes me wonder how safe it would be if I were to stuff it into a laptop bag.
At 5.68 pounds, it's on the lighter end for a full-fledged gaming laptop. You definitely won't mistake the Omen 15 for an ultraportable, but it's easy to carry around. Additionally, HP applied NVIDIA's Max-Q design philosophy, which is one reason why it's so portable. The Omen 15 doesn't take Max-Q as far as ASUS' Zephyrus laptop, though, which comes in under five pounds and packs in more-powerful hardware.
As for ports, the Omen 15 includes three USB 3.0 connections, a USB-C socket with optional Thunderbolt connectivity, an SD card reader and an Ethernet jack. It also has full-size HDMI and Mini DisplayPort connections for video output. If you want to upgrade later on, you can also remove the bottom of the laptop to swap out its SSD, hard drive and RAM -- in theory, at least, since some of the tiny screws wouldn't budge when I tried to open the case. Even worse, they ended up getting stripped, which means a Phillips-head screwdriver can't grip them anymore.
Keyboard and trackpad
To give the laptop more of a premium feel, HP draped a layer of aluminum around the keyboard and trackpad, both of which are also significantly improved over last year's. The keyboard feels great to type on, with a decent amount of travel. And it's also very responsive for games: I felt just as capable maneuvering through Overwatch matches as I do on my desktop keyboard.
Sure, it's not mechanical, but you have to step up to far more expensive gaming laptops for that (e.g., HP's huge Omen X). There's a full number pad on the right side of the keyboard, as well as a crimson backlight for when you're gaming in the dark. HP claims it offers "26-key rollover anti-ghosting," which means it can accept that many key commands at once without mistaking any inputs. That's particularly useful for fast typists and gamers who need to hit plenty of keys often.
The Omen 15's touchpad is smooth and accurate for all of your productivity needs, and its two buttons are also very responsive. While you'll still need a decent mouse for playing most games, I particularly appreciated the touchpad. Plenty of Windows machines tend to skimp on them, especially gaming laptops.
Display and sound
The Omen 15's 15.6-inch display is available in in 4K or 1080p with a fast 120Hz refresh rate. You can also choose from G-Sync-compatible screens for NVIDIA GPUs and Freesync displays for AMD chips. I tested the 4K G-Sync version, which was bright, colorful and responsive enough for fast-paced games. The screen was also great for movies and TV shows, but that's a less notable achievement.
I didn't see much point in having such a high resolution, though, since the Omen isn't powerful enough to play games well in 4K. Most gamers would be better off with the 1080p screen, since its speedy refresh rate would let you see up to 120 frames per second. That adds up to a much smoother gaming experience overall.
The Omen 15's speakers were also impressive, delivering a surprising amount of volume and detail for laptop speakers. Since they sit toward the front of the laptop, it's almost as if the sound is coming toward you, which makes for much more natural-sounding audio. Obviously, they're no match for a decent set of gaming headphones or external speakers, but it's nice to have some solid built-in sound.
Performance and battery life
PCMark 7
PCMark 8 (Creative Accelerated)
3DMark 11
3DMark (Sky Diver)
ATTO (top reads/writes)
HP Omen 15 (2.8GHz Intel Core i7-7700HQ, NVIDIA GTX 1060)
6,727
6,436
E14,585 / P11,530 / X4,417
20,659
1.7 GB/s / 704 MB/s
ASUS ROG Zephyrus (2.8GHz Intel Core i7-7700HQ, NVIDIA GTX 1080)
6,030
7,137
E20,000 / P17,017 / X7,793
31,624
3.4 GB/s / 1.64 GB/s
Alienware 15 (2.8GHz Intel Core i7-7700HQ, NVIDIA GTX 1070)
6,847
7,100
E17,041 / P16,365
20,812
2.9 GB/s / 0.9 GB/s
Alienware 13 (2.8GHz Intel Core i7-7700HQ, NVIDIA GTX 1060)
4,692
4,583
E16,703 / P12,776
24,460
1.78 GB/s / 1.04 GB/s
Razer Blade Pro 2016 (2.6GHz Intel Core i7-6700HQ, NVIDIA GTX 1080)
6,884
6,995
E18,231 / P16,346
27,034
2.75 GB/s / 1.1 GB/s
ASUS ROG Strix GL502VS (2.6GHz Intel Core i7-6700HQ , NVIDIA GTX 1070)
5,132
6,757
E15,335 / P13,985
25,976
2.14 GB/s / 1.2 GB/s
HP Spectre x360 (2016, 2.7GHz Core i7-7500U, Intel HD 620)
5,515
4,354
E2,656 / P1,720 / X444
3,743
1.76 GB/s / 579 MB/s
Lenovo Yoga 910 (2.7GHz Core i7-7500U, 8GB, Intel HD 620)
5,822
4,108

E2,927 / P1,651 / X438

3,869
1.59 GB/s / 313 MB/s
Razer Blade (Fall 2016) (2.7GHz Intel Core-i7-7500U, Intel HD 620)
5,462
3,889
E3,022 / P1,768
4,008
1.05 GB/s / 281 MB/s
Razer Blade (Fall 2016) + Razer Core (2.7GHz Intel Core-i7-7500U, NVIDIA GTX 1080)
5,415
4,335
E11,513 / P11,490
16,763
1.05 GB/s / 281 MB/s
ASUS ZenBook 3 (2.7GHz Intel Core-i7-7500U, Intel HD 620)
5,448
3,911
E2,791 / P1,560
3,013
1.67 GB/s / 1.44 GB/s
Razer Blade Stealth (2.5GHz Intel Core i7-6500U, Intel HD 520)
5,131
3,445
E2,788 / P1,599 / X426
3,442
1.5 GB/s / 307 MB/s
The Omen 15 is powered by Intel's i7-7700HQ CPU and your choice of NVIDIA's GTX 1050, 1050Ti or 1060 graphics cards. The lowest-end model features AMD's Radeon RX550 GPU, if you're aiming to save a few bucks. The laptop also packs in between 8GB and 16GB of RAM, and you can choose among a variety of SSD options and larger 2.5-inch hard drives for storing all of your games.
Overall, it has much more horsepower than last year's Omen. If you want to dabble in VR, though, you'll have to step up to the GTX 1060 version to run the Oculus Rift or HTC Vive. While every Omen 15 model has enough USB ports to support those headsets and their accompanying sensors, you need the extra bit of power from the GTX 1060 to make sure your games run smoothly. VR isn't like typical gaming: A few dropped frames could easily make you sick.
Even though it's not nearly as beefy as the ASUS Zephyrus, the Omen 15 still offers enough power to reach a solid 60 FPS in most modern games running at 1080p. I clocked in at around 120 FPS in Overwatch on high graphical settings and between 60 and 70 FPS in The Witcher 3 and Hellblade: Senua's Sacrifice. Thanks to the G-Sync screen, I also didn't notice any screen tearing once the frame rate started creeping up.
Devindra Hardawar/Engadget
As I mentioned before, the Omen 15 isn't ideal for 4K gaming. The Witcher 3 ran at just 20 FPS at that resolution with medium graphics settings. Unfortunately, the Omen's monitor doesn't support 1,440p (2,560 by 1,440 pixels), which is my ideal gaming resolution between 1080p and 4K. Honestly, though, with a display this size it'd be tough to tell the difference between that and 1080p. The important thing about the Omen 15? Everything I threw at it looked and played great, as long as I stuck with 1080p.
HP also did a great job of minimizing heat. The Omen's GPU reached around 72C at full load in my air-conditioned office while the CPU hovered around 80C. I wouldn't recommend putting it on your lap while you're gaming, but the Omen never got too hot to touch either. Partially, the sensible temperatures are due to a more efficient fan design, which HP claims pushes around 20 percent more airflow at full speed.
The company also implemented the Max Q version of NVIDIA's GTX 1060, which is clocked a bit slower than the standard model. But because of that, it's also a more power-efficient GPU. The GTX 1060 version of the Omen 15 fits in three heat pipes, compared to two from last year's model. When playing a demanding game, the laptop can get noticeably loud, but that's not a huge issue if you're wearing headphones.
| | |
| --- | --- |
| HP Omen 15 (2017) | 2:30 |
| ASUS ROG Zephyrus | 1:50 |
| Surface Book with Performance Base (2016) | 16:15 |
| Apple MacBook Pro 2016 (13-inch, no Touch Bar) | 11:42 |
| HP Spectre x360 (13-inch, 2015) | 11:34 |
| Apple MacBook Pro with Retina display (13-inch, 2015) | 11:23 |
| Apple MacBook Pro 2016 (15-inch) | 11:00 |
| HP Spectre x360 15t | 10:17 |
| Apple MacBook Pro 2016 (13-inch, Touch Bar) | 9:55 |
| ASUS ZenBook 3 | 9:45 |
| Apple MacBook (2016) | 8:45 |
| Samsung Notebook 9 | 8:16 |
| Alienware 13 | 7:32 |
| Microsoft Surface Pro 4 | 7:15 |
| HP Spectre 13 | 7:07 |
| Razer Blade Stealth (Spring 2016) | 5:48 |
| Razer Blade Stealth (Fall 2016) | 5:36 |
| Dell XPS 15 (2016) | 5:25 (7:40 with the mobile charger) |
| Alienware 15 | 4:31 |
| Razer Blade Pro (2016) | 3:48 |
| ASUS ROG Strix GL502VS | 3:03 |
Unfortunately, the Omen is a disappointment when it comes to battery life. In our test, which involves looping an HD video, it lasted only two and a half hours with battery-saving settings turned off. That puts it 40 minutes ahead of the ASUS Zephyrus, but you wouldn't want to do any gaming on either machine without being plugged in. Still, it's more useful for short bursts of productivity work on battery than the ASUS machine.
Pricing and the competition
The HP Omen 15 starts at $1,000 with AMD's Radeon RX550, but you'll have to shell out $1,300 if you want NVIDIA's GTX 1050. The top-end version with the GTX 1060, meanwhile, goes for around $1,659. The price can get higher depending on how much storage you stuff in.
Mostly, HP is targeting Dell's Alienware 15 lineup, which begins at $1,200. Those machines weigh a few pounds more and don't have the benefit of Max-Q design, but they also have room to fit in more-powerful GPUs like NVIDIA's GTX 1070 and 1080. There's also Dell's Inspiron 7000, which starts at $1,000 but has a much more subdued design.
If money is no object and you want to see just how far NVIDIA's Max Q design philosophy can go, check out ASUS' ROG Zephyrus. Be prepared to shell out at least $2,300 for the privilege of having the thinnest gaming laptop around.
Wrap-up
The best thing about the Omen 15? It's clear that HP learned from its mistakes. This year's model looks great, offers more power and actually has a good keyboard and trackpad. While hard-core gamers might want to hold out for the even more powerful Omen X, the Omen 15 should satisfy everyone else.
All products recommended by Engadget are selected by our editorial team, independent of our parent company. Some of our stories include affiliate links. If you buy something through one of these links, we may earn an affiliate commission.
Sours: https://www.engadget.com/2017-09-07-hp-omen-15-review.html
HP Omen 15 (2017) Laptop Review - Great Price for Amazing Gaming Performance!
HP Omen 15-ce071tx 2017 Newest 15.6-Inch Full HD (1080p) High-Performance Gaming Laptop (7th Gen Intel i5 Processor/1TB HDD+128GB SSD/FHD 1920 x 1080 IPS Display/8GB RAM/NVIDIA GTX 1050 4GB/VR Ready/Win10)
New Spacecraft Inspired Design
Exhibit your power with a bold, Fighter Jet and Spacecraft-inspired design to show everyone that you are on the cutting edge of technology.
Ready for battle inside and out, the Omen Laptop is a force to be reckoned with anywhere you go.
- Highlighted WASD keys
- 26 rollover anti-ghosting keyboard
- Separated arrow keys
- 3-level lighting effects
- VR certified configurations
- HP Dual Speakers with Bang & Olufsen
- HP Audio Boost 2.0 with discrete amp
- DTS Headphone: X for simulated surround sound
Cutting Edge Graphics
Get all the performance of a desktop in a mobile form factor. The NVIDIA GeForce GTX 1070 GPU is created with high-speed FinFET technology and supports DirectX 12 features to deliver fast, smooth, power-efficient gaming notebook experiences. You can count on an amazing experience in every application-including performance in AAA and immersive VR Ready games.
- High-performance graphics cards up to NVIDIA GTX 1070
- Latest Intel Core Quad core processors
- Upto 8 GB GDDR5 Discrete Memory
- NVIDIA Pascal GPU Architecture
- NVIDIA CUDA, NVIDIA Ansel, VR Ready
- G-SYNC Technology; DirectX 12 Support
Optimised Keyboard for Gaming
Control the competition on a keyboard designed for pro-tier gaming – a Dragon Red backlit keyboard with highlighted WASD lets you command every keystroke with absolute precision.
26-Key Rollover Anti-Ghosting: Run, reload, and dodge attacks simultaneously. With 26-key rollover anti-ghosting, every keystroke is detected – even when you execute multiple commands at once.
Independent Macro Keys: Customize hard-hitting combos. With Independent macro keys on the Omen 17 Laptop, you can unleash macros in seconds for a fierce strategic advantage.
HP ImagePad: Image sensors built-in for accurate multi-touch gesture support.
Sours: https://www.amazon.in/HP-15-ce071tx-15-6-Inch-Laptop-Processor/dp/B075CF5H2H
Hp omen 2017
HP Omen 15t 2017 (7700HQ, GTX 1050 Ti, Full HD) Laptop Review
For the original German review, see here.
Last time, it took the manufacturer one and a half years to present a decent update. Since then, another year has gone by and HP has now launched a gaming laptop which is mostly directed at occasional gamers. Nothing has changed on the outside and the manufacturer has focused on giving the device a performance upgrade. The Skylake processor has been replaced by the more up-to-date Kaby Lake processor and the Maxwell-based GeForce GTX 965M had to give way to a modern GeForce GTX 965M based on Pascal architecture.
Our test unit is currently available for $1510. It is equipped with an Intel Core i7-7700HQ, a GeForce GTX 1050 Ti and 16 GB of DDR4 RAM. HP has also gifted the Omen 15t (2017) with a 256-GB SSD and an additional 1-TB hard drive.
Our comparison devices all have very similar configurations. The question is which model can make the best use of its components' possibilities and offers the best overall performance? We have also included the previous Omen model in our comparison, to underline the increased performance. The following table lists the most important technical specifications of all comparison devices.
Sours: https://www.notebookcheck.net/HP-Omen-15t-2017-7700HQ-GTX-1050-Ti-Full-HD-Laptop-Review.232090.0.html
HP OMEN 15 Review 2017 GTX 1050Ti
Not want to remove blood and horse semen from the back seat. The next thing I remembered was how mine carried me, wrapped in a blanket, to his home and there the strength left me completely. The next day I lay on my stomach in the hated apartment of my "cameraman".
You will also be interested:
There was no such thing. Yes, but why did you stop me, I want to make you more pleasant and lick your vagina, its cool and delicious there. Rita, enough, I need to come to my senses and think about everything.
1242
1243
1244
1245
1246