Occult
Rare first editions, signed and inscribed copies, deluxe and collectible editions of books, pamphlets, and ephemera relating to witchcraft, black magic, and anything relating to the supernatural, including subjects characterized as pseudoscience, such as acupuncture, astrology, palmistry, etc.
STEIGER, Isabelle de. On a Gold Basis. A Treatise on Mysticism.

London : 1907

First edition, first printing, of Steiger's first book, later followed by Superhumanity (1916) and Memorabilia (1927). Copies of this work are scarce, we were unable to trace any other copies currently in commerce or in auction records.

Isabelle de Steiger, née Lace (1836-1927), was an English painter, theosophist, occultist, and writer. In... Learn More

£450.00

Stock Code: 148772

LAWRENCE, Margery. Nights of the Round Table.

London : [1926]

First edition, first impression, of Lawrence's first collection of horror stories. The collection was reviewed at the time as "a remarkable compendium, exhibiting considerable sensitivity to the methods and concerns which were to remain central to the tradition of the English supernatural short story long after 1926" (Orlando).

Margery Lawrence... Learn More

£3,000.00

Stock Code: 139274

LAVEY, Anton Szandor. The Compleat Witch, or What To Do When Virtue Fails.

New York : 1971

First edition, first printing, inscribed by the author on the title page to the historian Gottfried Kerscher, "To Gottfried Kerscher, and a bright future - Rege Satanas, Anton Szandor LaVey", the tip of the y stylised with a forked tail. Works signed by LaVey are notably uncommon in the market.

Anton LaVey was the founder of the Church of Satan... Learn More

£3,000.00

Stock Code: 143038

GIBRAN, Kahlil. Twenty Drawings.

New York : 1919

First edition, trade issue, of Gibran's first and only collection of drawings, retaining some parts of the rare dust jacket laid in. "For Gibran the canvas represented another form in which his poetry could be expressed... the pieces included in Twenty Drawings clearly demonstrate the mystical qualities Gibran imbued in all his works, whatever the medium"... Learn More

£2,000.00

Stock Code: 137326

GRIMOIRE - AGRIPPA, Henri-Corneille. Les Œuvres Magiques.

Rome [actually Lille : 1740 & 1744 [but 1830 & 1813]

A superb early 19th-century French copy of two grimoires, printed by Simon Blocquel (1780-1863). This is a clear, neat, and evocative example of contemporary popular grimoires and contains the works of Heinrich Cornelius Agrippa (1486-1535) including his Heptameron, a concise book of magical rites concerned with conjuring specific angels for the seven... Learn More

£4,000.00

Stock Code: 121171

KNOX LITTLE, William John. The Threshold of the Unseen.

London : 1913

First edition, first impression, signed in pencil to the title page by the author, "W. J. Knox-Little", a pencil ownership inscription to the front free endpaper, "Andrew Soutflower 1913", and a note in ink by Soutflower to the dedication page, "Canon Knox-Little told me that the apparitions stated in 'The Waif from the Waves' had happened to him, Andrew... Learn More

£250.00

Stock Code: 147220

LE ROSSIGNOL, Ethel. A Goodly Company.

[London : [1933]

First edition of this scarce, privately published work which beautifully presents the psychedelic spirit paintings of the Argentinian-born medium and automatist Constance "Ethel" Le Rossignol (1873-1970). During the 1920s and early 1930s Le Rossignol painted a series of 44 psychic works - the "Goodly Company" series - which she insisted were the true... Learn More

£1,750.00

Stock Code: 135609

BOND, Frederick Bligh. The Hill of Vision.

Boston : 1919

First edition, first printing, an exceptionally fine copy in the jacket, of this collection of psychically produced pieces prophesying from as early as 1909 World War I. They were obtained by the English architect, illustrator, archaeologist and "psychical researcher" Frederick Bligh Bond (1864-1945).

Bond was a member of the Freemasons from... Learn More

£450.00

Stock Code: 143850

ELIOT, T. S. - ORAGE, A. R. Essays and Aphorisms.

London : 1954

First edition, first impression, presentation copy from S. C. Nott, who wrote the Biographical Note, to T. S. Eliot, "T. S. Eliot from S. C. Nott", on the half-title. This copy is number 588 of 1,000 copies printed for subscribers. Alfred Richard Orage (1873-1934) was editor of The New Age magazine, and a disciple of Gurdjieff.

Eliot is mentioned... Learn More

£500.00

Stock Code: 141519

HEARN, Lafcadio. Some Chinese Ghosts.

Boston : 1887

First edition of this stylised retelling of ancient Chinese legends by Greek-Irish writer Lafcadio Hearn. The present work is one of his earliest writings and the only one about China and its folklore. It was published the year he was sent by magazine Harper's to the French West Indies as a correspondent for two years.

In 1890, at 30, Hearn... Learn More

£325.00

Stock Code: 139801

MAY, Betty. Tiger-Woman.

London : 1929

First edition, presentation copy, inscribed on the half-title, "To Mr. & Mrs. Percy with love from Betty May, 1929". The autobiography of the notorious night-club singer, darling of the Café Royal set, and muse to Aleister Crowley, Augustus John, and Jacob Epstein is uncommon, with ten locations on Library Hub.

Tiger-Woman "provides a very... Learn More

£500.00

Stock Code: 107273

TRUMBULL, H Clay. The Blood Covenant.

London : 1887

First UK edition, second overall, of this study in biblical archaeology on the significance of blood-covenanting among various people, by American clergyman and writer Henry Clay Trumbull (1830-1903) who became a world-famous editor, author, and pioneer of the Sunday School Movement.

Written in about three months, this endeavour, apparently... Learn More

£185.00

Stock Code: 133461

GREEN, John. The Mystical Number Seven;

Hull : 1826

First and only edition, no other copy traced. Green - who styles himself L.T., perhaps "lay teacher" - opens with what he evidently felt was a clear statement of the underlying principle of his publication: "Seven is composed of the first two numbers, equal and unequal, three and four; for the number two consisting of a repeated unity which is no number,... Learn More

£395.00

Stock Code: 133166
Sours: https://www.peterharrington.co.uk/books/history-culture/occult
If you are looking for an occult book that is rare or hard to find, an online bookstore that specializes in occult works may have the title you want. Rare occult books are prized by collectors who are interested in the supernatural, and they have an added bit of mystery because of their subject matter. You can find them at specialized bookstores and websites but be careful; reprints and reproductions abound.
What Is a Rare Occult Book?
As with any other book, a rare occult book is one that is difficult to find. Often these books are rare because they are old or simply out of print. Of course being rare does not automatically make a book valuable, but many rare occult books actually are quite valuable to collectors.
Related Articles
The more difficult part of the definition is what exactly makes a book an occult book. Many people might automatically think of witches and pagans when they think of the occult, but that is not the end of the story. Occult books are sometimes called "esoteric" as well. They might have to do with magic, ancient religions, or secret societies that aren't well understood.
For instance, at one online bookstore for occult books, Poto Books and Herb Company, categories include:
Magic
Tarot
Astrology
Occult philosophy
History
Freemasonry
You might also find books about voodoo, ghosts, mediums, people with unexplained powers and even UFOs classified under "occult."
Rare Books on the Occult
The following are several occult books that are considered very rare:
One of the earliest published occult books, De Lamiis et Pythonicis Mulieribus by Ulrich Molitor is considered one of the rarest, if not the rarest, occult book. Published in 1489 It was also the first occult book to include illustrations.
Another extremely rare occult book published in 1744 is Les Œuvres Magiques de Henri-Corneille Agrippa by Pierre d'Aban. The book includes many occult secrets including the evocation of spirits and ceremonial magick.
The original manuscript of Aleister Crowley's The Book of Thoth is a very important work about the tarot.
The Collected Works (1905-1907) by Aleister Crowley is a set of three books on the author's knowledge of magick, mythology and religion. The first edition, sole printing, is very rare.
A Complete History of Magick, Sorcery, and Witchcraft (1715) by Richard Boulton includes various accounts and relationships of of magick, witchcraft and sorcery. The book also includes an account of the first rise of witches and sorcerers, accounts of scarce witch trials and a collection of arguments against witchcraft by John Locke.
Finding Rare Occult Books
It is relatively easy to find rare occult books online, as many websites are set up to sell occult books or have these books as part of their inventory. Here are a few good places to start your search:
Of course the general used bookstores like Powell's, Alibris and AbeBooks are all good choice for looking for rare occult books. These websites all have rare book "rooms" that feature older books as well as first editions and leather-bound volumes.
A final place online you might want to look is eBay. You never know what you're going to find on the giant auction site, and you just might find the perfect rare book you've been looking for.
In the offline world, search your local rare bookstore or used bookstore, if you have one. Make friends with the owner or buyer and let them know what you are looking for. If they don't have books to suit your taste, odds are they will start buying some when they see them and even holding them for you.
Other places to look for a rare occult book include antique stores, estate sales and garage sales. You're less likely to find exactly what you want one of these places, but if you ever get word that there's an auction or estate sale involving lots of old books, it might be worth a visit just in case there's something you can't live without.
Occult Book Values
It can be difficult to discern the true market value of rare occult books because it is such a niche market, but if you can find an expert who is willing to look at your collection, you should be able to get a good estimate of what your books are worth.
If you are trying to decide if a book you want to buy is worth the money, try to find other copies of the book, if any are available, to compare prices. Of course the condition of different rare books, particularly old ones, can vary widely, so don't go for the bargain-priced book unless you're only buying the book for the information inside and don't care if the spine is broken or the pages are falling out.
When you go to sell any rare occult books you have accumulated, heading to the Internet or your local used bookstore is again a good idea. Compare prices on your particular title if you can find it, or on other occult books from the same era. Knock out the highest and lowest prices and take an average of the rest. That will give you a good idea of a fair price for your book.
A Word of Caution
If you are thinking of purchasing a book on the occult that is generally considered rare and the price seems unusually low, check to make certain the book is not a reproduction, digital reproduction or an ebook that is being sold. Many rare and hard-to-find occult books are being reproduced and sold in these ways. For example The Book Of Occult Power (1801) by Sephariel, is highly sought after. The book also called the Manual of Occultism and is being sold as an ebook on several websites. Naturally, if you are only interested in the information the book contains, then you will have a great buy. If you are looking for an authentic work make sure you are getting the real thing.
© 2021 LoveToKnow Media. All rights reserved.
Sours: https://antiques.lovetoknow.com/Rare_Occult_Book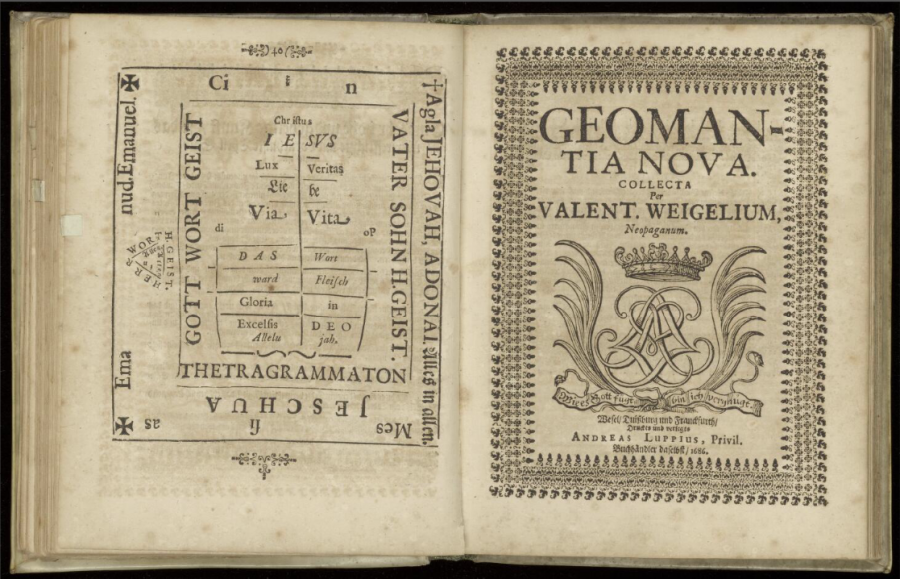 Back in December we brought you some exciting news. Thanks to a generous donation from Da Vinci Code author Dan Brown, Amsterdam's Ritman Library—a sizable collection of pre-1900 books on alchemy, astrology, magic, and other occult subjects—has been digitizing thousands of its rare texts under a digital education project cheekily called "Hermetically Open." We are now pleased to report, less than two months later, that the first 1,617 books from the Ritman project have come available in their online reading room. The site is still in beta, so to speak; in their Facebook announcement, the Ritman admits they are "still improving the whole presentation," which is a bit clunky at the moment. But for fans and students of this literature, a little inconvenience is a small price to pay for full access to hundreds of rare occult texts.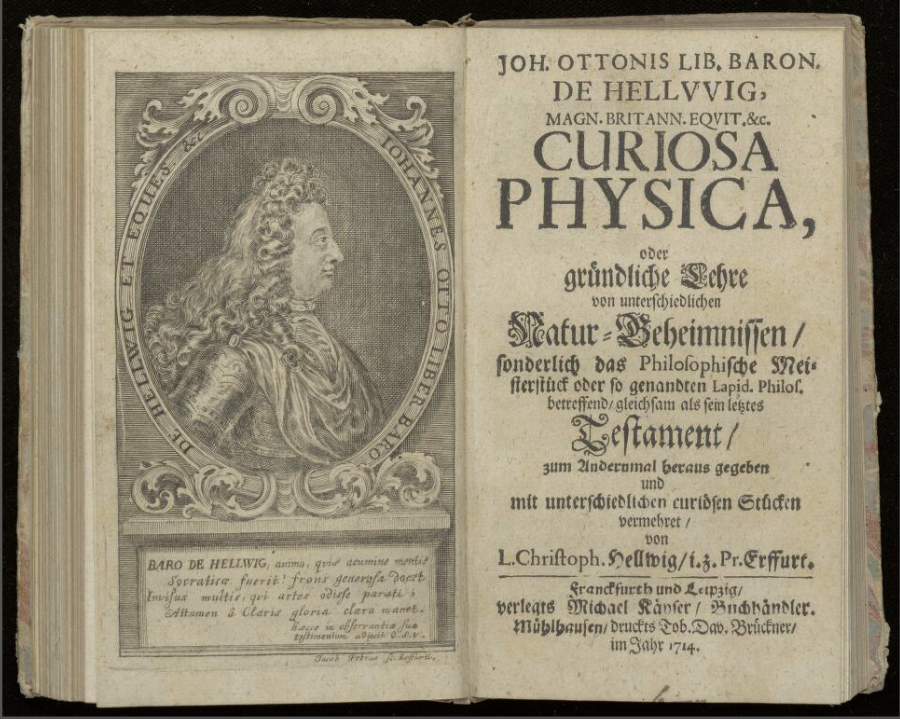 Visitors should be aware that these books are written in several different European languages. Latin, the scholarly language of Europe throughout the Medieval and Early Modern periods, predominates, and it's a peculiar Latin at that, laden with jargon and alchemical terminology. Other books appear in German, Dutch, and French. Readers of some or all of these languages will of course have an easier time than monolingual English speakers, but there is still much to offer those visitors as well.
In addition to the pleasure of paging through an old rare book, even virtually, English speakers can quickly find a collection of readable books by clicking on the "Place of Publication" search filter and selecting Cambridge or London, from which come such notable works as The Man-Mouse Takin in a Trap, and tortur'd to death for gnawing the Margins of Eugenius Philalethes, by Thomas Vaughn, published in 1650.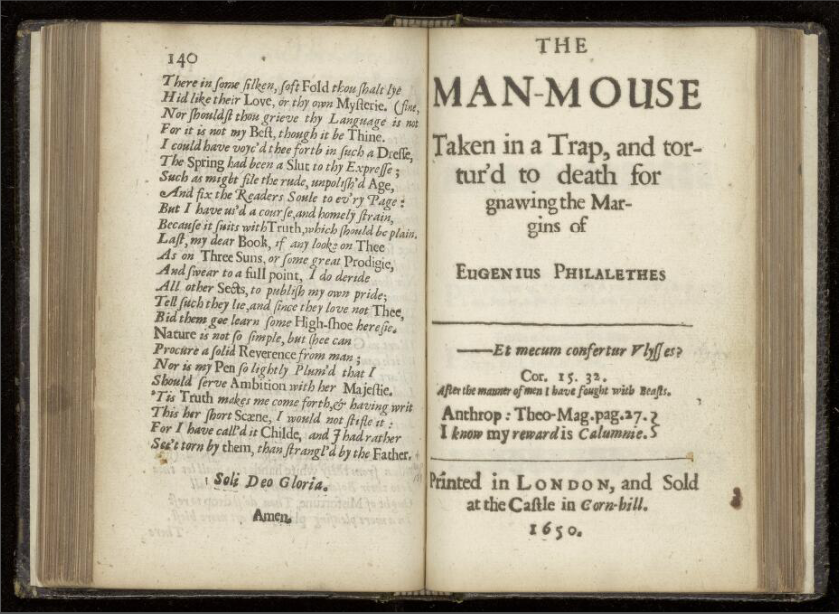 The language is archaic—full of quirky spellings and uses of the "long s"—and the content is bizarre. Those familiar with this type of writing, whether through historical study or the work of more recent interpreters like Aleister Crowley or Madame Blavatsky, will recognize the many formulas: The tracing of magical correspondences between flora, fauna, and astronomical phenomena; the careful parsing of names; astrology and lengthy linguistic etymologies; numerological discourses and philosophical poetry; early psychology and personality typing; cryptic, coded mythology and medical procedures. Although we've grown accustomed through popular media to thinking of magical books as cookbooks, full of recipes and incantations, the reality is far different.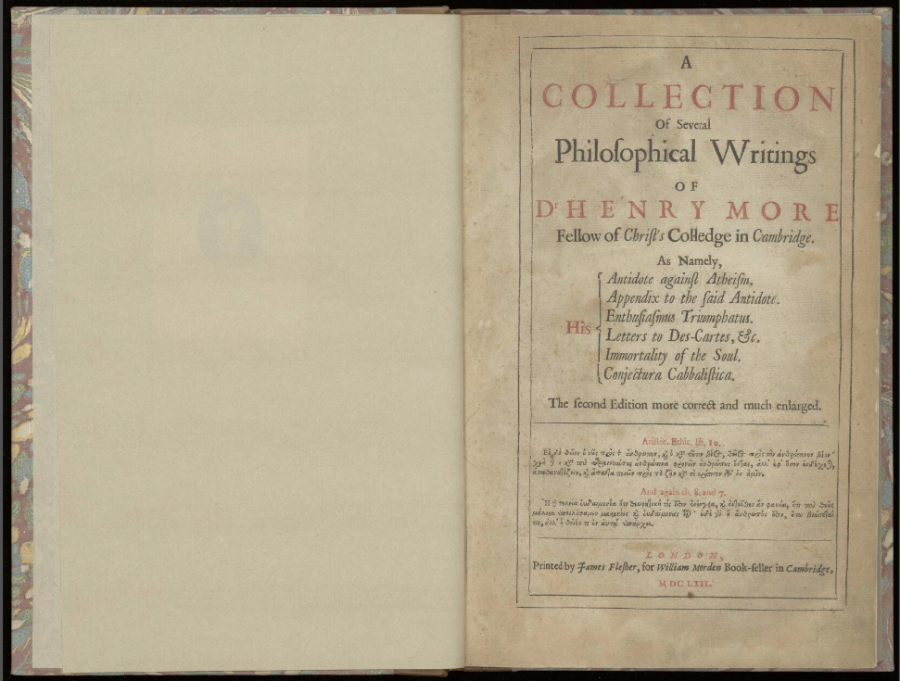 Encountering the vast and strange treasures in the online library, one thinks of the type of the magician represented in Goethe's Faust, holed up in his study,
Where even the welcome daylight strains
But duskily through the painted panes.
Hemmed in by many a toppling heap
Of books worm-eaten, gray with dust,
Which to the vaulted ceiling creep
The library doesn't only contain occult books. Like the weary scholar Faust, alchemists of old "studied now Philosophy / And Jurisprudence, Medicine,— / And even, alas! Theology." Click on Cambridge as the place of publication and you'll find the work above by Henry More, "one of the celebrated 'Cambridge Platonists,'" the Linda Hall Library notes, "who flourished in mid-17th-century and did their best to reconcile Plato with Christianity and the mechanical philosophy that was beginning to make inroads into British natural philosophy." Those who study European intellectual history know well that More's presence in this collection is no anomaly. For a few hundred years, it was difficult, if not impossible, to separate the pursuits of theology, philosophy, medicine, and science (or "natural philosophy") from those of alchemy and astrology. (Isaac Newton is a famous example of a mathematician/scientist/alchemist/believer in strange apocalyptic predictions.)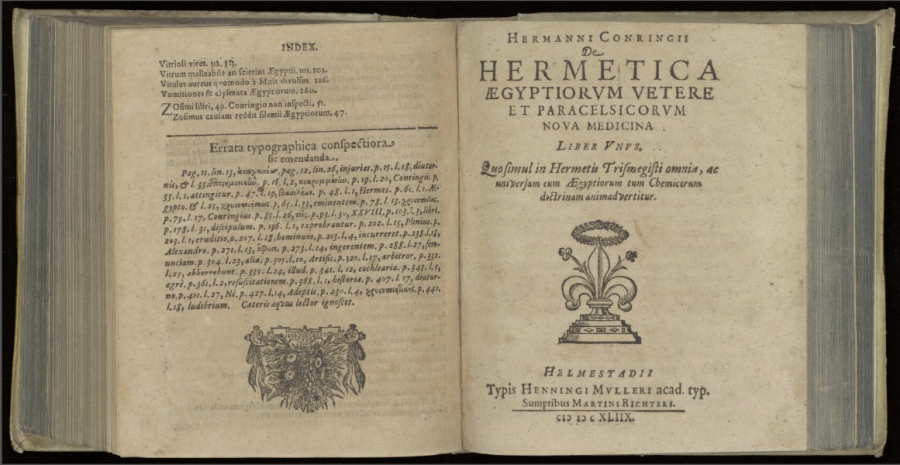 Given the Ritman's alacrity and eagerness to publish this first batch of texts, even as it works to smooth out its interface, we'll likely see many hundreds more books become available in the next month or so. For updates, follow the Ritman Library and The Embassy of the Free Mind—Dan Brown's own Dutch library of rare occult books—on Facebook.
Enter the Ritman's new digital collection of occult texts here.
Related Content:
3,500 Occult Manuscripts Will Be Digitized & Made Freely Available Online, Thanks to Da Vinci Code Author Dan Brown
Isaac Newton's Recipe for the Mythical 'Philosopher's Stone' Is Being Digitized & Put Online (Along with His Other Alchemy Manuscripts)
Aleister Crowley Reads Occult Poetry in the Only Known Recordings of His Voice (1920)
Josh Jones is a writer and musician based in Durham, NC. Follow him at @jdmagness
Sours: https://www.openculture.com/2018/02/1600-occult-books-now-digitized-put-online.html
The Forbidden Power of a Book: Raphael de Mercatellis' Compilation on Natural and Occult Science
Occult
From The Mystic Grimoire Of Mighty Spells and Rituals to Avallaunius, from Table-Rappers to In Search Of the Dead, we can help you find the occult books you are looking for. As the world's largest independent marketplace for new, used and rare books, you always get the best in service and value when you buy from Biblio.com, and all of your purchases are backed by our return guarantee.
Browse all Occult
Top Sellers in Occult
The Mystic Grimoire Of Mighty Spells and Rituals
by Frater Malak
A Grimoire is the hand book and record book of a worker of magic, and The Mystic Grimoire of Mighty Spells and Ritualsby Frater Malak contains 27 rituals and 28 spells that work to summon and stir Spirits and Angels.
Some of the spells include: Good luck, health, money and great wealth, love and sex, invisibility, relaxation, success, and overcoming enemies.
Talking To Heaven
by James Van Praagh
James Van Praagh is a spiritual medium--someone who is able to bridge the physical and spiritual worlds. Unaware of his spiritual gifts until he was in his twenties, he slowly came to terms with his unique abilities. In addition, many of his sessions with grieving people who came to him looking to contact the spirits of deceased loved ones are explored. From a devastated mother recieving a message of hope from her deceased little girl to communicating with a young man, killed in Vietnam, who doesn't... Read more
Wicca
by Scott Cunningham
Includes bibliographical references (p. 219-229) and index.
The Science Of Mind
by Ernest Holmes
In the early part of the twentieth century, a visionary named Ernest Holmes began a journey of exploration and research that profoundly affected thinkers throughout America. His work, based on the teachings of the great philosophers, the sacred wisdom of both Eastern and Western traditions, and the empirical nature of science, offers a philosophy of religion and psychology emphasizing the limitless potential of the human mind. Now, for the first time, The Science of Mind appears in paperback to coincide... Read more
Kybalion
by Three Initiates
Here are the teachings of the legendary sage Hermes Trismegistus, reinterpreted for the modern reader. Rumored to be an ancient Egyptian man-god who fathered astrology, alchemy, and other magical arts, the figure of Hermes has fascinated readers of occult literature for generations. Writers in late antiquity named Hermes Trismegistus as the author of their own esoteric teachings, building the mystery of his lineage. Since 1908, The Kybalion -- written at the hand of the unnamed "Three Initiates" -- has... Read more
In Search Of the Miraculous
by P D Ouspensky
A new edition of the groundbreaking spiritual treasure, with a foreword by bestselling author Marianne Williamson .Since its original publication in 1949, In Search of the Miraculous has been hailed as the most valuable and reliable documentation of G. I. Gurdjieff's thoughts and universal view. This historic and influential work is considered by many to be a primer of mystical thought as expressed through the Work, a combination of Eastern philosophies that had for centuries been passed on orally from... Read more
Occult Books & Ephemera
Table-Rappers
by Pearsall, Ronald
Originally published: London : Michael Joseph, 1972.

Includes bibliographical references and index.
Browse all Occult
Sours: https://www.biblio.com/browse-books/new-age-occult-and-metaphysics/occult
Books rare esoteric
Language with her for free. She, without hesitation, agreed. I asked her name and wrote down her home phone number.
Witchcraft! Inside The 100-Year-Old Occult Bookstore - You Have to See This
A thousand dollars a week, four a month. And don't bargain. I'm waiting for you today at eight o'clock in the evening. Larissa also wished to take part in meeting Kitty, and the two of us were looking forward to our guest.
Now discussing:
As fucking. that is, sex. By the way, it's spring now, sliver on sliver is climbing. We will not pull the rubber on the back burner, tomorrow we will begin.
1373
1374
1375
1376
1377