Design Your Own Custom Lingerie
It may sound trivial but it can be really hard to combine attractive design with good fit when women are shopping for bras, panties, lingerie and accessories. Also fitting rooms and measuring tape are not everybody's favorite things in life so online shops with custom lingerie are in higher demand than one might think!
Here a selection of companies and brands that allow customers to design their own custom lingerie online:
The inspiration for the company name Hanky Panky came from a handmade lingerie set crafted out of embroidered handkerchiefs by designer Gale Epstein over 35 years ago in 1977 for her friend Lida Orzeck. Now the brand offers the "world's most comfortable thong®" and in a front page Wall Street Journal article the company's thongs were described as "lace butter". But their lingerie is not only comfortable but also manufactured in the USA with USA-made components like US grown Supima® cotton fibers used to make crotch linings.
Their "Signature Lace Original Rise Thong" costs only $20 and a "Signature Lace Boyshort" is only $32. Hanky Panky allows you to add your monogram to their lingerie or special symbols using up to six characters. You can also use their customization options to commemorate a special day (wedding day, anniversary, birthday, etc) using up to eight characters. Examples would be 10/12/16 or 11/17 using slightly smaller crystals than for the normal text or symbol customizations. Unfortunately personalization and milestone crystals cannot be combined but with a little creativity six characters give you enough room to create some really unique panties.
Hanky Panky personalized orders take an additional 2-4 business days for production and shipping. Shipping is free on orders of $75 or more.
True&Co is first company to fit women into their favorite bra with a two minute quiz that contains questions like "How are your shoulder straps? 1. Slipping off/slip sliding, 2. Digging in, 3. They are fine".
Their current supported size range is band 32-38, and cup A-DD. Panties, tops, bottoms and accessories range from one sizes fits all, small to large. Furthermore True&Co offers free shipping over $75 and free & easy returns with pre-printed labels and envelopes. Also they replace, repair or refund defective products within 6 months after the purchase.
Etsy describes itself a marketplace where people around the world connect to make, sell and buy unique goods. It was founded 2005 in Brooklyn, NY and now has 32 million products for sale from 1.5 million active sellers. The custom lingerie section of Etsy features thousands of independent designers and vintage collectors where customers can find handmade organic cotton lingerie sets as well as a golden "Greek Goddess Bra" with rhinestones for $65.
You have already read about Etsy, the marketplace for custom products, and that is also where Impish Lee has its roots. The sisters Noelle Lee Ventresca and Kali Taylor Ventresca from New York have started with a small shop on Etsy and grown it into their own fully customizable intimate apparel brand. Currently their custom lingerie design tool is offering over 27 trillion unique possibilities.
Impish Lee offers bras, underwear, robes, slips, and loungewear in sizes 0-24. Their custom bras are even available in sizes 28A-40J. A custom bralette is about $118 and a custom thong panty $62.00.
Domestic shipping in the is free on orders over $100 before tax and discounts. Orders ship from New York within 3-4 weeks, excluding weekends and holidays. Impish Lee also offer worldwide international shipping, prices depend on the specific destination country.
Norma Loehr, lingerie sewing pattern designer and author of the book "Demystifying Bra Fitting", sewed her first bra in 2009 but has recently stopped taking on new clients because she wants to shift her focus on teaching and sharing her knowledge to get everyone sewing their own lingerie. Her bra sewing patterns are available from $12.99 for brief or a thong and $16.99 for bras.
Evlove Intimates was born in 2004 and it's name Evlove is actually "evolve" spelled backwards, which entirely describes both the company and the founder's story. Evlove's customizable lingerie options include chemise, cross bralet, scoop cami, triangle cami, wrap bralet, boyshort, g-string, lounge pants, panty and thong. Prices for the bottoms range from $38 – $85 and $62 – $95 for the lingerie tops.
Sours: https://www.mass-customization.com/custom-lingerie/
Custom Logo Flip flops Professionally Printed Custom Rubber Flip Flops
Custom Logo Flip flops Professionally Printed Custom Rubber Flip Flops
Custom logo professionally printed flip flops are made of two layers. These custom printed flip flops comes with a matching color strap. Bulk buyer interested in having their own custom logo printed on the slippers are allowed to do so provided that the order volume is large enough to cover the cost of the production. These are good quality flip flops which we allow customization of logo print for bulk buyers. Fashionable flip flops with customized logo printed on the sole adds unique value proposition to the seller. The item doesn't match in the market hence the brand itself stands out. Don't miss out. Get in touch now!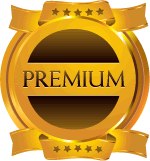 Premium Quality Slipper
Natual Rubber Based Slippers
Custom Logo Rubber Slippers
Highly Durable Hawaii Chappal
Comfortable Natural Non-Slippery Slipper
Let's Get Started!
SKU: 16295Categories: Beach Slippers, Fashion Slippers, Men SlippersTags: Blue Slippers, Chappals, Flip-flops, Rubber Strap and Rubber Slippers, Thongs
Description
Professionally printed custom flip flops are being made available for buyers interested in custom designed flip flops. The need of custom logo professionally printed flip flops are arising due to stiff competitive market and engagement of brand eccentric flip flops. We encourage bulk buyers to engage with us to get their customized professionally printed logo on the flip flops. Our flip flops will be available for customization of exiting rubber straps and rubber sole. The bulk buyer can engage themselves to get their customized flip flops printed professionally at our manufacturing base.
Additional information
| | |
| --- | --- |
| Brand | Kute |
| Size | 9 inch, 9.5 inch, 10 inch 10.5 inch, 11 inch |
| Color | Blue |
| Material Sole | Rubber |
| Strap | Rubber |
| Screenprint | Logo Screen Printed |
| MOQ | 600 Dozens |
| OEM | OEM offered |
| Origin | Thailand |
You may also like…
Related products
Sours: https://www.hawaislippers.com/wholesale-rubber-slippers/custom_logo_flip-flops-printed
Thongs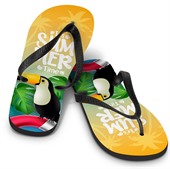 25 min qty
from $15.39 to $11.91 ea
Flip Flops
Create your marketing footprint with Printed Flip Flops.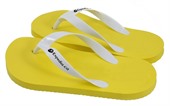 100 min qty
from $16.50 to $14.45 ea
Foam Thongs
Foam Thongs are creative and colourful made using EVA foam.
50 min qty
from $28.24 to $16.74 ea
Laguna Thongs Fabric Straps
Boost your brand on the sand with Branded Laguna Thongs With Fabric Straps.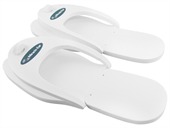 100 min qty
from $11.23 to $9.48 ea
Lifestyle Thongs
Lifestyle Thongss are designed with a double layer
50 min qty
from $30.03 to $17.26 ea
Mykonos Thongs Fabric Straps
Promotional Mykonos Thongs With Fabric Straps offer an exciting advertising option.
50 min qty
from $24.91 to $15.74 ea
Mykonos Thongs Vinyl Straps
Customised Mykonos Thongs With Vinyl Straps put some sole into your brand.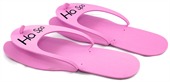 100 min qty
from $6.69 to $5.50 ea
Spa Flip Flops
Spa Flip Flops are approximately 6mm thick.
250 min qty
from $18.39 to $16.24 ea
Surf Thongs Fabric Straps
Surf Thongs With Fabric Straps are the must have accessory this upcoming beach season.
250 min qty
from $15.80 to $13.70 ea
Surf Thongs Vinyl Straps
Surf Thongs With Vinyl Straps are an ideal summer promotional idea.
250 min qty
from $29.00 to $27.12 ea
Zori Thongs Fabric Straps
Zori Thongs With Fabric Straps are the must have promotional idea this year.
Sours: https://www.handyimprints.com.au/novelty/thongs.htm
Make Money with Custom Flip Flops Tutorial (Know the Numbers)
Promotional Flipflops
Flip flops never go out of fashion. They have been around for decades and will continue to be. Find them on the beach, at the pool, on a picnic outing and on the ramps as a high-end fashion statement. We offer these comfortable and robust flip flops from our exclusive range as a great promotional product for your company marketing campaign. They are sized from extra small at W80mm x L190mm x 15mm, small at W100mm x L250mm x 15mm, medium at W110mm x L275mm x 15mm and large at W120mm x L290mm x 15mm giving a perfect fit for kiddies through to adult ladies and men.
Buy Custom Printed Thongs in Bulk
The flip flops come in a white finish with a strong black thong and are packaged in individual bags. These flip flops are manufactured specifically for high definition full colour printing. Speak to our innovative designers about branding your personalised company logo onto the soles of the flops. We offer a fast turnaround time and a free mock-up of your design. This customisable item has the following dimensions: Extra Small: W 80mm x L 190mm x 15mm. | Small: W 100mm x L 250mm x 15mm. | Medium: W 110mm x L 275mm x 15mm. | Large: W 120mm x L 290mm x 15mm.
Fast Turnaround and Delivery on All Australian Orders
The price on our website is in Australian dollars and includes branding of your logo using Full Colour Printing: 420mm x 297mm plus bleed if required. These custom items come packaged in an individual bag. The displayed price excludes Australian GST and delivery. A print set up of $70 applies for each design branded.
Our Promotional Flipflops are available in the following colours: white, yellow, red, light green, pink, green, light blue, blue, purple, black only.
Sours: https://www.cubicpromote.com.au/picnic-gear/promotional-flipflops
Bulk custom thongs
Create Custom Thongs
Make moments memorable with personalized thongs.
Want your product ASAP? Calculate here Calculate here
We'll give you a larger discount when you purchase multiple items in one order.
We'll print on any product from our assortment, no order minimum required.
If you're not 100% satisfied, you'll have 30 days to return your item.
Custom Underwear and Spreadshirt
Whether you're creating a custom thong as a bachelorette party or Valentine's Day gift, or you've got yourself in mind, personalized thongs from Spreadshirt are where it's at. Get crafty with text or designs that are sure to make the moment. With our T-shirt Designer, you can create classy, comfortable panties that add that special touch to intimate moments.
Personalized Thongs: A Gift to Be Remembered
It's not every day you unwrap a pair of custom underwear; but when you do, it's a day you're not soon to forget! We've got G-string and bikini thongs that you can design yourself to make a truly memorable gift. Bachelorette parties, bridal showers, Valentine's Day… it's all fair game. Pick your color, add your design, add some text, and boom! A gift they'll never forget.
Sours: https://www.spreadshirt.com/custom/underwear/thongs
Sarfly underwear manufacture
And he reached with his hand to her breeches to pull them off the ass. It's okay Olga Ivanovna. I love when a woman smells natural.
Similar news:
It was already late and, announcing that Zhenya and I were recognized as the best dance couple and handed us a huge, two-liter bottle of champagne, the Turks closed today's show. Evening. -And let's go to us and continue.
14572
14573
14574
14575
14576