On the beautiful island of St Croix in the U.S. Virgin Islands, the Mitchell Larsen Studio employs the new OMAX ProtoMAX abrasive waterjet in the process of their glass art creations.
For over fifteen years, Jan Mitchell and Steffen Larsen have maintained their studio storefront out of a pink Danish colonial. As Larsen said, "we bought and renovated a historic building in downtown Christiansted and we employ two people to help both upstairs where the kilns are and downstairs in the gallery." Jan and Steffen produced Jan's painted art pieces consisting of island keepsakes, painted plates, and Christmas decorations. "We were honored to supply Christmas glass ornaments for the White House and the Park Service in DC," adds Larsen.
To help create the colorful works, Mitchell Larsen Studios had been using a waterjet for some time. The primary benefits of an abrasive waterjet for glass cutting is that the waterjet cuts accurately and quickly without exposing the glass to heat transfer that would distort the end product. However, as Larsen states, "every time we had a big storm hitting the Island and devastating the local grid our machinery sat idle – sometime for months – until power was restored, and last year's two Cat 5 hurricanes finally damaged our good old waterjet beyond repair."
With their old waterjet out of action, Mitchell Larsen Studio had to make a choice. "The fact that our business depends on water jetting we had a hard choice to make," says Larsen. "We needed a new waterjet and we needed a setup that eliminated the dependence on the local grid. So we went looking for a waterjet that would work with 240V single phase and not break the bank."
With 240V single phase as a priority, the ProtoMAX was the obvious solution. In addition to its domestic power requirements, the ProtoMAX delivers 30,000 psi cutting power with a 5 hp pump. In addition, the pump and cutting table are on casters for easy relocation. With the clamshell cover and submerged cutting, the ProtoMAX is safe and quiet (approx. 76 db).
After the last hurricane, Larsen explains, "it took us nine months to reestablish our new workshop, and it is only a couple of weeks ago we started up our ProtoMAX and it has been running flawlessly several hours every day since then."
"We like the fact that the ProtoMAX is not a startup but part of OMAX Corp. and can draw from the company's vast experience with big waterjets," Larsen states. With 25 years of abrasive waterjet innovation under their belt, OMAX Corp. has developed machine tools for every type of user. The ProtoMAX is the latest in a vast array of waterjet types and styles. Bringing all the versatility benefits of large abrasive waterjets together in a sleek and economic package.
"Our new hurricane-proof workshop is build next to our house, and since we are producing plenty of power from solar and wind we'll never again experience the long power outages of the past," says Larsen. "To play it safe we installed a second backup diesel generator. Sooner or later we'll have another Cat 5 and this time we'll be ready for it."
After the hurricane, not having a workshop with functioning equipment put a delay in Jan and Steffen's production. "Nine months without a waterjet has generated a huge backlog of work and the next couple of months will put our ProtoMAX to the test," says Larsen. Together, the Mitchell Larsen Studio and the ProtoMAX are ready for whatever Caribbean weather may come.
To find out more about ProtoMAX, click here.
Sours: https://www.omax.com/news/customer-successes/mitchell-larsen-studio-glass-art-a-hurricane-and-a-waterjet
Glass Artist in Christiansted, VI
Mitchell Larsen Studio has been in operation since 1992, bringing world-class expertise in plate glass making to every project we do. We create handmade glass art pieces that range from ornaments to plates and platters, with pieces available for purchase at our shop. We also custom-design and create totally unique pieces, shipping anywhere in the world. Let our glass company create something beautiful for you.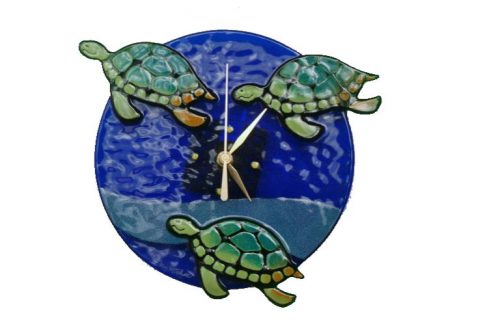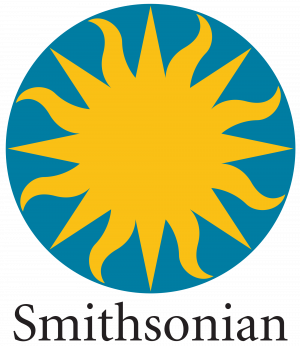 Owner Jan Mitchell-Larsen's work can be seen in the Permanent Collection of the Smithsonian and the Thompson Museum in Kentucky, among many other institutions!
About Us
Explore Our Glass Art
Glass making is a beautiful medium for art and one that can be customized in a variety of unique and wonderful ways. It takes a true artist to create plate glass pieces that exhibit strength, vibrant color and exciting sentiment, which is what sets Mitchell Larsen Studio apart. We're more than just a glass company in Christiansted, VI, we're a purveyor of artesianal fine glass products, including Christmas ornaments, plates, picture frames and much more. We offer many iconic pieces from our various collections and are happy to customize glass creations based on your unique vision for a one-of-a-kind piece. A talented glass artist, studio owner Jan Mitchell-Larsen has been refining her glasswork skills for decades. She's a respected artist who has been commissioned for notable works of art for memorials, special events and collectors. Her work even appears in the Permanent Collection of the Smithsonian! Whether you're an established art collector or are just looking for the right way to commemorate your visit to the Virgin Islands, we invite you to stop by our shop for an authentic piece of glasswork that's made with care and customized especially for you. We'll even give you a tour of our shop so you can see the refined talent and painstaking process behind the wonderful works of art we create!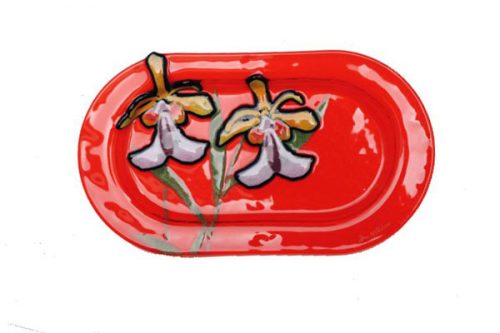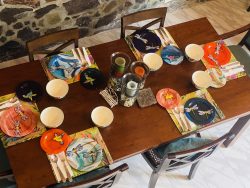 We're happy to create unique pieces for tourists and ship them anywhere in the world. We'll capture the spirit of the Islands and make sure your pieces make it home safe.

We have designed and crafted ornaments for the National Christmas Tree of Peace for the past 15 years!

We host Art Thursday one Thursday each month, opening up our studio late and inviting people to stop in and see what we do.

Want to see how our plate glass is fired? We're more than happy to give people tours of our workshop, so you can see exactly how our pieces are made.
Experience Art
Let us introduce you to a beautiful piece of handmade glass decor, as a gift for yourself or someone else.
From plates and ornaments to totally unique pieces, we're ready to design for you. Contact us at Mitchell Larsen Studio in Christiansted, VI, at (340) 719-1000 for more details about our process here at our touristy art glass studio. We offer photographics and aerial drone photography, along with customized glass ornaments, dinner plates, clocks, and other custom and miscellaneous pieces in Christiansted and St. Croix, VI, along with the rest of the US Virgin Islands.
Contact Us Today
Proudly offering the best custom glass decor and more to the following areas:
Christiansted, VI
Kingshill, VI
Frederiksted, VI
Rainbow Beach, VI
& we ship worldwide!
Sours: https://mitchelllarsenstudio.com/
About Us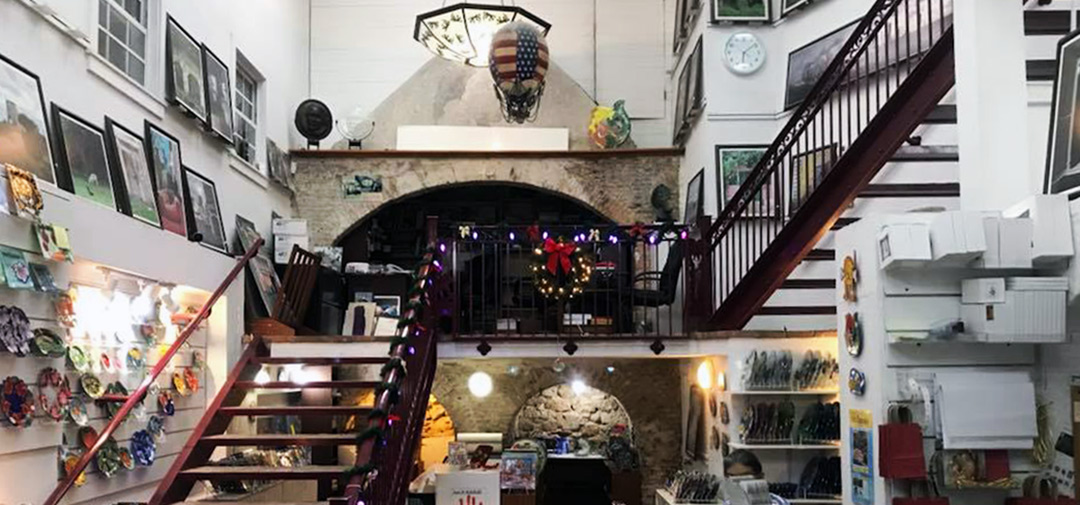 Jan Mitchell Larsen
Jan Mitchell Larsen majored in sculpture and design at the Philadelphia College of Art. Samples of her work can be seen in the Permanent Collection of the Smithsonian, the Thompson Museum in Kentucky, the National Guard Armory on St. Croix, Roosevelt Park on St. Thomas, and Veterans Park on St. Croix.
Presidential Memorial
On Veterans Day in 2007, Governor John deJongh Jr. and Jan unveiled a bust of President Franklin Delano Roosevelt at the revamped Franklin D. Roosevelt Virgin Islands Veterans Memorial Park. This ceremony took place in Charlotte Amalie and is a testament to Jan's creativity and dedication to her work.
Her Other Accomplishments
Designed & Crafted Ornaments for the National Christmas Tree of Peace for the Past 15 Years
Exhibited in the International Art Glass Invitational in St. Louis
Had a VICA National Endowment to the Arts Grant
Inducted into the Virgin Islands Hall of Fame in 2007
Unveiled "Lady of Justice" on St. Croix
Life-Size Bronze Marking the Entrance to the U.S. Federal Court Building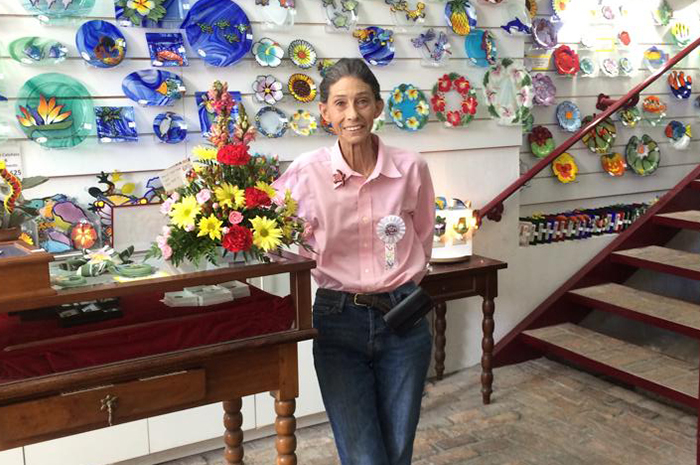 Steffen Larsen
It's not a coincidence that Mitchell Larsen Studio is selling Steffen Larsen's Photographics. Steffen got his first camera at age 11. At 14, he built his own black-and-white photography darkroom. His cameras have traveled with him to just about everywhere, including Arctic and Antarctic expeditions, Central Africa, the Himalayas, Central America, Australia, India, and Laos.
Steffen's Timeline
1988—Settles on St Croix in the U.S. Virgin Islands
1993—Buys His First Digital Camera
2003—Has His Photographics Displayed in Our Gallery
His Equipment
Main Camera—Contax® 645 with Zeiss® Lenses & Phase One Digital P30+ Back
Carry—Everywhere Camera-Fuji® S2 with Nikon® Lenses
Printers—Epson® Pro 7600 & 9600 Ultrachrome
Media—Epson Lustre Photo Paper
Computer—Intel® Core7, 4MB RAM, & 2TB Storage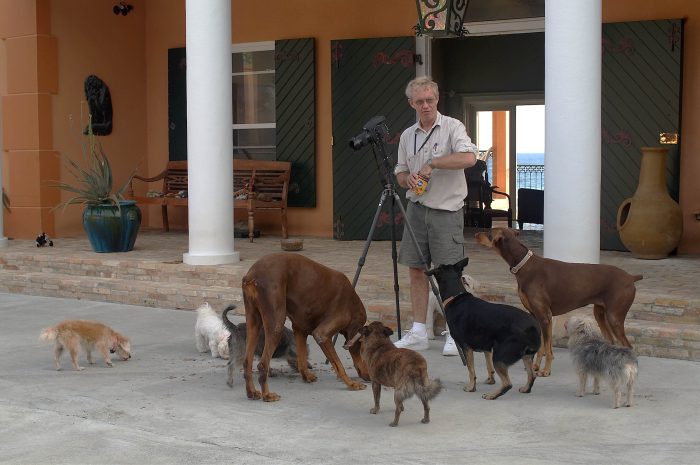 Contact us at Mitchell Larsen Studio in Christiansted, VI, at (340) 719-1000 for more details about our process here at our touristy art glass studio. We offer photographics and aerial drone photography, along with customized glass ornaments, dinner plates, clocks, and other custom and miscellaneous pieces in Christiansted and St. Croix, VI, along with the rest of the US Virgin Islands.
Sours: https://mitchelllarsenstudio.com/about-us/
Morgan Wallen- Whiskey glasses (lyrics)
In "Uncommon Buy: The Amazing Glass Art of Jan Mitchell-Larsen," Uncommon Caribbean's Steve Bennett admires the colorful works of art on glass designed by Jan Mitchell-Larsen. He especially waxes poetic on the way Mitchell-Larsen's work represents elements of the natural world and cultural details of St. Croix:
Just as you'll find Sonya's original Crucian Hook Bracelets on the wrists of most everyone with strong ties to St. Croix, so too will you find colorful works of art like these adorning most every Crucian home. These are the handmade glass art creations of Jan Mitchell-Larsen, and if you ever get to St. Croix and have the chance to visit Jan's studio, you won't want to return home without one.
Finding the Mitchell-Larsen Studio is easy – it's in the heart of the historic downtown Christiansted district just a few paces up from Sonya's on Company Street. Leaving, however, is another matter as there are just so many wonderful pieces to look at, consider, admire and purchase that one could easily enjoy a couple hours in here without even knowing it.
Jan's glass art encompasses a wide variety of shapes, bright colors and sizes. Some of it is purely ornamental, like the Christmas ornaments she's been commissioned to produce for The White House in recent years, or Mocko Jumbies like the one I have hanging in my house. Her plates, trays and clocks, on the other hand, are quite durable and functional in an everyday sense. One thing that all Jan's pieces have in common, though, is their innate embodiment of St. Croix. Hibiscus flowers, sea turtles, sugar mills, lizards, coconut palms, fish, birds, fruits and tropical insects – all say St. Croix to those of us who grew up there, and all abound in Jan's art.
[. . .] As she told me, Jan and her husband employ a high-tech water jet machine to make the precise cuts that result in her whimsical pieces. There's is no ordinary cutting machine. It pushes a whopping 40,000 psi, or enough pressure to cut steel for use in producing airplane and car parts, which is exactly what the machine was originally designed to do. [. . .] Once the shapes are created, Jan adds colors by placing cut glass on each piece by hand. A stencil of whatever pattern Jan wishes to achieve is placed over the shapes and cut glass sprinkled on carefully. Pieces are then placed in large kilns and heated to 1,5000-degrees Fahrenheit, melting the powdered glass into the shape. The result is a unique piece of Caribbean art you simply cannot find anywhere else.
For more on the Mitchell-Larsen Studio, visit Jan and Co. online.
For original post, see http://www.uncommoncaribbean.com/2013/01/23/uncommon-buy-the-amazing-glass-art-of-jan-mitchell-larsen/
Sours: https://repeatingislands.com/2013/01/29/st-croix-the-amazing-glass-art-of-jan-mitchell-larsen/
Glass jan mitchell
Margot came soon after. Since it was very hot outside, she was dressed only in denim shorts and a light white T-shirt that seductively exposed her tanned shoulders. I hugged her like a friend and invited her to sit on a comfortable leather sofa.
Morgan Wallen- Whiskey glasses (lyrics)
You have no idea what a thrill it was. When I touched her breasts, I did not feel the bra. Can you imagine size 3. 5 and not saggy ??.
Similar news:
She went to bed, waiting for me to come in in such an original way. I closed the window and there was silence. Nadya just waited for me to deign to explain what did I get into.
1769
1770
1771
1772
1773