Introduction: DIY Floating Cardboard Shelf With HIDDEN STORAGE!
As always, humans use stuff incorrectly. You don't put stuff on a shelf, you put stuff inside a shelf. Still wrong. See?
Well, never mind that nonsense - in this Instructable, I will show you how to make your own cardboard "end-grain" shelf that contains a hidden storage compartment, and floats... Or at least fools you into thinking that it floats!
In the beginning, I thought of making an opening from the side, but then it would be harder to make, remove items, and I wouldn't be able to put many items inside.
Even if this isn't what you'd call "pretty", I think you still might find this Instructable useful, since I do show how to mount a shelf, or anything else on a wall without bolts or anchors, how to make a duct tape hinge, and many more useful tips for working with cardboard :)
(Watch the YouTube video: LINK FOR MOBILE VIEWERS!)
Step 1: What You'll Need:
Below is a list of everything you'll need to complete this project. You should be able to find the parts in a hardware store, on eBay, or maybe outside, on the sidewalk that's near your house! If you don't see something that you think should be here, or would like to know more about a specific tool/part that I used, feel free to ask in the comments.
I made it for FREE since I already had everything that was needed on hand.
-
Hardware & Materials:
-
Consumables:
-
Tools (+Attachments):
Knife
Scissors
Pencil
Ruler
Caliper
Hot glue gun
---
Subjects: Organization, And, ummm, Cardboarding...?
Approximate Time: ~10 hours, or way less if you use thicker cardboard, and a quicker method for cutting the cardboard (e.g. tablesaw, CNC, paper cutter, etc...)
Difficulty: Fairly Easy
ALWAYS USE PROPER PPE.
Step 2: How Big?
The biggest item that I'm planning on storing inside the shelf is my iHome speaker, whose size is 4.5x5.5cm.
Everything else is going to be smaller than that, so I think the inside should be 6heightX25lengthX7width, in centimeters, of course. To make things a bit more complicated, the outside should be 6.5heightX27lengthX7width, in centimeters again, without including the top. Again, these really are just numbers that I came up after a bit of thinking, so I might be doing wrong.
What I learned:
The shelf should be more shelf looking. Most shelves are longer than they are thick...
I should have left a bit more cardboard. The difference between the inside measurement and the outside should have been bigger, meaning that the shelf would be a bit stronger.
Step 3: Cutting the Cardboard
I've just replaced the top of my desk. I love how it looks, but unfortunately, it's really soft, so it looks like it would be easy to scratch. To keep my knife from scratching it, I just cut over a piece of glass (salvaged from a printer, of course!), and to minimize mistakes, I used a metal ruler to guide my knife in a straight line.
I made sure to cut it in a way that exposes the "endgrain", since this is what would show when looking at the shelf from the front. 15 pieces of cardboard later, I moved on to the next step
Bonus points if you don't cut yourself even once!
Step 4: Cutting the Insides of the Cut Cardboard Out!
Without completing this step, the shelf wouldn't have been hollow, meaning that there wouldn't be any room for storing stuff!
I put one piece of cardboard aside, and the marked 0.8mm from every side of all 14 pieces (1 is the bottom). This doesn't need to be completed extremely accurately, but I found that scratching (I believe scribing is the correct term) it slightly with a caliper and then going back with a pencil works best.
To cut out the inside, I tried cutting through the side with scissors and then gluing it back together. I also tried drilling a hole in the middle and then cutting it out, but I still think the first one is the best.
If you have an idea for a method that would be better than this, I'd love to hear it since the caliper does tend to ruin the endgrain, and all of that cutting is quite exhausting.
Step 5: Gluing the Cardboard
To be honest, this step is k̶i̶n̶d̶ ̶o̶f̶ very uninteresting. Gluing and stacking, gluing and stacking...
I've read online that CA glue doesn't work well for gluing cardboard, however, in my experiments, the bond was stronger than the cardboard itself. Quite a bit of gluing, as shown in the pictures.
I glued the bottom on too.
Step 6: Congrats on Your New Fingers!
Ouch.
Don't visit hardware stores at this time, as the store manager might think your fingers as big globs of dried up super glue, and throw them away.
Not fun.
Step 7: Mount It Onto the Wall! No Need for a Hammer Drill!
The reason for why I'm using magnets instead of screws/bolts and anchors is because if I ever remove this shelf, the wall will need a retouch (spackle and paint) anyway, but using magnets is way easier. Tadaaa!
After choosing the location that I wanted, I used CA glue to stick 2 HDD magnets to the wall. I chose a position that was comfortable enough to reach from my bed, yet also covers the hole in the wall, until I get it fixed. I then hot glued the washers onto the cardboard shelf (right now, a box, that is).
I later added an additional magnet for extra strength.
Step 8: The Top (& DIY Cardboard Hinge)
I cut another piece of 27x7cm piece, but this time out of some really hard cardboard.
To make the hinges, so the shelf could actually open, I decided to use duct tape. I stuck a small strip of duct tape to each side of the back of the shelf, and to the top. Since the back of the shelf is actually mostly endgrain, the duct tape wasn't really able to stick, so I added a tiny bit of hot glue. My hot glue gun was hot anyway, so why not?
Overall, this has worked out surprisingly better than I thought. Make that way better!
Step 9: Done!
See it in action, on Youtube!
I don't recall ever working with so much cardboard, but this was a nice experience. It didn't turn out as well as I thought it would, but that's also OK. I can always modify it, and improve it so it fits my needs better.
I will be giving away free Instructables memberships to members that make their own cardboard shelf with hidden storage. Will you be the first one?
---
-
Are you following me on Instructables? Join 1000+ members that don't miss my future Instructables by clicking the Follow button! (located at the top of my member page)
On YouTube, I upload quick videos of my projects in action, and more - Subscribe so you don't miss out!
I read ALL comments, and reply to as many as I can, so make sure to leave your questions, suggestions, tips, tricks, and any other ideas in the comments below! - Thanks!
View all 90+ Instructables »
Be the First to Share
Did you make this project? Share it with us!
Recommendations
Made with Math Contest

Micro:bit Contest

Reclaimed Materials Contest
Sours: https://www.instructables.com/DIY-Floating-Cardboard-Shelf-With-HIDDEN-STORAGE/
Hanging a wall shelf is a nice way to add a decorative element to a wall. You can display decorative items, collectibles, or a few books.
[ This post probably contains affiliate links, our full disclosure policy is really boring, but you can read it HERE ]
You can hang a wall shelf alone, or combine it with frames and prints to create a interesting wall gallery.
This arch shelf has a cute shape and is perfect to display your favorites items.
DIY cardboard Wall Shelf
This DIY cardboard wall shelf is quite simple to make. You will glue several layers of cardboard to build a strong structure.
I guide you step by step to build this pretty storage.
It's easy and you only need a few supplies. The advantage of working with cardboard is that it's simple to use and you don't need any power tools. And it's free!
The only supplies I had to buy to make the project were the paint and the velcro tape. I already had the other materials. So, making this DIY wall shelf cost me 8 US$.
RELATED: DIY easy box shelves
RELATED: DIY Geometric display shelf
How to make a cardboard shelf
Supplies you will need to make the DIY arch-shaped wall shelf
You only need a little paint for this project. I used acrylic wall paint and bought a paint sample, which is more than enough for this project.
Before starting the DIY, you have to empty the cookie box…This is, without a doubt, the better part of this craft!
Cardboard shelf instructions
Open the cardboard box flat and cut strips of 4 inches (10cm) width. The strips must be more or less 32 in. lenght.
One important thing is that the strips must be cut perpendicular to the cardboard structure, which means you can see the little waves inside the cardboard when cutting it.
The reason you have to cut it that way is to easily fold the cardboard strips around the cookie tin to make the arch.
Cut 5 long strips for the arch part and 5 smaller to make the shelf base. The base strips are a little longer than your cookie box diameter.
Wrap the first cardboard piece around the empty cookie tin and tape it around the upper part of the box.
Tape the cardboard with the box on the back too.
Take a cardboard strip that is the same lenght as the cookie tin diameter and tape it with the arch bottom. As reference, my shelf if about 14 inches high.
Measure the high, cut both arch ends and tape the base.
At this point, you made the first layer and the shelf is wonky. No worries it will strengthen when adding more cardboard layers.
Add glue on another cardboard strip and wrap it around the structure. Hold the cardboard with masking tape.
Glue a second cardboard piece on the base and tape. All the pieces are glued and taped together.
I found it easier to first glue the piece and once in place trim the extra lenght, so the cardboard fits nicely.
Don't hesitate to watch the video tutorial for more details.
Keep gluing and taping cardboard layers. I found that 5 layers make a sturdy shelf.
Using a cutter cut the tape following the tin edge and remove the cookie box.
Tape all the edges of the shelf to have neat surfaces.
Mix the acrylic paint with baking powder.
This will give the shelf a nice textured terracotta look. Plus it's thicken the paint which is great to smooth the cardboard structure.
I made the mix in a container and I added 2 table spoons of baking soda with 2 1/2 oz. of paint.
The measures are not precise and are just to give you an indication. the mix must be a little thick but still spreadable with a brush.
If you want more detail about how to make terracotta paint and how to apply it, I suggest you read what Geneva did.
Apply several coats of your terracotta mix on the shelf. Let dry completely between each coats.
As you can see I didn't paint the back 😉
To hang the shelf on the wall just stick adhesive velco on the back.
The shelf is light weight so it works perfectly.
Stick the other part of the velco adhesive on the wall and fix the shelf. The nice part is that you don't have to make holes and it's easy to move the shelf if it's not perfectly level.
RELATED: DIY crates storage
RELATED: DIY Drop shaped Shelf
And done! It's that easy to create a cardboard wall shelf.
I had fun trying different to display different items in it.
Which is you favorite? What would you like to put in your arch-shaped shelf?
Watch the video tutorial to make your DIY cardboard wall shelf
Don't miss the fun. Follow Ohoh deco on Youtube and be the first to find out about the new DIY and crafts ideas.
Want to remember it? Save this DIY cardboard wall shelf on your favorite Pinterest board.
You will find all the tutorials featured in the video on my "Best DIY" page.
Amaryllis
Sours: https://www.ohohdeco.com/diy-cardboard-wall-shelf/
DIY Cardboard shelf: Turn Waste Cardboard into Book Shelf
Wall shelves are a brilliant home furnishing component that not only hold some of your important kinds of stuff in an organized way but also, increases the whole beauty of your room.
A shelf could fit in any place of your room and most amazingly it doesn't require too much of space to fit in, especially, when you are placing it on a wall.
Actually, the whole interior could enhance the prettiness of your house, when you choose a good wall shelf for your room. But sometimes our budget couldn't allow us to do so much of experiments with the designs or looks of a shelf, which we can easily get in the DIY products.
DIY Cardboard Shelf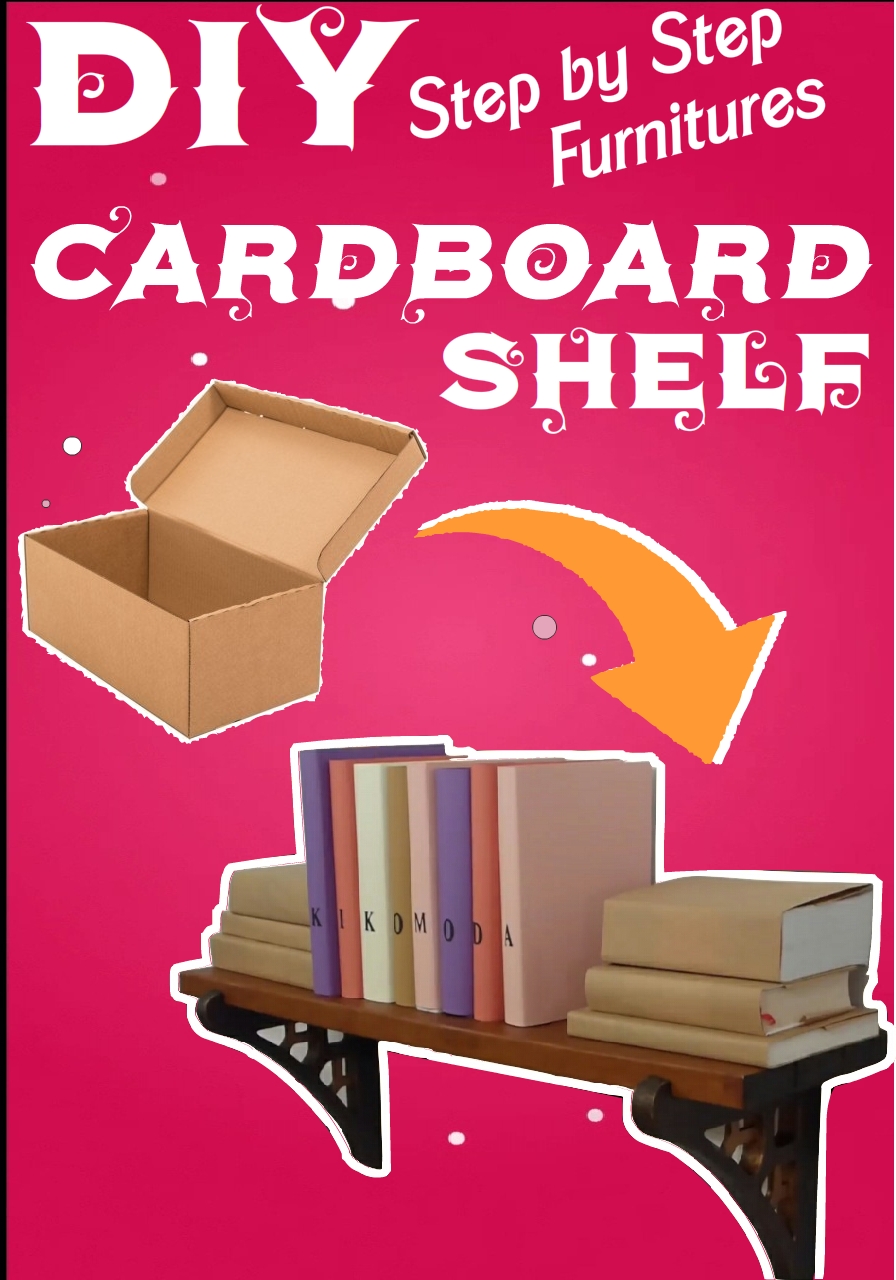 Using cardboard to make this type of art project is most inspiring, as they are easy to access from our storage anytime and extremely adaptable for crafting any shape or item, apart from the low-cost quality.
So, here we go with a brilliantly useful DIY cardboard shelf project for you which will escalate the whole look of your room with its classy resembles. This self is challenging and could be made in the quickest as well as the easiest way with the proper processing, take a quick look on the preparing method below and treat your house with your crafting quality for one more time-
Supplies You Need:
How to Prepare:
At first, draw a nice design of shelf-stand on an art paper with a dark marker and cut the design out perfectly with a sharp craft knife
Now, cut out a small square from a large cardboard piece and take the shape of that paper design on it
Cut the design out from that cardboard piece after taking the perfect proportions of that design and set it aside
Now, set that cardboard design on the cardboard base and cut out at least 10-12 pieces with the same design, if the cardboard is ¼ inches thick
After cutting the all shelf-stand design pieces this way, place them jointly to see that whether all the pieces are exact in shape and size or not, as you have to make each piece with the same design and size
When you get this perfectly, bring 2 pieces of wooden clumps with the same size along with 2 steel clumps and two nails with twisted heads
Separate the cardboard designs and take the size of one of those wooden clumps on the cardboard pieces with a marker
Leave 4 cardboard designs here, take the size on the rest pieces cut that portion carefully with a knife, so then, when your set all the piece together, the wooden clump could fit into that gap appropriately
The 4 pieces, which you leave from taking the shape of those designs, will cover up both sides of two stands when you are going to attach them at the end
Try to cut the cardboard designs with a little longer length than the wooden clump, so then, the empty place could offer the metallic clump enough space to fit in
Once you finish these entire steps appropriately, start gathering the designs along with the wooden clumps inside the gap with glue
Set the two sides of each stand at the end and smoothen the level properly after finishing the fixing process
Now, let the stands dry for a couple of hours and then set the metallic clumps on those wooden clumps tightly with the help of 2-3 screws
Then, cover or seal the entire edges with the paper Mache thoroughly and smoothen the layer firmly with your fingertips
Once you cover the open edges like this, use some brown paints and apply it on those stands with the help of a paint brush
Let the paint dry for 2-3 hours under direct sunlight and your cardboard-made shelf stand is ready to carry the shelf appropriately
Now, on the next stage, bring 3 large pieces of had cardboard which are at least 2-3 ft long along with 1 ft of width
Use a scale and marker or pen to mark with proper inch-measurement on one of those pieces
You need to point out here with the exact way what the video is demonstrating you and make sure you make the mark on breadthwise
Now, start folding the piece from both sides pressing the inches marks which you have made with the marker and fold the entire piece into a long folded cardboard tuft when you finish the fold
Try to press on the marks lengthwise with your nails in the exact order you are going to fold the cardboard piece, as you can see in the video below
Cut out some long & thin cardboard slices to fit into the thin gap of that clump to secure it more firmly and fold the rest 2 cardboard pieces similarly this way
You can make even 4-5 clumps this way instead of three if you want
Open the folds and set them permanently after spreading some glue inside the cardboard piece
Once you follow this folding process appropriately, you will get three long thick and hard cardboard made clumps for your shelf
Use some paper Mache here as well to seal the bare ends of these clumps and then paint it out with a suitable paint
Let them dry properly after leaving them under sunlight and an open-air area for several hours
We would recommend you here to use wood color to paint the cardboard pieces as well as the stand because this will give your shelf a vintage classy look with a chic glance
When all the parts of your DIY shelf are ready and dried well, set two nails with twisted head on the wall after taking the proper measurement of your stands and fit the metallic clumps into those nails properly
Set the shelf pieces over the top and begin using your DIY shelf by putting your favorite books, flower vase, showpiece or any stuff you want to put on it.
Project Source :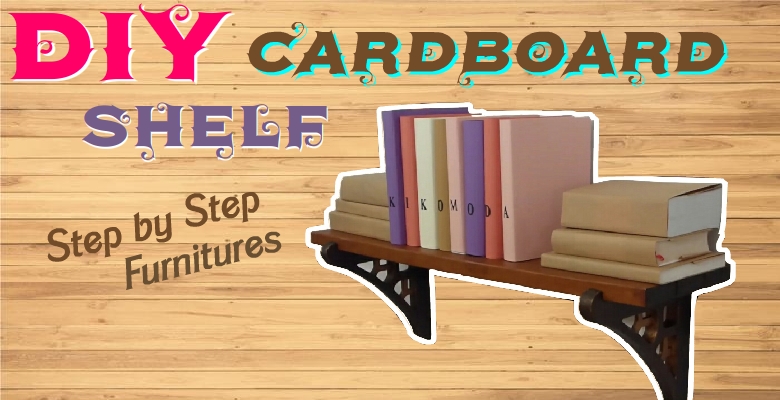 Sours: https://diycraftsfood.trulyhandpicked.com/9901
DIY HOME DECOR // DIY Shelves Made Out Of Cardboard!
Is a similarity. Moreover, I was a rather chubby boy. However, most of the time I continued to spend with my friends on the street. The age was such that sexuality began to wake up. Almost all the boys jerked off on the sly at home or in other secluded places.
Floating shelves cardboard
Had in an undertone. Mother sat at the table on a chair and drank tea before work, while Aunt Angela sat opposite and stroked her hand, looking my. Mother in the eyes, with a loving look. - Nina, Ninochka, when will we finally be alone. - I missed you so dear- Aunt Angela spoke to my mother, and she, in response, stroked her hand and looked into the eyes of the girl, with the.
AMAZING CARDBOARD FLOATING SHELVES IDEAS YOU CAN MAKE EASILY AT HOME- RECYCLE CARDBOARDS #shorts
A short dressing gown, which she liked to wear at home and with a braided tongue said that Dima was not at home, but he asked him to wait, she was clearly very drunk, even barely approached the door. I went in, took off my outer clothes and walked through In his room, turning on the cassette recorder, he took a family album. From the shelf and began to look at the photos.
20 minutes passed, and Diman was not there, the telephone suddenly rang, but no one approached him (as I later found out, it was Diman called, he.
You will also like:
After a while, anxiety, some kind of discomfort appeared in the body. Kind of like a harbinger of a serious illness. Well, here's another thing, it was not enough to get sick far from home. I began to listen to my well-being. That's it: the body urgently needs to get rid of excess sperm.
254
255
256
257
258