Tlingit Dance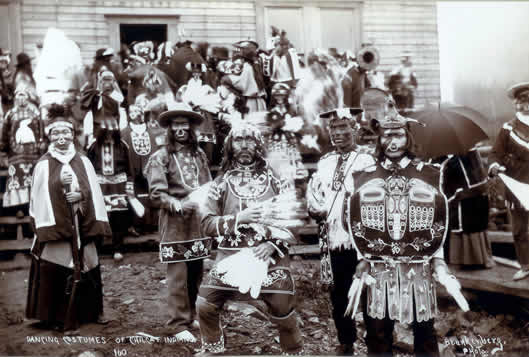 Dancing regalia of the Chilkat Tlingits gathered at a potlatch in Klukwan, circa 1900.
Dance, for the Tlingit people, is a means of expression and communication, and a form of enjoyment. It is a major potlatch activity, or, as in the old days, it could be an impromptu performance around the evening fire. The shaman used dance as a vehicle to make contact with the spirit world; regular folks might tell a story, ridicule an opponent, or extend an apology through a combination of dance motions. Drums and carved rattles were used as accompaniment.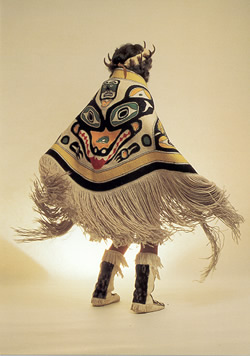 Master Weaver Jennie Thlunaut's last Chilkat Blanket, modeled by her daughter, Agnes Bellinger © 1985 Marilyn Holmes.
Dance regalia is magnificent. Masks representing creatures of the natural and mythical worlds are exquisitely carved and painted. Elaborate headdresses allow the dancer to shower guests with goose down by means of a carved frontlet capped with upright sea lion whiskers and bird feathers which provides a space in which to tuck the down. As the dancer gyrates, the down is shaken about, symbolizing a gesture of hospitality and good wishes.
Beautiful Chilkat blankets are used as dance robes. The fringe provides a wonderful visual effect as the dancer moves. (The Tlingit name for the Chilkat blanket is Naxein, meaning "fringe about the body.") Other dance blankets were beaded, appliquéd, or adorned with buttons arranged in pleasing designs. Dance shirts made from Hudson's Bay blankets were likewise decorated.
Tlingit dance tradition continues here in the Chilkat Valley kept alive by local native dance troupes.
Barbara Waterbury, 1987
Interviews with Two Local Dancers
---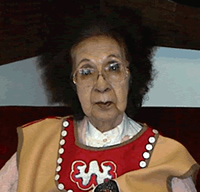 Elsie Mellot
ELSIE MELLOT
Elsie Mellott is a member of the Eagle clan. She sangs and danced with the Gei-Sun Dancers of Haines. Elsie passed away in 2006.
---
Q: When did you begin dancing, Elsie?

A: I picked it up as a child. In my days it was easy to pick up because so many people danced. Both my mother and father danced. Nowadays they have to learn. There were lots of dances when I was young–for potlatches and shows, things like that.

Q: Is there any dance event that is especially memorable for you?

A: When I was young a group from Klukwan would dance at the ANB (Alaska Native Brotherhood) Hall in Haines. I remember they did a dance to show how things were long ago. There was a funeral–with the corpse dressed in full funeral regalia sitting with his back against the wall–and a man dancing the part of the widow. He would wail and throw himself on the corpse, and while he was there he would tickle. Pretty soon the corpse was sitting there grinning. I thought that was funny. I remember another dance they did showed the first time the Tlingits saw the white men. They had to look at them through some object because it was dangerous to look right at a white man. The old timers were really good.

Q: Where do you get your dance regalia?

A: I made my button blanket–with help. Mine is the Killer Whale design. I made my headband too. My dress has the Wolf design. It's really my brother's dance shirt, but it fits me as a dress. The men wear Chilkat blankets for some of the dances.

Q: What are the roles of the men and women during the dances?

A: The women mostly sing and sway. They don't move around as much as the men. Women don't move their feet unless they are dancing a part that's for the women.

Q: The Gei-Sun dancers were invited to dance in Hawaii last year. How was that?

A: It was really nice. When we landed in Hawaii we decided to sing a Tlingit song for our host who was picking us up at the airport. You know how noisy it is at airports. Well, we started to sing and suddenly it was perfectly quiet. Everyone was listening.
---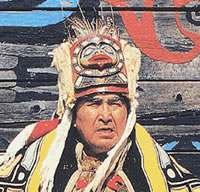 Charlie Jimmie, Sr.
CHARLIE JIMMIE, SR.
Charlie Jimmie, Sr. belongs to the Raven clan. He has danced with the Chilkat Dancers of Haines for approximately 25 years and with the Gei-Sun dancers since they were organized back in the 60s.
---
Q: When did you start dancing, Charlie?

A: When I was four years old. When I came here from Yakutat.

Q: Why do you dance?

A: I love to perform — to dance. It's in my blood, like jitterbugging used to be for the youngsters. It also makes me feel proud. When I was down south I saw a friend of mine–big fellow 6'3″, a Plains Indian — dance. When he danced he held his head up like this and was proud. It made me proud.

Q: Did you notice any similarities?

A: With Tlingit dancing the energy is very concentrated. If the dancer is [portraying] a halibut, then all his movements are only those of a halibut.
Bibliography:
Billman, Esther. Tlingit Bulletin Number 1. Sheldon Jackson Museum Press, Sitka. 1975.
Jonaitis, Aldona. Art of the Northern Tlingit. University of Washington Press, Seattle. 1986.
Kaiper, Dan & Nan. Tlingit: Their Art and Culture. Hancock House Publishers, Seattle. 1978.
Krause, Aurel. Erna Gunther, Translator. The Tlingit Indian, University of Washington Press, Seattle. 1885.
Samuel, Cheryl. The Chilkat Dancing Blanket. Pacific Search Press, Seattle. 1982.
Sours: https://www.sheldonmuseum.org/vignette/tlingit-dance/

Painted Hand Drum
Tlingit people, Alaska, United States (map), d. late 19th c.
Hide, pigments, nails
11.5" d (29 cm)
Condition: Split in hide (top, center-right), back handle is detached (see photos)
Price: $1,800
Drums fashioned from animal skin were important articles for the Tlingit, particularly for shamanic purposes. This example, painted on its exterior, likely depicts a totemic crest symbol.
Sours: https://www.tadtribalart.com/tlingit-drum

Tribe: Tlingit / Kiks'adi
Based In: Edmonds, WA
Email: [email protected]

About the Art
For over thirty years I have been making elk hide drums painted with my form-line designs. I participated in artist markets and shows throughout Washington State, including Women on the Brink, Paramount Theatre's Re:definition, NW Folklife Festival, Daybreak Star, Evergreen State College Longhouse, Duwamish Longhouse, Karshner Museum and many Tlingit and Haida events.
Events outside of Seattle include Juneau, Alaska at Celebration, in Anchorage at Alaska Federation of Natives, in New York Native film festival and in Washington D.C. at the Smithsonian National Museum of the American Indian.
I love creating new designs and reminding people: Natives are not the past, we are still here and carrying on our traditional art.
Sours: https://yehawshow.com/artists/margaret-morris-sya-yeik
Tlingit Drumline
<<back to news page
---
INFRARED SCANS, OTHER TECHNIQUES REVEAL DETAILS ON OLD BOX DRUM
SHI uses infrared technology for the first time to expose old designs
August 8, 2018
(About the Drum) 
Sealaska
Heritage Institute (SHI) in partnership with the T'a̱kdeintaan Clan, Mt. Fairweather House of Hoonah has acquired infrared scans and enhanced photos of an old Tlingit box drum that reveal design elements previously not visible to the naked eye.
The images exposed more of the formline design on the drum, which was repatriated in 2011 to the T'a̱kdeintaan.
"The original formline was very faded with age but through the project, we were able to see two faces that were not as visible before and more of a salmon design on one side of the drum, among other things," said SHI President Rosita Worl.
"This is the first time we've used photo technology in this way, and the success of this project bodes well for the discovery of faded designs on old pieces in the future."
Infrared is used to detect heat in thermal imaging, but because the box drum is inert and does not produce heat, the lens picks up pigments that optically aren't as apparent.
Through the project, which was funded through a grant from the Museums Alaska Collections Management Fund, SHI hired photographer Brian Wallace, who produced black-and-white infrared scans. The scans  exaggerated the details rendered in black, making the formline designs more decipherable. He also used photo software to produce color images where the reds were oversaturated, revealing details rendered in red.
The grant also allowed SHI to hire a professional ethnographic object conservator to perform a critical-condition assessment, do general cleaning and, after consultation with the Mt. Fairweather House, carry out conservation treatment to stabilize the drum so it could be displayed in SHI's Nathan Jackson Gallery.  It will be available in time for First Friday in September.
The drum currently is on long-term loan to SHI, which will make it available to T'akdeintaan Clan members, scholars, artists and other researchers.  The drum also will be on display in the Nathan Jackson Gallery in the near future. 
---
About the Drum
The box drum has a storied history. It was sketched by the German geographer and author Aurel Krause during his visit to Hoonah in the late 1800s. Krause later published the sketch in his book Die Tlinkit-Indianer: Ergebnisse Einer Reise Nach Der Nordwestküste Von Amerika Und Der Beringstrasse, which translates as The Tlingit Indians: Results of a trip to the Northwest Coast of America and the Bering Strait.
In 1924, the drum was collected by Louis Shotridge for the University of Pennsylvania Museum of Archaeology and Anthropology. The T'a̱kdeintaan Mt. Fairweather House—in partnership with the Hoonah Indian Association, Huna Totem Corporation, Huna Heritage Foundation, Sealaska and SHI—in the late 1990s launched a vigorous campaign to repatriate the drum and nearly 50 other items housed at the museum. The parties argued before the Native American Graves and Repatriation Act (NAGPRA) Review Committee in 2010 that the 1924 transaction was illegal because the T'akdeintaan Clan never agreed to alienate the objects. The committee sided with the Native groups, and in 2011, the museum repatriated eight of the pieces, including the box drum. The museum returned three additional items to the clan recently in a ceremony at SHI and will return the remaining 35 in the near future.
---
Sealaska Heritage Institute is a private nonprofit founded in 1980 to perpetuate and enhance Tlingit, Haida and Tsimshian cultures of Southeast Alaska. Its goal is to promote cultural diversity and cross-cultural understanding through public services and events. SHI also conducts social scientific and public policy research that promotes Alaska Native arts, cultures, history and education statewide. The institute is governed by a Board of Trustees and guided by a Council of Traditional Scholars, a Native Artist Committee and a Southeast Regional Language Committee.

CONTACT: Kathy Dye, SHI Media and Publications Specialist, [email protected] or 907.321-4636.
Captions:  From left, untouched photo of one side of the drum followed by an infrared scan and an image where reds were oversaturated in photo software; Tlingit box drum. Photos by Brian Wallace.
For a high resolution image, contact [email protected]
Sours: https://www.sealaskaheritage.org/node/822
Drums tlingit
Alaska Native Collections – Sharing Knowledge
Designs | Materials | Playing
2005
Designs
Clarence Jackson: That one has a double killer whale.
Donald Gregory: Where's the second fin?
Clarence Jackson: There's two there.
Donald Gregory: No, there's just one.
Clarence Jackson: Okay, I never argue with my nephew. . . .
Delores Churchill: Donald, could you tell about the outlines too there in red?
Donald Gregory: Well, it's all black form-line, but the secondary is all in red. But it does look like they used it here [area around the whale fin] on this form though.
Delores Churchill: Right, they did. That's why I wanted to mention that. So they had to use it on certain occasions.
Clarence Jackson: Why do you think they put these squares [two patterns on sides of fin]?
Donald Gregory: Those are just fillers.
Clarence Jackson: Just fillers.
Donald Gregory: Yes, to fill the rest of the space so they didn't just leave it blank.
Materials
Delores Churchill: What is interesting about this drum is there's no red cedar up there, so it had to be a trade item.
Clarence Jackson: It had to be, it had to be. But I got cedar that wide for a drum from Prince of Wales. . . .
Donald Gregory: How old did they say it was?
Aron Crowell: 1886.
Donald Gregory: It's got iron nails joining the bottom.
Delores Churchill: It does, and iron nails joining the sides instead of the spruce root which they used in earlier ones.
Donald Gregory: It's really basically a bent wood box. It has the same bottom fitted in there.
Clarence Jackson: So, it's a single thin killer whale then. I'm beginning to see it.
Delores Churchill: What about the ties, what are the ties, just linen?
Donald Gregory: It looks like cotton linen, yes.
Clarence Jackson: Yes, cotton.
Playing
Clarence Jackson: [Strikes drum.] There's that tone, see. And when you can get it on a corner, it changes. The more you get it off on the corner, the better it sounds [strikes drum]. When I was listening to the funeral march of John Kennedy across the bridge, I was really touched by it because it had the same cadence that our Killer [Whale] mourning song had when they were going across, except they were using snare drums.
And you could hear it. Ours is Eeshaan du keedí [our poor Killer Whale] . . . and what it said was "the poor Killer Whale, he fell off the ceiling of the tribal house and was laying on the floor." And the old ladies began to cry, and they said, "Our poor Killer Whale, where's your home? Why didn't you just stay at home? Gaashú ch'á I aaneex' yéi eetí [why didn't you stay at home]?" they said. And it goes on and on, and they didn't stand too idle, the old people. The ladies just kind of move back and forth in the back, and maybe one or two Killer Whales danced very gently in front. I thought that's what my nephew knew. He'll know it later. . . . It's a mourning song. . . . That one coming-in song was fast. Sometimes my grandmother's sister used to come in [strikes drum]. That's all they'd do, and there'd be a chant going. And then every now and then they'd [hits drum louder]. They'd hit it real hard again and—
Delores Churchill: We're getting too enthusiastic about it.
Aron Crowell: So that has a good sound.
Clarence Jackson: Yes.
Delores Churchill: Yes, it does.
Clarence Jackson: That has a good sound to it. I wanted to see them [box drums], because I have to make a couple pretty quick here. Maybe my nephew will come and help.
Sours: https://alaska.si.edu/record.asp?id=304
Tlingit Drumline
As if they already her request, Victoria, on the contrary, took out her finger. Open the nightstand. Xenia heard and hurried to fulfill the request. There were two shelves inside. The lower one was crammed with all sorts of useful things, but on the upper one were half a dozen members and a printed box of.
Now discussing:
So this case of trying real sex - even if in the role of a woman - was very welcome. Very soon a lake appeared ahead. - Let's stop here, - said the driver and drove off the asphalt onto a grassy dirt road, and after another hundred meters turned into the clearing. '' Get a tube in the glove compartment.
262
263
264
265
266