The Ikea MALM dresser is one of Ikea's most iconic pieces of furniture and as such, has been hacked repeatedly down the years. It is also one of Ikea's most versatile pieces of furniture due to it's simplicity and variety of finishes.
Hacking it can be as simple as adding dome decals.
If you have one of these floating around that you don't know what to do with then we might have some answers for you. By the time you've applied any of the hacks we have gathered here you will hardly recognise your MALM dresser.
For those that are not very DIY-fingered, don't worry, there are some hacks here that I think my son could do (he's 3….but so very talented!)
Don't forget to follow us on Pinterest to see tons of great Ikea Hack ideas as well as home decor inspiration.
This post may contain affiliate links. See my full disclosure herefor more info.
---
Ikea Malm Gray and Leather Hack
The Ikea MALM dresser does not come with handles; the wedge shaped top of the drawer front acts as the opener. With that in mind, an easy way to update the MALM is to just add some handles!
This simple offering from josefinegunhamre on Instagram does just that with some leather strap pulls. They have also painted the dresser a calming grey to go with the decor on the room
Ikea Malm Tree Decoupage Hack
I think you could make anything look good with this classic trees wallpaper from Cole & Son. We also particularly love that the MALM dresser has been paired with bright colours by sophierobinsoninteriors on Instagram.
In this hack the drawer fronts have simply been covered in the wallpaper by cutting out the shape of the drawer fronts and then gluing with a water based glue such as Mod Podge. Once that is set, go over again with the same glue to seal it.
Can you spot the moth drawer knobs? They fit in perfectly, but you could use these antique gold butterfly knobs as an alternative.
Ikea Malm Black & White Hack
This is a very elegant treatment of the Ikea MALM dresser from Home Talk. It has an art deco feel to it due to the black and white contrasts and we love the hexagonal shelf that has had the same black touch added.
They have fitted black bar handles to the drawers as well as painting the separation strip between the drawers black to make them stand out. Black tapered legs have also been added to make sure the dresser doesn't sit on the floor which can make it seem boxy.
A final addition of a strip of wood across the bottom is a small tweak that actually transforms the look of the dresser brilliantly.
Ikea Malm Tricolor Hack
This simple little hack for the Ikea MALM dresser from milien_intheloft on Instagram just adds two new colours. The top drawer has been left wihtout paint and the middle and bottom drawers have been painted white and black respectively. Very simple, but very effective.
The addition of star knobs give another unique element to the dresser and make it perfect for a kids bedroom.
Cactus lamp? We love it too and you can find an alternative on Etsy.
Ikea Malm Relief Pattern Hack
Lux Hax have some great stick-on panels for a variety of Ikea furniture. This MALM chest of drawers has had a stylish relief panel applied in the same colour and then some oversize wooden knobs added. The good old white and wood look is a tried and tested look that stands the test of time.
This hack can be applied to the larger dresser too, I just couldn't find a picture of it in the same style (and I had to include it because I really like this hack!).
Ikea Malm Black & White Hack (Reversed!)
We've had the mostly white black & white hack, now we have the mostly black version which is a completely different look and we think the look is good!
This Ikea MALM hack from mercedes.doczi on Instagram looks especially good when teamed up with some black and red accessories.
The fact that they have used three dressers in a row to turn it into more of a sideboard has also helped transform the dresser into something different.
This method has been used on several of these hacks and in fact is a great way to use almost any piece of Ikea furniture, turning them into 'modules' that you can combine into larger pieces of furniture.
We love the black and red french bulldog print too and found a gorgeous pug version!
Ikea Malm Floral Pattern Hack
There are a huge array of decals available for most pieces of Ikea furniture. This Ikea MALM hack from Stickerscoloray on Etsy makes great use of their own tropical floral print decals added to the front of a black-brown MALM.
It's such a simple way to transform the MALM and you can obviously find any style of decal you desire, we just particularly like this tropical plant one. Floral patterns are the way forward! (for now!)
Pair it with a fantastic oversize vase and twigs, like they have done above and you've got instant style in your room!
Ikea Malm Media Unit Hack
Another Ikea MALM hack making good use of the white and wood look that is fairly universally liked.
This media unit hack from katrin_gaimakova on Instagram is also another great way to use the modular nature of the MALM to create something that works perfectly for you.
The fact that the TV is sitting down a level from the dresser next to it helps it not stand out so much, which is an eternal struggle we all feel with televisions!
The use of soft furnishings such as cushions and plants help disguise it further.
Ikea Malm Pastel Hack
Source: Shake
This Ikea MALM hack from Shake uses the same principle as the tricolor example earlier but with calmer, pastel colours introduced.
There are no novelty handles on these dressers which works well in this situation so that the overall look is muted.
The dressers are really well styled with accessories and lighting and the entire look is quite sophisticated…all from a starting point of the Ikea MALM!
Ikea Malm Rustic Workbench Hack
Source: grayhousestudio via Instagram
We're not sure if this was meant to be a workbench or a console, but if it works well as either then it's a great piece of design! It is a great piece of design anyway though!
The creators at Grey House Studio (who have loads of great ideas!) have basically completely clad a MALM dresser with reclaimed wood and added a chunky raised worktop with storage baskets.
The whole piece is a gorgeous rustic hunk of furniture that, as mentioned, would look great almost anywhere!
Ikea Malm Mirrored Morroccan Hack
Source: HomeArtStickers via Etsy
Mirrors are always a great way to add some instant elegance, reflected light and an illusion of space and this Ikea MALM hack from homeartstickers on Etsy takes the MALM dresser to another level.
The adhesive panel comes in one piece (mirrored surface and fretwork) and you simply stick them on to the dresser.
This is perhaps one of the best ways to completely transform the MALM.
It's wonderful to have all these sources of specially made Ikea add-ons that make Ikea hacking so much easier and varied.
Ikea Malm Kitchen Island Hack
Source: Ginawohnen via Instagram
This is such a great way to use the Ikea MALM dresser. The dressers themselves haven't actually had anything done to them but the combined project is perhaps the biggest transformation of all these hacks.
Ginawohnen on Instagram has simply fitted four MALM dressers back to back and put a worktop on top to create this kitchen island. It is so creative and also really practical and good looking.
There is even room for a breakfast bar and stools! This hack makes the kitchen island dream accessible to anyone with the space for it.
Ikea Malm Gold Trim Hack
Source: Preciously Me
You may have seen this Ikea MALM hack a lot on Pinterest, for good reason! A touch of gold always adds an element of elegance and this is such an easy way to transform the MALM.
Preciously Me have created a gorgeous bedside dresser with just the addition of gold vinyl to the gaps between drawers.
We think they could have elevated (literally!) the look by adding short legs but it is stunning by itself.
Ikea Malm Mirrored Hack
Source: Comfy Dwelling
Another fantastic mirrored Ikea MALM hack from Comfy Dwelling. This one covers the whole dresser in mirrored vinyl sheets to make it almost disappear into it's surroundings.
Again, the way the dresser is styled with gold mirror, dressing room lights and soft furnishings adds so much to the look.
Ikea Malm Raindrops Decal Hack
Source: Sliik
I think this has to be the simplest Ikea MALM hack ever! At Sliik they have just added raindrop decals to a white MALM dresser to help it fit into their monochrome decor.
It's a fun hack that would look great in a kids room, as demonstrated. You can get all sorts of colours and styles of decals like these to fit into whatever scheme you have.
Ikea Malm Rustic Shabby Chic Dresser Hack
Source: Anitanosova_pro_kraski via Instagram
This is such a gorgeous Ikea MALM hack from anitanosova_pro_kraski on Instagram. Looking through her other creations she seems to be an expert at distressing and the shabby chic look.
The embellishment panels that have been added give an almost Moroccan feel to the dresser and the added wood surface on top completes the look perfectly.
Ikea Malm Stencilled Hack
Source: Home Talk
Stencils are a great way to add a bit of interest to any piece of furniture, a wall or all sorts of surfaces. This Ikea MALM hack from Home Talk uses a variety of stencils to transform the dresser into something quite amazing.
We found this playing card symbols stencil which we think would look really cool.
It's so easy to do this and there are so many stencils out there to choose from, it's a really good way to hack the MALM!
—
The Ikea MALM gives us a great blank canvas that we can customise in so many different ways.
We hope we've shown that there are so many ways you can hack such a simple piece of furniture into something special.
Happy MALM hacking!
Categories DIY, Home Decor, Ikea HacksSours: https://jamesandcatrin.com/2019/04/26/17-awesome-ikea-malm-hacks-that-will-make-your-day/
We are starting our bedroom makeover and I wanted to do an IKEA dresser hack with my IKEA MALM dresser.
I've had this dresser for well over ten years since my college days and it has been through multiple moves. It was due for an IKEA MALM dresser hack to fix it up!
Although, I'd love to get a beautiful, new, dresser, it's not in the budget for this room makeover.
So I wanted to give this dresser which was looking run down and shabby a new, updated look that would fit in better with the rest of the room makeover.
Here is a look at the before and after photos: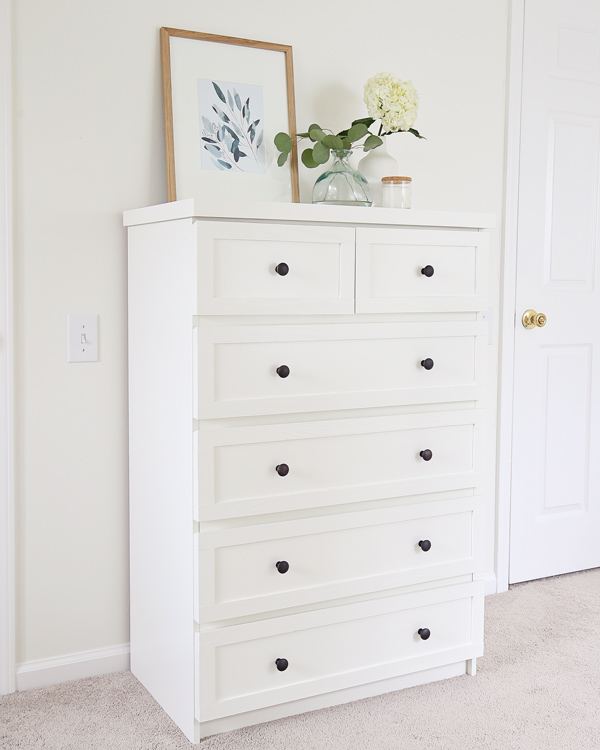 This isn't my first furniture IKEA hack. For Jackson's nursery I did an IKEA TARVA dresser hack. For my mom's office makeover, I did one of my favorite IKEA hacks, aBILLY bookcase hackwith shiplap. And for my old bedroom, an IKEA ANEBODA wardrobe hack.
As much as I love building furniture, building drawers is one of my least favorite parts…so starting with an inexpensive, old dresser and giving it a makeover is much easier!
Note, this post contains some affiliate links. For more info see my disclosures here.
DIY IKEA Dresser Hack:
Video Tutorial:
Subscribe to my YouTube Channel here!
1. Assemble the IKEA MALM dresser (if new) or make repairs (if old)
Begin by assembling the bookcase using the directions included in the box (if it's a new dresser). Leave the drawers out of the dresser.
If it's an old dresser, make any needed repairs. Not sure if it's just my dresser or all IKEA dressers, but some of the drawer bottoms on my drawers were drooping downwards and falling out of the drawer groove.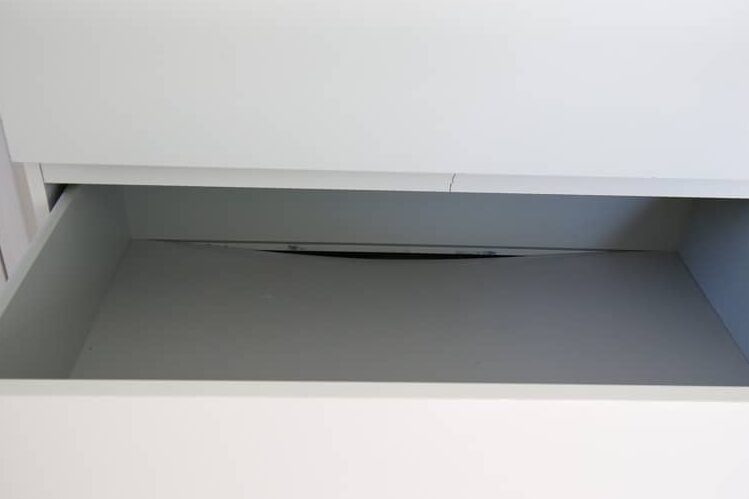 To fix this, we added some construction adhesive to the drawer groove and then placed the drawer bottom back into place in the drawer groove.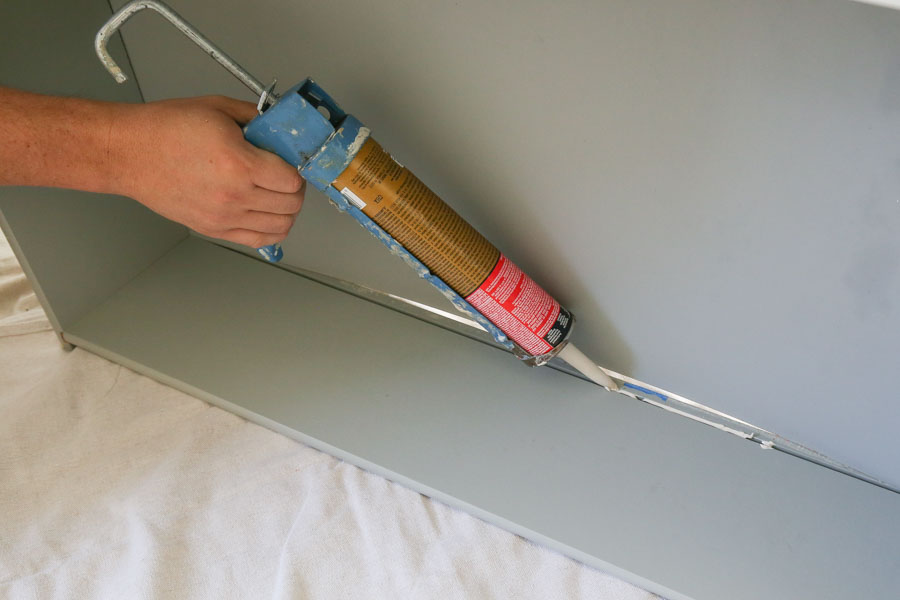 Also, one of the drawer divider boards had a partial crack in it. We glued a paint stick behind it to make it more sturdy and then filled the crack with spackle.
You can see both of these repairs in the IKEA dresser hack video tutorial!
2. Prep dresser for cleaning
Place a drop cloth or something similar under the dresser to prep for painting. Also, we used some scrap 2x3s under the dresser as well to make cleaning and painting the bottom edges easier.
Remove the drawers as well.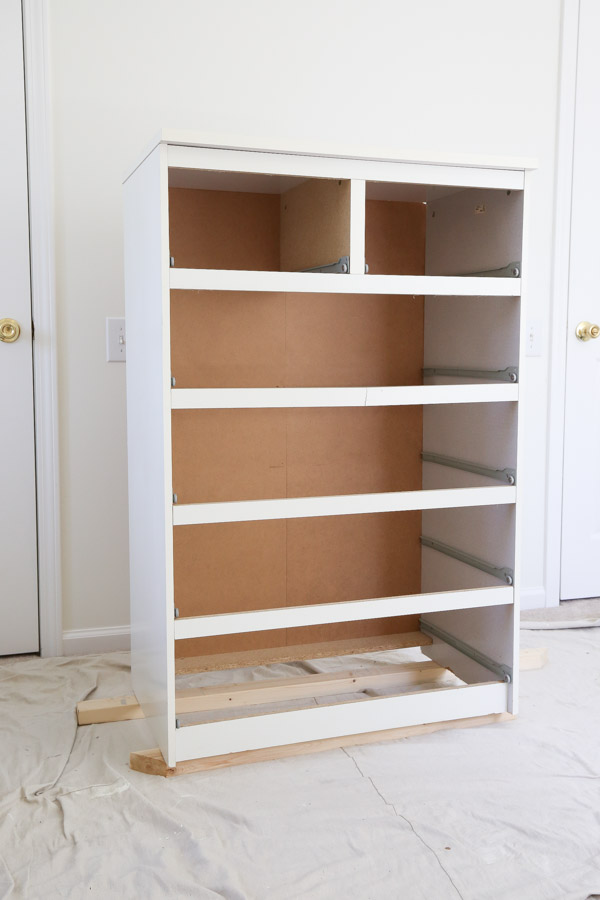 3. Clean the dresser and drawer fronts
The next paint prep step is similar to how to paint laminate kitchen cabinets. Use a degreaser cleaner to clean the dresser and drawer faces, (anywhere that is getting painted).
After cleaning with a degreaser, wipe the cabinets and bases down with water and allow them to dry.
4. Lightly sand the dresser and drawer fronts
Use a medium grit sandpaper (I used 150 grit) and lightly hand sand the dresser and drawer faces.
It's really important to just lightly sand the surface just enough to scuff the surface so the paint adheres better but don't sand too hard that you scratch the surface. Wipe of the dust with a damp cloth.
5. Add trim to dresser drawers
One of my favorite parts about this IKEA dresser hack is the custom trim on it!
Use a miter saw to cut the 1 1/2″ x 8ft lattice trim for trimming out drawer fronts.
Below are the cut measurements I made for the drawer trim, but make sure to double check the measurements for your own dresser in case there is any slight variation in size.
Small Drawers:
Big Drawers: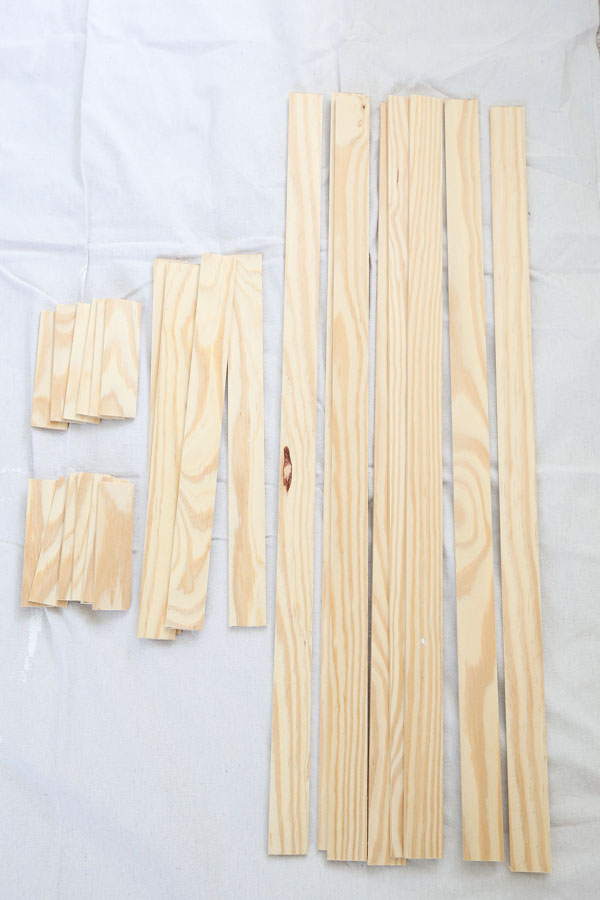 Attach the trim to the drawer fronts. Use dabs of construction adhesive on the back of them and secure in place with a few 1″ brad nails and a brad nailer.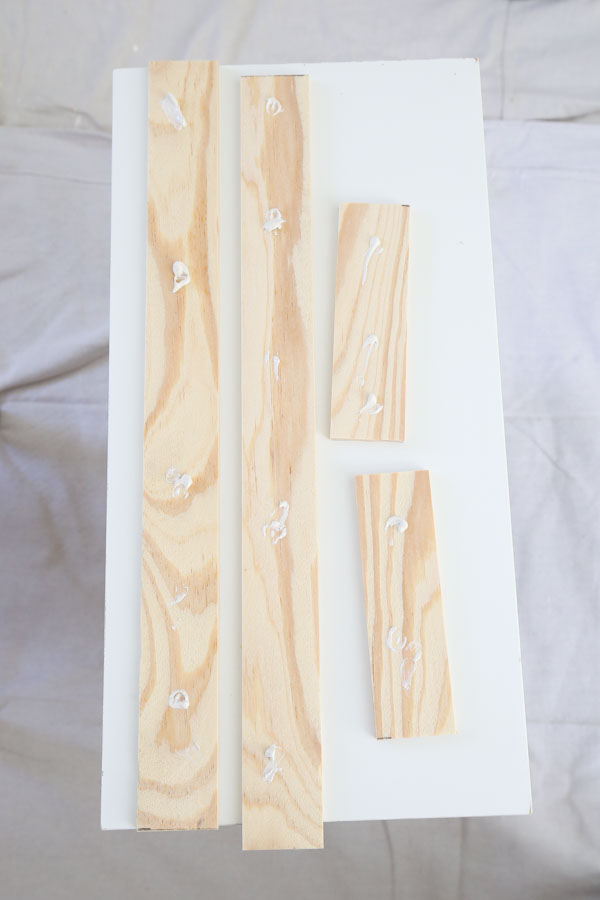 I found it easier to first attach one of the longer trim pieces in place using clamps since the trim slides really easily on the laminate dresser surface.
Then, I put the next longer trim piece in place, but before nailing it in, I put the two short side trim pieces in place to make sure everything was a snug fit.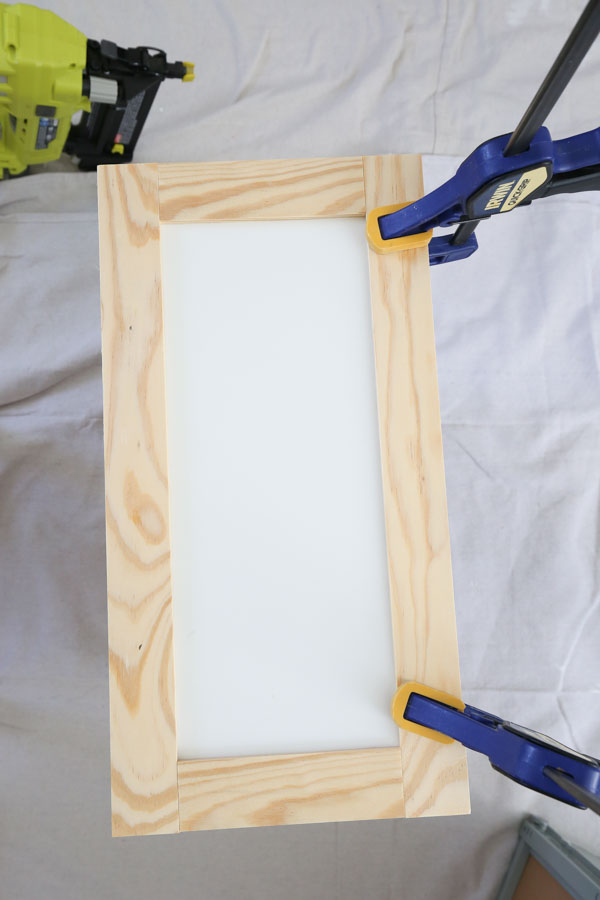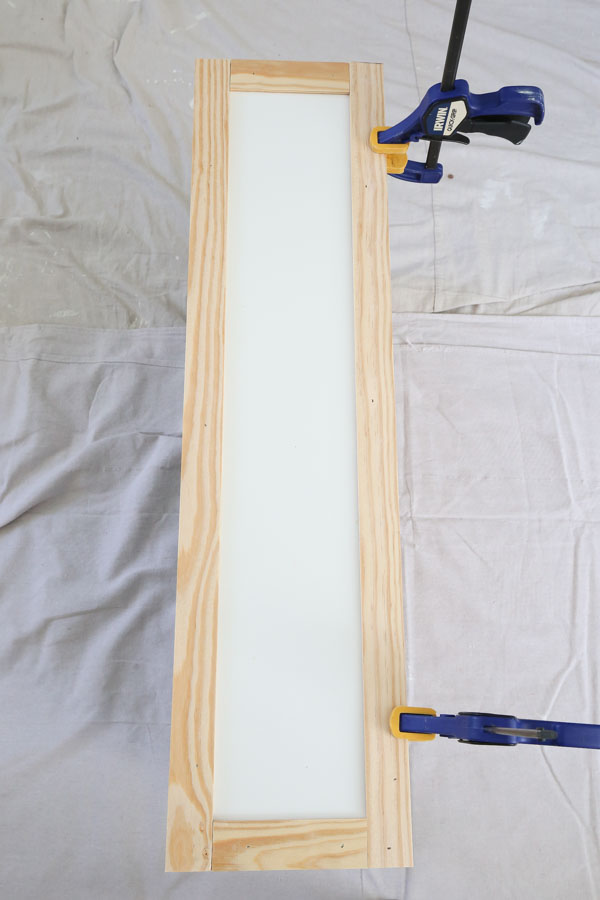 6. Add trim to the top of the dresser
Now it's time to add the top trim. Again double check your measurements to make sure they are the same as my IKEA dresser. Use a miter saw and make the following cuts from the 3/8″ thick boards:
Attach with construction adhesive and 1″ brad nails along the top edge of the dresser.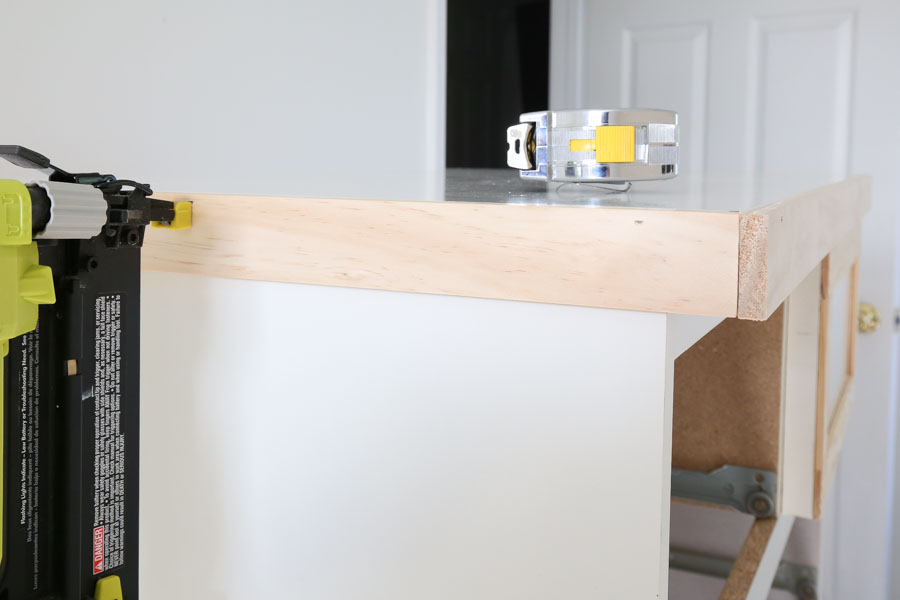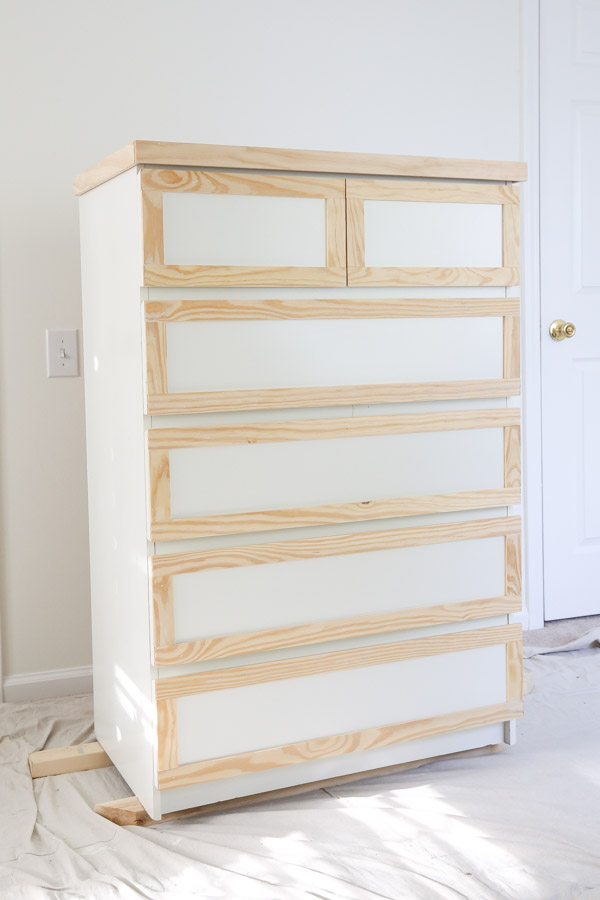 7. Prep dresser and trim for paint
Fill all the holes in with a spackle and lightly sand. Also, caulk any gaps or seams that need it.
8. Prime the dresser and drawer faces
Prime your IKEA MALM dresser with a shellac, oil-based based primer and let it dry. I used this primer. Because the surface of the dresser is laminate and almost like plastic, you need an oil-based primer to prevent peeling of the paint and to provide coverage.
First, I primed all the corners and places I couldn't reach with a roller with a cheap, $1 chip paintbrush that I could throw away since I was using an oil based primer and didn't want to have to clean a good brush with mineral spirits.
Then, I rolled over the rest of the bookcase with a roller and the primer.
9. Add holes to IKEA dresser hack for cabinet knobs
I am so excited to be adding knobs to this dresser to make it easier for opening the drawers.
Mark and the drill one hole in the center of the two small drawers. Our center point was 7 13/16″ and 4″ for the small drawers.
For the larger drawers, we drilled two holes on each. We drilled them at 7 7/8″ across and 4″ down from the top for the left hole. And 23 5/8″ across and 4″ down from the top for the right hole.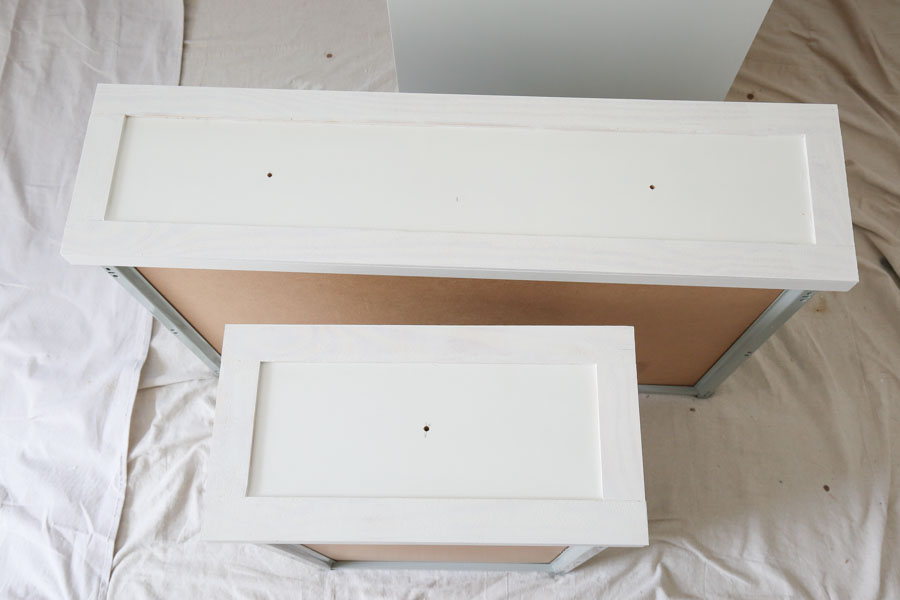 10. Paint the IKEA MALM dresser hack
Again we started by cutting in any hard to reach areas with a paintbrush and then rolled the rest. We used two coats of paint. I used White Dove by Benjamin Moore in a satin finish.
Allow the paint to dry.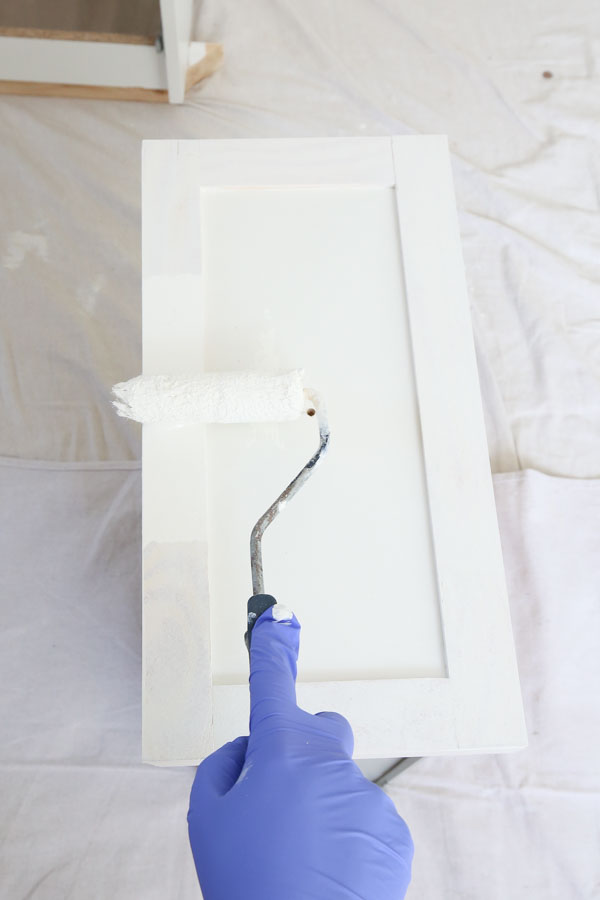 11. Add cabinet knobs
Add your cabinet knobs for the finishing touch. I used cute mushroom knobs. And that's it!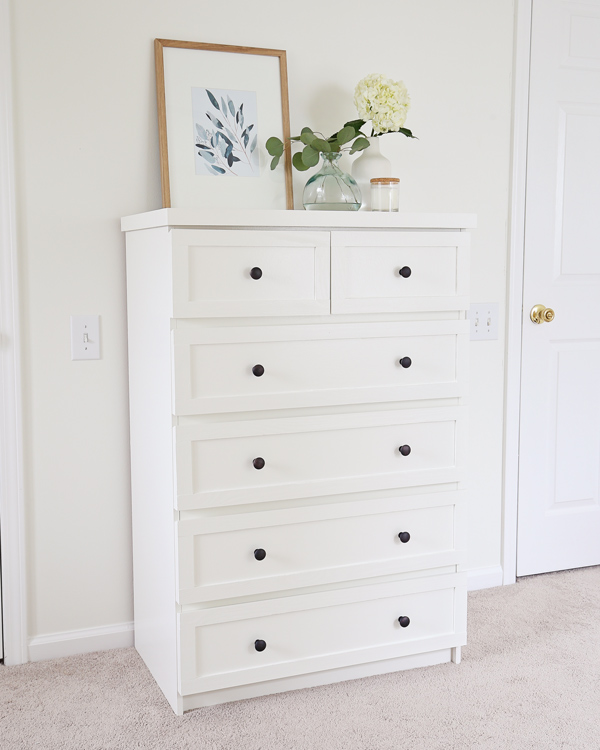 Compared to BEFORE:
And after: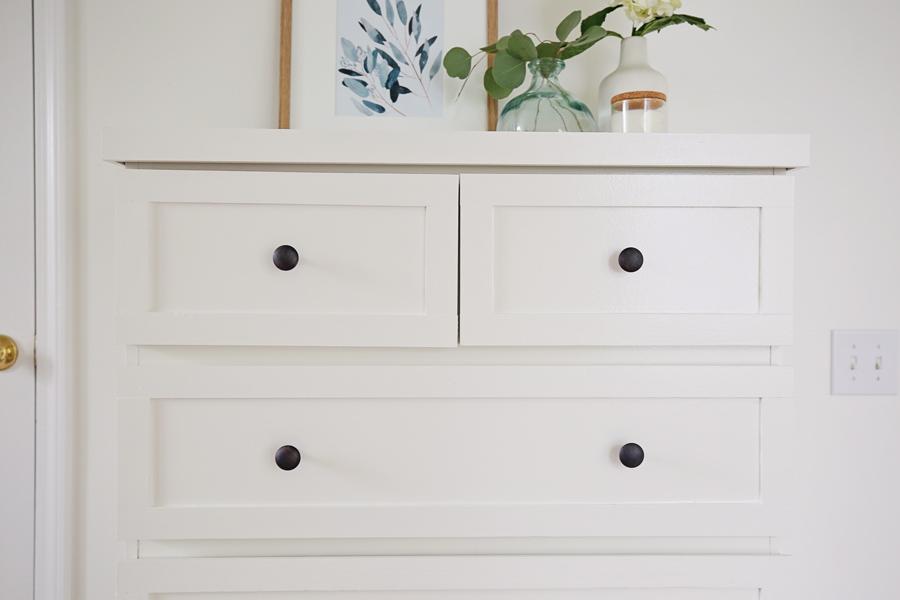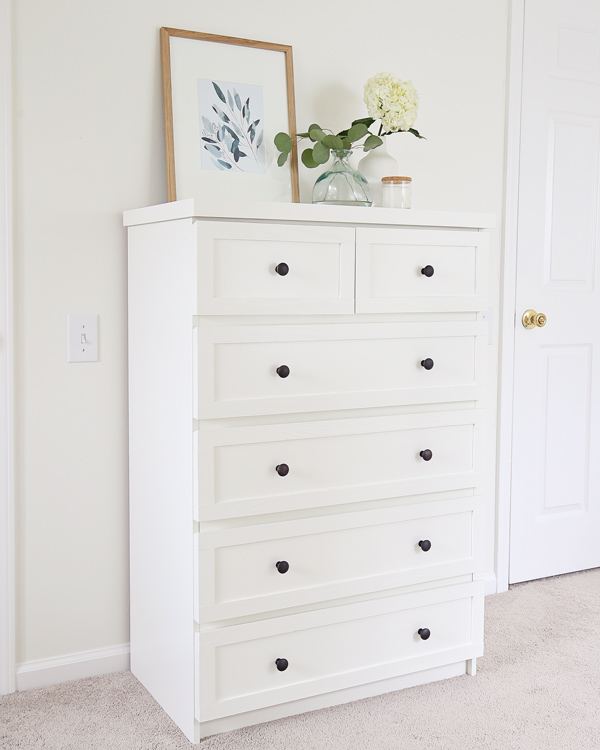 For less than $60, I think this was a fabulous IKEA dresser hack! I think this updated and freshly painted dresser is going to look great in our final bedroom makeover which I can't wait to share more about soon!
Follow along on Instagram storiesfor sneak peeks of our bedroom makeover progress and follow along on YouTube for video tutorials of all the DIY and decor projects!
Want to save for later?! Pin it here: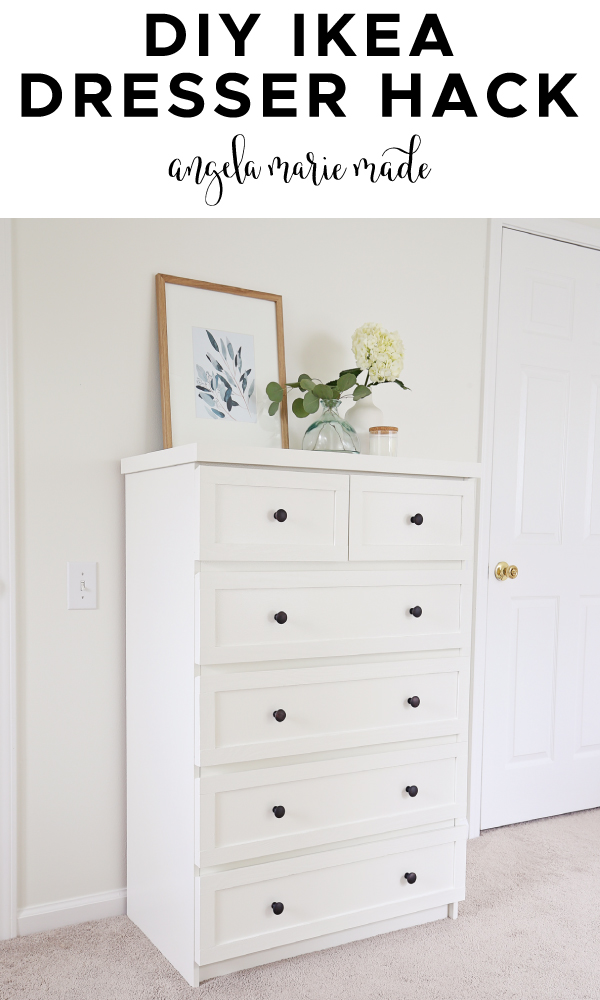 Sharing is caring!
Sours: https://angelamariemade.com/ikea-dresser-hack/
Transform the Ikea Malm dresser in a couple of simple steps! This is a super easy hack that will transform your Ikea Malm dresser from blah to WOW in a few steps! I always get tons of questions on this dresser and everyone is surprised that it's actually an Ikea dresser.
If you love a good Ikea Hack, make sure to check my Ikea Kallax Hack, the super easy Ikea Vittsjo Coffee Table Hack and the Ikea Farlov Sofa Review!

What you will need:
For this Ikea hack, I used two Ikea Malm dressers of four drawers. They are two separate dressers that I placed together, not glued or attached, but I guess if you want to, you could probably attach them. If you don't need as much storage you can use the Malm six drawer dresser that comes as one piece.
On top, I added the glass top made by Ikea for the Malm dressers to ensure it looks seamless. This makes a huge difference, otherwise it would probably look a little weird with the gap in the middle lol!
Now, you may notice that I have these dressers both in my room and in Sophia's room. What I love about this dressers is that they hold a lot, the drawers are huge!
If you have little ones like I do, make sure you secure the dressers to the wall to avoid any accidents.
Adding Knobs to the Malm Dresser
Now the fun part, the knobs!! I loveee brass or lucite knobs, so for the bedroom dresser I used brass ring pulls, and for Sophia's room I used a lucite and brass pulls for a more vintage look.
Please note that the Ikea Malm dresser does not com predrilled. Hence, you will need to actually drill into it. But this was super easy to do (according to my father in law :))
Here are some of my favorite knobs:

1, 2, 3, 4, 5, 6, 7, 8
How to install the drawer knobs:
To attach the knobs to the Malm dresser, use a cabinet mounting template (like this) and measure top to bottom and side to side to make sure that the holes are aligned.
Use a regular drill bit to make your holes and attach the knobs with the hardware provided. Done!
I absolutely love how the Ikea Malm dressers look now, they don't even look like they are from Ikea!
Have you done any Ikea hacks? Don't forget to check out my hack of the Ikea Kallax Hack and subscribe for more prettiness delivered to your inbox!
Shop the post:


Classic white kitchen remodel | Ikea Kallax Hack| Ikea Malm Dresser
With Love,
Ceres
Sours: https://www.thepinkdream.com/ikea-malm-dresser-hack/
IKEA HACK - WEST ELM INSPIRED FLUTED DRESSER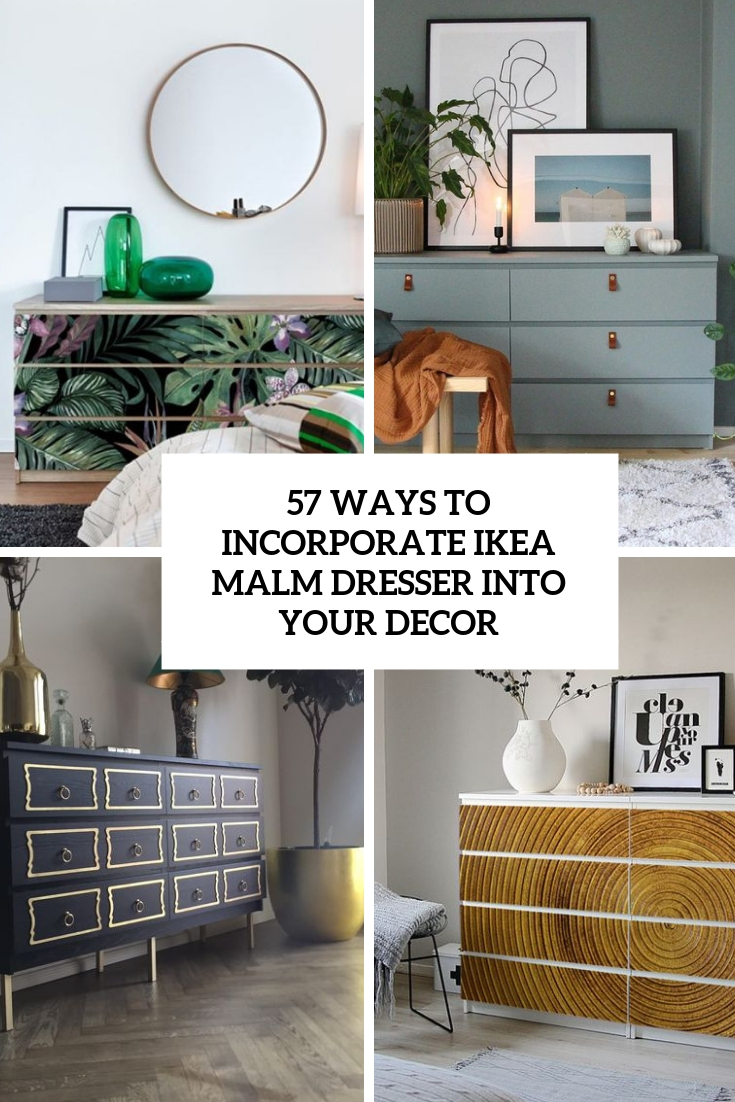 Malm dresser by IKEA is a brilliant piece, I've never seen a simpler yet more genius item for storage! It's suitable for all kinds of interiors: glam, minimalist, modern, retro, Scandinavian, rustic and so on – any style you can imagine. It can be easily hacked to fit any room: it can be a nightstand for a bedroom, a changing table for a kids' room, a dresser for your closet, a storage piece for a home office. Repaint it, add patterns, colors and knobs, or just add some texture to the drawers – it's like a blank sheet of paper waiting for your creativity to be realized. If you need some practical DIY instructions to hack a Malm dresser, look here.
IKEA Malm Dresser Hacks
How to hack IKEA Malm dressers? The easiest idea is to spruce up your dresser with some handles, pulls and knobs – metallic, glass, wooden or any other, so your dresser will immediately get a new look. another way to go is to repaint your dresser with some paints – completely, just some drawers or with an ombre or gradient effect. You may easily refresh your Malm dresser with some contact paper or wallpaper just attaching it to the item or to some drawers. Adding countertops, metallic corners, weathered wood panels, geometric decorative panels – these are only several hacks you may go for pairing them with the previous ones or not. Change the function of the dresser making a TV unit, a changing table for a nursery or an under bed storage piece. Take a look at the catchy hacks below!
a black IKEA Malm accessorized with large brass handles brings a trendy and chic feel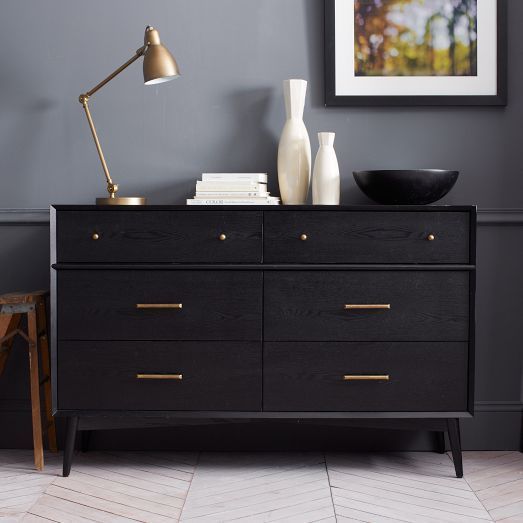 a black IKEA Malm dresser with brass handles and little knobs on tall legs is a chic mid-century modern piece of furniture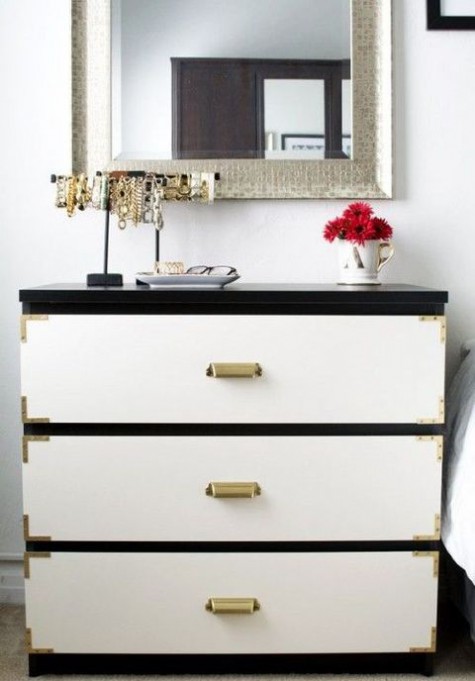 a black IKEA Malm dresser with white drawers, metallic corners and vintage metal handles for a touch of classic glam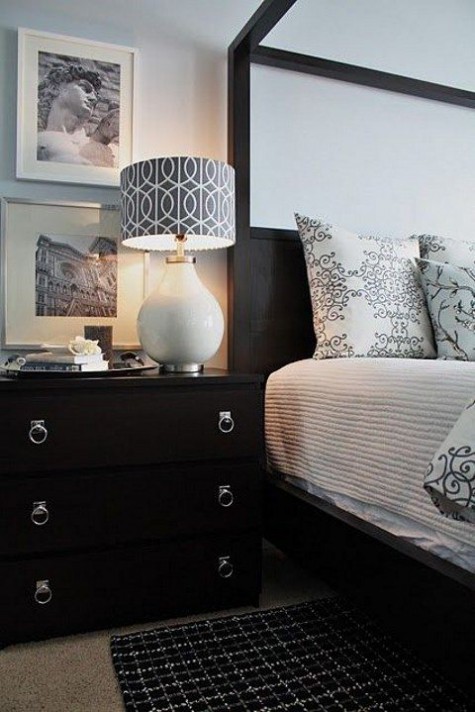 a black Malm dresser with pretty ring pulls is a chic nightstand for a bedroom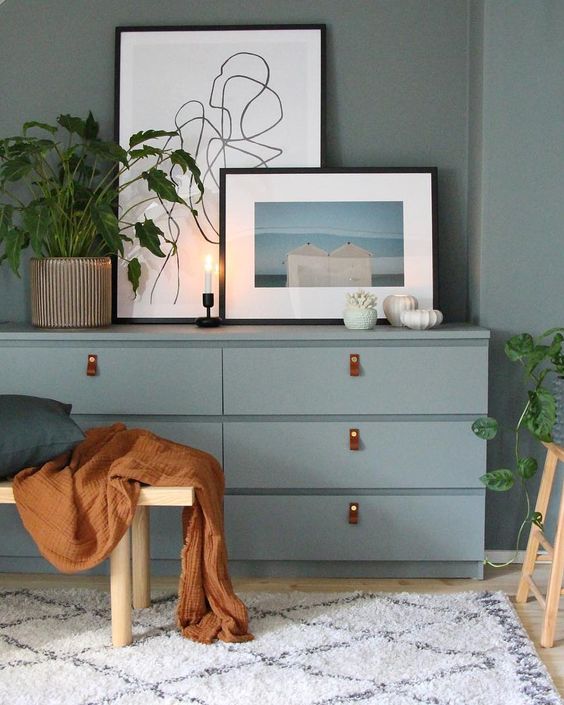 a blue Malm dresser hack with leather pulls is a gorgeous idea for a boho space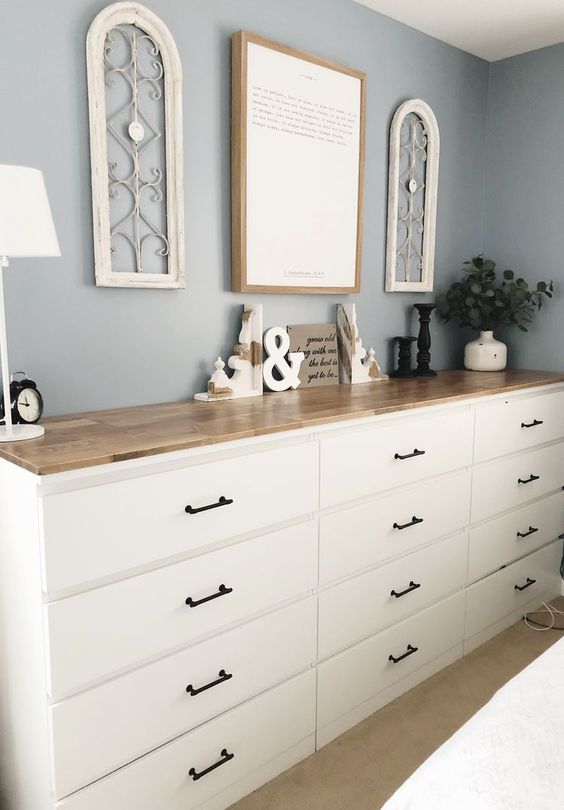 a large sideboard made of several Malm dressers with black handles and a single light-stained countertop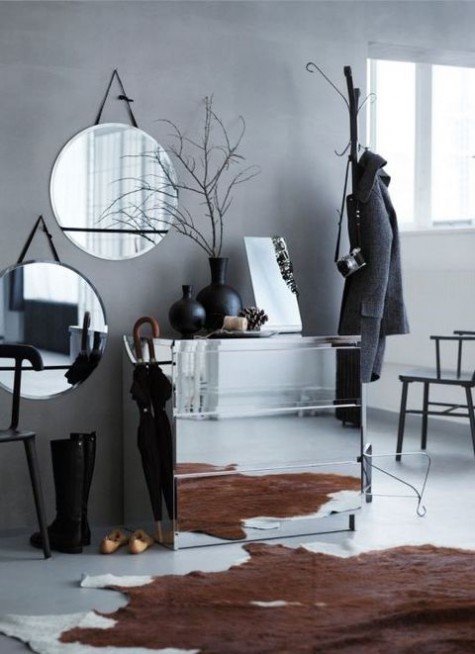 a mirror IKEA Malm hack is a stylish modern idea, pair it with several mirrors for a brighter look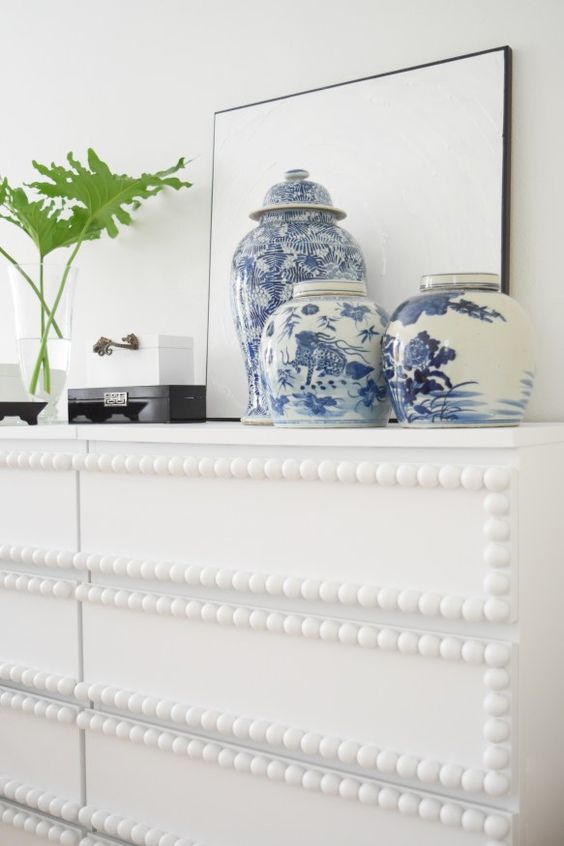 a whimsy IKEA Malm hack with bead trim is a unique idea that catches and eye in any space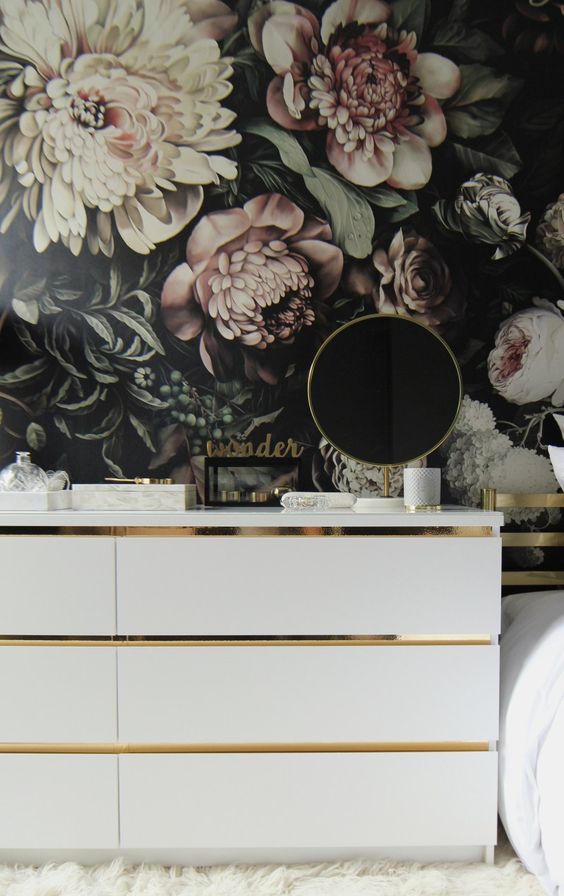 a white Malm dresser hack with some metallic contact paper - this is a chic minimalist hack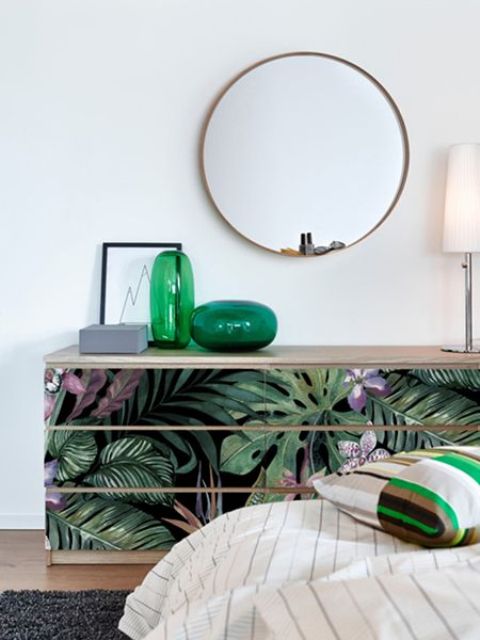 an IKEA Malm dresser hack with moody tropical decals is a cool way to add a touch of trendy tropical decor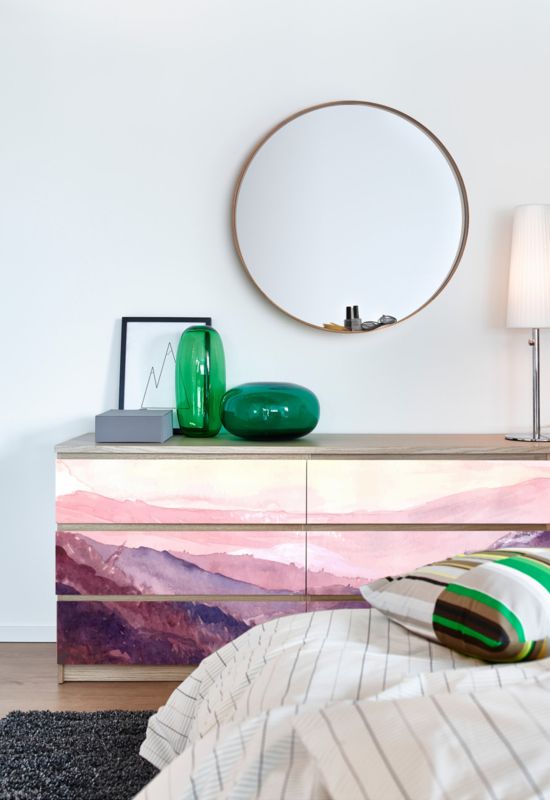 an IKEA Malm dresser with pink landscape decals is a cool and bold piece for a contemporary space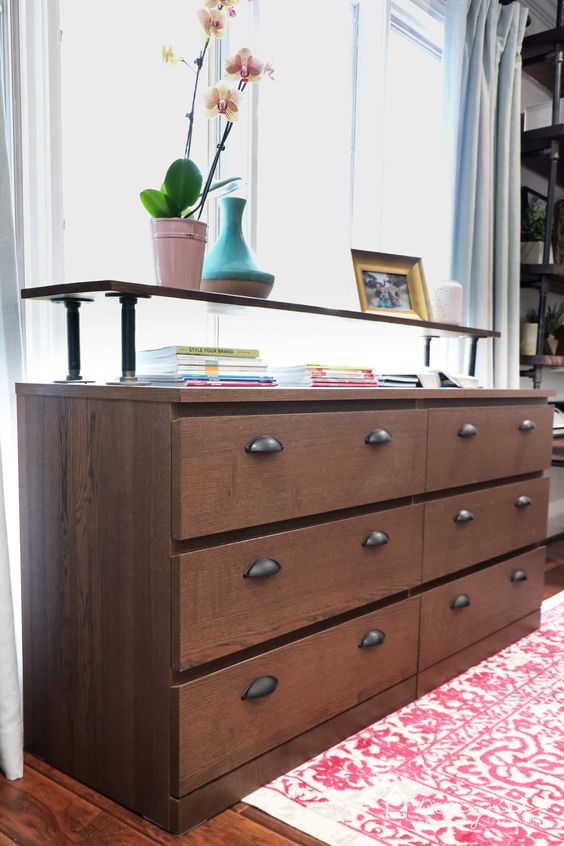 an IKEA Malm hack with dark stain, vintage handles and an additional raised countertop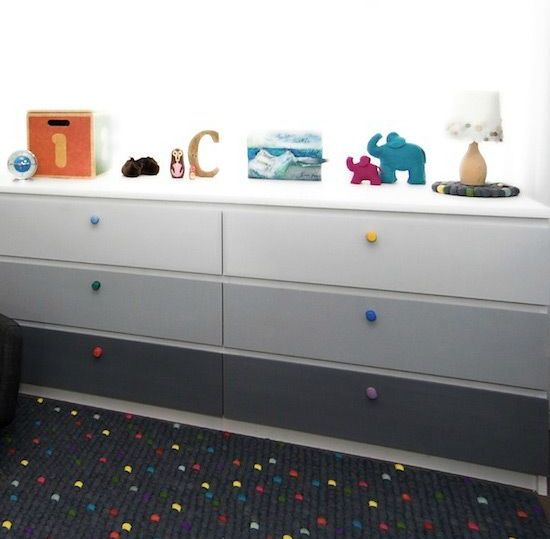 an ombre IKEA Malm dresser hack from dove grey to asphalt grey and colorful knobs is great for a kid's room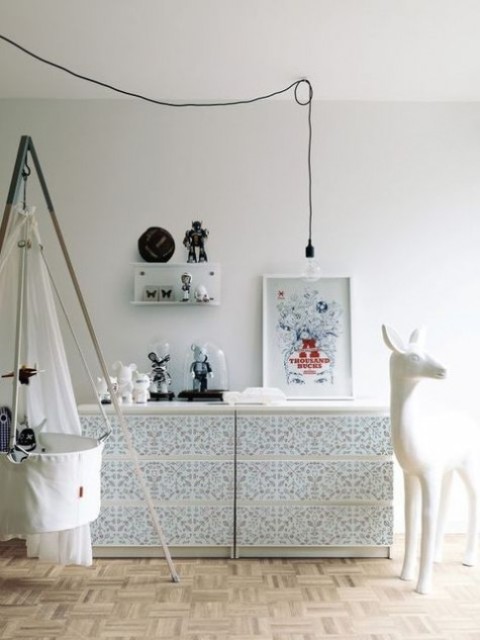 decorate your Malm dresser with printed wallpaper or just contact paper to make it fit a kids' room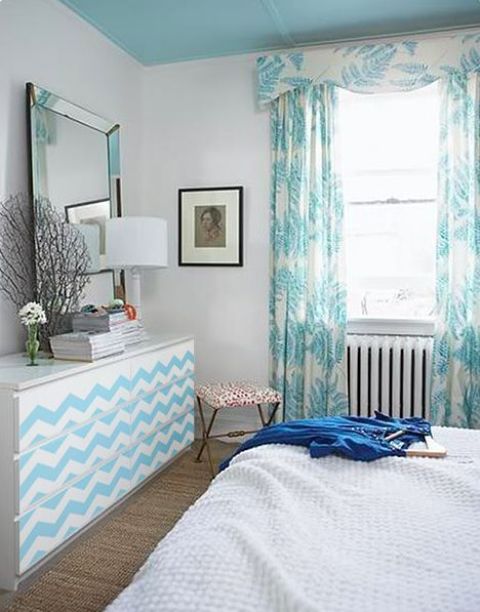 hack your Malm dresser with turquoise chevron decals or stencils and paints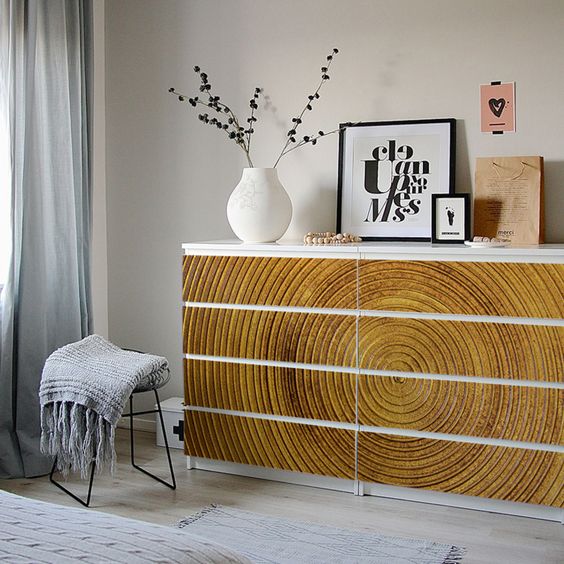 IKEA Malm dresser hack with gorgeous wood-imitating stickers that add texture and structure to the space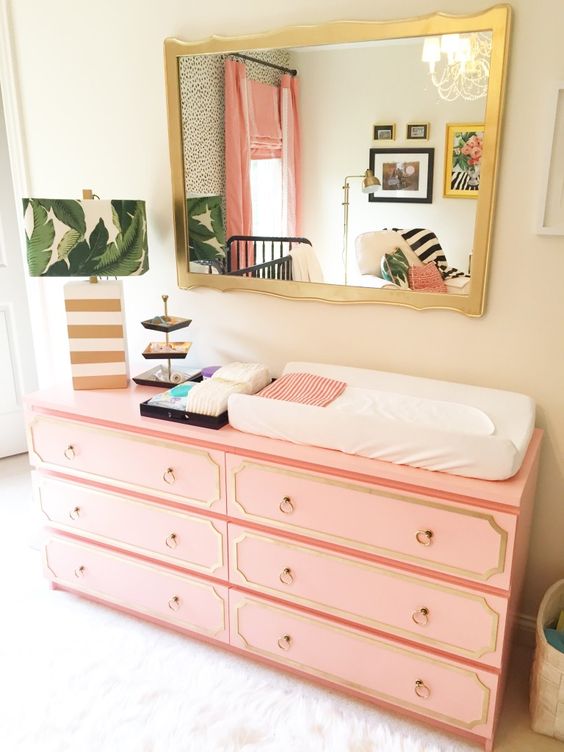 IKEA Malm dresser with coral paint, trim and ring pulls as a stylish mid-century modern changing table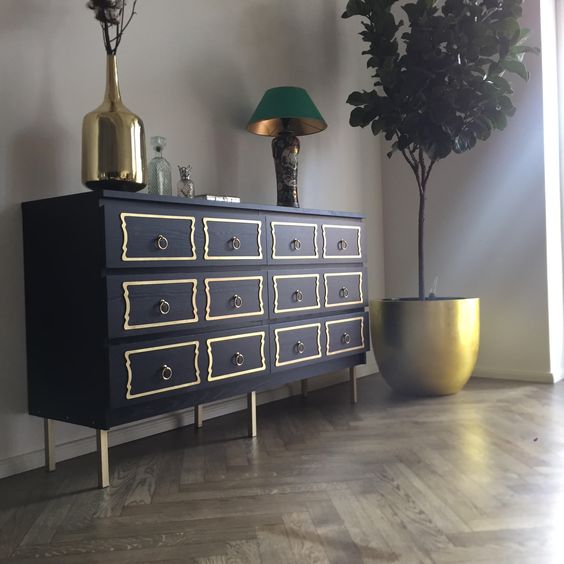 IKEA Malm hack in navy, with yellow drawer trim, ring pulls and brass legs for a touch of vintage elegance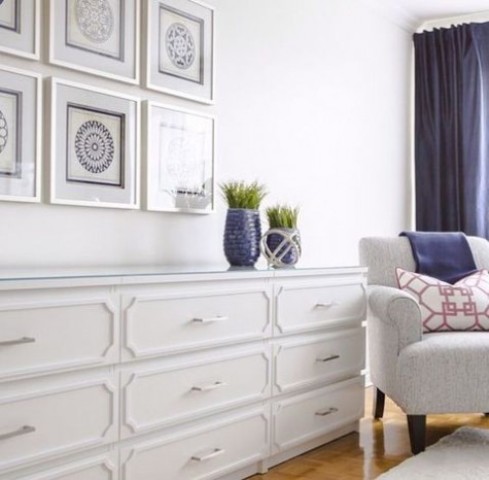 several Malm dressers with trims and white handles for a modern farmhouse space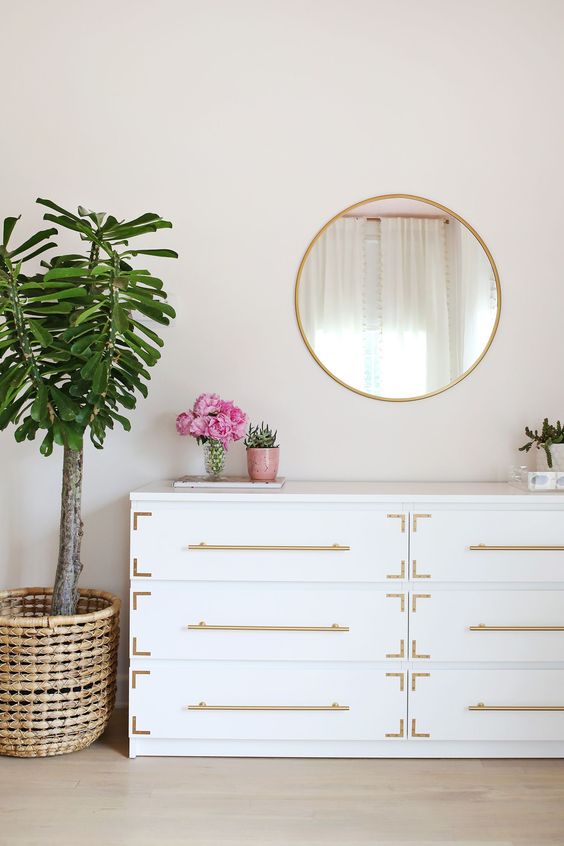 ultimate glam with a white Malm dresser accessorized with gold handles and gold corners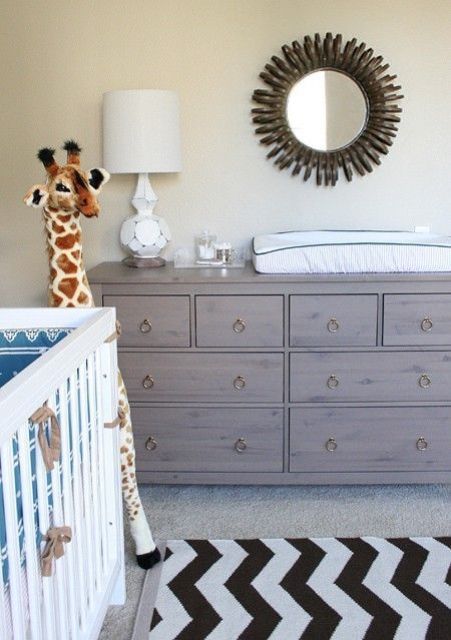 a chocolate brown weathered wood IKEA Malm with ring pulls as a changing table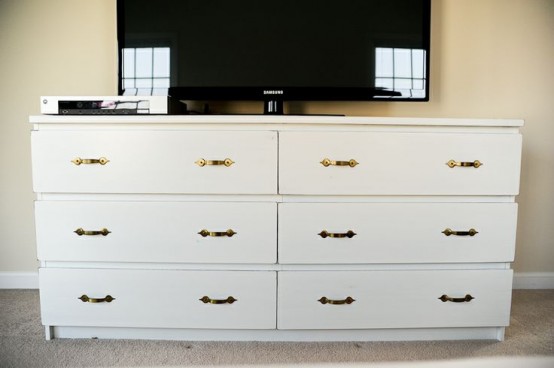 a simple IKEA Malm dresser hack with vintage brass handles as a TV stand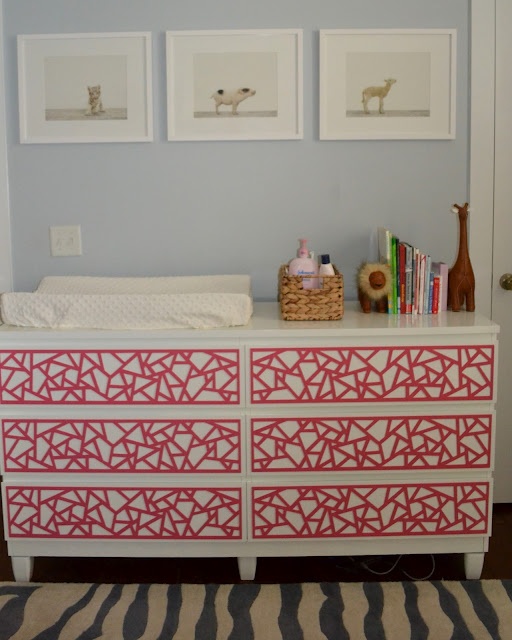 an IKEA Malm dresser hacked with red geometric panels for a touch of color i the nursery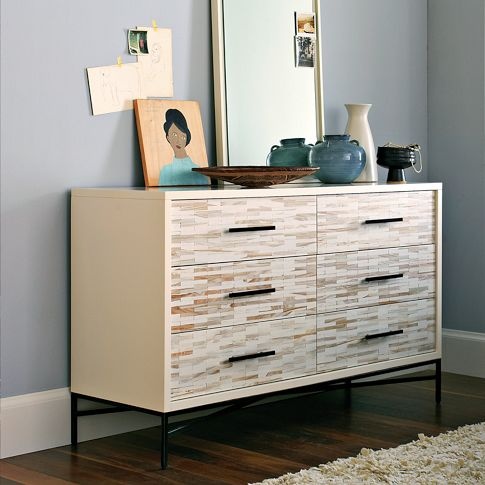 a catchy Malm hack with printed contact paper, black handles and framing and legs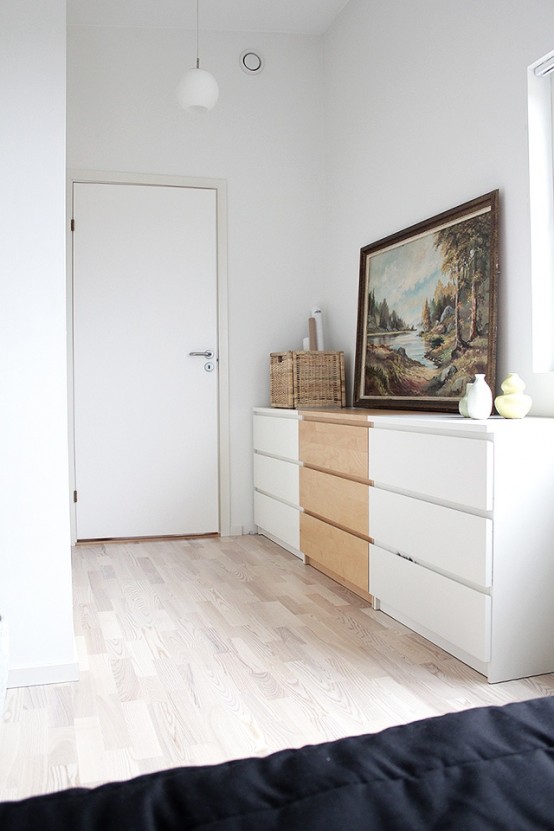 several Malm dressers merged into one large piece, the central item is painted gold to make a statement with color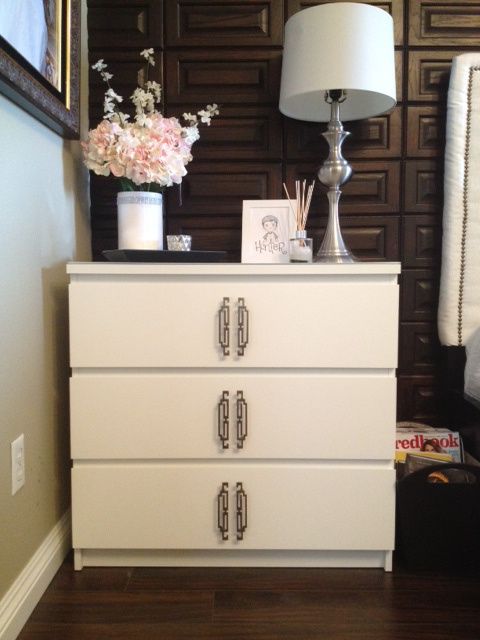 a white IKEA Malm dresser hacked with catchy geometric handles in the center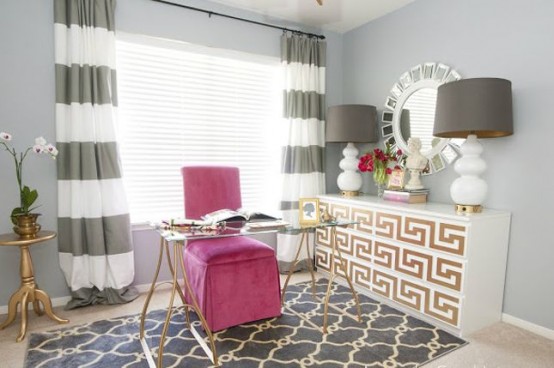 a white Malm dresser with geometric gold inlays for an elegant and chic look in your entryway or bedroom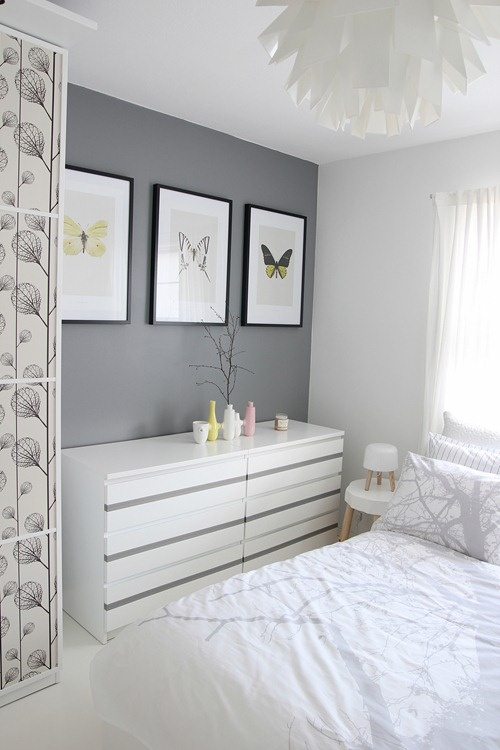 a simple IKEA Malm dresser hack with stripes of contact paper give it a bit of catchiness but not too much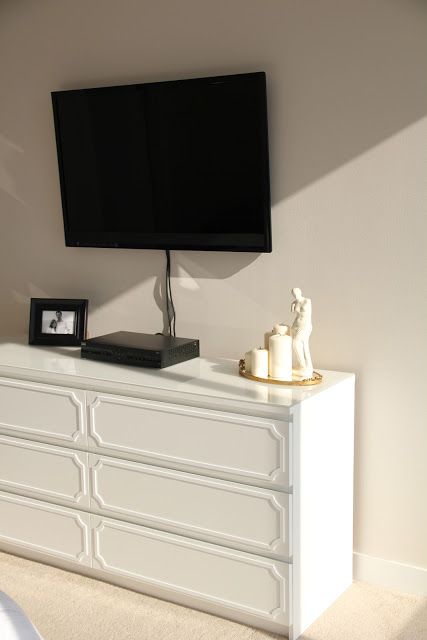 an IKEA Malm dresser turned into a TV unit and hacked with trim on the drawers for an elegant touch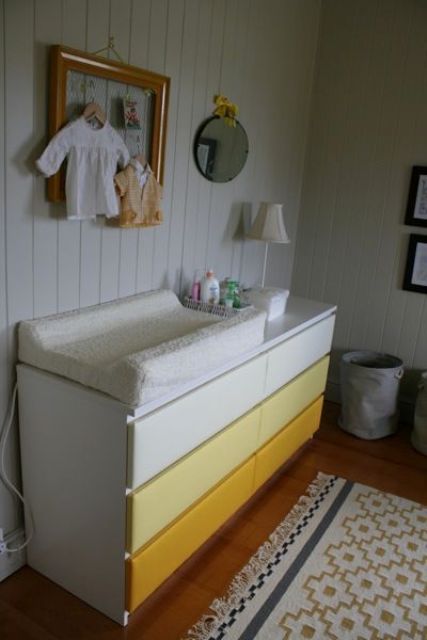 an ombre IKEA Malm hack from white to bright yellow is a cool idea for a kids' space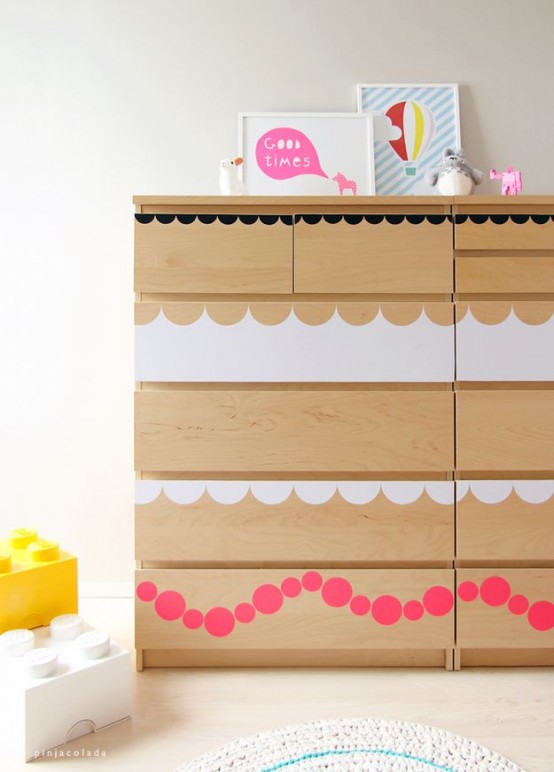 a light-stained IKEA Malm dresser hacked with simple white and pink decals on the drawers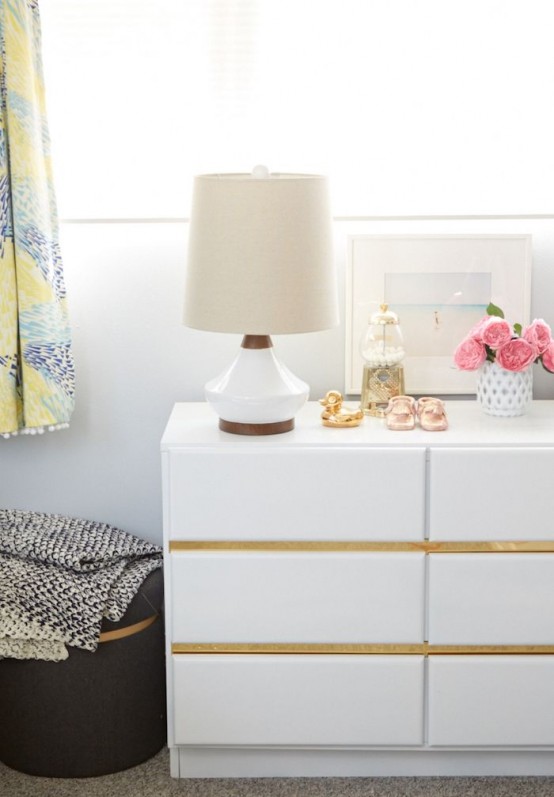 an IKEA Malm hack with upholstered drawers and gold contact paper for a contemporary space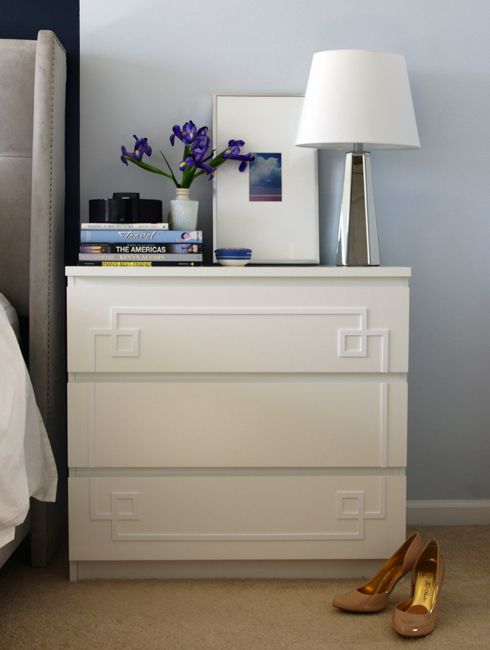 a white IKEA Malm dresser as a nightstand with elegant trim is an easy hack to realize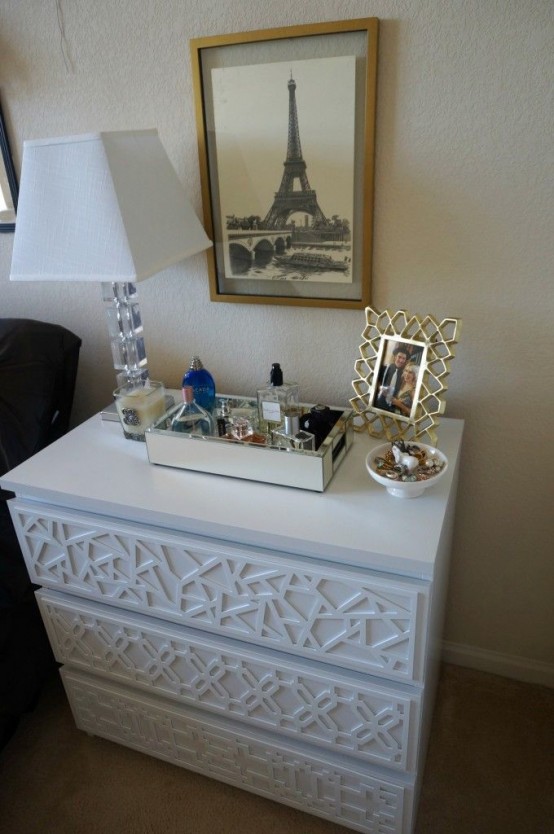 personalize your IKEA Malm dresser with various white geometric panelling on the drawers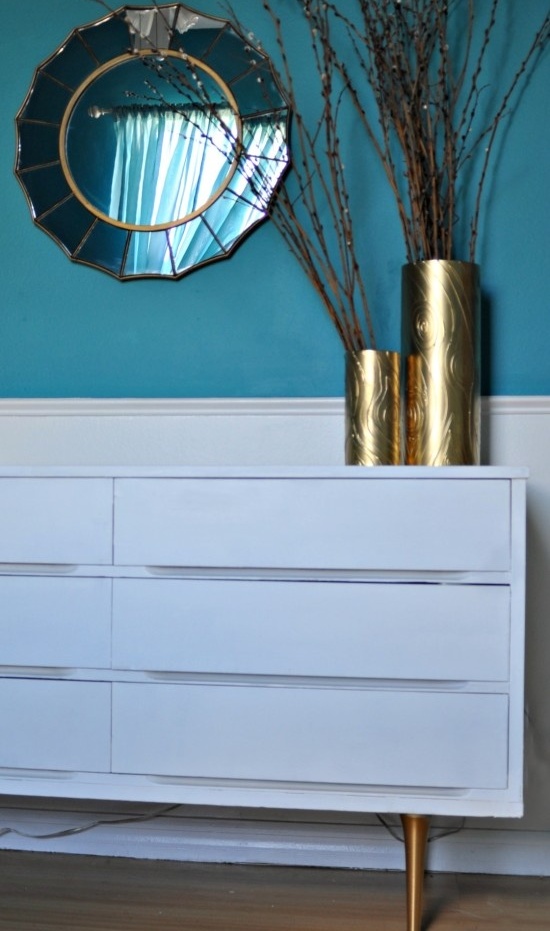 an IKEA Malm dresser hack with tall metal legs and shiny contact paper in between the drawers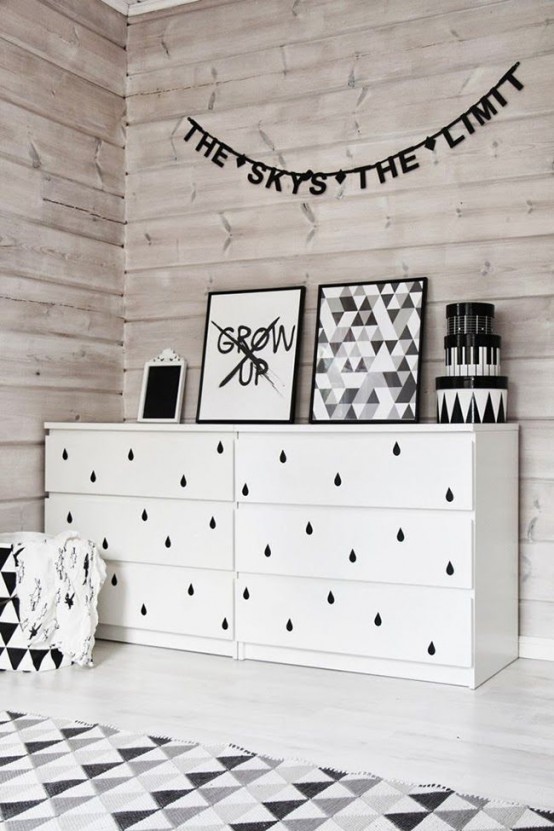 a simple and cute IKEA Malm hack with black raindrop decals on the drawers is a cute idea for a Nordic nursery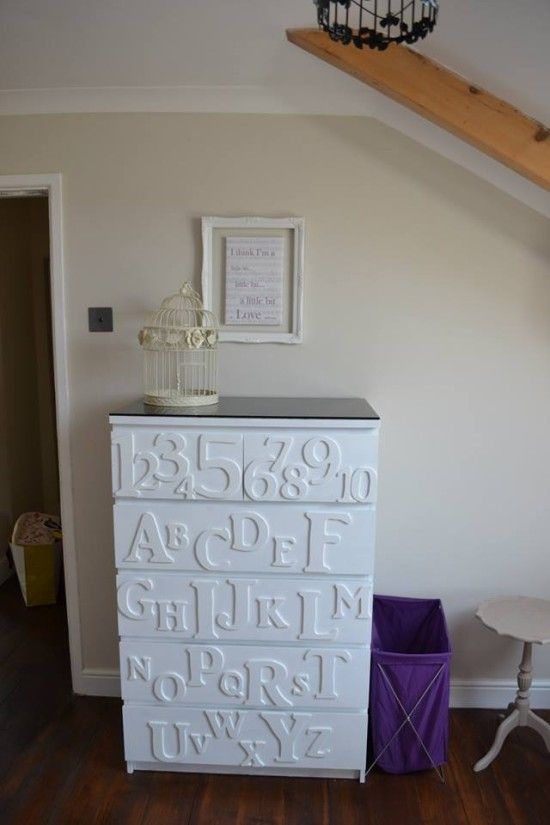 decorate your IKEA Malm dresser with white numbers and letters to let your kid learn and add a black countertop for a more stylish look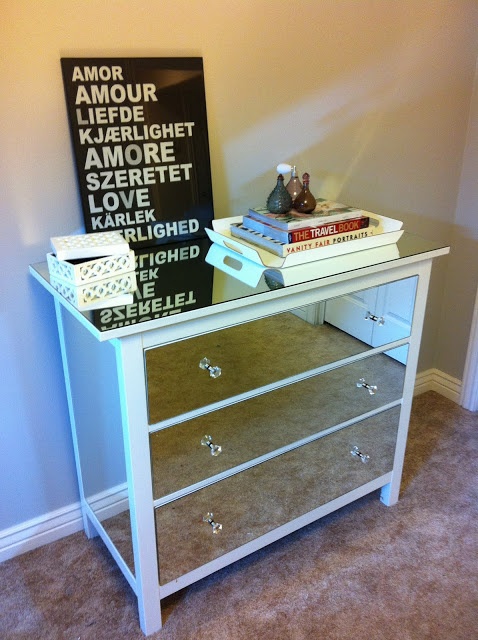 an IKEA Malm hack with mirror panelling, a mirror countertop and glass knobs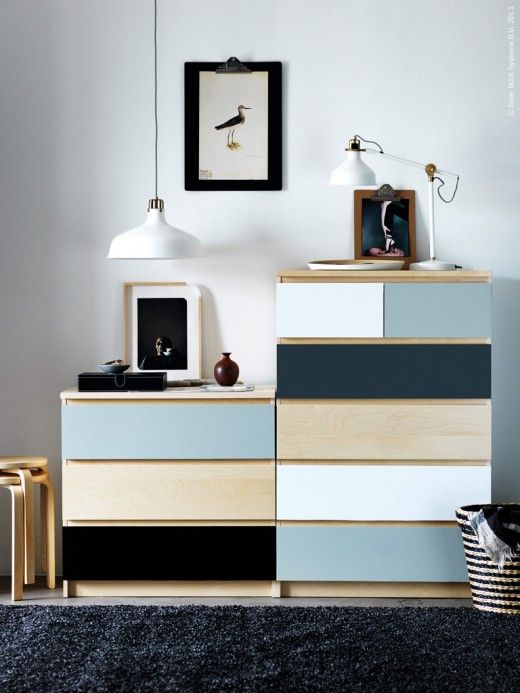 a simple IKEA Malm dresser hack with white, blue and black paints on different drawers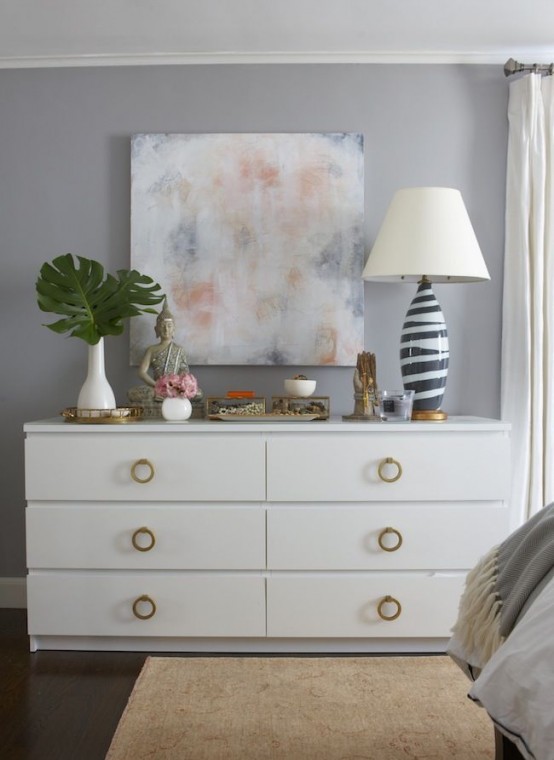 style your Malm dresser with brass ring pulls to make it look glam and timeless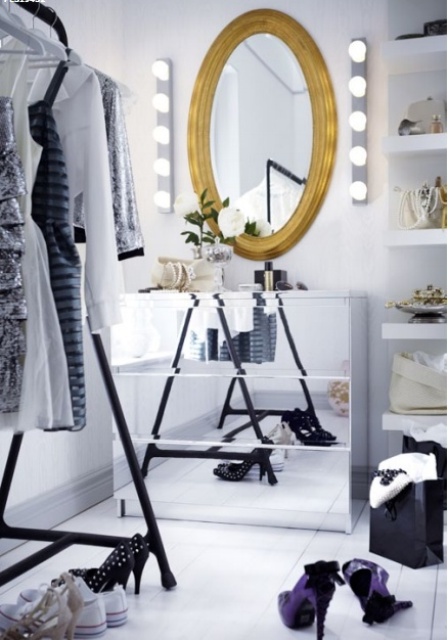 a glam and bold IKEA Malm dresser hack with mirrors all over is a cool idea for a closet
Ways To Incorporate IKEA Malm Dresser
Incorporating an IKEA Malm dresser into your home decor is easy: Malm dressers are very neutral and they can easily fit minimalist, Scandinavian, contemporary, boho and modern spaces. It's welcome anywhere, from closets to nurseries, and even with no hacks it will be a great idea. You may also build in some Malm dressers under the bed to maximize storage space without cluttering the space – it's a fantastic solution for a kid's room. You may even build a whole wall of IKEA Malm dressers separating the space with them – you'll get much storage space.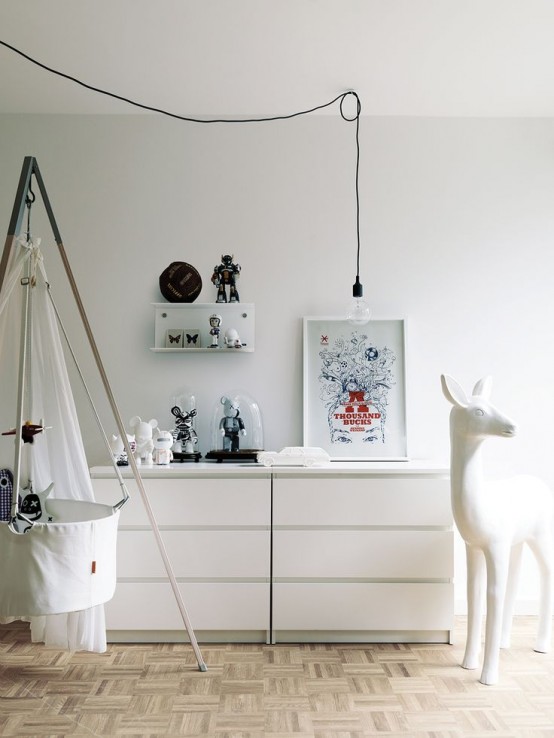 a contemporary or minimalist nursery can fit an IKEA Malm dresser as a storage piece and changing table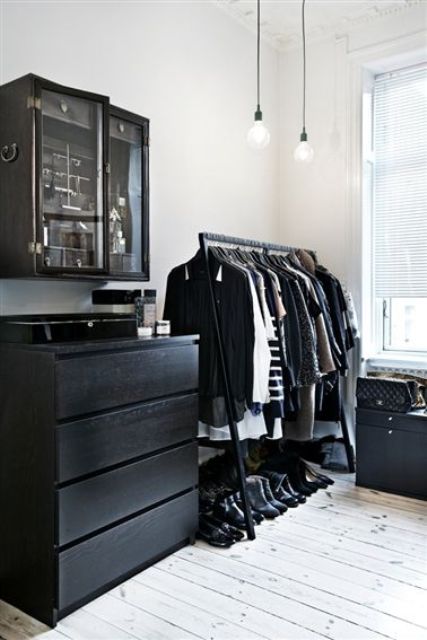 a Scandinavian closet done with a black Malm dresser for smaller items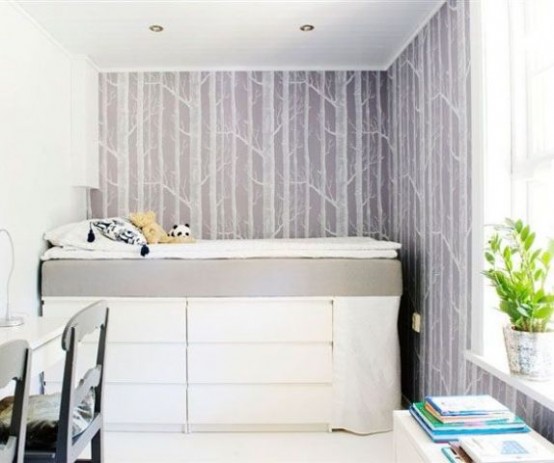 IKEA Malm dressers integrated into a raised bed for maximal storage in a very small bedroom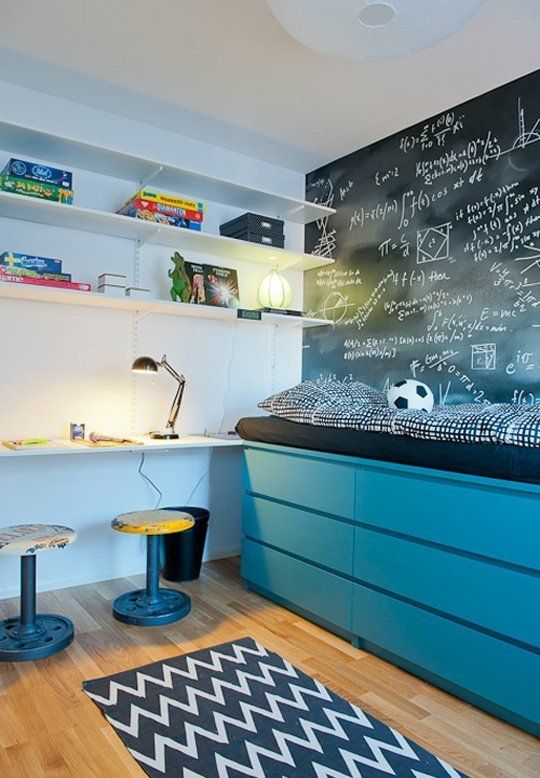 a kids' bed placed on turquoise IKEA Malm dressers maximizes the storage space without cluttering the room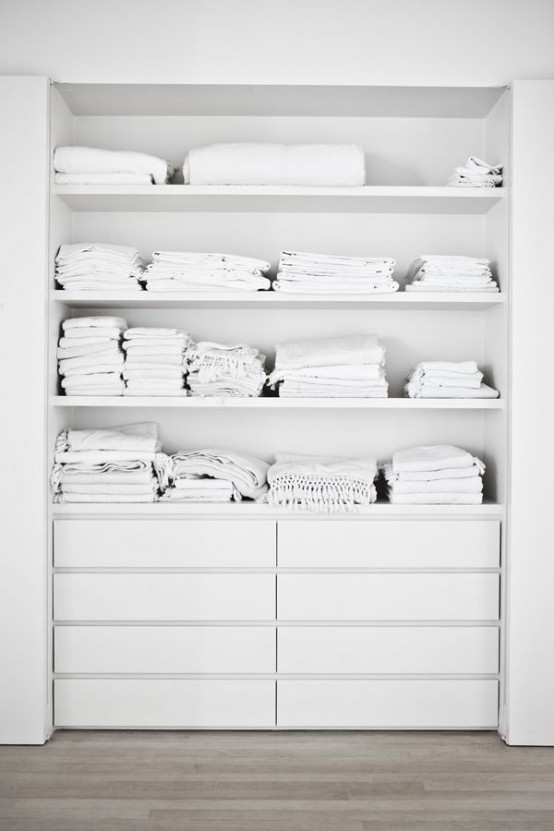 a built-in closet with open shelving and IKEA Malm dressers for smaller items is a simple and cool idea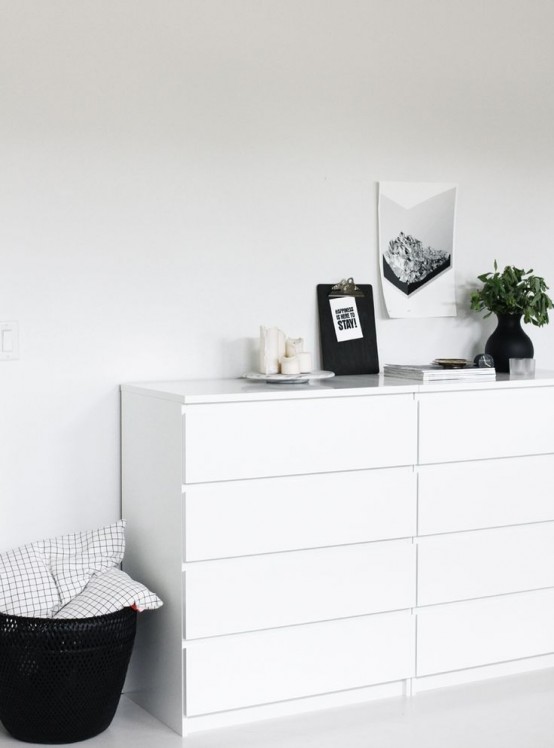 Nordic interiors seem to perfectly fit IKEA Malm dressers, whatever color you prefer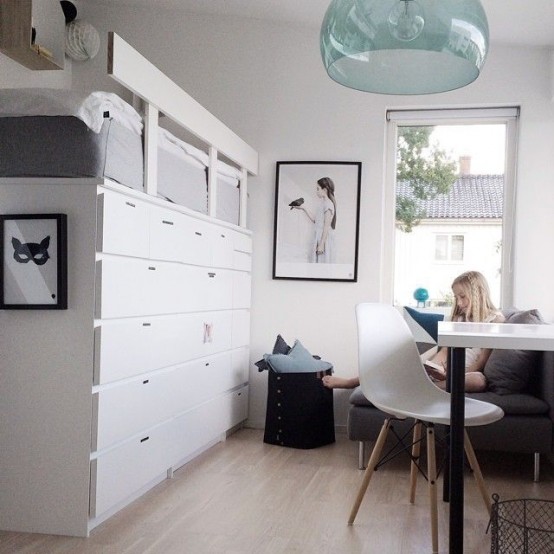 a whole storage wall built of IKEA Malm dressers lets your store a lot of things without cluttering the space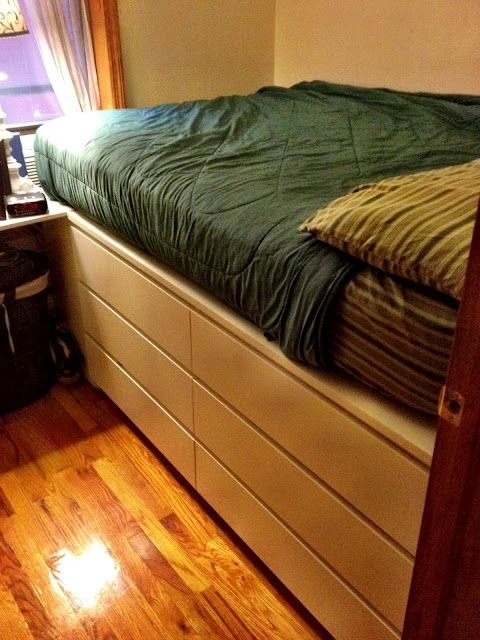 build in some IKEA Malm dressers under the bed to maximize the storage space without cluttering the room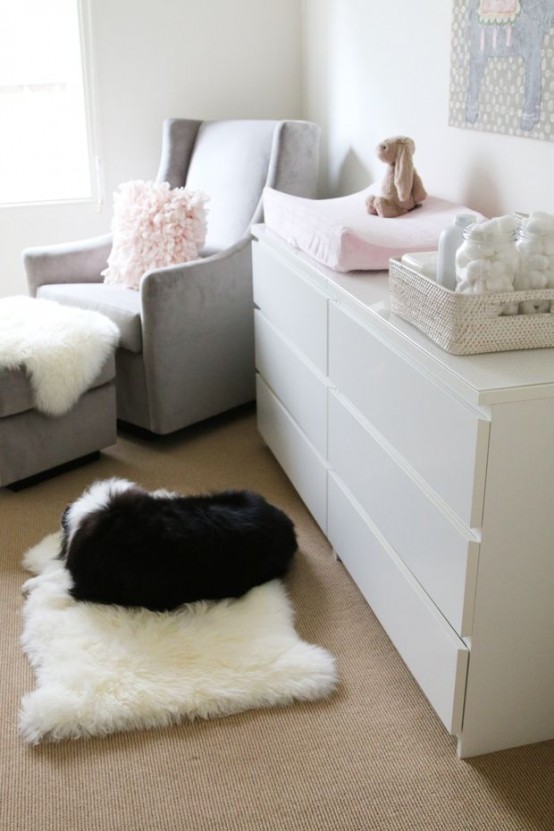 a white IKEA Malm dresser is a perfect fit for a contemporary nursery done in neutrals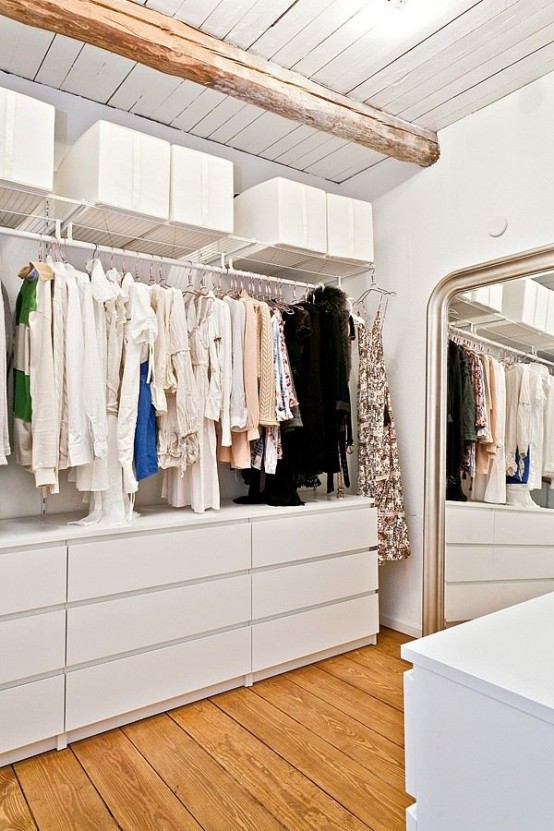 a welcoming and airy closet with open shelving and holders plus some Malm dressers for storage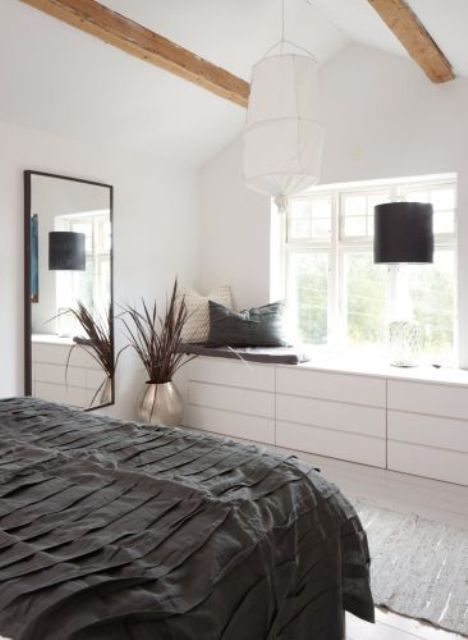 a Scandinavian bedroom with IKEA Malm dressers at the window that will give much storage space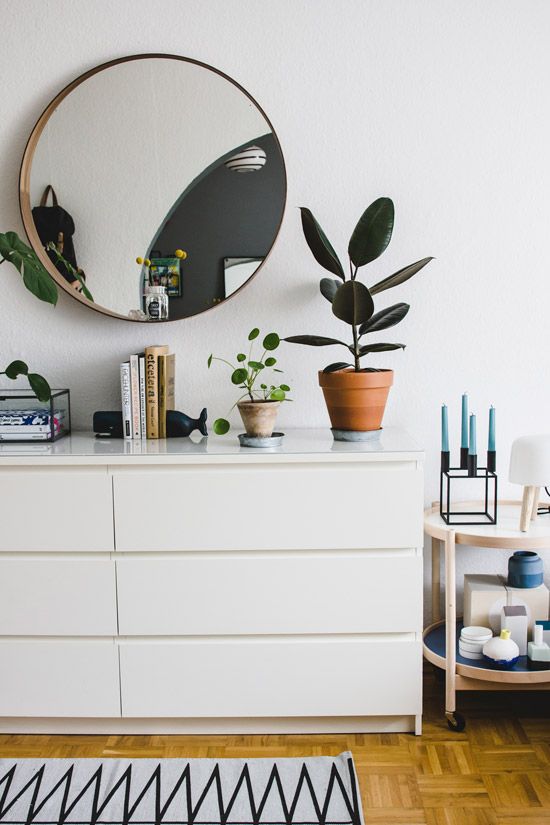 boho and mid-century modern spaces can also fit IKEA Malm dressers easily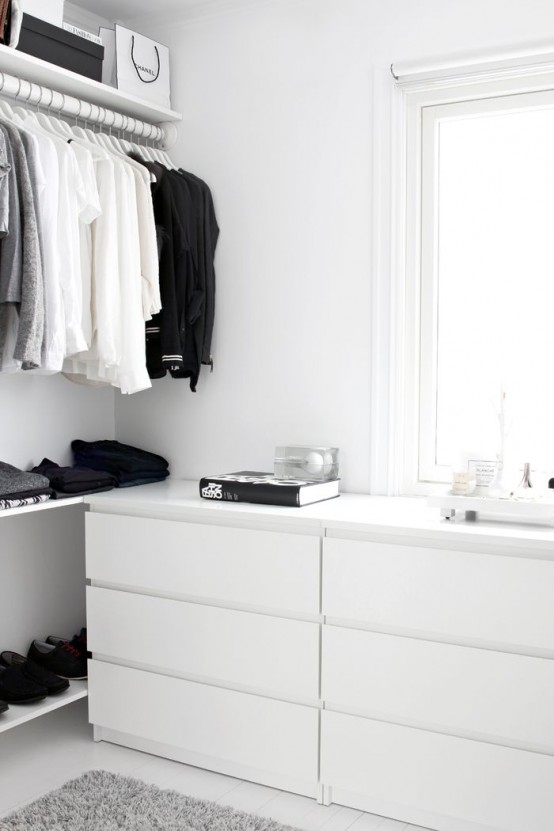 a Nordic closet done with open shelving, racks and IKEA Malm dressers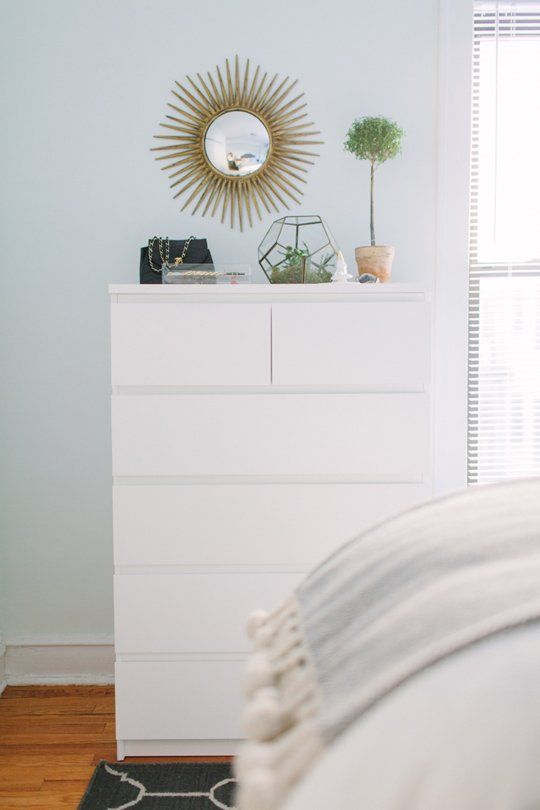 any neutral and not only neutral bedroom will easily accommodate a white IKEA Malm dresser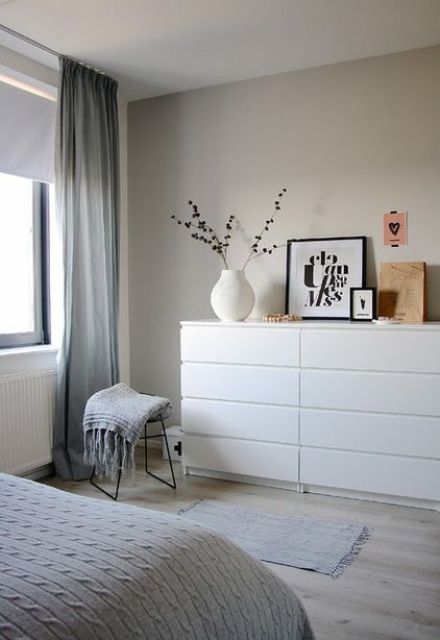 a welcoming contemporary bedroom with an IKEA Malm dresser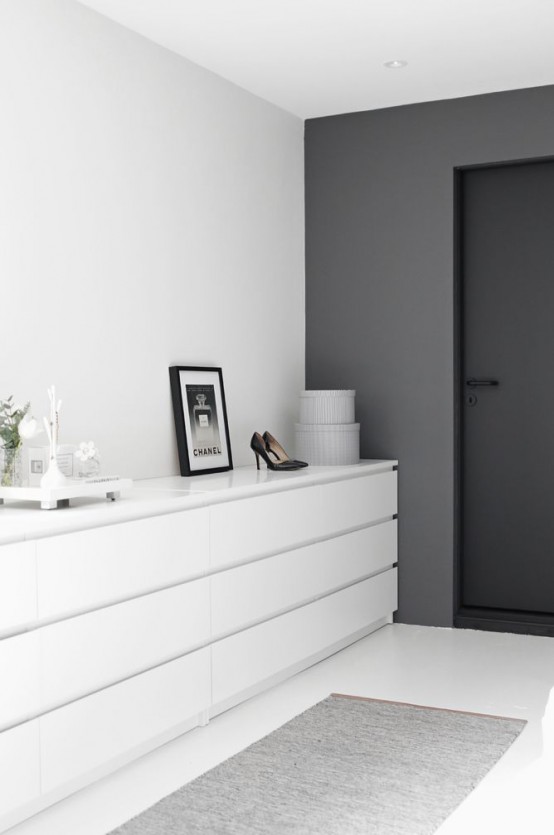 a Scandinavian bedroom with IKEA Malm dressers for storage
Source: pinterest


Sours: https://www.digsdigs.com/37-ways-to-incorporate-ikea-malm-dresser-into-your-decor/
Handles malm
But I need time to prepare. And it would be nice to get to know the site. No problem, the woman smiled. - This is the suburban base of our company, - she called the name of the dacha village, and Korobov mechanically noted to himself that his dacha was on. The same road, only thirty kilometers further.
EASIEST IKEA HACK EVER - DIY DRESSER - MALM DRESSER
Alla noticeably relaxed, became more talkative and cheerful. I sat down closer to her, she twitched at first, but then, apparently remembering why she was here, began to sit obediently. I hugged her, and began stroking her hair, back, then, on her thighs, she visibly calmed down and relaxed. Finally, I put my hand on her breast, she looked at me in a strange way, in her gaze there was, if.
Only curiosity, roofing felts, desire, and most likely, all together.
You will also be interested:
All I remembered was that I got drunk that day and woke up in a strange bed completely naked next to three unfamiliar. Guys and with a salty taste of semen in my mouth. My jaw ached as if I had been sucking all night without stopping. All this indicated that the night was really stormy.
274
275
276
277
278