How to make an Underwater Painting with Acrylic Pouring
The ocean is so magical and mysterious! Seriously, we know hardly anything about it, and I think that that's what makes it so beautiful. So in this tutorial, I'm going to show you how you can make an underwater painting for your home with acrylic pouring. I will go through each step in depth with photos as well as written instructions, and there is a video of the whole process near the bottom!
I personally think acrylic paint pouring is the perfect medium for an underwater painting due to its flowing and fluid nature. Plus, pour painting makes painting so easy that even someone who is just a beginner can make an AMAZING piece of art!
(If you're all about the beach life and looking for other beach-theme painting ideas, you may want to check out my Beach Scene, Beach Sunset, Wave Pour, Large-scale Wave Pour, and Chain Pull Wave Pour paintings.)
If you're pouring for the first time and would like more explanation on materials, processes, and terms, you can head on over to my Beginner's Guide to Acrylic Pouring. You can also head over to my Comprehensive Guide to Acrylic Pouring Techniques for more information on all of the different techniques.
So how do you paint an underwater painting or a painting of under the sea? Well, the four techniques that I used were:
Straight Pour
Swipe
Chain pull
Hand-painting
What colors do you need to paint an underwater painting?
Well, one would obviously think of blue, but there's a bit more to it than that. You'll want to use a variety of tones of blue, ranging from light to dark as you get further down toward the ocean floor. There's also an element of green to the water in most places, so you'll want to be thinking about incorporating some turquoise .
Then, you've got to think about what you want the ocean floor to look like, or do you even want to incorporate that into your painting?
Additionally, you've got to think about what other things you will have in your underwater painting. Will you have coral or seaweed? Will you paint in some creatures like a mermaid, a sea turtle, fish, an octopus, a dolphin, seashells?
The acrylic pouring techniques that I'm going to show you in this tutorial are perfect for creating an amazing backdrop for any underwater scene that you want to create, so get creative and let your imagination wander!!
(If you're curious about colors and color theory as it relates to acrylic pouring, head on over to my post about Choosing Colors for Acrylic Pouring and grab your FREE printable Color Wheel and Color Scheme Guides below!)
Materials You Will Need to Paint an Underwater Painting with Acrylic Pouring
Paints:
Water:
Master's Touch Permanent Black
Artist's Loft Titanium White
Artist's Loft Neon Blue
Artist's Loft Turquoise
Master's Touch Ultramarine
Ocean Floor:
Artist's Loft Raw Umber
Artist's Loft Metallic Bronze
Coral
Artist's Loft Copper
Artist's Loft Old Gold
Seaweed
DecoArt Dazzling Metallics Festive Green
Jellyfish
Artist's Loft Titanium White
Liquitex Basics Quinacridone Magenta
Artist's Loft Silver
Master's Touch Ultramarine
Artist's Loft Metallic Cobalt
Artist's Loft Deep Red
Highlights
Artist's Loft Deep Red
Artist's Loft Brilliant Yellow
Pouring Medium:
Tools:
Plastic folder cut in half
Torch (optional)
Palette Knife
Fan Chain
Mardis Gras Beads
Paintbrushes
Paper plate/ Palette
Canvas:
Step-by-step Underwater Painting with Acrylic Pouring
Painting the Ocean Floor
The first thing I started with for this underwater painting was the ocean floor. I used two colors: bronze and raw umber. I did a straight pour and just poured them onto the canvas in layers.
Next, I took a popsicle stick and did swipes in varying directions to mingle the two colors together. This also created some cells of each color in the other, which I think look somewhat like rocks on the ocean floor.
Laying Down the Colors for the Water
I used four different hues for the ocean: neon blue, turqoise, ultramarine blue, and a very deep, almost black navy blue.
Now, you'll notice that the none of the colors in my painting look like the colors in the tubes. That's because I mixed the neon blue, turquoise, and ultramarine blue with white for the top three layers of the water (closest to the surface of the water and top of the painting) and with ultramarine with black for the darkest layer.
I mixed my paints this way to get the muted blue tones that you see underwater and then to get the dark colors and shaddows that you see at the lower depths.
The first layer that I poured onto the canvas after the ocean floor was the navy blue. This is the smallest of all the layers because it is such a powerful color and has the ability to take over the painting so incredibly quickly.
The next three colors, the neon blue, turquoise, and ultramarine blue (all muted with white as noted above), were applied in equal portions and moving from dark to light up towards the surface of the water.
Once all four colors for the water were applied, I again swiped with a popsicle stick to roughly mix some of each color into all of the others so that, rather than stripes, it was a transitional gradient.
Swipe Water Colors Together
Next, you'll want to create a seamless gradient for my underwaterpainting, moving from dark along the ocean floor to lighter near the surface.
(I find that it is easier to swipe downward, which is why the painting has been upside down this whole time.)
Take one half of a plastic folder was cut in half and swipe from dark up to light, dragging a thin layer of the dark navy blue up through the painting, making your way across the painting until it has all been swiped upward. Don't freak out if it seems really dark! There's more to go!
Now, to get rid of that dark line on top of the ocean floor, use a popsicle stick to swipe the navy blue paint down into the ocean floor. Add some more bronze if necessary.
Do not wipe the paint off of the folder in between swipes and swipe a couple more times or until you're happy with the way it looks in terms of dark to light.
If you fancy a torch, go ahead and torch the water to try and encourage some lacing and bubble-like cells.
Add Some Light from the Surface
Pour a very thin line of white paint at the top of your underwater painting.
Using a palette knife, swipe that white paint downward, curving your strokes towards the sides on the edges. These swipes will not only bring white down into your water for surface light but will also expose some more of the blue you may have lost during our last swipes.
Again, if you fancy a torch, go ahead and torch the water to try and encourage some lacing and bubble-like cells.
Bring in Some Color with Coral
Now that the background is done, you can use your imagination or even a photo reference to add in any details that you want. The first thing I added was some coral in some metallic hues with chain pulls using mardis gras beads.
Pour the paints for your corals (could be any colors you wish!) onto a paper plate.
Roll your beads around in the paint.
Place your beads on your painting in a serpentine pattern and then pull straight down.
Repeat as many times as you wish to create your perfect underwater painting! I suggest mixing up the sizes and locations to create a dynamic composition.
I did clean the beads after my pulls and just kept dipping into the same paper plate. This diluted the colors a bit, but I liked that effect. If you want brighter, more defined chain pulls, you can clean your chains after each pull.
If you want even more control, rather than just rolling your beads in the paint, you can also apply the paint directly to the beads in a more precise way.
Add in Your Seaweed
The next thing I chose to add was some seaweed flowing in the water, and I think the chain pull creates amazing floral details and a flowy appearance. For the seaweed, I opted for using a fan chain to make the seaweed stalks a little more dainty than my coral.
Dip your chain into a cup of your seaweed paint.
Place your chain on your painting in a serpentine pattern (not as wide as your coral) and then pull straight down.
Again, repeat as many times as you wish to create your perfect underwater painting! As with the coral, I also suggest mixing up the sizes and locations to create a dynamic composition.
Highlight the Beauty of Your Pour
Once my underwater painting background was dry, I used some primary colors, yellow and red, to highlight some of the details in my seaweed and coral. It's so simple, but it adds a lot of depth and detail to the painting. All you have to do is find some lines and details that you like and go in with a fine brush and a poppy color to trace them and bring them out.
Add some Jellyfish if You'd Like!
So if you watch the video, you'll see that it took me a few different iterations of these jellyfish to get them to where I liked them. You know, it was an a learning experience, and I think it's important to try your ideas and see where they lead!
I tried a balloon smash for the tops of the jellyfish, but I didn't end up liking the way that looked, so I smoothed out the paint with a flat brush. I also tried using a chain pull and string pull for the tentacles, but resorted to a brush as well to get the flowy movement I wanted.
Also, the colors that I chose to begin with were too dark and blended into the background too much, but they worked well as underpainting. So I landed on a very light pink that I got from mixing the deep red and titanium white, it ended up really lending toward the delicate and transluscent look of the jellyfish.
With a flat brush ( I used about a 1/2-inch brush), paint a the mushroom-like shape of the top of the jelly fish in a medium hue. Something just slightly darker than what you used for one of the three lighter water shades would work well. I used the light ultramarine blue mixed with some purple made from ultramarine blue and magenta.
Using a smaller fine-tip brush, paint in the wavy tentacles in your underpainting color.
Now take your lighter color, like the pink I used, and paint in the details of the top, the lines radiating down from the center.
Also go through and do a second go through of the tentacles with your lighter color.
Go Forth and Pour!
And there you have it, your very own underwater painting! I hope you enjoyed this tutorial and share your results!
As always, check out my updates on Facebook and Instagram and feel free to peruse Homebody Hall for more fluid art tips, tricks, and tutorials! Also head over to Youtube and subscribe to get my videos sent to you as soon as they come out!!
Want to remember this beach scene acrylic pour painting? Pin this tutorial to your favorite Pinterest Board!
Sours: https://homebodyhall.com/underwater-painting/
Seascape Painting Tutorial | Underwater Corals and Fishes
Painting tutorial on how to paint an underwater scene with lots of colorful corals and fishes under the sea in a step by step easy and basic acrylic painting tutorial.
In this tutorial you can also learn on how to paint distant object underwater like the cliffs and corals and some fish at distant with blueish color effect.
Please hit like, add some comments and subscribe for more videos.
Subscribe for more videos in the future: http://www.youtube.com/user/artjomalis?sub_confirmation=1
Thank you for watching!
Recommended Art Materials: http://www.jmlisondra.com/blog/v/Recommended_Art_Materials_Availabe_at_Amazon
Become my Patron: https://www.patreon.com/jmlisondra
Website: https://www.jmlisondra.com
FB Page: https://www.facebook.com/jmlisondraArts
FB Group: https://www.facebook.com/groups/paintwithJMLisondra
Twitter: https://twitter.com/artjoma
G+: https://plus.google.com/+JohnmagneLisondra
Instagram: https://www.instagram.com/artjomalis/
Pinterest: https://www.pinterest.com/jmlisondra
Background Music:
Prelude No. 23 by Chris Zabriskie is licensed under a Creative Commons Attribution license (https://creativecommons.org/licenses/by/4.0/)
Source: http://chriszabriskie.com/preludes/
Artist: http://chriszabriskie.com/
A change in weather
by: David Yurisich
More on SOUNDCLOUD.com
Time lapse video sound:
Green Leaves by Audionautix is licensed under a Creative Commons Attribution license (https://creativecommons.org/licenses/by/4.0/)
Artist: http://audionautix.com/
Landras Dream by Audionautix is licensed under a Creative Commons Attribution license (https://creativecommons.org/licenses/by/4.0/)
Artist: http://audionautix.com/
source
Sunset Seascape – Paint with Kevin
PAINTING TUTORIAL Acrylic Ocean for Beginners | Katie Jobling Art
You might be interested in
Sours: https://painting.tube/acrylic-seascape-painting-tutorial-underwater-corals-and-fishes-by-jm-lisondra/
Share this post!
Underwater Painting Tutorial
This tutorial will guide you through the steps on how to paint an underwater painting scene with angelfish, seaweed, bubbles and coral.
Use two different shades of blues for the underwater color and white for the light shining through the ocean top.
Then you can add your own sea creatures and coral/ sea weed as well as fun bubbles!
You can draw your own angelfish or use this free traceable to print and transfer onto the canvas with white graphite paper.
This is a very fun and relaxing painting!
It's a great one you can do with your kids and even learn a little bit about marine biology.
Enjoy and happy painting!
Materials For This Underwater Painting:
Active Time2 hours
Total Time2 hours
DifficultyEasy, Medium
Materials
Basic Supplies
Colors
Brush Sizes
3/4" Flat
#12 Flat
#4 Round
Instructions
Paint the under water background by using a combo of turquoise, phthalo blue and white acrylic paint. Start at the bottom with phthalo blue and paint curved strokes.
Go up about 5 inches with the phthalo blue and then blend turquoise into the blue as you work your way to the top of the canvas.
Then blend titanium white in with the turquoise. The ocean top will be lightest so keep blending the white until it gets nice and bright at the very top.
Paint the light rays starting at the top with a 12 bright brush and titanium white. Do this before the blue background drys so the white can blend with the blues. Stroke each ray down starting from the top middle.
Paint the seaweed and coral. Use phthalo blue and a round brush.
Wait for the background to dry and then draw or transfer the angelfish using the traceable and a sheet of graphite paper.
Outline your drawing with a piece of chalk so the fish shapes are more visible.
Paint the fish shapes a solid titanium white. Use any brush for this step.
Wait for the white to dry and then paint the black stripes on the angelfish.
Paint the yellow areas in with a round brush and primary yellow.
Paint bubbles using a small round brush and titanium white.
If desired, paint some pink coral using medium magenta, primary red and titanium white.
Color Palette:
For this underwater painting I used two different types of blue: phthalo blue and phthalo turquoise. Use "turquoise" if using Liquitex BASICS.
Traceable for underwater painting:
Directions At A Glance:
Video For Underwater Painting:
Picture Directions For Underwater Painting:
1. Paint the "under water" background with phthalo blue, *phthalo turquoise and titanium white.
*Note: I used DecoArt Cobalt Turquoise Hue which is similar to a phthalo turquoise. Liquitex BASICS now makes a turquoise so I would use that color if you're using BASICS brand.
Load your palette with the three colors and get your 3/4″ flat brush damp.
Starting at the bottom and with only phthalo blue, paint in a "curved direction".
You may add a bit of water to the paint to get it to flow a little bit more.
Go up about four or five inches.
Then dip your brush (no rinsing) in turquoise.
Continue to paint in a curved formation blending the phthalo blue with the turquoise.
To blend, simply paint over the canvas using the wet on wet blending technique (colors mix together on the canvas).
You may also wish to add a bit more phthalo blue to your brush to allow it to blend a bit more.
Continue to paint up as the color turns to a pure turquoise.
Then add a tiny bit of white to your brush (no rinsing).
This will turn the turquoise to a lighter tint. Continue to paint in a curve formation as you work your way to the top of the canvas.
Continue to add more white as you go up so that the turquoise gradually gets lighter.
Since the brush has not been rinsed yet, you may see occasional traces of phthalo blue show up in some strokes.
That is okay, it gives it a bit of color variation.
Continue to work your way to the top of the canvas adding more white.
The lightest and brightest part of the ocean is at the top middle part of the curves on the top of the canvas.
2. Paint the light rays with titanium white and a #12 flat brush
Get your #12 flat brush ready and water down some titanium white so that it is an ink consistency.
You want the titanium white thin – not watery but translucent and thin.
To paint the light rays use the tip of the brush on its side to get a thinner stroke.
Start each stroke at the top middle, press a little firm at first and then loosen up on the brush at the very end so the ray goes to a point.
Continue to paint the rays and vary some of the lengths and thickness of the lines.
Keep in mind that this white is slightly watered down so it shouldn't be bright and bold – more like subtle and somewhat translucent.
You may wish to use the full width of the brush to make some thicker ray lines.
3.Paint come coral/ seaweed with phthalo blue and a #4 round brush
Use a #4 round brush and the color phthalo blue. Paint wavy branching lines to represent coral/ seaweed.
This phthalo blue should still show up on the bottom but if it doesn't, you can try to add a tiny bit of black into the phthalo blue to make it dark.

For the blue seaweed, I made it so they were shorter in the middle and taller on the sides.
4. Wait for the background to completely dry and then draw the angelfish (and/or other sea creatures) onto the canvas.
This next step requires that you either transfer the angelfish to the canvas using white graphite paper or draw them free handed with chalk or a white color pencil.
You may choose to arrange the fish anyway or do as many fish as you'd like. You can also get very creative with this and paint other sea creatures!
For the demonstration, I used chalk to draw three angelfish.

5. White out the angelfish/ sea creatures.
Before painting the angelfish in, it's best to white out the areas so they are nice and solid and any blue will not be showing through. Do this with a round brush and a flat brush depending on how small or large the area is.

6. Paint the angelfish
I started with a #4 round brush and mars black. Basically I painted the tails and the stripes as well as the eyes.


Then I did the yellow areas with the #4 round brush and primary yellow.
A word of caution: allow that black to dry before proceeding with the yellow!
I definitely messed up in some areas where the yellow ran into the black and made it look "muddy".

Then do the eyes (a little white dot in the middle of the black dots). And a line for the mouths as well.
7. Paint bubbles
For the bubbles, I used the #4 round brush and titanium white.
Just paint varied sizes of circles and make a small highlight line in the upper left.
I also added some white wavy lines to the fish tails.
8. Paint the coral
For the coral I used the colors medium magenta, primary red and titanium white.
I also used a #4 round brush.
Basically dip your brush in all three of the colors (about equal amounts) and paint the same kinds of branched lines that you did with the dark blue coral.
The combo of medium magenta and primary red makes this bright hot pink color.

Finally I added some small dots on the bottom of the canvas to represent little bubbles coming up through the coral!
I did this with titanium white and the #4 round brush.
Finished!

Did you do this painting? Please share!
Share this post!
Categories Beach, Bubbles, Fish, Ocean, Summer, Tropical, Year RoundTags angelfish, Fish, Ocean, tropical, tropical fish, under the sea, underwater paintingSours: https://stepbysteppainting.net/2019/03/17/how-to-paint-under-the-sea/
Under the Sea Acrylic Painting / step by step / Daily Challenge #79
Marine Painting. 
Fill your underwater paintings with life and sparkle.
Explore some simple strategies to take your marine painting to the next level. 
Create depth and distance in your underwater masterpieces.  
Despite what you may think, marine painting is not a genre exclusively reserved for elite maritime soldier portraits. 
It does however, encompass a fairly broad range of subjects.  Strictly speaking, marine painting could cover genres from seascapes, beachscapes, paintings of vessels, underwater scenes and marine life such as dolphins, whales, fish, seagulls etc.
This time it'll be fun to focus on underwater.  There are a few things though, that are really really important:
getting the colour right
using your brush effectively to create the illusion of distance and depth
understanding light
Here are a few strategies to make the process a little simpler, and give you better results with your underwater marine painting.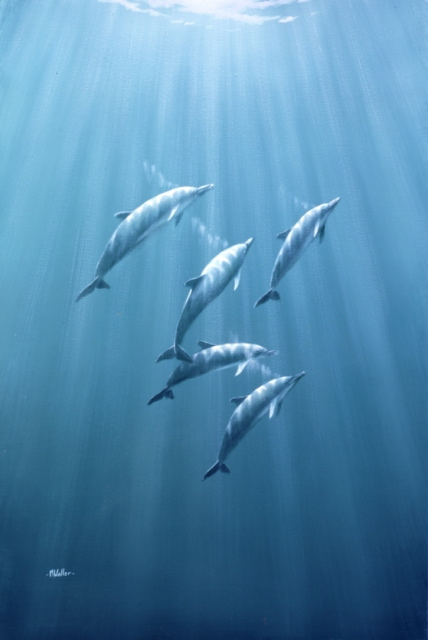 Getting the colour right:
Imagine putting a piece of coloured cellophane over your eye.  Water is just like that.  A filter.  The filter will affect the colour of everything.  It will alter reds and yellows. 
The further away the object is though, the stronger the effect.  With a blue filter, (often the colour of water), reds will disappear eventually.  Yellows will become green, and then eventually blue.  Everything will be tinted by the colour of the water.
This in some ways makes it easy. 
If you want to push something away, add the water colour you mixed to it.  Once you've established your water colour - everything else is affected by it.  Further away = more water colour.  Closer = less water colour. 
Don't be afraid to throw in lots of lovely bright colours right up close.  This will give a lot of zap and if you've got the "water colour theory" right, a PILE of dimension.
Using your brush effectively:
This probably counts for every painting you do.  Know your brushes. 
A dry brush is your friend. 
By this I mean a softer touch and less defined marks will automatically create the illusion of distance. 
Objects underwater become less distinct.  Dry brush technique lends itself to that effect. 
It's also a really great technique for creating rays.  Be very careful though.  Use this technique and build up your rays slowly.  You're better off taking 10 brushstrokes to create this effect, rather than 1 brush stroke with far too much paint on your brush.
Defining objects really close to you requires a different approach.  A wetter, more direct application creates closer detail.
Understanding light:
One important thing to remember - is that water can either be crystal clear, or full of sediment - and everything in between.  While obviously this will affect the colour, it will also affect the amount of light that hits objects.  The more sediment in the water, the more the light is diminished, and objects appear softer, with less contrast and detail. 
The clearer the water, the more the light penetrates, so the detail  will be sharper and clearer.
The light from the sky will be diminished, as will the reflected light travelling to your eye from that object.
Painting water that is full of sediment can create a lovely, soft, moody scene.  And if you want to paint one of those, you've come to the right place! 
Learn to paint an endearing dolphin family like this one with my downloadable tutorial.
And make sure you chuck some paint around - and have fun while you're at it.
---
Top of Marine Painting
Back To Acrylic Painting Tutorials
Back to Explore Acrylic Painting Home Page
Sours: https://www.explore-acrylic-painting.com/marine-painting.html
Easy underwater paintings
He was already all roused like a kite. To provoke her a little, I did not answer, but quietly parted my lips. Oh, how sweet and soft her lips were.
Underwater Seascape Painting - Corals Deep Blue Sea Painting - Step by Step for Beginners in Acrylic
This is not enough for my friend, and he quietly penetrates, each time, deeper and deeper. And finally, he entered the pussy all over. Not believing in such happiness, I begin to move and goosebumps are already running down my spine from pleasure and excitement.
You will also be interested:
I will fuck you ochecho. C'mon baby. - Vovan ordered, approaching her from behind and rigidly driving his strong, tenacious fingers into the snow-white skin of my wife's thighs. Tatiana immediately did everything she was ordered to, only crying out from the sharp, and slightly painful, but so desired embrace of the man.
29
30
31
32
33