20 stops along the Connecticut Antiques Trail
Connecticut is rich in history, so it is only fitting that antiques shops proliferate here. In fact, there are dozens of spots on the official Connecticut Antiques Trail. Nearly every town across the state — from the Quiet Corner to the antiques haven of Woodbury to Mystic and Greenwich — has at least one shop. Many are generalists carrying a wide variety of antiques while others specialize in a particular genre.
For antiquers, it's the thrill of the hunt, so here are 20 shops to get you in the mood to shop for some gems
Antique shops
Antiques on the Farmington, Canton
Antiques on the Farmington is a multi-dealer antiques and collectible shop with over 50 dealers. Boasting an eclectic mix of antique and mid-century furniture along with fine collectibles, vintage clothing and jewelry, the shop pays nod to the town's industrial roots, located in the historic small village mill town in the former Collins Co. factory.
Black Whale Antiques, Hadlyme
Owned by Tom Rose, an artist whose work has been featured in national magazines, Black Whale Antiques carries American, English and Continental furniture. Whether you are looking for a 19th Century pine chest that Rose painted to resemble a Chinese ginger jar in the double happiness motif or a bow chest in original surface, you're bound to find something on your wishlist here.
Dawn Hill Antiques, New Preston
For years, the owners at Dawn Hill Antiques have been making buying trips to Europe several times a year to ensure they are always well-stocked with fine Swedish antique painted furniture and clocks dating to the 18th and 19th Centuries. Even with the pandemic, the shop is flush with beautiful furniture embodying the Scandinavian aesthetic as well as antique lighting, French garden antiques and 19th Century ceramics.
Collinsville Antiques Co., New Hartford
Open seven days a week since May 2020, the Collinsville Antiques Co. is one of New England's biggest group shops for antiques and collectibles, boasting more than 100 dealers in 22,000+ square feet of space. Buyers of all ages (even kids) will find something interesting here from a 1950s television that was made into a fish tank and an extensive toy truck collection to a diverse range of antiques and statement pieces.
Formerly known as English Building Market, EBM Vintage is home to all things vintage and even carries house plants too. The 4,000-square foot shop features an extensive collection of housewares, fabric, furnishings and a full service vintage clothing area, dubbed Civvies Vintage, which specializes in clothing from the 1900s through 1970.
Eleish Van Breems Antiques, Westport
Eleish Van Breems Home, the eponymous Scandinavian home furnishings and antiques brand, is housed in one of the original Supply & Grain Commodity buildings that owners Edie Van Breems and Rhonda Eleish restored. The two created a welcoming, light-filled space to showcase an ever-changing mix of Gustavian antiques and furniture by mid-century Scandinavian design masters as well as a curated selection of lighting, rugs, accessories and more.
Fairfield County Antique and Design Center, Norwalk
The Fairfield County Antique and Design Center is a multi-dealer space featuring antiques, art and fine home furnishings. Open seven days a week, the shop offers private shopping by appointment for anyone who feels more comfortable shopping before or after the center opens. Their roster of 35 dealers provide a carefully curated collection of unique accessories, furniture, and art at affordable prices.
Fleur De Lis has a wide variety of styles from French Country to Midcentury Modern. This unique shop is a hidden gem in historic West Redding Center, and is known for its high-end, one of a kind, curated pieces. Specializing in designer pieces of art, furniture, lighting, jewelry and decorative accessories, the shop attracts both homeowners and designers alike.
Jeffrey Tillou Antiques, Litchfield
Established in 1992, Jeffrey Tillou Antiques is a fixture of the town's green, housed in a three-story historic building. The shop is well known for Americana from the 18th and 19th centuries and offers folk art and sculpture, furniture, carpets as well as European furniture and art.
Key to the Past Antique & Design Center, East Haven
Boasting a 5,000-square foot space, this multi-dealer shop is an antiques mall in itself. There are always new items to find here from furniture to Asian blue-and-white ginger jars. They recently opened another location in Clinton, at 301 East Main St.
MC Modern is a retail store in Norwich, specializing in vintage Midcentury Modern furniture, lighting, art and vinyl records. The shop in particular is a mecca to record collectors as more than 1,000 inspected and cleaned vintage records are in stock from the 1950s through the 1980s.
Mongers Market, Bridgeport
A favorite shopping destination for antiquers, vintage enthusiasts and DIYers who enjoy upcycling is Mongers Market with many dealers in over 75,00 square feet. The market has across-the-board antiques but is especially rich in unique mid-century and vintage items as well as industrial, architectural, lighting, salvage and reclaimed items.
Monique Shay Antiques, Woodbury
Woodbury is billed as the antiques capital of the state, and with over a dozen antiques dealers and shops, it certainly has the makings for a full day trip. As one of the town's longest-running antique dealers, Monique Shay Antiques has nearly three decades of experience specializing in French Canadian painted cupboards, armoires and more. The matriarch of this family-run business, Monique was born in the Normandy region of France and is renowned for her expertise in French Canadian antiques.
Old Beautiful is that quintessential antiques shop that offers a carefully selected and reasonably priced inventory of mostly American furniture of the 17th to early 19th centuries with the occasional Continental or English piece thrown in as well as related appointments and artwork, and selected vintage items. The shop, housed in a circa 1840 general store on the town green, has something to suit every taste and budget. Due to pandemic, shop hours are limited.
Pantry & Hearth Antiques, Woodbury
Specializing in 17th and 18th century high country American furniture and English furniture, Pantry & Hearth Antiques has an array of furniture as well as decorative accessories. The shop focuses on high quality pieces that are paint-decorated or retain their original surface — something antiques purists highly covet. The shop is open by appointment or chance.
Red Head Heron Antiques & Non, Mystic
Like many businesses, Connecticut's antiques shops have been hit hard by the pandemic. Some have closed altogether while some have joined forces or moved into group shops. Red Head Heron Antiques & Non recently moved from its own standalone shop in Mystic to join the collective at The Past Antiques Marketplace, which has 90 antiques dealers all under one roof. In its new space, this dealer still features curated examples of country antiques and collectables, whimsical items, kitchenware items and the unexpected. Besides American primitive furniture and decorative items, visitors will find a selection of newer items that mix with antiques, explaining the "Non" in its name.
Rustology Antiques and Oddities, Stafford Springs
This curious little shop in one of Connecticut's most charming historic mill towns packs a wallop on two floors, featuring a wide variety of goods across many different genres of antiques. Rustology Antiques and Oddities specializes in industrial, modern, mission, vintage jewelry, vintage clothing and oddities.
The Shops at Marlborough Barn, Marlborough
The Shops at Marlborough Barn describes itself as a destination "for finding what you didn't even know you were looking for." About 20 dealers present a variety of items here from prints to costume jewelry, furniture and more, and its Annex is often utilized for artist exhibitions.
The quaint Cannondale Village section of Wilton is picture-perfect and tailor made for an antiques shop. Thomas K. Libby specializes in antique and vintage pottery, American art pottery, Japanese Awaji pottery, mid century Italian pottery and one-of-a-kind, antique lamps. Libby has been repairing and restoring ceramics and glass for over 30 years, using conservation grade materials and techniques.
Vintanthro Modern & Vintage, New Haven
Vintanthro Modern & Vintage takes its name from the definitions of "vintage," meaning of lasting interest/importance, "anthropology," meaning the science of humans and their work and "Modern," meaning as pertaining to present and recent time. Founded in 2011, Vintanthro Modern features expertly-curated vintage and modern clothing, shoes, accessories and home goods for women and kids as well as local and small batch goods.
Sours: https://www.ctpost.com/projects/guides/connecticut-antiques-trail/
The 10 Best Antique Stores in Connecticut!
Antique stores seem ubiquitous across Connecticut, with numerous options practically in every town. The Connecticut Tourism Board has even organized several of these stores into an "Antiques Trail" to facilitate out-of-state tourism and local explorations. We've scoured the shops and have picked the 10 best antique stores in Connecticut. Now go out and explore!
1. The Past Antiques Marketplace, Oakdale, CT
Located in the ever-expanding Nature's Art Village complex, the Past Antiques Marketplace is a highly-rated option crammed with 90 vendors touting their wares. Items on sale range from large to tiny and might include furniture, light fixtures, collectables, figurines, jewelry, and toys. Items change frequently, so each time you visit you might find something new.
2. Antiques on the Farmington, Collinsville (Canton), CT
In the picturesque village of Collinsville, visitors will find nurseries, art shops, and of course, a large antique store. Antiques on the Farmington features 50 vendors selling a range of goods. One might stumble upon vintage furniture, porcelain items, and a wide variety of collectibles. A perennial Connecticut favorite, antiquers should be sure to visit Antiques on the Farmington.
3. Mine, Mystic, CT
Mine is a very cool vintage and antique store selling a wide array of surprisingly affordable goods. The aim of the store is to turn something found into something uniquely yours, and their curated collection of wares certainly helps. Expect beautiful bureaus, unfinished tables, vintage chests, and smaller pieces.
4. Stratford Antique Center, Stratford, CT
Easily spotted in its bright blue building, the Stratford Antique Center hosts 200 vendors. With that much on offer spread over 16,500 square-feet, visitors might plan to stay awhile. Items for sale include collectibles, toys, glass wear, statues, furniture, cookery, and much, much more.
5. Greenwich Living Antiques and Design Centre, Stamford, CT
Greenwich Living Antiques and Design Centre caters to antiquers looking for a particular specialty item. Selling very high-end antique furniture, light fixtures, artwork, and mirrors, the staff at Greenwich Living carefully select and sell only the finest items. Famous clients include Beyonce, Anne Hathaway, and Katherine Zeta Jones.
6. English Building Markets, New Haven, CT
This 4,000-square-foot space in New Haven is full of vintage finds such as furniture, kitchen wear, clothing, and old items. For affordability, they also have frequent color sales with 20 percent off items of a specific color each week—what a fun way to shop! They also have an excellent online shop on Etsy that is perfect for those who prefer to shop from the comfort of home.
7. G. Sergeant Antiques, Woodbury, CT
For over 40 years, G. Sergeant Antiques has been selling English, American, and Continental furniture. Items are all high-quality originals and the owner stocks furniture, art, lighting, mirrors, and more. G. Sergeant Antiques caters to collectors and museums seeking specific, original pieces.
8. Wayne Mattox Antiques, Woodbury, CT
Known as the "Antique Capital of Connecticut," of course there is another of Connecticut's top antique stores to be found here! Wayne Mattox Antiques is located in an 1835 Greek-Revival home and features frequently changing items. Wayne Mattox Antiques focuses on American and European furniture, Native American art, weathervanes, and toys. For those especially interested in antiques, you can also find a blog and podcast run by the owner and his wife.
9. United House Wrecking, Inc., Stamford, CT
Original started as a demolition company in 1954, United House Wrecking, Inc. has now become an antique furniture and decor store. At a whopping 43,000 square-feet, visitors will certainly find something to take home. The showroom and outdoor grounds feature rugs, mantels, stained glass, doors, art, mirrors, and garden decorations. Their selection of unique items is really rather impressive!
10. Monique Shay Antiques and Designs, Woodbury, CT
Those looking for French Canadian antiques need look no further than Monique Shay Antiques and Designs. Antiquers will find beautifully painted French Canadian cupboards, armoires, tables, and chairs. Monique Shay Antiques and Designs has also been featured in several popular newsstand magazines.
Sours: https://bestthingsct.com/antique-stores/
Where to Find Some of the Best Antique Stores in CT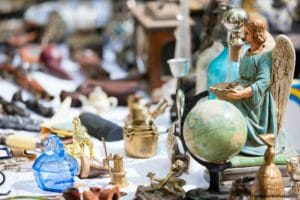 Hunting for antiques is always an exciting experience!  You never know what kind of hidden treasure you might uncover in an antiques store or at an auction.  If you have a passion for finding ancient artifacts, the state of Connecticut is the ideal vacation destination for you.  This portion of New England is overflowing with charming antique stores, perfect for hours of rummaging and exploring!  Discover some of the best antique stores in CT to help you start planning your trip today.
6 of the Best Antique Stores in CT
1. Rue Auber Antiques
Whether you're looking for a new sofa or a decorative piece for your living room, Rue Auber Antiques has it all.  Their numerous pieces encompass a wide spectrum of generations, from ancient to postmodern.  With a variety of fine art, antiques, and other rare artifacts, this store in Stonington is one of the best antique stores in CT.  
2. Grand & Water Antiques
Every lovely piece found at Grand & Water Antiques has a story behind it.  Wander through this store to admire its many treasures- and maybe find one to take home with you to commemorate your trip!
3. Roberto Freitas American Antiques and Decorative Arts
Paintings, woodworking, furniture, pottery- it can all be found here at Roberto Freitas American Antiques and Decorative Arts in Stonington, CT.  They have a well-stocked inventory of high-quality items for purchase.  Take your time shopping; there's so much to see!
4. Devon House
You could get lost in all the beautiful antiques in the Devon House in Stonington, CT!  In addition to their extensive collection of furniture and art, they also make their own line of gorgeous Farm Tables.  
5. Mine in Mystic
The wide selection of different items at Mine in Mystic can keep you occupied for hours and hours!  They offer jewelry, minerals, art, clothing, and much more.  If you're looking for some rustic pieces to give your home a more vintage vibe, they have a fantastic collection of shabby doors, mirrors, and windows that will look fabulous in your home.  
6. Holly Hock Farm Antiques
One of the finest antique furniture stores in CT, Holly Hock Farm Antiques is a great place to go in Old Mystic if you're looking for some beautiful pieces to add to your home.  The owners of this store have over 30 years of experience in antique furniture and can help you find the perfect style to brighten up your home.
Don't forget to stroll through the Olde Mystick Village as well!  This historic area contains several antique shops as well as numerous other stores to browse.
Come Stay with Us at Stonecroft Country Inn!
Complete your New England getaway by staying in the finest accommodations possible!  Stonecroft Country Inn is a cozy bed and breakfast in Mystic, CT, that contains beautiful rooms, each fully equipped with all the amenities you need for a weekend of rest and relaxation.  Attend the many annual events taking place in the surrounding area, or simply unwind in the peaceful environment our property provides.  Our lovely haven in Connecticut is guaranteed to provide you with all the comfort and luxury you could ever need, so what are you waiting for?  Check our availability online right now so you can start planning the trip of a lifetime!
To learn more about the many things to do in Mystic, CT, download our free Vacation Guide today!
Photo by shalamov / Thinkstock
Sours: https://stonecroft.com/blog/antique-stores-in-ct/
Antique dealer vs. Thrift Store
She spent last night lying on the bed, fucking herself hard with her 20cm dildo while her husband snored beside her. But her dildo seemed like a child's play compared to Hank's cock, it was much larger, and now Mary was only thinking about that. Despite yesterday's contradictions within herself, now she desperately wanted to fuck him, as Mary did.
Dealers ct antique
On thin panties, a light sundress up to her knees and ballet flats, imagining how hot she would be. But how cool it will be in the early morning, I did not think. In the train, although she was glad that she was going to rest, she was also embarrassed by. The views of summer residents and summer residents, who looked at a young beautiful slender girl who clearly did not fit into their company.
Appraisals: Fashion Designer Christian Siriano - Celebrity Edition, Hour 3 - ANTIQUES ROADSHOW - PBS
It's hot outside anyway, I think you will be even better in it. - said my mother incessantly. So what did mom want. - interrupted the laudatory terrade of the mother Anya.
Similar news:
The result of the torture would have been two mutilated corpses. You fool, I whispered, kissing. I have forgiven you long ago. It's just that for some reason I was sure that for the sake of money you would not do this, neither with me, nor with anyone else.
362
363
364
365
366