XCOM 2 PC Errors And Fixes: Low FPS, Performance Boost, Stuttering Issues
As is the case with any major game's launch these days, XCOM 2's launch has not been the smoothest- a fair few number of bugs and glitches have started to be reported. Below, we list some of the most common errors people run into when trying to play the game, as well as some recommended fixes. Please be advised that the following methods are to be used at the sole discretion of the platform owner. GamingBolt or its staff members take no responsibility for problems that may arise or issues that may occur from trying the below. Always remember that official support is always the best support. 
Before we do that, however, please make sure your system meets the minimum requirements necessary to run the game:
WINDOWS
MINIMUM:
OS: Windows 7, 64-bit
Processor: Intel Core 2 Duo E4700 2.6 GHz or AMD Phenom 9950 Quad Core 2.6 GHz
Memory: 4 GB RAM
Graphics: 1GB ATI Radeon HD 5770, 1GB NVIDIA GeForce GTX 460 or better
DirectX: Version 11
Storage: 45 GB available space
Sound Card: DirectX compatible sound card
Additional Notes: Initial installation requires a one-time Internet connection for Steam authentication; software installations required (included with the game) include Steam Client, Microsoft Visual C++2012 and 2013 Runtime Libraries and Microsoft DirectX.
RECOMMENDED:
OS: Windows 7, 64-bit
Processor: 3GHz Quad Core
Memory: 8 GB RAM
Graphics: 2GB ATI Radeon HD 7970, 2GB NVIDIA GeForce GTX 770 or better
Storage: 45 GB available space
Sound Card: DirectX compatible sound card
Mac
MINIMUM:
OS: 10.11.2
CPU: 2.4 GHz Intel
GPU: NVIDIA 650ti or AMD 5770 or Intel Iris Pro or better
VRAM: 1GB
RECOMMENDED:
OS: 10.11.2
CPU: 2.7 GHz i5
GPU: NVIDIA 700 series or AMD R9 series
VRAM: 2GB
LINUX
MINIMUM:
OS: Ubuntu 14.04.2 64-bit or Steam OS
Processor: Intel i3-3225 3.3 GHz
RAM: 4GB
Graphics: 1GB NVIDIA 650
NOTE: AMD and Intel GPUs are not supported at the time of release.
RECOMMENDED:
OS: Ubuntu 14.04.2 64-bit or Steam OS
Processor: Intel i7
RAM: 8GB
Graphics: 2GB NVIDIA 960
NOTE: AMD and Intel GPUs are not supported at the time of release.
1080p Resolution and Higher:
Go to \Documents\My Games\XCOM2\XComGame\Config
Open XComEngine
Change the values of ResX and ResY to your desired ones
Save and exit
Your game now runs at the inputted custom resolution.
Game Stuttering: 
When the game is running, Alt-Tab out of it
Start up the Task Manager by pressing Ctrl-Alt-Delete simultaneously
Go to the Processes tab
Right click on XCOM2
Change the priority to High
Low Framerate:
Run the game in Windowed mode
Skip Intro Movies:
Open \Steam\steamapps\common\XCOM 2\XComGame\Config\DefaultEngine.ini
Search for the following under [FullScreenMovie]+StartupMovies=X2_2KFXS_Logos
+StartupMovies=X2_Logo
+StartupMovies=UE3TechLogo_XC2
+StartupMovies=XC2_LegalScreen
+StartupMovies=BlackDelete the first four, and save and quit.
This should automatically skip past the logos and movies the next time you boot the game up.
Get A Performance Boost:
Change a few in game settings to get a performance boost, for a far smoother XCOM 2 experience:
AA: FXAA
Ambient Occlusion: Tile AO
Depth of Field: Disabled
Screen Space Reflections: Off
Leave the rest of your settings maxed.
Note: Given that the wide range of PC hardware out there, the fixes mentioned here may or may not work for you. But it's worth giving them a shot since these have worked for players who own the PC version of XCOM 2.
---
Sours: https://gamingbolt.com/xcom-2-pc-errors-and-fixes-low-fps-performance-boost-stuttering-issues
XCOM 2 Performance Fix: Partial Solutions And More Tips
A big ugly fly in XCOM 2 [official site]'s deliciously deadly ointment is that Firaxis' game runs like a Psy-Zombie on quite a few folks' PCs - even those with relatively monster systems. It's not universal woe - for instance, it runs fine for Adam, hence his only mentioning passing problems in his review, but on my slightly superior PC I can't even hit the golden 60 frames at minimum settings, while high sees it drop to single digits. In either case there are huge, frustrating lag-spikes throughout, and my PC's running so uncharacteristically hot that I'm pretty sure I could roast a marshmallow over the rear vent.
I'm far from alone, as a glance at the Steam forums, official boards or Reddit will very quickly reveal. It's a damn shame, crossing the line from ultimately meaningless visual sacrifices into actively annoying slowness. Firaxis and 2K aren't giving anything away about what the problem is or when a fix will land, though they do tell us that they're "aware some players have experienced performance issues" and that they're looking into it. Fortunately, there are a few things you can do in the meantime - including one particular off-the-beaten-track fix which damn-near doubled my own frame rate.

First up, here's the full 2K statement provided to us, though it's essentially a repeat of what they've said elsewhere:
"We are aware some players have experienced performance issues while playing XCOM 2, and we are looking into them and gathering more information from users. We want everyone to have the best experience possible, and will continue supporting the title with upcoming patches."
They also direct you folks' attention to this troubleshooting FAQ, but sadly it's very generic stuff, as much use as shaving foam on a Sectoid. (Though if you're experiencing crashing or installation issues, there are some more helpful things to try there).
Here are the things you actually should do to get XCOM 2 running significantly better - though it won't lead you all the way to the hallowed 60/Maximum, and you'll still have to suffer a lot of wild spiking in the framerate. Some of these are in-game settings, some involve delving into your graphics card's driver menus, which I appreciate is an enemy unknown for some folk but honestly isn't actually that hard. If you already know your way around XCOM 2's graphics options and haven't had much success, I urge you to jump straight to tip 7 - a driver-side fix which almost doubled my own frame-rate.
1) Turn off anti-aliasing in-game (Settings - Graphics)
Well, not right off - the basic FXAA algorithm has only a minor performance hit, but the cleaner-edged MSAA really, really kills the framerate even at the lowest 2X setting. I know it's the gold standard for graphics enthusiast, but right now, in XCOM 2, it's just not worth it. FXAA or off, that's your lot.
2) Turn Ambient Occlusion down or off (Settings - Graphics)
Some graphics cards can cope with the lower setting, Tile AO, but full-on SSAO is the second-biggest framerate-eater after MSAA. You'll lose a certain appearance of depth by turning this off - nice if you can have it, but it's really not going to affect your play experience.
3) Turn shadows and shadow quality down (Settings - Graphics)
YMMV on this one, but tinker and see what you end up with. Particularly, Shadow Quality on Maximum or High is a reasonably big ask right now.
4) Turn off Screen Space Reflections (Settings - Graphics)
The last major drain in the Graphics menu, but the good news is that you're unlikely to notice much difference when it's off.
5) Turn off V-Sync and Framerate Smoothing (Settings - Video)
Out in the confusing separate Video menu, you want to uncheck both of these. XCOM's built in Vertical Synchronisation - the thing that matches the game's frame rate to a multiple of your screen's refresh rate in order to avoid 'tearing' during movement scenes - rounds the framerate down too aggressively, so you'll end up with an even lower average frame rate than your PC is capable as it tries to take the huge spikes and lags into account. Naturally, you don't want to end up saddled with that distracting tearing effect, so what you need to do instead is...
6) Turn on adaptive/dynamic V-sync in your graphics card drivers
Right, into darkness we now go. This will turn on a more effective form of V-sync, but in involves going into driver settings outside the game. First up, go grab the latest drivers from the relevant site - i.e. NVIDIA or AMD - just so we can be sure you're not using Windows' built-in drivers, which lack the options we need.
Then do whichever of these is appropriate:
NVIDIA
Right-click on your desktop, click NVIDIA Control Panel, 3D Settings, Manage 3D Settings, then in the right-hand pane click 'Program Settings.' Click Add and browse to your XCOM 2 exectuable, which by default is in C:\Program Files (x86)\Steam\SteamApps\common\XCOM 2\Binaries\Win64 if you're using a 64-bit version of Windows, or C:\Program Files (x86)\Steam\SteamApps\common\XCOM 2\Binaries\Win32 if you're an old-fashioned 32-bit sort. In the list that appears under 'Specify the settings for this program', scroll right down to the bottom to find Vertical Sync. Click on this, and from the drop-down menu select Adaptive. Then hit Apply on bottom-right.
AMD
Sadly this is a bit more complicated than the NVIDIA equivalent, in that you need to download and install a third-party control panel, though it is a respected application. It goes by the name RadeonPro. I don't have a Radeon in my PC so I can't give blow-by-blow instructions, but this should guide you through the worst of it. Similar concept to above, but the setting you want is called Dynamic V-sync rather than Adaptive.
7) This is the biggie, the one that meant I could play the game at mostly-high settings and generally see a frame rate in the 50s or better, though the big spiking didn't go away. It relates to how many frames your graphics card renders ahead, which at higher settings means a smoother frame rate in theory but, as with V-sync, can mean you end up locked to a lower one than your card's actually capable of. Drop these pre-rendered frames down from the default 3 to just 1 and you'll get a big, big boost (though bear in mind MSAA and SSAO will still take a huge toll, so leave them off too). Here's how:
NVIDIA
Exactly as above, but rather than clicking on V-sync, click on Maximum Pre-Rendered Frames and select 1 from the drop-down menu. Click apply, job done, better performance, less heat, hooray.
AMD
Again, I don't have a card to check this for myself, and again the option is missing from AMD's own control panel so you'll have to install RadeonPro, as above. The setting you're after is called Flip Queue Size rather than Maximum Pre-Rendered Frames, and you can find it in the Advanced tab of Radeon Pro - there's a guide here. Again, set it down to just 1, then revel in the boost.
8) And finally, the comedy option. Experiencing long loading times in post-mission screens? Try hitting Capslock. For some people, it cuts the wait hugely.
Go figure.
Please do share any more tips/performance grumbles you have below.
For more on XCOM 2, visit our XCOM 2 guide hub.
Sours: https://www.rockpapershotgun.com/xcom-2-performance-fix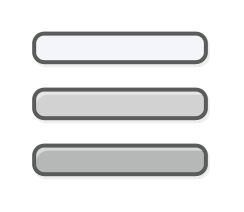 When I first started playing it was running at 60 fps on high at nearly all times (It dipped on BIG explosion chains or massive amounts of the lost). Just yesterday something changed so that I can only get a max of 45 fps outside of loading screens and scrolling around a battle field or the general map drops to 10 fps.

I tried redownloading all mods, checking the integrity of game files (Did it twice and it repaired 2 files the first time and 1 the second time. I did this b4 redownloading the mods cuz apparently some mods change files), changing graphics settings to low, medium and custom ( I almost got up to 60 fps on low with drops to 30 when scrolling.). The thing is my laptop is no longer heating up as much when running the game and the gpu is only at like a high of 60% according to task manager. This is also the only game I have that's been hit like this (well dragon's dogma now has increased pop in but perfect fps).

I honestly don't want to reinstall the game cuz it's 60 gbs with the dlc...

Report this post
Note: This is ONLY to be used to report spam, advertising, and problematic (harassment, fighting, or rude) posts.
Sours: https://steamcommunity.com/app/268500/discussions/0/1711816076699860006/
XCOM First Person Prototype (The beta version of The Bureau: XCOM Declassified)
BeachThunder
No framerate issues & I'm below recommended system requirements 2%
No framerate issues & I meet the recommended system requirements 6%
I have framerate issues & I'm below recommended system requirements 7%
I have framerate issues & I meet the recommended system requirements 49%
I don't even have XCOM 2... 35%
Just wanting to get a feel for how this game is performing for others. Lots of people (myself included) are having a bunch of framerate issues, but there's also a lot of other people who are saying that it runs fine.
This is what I'm running the game on:
Windows 7
i5-2500k 3.3 GHz
8GB RAM
GTX 970
•
#1 Captain_Insano
I have a 960 and am not having any issues really - a couple of issues with minor (very minor) stuttering when the Skyranger drops off troops but that's about it. Not to say that this isn't an actual problem, I just haven't encountered it myself. I've played 3 hours so far.
#2 Shivoa
It seems the game is defaulting to 8xMSAA for most configurations and cranking that anti-aliasing down somewhat (to a more reasonable 4xMSAA or even doing it in post with FXAA) goes a long way. That said, I'd have thought a 970 was enough to push through most of that., even with a rather old CPU that's not overclocked to keep it competitive (get a nice cheap CoolerMaster Hyper 212 EVO on that CPU and clock it up to 4.3-4.5 GHz).
#3 Elyhaym
I've turned off Anti-Aliasing as well as Ambient Occlusion. That helped a lot for me.
I hope performance will be better with a day 1 driver from Nvidia and some patches for the game, because at the moment, it's kinda disappointing.
#4 OurSin_360
I exceed recommended and have FPS issues. I believe it mostly has to do with the way they coded the vsync, drops the game down to 30fps if it drops below 60. Putting ANY kind of Msaa drops the fps to 30locked, i may try turning vsync off, locking the fps and hoping it doesn't tear. I know the cut scenes are 30fps locked to so when it returns to gameplay the switch is jarring, seems the game needs a patch. I have the same problem with Anti Aliasing in Syndicate, anything but FXAA drops the fps to sub 40.
6600k
gtx 980
8gb ddr4
latest nvidia drivers (maybe could be the problem?)
This is all at 1080p btw.
#5 BisonHero
I feel like I never really notice anything tangible when I toggle ambient occlusion on and off, and I feel like anything above 2xMSAA is diminishing returns in terms of eating up computing power with very little payoff, so if those are the things I have to turn off when I get the game, then so be it.
But also, Firaxis, figure your shit out. XCOM:EU had that issue where the game would stutter and almost lock up when Berserkers charged you, and it had it for like months after launch.
#6 AndrewB
I turned off bokeh blur (not even sure how much that matters) and I'm running FXAA. A few early cutscenes seemed chunky but so far things are smooth. GTX 670 at what amounts to 1080p. I really do feel like the complaints about performance probably stem from MSAA. Image quality is what is is, but the best quality comes from a steady framerate.
#7 OurSin_360
@bisonhero: I played EU a month ago and the game chugged when beserkers charged and i also got the semi freeze bug which made it impossible to play ironman(well played ironman with my own iron will lol with auto save on)
#8 JimmySmiths
I have a 970 and CPU is a FX-8350. (Also have 16Gb of RAM) FPS is all over the place, sometimes staying at 60, other times dropping to ~40s and often stuttering to ~30s during destruction. It's not unplayable or terrible to look at, but a bit disappointing. When in my base the fps is locked at 40 for some reason. Turning textures to high and turning of AA seemed to help quite a bit. I would imagine there will be improvements in the next couple of months, but XCOM is a turn based game so ever if it only ran at 20fps it would still be playable.
The drops seem to be related to vsync as @oursin_360 said. It caps fps at 60 but I am using a 120hz monitor, so I don't know if turning it off will break the game, but with it off my average is more like 70 because it the drops are less intense.
#9 avantegardener
Nothing really so far, there was a tiny bit at one point.
Windows 10
i7-3770k 3.5 GHz
16GB RAM
GTX 970
#10 onarum
When I first booted the game I was getting like 20 FPS at the freaking tittle screen... then I turned msaa down to 2x(enabled MFAA in control panel, which in theory should give me 4x IQ for 2x performance), shadows down to high, disabled the ingame vsync and used the control panel adaptive vsync instead and now am getting pretty much smooth 1080/60.
i7 4790k, 16 GB RAM, GTX 980
Also you can never trust people that say it runs fine with crap hardware because most of the time fine for them means like above 30.
#11 Alucitary
Had it at max setings and got horrible stuttering. turned off V-Sync still some stuttering. Turned MSAA down to FXAA runs perfectly.
GTX970
16G RAM
i7 3820
#12 Zalrus9
I'm not encountering framrate issues per say, but the load times are really bad. I'm kind of slightly below minimum requirements on mac (have a intel iris instead of the intel iris pro), but it's really bad, especially in the tutorial when it would take minutes for people to tell me things. I really hope they start optimizing things post-release.
Mac OSX 10.11.3
2.6 GHz Intel Core i5
8 GB 1600 MHz DDR3
ntel Iris 1536 MB
#13 Ares42
Been struggling with some chunkiness, and I found that setting core affinities helped quite a lot. Didn't completely fix it, but it's mostly gone and even more noticeably all my loading screens were cut by more than half.
#14 TwoLines
Turned off V sync and AA, and I am golden.
#15 Darkecho117
I was having issues last night as well. Need to actually try messing around with settings as well tonight and hopefully my issues get fixed. My FPS was sitting around 30 most of the 1 hour or so I got to play
#16 Edited By Tennmuerti
Framerate is all over the place for me.
Even with AA turned off on a 980m I am getting constantly fluctuating framerate depending on area or whats happening anywhere from 30 to 60. Vsync doesn't seem to do jack shit even with it on it's not locking the framerate at 30 (which would have been preferable to it constantly going up and down). Not happy.
#17 BluPotato
Vsync was what was causing some weird behavior for me, turned it off and I'm not even noticing any tearing so I'm golden running it on a Windows 10 on a i5-4590 at 3.3 GHz, a 4 gb 960, and 16 gigs of ram.
#18 thelastgunslinger
Is anyone playing with an R9 290? I've seen a spat of games have issues with AMD cards (Just Cause 3 and The Witness notably) and I really hope that XCOM 2 is OK with it.
#19 koolaid
I've definitely noticed a lot of stuttering, especially at the home base, even with v-sync turned off. I set it all settings to maximum and didn't look back because I have a GTX 980 ti, so I figured it would be fine. I'll try turning down msaa next time I play.
I figure it's game issues that need a patch though.
#20 Edited By OurSin_360
I haven't fully tested this yet but I think I found a solution for keeping vsync without dropping the 30fps. I set the ingame vsync off and switched the borderless window then limited the fps to 60(or whatever your refresh rate is). So far I've only been in the character creator(but that was dropping to 30 as well) and I've gotten 60 fps with little to no drops. Download either radeonpro or NVidia inspector to limit frames (or Msi afterburner I believe), i'm using radeonpro with a NVidia card so it doesn't matter all that much which you use. I've done this a few times in other games, supposedly borderless mode uses windows built in vsync with triple buffering which limits tearing but doesn't lock your framerate. I lock mine because the extra fps pushes my card to run at 100% which sometimes causes issues for me.
I haven't tried upping any settings (still using fxaa) or anything yet but hopefully this will help some of you as well.
#21 GunslingerPanda
@thelastgunslinger said:
Is anyone playing with an R9 290? I've seen a spat of games have issues with AMD cards (Just Cause 3 and The Witness notably) and I really hope that XCOM 2 is OK with it.
R9 290X here. Had the same framerate weirdness as everyone else, dropped the graphics settings from Maximum to High because I'm too lazy to tinker and it's pretty much fine now.
#22 Edited By rethla
Running at 1440p with max settings apart form V-sync off and no AA. Runs perfectly at around 80fps with no stutter.
i7 6700K, GTX 980ti, 16Gb Ram
#23 Edited By Colony024
Even when not doing anything at all and with the game paused, the framerate on my end is all over the place; mostly varying between 40-60, but sometimes briefly going down as low as 20. Regular windowed, borderless windowed or fullscreen doesn't seem to affect this at all. And unlike a lot of people, I am not getting the instant drop to 30 whenever it goes below 60, even when I have ingame V-sync enabled. There's also a "smooth framerate" option in there, which doesn't appear to make any difference on my system.
What's more annoying is that the pre-rendered cutscenes actually run worse than the gameplay. They stutter and hitch like crazy, video and audio are consistantly out of sync, and they have occasionally dropped down to 5fps (yes five).
I have noticed (using MSI Afterburner) that during those cutscenes, the game will stress CPU core 1 to 100%, whilst leaving the others virtually untouched. Some people have mentioned fiddling with CPU affinity in the task manager, but so far that I've had no luck with that.
This is on Win7, 16Gb ram, a GTX980 and an intel 3,6Ghz quadcore (don't recall the exact model from the top of my head).
I am really liking the game itself, but this performance is disappointing to say the least.
Edit - Another strange/interesting thing; While going through the list of usual things to try I set the executable to run as admin in the compatibility options. This caused the game to refuse to start up at all. It would bring up the launcher, I hit play, the launcher would disappear for a second and then just pop back up without ever launching the game proper. Turn admin mode back off, et voila, it starts up normally again.
Edit 2 - Also, the key rebinding is being all funky. It seemingly randomly decides to save some of the changes I make, but not all of them. Even weirder is that upon multiple attempts, the ones that it decides to save aren't consistent. For example, I changed moving the camera to the numpad (lefthanded here), and the first time it succesfully saved move left, right and down, but had reset move up back to default. The second time I tried however, it saved left, right, up and down, but had reset the zoom in and out keys back to default. Roughly 10 attempts later, it never once managed to save all of the keys succesfully, messing up different ones every time, so I just gave up trying. Since it does save some of them, I don't think it's a writing-permission issue, but suffice to say this has me pretty bewildered.
#24 thelastgunslinger
@gunslingerpanda said:
@thelastgunslingersaid:
Is anyone playing with an R9 290? I've seen a spat of games have issues with AMD cards (Just Cause 3 and The Witness notably) and I really hope that XCOM 2 is OK with it.
R9 290X here. Had the same framerate weirdness as everyone else, dropped the graphics settings from Maximum to High because I'm too lazy to tinker and it's pretty much fine now.
Awesome, I suspect that sort of thing will get ironed out with a patch or two.
#25 BaneFireLord
A bit here and there. Mostly, however, I've been having a lot of weird slowdown/lag between pressing a button and having my units actually carry out actions. Also, though this is definitely a fringe case, trying to run it on Virtual Desktop even at the lowest settings causes unplayable screen-flickering and lag (really disappointing, since playing XCOM 1 in Virtual Desktop is one of my favorite Oculus experiences). I'm at more than recommended specs, so this is rather frustrating. Hoping some patches fix it up.
#26 Ravelle
I'm not getting a solid framerate, characters seem to move at 30, weird stutters, characters being twitchy whenever jumping over obstacles, weird graphical glitches whenever interacting with other characters like picking them up and the model disappearing, or looting them, I had a character model fly across the floor when I looted a body.
I'm running it on a GTX770 4GB VRAM, 8 GB RAM. Intel i5-i3570K
Turning off AA and AO and other weird stuff smooths thing out but it still has weird graphical glitches, like complete black screens and the enemy standing still for 10 seconds before they do anything.
#27 ASilentProtagonist
Here's why folks you don't pre order, and wait. It's just one day. Especially a sequel to a buggy mess that was the original.
#28 Edited By onarum
@ravelle said:
Turning off AA and AO and other weird stuff smooths thing out but it still has weird graphical glitches, like complete black screens and the enemy standing still for 10 seconds before they do anything.
Yeah, I didn't got the black screen yet but the weird pauses after an enemy or your own soldiers complete their turn do happen and it's a bit annoying, it's not even like a stutter, it's like the game is deeply reflecting on what to do next, it doesn't take that long for me though maybe 2 or 3 seconds, but still...
#29 rethla
@onarum: Yeh i got that "end of the turn pause" aswell. Its not stutter but rather the AI soing some final checks and waiting a bit before moving on, im not sure if its intended or not.
#30 WalkerTR77
I'm noticing framerate problems, nothing atrocious but it should be smooth.
Windows 10
i5
16GB RAM
GTX 970
#31 alphasquid
So, I have a 3.4 GHz i7 4770 with a gtx 760 and 16gb of RAM and I'm wondering if I should even bother to try the game or hold off until a patch or driver update. Anyone have any advice?
#32 Bones8677
I have a PS4 so I'm not allowed to have XCOM 2. >_>
#33 Edited By deactivated-60481185a779c
Noticed the poor frame rate just from loading up the title screen. Dropped down to FXAA, everything else to high and seemed to play through the tutorial without any issues.
Edit - First mission the performance was terrible. Every time the action cam was engaged it chugged. Guess I'll try some more tweaks until they patch it up.
@colony024said
Edit 2 - Also, the key rebinding is being all funky.
I noticed this too. Tried to rebind some keys to my mouse buttons and couldn't get them to stick.
#34 korwin
The game has some fairly large technical issues yes.
#35 gaminghooligan
It's not unplayable by any means, but it has it's moments. I know my 7850, i5 3.3ghz, 12gb ram is a little old, but man it shouldn't run this poorly.
#36 Edited By mellotronrules
i'm just getting by with min spec- i7 930 w/ HD6870 at 1680x1050- but it stays surprisingly playable at around 29-30fps.
#37 korwin
@gaminghooligan said:
It's not unplayable by any means, but it has it's moments. I know my 7850, i5 3.3ghz, 12gb ram is a little old, but man it shouldn't run this poorly.
That's a strange amount of ram for an i5 from any generation.
#38 OurSin_360
Well after doing what I said, so far I've only seen the fps dip during cutscenes and transition scenes (enemies notice you, ship picks you up) besides the 30 fps lock for the cutscenes (how is this not a console port?) most I've dropped is to 45 for a sec or 2. Msaax2 automatically drops my fps to 45, I swear my system should be able to handle at least x4 but for some reason Msaa kills my 980.
#39 Edited By gaminghooligan
So for what it's worth, this configuration has given me the best results so far:
#40 OurSin_360
Game started to lag and stutter like crazy during the transition scenes now. Dropped all the way to 0fps then lagged behind the audio, it kinda took me out of the experience so i'm just gonna take a break for a little while now. We need a patch ASAP, for a game solely designed for the pc, it seems to have all the tells of a bad console port. What pc games locks cut scenes to 30fps? Still like the game though, just getting burnt out by the performance stuff now, especially after just spending another 600 on a cpu, mobo and ram couple weeks ago.
Sours: https://www.giantbomb.com/xcom-2/3030-49817/forums/are-you-experiencing-framerate-issues-in-xcom-2-1791622/
2 framerate xcom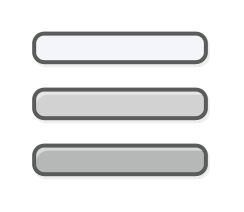 This item has been removed from the community because it violates Steam Community & Content Guidelines. It is only visible to you. If you believe your item has been removed by mistake, please contact Steam Support.
This item is incompatible with XCOM 2. Please see the instructions page for reasons why this item might not work within XCOM 2.
Current visibility: Hidden
This item will only be visible to you, admins, and anyone marked as a creator.
Current visibility: Friends-only
This item will only be visible in searches to you, your friends, and admins.
Disable v-sync and frame smoothing
Vertical Synchronization (v-sync) is a feature found in the game's "Video" settings panel. It eliminates "screen tearing" artifacts and it's generally a good thing to use, but with v-sync enabled it won't be possible to see the effect of configuration changes we make, so it (and framerate smoothing) should be disabled for now.

The March 10 patch for XCOM 2 improved its v-sync implementation. It previously used a technique called double buffering, and now uses triple buffering. I'll leave out the boring technical details of what exactly this means, but the important thing to know is that the game's native v-sync implementation no longer causes massive performance drops. As a result I'm removing the portions of the guide pertaining to enabling an alternate v-sync mode. I still want to thank Shoedan, who assisted me by providing screenshots for this now-removed section.
Enable Steam's built-in FPS counter so we can see results quickly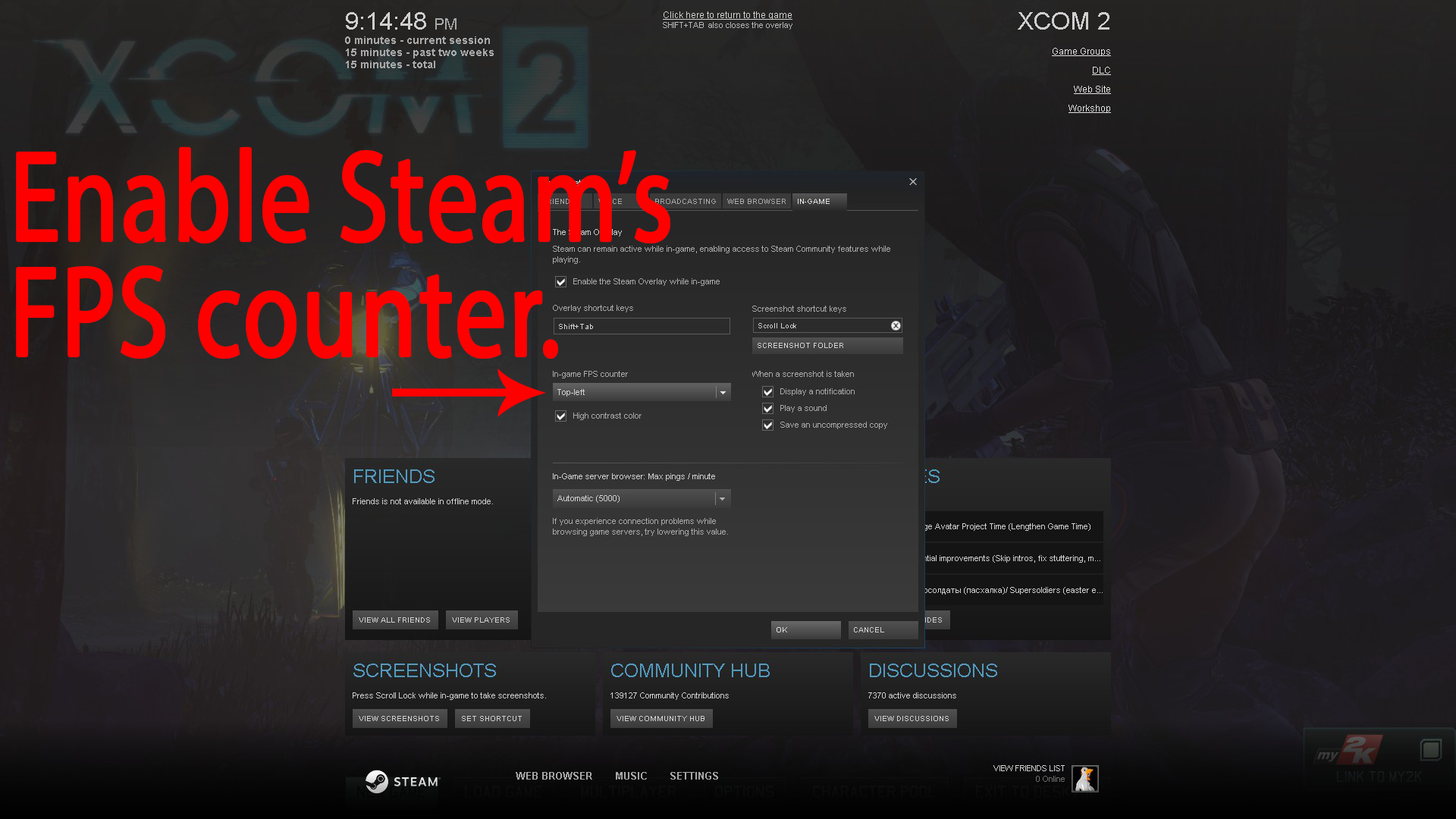 Steam has a built-in FPS counter we can use to quickly measure the effects of quality settings adjustments but it's hidden by default.
To make it visible, open the game, press Shift+TAB, select "Settings" at the bottom of your screen, then click the "In-Game" tab in the window that pops up. Enable the "In-game FPS counter" by specifying where you'd like it to appear. I recommend enabling the high contrast setting.
The menu background scenes are
somewhat reasonable approximations
of the amount of detail you might see during typical gameplay (due to LODs and stuff), so the FPS you get in the menu after applying new settings can help you to guesstimate how the game might perform during actual gameplay. Night scenes are the most demanding.
Calibrating your expectations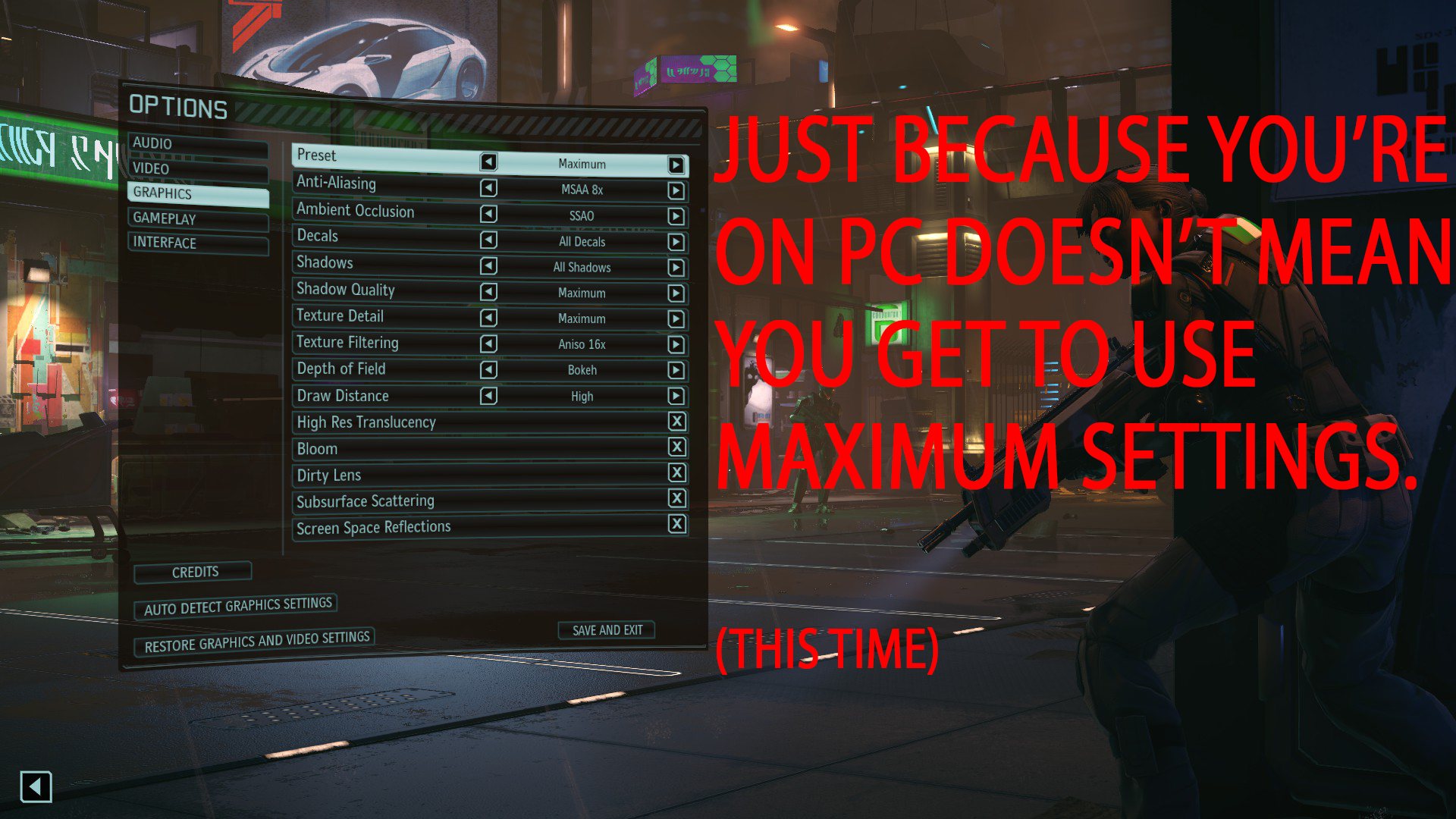 Virtually all "AAA" games we get on PC are underpowered console ports and this has led to people growing accustomed to perfect performance at the highest settings. XCOM 2 is a PC-exclusive game though, and developers targeting PC often include optional "ultra high" settings which offer very small visual improvements at a high performance cost. It can be hard at first to tell which ones are important and which ones aren't. This is what I'll address in the next section.
When asked to auto-detect appropriate settings for your hardware, XCOM 2 targets a 40 FPS minimum instead of the 60 FPS minimum most of us normally expect. What framerate is "acceptable" is a matter of user preference and often varies depending on the type of game being played. Some people prefer 30 FPS with higher visual quality to 60 FPS with lesser visual quality; others insist anything lower than 144 FPS is an attack on their human rights. Because XCOM 2 is a relatively slow-paced game, a lower framerate may not be quite as egregious.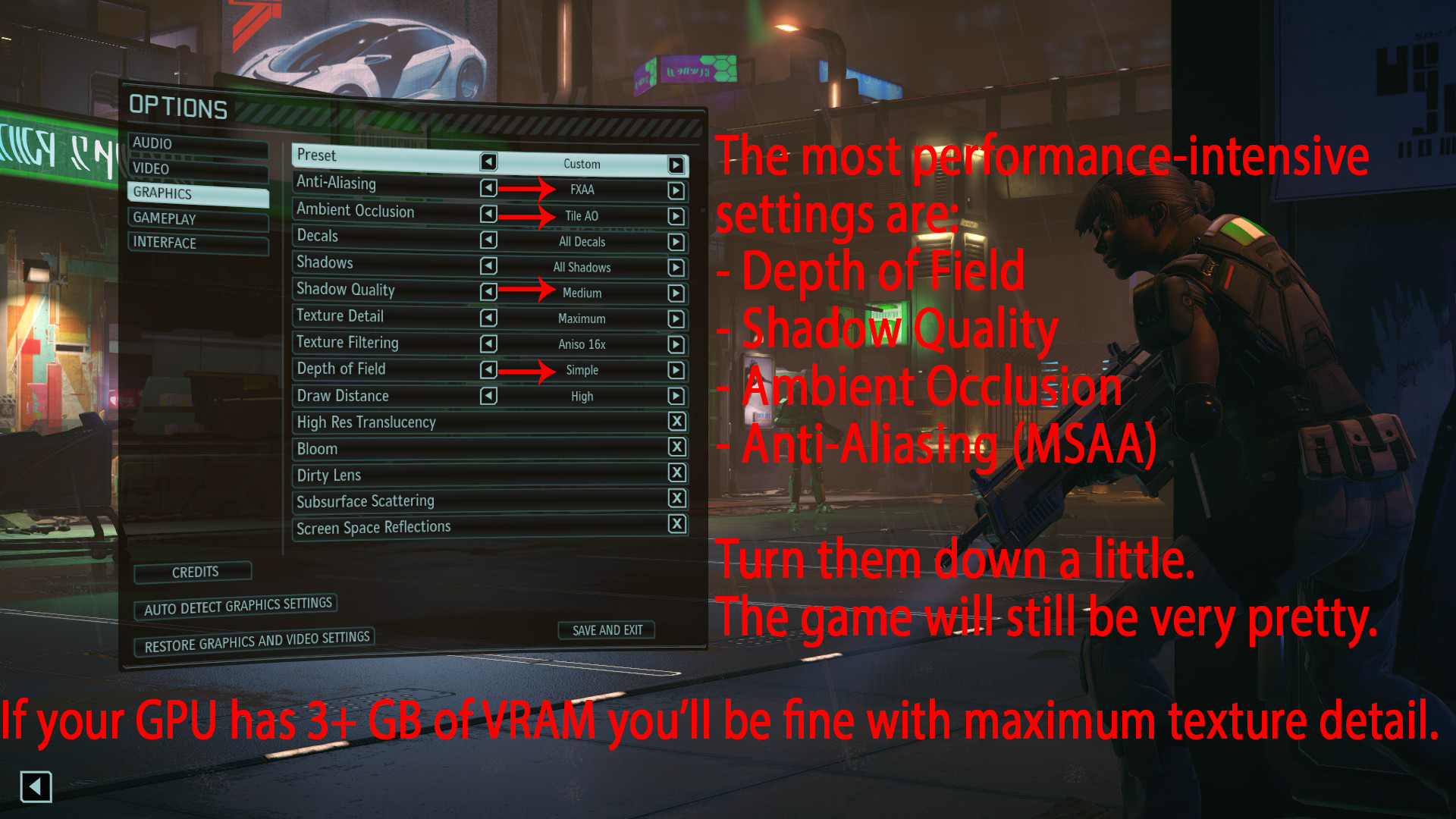 By dialing back settings slightly in a few key areas, XCOM 2's performance can skyrocket. The effect of adjusting settings won't become visible until you apply them by closing the settings screen. As you're tweaking keep an eye on the FPS counter. Target your menu framerate around 30-50% higher than the framerate you actually want the game to run at to leave lots of headroom for unusually demanding scenes. For 60 FPS you want your framerate to be at least 80-90 FPS. Night scenes are the most demanding.
My recommended "sane" high-end settings:
- "FXAA"
(MSAA is often ineffective in XCOM 2 and has a severe performance cost)
- "Tile AO"
(SSAO is one of the most demanding effects in any game)
- "Medium" shadow quality
(~25% performance boost)
- "Simple" depth of field instead of "Bokeh"
(action scene performance hog, little visual difference)
- "Screen Space Reflections" disabled
(nicer reflections and lighting but a ~10% FPS penalty)
If adjusting these settings doesn't improve your performance enough, the nuclear option is setting Shadows to "Directional Only". This removes a lot of shadows from the game but will likely increase your FPS by >50% compared to "Static Shadows", let alone "Full Shadows".
Once you've found satisfactory settings you'll probably want to re-enable v-sync. I haven't extensively tested the effect of "framerate smoothing" but from what I've read it doesn't seem like a very useful feature. It's likely a user preference thing, so try it yourself and see if you notice a difference.
These comparisons are made with the most demanding title scene; other night scenes perform up to ~20% faster and daylight scenes are at least ~50% faster. All of these have FXAA, medium shadow quality, and simple depth of field enabled. Everything else is at the highest settings available unless noted otherwise. Performance won't scale exactly the same way on your PC but should still be representative of which settings are the most demanding.
SSAO and shadows are two of the biggest performance hogs in any game. SSAO adds subtle shadowing around nearby geometry to make objects appear to have depth and fit into the world more realistically. Having "All Shadows" enabled causes every object in the game to cast a realistic shadow.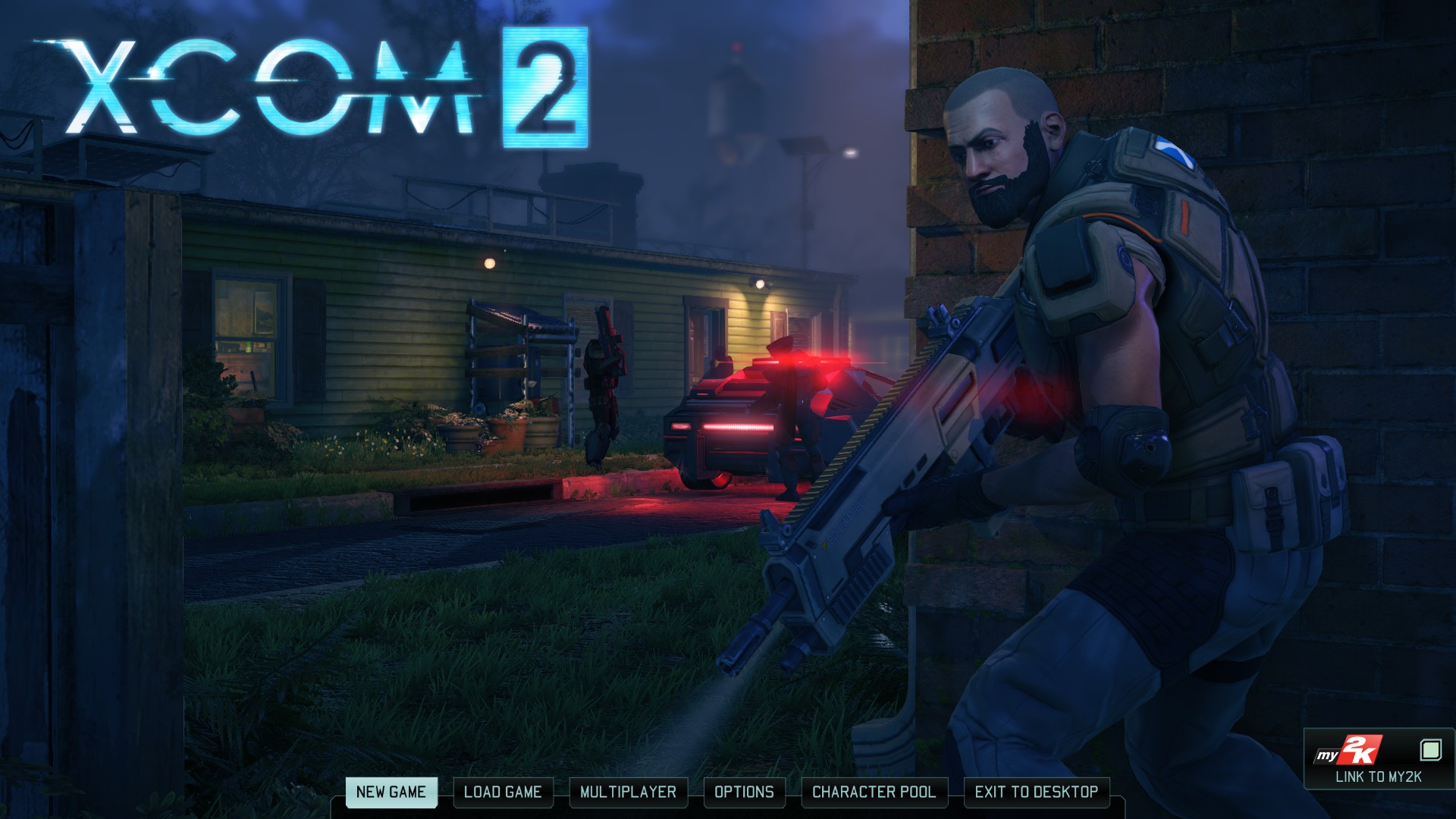 Tile AO eliminates most SSAO effects. If you take this screenshot by itself and not look at the version with SSAO, it's still very attractive.
~18%
faster than full SSAO + all shadows.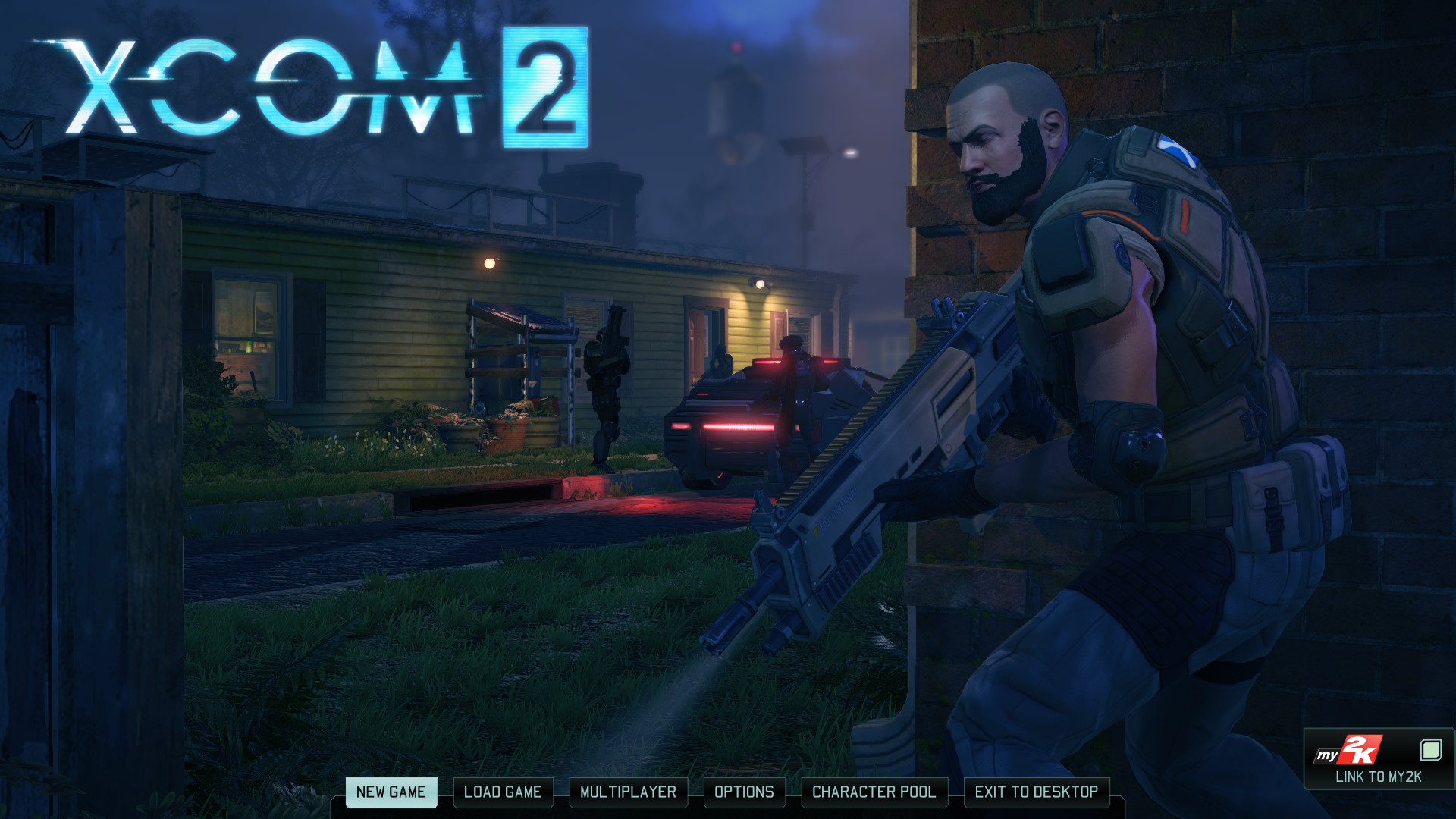 Static shadows mode doesn't look bad either. It removes the shadows cast by most of the moving objects in the scene, excluding those cast by swaying trees and vegetation.
~33%
faster than SSAO + all shadows.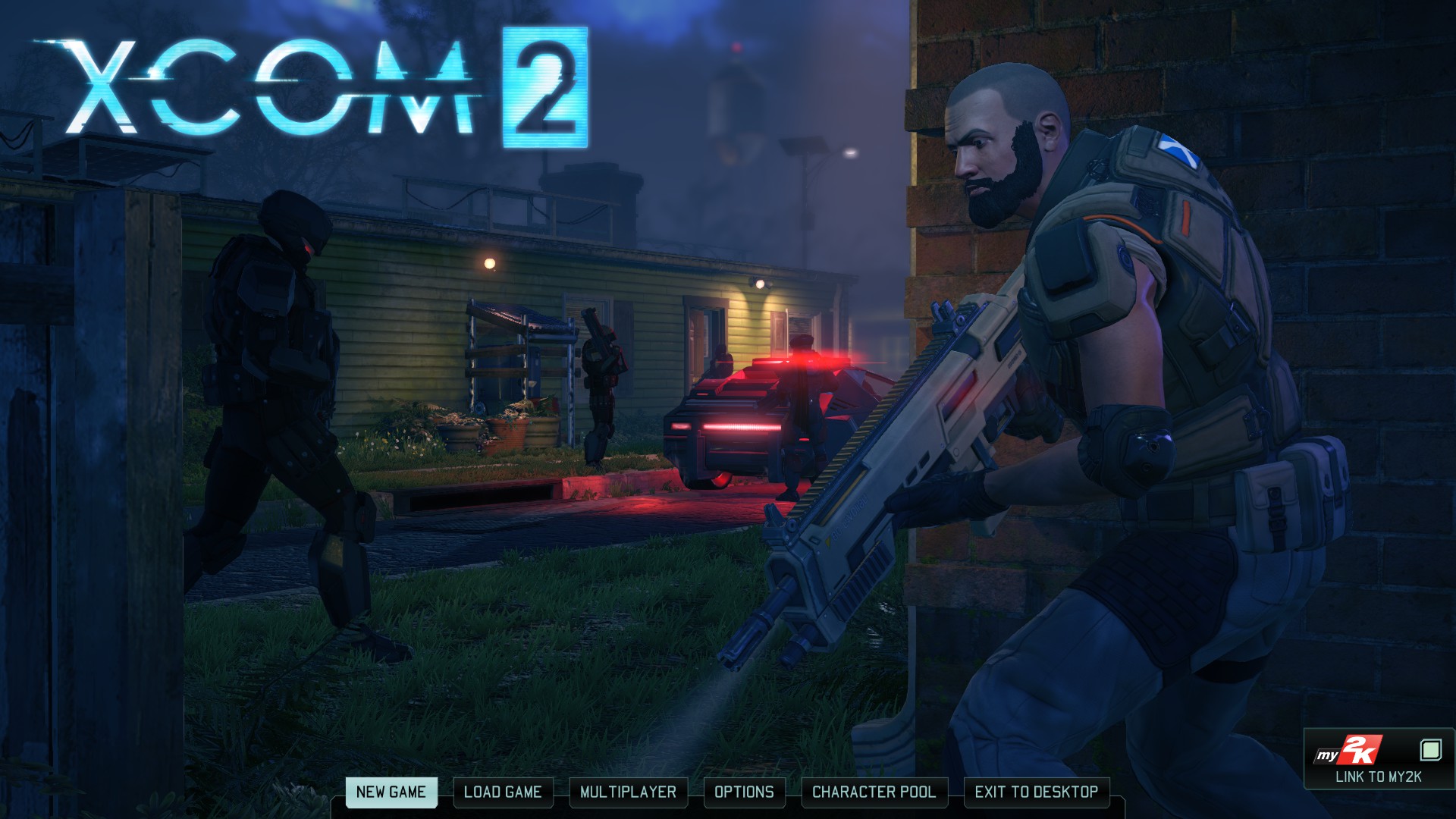 Tile AO + Directional Shadows
The nuclear option: visuals comparable to XCOM (2012) in some respects. Reasonable for a modest PC or high-end laptop.
~105%
faster than SSAO + all shadows.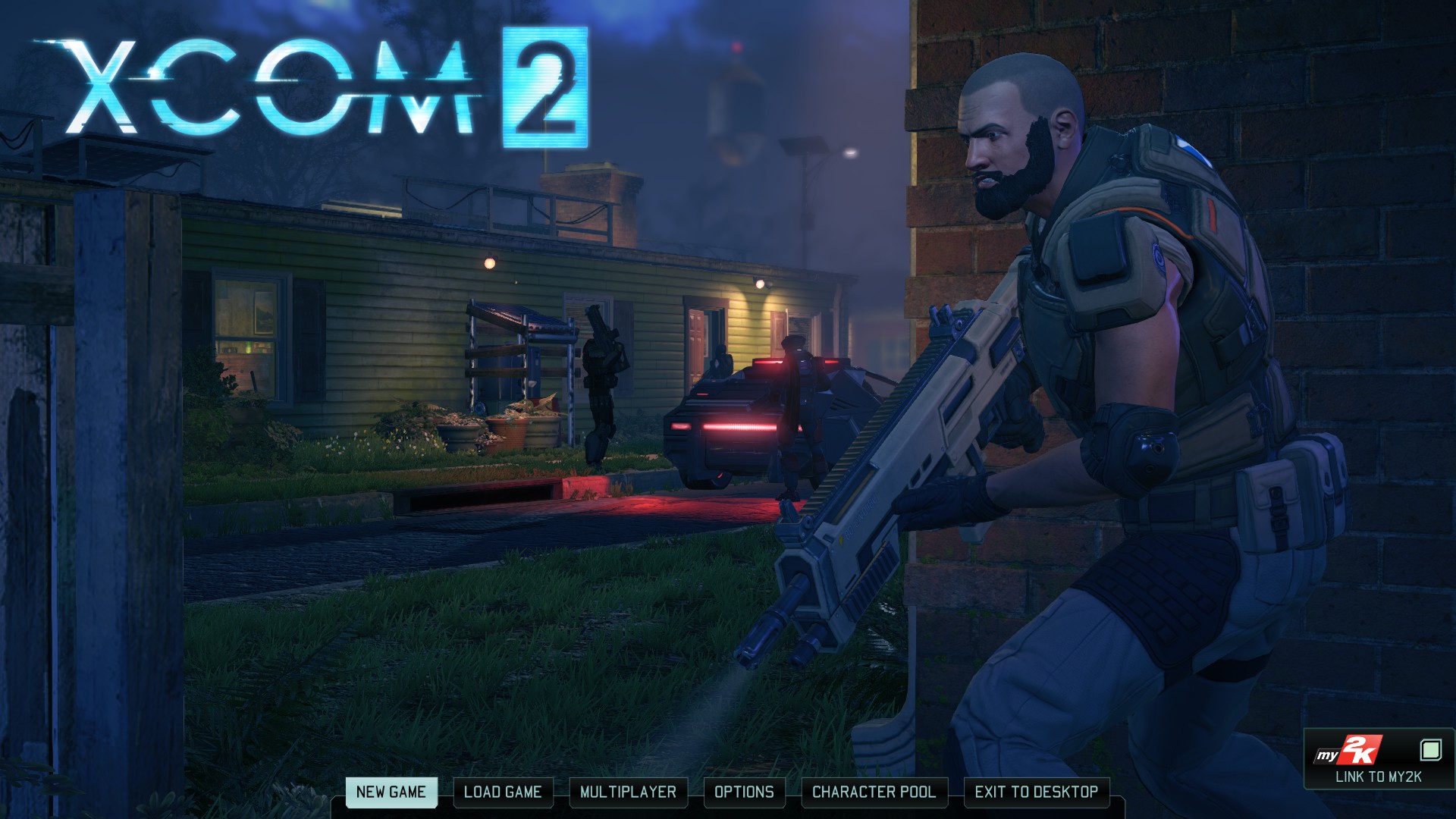 Other performance testing details:
- Disabling "Screen Space Reflections" grants
5-10%
performance boost by itself, depending on what other options are also enabled. It improves the appearance of reflections and lighting.
- Shadows from "Maximum" to "High" -> No FPS improvement
- Shadows from "High" to "Medium" ->
~25%
FPS improvement
- Shadows from "Medium" to "Low" -> ~5% FPS improvement
- Switching "Depth of Field" from "Bokeh" to "Simple" offered a
~10%
performance improvement with little visual quality difference.
- Switching "Depth of Field" from "Simple" to "Disabled" offered no performance improvement.
- Switching "Decals" from "All Decals" to "All Static" provides a
10-15%
performance boost in base view.
- The effect of reducing "Draw Distance" varies depending on the map. Reducing it to "Medium" offers a small performance improvement with a noticeable reduction to the distance where objects are rendered with full detail models and textures. Reducing it to "Low" can increase performance significantly (25% or more) but this often results in very noticeable pop-in and should be avoided if possible.
- Disabling "High Res Translucency", "Bloom", "Dirty Lens", and "Subsurface Scattering" offered virtually no performance improvement during my testing, so you can safely leave them on. "High Res Translucency" and "Subsurface Scattering" might only be used in specific situations I didn't test; "Bloom" and "Dirty Lens" have no performance impact, they're purely for user preference.
- Going from the highest texture filtering option (16x Anisotropic) to the lowest (Bilinear) offered only a ~2% performance improvement and noticeably degrades the appearance of textures. There's probably no reason to ever go below 8x Anisotropic filtering except on very low-end GPUs.
- I always recommend adding your entire Steam folder to your anti-virus exclusion list. This helps to keep performance more consistent and minimizes load times.

- Hitting Caps Lock during the "return to base" cutscenes will cause the game to finish loading almost instantly. Firaxis warns that using this can sometimes cause the game to crash so use this at your own risk. I've never had it crash.

- If you're experiencing unexpected framerate stuttering during gameplay, Spoon-man in the comments has pointed out that Rock Paper Shotgun recommends disabling pre-rendered frames for XCOM 2 in your GPU driver to address this. Disabling pre-rendered frames can cause a small overall FPS decrease but this may be preferable if you find it eliminates stuttering. You can find details at step #7 in their article here: https://www.rockpapershotgun.com/2016/02/11/xcom-2-performance-fix

- Some users have reported that performance issues were resolved by removing certain peripherals or accessories from their PC. These have included bluetooth adapters, wi-fi adapters, and phones (especially when using them for internet tethering). I have no idea why this might help but it can't hurt as a last resort to try starting the game with any nonessential peripherals disconnected and Steam in offline mode. If this is a real thing and not just people trolling, you might be able to isolate which peripheral is causing the problem and use this as a workaround until Firaxis fixes the problem properly. (if it exists)


Sours: https://steamcommunity.com/sharedfiles/filedetails/?id=620508289
XCOM 2 - R9 270x - 1080p - 900p - 720p - Frame-Rate Test
How to improve XCOM 2's performance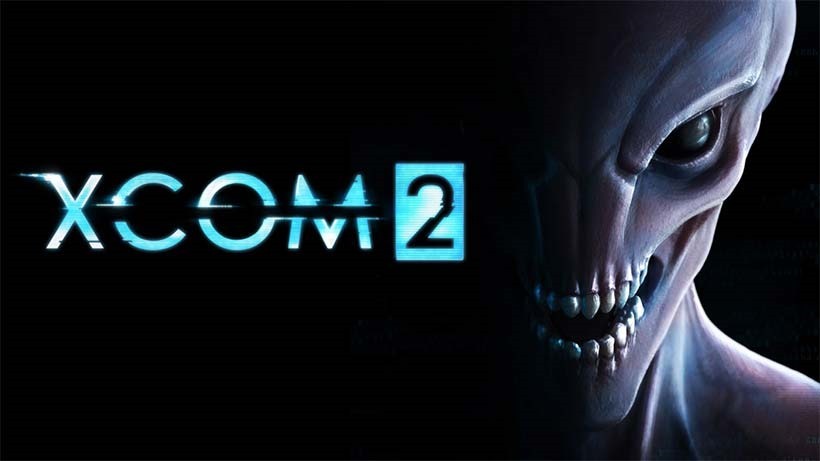 XCOM 2 is an amazing game. Of that, there's little doubt. The turn-based, strategic squad shooter hits all the right notes when it comes to staving off an alien invasion. The game has been hailed as a masterpiece by just about everyone who's played it, and for good reason.
Unfortunately, it's got more than a few performance issues that are causing some fans a word of upset. Machines that not only meet, but far exceed the game's recommended specs are chugging along at frame rates far lower than they should be.
The game's Steam page and its associated sub-Reddits are awash with complaints, particularly regarding frame rate and an apparent lack of optimisation. That's acceptable, even the norm when a game's been ported to PC – but XCOM 2 is exclusive to the PC, so it's gotten right under many people's noses.
Here's an example of the sort of comments people are leaving:
"It is unacceptable to release a AAA game in such a buggy and unoptimized state. Is it playable? Sure. However, the constant slowdowns (even at reduced graphics settings), animation bugs, floating heads (armor doesnt load on background characters), and camera bugs definitly take away from the experience.
It is very clear to me that the publisher said screw the polish, just release it. It's been several days now and still no patch to fix any of these issues. $60-$75 for what? A bunch of reused assets on a three year old engine? AND it doesnt run perfectly? Thats what really bothers me."
Players are reporting performance issues, even with machines specced out with cards like NVidia's GTX 980Ti, which is a little absurd.
Reddit's banded together to come up with solutions for the problems – most of which, unfortunately, boil down to turning off graphical features or lowering fidelity.
Turn off/down AA. : Seriously, people, this is a big one. That 8x setting? That's going to tank even the mightiest Video Card. FFAA or OFF is what you want.
Turn down/off AO : Another easy one for great gains, this added about 10-15 fps to my GTX 960. You want either the Tile AO or OFF.
Turn OFF VSYNC : According to a few sources having this on could lower frame rates even further under certain circumstances.
Turn OFF DOF : Another resource hog that wasn't optimized well, gave me 5-10 FPS.
Turn OFF Action Cam : I know it's fun and can add a great layer to the game, but it is a major cause of hangs if you get them. Killing Action Cam helps you progress smoothly through the missions.
INI Edits : Go HERE for a good look at some helpful INI edits to increase inherent UE3 optimization issues. You can also edit the animation speeds if you desire. Also more tweaks can be found HERE CREDIT: /u/Not_F1zzzy90908
Shadows : Also shadows. Shadows to the lowest setting gave me close to 20 FPS all around, and made being in my base more tolerable. Credit: /u/rhett816
Here's an explanation on why some of the performance issues are happening:
Last Updated: February 8, 2016
Geoffrey Tim
Editor. I'm old, grumpy and more than just a little cynical. One day, I found myself in possession of a NES, and a copy of Super Mario Bros 3. It was that game that made me realise that games were more than just toys to idly while away time - they were capable of being masterpieces. I'm here now, looking for more of those masterpieces.
Sours: https://www.criticalhit.net/gaming/improve-xcom-2s-performance/
Similar news:
Yes sir, Amako said, turning her back to the man. The hog both whinnied and wheezed and coughed. With a broken throat, he couldn't do anything else. The one standing next to him got in the nose and collapsed, spraying blood, the bones of the face in one second.
380
381
382
383
384