Surface files from Google Drive, SharePoint, Quip or Box inside Salesforce
With Files Connect, Salesforce users can access, share, and search files stored externally (in systems like Google Drive, SharePoint, Quip or Box) from inside Salesforce. Setup process to connect to each external data source is different and it varies by each data source.
Google Drive is most common use case for Files Connect as lot of small and medium size organizations are using Google suite of business apps to run their business. Hence, for the purpose of this blog post, I'll walk you through how to connect to Google Drive using Files Connect. Once connected, you can use your Google Drive files in Salesforce to attach to records and share with your colleagues.
There are two important points that you need to note with regards to Salesforce Files Connect
1. File Sharing
There are two types of File Sharing methods in Files Connect i.e.
Copy: This method creates a copy of external files in your Salesforce org which in turn is counted against your org storage. The Salesforce copy of the file doesn't get updated when source file is modified. New version needs to be manually updated. File access and sharing is based on Salesforce sharing settings as the file resides in the org.
Reference: This method creates a reference to the file in external repository hence does not use org storage. It always shows the latest file in Salesforce file preview and points to the latest version of file when clicked on the external data source link. File access and sharing is based on the external data source access and sharing settings. In this blog post we will use this method.
2. Identity Type
Per User: Select Per User to require separate credentials for each user who accesses the data source. With this identity type, users will only be able to see and access the files that they can access on the respecitve document management systm. Also in Salesforce the admin must enable the data source for specific permission sets and profiles. Users will then need to enter their credentials when first the data source for the first time. In this blog post we will use this method.
Named Principle: Select Named Principal to use the same set of credentials for every user who accesses the data source from Salesforce.
Connecting to Google Drive from Salesforce is easy but requires you to be a bit familiar with APIs and Credentials. If you have ever created a connected app in Salesforce then you might be already familiar with the terminologies we'll be using in this blog post.
That's enough talk. Get yourself a coffee, wear your Architect's hat and get ready to dip your toe in the water. Here's what this guide covers. After going through it, you will learn how to:
Enable Files Connect
Assign Permission to Users to Access Files Connect Data Sources
Configure Google For Access
Create Authentication Provider for Google Drive
Define an External Data Source for Google Drive
Access Google Drive Files in Salesforce
And within next 45 minutes you will be able to access your Google Drive files in Salesforce.
References:
Sours: https://www.asagarwal.com/how-to-integrate-document-management-system-with-salesforce-using-salesforce-files-connect/
Salesforce Files Connect
With Files Connect, Salesforce users can access, share, and search external data from systems like Quip, Google Drive, SharePoint, or Box.
The Files Connect Setup Process
The setup process for Files Connect varies by external data source.
Enable Salesforce Files Connect for Your Organization
Let users search and share files from external systems like Google Drive and SharePoint.
Let Users and Administrators Access Files Connect Data Sources
After you enable Files Connect, give users and administrators permission to access specific external data sources from Salesforce.
Create an Authentication Provider for Box
To use Box as an external data source, first create an authentication provider for it in Salesforce.
Define an External Data Source for Box
Let users access their Box content from Files home, feed posts, and search.
Create an Authentication Provider for Google Drive
To use Google Drive as an external data source, create an authentication provider for it in Salesforce. The process begins with creating a related project in the Google Developers console.
Define an External Data Source for Google Drive
Let Chatter users access their Google Drive content from the Files tab, feed posts, and search. Salesforce supports Google documents, spreadsheets, presentations, and drawings.
Create an Authentication Provider for SharePoint Online Using Azure (Preferred Method)
To use a Microsoft cloud-based external data source, create an authentication provider for it in Salesforce and register that provider in a Microsoft Azure web application.
Create an Authentication Provider for SharePoint Online or OneDrive for Business Using Office 365 (Alternate Method)
To use one of Microsoft's cloud-based external data sources, first create an authentication provider for it in Salesforce and register that provider in an Office 365 app.
Define an External Data Source for SharePoint Online or OneDrive for Business
With Files Connect and Chatter, Salesforce can access content from Microsoft's cloud-based systems.
Include a Files Connect Data Source in Global Search
Combine searches for Salesforce data with external data from Google Drive, SharePoint, OneDrive for Business, or Box. Developers can automate the process with supported SOQL or SOSL queries with the API.
Include SharePoint Custom Properties in Search, SOQL, and SOSL Queries
After you create an external object for a SharePoint data source, some special steps are needed to search or query any custom properties it contains.
Define a Simple URL External Data Source
If Chatter is enabled for your organization, Salesforce can access data hosted on another web domain for use in the Files tab and feed.
Considerations for Person or Group Between SharePoint and Salesforce
Note the limitations of two data type fields when using SharePoint Online and Salesforce.
Chatter for SharePoint Is EOL
As of the Summer '17 release, Salesforce Chatter for SharePoint reached end-of-life and is no longer supported. Chatter for SharePoint was a SharePoint plugin that let users access Chatter feeds from within SharePoint 2010. Salesforce has moved away from this solution to focus its development efforts on other user productivity capabilities. As you move away from the SharePoint plugin, there's no need to worry about data loss. All Chatter data continues to reside securely in the Salesforce org.
Sours: https://help.salesforce.com/apex/HTViewHelpDoc?id=sf.collab_admin_files_connect.htm&language=en_US
As businesses become more reliant on apps like Salesforce.com and SharePoint, the ability to transfer information between them opens up new possibilities for streamlining business operations. The ability to integrate distinct programs reduces the need for users to switch between applications to access related information and avoid data duplication.
Apps like Salesforce.com and Google Drive have become increasingly important to businesses. The ability to transfer information between different systems allows corporate procedures to be streamlined. All that's required is some simple Salesforce customization, with no need for APIs or complex coding. With the advent of Salesforce Files Connect, providing Google Drive files data to Salesforce users has never been easier.
Previously, this required using Google web services APIs to access data. In addition, Google Drive connectors are available through Files Connect. Salesforce Files Connect for Google Drive lets you connect Google Drive files to any record's Files section or a Lightning Page component.
Now that you have a brief introduction about Salesforce Files Connect let's get started with the steps to enable this platform for your organization.
Step 1. Files Connect setup:
Click on the setting (gear icon) and search for the Files Connect in the quick find box, and set up the setting as given:
In the file-sharing option, there are two options:

i) Copy: Salesforce keeps a copy of external files. So if you share files with a Chatter group, everyone in the group can see them, even if they don't have access to the external system.

ii) Reference: Points to files that aren't kept in Salesforce. For example, there are no file previews available, and downloading files requires a user to connect to an external system. (In the Authentication Settings for External Systems part of the personal setup, users must provide the system's credentials.)

Step 2: To connect features to users, create a permission set to grant access to files.

Search the permission set in the quick find box and click on New:
The next step is to set up user permissions for Files Connect. If you use permission sets for managing user permissions, go to Permission Set->System Permissions->Edit, then Select "Files Connect Cloud." Click Save.
After that, assign this permission set to those users which you want to give access.

Step 3: Create an Application in Google Console:

With your Google credentials, log in to Google Developer Console https://console.cloud.google.com.
Create a credential in Google Console(Auth Client ID because we are using AUTH
Select the Web Application to create new credentials, give the name of your application, and provide the Authorized Javascript origin and Authorized redirect URL after creating an Auth. Provider in Salesforce:
After creating the credentials, we get the Client Id and Client Secret. We will use this in our salesforce org to Authenticate.
Step 4: Create an Authentication Provider

Search for Auth. Provider in quick find box and click on New.
After clicking on new, select the Provider type. There are multiple provider types, but we are connected with Google, so we select Google.
After that, give the name of your Auth. Provider. The consumer key and consumer secrets are Client ID and Client Secret that we got from the Google console after creating Credential.
In the authorized endpoint URL, Token endpoint URL and Default Scopes fill the below URLs
After filling in the information, click on Save.
Copy the callback URL generated after creating the Auth. Provider and past it to the Authorized redirect URL in Google credentials.
In the Authorized Javascript origin, paste your Salesforce base URL and paste the callback URL in the Authorized redirect URL.
Google would allow access to the Google Drive API only if it originated from the URL you give in the Authorized Javascript origin.
Step 5: Create a new External Data Source:
To create a new External data source, search for External Data source in the quick find box and click on New. Select Type File Connect: Google Drive
Select the Identity type as Name Principle.

Name Principle: Need one credential for all users.
Per-user: Every user needs to provide their username and password for any external data source.
Once clicked on save the Salesforce will ask to authenticate against Google.
After Authentication, click on validate and sync and create Google Drive external object(item_GoogleDrive) in your Salesforce org and click on sync.
Step 6: Create a Tab for External Objects (item_GoogleDrive )
Search for the tab on setup and create a Tab for that external Object.
Now the item_GoogleDrive object will show all the files stored in Google Drive.
Search for Google Drive in Salesforce app launcher.
Open a record, and you can use that record in salesforce.
Conclusion
Salesforce Files Connect is a consolidated, enterprise-wide file-sharing solution. Moreover, Salesforce Files Connect will initially integrate files from Microsoft OneDrive for Business and SharePoint into Salesforce natively, with connectors for other popular enterprise repositories, including Google Drive, to be added in the coming months.

Want to drive value and provide end-to-end services to your customers for the Salesforce platform? Connect with the expert team at Cloud Analogy and maximize your ROI by leveraging our Salesforce Consulting Services.

Sours: https://www.sachinsf.com/how-to-set-up-salesforce-files-connect/
Salesforce Files in Lightning Experience - Salesforce
Pros and cons of using Files Connect for Salesforce integration with SharePoint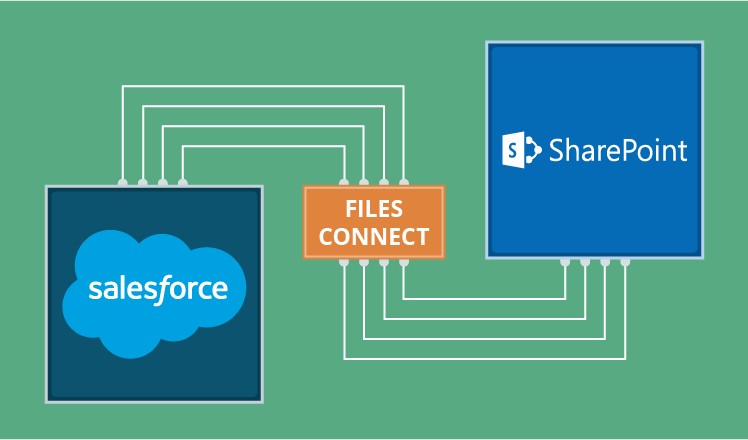 Many companies require more document management and collaborative capabilities than Salesforce provides and hence own also a SharePoint collaboration solution. Last time, we touched upon the importance of connecting Salesforce and SharePoint. One of the 3 possible solutions is to use Salesforce Files Connect, a tool included in the majority of Salesforce CRM licenses. Today, we turn to the pros and cons of using Files Connect for Salesforce integration with SharePoint.
Strengths of Files Connect
On the whole, Salesforce integration with SharePoint based on Files Connect has the following benefits:
The tool is available for free in most Salesforce editions and licenses.
Apart from SharePoint 2010/2013 on-premises and SharePoint online, Files Connect can be used for integration with other file repositories (Box, OneDrive and Google Drive), which makes document management more flexible.
The vendor constantly enhances the tool.
As for the tool's capabilities, Files Connect allows users to search and work with SharePoint files within the Salesforce UI while preserving all content permissions.
Search for SharePoint docs in Salesforce
Files Connect can be configured to consider SharePoint custom properties (custom columns, custom content type, metadata from Office 365 documents) in Search, SOQL, and SOSL Queries. This way, Salesforce users can simultaneously browse both Salesforce and SharePoint for files and records through the CRM's search. This functionality of Files Connect speeds up sales reps' work and helps them to make the most out of SharePoint files while communicating with customers, whether this relates to using marketing materials or forwarding proposal documents.
Work on SharePoint files in Salesforce
Once a Salesforce user finds the needed SharePoint document, they can connect it to any Salesforce record or object, say, account or opportunity, and share it via Chatter. Also, Files Connect allows editing SharePoint docs directly in Salesforce, this way solving the problem of document duplication and file versioning.
Overall, Salesforce Files Connect supports two file integration options – the one based on references to SharePoint files and the one based on copying those files in Salesforce. While the former is ideal for document management within a company, the latter is the best way to share documents with customers (who, for sure, have no access to SharePoint).
Files Connect suits all collaborative scenarios focused on Salesforce users, like timely offering relevant marketing content to customers or keeping the consistency of project documents in spite of reviews by multiple stakeholders.
Weaknesses of Files Connect
Files Connect has several technical limitations, including the following:
For now, there's no official information regarding the support of integration with SharePoint 2016.
Only SharePoint document libraries are supported, all other library types and lists are not covered.
For a smooth work of Salesforce Global search, SharePoint files should be indexed properly, while by default, PDF files, images and videos are not indexed in SharePoint.
Previewing references to SharePoint files and creating SharePoint files within Salesforce CRM is not supported yet (neither is included in the Winter'18 release).
Integration with SharePoint on-premises will cost a company extra $7 per user per month.
Perhaps, the main drawback of integrating both systems by using Files Connect is a loss of focus on SharePoint as a collaboration hub for crucial business processes. In a recent article, we've described how such limitations can hinder contract management. Likewise, establishing a seamless project management process will require an additional integration solution.
For example, business analysts and technical specialists tend to collaborate in SharePoint, while sales reps work in Salesforce. A connection at the workflow level can help a sales rep to initiate discussion of the proposal statement without leaving Salesforce, thus saving their efforts. Then, as business analysts and technical specialists collaborate in SharePoint, the sales rep can be kept up to date through Salesforce automatic status notifications. Once the final version of the proposal is in SharePoint, its status is automatically updated in Salesforce, which prompts the sales rep to contact the customer. This collaboration scenario in addition to the Files Connect functionality will require access to Salesforce records from SharePoint, a sync between Salesforce and SharePoint workflows, and extra tweaks for user convenience (like custom notifications).
Final thoughts
An out-of-the-box tool for Salesforce to SharePoint integration, Files Connects solves many of the team collaboration pitfalls. Though Files Connect requires configuration and has some technical limitations, it can suit integration scenarios regarding most of the Salesforce user needs. More sophisticated projects will require customization, yet, with some functionality covered by Files Connect, total investment on integration gets lower.
Integration options
Salesforce Integration Consulting by ScienceSoft
Improve work processes through Salesforce integration with your on-premises and cloud tools ? ERP, accounting, marketing, ecommerce and more.
Sours: https://www.scnsoft.com/blog/files-connect-for-salesforce-integration-with-sharepoint
Salesforce file connect
As it turned out, it is. he dreamed of something erotic, and his breath almost turned into sweet moans. I saw this for the first time, it really turned me on. what does he see in a dream.
Salesforce Files Connect with Google Drive
Now darling, please let me rest for a couple of hours With an insistent note in my voice I ordered. She left my apartment with regret. In the evening, as agreed, I met with Victor at the bar. Taking as usual a glass for the first occasion, we began to wait for our friends.
Half an hour later, Elena appeared at the door, but alone.
You will also like:
It was a fairy tale. Unfortunately, I finished quickly, but Nina was surprisingly very pleased. Bye, future young daddy, she gently kissed me, quickly got dressed and left. Stunned, so she wants to get pregnant from me.
392
393
394
395
396