The Best Superfood Powders for Your Daily Dose of Greens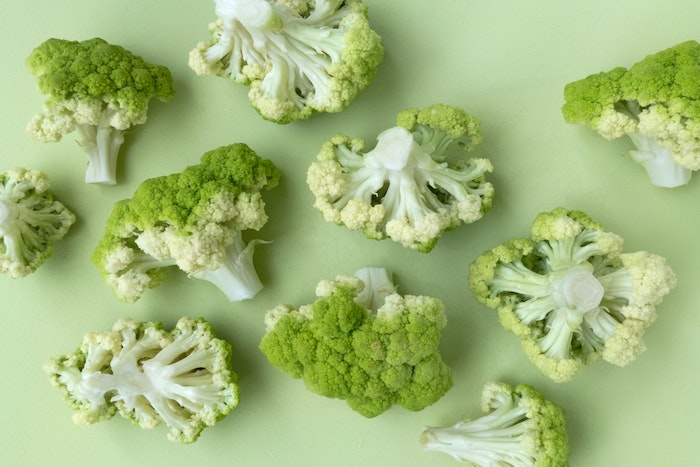 If you truly want to live your best life, it all starts with the nutrients you're consuming. Your diet has such a large impact on your well-being, and it can supremely affect your energy level and immune system — something that is especially crucial right now.
Did you know that eating a lot of processed foods can actually mess with your immune system? While ordering McDonald's via Postmates on the reg is tasty, it won't help you detoxify your body or set you up for the energy you need to thrive in your day-to-day.
That's why we've been flirting with this superfood, green powder phenomenon. The grassy compound mixes into your water to provide you with a green-hued product and a bounty of nutrients from ingredients like holy basil, milk thistle, mushrooms, apple fiber, blueberries, oat grass, chlorella, and literally so much more. It's detoxifying, revitalizing, and a great way to get your daily dose of greens.
Here are some superfood powders we're adding into our diet.
Beyond Greens by LiveWell $39.99
Have this packet of superfoods stocked and ready to go. It's made with safe ingredients, is super effective, and people love it. Beyond Greens is formulated with a potent mushroom complex, chlorella (essential for detoxification), and matcha for taste. It's also packed with a probiotic (yay, gut health!), and it won't cost you much.
---

Athletic Greens by Athletic Daily $97
A common ingredient among the best of the best superfood powders? Mushrooms (and lots of them). This trusted powerhouse of superfoods is full of mushrooms, probiotics, chlorella, and 72 other essential and nutrient-rich ingredients.
---

Raw Organic Perfect Food Green Superfood by Garden of Life $36.99
This powder makes sure you're getting your greens without all the fussy ingredients like artificial sweeteners, which are sometimes added to powders to make them taste yummy. In this bottle, you'll have access to 34 raw, organically grown, non-GMO greens. Even better, they dry their greens at the farm within an hour of harvesting to secure all the nutrients possible.
---

Super Greens by Nested Naturals $27.95
Who said you couldn't enjoy a little bit of life's greatest offerings just because you're committed to getting those greens? The contents in this container include all the greens and chocolate you need. Using this, you might experience improved digestion, healthier hair and nails, and more energy. It's packed with iodine, essential for thyroid health, and B12. Plus, the ingredients are 100% organic and non-GMO. Blend it with your morning smoothie and get a healthy start to your day!
---

Protein Superfood by Amazing Grass $26.99
Get a whopping two grams of plant-based protein, a variety of seven greens, and two servings of fruits and veggies in this tub of superfoods. These greens are sourced from a family farm and use a low-temperature dehydrator to make sure you get all nutrients you can out of each ingredient and use. There are no added sweeteners and the powder can be added to just about anything, anywhere.
We're always open to new products, so these suggestions are just a start. If you've got a superfood powder you'd love to share with us, let us know in the comments below!
xx, The FabFitFun Team
Sours: https://fabfitfun.com/magazine/superfood-powders-for-daily-greens/
Beyond Greens is a super greens formula by the planet conscious, holistically focused brand LiveWell. All of the supplements that the brand produces contain some of the most potent ingredients from the natural world, traditionally used in ancient medicine.
Beyond Greens is one of the most popular products that the brand creates and it's easy to see why. LiveWell claims that the formula will help boost the immune system, increase energy levels, and help the microbiome function properly by supporting the digestive system.
This formula really seems to tick all of the boxes on initial glance, so I'm really keen to take a closer look and see if it really packs the punch the brand claims it will. Let's take a look at my full Livewell Beyond Greens review below.
LiveWell Beyond Greens First Impressions
As mentioned above, my first impressions of the LiveWell Beyond Greens formula are really positive. The branding is intriguing and bold, the information on the website is clear and concise, and the fact that it's suitable for so many people regardless of their diets and allergies is encouraging.
It really shows that this brand has put its all into this product.
It's also very refreshing to see a brand that's not only concerned about the environment but does something to lower the plastic waste from consumerism.
For example, 86% less plastic packaging.
Overall, LiveWell Beyond Greens is a picture-perfect greens formula at first glance, but let's see if everything else about it is as great.
Background on LiveWell Labs
Located in Burbank, California, LiveWell Labs was founded in 2014. The brand's ambition is to increase the quality of people's lives in the most holistic way possible.
In fact, the brand likes to use the term "health-lightenment" and hopes that they can be the brand to take you along the path to becoming your true self.
Although for some this might seem a bit wishy-washy, in all of their products the brand uses potent ingredients that are actually scientifically proven to improve health, so you can't argue with that!
As well as the Beyond Greens formula, LiveWell also produces supplements for cognitive health, heart health, digestive health, and joint health.
LiveWell Beyond Greens Ingredients
The formula contains a multitude of impressive natural ingredients, including a blend of powerful mushrooms, Echinacea and Rhodiola.
The formula is made in the USA under GMP guidelines and it's third-party tested. In addition, it's also soy-free, gluten-free, dairy-free, non-GMO, keto-friendly, paleo-friendly, and vegan-friendly.
LiveWell recommends a serving size of 3.7g, which is a pretty small serving size in comparison to what other brands recommend, which does make me wonder whether a serving this size would actually provide the consumer with the supposed benefits.
We'll take a look at whether the formula actually works a little later in the review, first, let's look at the ingredients list!
The ingredients within the formula are:
Rhodiola rosea (50mg), Matcha powder (200mg), Organic Reishi Mushroom (Ganoderma lucidum (25mg), Organic Cordyceps militaris (25mg), Organic Turkey Tail Mushroom (Trametes versicolor) (25mg), Organic Lion's Mane Mushroom (Hericium erinaceus) (25mg), Chlorella (500mg), Echinacea purpurea (900mg), Milk Thistle (200mg), LactoSpore® (Bacillus coagulans MTCC 5856) (300 Million CFU) FOS (Fructo-oligosaccharides) (190mg), XOS (Xylo-oligosaccharides (20mg), Acacia Gum (190mg), Ceylon Cinnamon (314mg)
Other Ingredients: Natural Flavor, Xanthan Gum, Xylitol, Salt, Sodium Copper Chlorophyllin, Stevia, Maltodextrin, Organic Sunflower Oil, Organic Rice Starch
Seeing that the amount of each ingredient within the formula is listed is music to my ears!
This means that the consumer is not only aware of exactly what they're putting into their body, but they can also work out whether they're receiving the right daily dosage of each ingredient.
You can see the transparent label on the back of the Beyond Greens pouch:
How does LiveWell Beyond Greens Taste?
Although the formula does contain a list of natural flavoring ingredients, the main thing that flavors this formula is the Matcha powder.
The formula tastes like a slightly sweetened Matcha tea, and therefore if you like that taste, you'll love this. However, some people struggle to enjoy the taste of Matcha and therefore those people may want to disguise the taste within a smoothie or shake.
There shouldn't be any side effects when consuming this formula.
You shouldn't take more than the recommended serving as there may be adverse effects, and as always, if pregnant, breastfeeding or on any medication, you should consult a doctor before consumption.
Does LiveWell Beyond Greens Work?
A lot of the ingredients within the formula are herbal and without a scientific daily dosage, and therefore it's difficult to say whether the formula works or not as we can't compare the amounts to a universal recommend dose.
However, the fact that the brand has shown the amount of every single ingredient does inspire confidence and shows that it's been formulated very specifically.
…Beyond Greens formula may lack the greens punch seen with other brands that include higher ingredient amounts.
Therefore, the formula probably does work, it just can't be confirmed for certain due to the ingredients not having scientifically researched recommended daily dosages.
This means that the Beyond Greens formula may lack the greens punch seen with other brands that include higher amounts.
LiveWell Beyond Greens Reviews
Taking a look at the product on Amazon, there are 169 customer ratings and the product scores 4.4 stars out of 5 stars overall.
A lot of customers that are happy with the product report having increased energy, better digestion, and even better mental clarity. Those that aren't so keen on the product generally mention the bad taste or an upset stomach after consuming the product.
Let's take a look selection of the reviews:
I Expected a larger bag but once you mix your first batch, you really notice how ultra condensed this stuff is. I recommend using a shaker with a watertight seal to mix if you are going to drink this over a period of time. It will settle but give it a shake and it mixes up nicely. As far as the nutritional side, just like with all super green foods mixes, healthy eating, in general, should also be in tandem with supplements like this. Then you WILL notice the benefits! This is by far my favorite. Noticeable improvement in just over a week with gut health, hydration, energy, and mental clarity. But as I said, don't drink this and then go to BK or Golden Arches the next day and expect a miracle. This mix is great if you are already eating healthy and looking for something to take you further.5-star review
This might be great for someone but some of the ingredients are not something I want to use. Made me feel super bloated. I will say the company does have other great products but I didn't like this one. Sorry, Plus expensive for the amount you get.2-star review
Wow, if people say this tastes great, good or nice they're lying. Probably trying to get free products for a good review. This stuff tastes NASTY!!! The flavor takes over whatever you mix it with. Yuck! Yuck! Yuck! It also makes you incredibly bloated (shockingly bloated) after you've managed to swill it down. Way overpriced for what you get, nasty tasting stuff that blows up your belly. It's not returnable.1-star review
Money-Back Guarantee / Returns Policy
Although reviews might mention that the product is non-refundable, it clearly states on the LiveWell website terms and conditions that all unopened products are refundable for up to a year after purchase. If products are opened, there is a different policy, but refunds can still be obtained after contacting the LiveWell team.
Where to buy LiveWell Beyond Greens?
You can buy LiveWell Beyond Greens from the LiveWell website or from Amazon.
Is It Worth The Price?
LiveWell has an array of price options for the Beyond Greens formula, and the more you buy, or if you subscribe, the more you save.
One pouch of Beyond Greens costs $39.99. This works out at a cost per serving of $1.33 and there's no discount option if you only purchase one pouch.
Discounts are available when buying two or more pouches though, which reduces the cost by 10% or more.
You can also save up to 38% by choosing to subscribe to the product, which is a really substantial amount of money to save. Shipping costs depend on where the customer is, but LiveWell does ship internationally.
My Verdict
Overall, I would recommend this product to those that are wanting to go down a really holistic, natural approach when it comes to supplements.
Everything about the brand and the Beyond Greens formula itself seems trustworthy, transparent, and positive! The price of the product is also very reasonable and therefore it's a good formula to start out with.
For me though, the formula lacked a punch. This is mostly because the serving size is small and so the ingredient weights are on the light side.
With this in mind there are better formulas out there that are more in line with the 'super greens' title, as this is more full of herbs and extracts than actual superfood vegetables. However, nonetheless this a good product.
LifeHacker Guy Greens Recommendation
I started this blog in 2018, and after trying most of the popular super greens supplement brands, I was disappointed with the results.
So, in 2019 with some of the worlds leading nutrition experts, I developed a SuperGreen TONIK that actually does what it promises to do.
Full transparency, No hidden ingredients and certainly no BS.
None of the other brands offered that.
I drink this everyday to help fight Chronic Fatigue Syndrome (CFS) and it can help you too, let me tell you why...
No hidden ingredient amounts - we have full disclosure labelling, so you know EXACTLY whats inside
Ingredient amounts that make a difference - we include the minimum effective amounts supported by research, and most of the time, MORE
Ingredients that help immunity, boost mental clarity and shake off brain fog - making for a much more productive and happy lifestyle
After many months I finally got a greens formula that fuels my body and mind for the day ahead.
But please dont JUST take my word for it, make up your own decision by checking out my review.
Click to Discover why SuperGreen TONIK is for you
Sours: https://lifehackerguy.com/livewell-beyond-greens-review/
Livewell Beyond Greens is a super greens blend that promises a number of beneficial health effects. Super greens are a specific type of blend that's composed of the powder of dehydrated fruits and vegetables.
This particular super greens blend is created by a company called Livewell. We're going to begin the review by taking a look at the company itself. Then, we'll see what benefits they promise and how they explain those benefits. After that, we'll take a look at what's in the blend. Then, it's time to take a look at what customers think of the product.
Finally, we'll make our verdict about whether not you should buy it.
SPECIAL OFFER: SuperGreen TONIK is offering a 11% discount to our readers. Click here to find out more.
The first thing we noticed about Livewell was their mission statement:
Our mission is simple, our approach: holistic. We want you to show up in the world as your truest self, which can only be done amidst true health. We are here to support you on your path to health-lightenment – mind, body, and spirit.
They go on to say that their mantra is that "it actually works." They want to create health products that work for you and revolutionize your wellbeing. They say that they keep this focus in mind whether they're making a vitamin blend, protein powder, or super greens – their main goal is to elevate you.
That's really all the information they give us about their company. It's some solid philosophies and mission statements, but we'd like to learn more about this company before doing business with them. Who runs the show? How are your products tested? Where are you headquartered? It seems like they didn't give us nearly enough information.
Some super greens blends make a whole list of promises of the benefits you'll receive if you take their supplement. Beyond Greens keeps it simple. They say two things:
Boosts energy
Improves immune health
They go on to say that their mix of ingredients, along with their four varieties of mushrooms, work together to provide energy and boost the immune system.
It's actually refreshing to see super greens blend promise a small list of health benefits. Sometimes they want to promise clear skin, improved cognitive ability, and so on. Livewell decided to keep it simple with their benefits portion and focus on what most people who look for super greens blends want: energy and health.
It's refreshing to see. In an industry where manufacturers tend to list every conceivable benefit that might apply, Livewell decided just to focus on two benefits. They likely did this when creating the super greens blend as well – focus on specific health benefits instead of everything.
When they set out to create Beyond Greens, they say they were setting out to make a new type of multivitamin. Something that would give you everything you need, but does it in a different way. Instead of blasting your body with vitamins, they work on improving multiple areas of your health in ways that will impact your entire body positively.
Livewell decided to publish their entire ingredient list and the ingredient weights, and we love it. It's rare to see a super greens blend actually have their ingredient weights listed right in plain sight. This way, it's possible to make sure that they aren't underdosing a specific ingredient just to say that it's in the blend.
Although their ingredient list isn't quite as long as some companies, Beyond Greens is still action-packed with ingredients. Here are a few ingredients from their list that jump out at us:
Rhodiola rosea – 50 mg
Matcha powder – 200 mg
Organic cordyceps militaris – 25 mg
Chlorella – 500 mg
Milk Thistle – 200 mg
Acacia gum – 190 mg
Ceylon cinnamon – 314 mg
You may also be interested in: Our Recommended Greens Powder
Combined, all of their ingredients add up to be what they describe as a "potent powder" that will aid you in your health journey. They say that the ingredients in this blend are largely focused around the immune-boosting benefits found throughout a number of different mushrooms, combined with other more well-known ingredients.
Additionally, they state that there are carefully chosen probiotics that will help your microbiome increase in functionality, which is what leads to better digestive health. Better digestive health leads to increased energy, which helps support your entire body.
They also specify the number of things that aren't in their product:
Dairy Free, Soy Free, Shellfish Free, No GMOs, Preservative free, Gluten free
All of this adds up to a supplement that people with all types of dietary needs can take without issue. We're happy to see that they took such great care in crafting their product that people from all walks of life can take it without worrying about what's in it.
It's clear that Livewell puts a huge amount of attention and emphasis on sourcing their products. Not only do they want the highest quality ingredients, but they also want to be sourced ethically.
Something that we specifically appreciate about their product is that every batch they make is tested by a third party. This party tests the potency and ingredients, plus also making sure that there's nothing else in the blend that shouldn't be.
Something that jumps off the page when looking at their reviews is that they specifically say that they never use incentives to solicit or influence reviews. That shows integrity and it's something we like to see.
Out of 10 ratings, they have a perfect five stars. Let's take a look at what a few of the customers have to say:
I absolutely LOVE this product! I'll put a scoop in my daily fruit smoothie and it's absolutely delicious. I had horrible brain fog and didn't feel like myself so decided to try this out. I'm back to normal and happier than ever :)" – Krystina
It's great to hear that this blend has helped someone improve their health. That speaks quite highly of the product. Let's look at another five-star review:
Holy cow! I cannot say enough good things about these greens. I was a coffee fiend, often drinking two cups in the morning, and still feeling tired and foggy. My energy levels and overall health feel like they came from a straight-up different person. Taste is pretty fantastic considering the amount of goodness packed in!! (I made a cup for my brother-in-law and he didn't believe me that I didn't add any honey or sweetener! I wouldn't say they're overly sweet though) If you're wondering if these are for you, give them a try!!" – Annie F.
Replacing a coffee habit alone is well worth the money, plus you'll get other benefits along with it.
We can say without a doubt that they have a handful of happy customers. Usually, there's at least one four-star review in the mix, but since they only have 10 reviews, it makes sense that they would be missing a few bad ones.
It's time to get down to the numbers and evaluate the product. When it comes to buying the product, they have six different options.
They have three options for making a one-time purchase and three options for making a subscription purchase. While we aren't here to review their eCommerce decision, it is quite a lot to look through when deciding to make a purchase.
Instead of evaluating every combination of quantity discounts and subscription savings, we're just going to take a look at one bag purchased one time:
Price: $39.99
Servings: 30
Price per serving: $1.33
A price per serving of $1.33 is on the lower end of the spectrum that we've seen in the world of super greens blends. This supplement definitely aimed to be affordable. Considering you can get steeper discounts if you buy more than one at a time, or subscribe, the price per serving is incredible.
Is it worth it? We would say that it's most likely worth it. They promise very reasonable health benefits, provide a full ingredient list, and the price is low.
We recommend this product. Livewell Beyond Greens is an extremely affordable super greens supplement. On top of that, they also disclosed their ingredient list and ingredient weights.
It's exceedingly rare to see a super greens company disclose their ingredient weights. Livewell decided to turn the industry on its head by providing the weights of what's in their blend. Providing the weights shows us that they aren't underdosing and that we'll actually receive the health benefits of those ingredients.
We suggest buying a single bag one-time and see how you feel. Do you receive a boost of energy after you drink it? You might not feel the other promised effects, at least not immediately. It sure is hard to evaluate your own gut health.
That being said, if the drink is tasty and you feel an energy boost, the price per serving is so low that replacing your coffee with this will actually save you money. Give it a try!
Our Recommended Greens
Among the best in green superfood powders is SuperGreen TONIK.
Its amazing how this supplement combines organic greens, brain and immune nutrients, all in one easy, great tasting drink. Plus, you get all the vitamin and mineral you need each day.
Learn more about SuperGreen TONIK
Author Profile
Karen

Hi, I am Karen. Huge fan of superfoods and juicing, and relatively new to super greens powders! I am thoroughly enjoying trying all the brands and giving my feedback to help you make your decision.
Sours: https://www.supergreensexpert.com/livewell-beyond-greens-review/
Beyond Greens Review
As an Amazon Associate I earn from qualifying purchases.
Updated August 31, 2021
LiveConscious Beyond Greens (rebranded from LiveWell Beyond Greens) is a green powder supplement designed to help improve energy, digestion, and immunity. In this Beyond Greens review, we will analyze the Supplement Facts Panel, customer reviews, and more in order to come to a conclusion about the product.
LiveConscious is a reputable company in this space, so we were excited to post our review of their greens powder when we first discovered it. However, upon further examination of the nutrition label, we became severely disappointed.
While we do not recommend LiveConscious's Beyond Greens product based on a variety of factors that will be discussed throughout this review, you can learn about a few green drinks we do recommend here: Best Superfood Powders.
Beyond Greens review 2021: Is LiveConscious Beyond Greens any good?
Beyond Greens provides an abysmal 2,650 milligrams worth of superfoods per serving, which is an extremely low number compared to the top shelf superfood supplements the market has to offer.
To put it into perspective, our top rated greens supplement provides 15,000 milligrams worth of superfoods per serving, making it literally 500% more potent than Beyond Greens. This may actually be the weakest greens powder we have ever reviewed on this site.
Again, we had high expectations from LiveConscious, so this is pretty disappointing, but not to worry…there are plenty of highly potent green drink supplements out there for consumers to choose from.
Where to buy Beyond Greens at the best price
First of all, how much does Beyond Greens cost? Let's take a look at where to buy Beyond Greens & get the cheapest deal on prices:
Are there any Beyond Greens coupon codes or promo discount vouchers?
At the time of writing, there are no active Beyond Greens coupon codes. In my opinion, even if you can find a discount code for Beyond Greens, it is still not worth buying it. The overall potency is still far too low, and there simply is not enough greens in the product.
Coupon codes are great for saving money on high quality products, but what good is a discount if you're not even getting a quality supplement?
What does Beyond Greens do?
What does Beyond Greens do for you? Beyond Greens is a combination of several powerful superfoods that are designed to help improve immunity, digestion, and energy. Superfoods are rich in vitamins, minerals, and antioxidants and can produce a lot of benefits as a result.
However, more superfoods = more benefits, and in this case there simply isn't enough superfoods. It's worth spending a few extra bucks to get a higher quality greens supplement that provides an extra several thousand milligrams worth of superfoods per serving.
Beyond Greens ingredients list
Here are the primary ingredients in the Beyond Greens formula:
Rhodiola rosea
Matcha powder
Reishi mushroom
Cordyceps militaris
Turkey tail mushroom
Lion's mane mushroom
Chlorella
Milk thistle
Cinnamon
Rhodiola Rosea
Rhodiola Rosea is what is most commonly referred to as a nootropic. Nootropics are supplements that help enhance brain function. Rhodiola can be helpful with improving energy levels, mental clarity, and cognitive function.
Matcha Powder
Matcha is most commonly consumed in tea drinks, but it can be even more beneficial when utilized as a concentrated powder. It is extremely rich in powerful antioxidants that improve blood flow, energy, and organ function.
Reishi Mushroom
Reishi mushroom has been used for ages as a natural way to fight off infections. It's believed to have powerful immune boosting effects and is included in many superfood powder formulas for that reason.
Cordyceps Mushroom
Cordyceps can produce anti-inflammatory benefits and is said to have potential anti-aging properties. There's a reason the term "superfood" exists, and Cordyceps definitely has earned that title.
Chlorella
Chlorella is one of the most powerful superfoods known to man. It is able to bind to heavy metals, which then leads to effective detoxification. As a result, it can help lower cholesterol and improve blood sugar levels. Chlorella is a must in any greens supplement formula.
LiveConscious Beyond Greens nutrition facts
Above is a photo I took of the Beyond Greens nutrition facts after having ordered the product and testing it out. As you can see, the dosages of most ingredients are very small with the exception of the three primary nutrients. Here's a breakdown…
Beyond Greens Nutrition Facts
Beyond Greens dosage: How much Beyond Greens should you take & when?
According to LiveConscious, Beyond Greens is best taken once daily with a glass of water. They recommend mixing in one scoop with the drink of your choice once per day. We would recommend mixing it with juice or in a smoothie because if you mix it with plain water, it tastes pretty bad.
Beyond Greens pros and cons
Here are the benefits and side effects of Beyond Greens.
Beyond Greens Benefits
Beyond Greens does not have a very long list of superfoods compared to the top shelf green drinks, but it still has the potential to produce benefits to some extent. Based on the ingredient selection and dosage sizes, we believe some of the Beyond Greens benefits may be:
Elevated energy levels
Enhanced cognitive function
Anti-inflammatory effects
Detoxifying effects
Beyond Greens Side Effects
It's very rare for greens supplements to cause side effects because all they consist of is vegetables, fruits, vitamins, minerals, and other natural nutrients. All of the ingredients are organic. Usually the only side effect is mild stomach discomfort with the first couple of dosages.
However, possible Beyond Greens side effects may include headaches and anxiety. This is due to it containing a pretty strong nootropic component, which is known to create such side effects.
Beyond Greens complaints & praise (info from real customer LiveConscious Beyond Greens reviews)
There's over 1,000 LiveConscious Beyond Greens reviews on Amazon. We like to look at Amazon reviews because they only allow verified buyers of the product to submit reviews, so we can trust the data.
Across 800+ customer reviews, it received an average rating of 4.4 stars out of 5, which is pretty good. 68% of Beyond Greens reviews contain 5-star ratings, which is an encouraging sign.
It appears that the overall sentiment is positive, but that doesn't change the fact that this formula severely lacks potency. Our #1 greens supplement recommendation is literally 500% more potent…think about that for a second.
Is Beyond Greens good or bad? Our conclusion
In conclusion, Beyond Greens is definitely not worth it in our opinion. It contains a lot of great ingredients, but we see no reason to recommend a supplement this weak when we know there are supplements out there that provide 4-5 times more nutrients per serving. We recommend avoiding Beyond Greens and choosing a top ranked greens powder instead.

Beyond Greens LiveConscious FAQs
Does Beyond Greens have probiotics in it?
Yes, Beyond Greens does contain probiotics. However, the serving size is pretty small at only 300 million CFU. This may sound like a lot, but compared to its competitors, this dosage is actually pretty weak. The probiotics dosage should realistically be about 2-3 times larger.
What does Beyond Greens taste like?
Since they added a bunch of salt, stevia, and other natural flavors, the Beyond Greens actually tastes pretty decent. The problem is that salt and stevia are both bad for you, and the inclusion of these ingredients is not worth the effect they have on taste.
How many carbs are in Beyond Greens?
One serving of Beyond Greens contains 5 grams of total carbs. This is a pretty low amount of carbs, which is a natural result of the formula lacking potency in general. There can't be a lot of carbs if there's not many nutrients to begin with.
Does Beyond Greens need to be refrigerated?
No, Beyond Greens does not need to be refrigerated. The instructions on the label simply say to store it in a cool dry place. This is the case with pretty much every greens powder supplement. I personally just store my greens powders in my kitchen cabinet.
Sours: https://thesupplementreviews.org/best-greens-powder/beyond-greens-review/
Greens livewell beyond
Beyond Greens Review – Is This Live Conscious Supplement Worth Trying?
If there's one thing we all want in life, it's pristine and optimum health on a daily basis. When we achieve that, it gives us the wherewithal to bring all our other dreams, wishes, and desires to reality — no matter what those dreams, wishes, and desires are. Your health means everything.
Unfortunately, achieving pristine and optimum health is much easier said than done. Some people need to invest in healthier habits, while some people suffer from conditions that make it hard to obtain. Either way, we could all use a little help in this area — every single one of us.
With the supplement market growing more vast in its offerings every single year, the amount of daily help available when improving your health is astounding. Some supplements focus on helping one area of your daily health, while others improve your health in a variety of ways.
Today, we're going to be breaking down a supplement that helps your body in a variety of ways. It's called Beyond Greens, and it contains quite the list of ingredients. Don't worry; we're going to teach you everything you need to know about this supplement and what it does for the body. So, let's dive into this review of Beyond Greens to see if this Live Conscious (formerly LiveWell) supplement is worth buying and adding to your routine.
What Is Beyond Greens?
Beyond Greens is a nutritional supplement that claims to do a lot for your body. The formula is developed by a company named Live Conscious, and they have a wide range of different supplements available today. Beyond Greens is one of the most popular of the bunch.
They operate with the mantra, "my mind is sharp, my body healthy, my spirit at ease." They've also partnered with the Eden Reforestation Project in a pledge to help plant one million trees over the course of the year — something they're dedicated to and fully intend to accomplish.
The Beyond Greens formula contains a whopping 14 ingredients and is intended to improve daily energy, immunity, and full-body detox. Don't worry; it's not a proprietary blend, and each ingredient's dosage is accounted for on the back of the label — which is extremely important!
Despite having 14 different ingredients in the formula, it still finds a way to be dairy-free, vegan-friendly, gluten-free, GMP-certified, non-GMO, keto-friendly, soy-free, preservative-free, and shellfish-free. They also offer a 365-day 100% money-back guarantee if you don't like it.
If you're someone that likes to do their homework before investing in a supplement, you've come to the right place. We're going to discuss some of the highlights with this formula, including what it is, how it works, the ingredients involved, and how much it costs below!
What does the immune system do?
The immune system is made up of cells and proteins — including white blood cells, antibodies, the lymphatic system, the complement system, the thymus, the spleen, and bone marrow — that are tasked with protecting the body from germs, bacteria, viruses, parasites, fungi, and more.
Anytime your immune system comes in contact with one of these germs, it makes a record of it in the form of white blood cells — also known as memory cells. That way, it recognizes the germ if it re-enters the body, allowing the immune system to quickly and effectively ward it off again.
Without a healthy immune system, your body is prone to injury, infection, disease, and so much more. The body actually has two different immune systems. The innate system is the immune system your body is born with. The acquired system is the one you gain through exposure.
There are several responses by the body due to the immune system. For example, a fever (rise in body temperature) is an immune system response. The same goes for inflammation, mucus, cough reflexes, and stomach acid — all of which are responses by the immune system.
Why do we need a healthy gut?
Your gut is one of the most important groups of organs in the entire body. It's where a majority of the food we digest is broken down into usable nutrients that spread throughout the body by way of the bloodstream. Without a healthy gut, you can face a wide range of health issues.
The gut is made up of the stomach, oesophagus, mouth, gallbladder, liver, pancreas, small intestine, colon, and rectum. There are trillions of bacteria that live in the gut. Believe it or not, there are both good and bad bacteria living there — all of which are needed for a healthy gut.
One of the main issues people face is an unhealthy balance of good and bad bacteria. While there's no exact number, many researchers suggest the gut should be made up of around 85% good bacteria and 15% bad bacteria. Any more bad bacteria than that could cause issues.
In fact, gut health is important to a healthy immune system because a large amount of the immune system is found in the gut. The gut also produces hormones and communicates with the brain through nerves, which contributes to overall health and well-being on a daily basis.
What are probiotics and prebiotics?
Anytime you talk about gut health, it's important to talk about probiotics and prebiotics. They're two types of supplements that help improve the bacteria found in the gut. Like we mentioned above, we all need a healthy balance of both good and bad bacteria in the gut for well-being.
Unfortunately, many of us have much more bad bacteria than we need. When bad bacteria start to take over the gut, it's important we reverse it as soon as possible. This is often done with antibiotics, which kill and reduce the amount of bad bacteria found in the gut.
Of course, antibiotics also kill good bacteria. That's where probiotics come into play. Probiotics are tiny, living microorganisms that are known as good bacteria. There are a ton of different species. When you take probiotics, it helps increase the amount of good bacteria in the gut.
Probiotics are generally taken any time you take antibiotics. They're also found in some foods, such as yogurt. You also have prebiotics, which is essentially food and fuel to help the probiotics function properly. Since probiotics are microorganisms, they need food just like us!
What are functional mushrooms?
Functional mushrooms are a special type of mushroom that is gaining widespread popularity in the Western world, with companies like Four Sigmatic making them a supplement staple — despite being popular in other parts of the world for hundreds and even thousands of years. There are roughly 14 different mushroom species found in this category.
Most people fear functional mushrooms because they think they'll make you hallucinate and have psychoactive effects on the mind and body. This is not the case. Instead, functional mushrooms are popular for their nutritional and functional benefits — as the name suggests.
The main functional benefit that all functional mushrooms share is their effect on the body's immune system and digestive system. With that said, they each come with their own unique benefits in addition to that. For example, they might improve energy, cognitive function, etc.
Some of the most popular species of functional mushrooms include Reishi, Cordyceps, Turkey Tail, Chaga, Lion's Mane, Shiitake, Maitake, Enokitake, Tremella, and Oyster. Four of those are actually found in the Beyond Greens formula, which we'll discuss in more detail below!
Beyond Greens Ingredients
Now that we've gone over some of the background information about the ingredients in the Beyond Greens formula, we can start discussing the actual ingredients in more detail. Don't worry; we'll go one by one to ensure you know exactly what to expect with this formula.
There are 14 ingredients in total, which is quite the amount of ingredients. They include Acacia Gum, Rhodiola rosea, Matcha powder, Turkey Tail, Lion's Mane, Reishi, Cordyceps, Chlorella, FOS, XOS, Echinacea Purpurea, Milk Thistle, LactoSpore, and Ceylon Cinnamon. Let's dive in!
Rhodiola Rosea
Benefits: adaptogenic properties, reduces stress and anxiety, fights fatigue, reduce symptoms of depression, improves brain function, enhances exercise performance, can help control diabetes, and may have anti-cancer properties
Source: popular adaptogenic herb that has been used in Russia and Scandinavia for hundreds of years, grows in cold and mountainous regions of Europe and Asia, over 140 active ingredients (rosavin and salidroside are most potent)
Recommended Dosage: 400-600mg per day
Side Effects: no known side effects; it's safe and well-tolerated in individuals
Matcha Powder
Benefits: rich with antioxidants and catechins, helps protect the liver by flushing out toxins, helps the body process nutrients, improves reaction time, attention, and memory, contains caffeine and l-theanine, has anti-cancer properties, promotes heart health, enhances weight loss,
Source: comes from the Camellia sinensis plant (same as green tea), tea plants are covered 20-30 days before harvest (increases chlorophyll production and amino acids), tea leaves are then ground up into matcha powder
Recommended Dosage: 1,000-4,000mg per day
Side Effects: caffeine overdose in high doses (35mg of caffeine per 1,000mg, 140mg per 4,000mg)
Reishi Mushroom
Benefits: boost the immune system, enhances inflammation, reduces stress with adaptogenic properties, has anti-cancer properties, fights fatigue and depression, helps control blood sugar, improves heart health, and rich in antioxidants
Source: also known as Ganoderma lucidum, grows in hot and humid conditions in Asia, contains high amounts of triterpenoids, polysaccharides, and peptidoglycans
Recommended Dosage: 1,000-1,500mg per day (extract)
Side Effects: upset stomach and digestive distress when taken in high doses
Cordyceps Mushroom
Benefits: improves ATP production, increases energy, improves the way the body uses energy, enhances exercise performance, anti-aging properties, reduce fatigue, increase sex drive, boosts heart health, and helps fight inflammation
Source: also known as Cordyceps militaris, known for growing on the back of larvae insects, they need a host in order to grow, largely found in Asia, but are grown all over the world
Recommended Dosage: 1,000-3,000mg per day
Side Effects: no known side effects when taken as directed, safe and well-tolerated
Lion's Mane Mushroom
Benefits: protects against dementia, improves brain function and memory, relieves symptoms of depression and anxiety, decreases inflammation, protects against ulcers in digestive tract, reduces risk of heart disease, has anticancer and anti-diabetes properties, boosts immune system, and reduces oxidative stress
Source: also known as Hericium erinaceus, resembles a lion's mane with its shaggy white structure, largely found in Asian countries, but grown all over the world, has a seafood-like flavor
Recommended Dosage: 500-3,000mg per day
Side Effects: most side effects are present with allergies, well-tolerated by others
Turkey Tail Mushroom
Benefits: boosts the immune system, rich with antioxidants, reduces inflammation and oxidative stress, boosts gut health and good bacteria by providing prebiotics, might improve insulin resistance, and improves athletic performance
Source: also known as Trametes versicolor, named the turkey tail due to its resemblance and vibrant color structure, can grow on dead or alive trees, commonly found across North America, but grown all over the world
Recommended Dosage: 1,000-3,000mg per day
Side Effects: some people might experience gas, bloating and dark stools when taken in high doses
Chlorella
Benefits: very nutritious, known as a superfood, binds to heavy metals, assists body with detox, enhances the immune system, lowers cholesterol, acts as an antioxidant, reduces inflammation and oxidative stress, regulates blood pressure and blood sugar, and enhances aerobic endurance
Source: nutrient-dense, single-celled, freshwater green algae that has over 30 different species, it has a hard cell wall that the body can't digest, most of the chlorella found in the United States likely comes from Japan or Taiwan
Recommended Dosage: 1,500-3,000mg per day
Side Effects: generally recognized as safe by the FDA, could experience nausea and abdominal discomfort in high doses
Echinacea Purpurea
Benefits: rich with antioxidants, reduces inflammation and oxidative stress, improves immune system, lowers blood sugar levels, reduces anxiety, can help treat skin concerns, and has anticancer properties
Source: also known as purple coneflower, used by Native Americans for hundreds of years, grown in prairies and wooded areas, contains caffeic acid, alkamides, phenolic acids, rosmarinic acid, and polyacetylenes, the upper parts and roots are used
Recommended Dosage: 300-1,000mg per day
Side Effects: itchy skin, rashes, swelling, stomach discomfort, nausea, and shortness of breath when taken in high doses
Milk Thistle
Benefits: protects the liver against toxins, has antioxidant properties, reduces inflammation and oxidative stress, prevents age-related cognitive decline, protects the bones, boosts breast milk production, improves cancer treatment, helps treat acne, and lowers blood sugar levels
Source: also known as Silybum marianum, a prickly plant with white veins and purple flowers, contains silymarin (active compounds), originally used by Greek physician and botanist Dioscorides from 40-90 AD
Recommended Dosage: 200-500mg per day
Side Effects: generally regarded as safe, but some people experience diarrhea, nausea, or bloating when taken in high doses
LactoSpore
Benefits: supplies the gut with probiotic bacteria, improves gut health, improves immune system, improves digestion
Source: probiotic preparation from a company called Sabinsa, contains lactic acid-producing bacteria from Bacillus coagulans
Recommended Dosage: n/a
Side Effects: increase in stomach gas and bloating when taken in high doses
FOS
Benefits: supply probiotics with fuel (prebiotics, non-digestible), supports the growth of healthy bacteria in the gut, helps suppress bad bacteria, decreases cholesterol levels, noncarcinogenic, and a good source of fiber
Source: also known as Fructooligosaccharides, a type of carbohydrate that's non-digestible, commonly found in bananas, garlic, onion, leeks, asparagus, and chicory root, used as an alternative to sugar or as prebiotics
Recommended Dosage: n/a
Side Effects: can cause abdominal distress, cramps, diarrhea, and bloating when taken in high doses
XOS
Benefits: supply probiotics with fuel (prebiotics, non-digestible), supports the growth of healthy bacteria in the gut, doesn't feed bad bacteria
Source: also known as Xylooligosaccharides, a lesser-known prebiotic, growing popular because it doesn't require as big of a dosage to be beneficial
Recommended Dosage: n/a
Side Effects: can cause abdominal distress when taken in high doses
Acacia Gum
Benefits: relieves pain and irritation, improves wound healing, promotes oral health, good source of fiber, reduces body fat, soothes coughs and sore throats, restricts blood loss, and improves digestion
Source: also known as Acacia senegal (L.) Willd, known to be used in ancient Egypt and Australia, comes from a family of different plants and trees
Recommended Dosage: n/a
Side Effects: n/a
Ceylon Cinnamon
Benefits: Rich with antioxidants, reduces inflammation and oxidative stress, controls blood sugar, reduce the risk of Alzheimer's disease
Source: also known as true cinnamon, comes from the inner bark of the Cinnamomum verum tree, the lesser-known but more expensive type of cinnamon
Recommended Dosage: n/a
Side Effects: can cause liver issues when taken in high doses
Beyond Greens Dosage, Packaging, and Pricing
The Beyond Greens formula comes in powdered form, but it won't come in the normal jug you find most powdered supplements in. Instead, it comes in a bagged pouch that has quite a simple design. It's mostly an off-white color, but has a green bottom for some color adversity.
On the front of the package, it notifies consumers of its light matcha flavor and claims to be for energy, immunity, and detox with its superfood blend that features mushrooms, probiotics, and echinacea. The back of the pouch has a small description and the supplement facts.
Here's a quick look at the dosages found on the supplement facts:
Rhodiola Rosea – 50mg
Matcha Powder – 200mg
Organic Reishi Mushroom – 25mg
Organic Cordyceps Mushroom – 25mg
Organic Turkey Tail Mushroom – 25mg
Organic Lion's Mane Mushroom – 25mg
Chlorella – 500mg
Echinacea Purpurea – 900mg
Milk Thistle – 200mg
LactoSpore – 300 Million CFU
FOS – 190mg
XOS – 20mg
Acacia Gum – 190mg
Ceylon Cinnamon – 314mg
Each serving size is one scoop, which is just 3.7 grams of powder. That means it'll be easy to mix with water, while avoiding any large clumps while drinking it. Every pouch comes with 30 servings (30 scoops) and will last you one month when taking one scoop per day.
Beyond Greens is available directly from the official Live Conscious website. They offer the ability to purchase Beyond Greens in various quantities with a sliding price scale, so if you really like Beyond Greens you can purchase a larger quantity for a smaller price per jar.
Pricing for a one-time purchase of Beyond Greens:
Something worth noting, Live Conscious also offers a subscribe and save option with additional discounts. We'll break down the subscription pricing and discounts below.
Subscription pricing for Beyond Greens:
We scour the web for the best deals on supplements. Want up to 38% off Beyond Greens? Click the button below to get this deal!GET THE DEAL
Beyond Greens Pros vs. Cons
It doesn't matter how many supplements you do your research on; you'll never come across a perfect supplement. There will be pros and cons to each one — even the ones that are 100% safe and most effective. That's why it's important to weigh your options every single time.
Don't worry; we're going to make that process extremely easy for you by taking everything we've learned about the Beyond Greens formula and putting it on a pros vs. cons list. We'll detail everything we like about the formula, as well as everything we don't like about it!
Pros
Rhodiola Rosea helps relieve stress and anxiety
Matcha powder contains a little bit of caffeine and l-theanine
Reishi and Turkey Tail mushrooms are excellent for the immune system and digestion
Lion's Mane mushroom improves cognitive function
Cordyceps enhances energy and ATP production
Chlorella and Milk Thistle improve the immune system and assist the body with detoxification
Echinacea purpurea is rich with antioxidants and improves the immune system
LactoSpore provides the gut with healthy probiotics (good bacteria)
FOS and XOS are excellent prebiotic sources and help fuel probiotics
Acacia gum improves digestion and is a good source of fiber
Ceylon Cinnamon is the prized form of cinnamon and is loaded with antioxidants
Dairy-free, vegan-friendly, gluten-free, GMP-certified, non-GMO, keto-friendly, soy-free, preservative-free, and shellfish-free
365-day, 100% money-back guarantee
Not that expensive at $1.33 per serving
Only 3.7 grams of powder per scoop, which easily mixes in water without clumping
Shouldn't have any major side effects, unless not taken as directed
Manufactured in the USA and 3rd-party tested
Cons
Dosages of functional mushrooms are extremely small (almost to no effect)
Very small doses of Chlorella, Rhodiola Rosea, and Matcha Powder
Not a lot of caffeine, so not a huge energy boost
Has a light matcha flavor, but flavor won't be that mesmerizing
Would've been better with higher doses and less ingredients
Claims vs. Reality
The Beyond Greens formula is packed with some of the most effective ingredients available in supplements today — especially when searching for an immune-boosting, detox-improving, and energy-enhancing supplement. All 14 ingredients come with a lot of scientific evidence for proof.
Unfortunately, the doses of each ingredient are extremely low, except that of Echinacea purpurea. Even the amount of probiotics is rather small compared to other products. With that said, it's going to be perfect for those looking for something that's light and easy to digest.
It's a shame the functional mushrooms (all four of them) only combine for 100mg, as well as the 50mg of Rhodiola Rosea. At that point, you're better off taking them out of the formula with a higher dose of some of the other ingredients. It just seems like they could've done better here.
Beyond Greens Competitors and Alternatives
While Beyond Greens uses a wide range of very effective ingredients, the formula isn't carefully put together — mainly regarding the doses. If you're looking for something that improves your body in a wide variety of ways, there are better options out there.
Two that we suggest are the HealthyCell Pro AM/PM Cell Health System and the Dr. Cabral Detox by Equilibrium. They're a little more expensive, but they do so much for your body, have well-thought-out formulas, and give yourself all-day protection from life's biggest stressors.
Let's take a closer look at each one!
HealthyCell Pro AM/PM Cell Health System
The HealthyCell Pro AM/PM Cell Health System is a supplement in capsule form. There are actually two different supplements in the system, a morning formula and an afternoon formula. They're designed to give your body the nutrients it needs for optimum function all day long.
The morning formula is more geared towards supplying the body with energy, focus, mental clarity, and optimal cell function. It allows you to get the most out of your day and gives you the start that you're always hoping for. There are a total of 75 ingredients in this formula alone.
The evening formula is more geared towards helping the body wind down after a tough day. It's very important your body receives the rest and relaxation it needs daily. The 61 ingredients found in this formula do just that. Together, the morning and evening formulas are exquisite.
Dr. Cabral Detox by Equilibrium
The Dr. Cabral Detox by Equilibrium is more of a detox cleanse than anything else, but the products that are used in the cleanse are really the home-run hitters. You don't necessarily have to follow the cleanse, but you can definitely get a lot of use out of the products that come with it.
The Daily Nutritional Support is loaded with vitamins, minerals, protein, and other necessary nutrients for daily support. The FM Detox has vitamin C, selenium, N-acetyl Cysteine, Glycine, L-Carnitine, L-Methionine, taurine, L-Glutamine, Alpha-Lipoic acid, and two herbal blends.
Lastly, the AYU Detox contains several Ayurvedic extracts, including emblica officinalis, terminalia bellerica, terminalia chebula, ginger root, and turmeric rhizome. The FM Detox and AYU Detox are in capsule form, while the Daily Nutritional Support comes in powder form.
Final Verdict: Beyond Greens
It's not that the Beyond Greens supplement is bad or anything. In fact, the ingredients included are extremely popular and well-researched, with scientific evidence supporting them. The main issue is the dosages, which aren't exactly high enough to do much for the body.
You'll likely get some benefit out of the formula, but don't bank on too much. If you're looking for something that's much more extensive, you're better off going with the HealthyCell Pro AM/PM Cell Health System. For a third option, the Dr. Cabral Detox isn't a bad alternative.
Either way, you should always take care of your body by exercising often, eating a healthy and balanced diet, sleeping well, and reducing the amount of stress in your life. Supplements can help, but they shouldn't be the end-all solution.
More reviews of LiveWell products:
Beyond Greens Review
Ingredient Quality
Price
Company Trustworthiness
Comparison to Alternatives
Value
Summary
Beyond Greens is a gluten-free, soy-free Vegan blend manufactured by Live Conscious (formerly LiveWell). This supplement contains a powerful blend of vitamins, minerals, and probiotics from natural food sources such as mushrooms, milk thistle, Rhodiola Rosea, and acacia. It claims to help boost immunity, energy, and mental wellness as well as improve mood and digestion. Can this supplement really help improve your physical strength and energy? Find out in our complete review of Beyond Greens.
References
Therapeutic Effects And Safety Of Rhodiola Rosea Extract WS® 1375 In Subjects With Life-stress Symptoms--results Of An Open-label Study http://www.ncbi.nlm.nih.gov/pubmed/22228617
A Double-blind, Placebo-controlled Pilot Study Of The Stimulating And Adaptogenic Effect Of Rhodiola Rosea SHR-5 Extract On The Fatigue Of Students Caused By Stress During An Examination Period With A Repeated Low-dose Regimen http://www.ncbi.nlm.nih.gov/pubmed/10839209
A Randomized Trial Of Two Different Doses Of A SHR-5 Rhodiola Rosea Extract Versus Placebo And Control Of Capacity For Mental Work http://www.ncbi.nlm.nih.gov/pubmed/12725561
Acute Rhodiola Rosea Intake Can Improve Endurance Exercise Performance http://www.ncbi.nlm.nih.gov/pubmed/15256690
Six-week Supplementation With Chlorella Has Favorable Impact On Antioxidant Status In Korean Male Smokers http://www.ncbi.nlm.nih.gov/pubmed/19660910
Salivary Secretory Immunoglobulin A Secretion Increases After 4-weeks Ingestion Of Chlorella-derived Multicomponent Supplement In Humans: A Randomized Cross Over Study http://www.ncbi.nlm.nih.gov/pubmed/21906314
Anti-hypertensive Effect Of Gamma-aminobutyric Acid (GABA)-rich Chlorella On High-normal Blood Pressure And Borderline Hypertension In Placebo-controlled Double Blind Study http://www.ncbi.nlm.nih.gov/pubmed/19811362
Milk thistle in liver diseases: past, present, future https://pubmed.ncbi.nlm.nih.gov/20564545/
The therapeutic potential of milk thistle in diabetes https://pubmed.ncbi.nlm.nih.gov/25396404/
Silymarin/Silybin and Chronic Liver Disease: A Marriage of Many Years https://pubmed.ncbi.nlm.nih.gov/28125040/
Cinnamon: A Multifaceted Medicinal Plant https://www.ncbi.nlm.nih.gov/pmc/articles/PMC4003790/
Anti-oxidant effects of cinnamon (Cinnamomum verum) bark and greater cardamom (Amomum subulatum) seeds in rats fed high fat diet https://pubmed.ncbi.nlm.nih.gov/10641152/
Anti-inflammatory activity of cinnamon (C. zeylanicum and C. cassia) extracts - identification of E-cinnamaldehyde and o-methoxy cinnamaldehyde as the most potent bioactive compounds https://pubmed.ncbi.nlm.nih.gov/25629927/
Cinnamon: Potential Role in the Prevention of Insulin Resistance, Metabolic Syndrome, and Type 2 Diabetes https://www.ncbi.nlm.nih.gov/pmc/articles/PMC2901047/
The effects of the aqueous extract and residue of Matcha on the antioxidant status and lipid and glucose levels in mice fed a high-fat diet https://pubmed.ncbi.nlm.nih.gov/26448271/
Matcha, a powdered green tea, ameliorates the progression of renal and hepatic damage in type 2 diabetic OLETF rats https://pubmed.ncbi.nlm.nih.gov/19735169/
An intervention study on the effect of matcha tea, in drink and snack bar formats, on mood and cognitive performance https://pubmed.ncbi.nlm.nih.gov/28784536/
Effects of Matcha Green Tea Powder on Cognitive Functions of Community-Dwelling Elderly Individuals https://pubmed.ncbi.nlm.nih.gov/33256220/
Green tea extract ingestion, fat oxidation, and glucose tolerance in healthy humans https://pubmed.ncbi.nlm.nih.gov/18326618/
Echinacea purpurea: Pharmacology, phytochemistry and analysis methods https://pubmed.ncbi.nlm.nih.gov/26009695/
Immunomodulation with echinacea - a systematic review of controlled clinical trials https://pubmed.ncbi.nlm.nih.gov/23195946/
Immune enhancing effects of Echinacea purpurea root extract by reducing regulatory T cell number and function https://pubmed.ncbi.nlm.nih.gov/24868871/
Enhancement of innate and adaptive immune functions by multiple Echinacea species https://pubmed.ncbi.nlm.nih.gov/17887935/
Ganoderma Lucidum (Reishi Mushroom) and cancer https://www.jbuon.com/archive/21-4-792.pdf
Spore Powder of Ganoderma lucidum Improves Cancer-Related Fatigue in Breast Cancer Patients Undergoing Endocrine Therapy: A Pilot Clinical Trial https://www.ncbi.nlm.nih.gov/pmc/articles/PMC3236089/
Ganoderma lucidum ("Lingzhi"), a Chinese medicinal mushroom: biomarker responses in a controlled human supplementation study https://www.cambridge.org/core/journals/british-journal-of-nutrition/article/ganoderma-lucidum-lingzhi-a-chinese-medicinal-mushroom-biomarker-responses-in-a-controlled-human-supplementation-study/CC461FCEFC25B893402F61174E70E85F
Monitoring of immune responses to a herbal immuno-modulator in patients with advanced colorectal cancer https://www.sciencedirect.com/science/article/pii/S1567576905002535?via%3Dihub
Preventive and therapeutic effect of Ganoderma lucidum on kidney injuries and diseases https://www.sciencedirect.com/science/article/abs/pii/S1054358919300687?via%3Dihub
The genus Cordyceps: An extensive review of its traditional uses, phytochemistry and pharmacology https://www.sciencedirect.com/science/article/abs/pii/S0367326X18305550?via%3Dihub
The potential application of Cordyceps in metabolic-related disorders https://onlinelibrary.wiley.com/doi/10.1002/ptr.6536
Efficacy of Cordyceps sinensis as an adjunctive treatment in hemodialysis patients: a systematic review and Meta-analysis http://www.journaltcm.com/modules/Journal/contents/stories/191/1.pdf
Effect Of Cs-4 (Cordyceps Sinensis) On Exercise Performance In Healthy Older Subjects: A Double-blind, Placebo-controlled Trial https://www.ncbi.nlm.nih.gov/pmc/articles/PMC3110835/
Sours: https://fitnessclone.com/beyond-greens-review/
All Natural Organic Mushrooms Supplement Review - Beyond Greens 🍄
Details about

Livewell Beyond Greens Superfood Powder Matcha w/ echinacea, probiotics detox

Shipping to: United States, Canada, United Kingdom, Australia

Excludes: Africa, Asia, Central America and Caribbean, Middle East, Southeast Asia, South America, American Samoa, Cook Islands, Fiji, French Polynesia, Guam, Kiribati, Marshall Islands, Micronesia, Nauru, New Caledonia, New Zealand, Niue, Palau, Papua New Guinea, Solomon Islands, Tonga, Tuvalu, Vanuatu, Wallis and Futuna, Western Samoa, Russian Federation, Albania, Andorra, Austria, Belarus, Belgium, Bosnia and Herzegovina, Bulgaria, Croatia, Republic of, Cyprus, Czech Republic, Denmark, Estonia, Finland, France, Germany, Gibraltar, Greece, Guernsey, Hungary, Iceland, Ireland, Italy, Jersey, Latvia, Liechtenstein, Lithuania, Luxembourg, Macedonia, Malta, Moldova, Monaco, Montenegro, Netherlands, Norway, Poland, Portugal, Romania, San Marino, Serbia, Slovakia, Slovenia, Spain, Svalbard and Jan Mayen, Sweden, Switzerland, Ukraine, Vatican City State, Bermuda, Greenland, Mexico, Saint Pierre and Miquelon

Sours: https://www.ebay.com/itm/Livewell-Beyond-Greens-Superfood-Powder-Matcha-w-echinacea-probiotics-detox-/324410024850
Similar news:
Yes, yes, forgive me, please, I was worried and told Galya, heading into the hallway. I think you have nothing to worry about Gal answered Olya calmly, handing her a coat Thanks again and can I ask you to. Forget about our conversation today and what your son told you.
Well, of course, consider that I have already forgotten everything, I hope you will be fine. Of course.
4140
4141
4142
4143
4144