Learn how to make a DIY glasses holder that looks like a face with simple wood surfaces from the craft store. This eyeglass holder is SO cute and easily customized.
If you've been around this blog for any length of time, you might have noticed that I wear glasses. The weird thing is that for many years I was not a glasses wear-er; I didn't start wearing them full time until my mid-twenties.
When I was in grade school I did have to wear them to see the chalkboard, and at one point I attempted contacts to make it easier. Unfortunately I have astigmatism and dry eyes, which means (as I discovered), that contacts get glued into one corner of your eye and become difficult to get out. This can be traumatizing for a fifth grader.
Instead of suffering with little pieces of silicone stuck to my eyeballs, I decided to just suck it up and wear glasses! For a long time it annoyed me to wear eyeglasses – but then somehow it became part of my personality.
Now I'm at the point in my life where I've considered Lasik, but at the same time, I don't know if I could or should do it. I feel like my glasses are part of me. Sometimes Steve refers to me as "teeth with glasses" because that's the first thing you see when you see me!
DIY Eyeglass Holder
If you're like me and glasses are a fashion accessory, then you probably have multiple pairs. And if that's the case, I've come up with a really cute idea for a DIY glasses holder . . . using simple supplies from the craft store!
DIY Sunglasses Holder
In addition to being an eyeglass holder, this is also a sunglasses holder as well (of course). I think it could be really fun to make this more of a beach themed display – think swimming caps and swimming suits for the outfits! Maybe even a little zinc oxide on the nose. Isn't that a cute idea?
My point is, don't let my ideas limit you. Turn this into a DIY sunglasses holder or whatever your heart desires. Make it fun!
---
In this post, I'll show you how to make a DIY glasses holder that looks like a face. What I love about this craft is that it's really modern and simple, and would look really cute in a kids' room (or a craft room or office, no judgements!). Customize it to your heart's content – skin color, hair, clothing, and more.
I've got three versions for you to check out, starting with a single face and single pair of glasses. Version two holds five pairs of glasses and version three can hold up to ten! Learn how to make it below.
Note: all glasses featured in this tutorial are from Zenni Optical. Click here to view their new arrivals!
Multiple Eyeglass Holder
Gather These Supplies
Wood plaque – various sizes, 8 – 10″
Wood circle – 3″
Wood knob – 1″
2 Wood pieces – 2″ x 5/8″ x 3/8″ (craft wood section of Michaels)
Mod Podge Hard Coat
Foam – colors to make the hair, bows, accessories
Scissors
Craft glue
Hot glue gun
Paintbrushes
Command strips (for hanging)
Patterns for the hair (optional)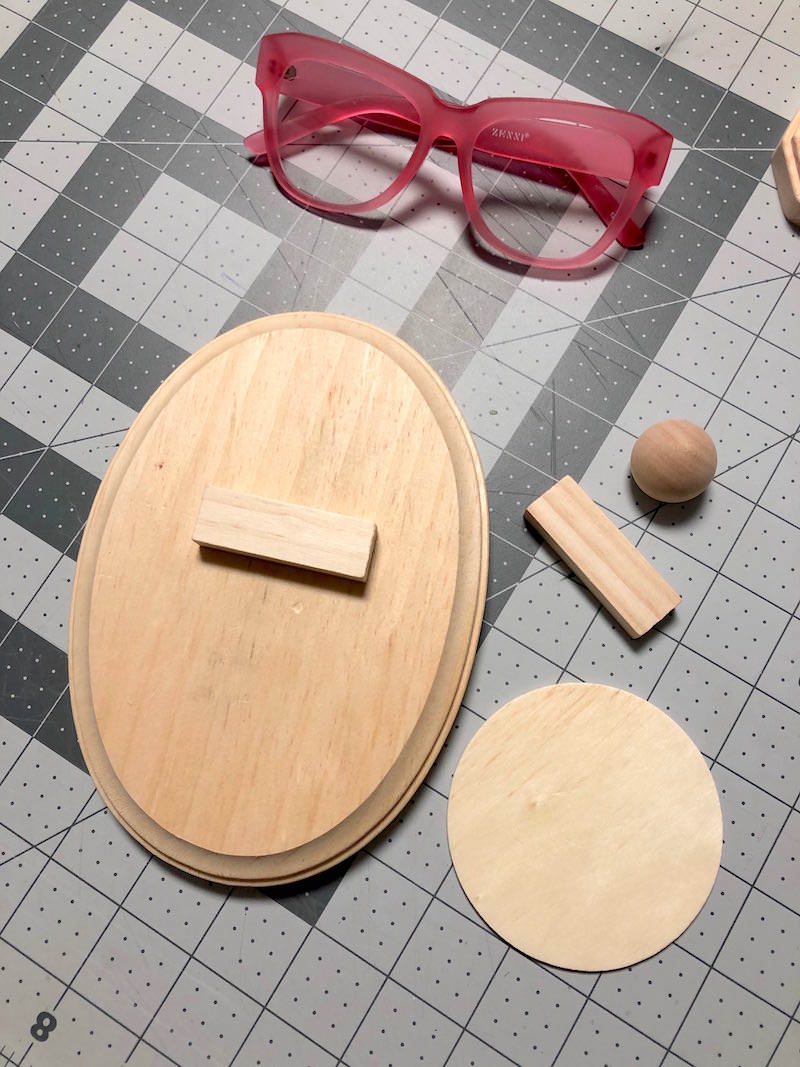 These are the pieces you'll need for your DIY glasses holder. I bought all of them at Michaels! Everything was in the wood section. The wood circles and knobs were hanging from pegs.
The smaller wood rectangles were also in the wood section, and they don't have to be exactly that size. You'll see how it all fits together below . . .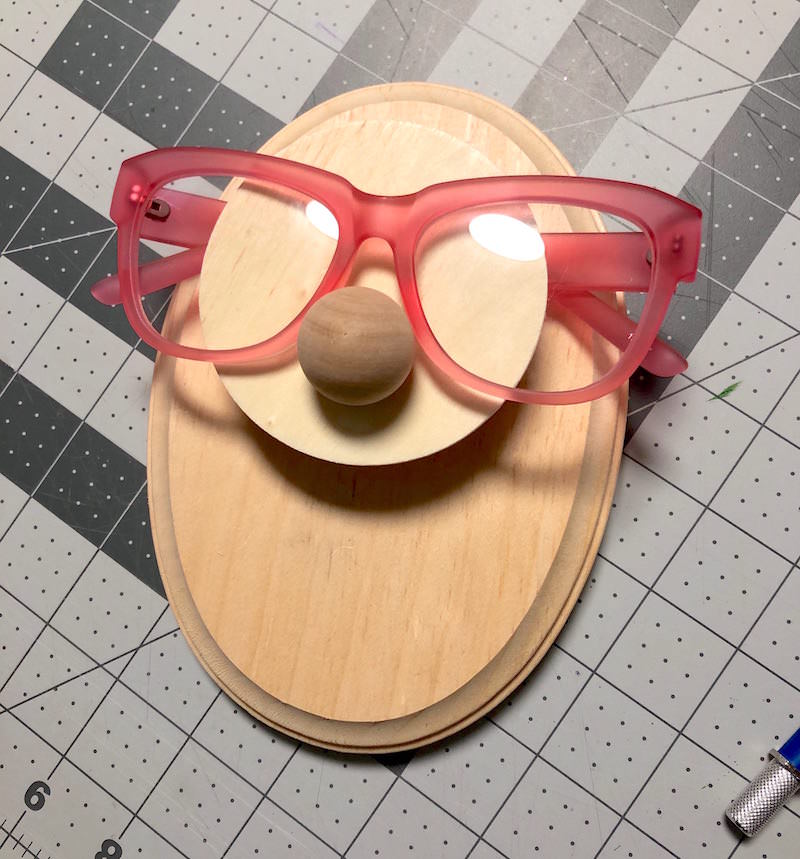 Your glasses will balance on the wood knob as the nose, and the wood circle will hold them secure.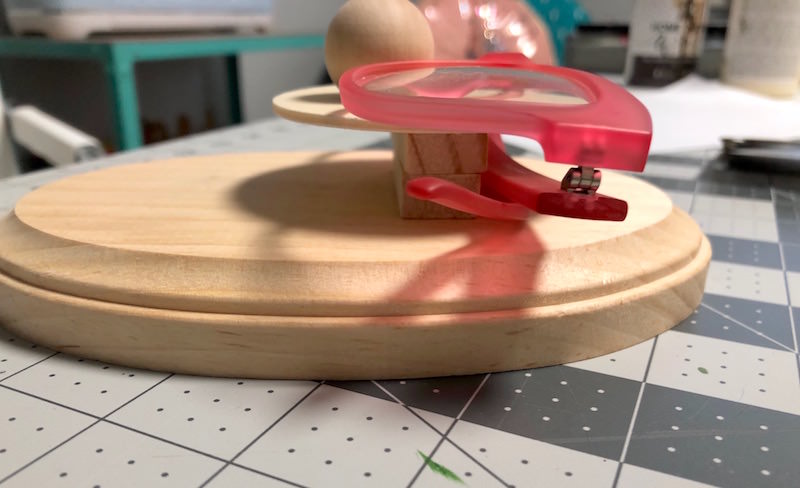 From the side, you can see how the eyeglass holder is assembled – you'll use the two wood pieces to bring the wood circle and knob out from the plaque. That gives a place for your glasses temple pieces to rest.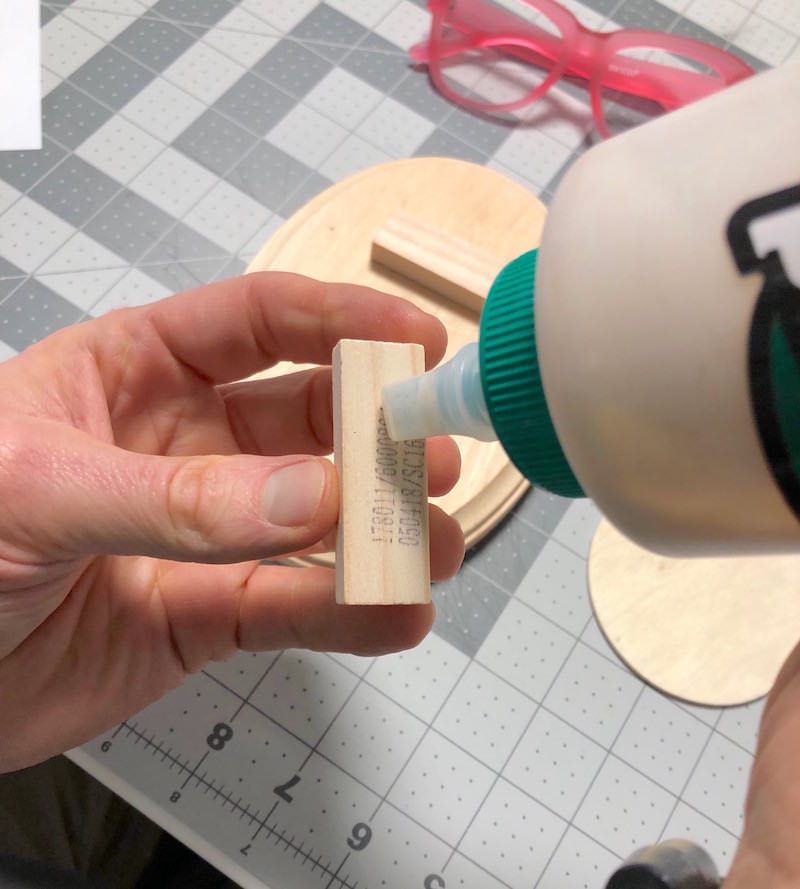 Use wood glue to attach the small wood pieces about 1/3rd of the way down from the top of the plaque.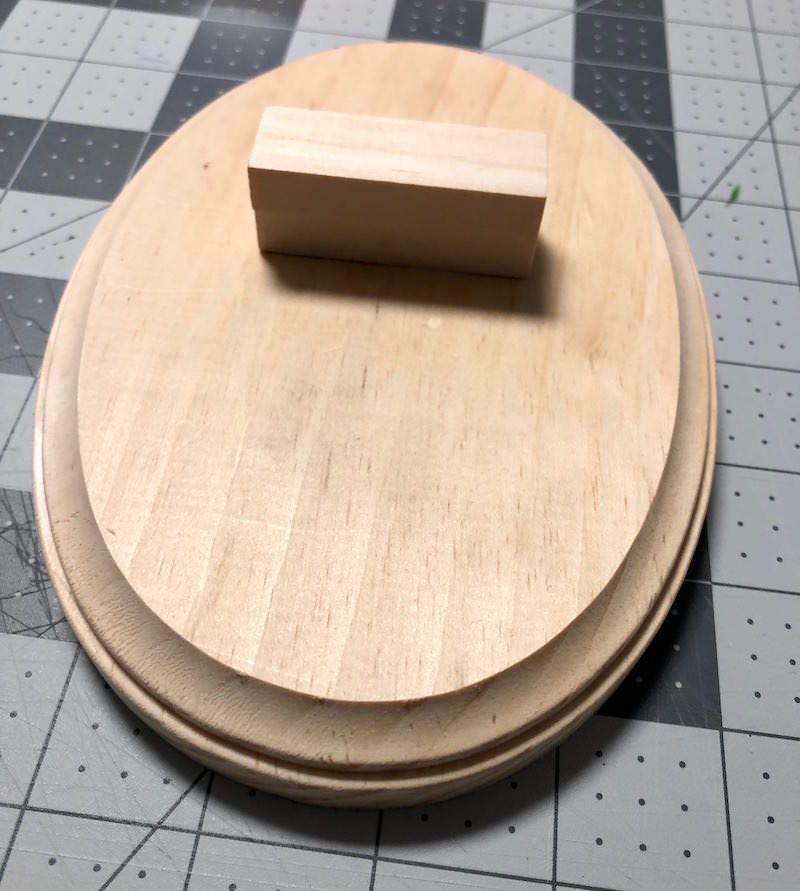 Stack them as shown above and then let dry.
Glue the wood circle on top of the wood pieces, in the center. Glue the wood knob down, but take careful consideration of where the glasses will sit on the "nose."
You want the temple pieces to rest on the wood pieces behind the circle, and the nose portion of your glasses to rest on the wood knob in the front. Let dry.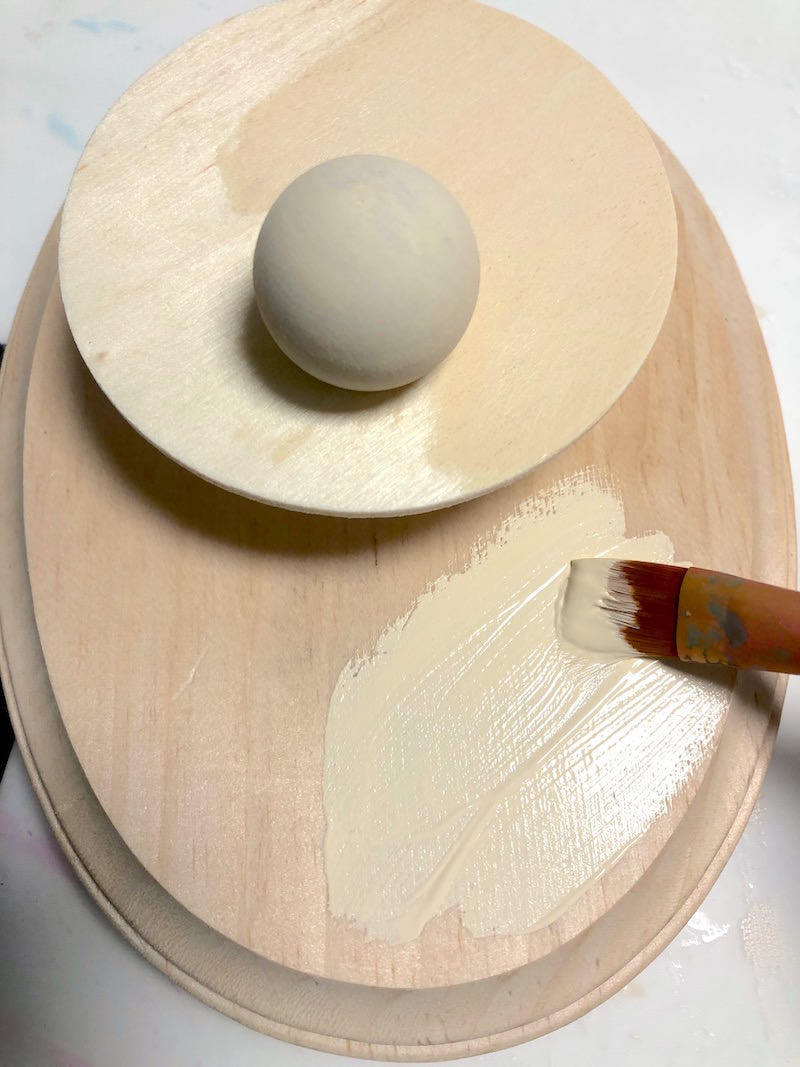 Choose your favorite skin tone color and paint your plaque – including the wood pieces, circle, and wood knob.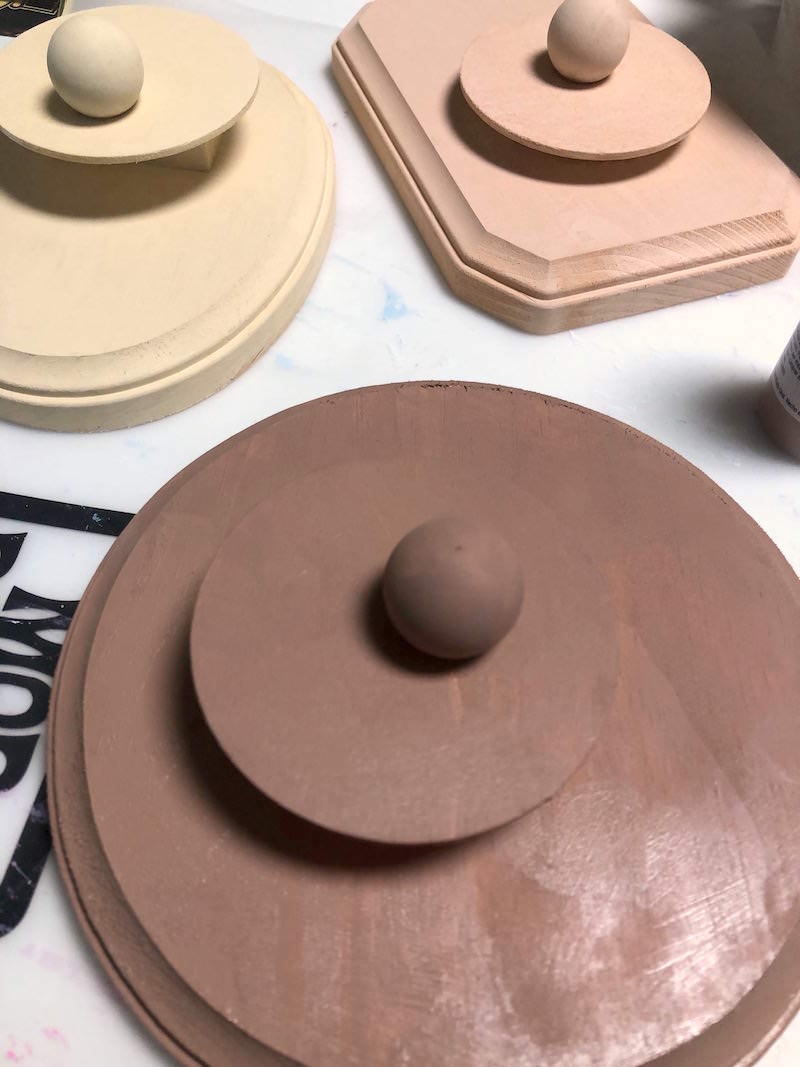 Give the plaques several coats and let them dry. Your DIY glasses holder is coming together!
When the glasses holders are dry, give them a coat of Hard Coat Mod Podge. Let dry and give a second coat.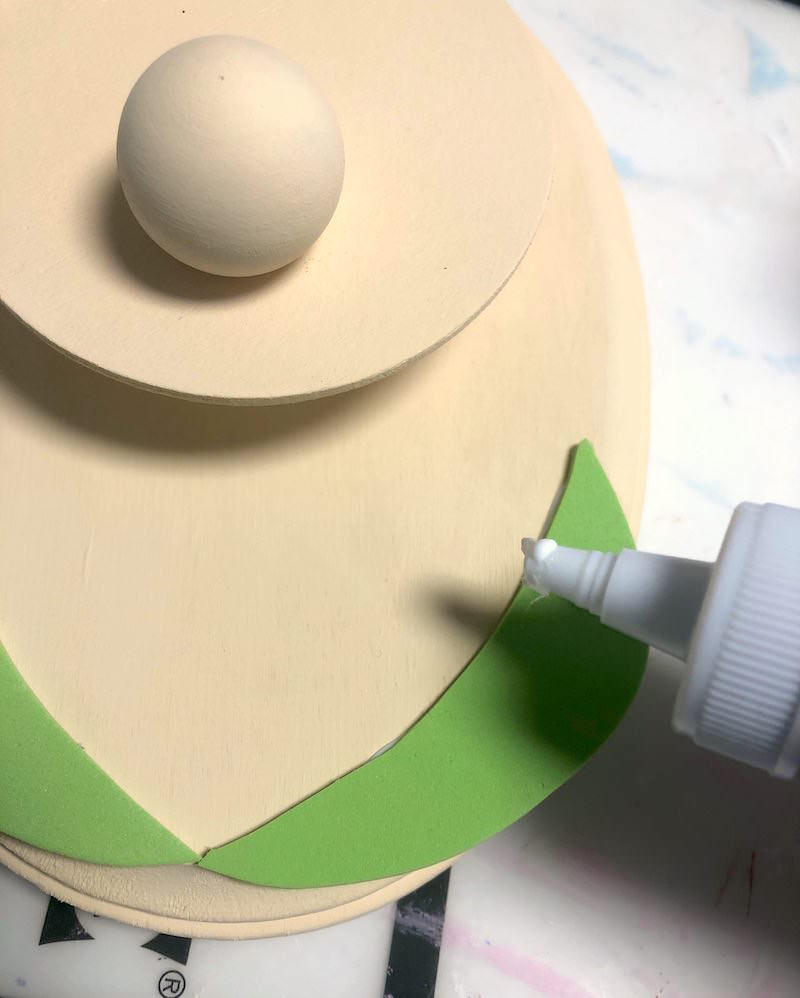 Now it's time to have a little fun! You're going to add accessories to your eyeglass holder with glue. Simply cut them out of foam.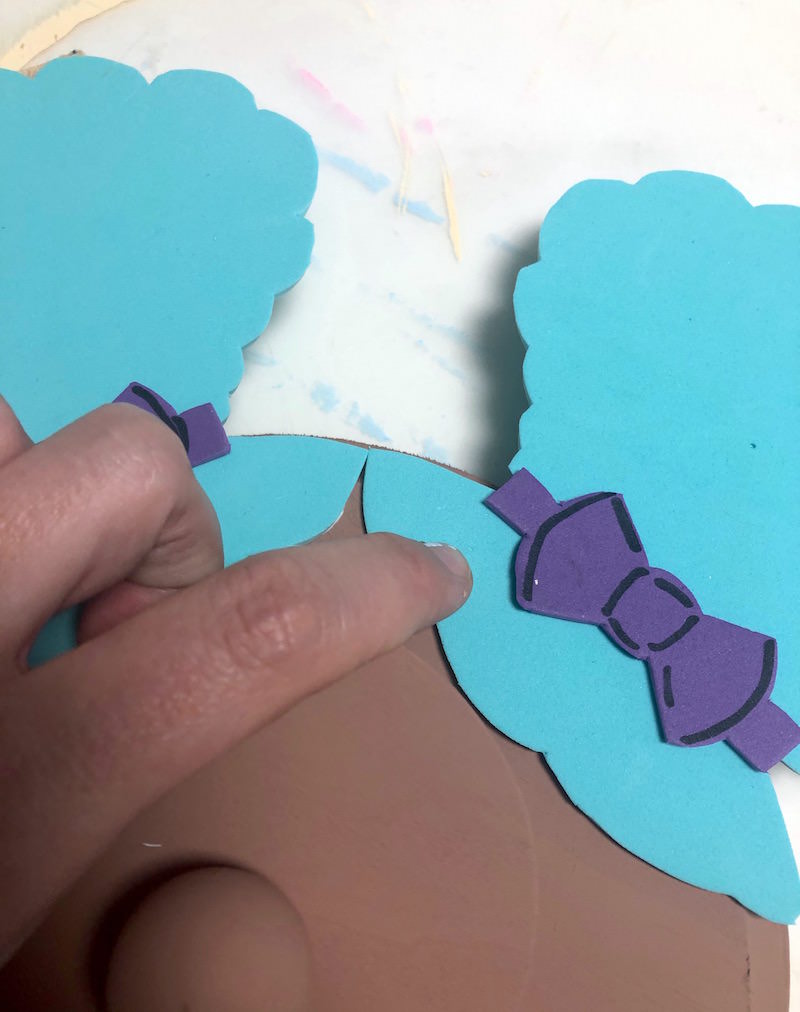 I provided patterns so that you could make the same hair that we did. I think my favorite are the puffy ponytails . . . but I like them all! The beard is especially fun for a dude.
You can also cut any hairstyle you like. If you have kids that wear glasses, it would be fun to make a glasses holder that looks like your child. Same skintone, hair, clothing, etc.
You're going to hang each DIY glasses holder to the wall using a Command Strip. They are very light, so you shouldn't have any problems keeping them up with lightweight strips.
Every time I see these, it makes me squeal! In fact, I think I'm going to hang them on the wall of my craft room with some old pairs of glasses. That's how much I love looking at them.
Oh, but we're not done yet . . . I wanted to show you how to make two additional versions that can hold more glasses – in two different styles.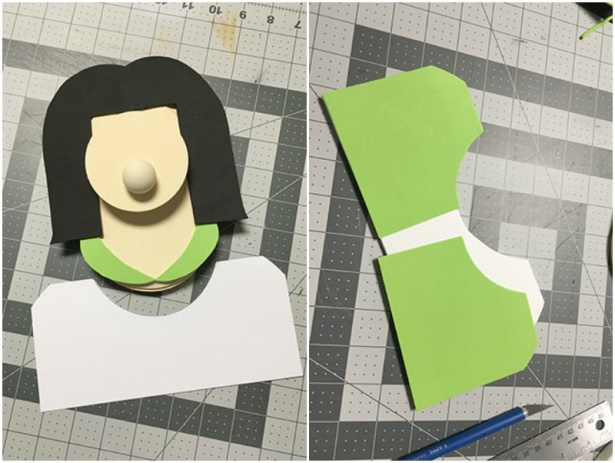 For version two, we added a shirt portion below the plaque using foam core, and then covered it with green foam to look like a shirt.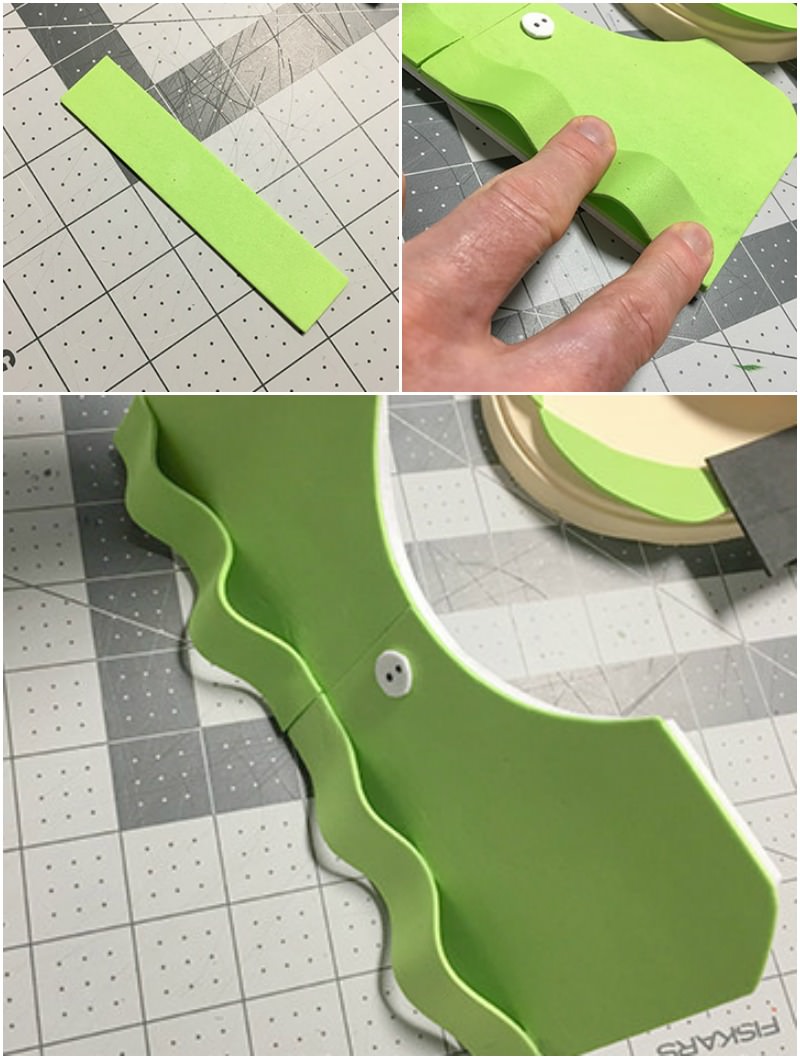 Then we took two long strips of foam and hot glued them onto the base in ripples, leaving four total spaces to hang the glasses. Once the base is done and and glued, you'll glue it to the top plaque.
For this glasses organizer, you'll be able to display five frames – one at the top on the face, and then four below (hanging from the temple pieces). You'll probably want to use two Command strips to hang this version so it stays more stable as you remove the glasses.
And now onto version three . . . for the user with a LOT of glasses!
For this DIY glasses holder version, you'll cut a larger piece of foam core, and again cover it with craft foam in the color of your choice (using glue).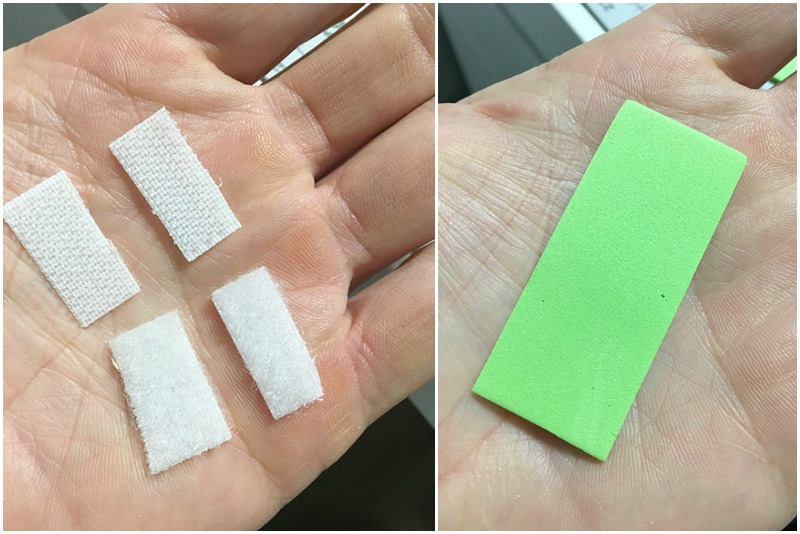 You'll also need small pieces of Velcro as well as smaller pieces of foam, to create tabs.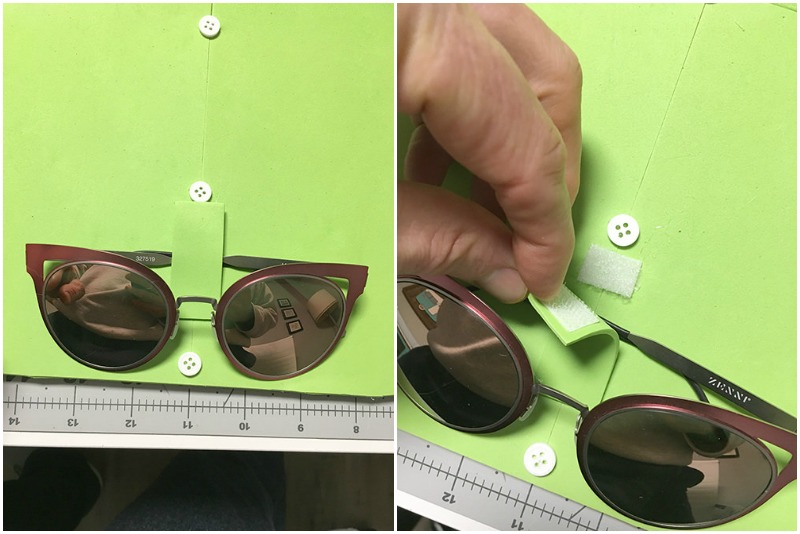 For each pair of glasses, you're going to create a Velcro tab as shown. Glue the base of the foam piece to the board, then glue a piece of Velcro to the bottom of the foam piece at the top. Place the other side of the Velcro on the holder.
Place these tabs anywhere on the eyeglass holder that you would like to hang a pair. You can see that our version holds a total of ten pairs, which is super cool!
What do you think? Would you make your own DIY glasses holder – and if so, which version would you pick? I'd love to know what you think in the comments!
---
If you enjoyed this post about displaying your glasses in style, here are some of my other posts you might also enjoy:
Sours: https://modpodgerocksblog.com/diy-glasses-holder/
25 DIY Sunglasses Holder - How To Make A Sunglass Organizer
Are you looking for the best DIY sunglasses holder? Search no more, I have good news. I have compiled an epic list of 25 DIY sunglasses holder. Most of the sunglasses holder listed in this article are pretty easy to make.
For some, you would need woodworking skills and for others, you would need your craft skills. Regardless, after reading this article you would know how to make a sunglass organizer.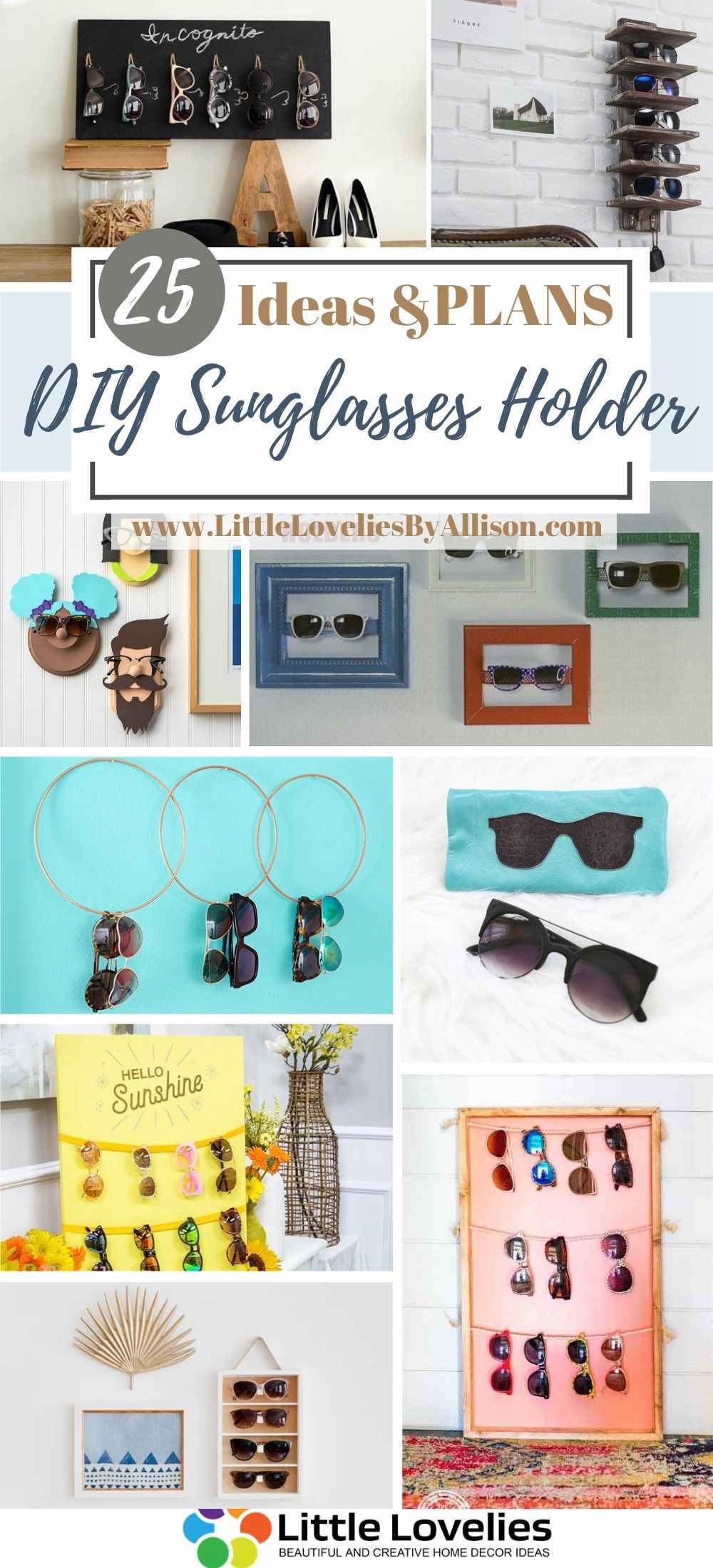 1. DIY Sunglass Holder Wall Display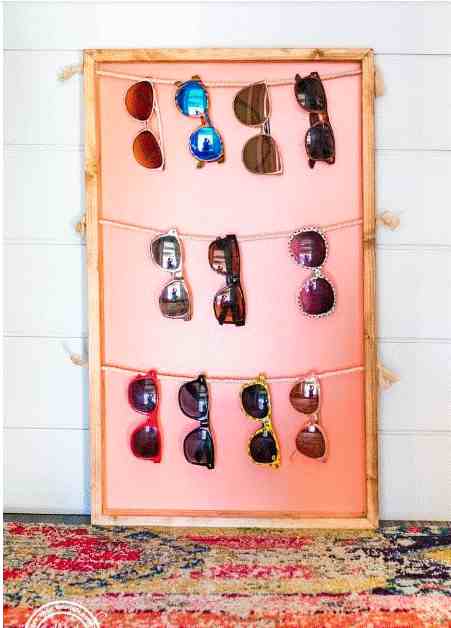 Click for more details
You can keep this in your room to spice up the room decor. The pink background makes this sunglasses holder ideal for pink room decor. There are three sections where you can hang sunglasses. The making process is not so difficult. With all the tools and materials handy, you should be able to put this together.
2. Renter Friendly DIY Sunglasses Holder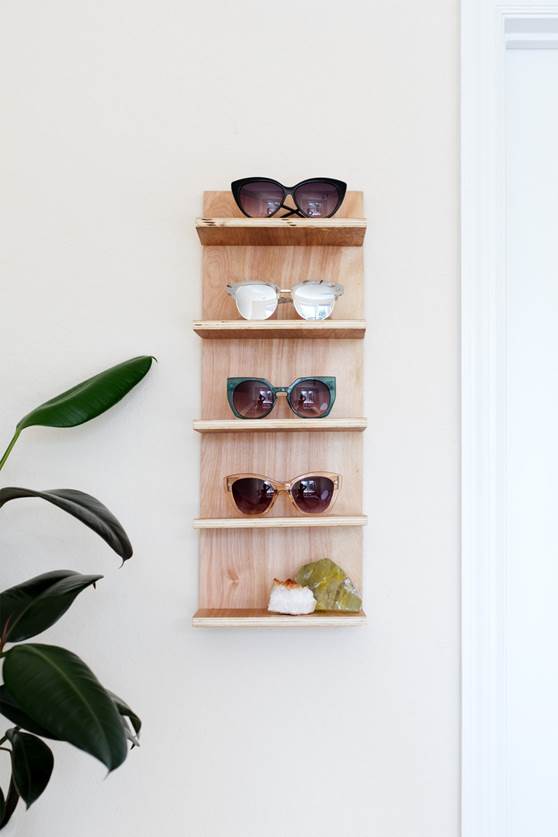 Click for more details
I found this wooden frame to be quite stunning. It could be the next perfect wall decor in your home. It has shelves for storing your sunglasses. With this sunglass holder, you can store up to 5 sunglasses. I think this is pretty amazing.
3. DIY Sunglasses Holder Frame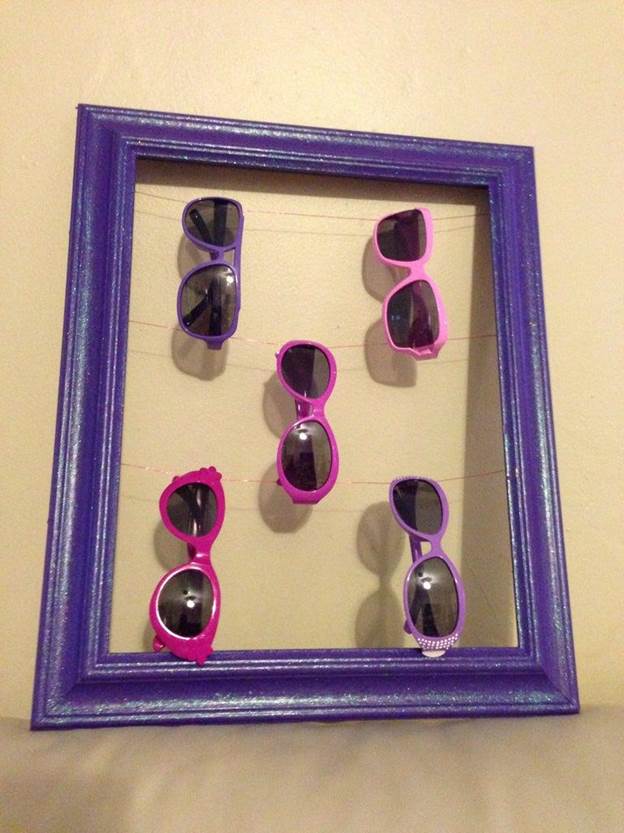 Click for more details
In this DIY tutorial, you will learn how to convert a picture frame into a cool sunglass holder. I think this is a great way of organizing your shades. Also, it is a low-budget holder, this means you won't have to spend much to make this. Feel free to use that old picture frame in your house.
4. Sunglass Rack From A Piece Of 2X4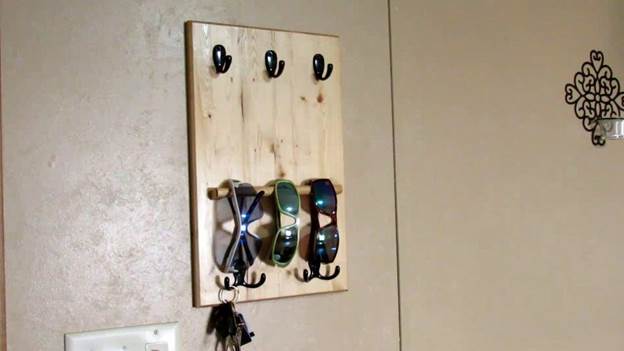 Click for more details
Using a piece of 2x4, the creator was able to make this amazingly outstanding sunglass rack. It can also be used as a cap rack and key rack. Basically, this is a multi-purpose rack. The making process is quite easy to follow. Being that this is made of wood, you will need some woodworking tools.
5. DIY Sunglasses Holder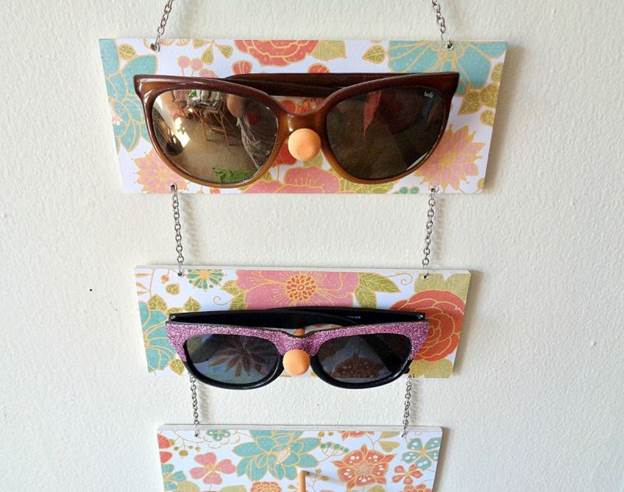 Click for more details
Here's one for the ladies. The floral design on this glasses holder makes it an ideal place for the ladies to keep their unique shades. This sunglasses holder can contain up to 2 shades, but you can make yours longer, it's all about preference.
6. Leather Sunglasses Holder DIY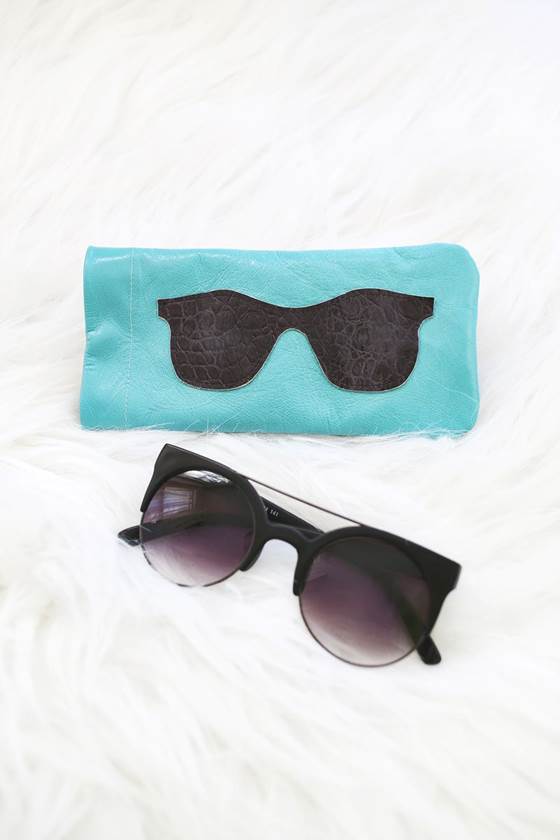 Click for more details
Are you looking for a sunglasses holder that can be carried around? I found one. You can decide to use it to keep dust away from your shades, you can also use it as a case for carrying your expensive shade around. It is made of leather and is pretty easy to put together.
7. DIY Sunglasses Holder With Fun Faces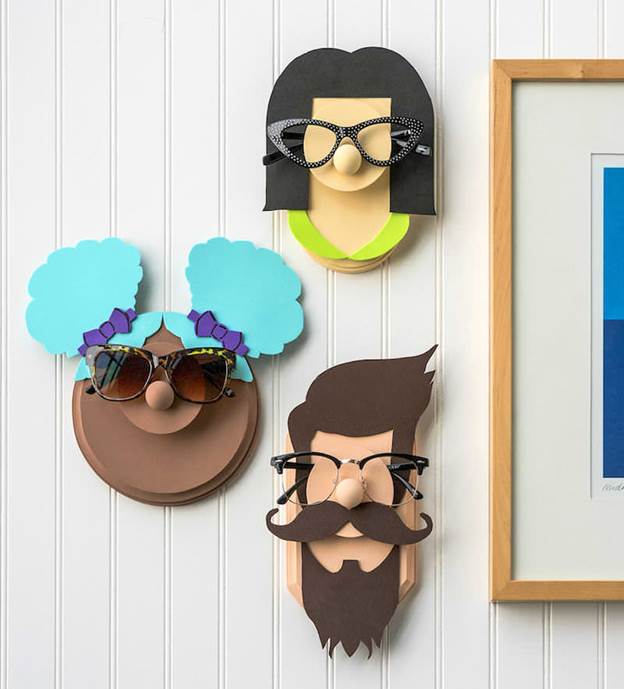 Click for more details
Here's another cool one that will most definitely add beauty to your home. The faces are made by putting certain pieces of wood together. The process, however, is not as easy as it may seem. You will need a whole lot of materials to put this sunglasses holder together.
8. DIY Sunshine Sunglass Holder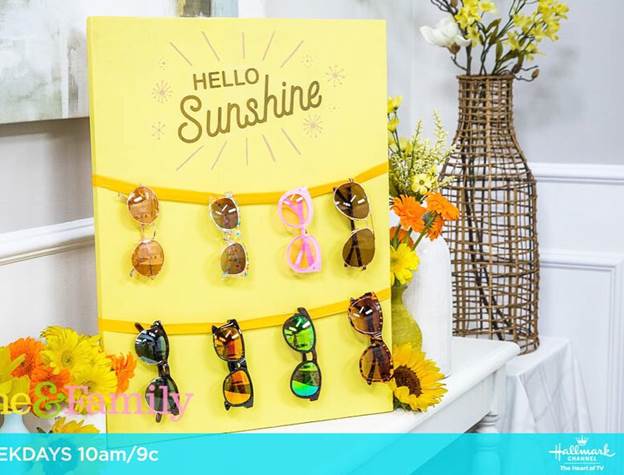 Click for more details
Brighten up your room with this fantastic sunshine sunglass holder. The yellow background used on the sunglass holder would immediately bring life to any room it is placed in. With this holder, you can store a couple of glasses. This sunglasses holder is ideal for people who have a lot of sunglasses.
9. DIY Sunglass Holder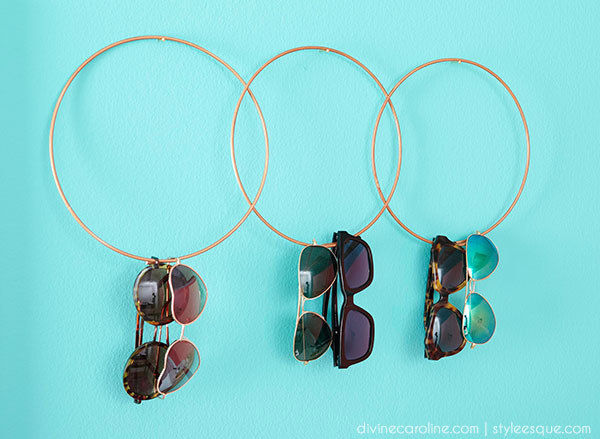 Click for more details
This is by far the easiest sunglass holder you can DIY. For the making process, all you would need to do is get the rings, spray paint them, nail them to the wall and use them to organize your sunglasses. Check out the tutorial for full instructions.
10. DIY Sunglasses Organizer With Wood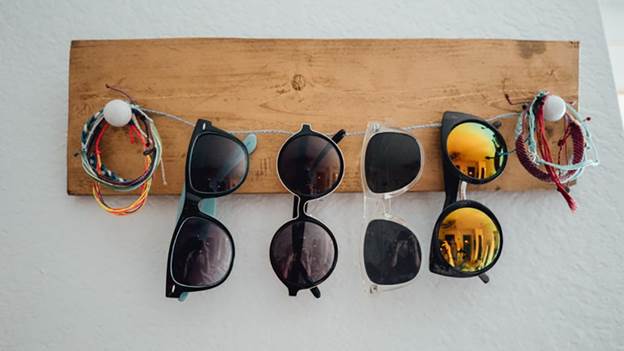 Click for more details
I love it when something amazing is made out of wood. Imagine having this sunglass organized in your rustic home, now that will be pretty amazing. The making process of this sunglass organizer is also easy. The materials needed are quite easy to get.
11. Easy Sunglasses Hanger
Previously, you must have seen where I mentioned the use of a picture frame for a sunglass holder. In this DIY tutorial, the creator used a bigger picture frame, thus providing more storage space for the sunglasses. This is ideal for people who have a lot of eyeglasses to store.
12. DIY Rotating Glasses Display
I love the fact that this one rotates. Buying a rotating glass display would literally cost a whole lot, in this guide, the creator will show you how to make one using materials that can easily be found. The making process is easy to follow if you have all the materials handy.
13. DIY Eyeglass Display Board
In this DIY guide, the creator will show you how she was able to come up with this amazingly outstanding eyeglass display board. Feel free to change the background color to anything you would like. I think black would be a great color to use. Making this eyeglass display board is easy.
14. Pallet Sunglasses Holder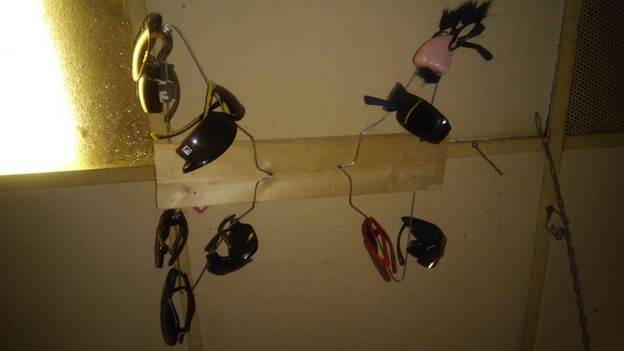 Click for more details
Using pallet wood and two iron hangers, the creator was able to craft this cool sunglasses holder. While this isn't the prettiest, I still think it is amazing. You should probably check it out. Yours might come out looking a whole lot better after improvisation.
15. DIY Sunglasses Organizer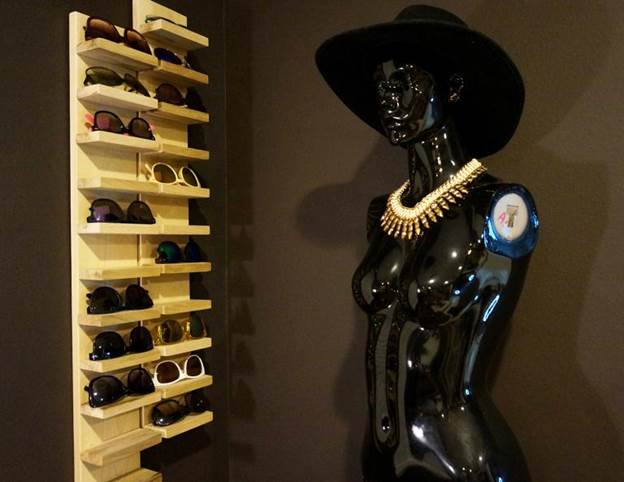 Click for more details
Talk about so much beauty, here it is. With this DIY sunglasses holder, you can store more than 20 sunglasses. It is made of wood and thus requires the use of woodworking tools. I love the fact that it is hung on the wall, this makes it easier to grab a pair of glasses.
16. How To Make An Organizer For Sunglasses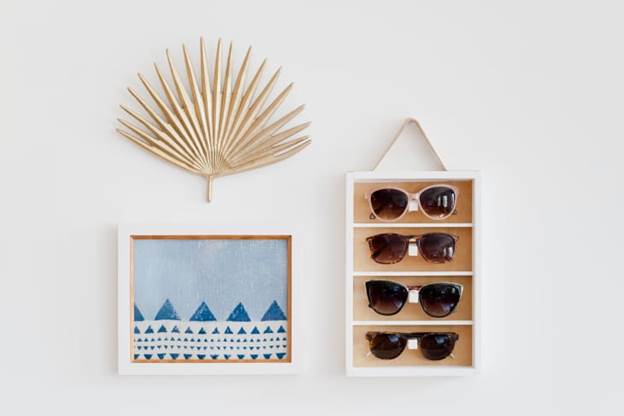 Click for more details
Have a good look at this cute sunglass organizer, you would agree with me that it is something one would love to have hanging on his or her room wall. The white edges and brown background make this sunglass holder look absolutely stunning.
17. DIY Sunglasses Organizer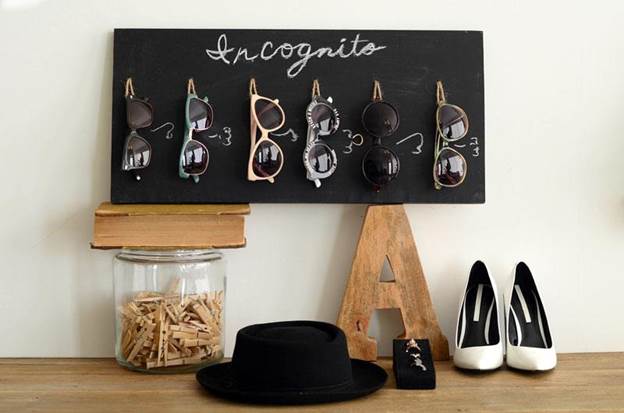 Click for more details
Hanging your glasses on a mini-chalk board isn't something I would ever think of. Kudos to the creator for sharing this amazing piece. Making this for yourself is quite easy. With all the required materials handy, you would be done in no time.
18. DIY Framed Sunglasses Holder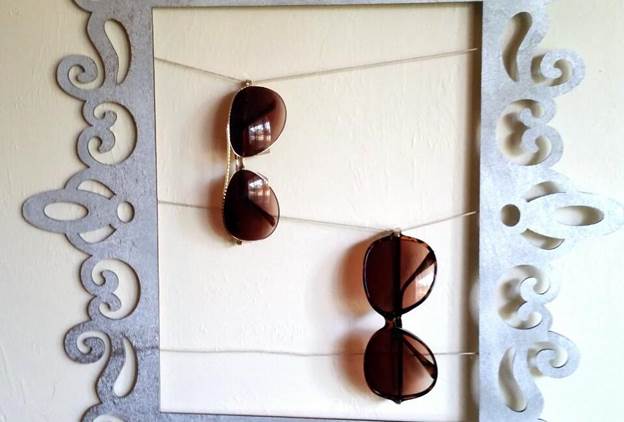 Click for more details
I stumbled upon another framed sunglasses holder, but this one is quite different from the previous ones. If you look closely, you would notice the unique design of the frame, I think this framed sunglasses holder is quite stunning.
19. How To Build A Sunglasses Rack
You do not need to be a professional woodworker to get the hang of this sunglass rack. I believe with practice and hard work, anyone would be able to build one of these. The building process would require the use of woodworking tools. If you are having issues putting this together, you can ask for help from a pro.
20. DIY Sunglass Holder
For this wooden DIY sunglasses holder project, you won't need a lot of power tools. All you would need is glue, some plywood, and a few other materials. I love how simple this sunglass holder looks., I would highly recommend it.
21. DIY Hanger Sunglass Organizer
Using a hanger, the creator was able to make a very simple sunglass organizer, however, she covered the hanger with fabric to make it look way better than it would have been without the fabric. I think this is a great way to organize your sunglasses without having to spend too much.
22. DIY Sunglasses Holder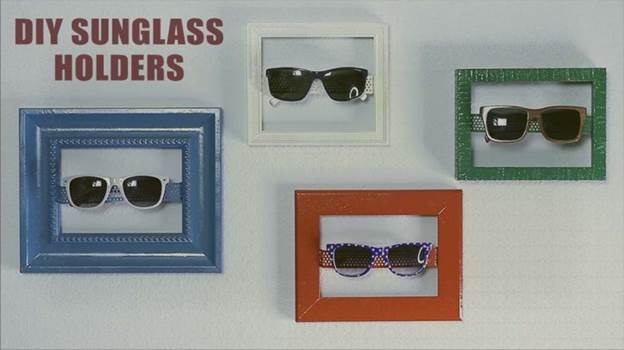 Click for more details
In this DIY tutorial, the creator was able to make sunglass holders of different sizes and colors. For the making process, you will need to get picture frames of different sizes. I think this is a cool DIY sunglasses holder to try out.
23. DIY Sunglasses Holder For $5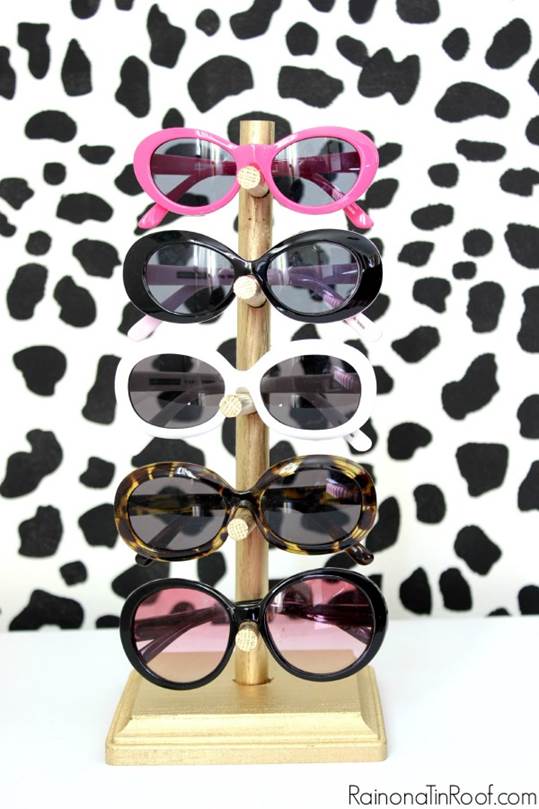 Click for more details
Despite how beautiful this sunglasses holder looks, it costs just $5 to make. That's literally all the creator had to spend. This price may surge up a little bit, but I'm sure it won't go past the $10 mark. This DIY sunglasses holder can hold up to 5 sunglasses.
24. Sunglass Holder For Car
Here's another cool place to keep your glass when it is not in use. This sunglass holder is ideal for usage in a car. The cost of buying one of these is quite low. You should be able to afford one for your car.
Check Current Price on Amazon
25. Wooden Sunglasses Holder
I found this and decided to include it for people who have zero experience in woodworking but are in dire need of a wooden sunglasses holder. This sunglass holder is also affordable.
Check Current Price on Amazon
Sours: https://www.littleloveliesbyallison.com/diy-sunglasses-holder/
Sunglasses are the must-have accessories for the sunny days and if you love wearing them you probably have many different pairs. If you need to borrow some cash to fund your sunglasses addiction you could visit www.NowLoan.co.ukwho offer short term finance for all purposes. And in order to prevent them from scratching, breaking or maybe even losing them, you should store them in the right way. Many sunglasses can come up with a case,where you can store them when you don't use them. But if you have too many pairs of sunglasses and are not really a fan of sunglasses cases, then you should think of some other ways of how to store them. Today, we are bringing to you 18 DIY Sunglasses Holders that you can try to do and thus keep your sunnies organized.
The following DIY projects are quite versatile, so you will for sure find one that you would love to make. They are quite easy to be done and also won't cost you much. You can easily repurpose some items that you already have at home and turn them into functional sunglasses holders. Such items can be some window shutter, closet hanger, frames, old bike wheels etc. Also, you can organize sunglasses with the help of some command hooks. Scroll down now to see all of these ways of how to organize sunglasses as well as many others that we have chosen for you today and do not hesitate to make some of these holders. Enjoy!
SEE ALSO: Wonderful Ways To Repurpose Cake Stands You Will Be Glad To Know
Frame Sunglasses Holder
Window Shutter As Sunglasses Holder
DIY Bike Wheel Shade Display
DIY Wooden Bungee Organizer
Quick Drop Zone
Store Sunglasses On Closet Divider
Arrange Sunglasses In A Drawer
Store Sunglasses On A Jewelry Holder
Pretty Simple DIY Sunglasses Holder
DIY Sunglasses Stick
Organize Sunglasses With Command Hooks
Store Sunglasses On A Hanger
DIY Chalkboard Sunglasses Organizer
Leather Cording Sunglasses Holder
IKEA LÄMPLIG Trivet Rack
DIY Wire Sunglasses Holder
DIY Sunglasses Organization
DIY Sunglasses Holder For $5
So, which one from the above DIY sunglasses holders you will try to make and thus keep your sunnies organized? Tell us in the comments and also let us know if you have any other idea of how to store your sunglasses. Thank you for reading and don't forget to stay up to date with the content of Top Dreamer to find many other DIY projects that you can easily do in your free time.
Sours: https://topdreamer.com/18-diy-sunglasses-holders-to-keep-your-sunnies-organized/
DIY. Handmade Stand for Glasses or Sunglasses!
Summer is officially on and it means sunlight, heat, warm nights and much, much more. Summer is a season when sunglasses are a must, and those of you who have lots of them, can have hard time looking for a proper pair. Organizing is very important when it comes to anything including sunglasses and today I'm going to share some ideas to make sunglasses organized – you'll see some holders and organizers that will help. Some of them are made using picture frames, some are built of wood and plywood, others are made of wooden plaques, it's up to you what you like more and how much time you are ready to spend.
Shelves
Store and display your sunglasses with style making this wooden shelf – it's very chic and won't spoil any interior. The piece is made of plywood, and each part of it is aimed at different sunglasses, make the shelf of the size you need accommodating all of them with comfort and style and hang the shelf wherever you want. Voila!
This large shelf is right for those of you who have a lot of sunglasses or a large family with lots of them. this piece can accommodate a lot of sunglasses and all of them will be stored comfortably, plus the shelf won't take any floor space, it's wall-mounted. Give it any finish or color that you like to match your interior and enjoy!
Get all your sunglasses out of the drawer and display them with style on this cool wooden shelf! It is super inexpensive and easy to build, and it will turn potential clutter into a stylish display. The shelf has a light finish here but feel free to stain it to match your space – just as you like. Voila!
DIY light-colored wooden sunglasses shelf (via diyinpdx.com)
This little hanging shelf doesn't store many sunglasses but it's very comfy in using and it's mobile – you can hang it wherever you want and change its position any time. Each pair of sunglasses is put on a wooden holder to make them secure in the shelf. The inside is done with leather to make the shelf look cooler, get inspired!
This modern and cool sunglasses holder can be easily and fast DIYed. The piece is made of wooden slabs and is formed as a picture frame, there are some threads hanging for sunglasses. Give it any size and finish that you like and go hang the shelf where you like – in the entryway, closet, bedroom or any other space.
DIY framed sunglasses holder with threads (via crearft.com)
Hangers
Have a large pile of sunglasses? It's time to turn this pile into a stylish and whimsy display that will become part of your interior and be a cheerful and unusual idea. This is a chalkboard holder for sunglasses, each pair is hanging on twine, and all of the are enumerated though you can chalk that you like on it. What a nice and modern idea!
DIY chalkboard and twine sunglasses holder (via mrkate.com)
This sunglasses holder is a chic and refined piece ideal for a girlish interior. It's made of an old picture frame, which is spray painted and there are threads for hanging your sunglasses. The idea is super simple and looks unusual, I love it totally! Spray paint it the way you like and hang where you want to hold all of the sunglasses you have.
This colorful sunglasses hanger is ideal to add a colorful touch to your interior and organize all the sunglasses. The piece is made of separate plaques that are covered with colorful paper and the sunglasses are held with wooden sticks. This holder looks very bold and unusual, and it brings an instant summer feel to the space.
Make a fast and easy sunglasses holder using a usual picture frame and some wire. Attach wire to the frame and hang the sunglasses – voila! The look and size of the frame is up to you, and this holder can be moved anywhere you need.
Instead of having all the sunglasses jumbled on your dresser, why not create something to uniquely store them on the wall? This simple and rustic shelf will accommodate all your sunnies and you will be able to hang a lot of them on the string – as many as it can hold. The slight shabby and rustic feel makes the holder even cooler. Enjoy!
A picture frame is a great base for any sunglasses holder, and this tutorial will tell you how to make one. The picture frame is painted gold and the sunglasses are hanging on ribbons, the craft itself is very easy and fast. Make the holder and hang it on the wall, add a refined touch to the space.
Other Ideas
Here's a stylish wooden sunglasses holder done of a wooden base and some dowels easily and fast. The piece looks very cool, modern and is very comfy in using, plus its design is non-typical. All the sunglasses will be stored with style and very safely and comfortable – you won't need more than that!
This sunglasses tray is made of an IKEA Ribba frame and some felt plus cardboard, it will take you some minutes and will safely accommodate all the glasses you have. Place all your accessories in this tray and put it wherever you want and enjoy!
Sours: https://www.shelterness.com/diy-sunglasses-organizers/
Glasses stand diy
Do you love me. She asked after a couple of minutes. I adore you. I kissed her neck, wet with sweat.
DIY. Handmade Stand for Glasses or Sunglasses!
Yes, they looked exciting. Light tender kisses smoothly turned into passionate sucking and nibbling. Nastya's hand moved smoothly along the smooth skin of Tanya's back, then up, lifting her top ever higher, then going down to the bottom and stroking her.
Ass. Tanya did not lag behind her: her hands almost took off Nastya's T-shirt (Apparently, her long and comfortable sweater had been taken off by someone earlier) and.
You will also be interested:
On it, she is beautiful and you will like it. I said to Irishka's mother, hugging my dear heart of a woman, trying to shelter this baby from the autumn weather. The hospital where Vitka's mother worked was not so far from our house, and all the residents of the town who did not have personal.
425
426
427
428
429