Machine Knitting Patterns - Find Your Favorite Free Pattern Links Below

Welcome to machine knitting patterns page. This is where you can find links to many free machine knit patterns. I love hand knitting, but there were times when I would pull out my Bond USM (Ultimate Knitting Machine) and knitted up some quick projects. It comes to handy when you want to knit something fast like a scarf or a last minute gift that look like you spend your whole life knitting it. I often dream about owning one of those fancy knitting machines and knit myself every outfit. My closet will be filled with beautiful knitted tops, skirts, scarfs, shawls and socks. And....who knows what else!
Update: 1/31/20 - Now my dream has came true!  I own a punch card knitting machine!!!  It's not the fanciest but I love it.  It's a Taitexma by a Taiwanese company.  They are making replica of brother knitting machine (legally, of course).  Everything looks just like brother even the manual.  I'm sure I will have a fantastic time with my new machine.

Ravelry.com  Excess to thousand of machine knitting patterns (free and paid patterns)
http://www.hobbyknitter.com/files/patterns/patterns.html Roberta Rose Meads website.  She is one of the best machine knitters.  You can watch her tutorial videos on YouTube.
http://knittsings.com/category/machine-knitting/ - This site is loaded with tons of information about knitting machines,  tutorial videos, patterns and much more.
www3.sympatico.ca 
www.knitting-and.com - Many vintage patterns to explore here.
www.machine-knitting.net - Learn about different types of machine and get free pattern of socks, baby sets and more.
www.machineknittingfun.blogspot.com Fun blog to read and has links to many machine knitting blogs.
www.needlesofsteel.org.uk/  has many links to different types of patterns from different types of machines

www.heidisknittingroom.com
www.diananatters.blogspot.com Dianna is also one of the best machine knitters and teacher on YouTube.  She also sell patterns on her site.  I love her sweet voice.
www.angelfire.com
https://www.moderndailyknitting.com/
alessandrina.com » Machine knitting
https://www.jessica-tromp.nl/basic_machine-knitting_patterns_free_knittingmachine_patterns.htm  So much information and patterns of hand knit and machine knit.
https://marzipanknits.blogspot.com - many creative and beautiful machine knitting patterns for all ages.  
I will continue to add more links and make changes often. So don't forget to subscribe to my RSS feeds (on top left corner) so that you won't miss any update.  See more link you'd like to add?  Please send it to me.

I'm still very new when it comes to machine knit.  I've learn a lot from many great machine knitters on youtube.com this year.   I love my punch card and want to explore and tried many more things.  Below are photos of my works I've done on my standard single bed machine.
These socks are knitted top down using ribber attachment.  You can read about how I made them here.
I also added a few links to machine knitted sock patterns that you might like.
Woman Raglan Sweater with front cable panel 
I don't have a pattern for machine but I have hand knit raglan without cable pattern .  This is my second sweater I made on the machine.  I used sweater wizard to help calculate my size to get some idea.  I did some adjustments for arm length, sweater length and add cable front.  
This is my first shawl I made using knit weave technique and a triangle shawl shape pattern from Knititnow.com when during the shawl contest.   I won best use of patterns.   I'm not a subscriber to the site any more.  I did had 3 months free subscription because of the shawl winning.  It's the best place to learn about machine knitting and it has so many great tools, tips and tricks and ton of patterns, community and more.  
Here is a free simple shawl pattern by LD Knitware;
https://www.ravelry.com/patterns/library/simple-machine-knit-shawl-wrap

This is a double brim hat I made using a punch card pattern.  First work 8 inches and then join the brim then add pattern for 4 inches.  Then knit in plain for about 2 more inches.  Then k3tog and then pull yarn thought all loop.  Seamed sides and done.
Here is a link to my inspiration of the pattern; 
I just realized that there is a knitting magazine on the market.  It looks expensive though.  
Have a knitting website and want to share your pattern? You can submit your own machine knitting patterns here.  Just use the form provided below to fill out or copy and paste your patterns in it. You can also upload up to three photos per pattern. Once accepted, your page will be lived and people can comment and rate your patterns.
Do You Have A Cute And Easy Knitting Pattern? Let's Share It!
Create your own knitting pattern page to share and get rated by visitors, friends and family! You can also add a story along with the pattern, so that visitors can get to know more about you and your work.
Leave Machine Knitting Patterns To Knitting Instructions Home Page

Go To Easy Knitting Pattern Page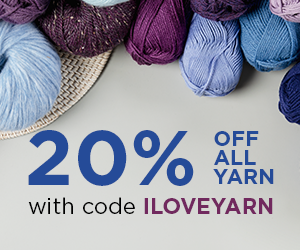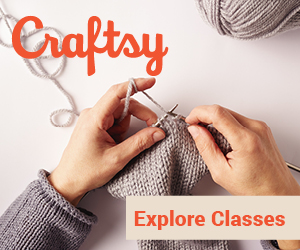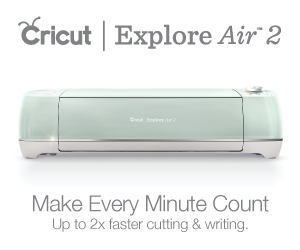 Sours: https://www.to-knit-knitting-stitches.com/machine-knitting-patterns.html
Better Living Through Knitting Technology
Like many men, I am predisposed to purchase every gadget, gizmo, device and toy that I can possibly rationalize in my discussions with my wallet, my creditors and my increasingly skeptical significant other. I can't just have one video game console if four (plus a computer and a laptop) will do. I can't have a cellphone that just makes phone calls -- as if those even exist anymore. iPod? Check. Digital camcorder? Check. Wireless internet? Check. HD PVR? Check and double-check.
Knitting is the one place in my life that has been relatively gadget-free. There just aren't that many sexy devices for your average knitter. (Spinners and weavers, on the other hand, are swimming in them.) So it is with a particularly heavy heart that I must admit to all of you that I am the owner of a Bond Ultimate Sweater Machine (As Seen on TV).
The Name is Bond
For those of you unacquainted with it, the Bond is a relatively inexpensive plastic bulky-weight hand knitting machine designed for hobbyists, occasional users and for those of us who are prone to Knitting Emergencies. It costs a few hundred dollars if you shop around, which stands in stark comparison to the $1,000+ you'd pay for a more sophisticated punch card or electronic machine. If you browse around the internet, you'll find the machine has a small but loyal fan base who are eager to share their tips and tricks on getting the most (and the most knitting) out of your new purchase.
Let me be the first to say that, as an entry-level knitting machine, the Bond works exactly the way it's supposed to, and does exactly what the company says it does. However, there are some significant differences between knitting by hand and knitting by machine, and there is a definite unavoidable learning curve. (Some people say that it's actually easier to knit with a machine if you've never hand-knitted before.) Bond's promotional materials are correct when they tell you that you can knit an entire sweater with their knitting machine in less than three days. What you'll discover for yourself, though, is that those three days will probably arrive quite some time after you first set it up.
The Bionic Knitter
Let's be honest: with the holidays hurtling toward us like a fast-moving train, which knitter among us has not lain awake at night -- particularly in the latter half of November -- wondering if a knitting machine would help us speed through the many gifts we are racing to complete?
Wonder no more -- the answer is a qualified "yes". With practice, you can knit 600 to 1,200 stitches per minute (uh huh, you read right) and about 20 inches of knitted fabric, 100 stiches wide, in about five minutes -- but before you run screaming into the street to buy one, you might want to take a few moments to find out what this process entails.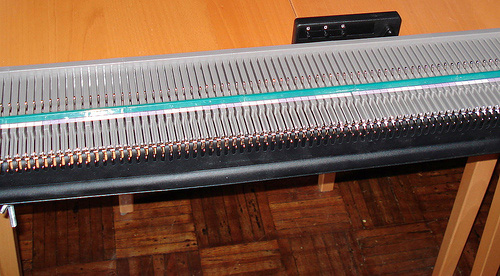 The standard garden-variety knitting machine consists of a bed of latch hooks that function as needles, and a carriage that you pass back and forth along the needles to supply them with yarn to create the fabric. The hooks grab the yarn as the carriage passes, and then pull it through the loops that were previously created. The old loops drop down and then the carriage passes again, prompting the hooks to grab the yarn -- and the process repeats. This ends up feeling much more like weaving than knitting. If you enjoy working a loom (or if you enjoy ironing), you'll feel right at home.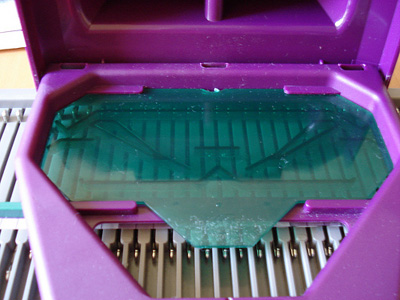 Each machine uses a different method to simulate the needle size and gauge that we associate with hand knitting; in the case of the Bond, plastic keyplates are inserted into the carriage to create longer or shorter paths for the needles to travel -- the longer the path, the larger the stitch.
The bottom edge of the work is weighted with a detachable hem so that the fabric pulls cleanly and evenly off the machine and a consistent tension is maintained. The result is row upon row of eerily perfect stockinette stitch.
I Sense a 'But' Coming.
You're right, there's a 'but'. Several of them, actually. Let's take a few minutes to check out some 'but's (because that's just the kind of guy I am).
When looking at the pros and cons of machine knitting, let's face it: row upon row of eerily perfect stockinette stitch is quite a pro. But. As we all know, there's much more to knitting than stockinette -- and every other stitch combination is something of a challenge to achieve on a knitting machine. Many machines have a variety of attachments and devices available for techniques like ribbing, intarsia, fair isle, cables, garter stitch (yes, garter stitch), circular knitting and so on. But. They all come off as complicated solutions to situations that hand knitters would normally consider to be relatively straightforward.
The Bond is among the simplest and least sophisticated of knitting machines, so in many cases you need to manipulate the stitches by hand (usually by unhooking and rehooking stitches) in order to achieve whatever effects you want. This can be absorbing, interesting instructive and enjoyable. But. It can also be time-consuming, frustrating and tedious -- and sometimes even slower than if you had just whipped out the old pointy sticks in the first place.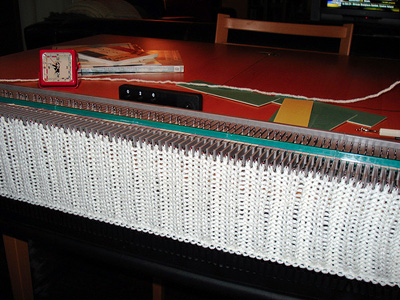 It's also worth noting that your machine knitting is limited in width to the number of latch-hooks across the width of your machine. Most needle beds look quite wide. But. They are deceptive -- the maximum number of stitches on the Bond without an extension is about 100 stittches. If you need more stitches for your pattern (say, for an afghan), you need to add more hooks through an extension to your needle bed, or you need to divide your pattern into sections and seam them together after.
Given that the latch-hooks on the needle bed are a fixed width apart from each other, and the different gauges are standardized through keyplates or carriage adjustments, you'd think that machine knitting would be something of an exact science. But. It's not. A scarf knit 40 stitches wide for 650 rows on a pair of regular knitting needles will be neither the same length nor the same width as a similar scarf knit on a knitting machine set at the same needle size and gauge. Seriously, you can't imagine how different they will be. So here's one thing you'll be doing a lot of: swatching. In fact it's safe to say that you cannot knit anything on a machine with any serious expectation of its length or width unless you swatch first. And not just swatch -- you have to wash and block as well. This is not an option. In my experience, knitted fabric fresh off the machine is often tighter and shorter than my hand knitting, even when I move up one or two needle sizes to compensate. Thankfully, you can knit up a very large swatch on a knitting machine very quickly -- no more of this 'four inch by four inch' nonsense -- and consequently make more accurate adjustments to whatever pattern you're working on.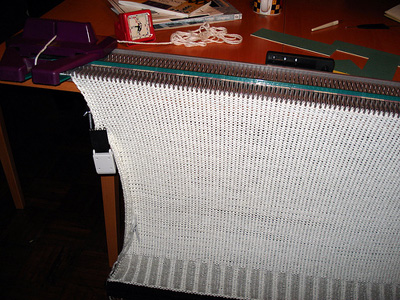 As well, different machines are designed to handle different weights of yarn. A bulky-weight machine may not be able to handle anything lighter than sport yarn, and a finer-weight machine may have trouble knitting worsted. The Bond is a bulky-weight machine, which is great for making sweaters but not so much when it comes to baby clothes. Make sure you know what you're machine can and cannot do before you buy it.
Some other important considerations: hand knitting is quiet, portable, meditative and generally requires very little set-up: just cast on and go. But. Machine knitting is noisy (Say "clack-clack-clack-clack-clack" as fast as you can. Louder. Faster. Louder. Faster. There you go.), it's pretty much fixed to one location, and it can take anywhere from five to twenty minutes to assemble and prepare. And meditative is the last word I would use to describe it. On a good day, it's fabulously productive; on a bad day, it's a terrific way to simulate a third-world sweatshop in your very own home.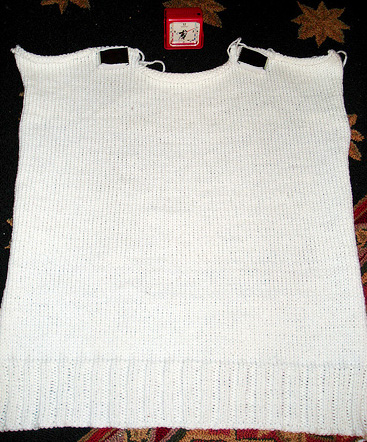 In conclusion...
Some of those buts are very big. But. Don't let them dissuade you from giving machine knitting a try. Many of the finer yarn stores, as well as sewing machine stores and some of the larger craft stores, have knitting machines set up and ready for demonstrations. Some of these same stores also give lessons or hold workshops to teach you how to operate and maintain your machine, how to follow patterns written specifically for machine knitting and how to adapt hand knitting patterns so that you can make whatever item you choose.
Also keep in mind that you can easily move machine-knit fabric onto (sometimes long, frequently circular) knitting needles and finish it by hand. This is particularly good for ribbing or for certain increases and decreases. It is, however, incredibly difficult to move hand knitting -- no matter how loose, stretchy or flexible -- onto a knitting machine. Believe me, I've tried.
While I do about 95% of my knitting by hand, I am glad that I have my Bond to fall back on -- and so are a number of my holiday gift recipients, whether or not they realize it.
Now, if you'll excuse me, I'll be heading off to my next challenge: comparing the virtues of the Ashford Joy to those of the Louet S45. Best wishes, and have a Happy 2007!
Sours: https://knitty.com/ISSUEwinter06/FEATwin06KLM.html
Included with the Ultimate Sweater Machine. One side is instructions, the other side is patterns.
This awesome book is the perfect companion to the Ultimate Sweater Machine. It features step-by-step instructions for creating sweaters for the whole family with the 3 most commonly fashioned collars; rolled, 1x1 ribbed crew and 2x2 ribbed crew. Also learn easy steps for creating afghans, scarfs, and hats that are anything but basic with all the ease of a simple knit cap and scarf. Learn to cable with your machine, lace, fair isle, drop stitches, transfer your stitching from machine to circular needles, increase and decrease, and how to attached pieces of knitting together in a simple sewing or beautiful braided technique.
Sweaters: adult (sizes sml, med, & lrg) and child (sizes 2 - 10)
Scarves: quick knit and cabled
Hat & Headband
Shrug
Baby Blanket (30 x 45 inches)
Striped Afghan (48 x 60 inches)
Pillow (14 inches square)
Fair Isle Purse (7 x 10.5 inches)
Plaid Throw (28 x 51 inches)
Sours: https://www.ravelry.com/patterns/sources/ultimate-sweater-machine-pattern-book
Shima Seiki - Dokument
Welcome to the Home Page for the Ultimate Sweater Machine
There is a lot of good information on this site for the Bond Ultimate Sweater Machine user, click on links to navigate around. You can always click on the "home" button to bring you back to this page.
NEW ACCESSORY FOR THE USM! Stainless Steel Cast-on Combs now available for USM and 8mm machines. Link to Cast-on Combs
Bond Pattern Books & Accessories for Sale
Frequently Asked Questions - FAQ's
Assembling 2 Ultimate Sweater Machines together
Short Row Shaping For Shoulders
Abbreviations
Free Patterns
Lace knitting book
Free Bond Misc Magazines, Books, Publications
Videos
Bond Buzz Newsletters
Clubs
Other Misc Links
TIPS, HINTS AND TROUBLESHOOTING
If you have trouble setting up or knitting on your Ultimate Sweater Machine, follow the suggestions below.
Troubleshooting
Setting Up Your Machine:
Use the non-skid mat on any flat surface, but be sure not to pull down on the hem as you set up. Or, if you want to use the clamps, be sure to use a flat surface with a "true" bottom, similar to a piece of hardwood board. One of the long pre-cut shelves available at hardware stores and home centers is a good choice. I can't stress enough that it is very very important to have your machine on a perfectly flat surface.

Be sure not to screw the clamps on too tightly. This could raise the back of the bed and cause the needles to go out of alignment.

Be sure there are no raised retainer bars across the bed. These are the green bars that hold in the needles. If any are raised slightly you can push them down with your finger or use a small hammer with fabric or rubber as protection to tap them down into place.
Do not bear down on the carriage or it could be difficult to knit. Just hold down the handle enough to keep the keyplate in place.
USM Attributes:
Comes with 4 keyplate sizes to match every size hand knitting needle size from 6 to 10 1/2.
Comes with 100 needles, so you can make up to 52" circumference sweater using chunky weight yarn.
You can use hand knitting patterns from information provided with each machine.
Extendable—make an even larger sweater or afghan with one or more
Extension Kits—you can even join two Ultimate Sweater Machines together!
Knits yarns from sport weight through chunky weight.
Knits fancy yarns from pencil roving through textured bouclé yarns, in all fibers.
Made of high quality polymer used in aircraft.
Resulting knitted fabric looks as if it had been made by a professional hand knitter.
"Bond" and "Sweater Machine" names are highly recognized and respected for quality needlecraft tools, especially easy-to-learn and high quality knitting machines.
No prior knowledge of knitting is required.
Free detailed instructional video on all the basic techniques and doing fancy stitches comes with each machine.
The Sweater Machine is ideal for crocheters who can add knitting to their crocheted pieces, or sewers, who can now knit as fast as they can sew.
Sours: http://bond-america.blogspot.com/2018/01/bond-america-ultimate-sweater-machine.html
Machine patterns sweater
How to Make a Sweater on a Knitting Machine. Hand Knitter's Guide. Part I.
Several days ago I started my Mineral Heather sweater on a knitting machine. I know that some of you have never seen the knitting machine in action, or have been thinking about buying one, or just curios about how it works. I decided to do a mini-guide on making a sweater on a knitting machine. This is not a step-by-step tutorial where I walk you through every stage of the process. It's mostly an overview of what knitting machine is, what it does and how it works, mainly from a hand knitter's point of view. When I was choosing my knitting machine it was the information that was missing - I couldn't find a place where the mechanism of knitting machine would be explained from the point of view of hand knitting. I think this way it is much easier to get the idea of what to expect from the machine. This overview is not going to teach you how to use the knitting machine. If you buy your own machine some day, the manual is the best way to start. There are many helpful YouTube videos and you can always visit Machine Knitting group on Ravelry for any technical question.When I first got an idea to buy a knitting machine, I hardly imagined what it was, how much it cost and how to use it. All I knew is that I loved knitwear and yarn and wanted to experiment with this kind of craft. I did a very thorough research before picking up my first knitting machine. One of the best places to start your knitting machine education is Angelika's Yarn Store website, where she writes reviews of the most popular knitting machines, shares tutorials and other useful information. The best article to start with is What Every Hand Knitter Should Know Before Buying a Knitting Machine where she covers the differences and similarities between machine and hand knitting.In this review I will share my experience and how I make things on my knitting machine. I am definitely not a professional machine knitter, but I think, my point of view as a hand knitter who occasionally does machine knitting, will be useful to those who are just considering the machine knitting or just plainly curious about it.Ok, this is how my process of making Mineral Heather looks like. I am posting black-and-white pictures because I think this way all the details are much clearer. And this way you can't see the rust on my machine :)First of all I decide what kind of garment I want to make. The shape, the fit and so on. Then I do all the numbers and write down instructions for myself to follow. There are machine knitting patterns out there, so you don't have to do it all by yourself. My machine (Silver Reed LK150) is very simple and it can't do the ribbing. You can do the ribbing manually transferring stitches, but it takes more time this way than doing it by hand, at least for me. So, I am knitting my ribbing for the desired length by hand.
Then I place the carriage on the needle bed. The carriage is like your hands in hand knitting. It does the work of knitting the stitches.
These little knobs are the "heads" of the needles. Each knob is a needle. Here you can also see the row counter. Every time you pass the carriage across the needle bed, the number goes up. It is very useful, as the exact row count is much more important in machine knitting than in hand knitting. When you are hand knitting a piece, you can stop and measure it to see how much is left before the desired length. But on the machine the fabric is really stretched and distorted, so you can never do your measurements while the piece is still on the needles. You can rely only on your raw gauge and follow it exactly.
The next step for me is to push forward the necessary amount of needles. For example, according to my calculations I need 82 sts for the back, so I push forward 82 needles.
They don't really look like needles, more like long crochet hooks. The next thing I do is to put my knitting off the usual needle on the knitting machine. I put one stitch on one needle, one by one. Wrong side is facing me.
Then I push the needles with stitches on back to the working position.The stitches should be secured on the needles, so they don't jump off when I move the carriage across them.
Now I am ready to thread the yarn. First I carry it through the yarn feeder - this is basically a place where you "connect" your fabric on a needle bed with the carriage.
Then I go through several tension guides. It is almost like threading sewing machine, only much easier, at least for me, I am a hopeless seamstress :)
This is what you get at the end.
Next step is to adjust the stitch dial. Stitch dial is like the needle size in hand knitting. It will determine how many stitches/rows per inch you will get. For this sweater I chose 6.5. This number doesn't correspond to needle size in hand knitting. You have to try several stitch dial adjustments to see how the fabric behaves. The higher the stitch dial, the less stitches per inch you will get. The thickness of yarn also determines the stitch dial number. The thicker the yarn, the higher the number. It is also worth mentioning that your machine can't knit all weights of yarn out there. Your knitting machine is like a set of knitting needles - there are a lot of them, but not an infinite number, which means that some yarns just won't work on the machine. I am using one of the most universal machines - it is mid-gauge and it covers a great range of yarn weights.
When I first got my machine I was quiet scared - what did I get myself into?! It didn't look like knitting at all. It is not really a hobby that you can take to your cozy couch and relax. You need to have a special place for the machine, you need to sit straight, move the carriage across the needle bed, watching the tension and making sure that everything is going smoothly. It is a manual work and I am definitely not choosing to work on the knitting machine after a long day at work. I love to do it early in the mornings or at weekends when I am full of energy. But I do enjoy it a lot! It is really fun to watch how the smooth (given that you are watching the yarn tension!!) rows of fabric are growing. It is a domestic knitting machine that has very little to do with mass product knitting machines. There is a lot of hand work involved. I would definitely label the piece knitted on the domestic knitting machine as "handmade".Now the fun part begins - knitting!! I decided to set a timer and let you know in how much time I knit 10 rows, without any shaping involved. Well, ready? 10 rows in 32 seconds!!! Pretty fast, right?
Well, I think this is enough information for today. I don't want to give you a headache :) Next week I will show you how I do the shaping - increases, decreases, binding off and so on. Who knows maybe you will consider getting a knitting machine for yourself!
Joining knitting and reading Yarn Along today. I got Mark Twain from the library and can't wait to dive into the collection of his short stories today.
Enjoy your week and stay safe!
How To Make a Sweater on a Knitting Machine Part II
---
RELATED POSTS
Sours: https://giftofknitting.com/blog/how-to-make-a-sweater-on-a-knitting-machine-hand-knitters-guide-part-i
Sentro Knitting Machine VS Addi Knitting Machine
Quick projects to make the most of your knitting time. Patterns and tutorials.

Fisherman Rib Blanket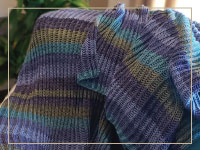 Updated, colorful and fun, this one-piece blanket is sure to please!
Knit in a self striping yarn in Fisherman rib and you'll be done in no-time!
Dust off your ribber and get knitting!
Mug Koosie aka Coffee Sleeve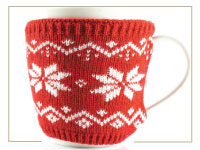 Fast project to practice different techniques and use up that stash yarn.
Great quick gifts!
Dress Topper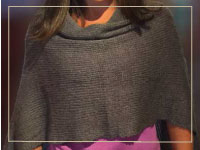 Super-easy knitting, super-fabulous accessory! Use any yarn and any stitch pattern and make it your own!
Kaleidoscope Shawl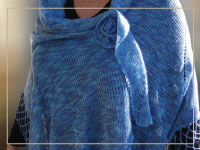 Use short row shaping for interest
Tucked Blocks Pillow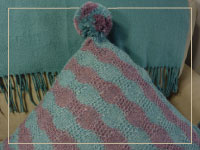 Take a fairly simple tuck stitch pattern and add stripes for a quick, textured, colorful pillow.
Color Block Cable Pillow
Combine Intarsia and Cables
Rib 'n Roll Slouchy Hat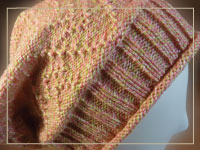 Take a simple hat pattern, mix 'n match stitch patterns
and you have a fun, fashionable slouchy hat.
Hand Knitting Patterns on the Machine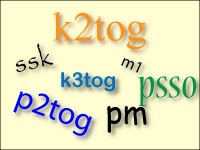 Using hand knitting patterns for machine knitting is not only DO-ABLE, it's the best way to take advantage of all the talented knitwear designers who are publishing beautiful up-to-date designs.
Is it possible to knit everything on the machine? ... no .... BUT witih a little thought, planning and the skills you can learn, the opportunities are nearly endless!
Magic Racked Scarf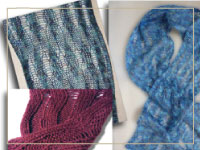 Looking for a completely reversible scarf? Use the Racking Magic stitch pattern on your ribber for a lightweight, open work scarf that is sure to please!
Felted Intarsia Pillow
Beginner or Expert, you can knit this pillow cover in pieces and seam or knit all-in-one using Intarsia
Mile-A-Minute Hats
No-shaping, rolled brim hats that can be quickly knit
"assembly line style" on ANY machine, in ANY yarn with ANY stitch pattern.
Heavenly Hearts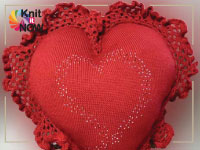 Be my Valentine!
Design and knit unusually shaped pieces for pillows, pockets .. you name it!


Diagonal Pillow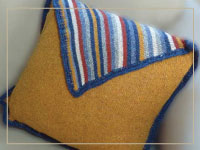 Make it your own! Use stripes or striped stitch patterns diagonally for an unusual graphic pillow.
Quickie Baby Blanket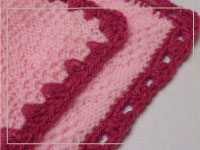 One-Piece Pinwheel Pillow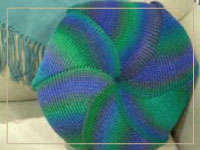 Quickly knit a 3 dimensional pillow cover in one piece! Cover a circle pillow form.

Use variegated yarn, stripes or alternating colors to make it your own! Can you work short rows? You can finish this in a weekend!
Man's Knitted Tie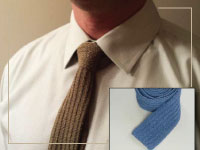 Knitted ties are classic!
If you have some experience with your ribber, making them on the knitting machine can be a fun, quick project.

Fingerless Mittens
These fingerless mittens are quick, easy and can be knit in an evening. Use any stitch pattern, add a pocket ... you are the designer!
Pintuck Square Pillow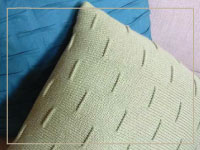 Minimal finishing makes this pillow cover a blank canvas for your creativity! We added pintucks, but you can choose any stitch pattern.
Short Row Flowers
Knitted flowers can add just the right touch to your garments. These flowers are fast, easy and look great!
Use them to decorate hats and head warmers. Jazz up a plain sweater or use them as shawl pins ... the sky is the limit!
Walker / Wheelchair Pouch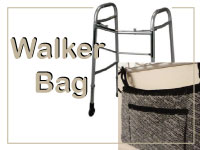 Walker bags are used by those whose balance requires a walker for safety, but need extra carrying room for their knitting, books, etc.
Stocking Gift Card Holder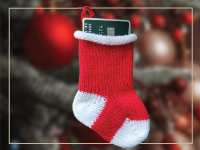 Cute-as-can-be mini stocking for gift cards. This is a quick project that takes very little yarn.
You are the designer - knit in a stitch pattern, add fairisle or embellish with embroidery or purchased trims.
Infinity Scarf Made Easy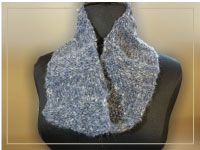 One simple trick to tame the curl
Perfect Fit™ pattern included
Watch Caps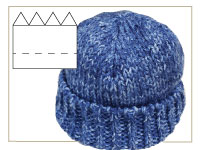 Hats are practical and fun! Use them as a canvas for your creativity! Mix 'n match colors, yarns and techniques. Improve your knitting skills.
Basic Poncho

Can you knit two rectangles? Knit this classic poncho with ANY yarn and ANY Stitch pattern on YOUR machine.
Swirl Top Beanie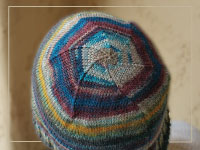 Ready for a challenge? Knitting a shaped crown requires you transfer a lot of stitches. But you only do the transfers for 2" and a garter bar makes the process go quickly. This technique can be used for a beanie style hat or a slouchy beret.
Bolster Pillows
Add some interest to your home decor with bolster pillow. Knitted covers are easy to make and there are lots of variations.
Knit circles for the ends and get creative with stitch patterning and color for the 'tube' to cover the pillow.
Ohmmm Yoga Socks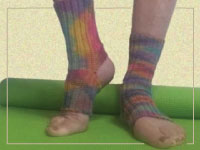 If you practice yoga but find that your feet get chilled, these socks are meant for you. They keep the foot and ankle warm, but leave heels and toes free to grip the mat. Best of all they are so easy to knit!

Ribber PomPom Scarf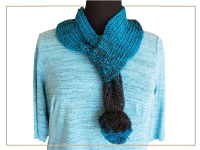 Looking for a FAST project? Dust off your Ribber and get knitting!
Double Pointed Scarf
Simple knitting | Stash Buster! Knit a rectangle (to size) and create a double pointed kerchief style scarf.

Lots of stitch pattern possibilities.
Quick n Easy Ear Warmers
When a hat is too much, but you need some extra warmth, a knitted ear warmer is just the solution. Preserve the hair-do or work around a messy bun.
Here are some ideas for quick-n-easy knitted headbands that will be a welcome gift. These are also great craft fair items.

Plain or fancy, use these ideas as a jumping off point for your own creativity
Santa Tomte Pillow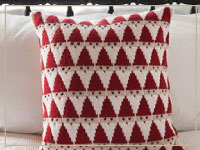 This cute-as-can-be pillow is sure to be a favorite for your holidays.
This clean and modern design is inspired by the "tomte", a domestic sprite who protected the farm. With a pointed red hat and long white beard it looks a lot like a gnome. . .and Santa Claus! Bring a bit of whimsy and the flair of Scandinavian style home for the holiday
Lucky Cloche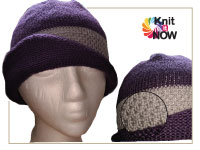 Knit this fashionable and warm cloche on any machine. Knit in one piece, short row shaping creates the fold-back brim. The stripe can be knit plain, in reverse stockinette, linen stitch or any stitch pattern to make it stand out. The top has impressive swirl shaping to top off this gorgeous project.
Butterfly Shawl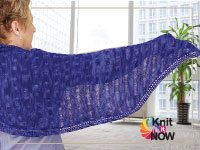 Quick to knit shoulder-warmer to chase away a chill. The neck opening simply folds back to create a collar. Easy knitting! Great beginner project Cast on, bind off Increase, decrease You can knit this! Make it any size, use any yarn, add your own stitch pattern. Finish with included crochet edge or technique of your choice. Any yarn, Any machine, Any Stitch Patter
Right Angles Blanket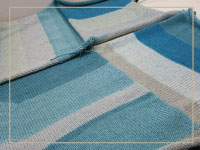 Here's a project that is fun, easy knitting with modern, graphic appeal.
This is a great beginner blanket with unusual construction that isn't hard (there's only 1 seam).
The finished blanket is square... want a rectangle? Knit 2!

Ready to tackle more than a swatch or a plain rectangle? Practice picking up stitches and neatly seaming a small seam. The yarn and the angles make this design special.
Checkerboard Pillow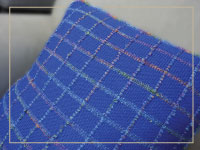 Add texture and color to a plain pillow with no programming or punchcard ... and no floats!

Pillow features rounded corners and I-cord inserted seams.

Lots of opportunities to customize with stitch variations, color and creativity!
100% Reversible Scarf (ribber)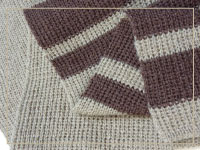 Put your ribber to use with this full-needle rib scarf.
Curious about full needle rib or haven't used it for a while? Here's a quick project that is good for practice, and you'll have a warm, beautiful scarf to wear!
Color Block Poncho
Geometric color play and unusual construction makes this poncho a winner! Knit in panels and use the sew-as-you-go joining method, and you'll be done in no time!
Elsa 18 Yoga Pants
Yoga pants for 18" doll. Practice techniques to improve your machine knitting confidence. Includes tutorials for Marking Rows, Picot Hems plus Seaming Tips.
Boot Toppers (aka leg warmers)
Stash buster project to create a bit of knitting to peek out over the top of your boots. Fashionable fun for all ages!
Can You Knit Rectangles?
3 rectangles + no shaping + a soft, drapy yarn or an openwork stitch pattern
= a fabulous, comfy vest!
Set-in Sleeve Practice
Practice knitting perfect set in sleeves

Skull and Crossbones Pillow
Practice or learn intarsia techniques without an intarsia carriage.
Shar Pei Wrinkled Pillow
Knit this fabulous pillow cover in a weekend. Like the puppy with the same name, the pintuck wrinkles add texture, interest and comfort.
Modern Striped Pillow
A quick-to-knit project created from 2 rectangles. 3 seams and you are done!
Stranded Pillow
Knit a 2 color fairisle pillow in a FRACTION of the time it would take to knit by hand.
Eyeglass Case
Get creative! Use up your Stash! Make something useful! Here's a quick project that you can use to try new techniques and end up with a FO (finished object).
KnitItNow
16772 W. Bell Rd
Ste 110-113
Surprise, AZ 85374-9702
US Mountain Time Zone
-7 GMT
we do not have a storefront

© Copyright 2021 Knit It Now, LLC
Share your email address and receive:
Subscribers receive: (paid subscription)

Sours: https://www.knititnow.com/knit/projects
You will also like:
We spent together The entire high council of the Thalmor watched as the animal once again gave birth, this time bringing as many as four. As usual, males, as usual healthy. It's a little too small this time, but that's not a problem. In the first week they will catch up.
471
472
473
474
475