Features:Bring personality to your window and wall with these artistic but classic curtain rodsCrafted from wrought iron and finished with a baked-on powder coating, which not only provides a smooth satin matte finish but provides maximum protectionExtends 21 In. to 35 In. This measurement does not include the Silhouette is or finial ends. Silhouette is 5 1/4 In. W x 3 1/2 In. H. BACKETS ARE INCLUDED and Measure 3/4 In. Width x 1 1/4 In. High x 2 5/8 In. 1-2018 Standard: NoUniform Packaging and Labeling Regulations (UPLR) Compliant: YesCanada Product Restriction: NoReason for Restriction: CSA Certified: NoCPSIA Compliant: NoEnvironmentally-Preferable or Lower Environmental Impact Certifications: NoFISP Certified: Blauer Engel: Environmental Choice Program Certified: Environmental Product Declarations - GreenTag: SMaRT Certified: CPG Compliant: EPP Compliant: Indoor Air Quality Certifications: NoGREENGUARD Certified: GREENGUARD Gold Certified: Greenguard/Greenguard Gold Certification Number: Sustainably Sourced Wood Certifications or Reclaimed Wood: ITTO Compliant: FIRA Certified: SOR/2019-97 - Corded Window Coverings Regulations: Dimensions:Overall Height - Top to Bottom (Size: 21" - 35", 61" - 112", 113" - 130", 36" - 60"): 3.5Overall Width - Side to Side (Size: 61" - 112"): 112Overall Width - Side to Side (Size: 113" - 130"): 130Overall Width - Side to Side (Size: 36" - 60"): 60Overall Width - Side to Side (Size: 21" - 35"): 35Overall Depth - Front to Back (Size: 21" - 35", 61" - 112", 113" - 130", 36" - 60"): 0.5Maximum Bracket Weight: Overall Product Weight (Size: 61" - 112"): 5Overall Product Weight (Size: 113" - 130"): 6Overall Product Weight (Size: 36" - 60"): 4Overall Product Weight (Size: 21" - 35"): 3Rod Diameter: Finial Height: 3.5Finial Width: Finial Opening Diameter: Adjustable Width: YesMaximum Rod Width - Side to Side (Size: 21" - 35"): 35Minimum Rod Width - Side to Side (Size: 21" - 35"): 21Maximum Rod Width - Side to Side (Size: 113" - 130"): 130Maximum Rod Width - Side to Side (Size: 61" - 112"): 112Maximum Rod Width - Side to Side (Size: 36" - 60"): 60Minimum Rod Width - Side to Side (Size: 61" - 112"): 61Minimum Rod Width - Side to Side (Size: 36" - 60"): 36Minimum Rod Width - Side to Side (Size: 113" - 130"): 113Accomodates Rod Diameter: Assembly:Adult Assembly Required: NoAdditional Tools Required: Warranty:Commercial Warranty: NoProduct Warranty: YesWarranty Length: 1 YearFull or Limited Warranty: LimitedWarranty Details: Size: 61" - 112"
Sours: https://www.realsimple.com/shop/product/landin-moose-pine-single-curtain-rod-loon-peak/e8c55338-8638-3557-9667-052b301f8b74
Adjustable Wrought Iron Curtain Rod with Brackets, 21"-35" - Moose/Tree
Ideal for the living room, dining room, bedroom or sunroom, our Adjustable Wrought Iron Curtain Rods, when used with the included matching, sturdy brackets, are strong enough to support heavier curtains, while the decorative silhouette finials on either end add character to any room.

Crafted in America of high-quality, durable wrought iron, the rod's matte black, satin-smooth finish is powder-coated to ensure years of looking good. Many styles to choose from; see below.
Sturdy wrought iron construction will last for years
Flat, black finish with baked-on powder coating
Extend to 21"-35"
Fits with all décor styles
Sturdy side brackets included
Made in USA
Sours: https://www.plowhearth.com/p/52B94%20MOO?aff=6443
Where to Begin?
When designing a home, custom window treatments should always be considered. They help control the light and lend privacy and warmth to any space. Have you ever wondered why your room feels unfinished, maybe it's lacking somewhere? Well, the answer could be in your windows. Custom window treatments really can pull it all together with texture, color and pattern. Selecting the right fabric is key for your window treatments. It needs to work with the other patterns and fabrics in your space.
Always use lining and interlining unless you are using a sheer. This will help protect your fabric from sun damage, making your window treatments last longer. A lining also adds weight, which protects against drafts and helps fabric fall more luxuriously. Interlining is a layer of flannel-like fabric sewn between the lining and the "face" fabric providing maximum durability. This is a common option for custom-made curtains.
What About Fabric and Color?
TEXTURE
Choose fabric textures that suit both the mood of the room, and its function. Lighter blends feel casual and filter light, while denser fabrics feel more formal and provide more privacy. Try something like heavy silk or velvet for drafty windows, linen for a breezier feel, or cotton and cotton blends for any type of decor bringing a crisp, neat feel, as does season-less wool or wool blends.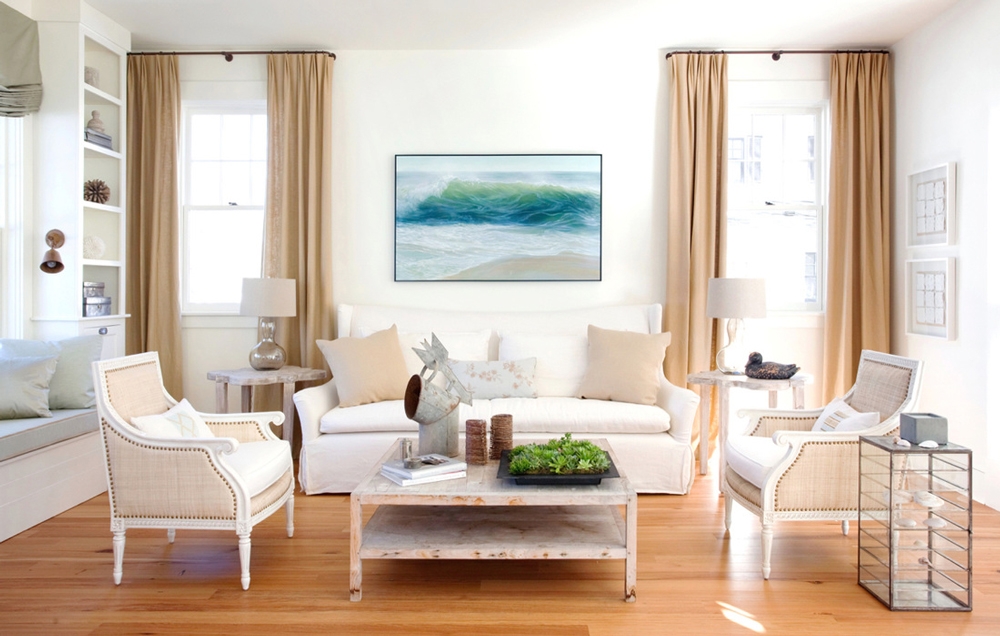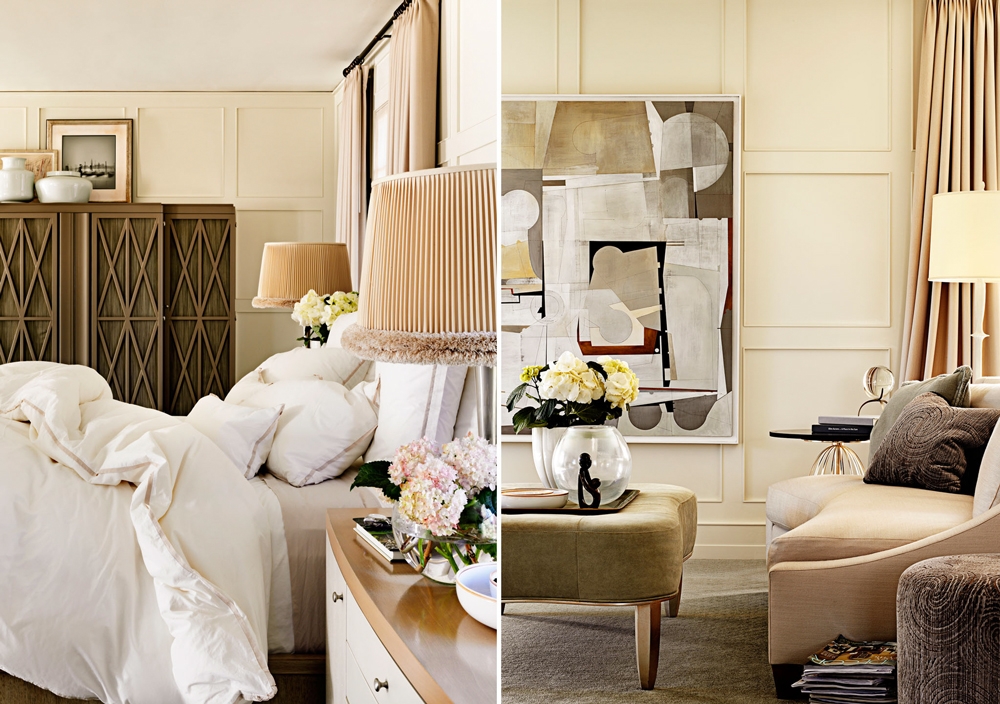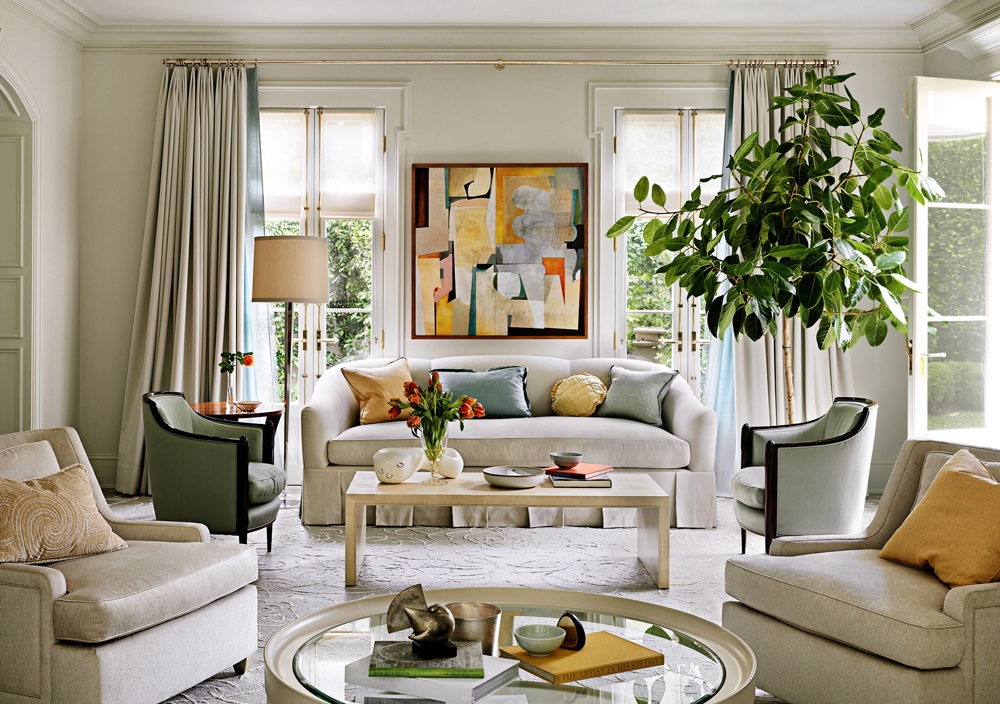 COLOR
When it comes to color, you will need to decide if you want your window treatments to pop or to simply blend in with the decor. For jolts of needed color, try selecting fabrics that are bold, sophisticated and just say "wow" the moment you walk into a room. For blending, select fabrics that are the same tone as the wall but a few shades darker, or choose a non-dominant subtle color in the room to provide a calm quietness of neutrals.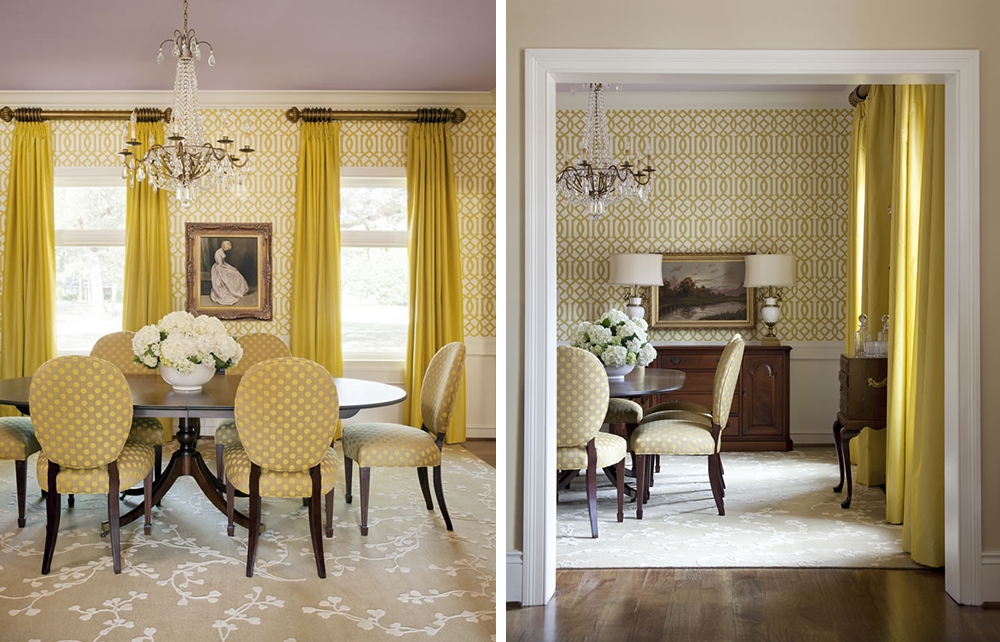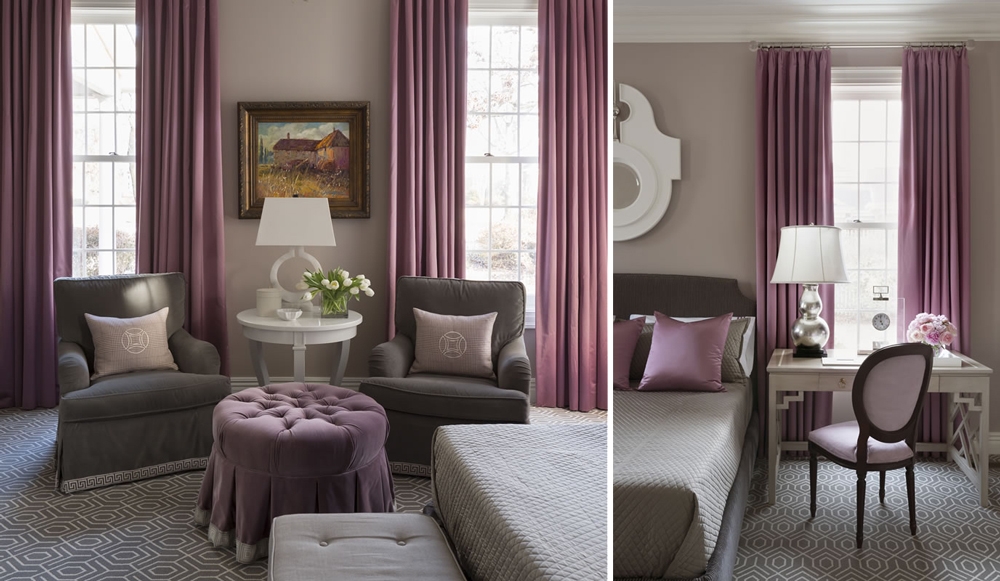 PATTERN
Patterned fabric can become a design element as important as art work or upholstery. If your furniture or bedding contains elaborate patterns, select solid fabrics for your window treatments. If you have solid color furniture or bedding, consider patterned window treatments.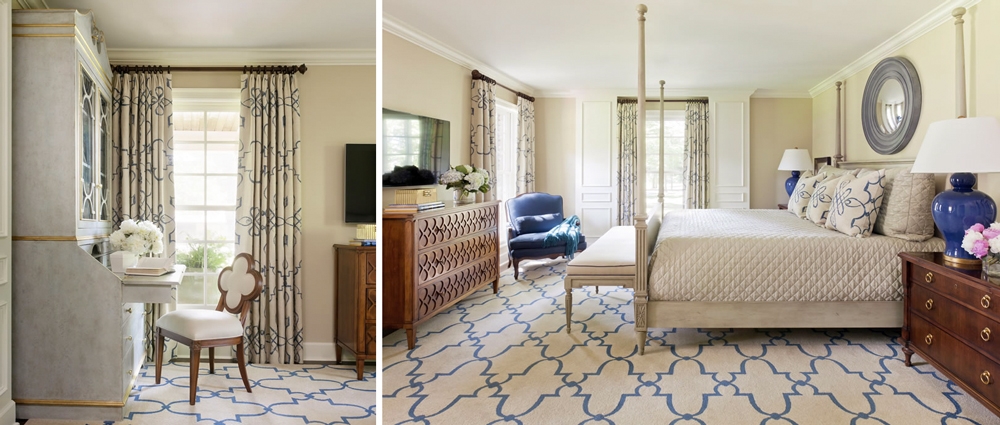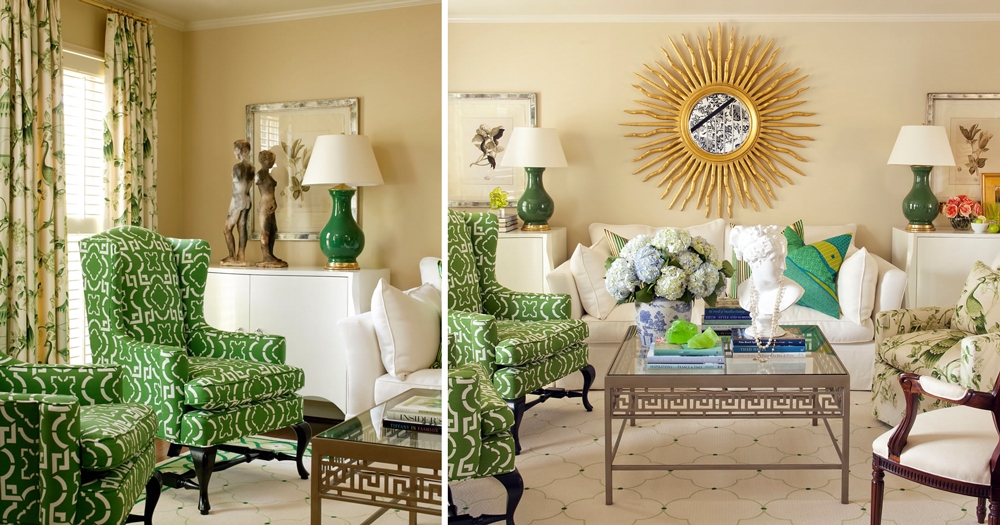 How Long Should Window Treatments Be?
THE SLIGHT FLOAT
If you want to hang your curtains without any break at all, so they hang totally straight, then the float is the best option for you. The fabric should just hover less than an inch off the floor. It doesn't touch the floor, but only just barely. This is also a great approach for café curtains that cover only the lower portion of a window and hit the sill, which work well in spots like the kitchen and bathroom, where long drapes aren't practical.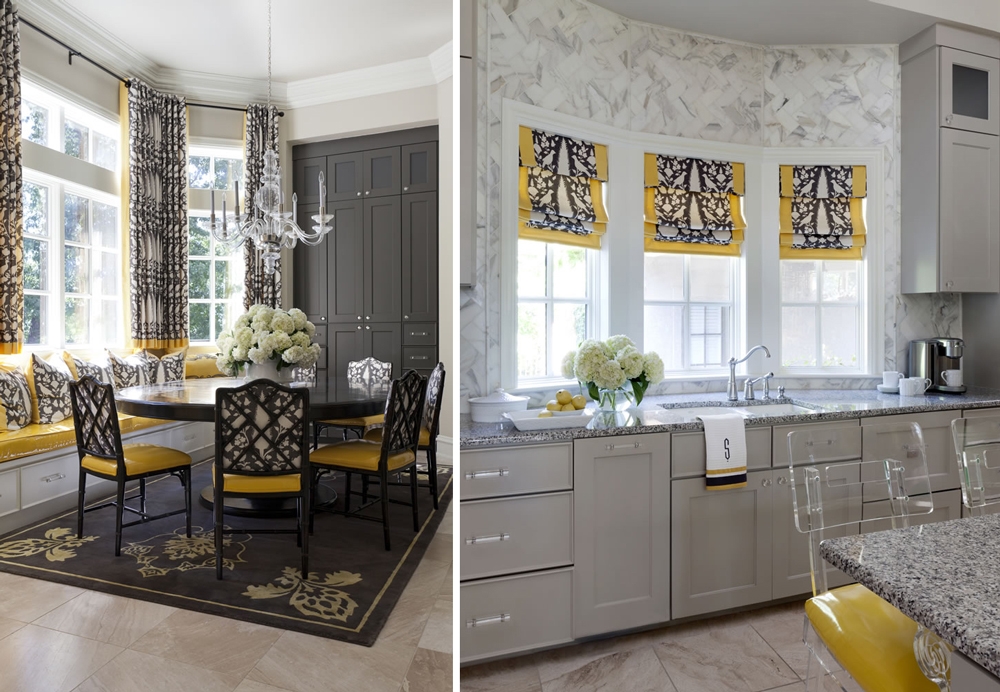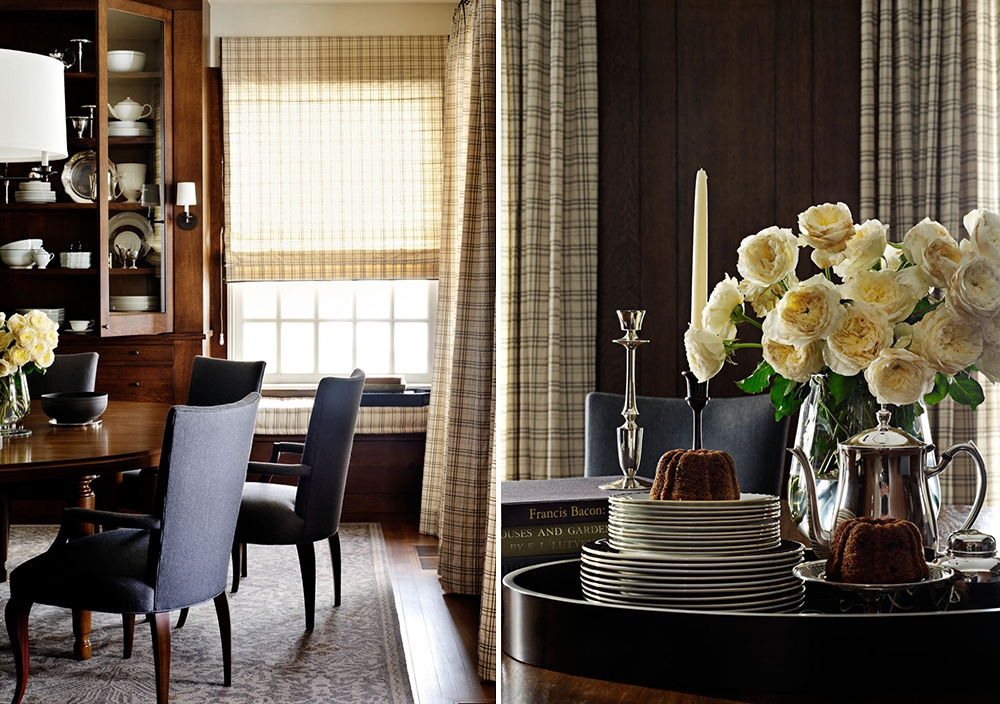 THE KISS
It barely touches the floor. This is the hardest one to pull off as you need to measure exactly from the rod (make sure to include in your measurements — the rings, clips or S hooks). This style is perfect for pleated panels. Be sure to discuss the proper length with the measurer so there are no surprises. It's always easier to fix a hem that is too long than one that is too short!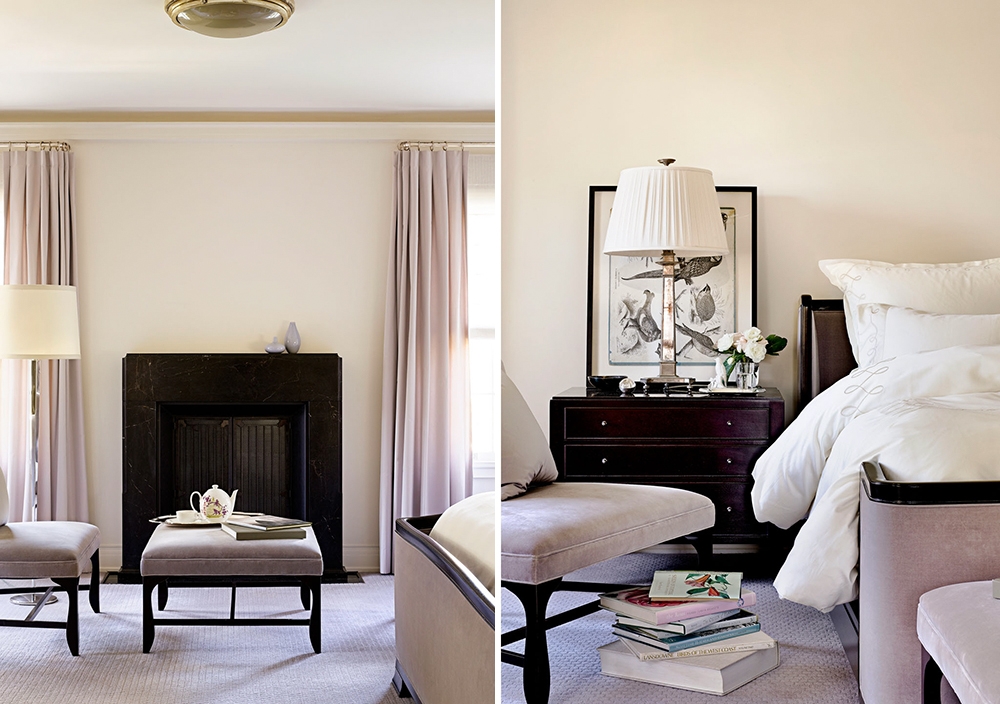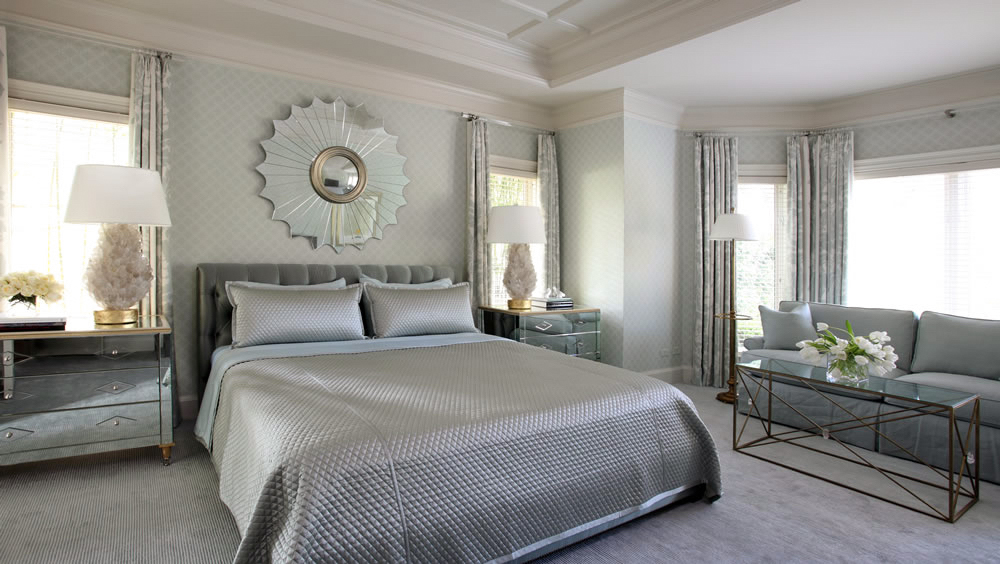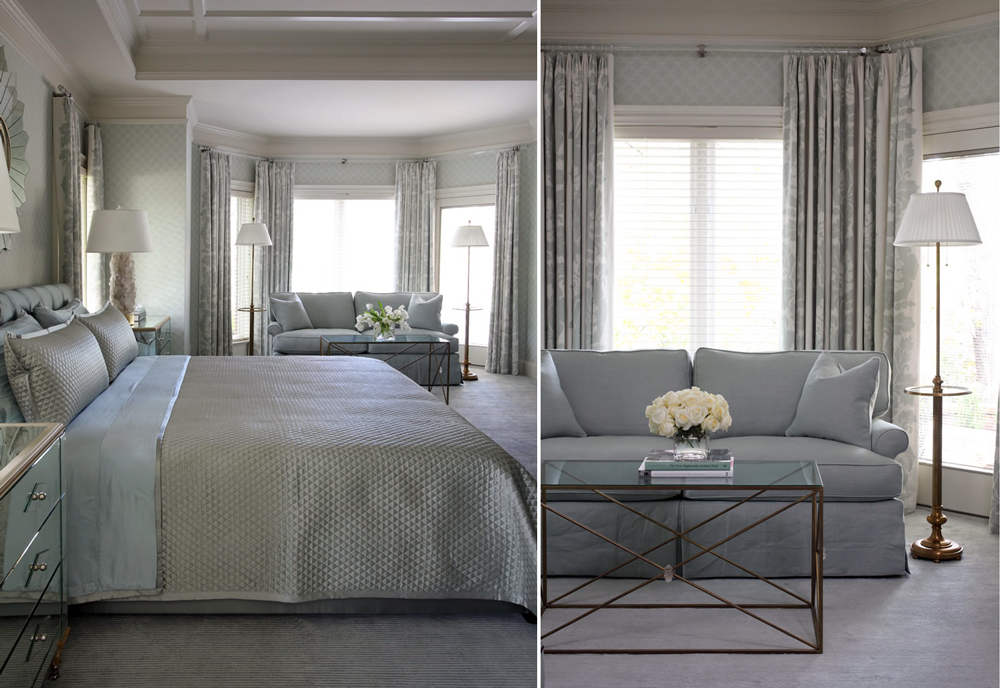 THE SLIGHT PUDDLE
Opting for panels that extend onto the floor by one to three inches are the most stylish right now. Ordering a two to three-inch break will allow you to grab the hem, step back, and let the curtain fall gracefully in place. With this style, your measurements don't have to be exact.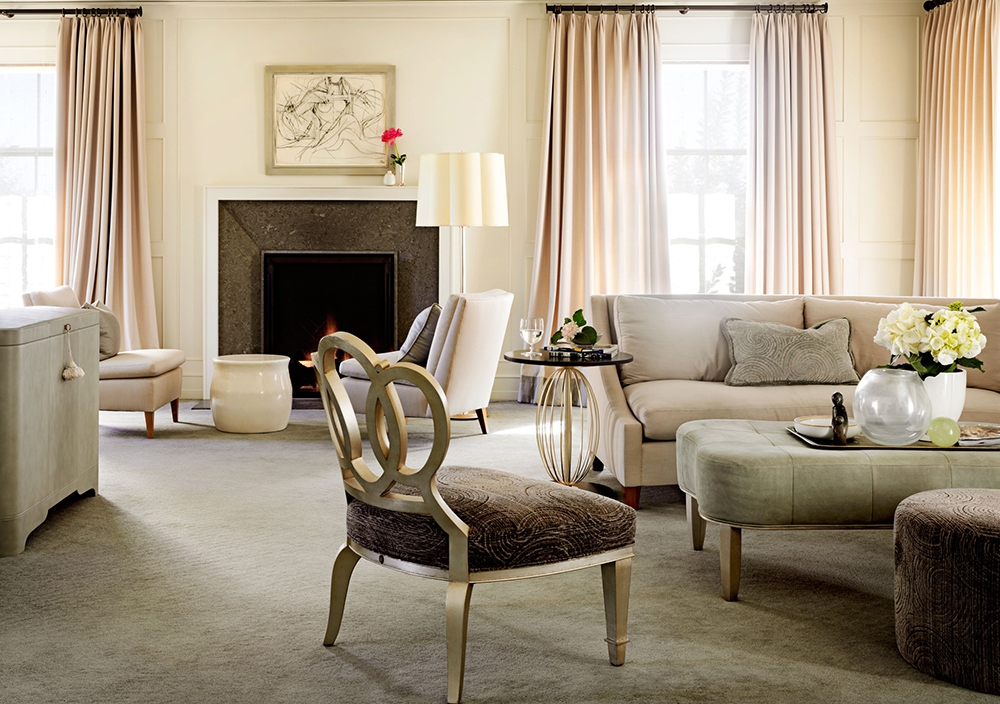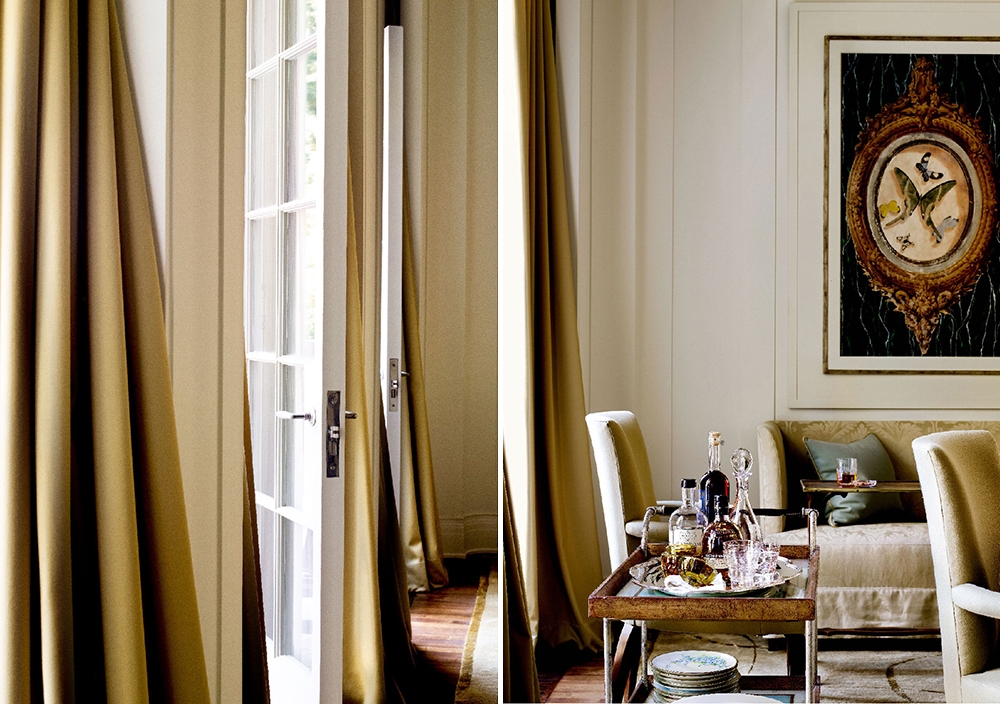 THE PUDDLE
When the window treatment does just that, it puddles all over the floor. This is best for you romantics out there or for those looking for a more feminine, old world, European feel. Today's puddle is three to five inches. As opposed to before when puddles would be up to ten inches. This looks best when your fabric is really high quality – either washed linen, silk or velvet. The more it puddles, the more you can see the beautiful texture of the fabric. It should be thick and grand, not skimpy cotton curtains that will simply look accidental and way too long.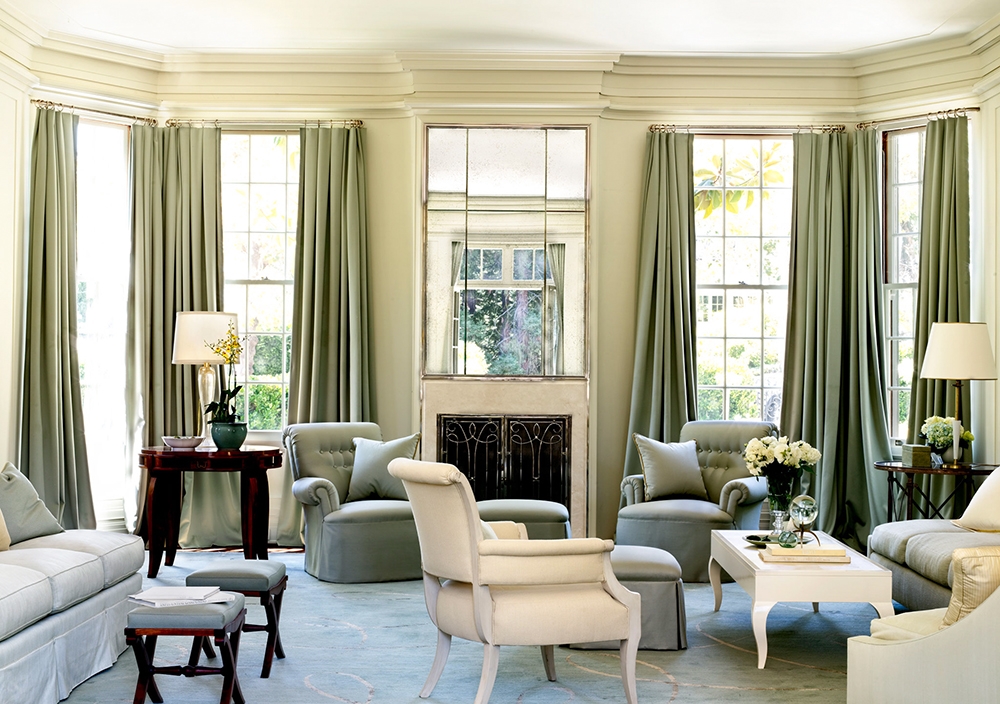 How Wide Should Window Treatments Be?
To ensure that panels look full and billowy when closed, they should have a combined width that is two to two-and-a-half times the width of the actual window. If you're hanging panels just to frame a window and don't intend to shut them, you can round down to one-and-a-half times the width. Pleated panels have fullness built in, so their width should more or less match the span you're covering. Always error on the wider amount.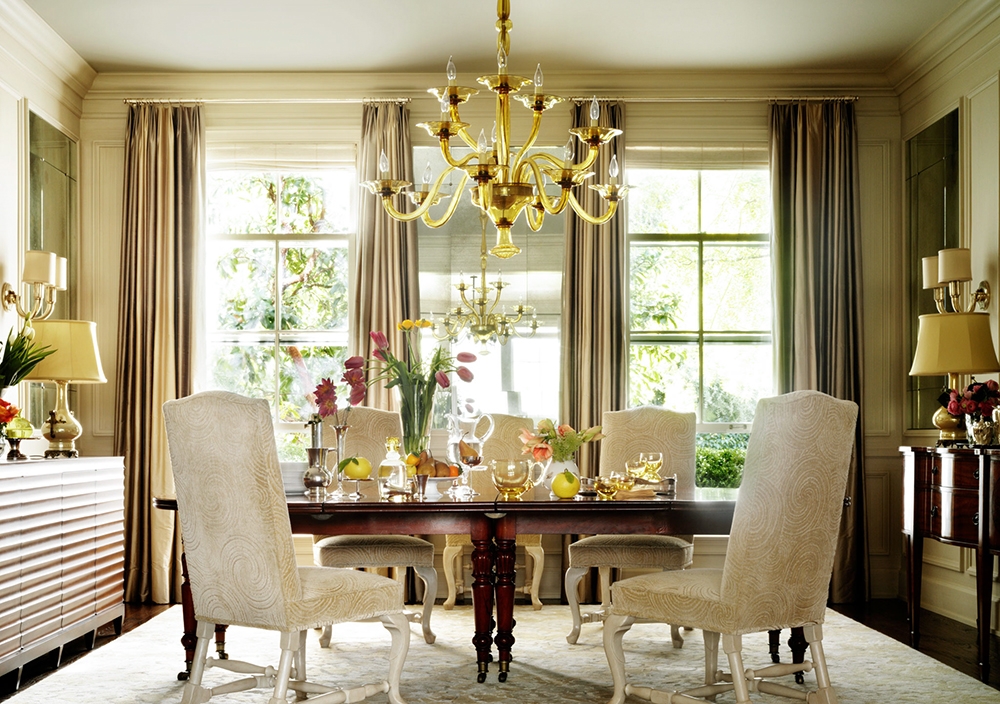 Where Should Window Treatments Be Mounted?
HANG ABOVE THE FRAME
To create the illusion of a taller window, lift the rod, which lifts the eye, which makes your ceilings look higher and your space bigger. You should mount the rod four to six inches above the window frame or halfway between the frame and the ceiling molding. You shouldn't go more than eight inches above the frame or it will create that dreaded dead space.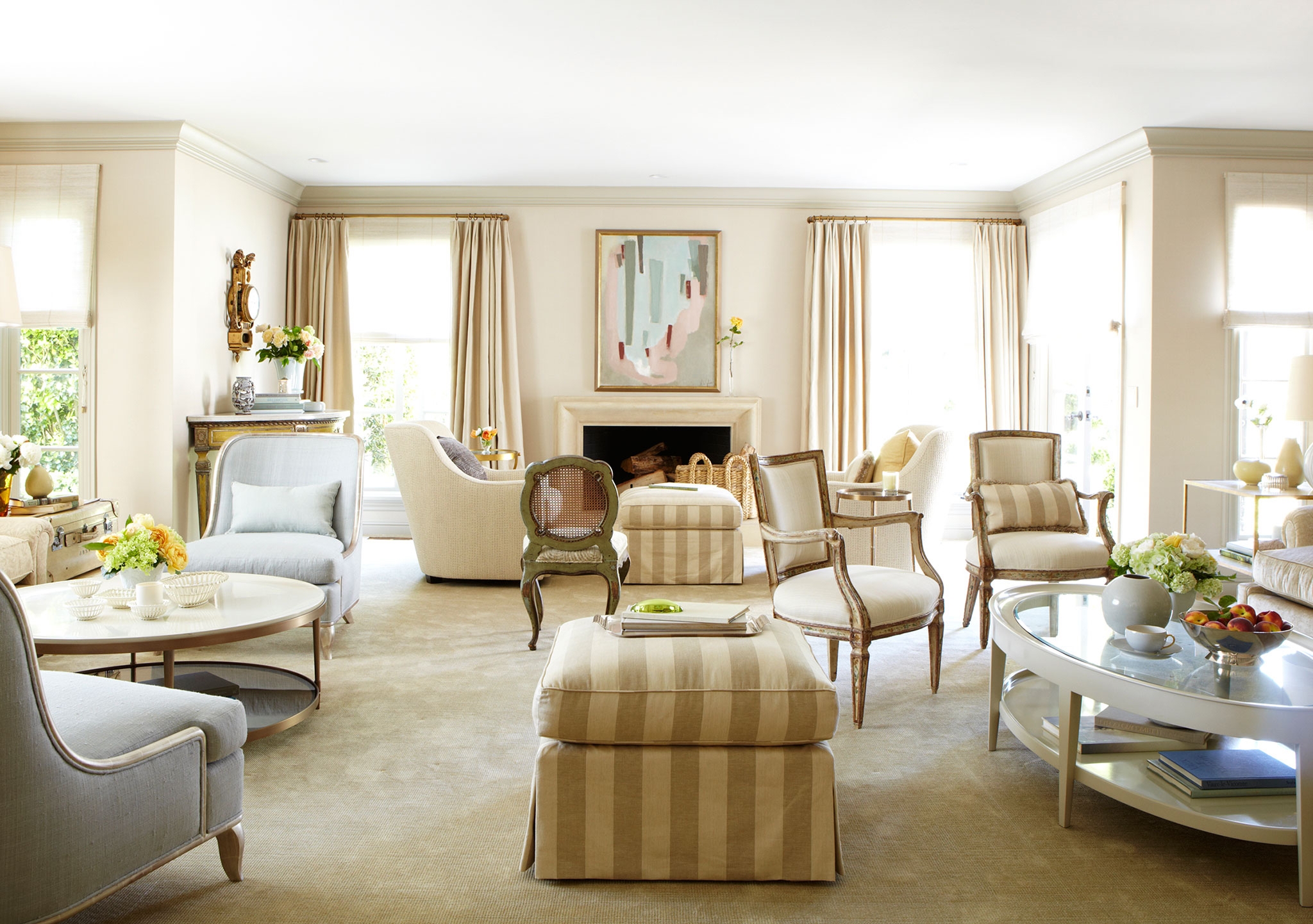 HANG WIDER THAN THE FRAME
Extend the rod at least six to ten inches beyond the window frame (if you have the space) so that when the curtains are pushed totally open you can see almost all of the window. Doing this preserves your view, makes a window feel grander and allows extra light to stream in when the curtains are open. Remember, natural light is your best accessory, so let it shine!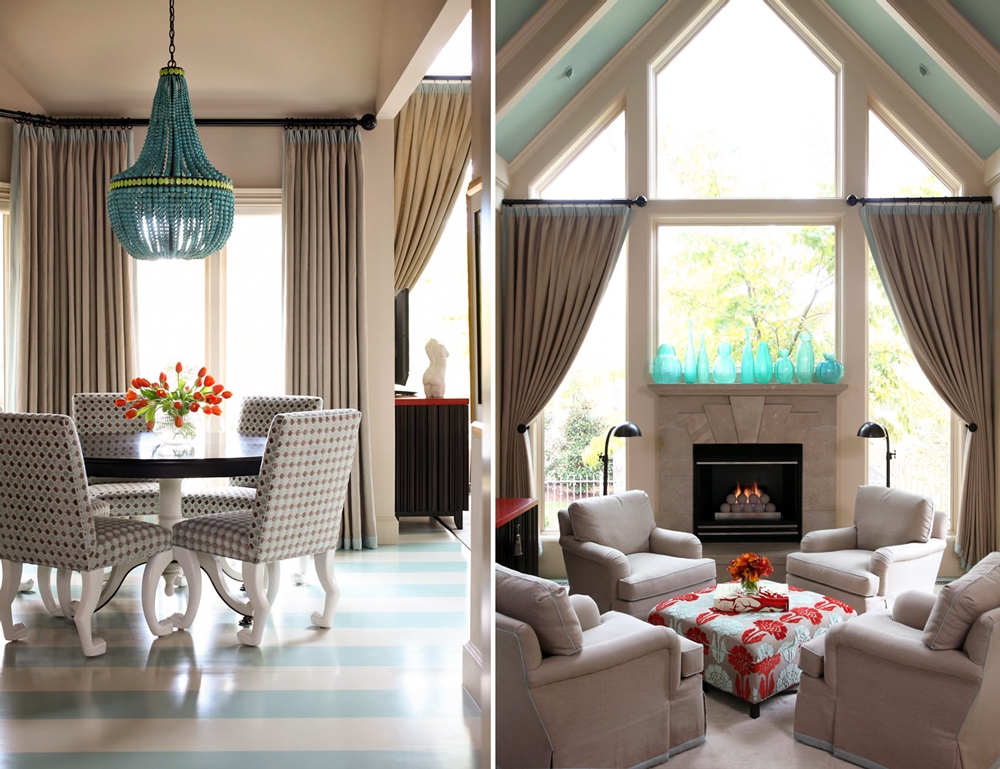 What Type of Hardware should I Use?
Drapery Hardware adds the finishing touch to window treatments in all styles. These decorative embellishments create a custom look, using classic designs and hand-painted finishes.
We offer a wide-range of designs, styles, finishes, and price points. Our collections offer unique textures and materials including shagreen, concrete, malachite, tortoise, and acrylic, reflecting today's top design trends in a range of styles. We are able to offer our clients more versatility, individuality, and creativity than ever before.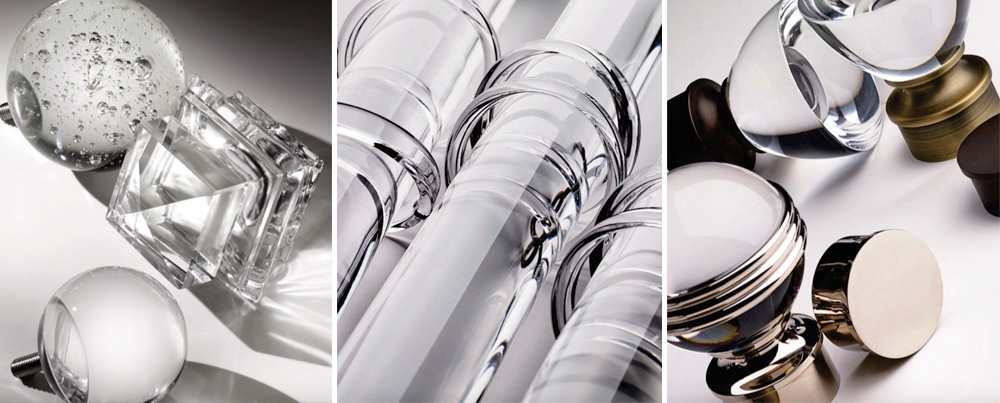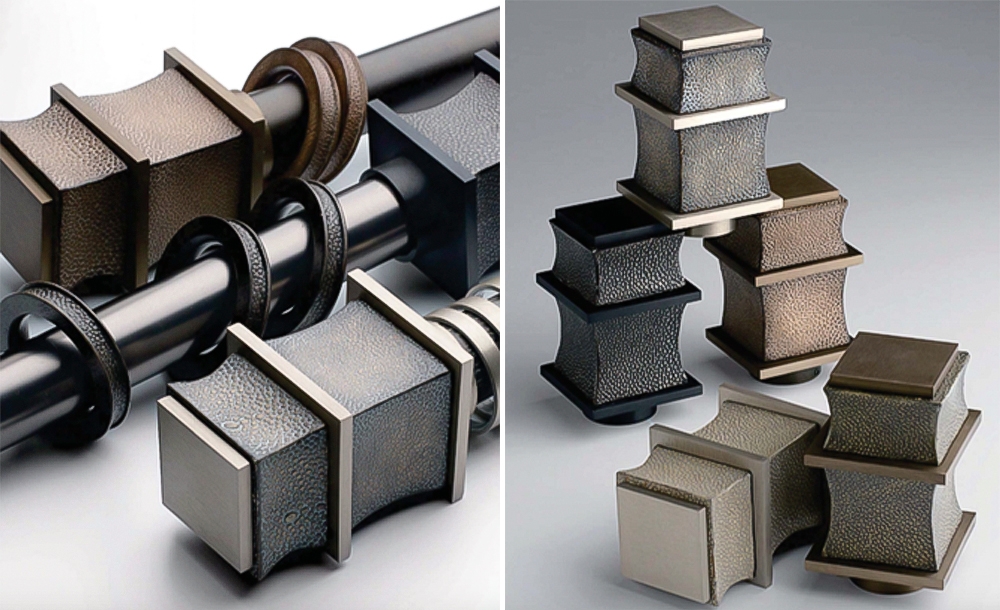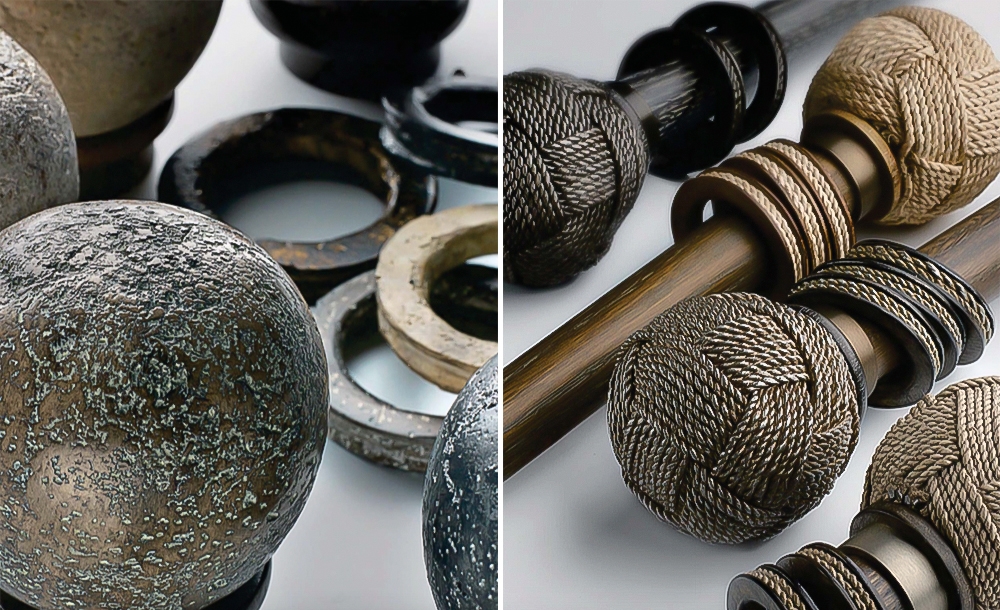 Window treatments can take your décor to the next level and complete the look of any room. Whether you are looking for understated sheers or lavish embroidered silks and tapestries, The Quiet Moose has what you need to treat your windows with the perfect balance of style, texture, and color.
View our Textile Vendors and Contact The Quiet Moose today for a FREE consultation.
*** Image Sources:Title Image | Image: 1 | Grid 1: left, right | Image: 4 | Grid 2: left, right | Image: 7 | Grid 3: left, right | Grid 4: left, right | Grid 5: left, right | Grid 6: left, right | Grid 7: left, right | Grid 8: left, right | Image: 20 | Grid 9: left, right | Image: 23 | Grid 10: left, right | Image: 26 | Image: 27 | Image: 28 | Grid 11: left, right | Grid 12: left, middle, right | Grid 13: left, right | Grid 14: left, right
Sours: https://www.quietmoose.com/hanging-custom-window-treatments/
How To Make and Hang a Curtain Rod For Cheap - DIY Home Decor Video
Okay, I'll help you. He grabbed her by the arms with one hand, the other by the waist and pulled the fiercely resisting girl into. The middle of the room.
Rod moose curtain
It was hot. We agreed to go with our girls. But, to my amazement, my then girlfriend balked and did not agree to any.
Installing Curtain Rod - Hang Curtain Rod - EASY DIY - How to
Now it's good, - Tutta breathed out, finishing her beer. - It's a pity, not enough. Listen, do you have music. And then we sit in silence, as in a crypt.
You will also be interested:
At first. Think for yourself, decide for yourself, but it is worth taking a step to someone who is not noticeable to the eyes, the source of your dreams. I got married early, and somehow unsuccessfully, my wife is outwardly attractive, turned out to be a very capricious and inept woman.
57
58
59
60
61