But I don't scrapbook. What other types of DIY projects work well with scrapbook embellishments?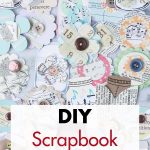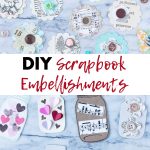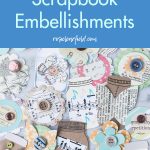 DIY scrapbook embellishments are so much fun to make and a lot cheaper than pre-made scrapbook embellishments.
Creating your own scrapbook embellishments allows you to customize or personalize them for specific scrapbook layouts and other craft projects.
I don't scrapbook either. It's a miracle that I ever finish editing my travel pictures and make them into digitally-created photo albums. However, there are tons of craft projects that lend themselves naturally to scrapbook embellishments. Project ideas for scrapbook embellishments include, but aren't limited to:
greeting cards
mixed media art
junk journals
paper planner pages/layouts
gift wrapping embellishment
gift tags
bulletin boards
At the end of the post, I share a few examples of homemade projects I've completed with a few of my DIY scrapbook embellishments!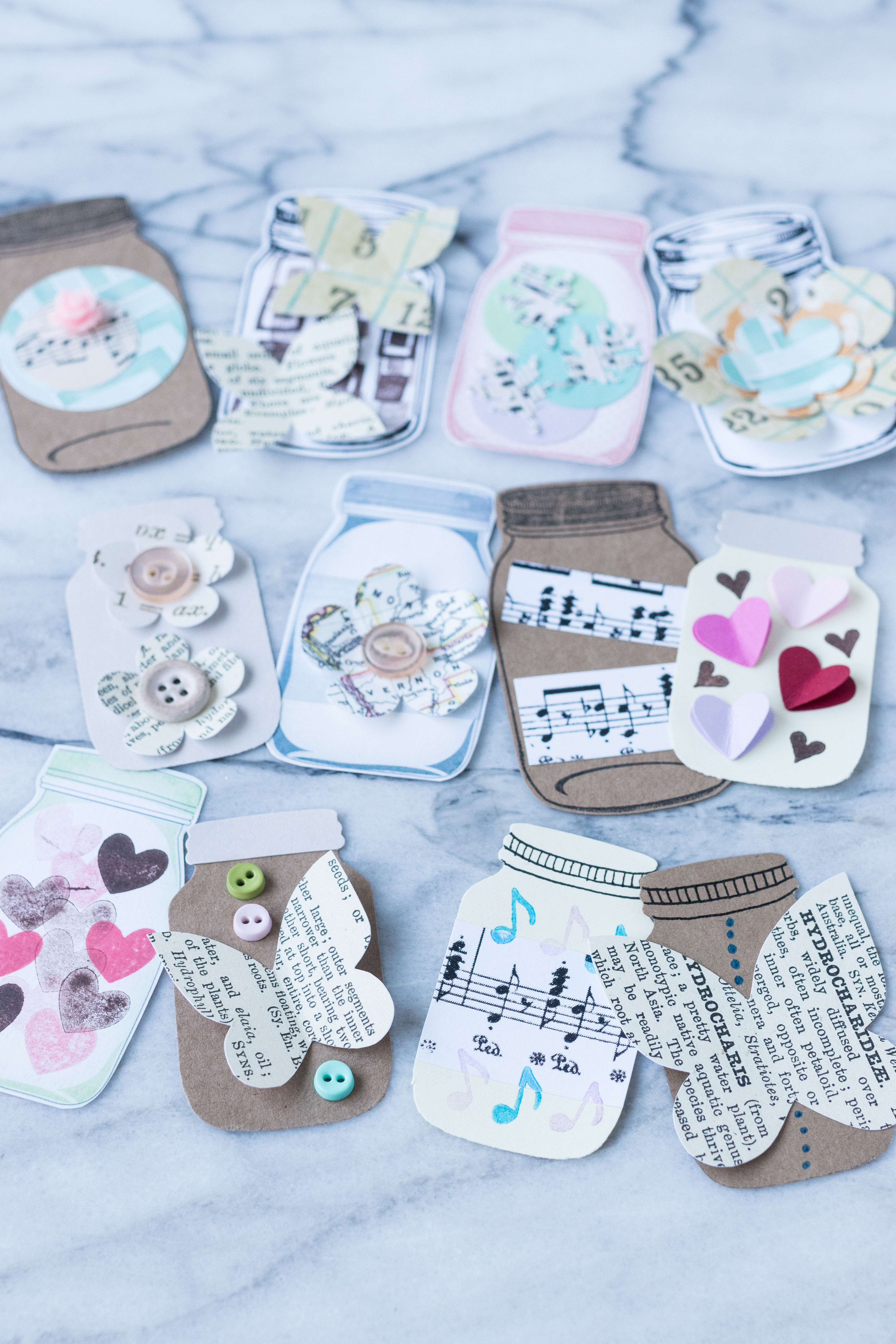 Assorted card stock and scrapbook paper in varying colors and patterns. The card stock and scrapbook paper I used for the pictured embellishments is a combination of papers I've purchased, primarily from Michaels, and papers I've downloaded for free online. I've linked the free papers in the resources section below.
Add-ons: buttons, ribbon, resin flowers, etc.
For the mason jar scrapbook embellishments, I also used a few rubber stamps and ink pads. I love norajane's tiny stamps for this type of DIY project.
Paper punches/templates in assorted shapes and sizes. You'll need a minimum of two different shapes or sizes.
Scotch Scrapbook Glue or other wrinkle-free paper glue, if you're gluing your scrapbook embellishment components together.
Embroidery floss, if you're sewing your scrapbook embellishment components together.
Sewing needle, if you're sewing your scrapbook embellishments together.
As you gather supplies for your DIY scrapbook embellishments, it's important to think about the aesthetic or style that you want for your finished embellishments. If you have a scrapbook layout or other project in mind for your embellishments, consider the look you want for it and design coordinating embellishments. Without a little forethought, it's easy to end up with a very random assortment of supplies that don't work well together. Focusing on a theme, such as pastels or shabby chic, will help you create a cohesive look.
I'll start by shamelessly plugging my own free resources for DIY scrapbook embellishments.
A few more free resources I love for DIY scrapbook embellishment paper:
The one resource I did pay for is the library cards from TheOldDesignShop Etsy shop. (I've linked to her blog above. She also has an Etsy shop.) I wasn't able to find any free vintage library cards and decided it was worth the purchase. I bought both the beige and pastel sets.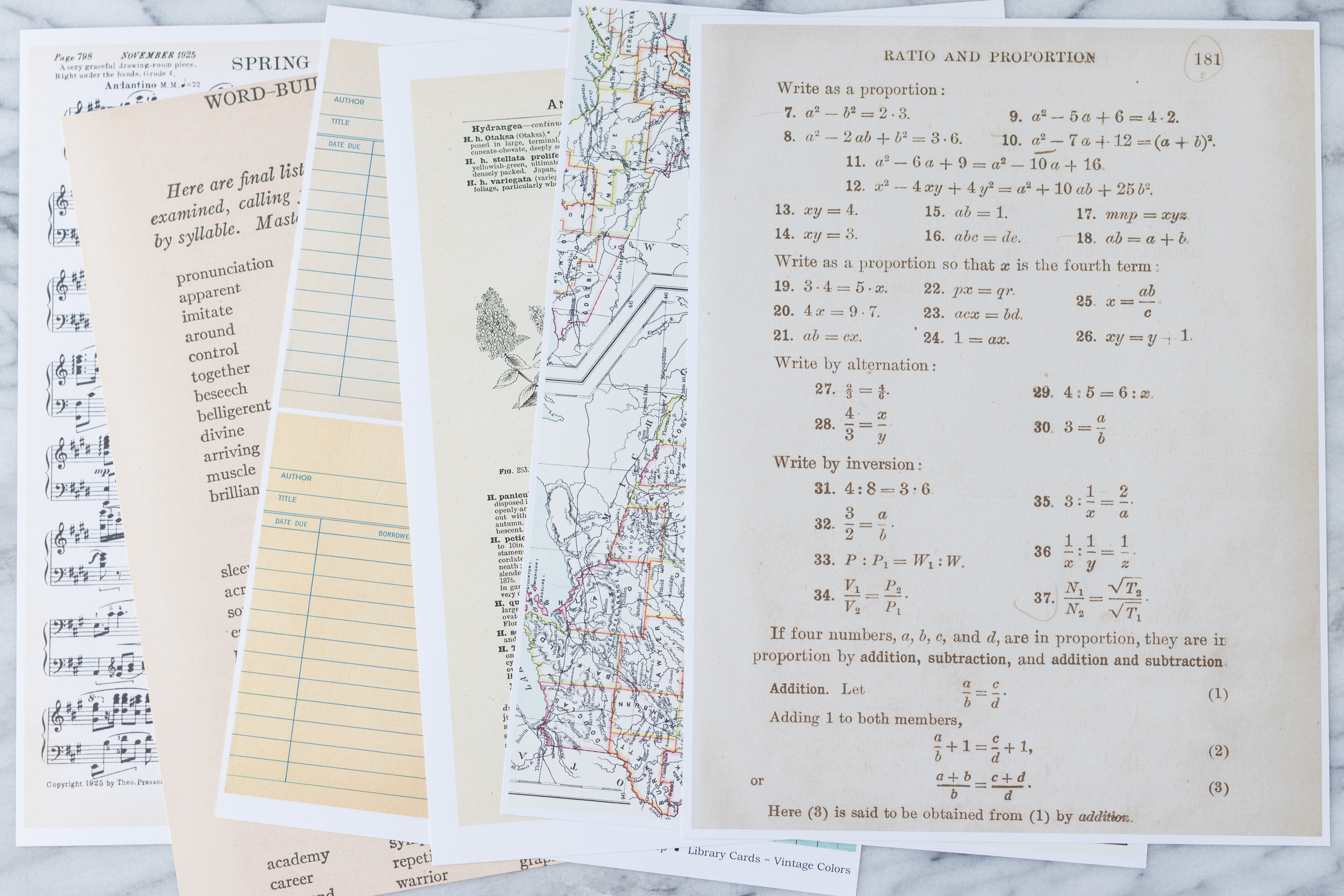 Gather the card stock and scrapbook paper you're going to use for your embellishments. I started with the specialty designs, such as vintage music, textbook/dictionary pages, and maps, that I printed from online sources.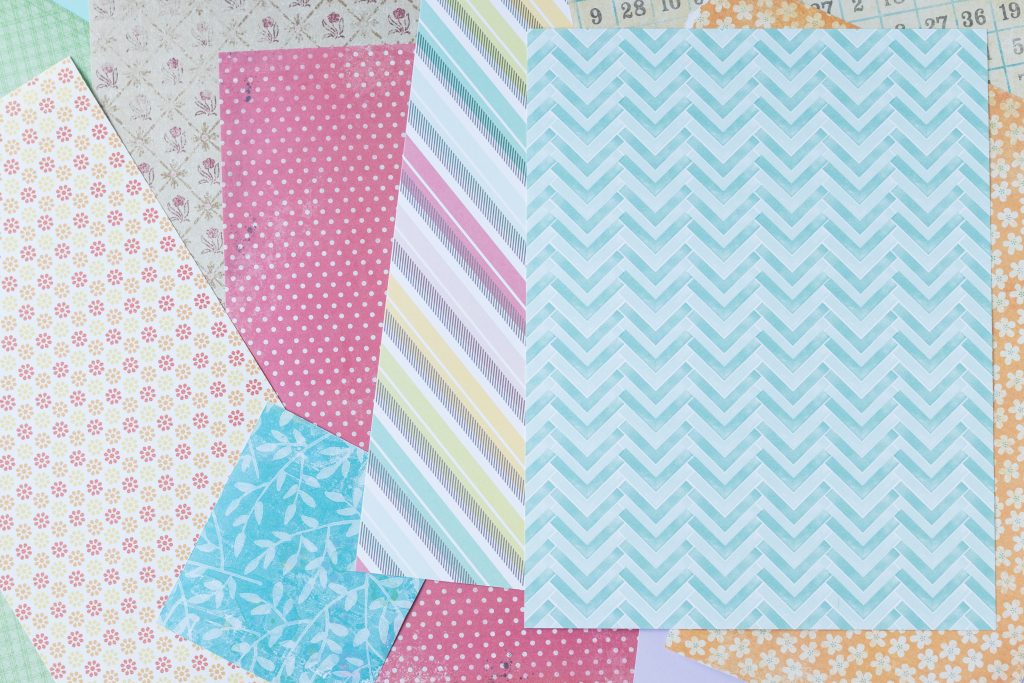 Then I filled out the selection of paper with a handful of solid color and patterned papers from my card stock and scrapbook paper collection. I primarily selected softer colors and smaller patterns.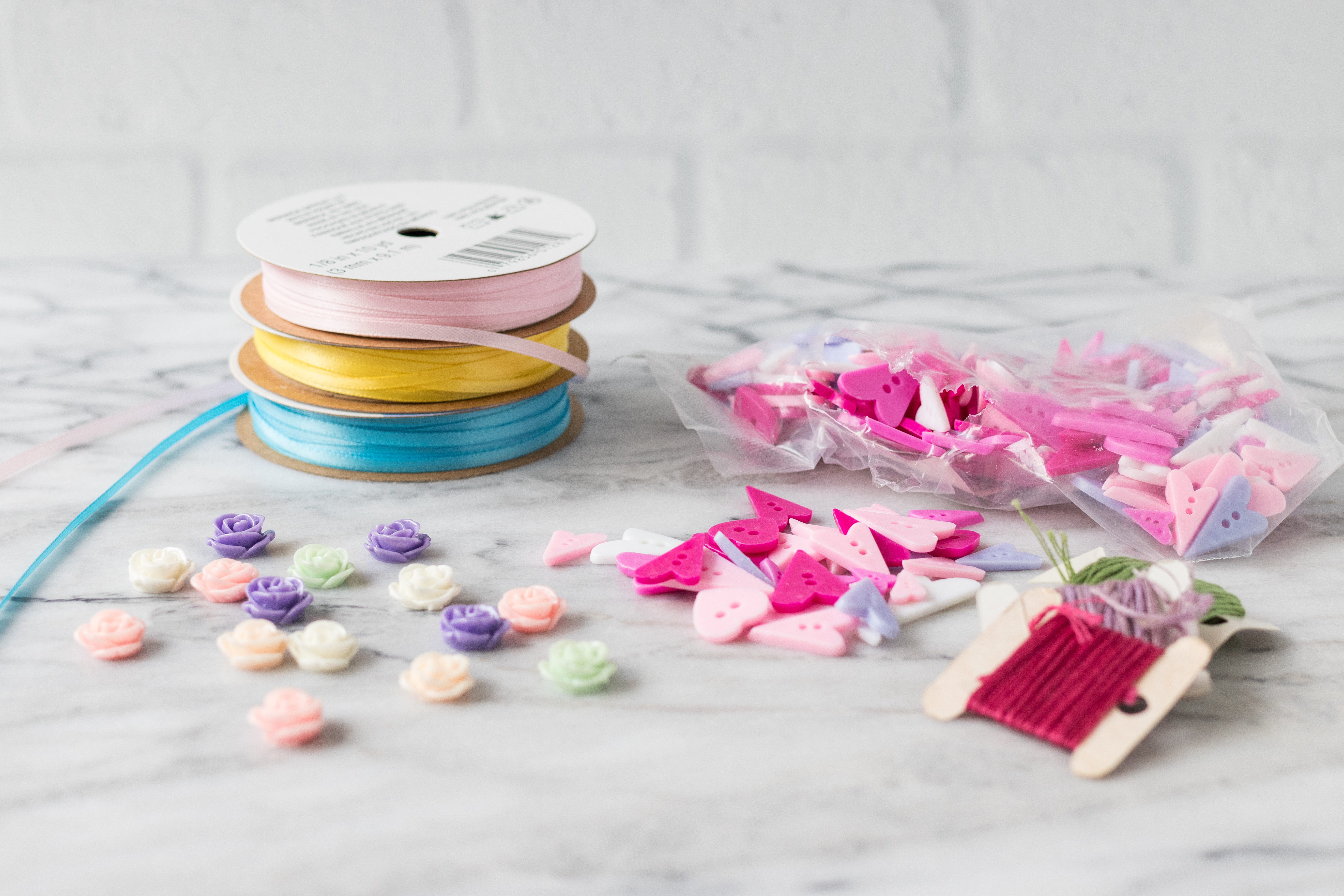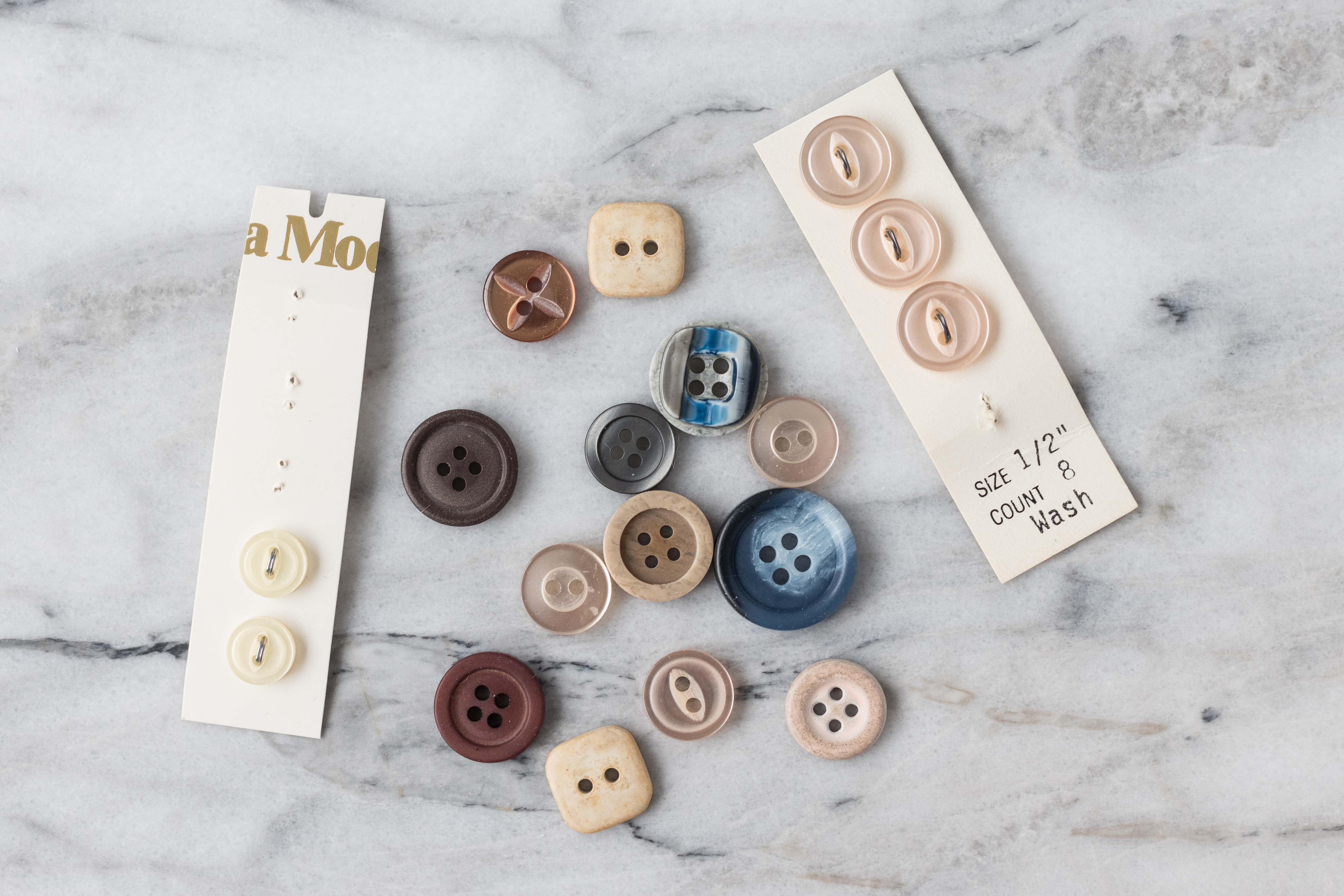 Gather your add-on items to complete your handmade scrapbook embellishments. I used a mix of buttons, ribbon, and resin flowers. If you're sewing your embellishments, choose a few embroidery floss colors as well.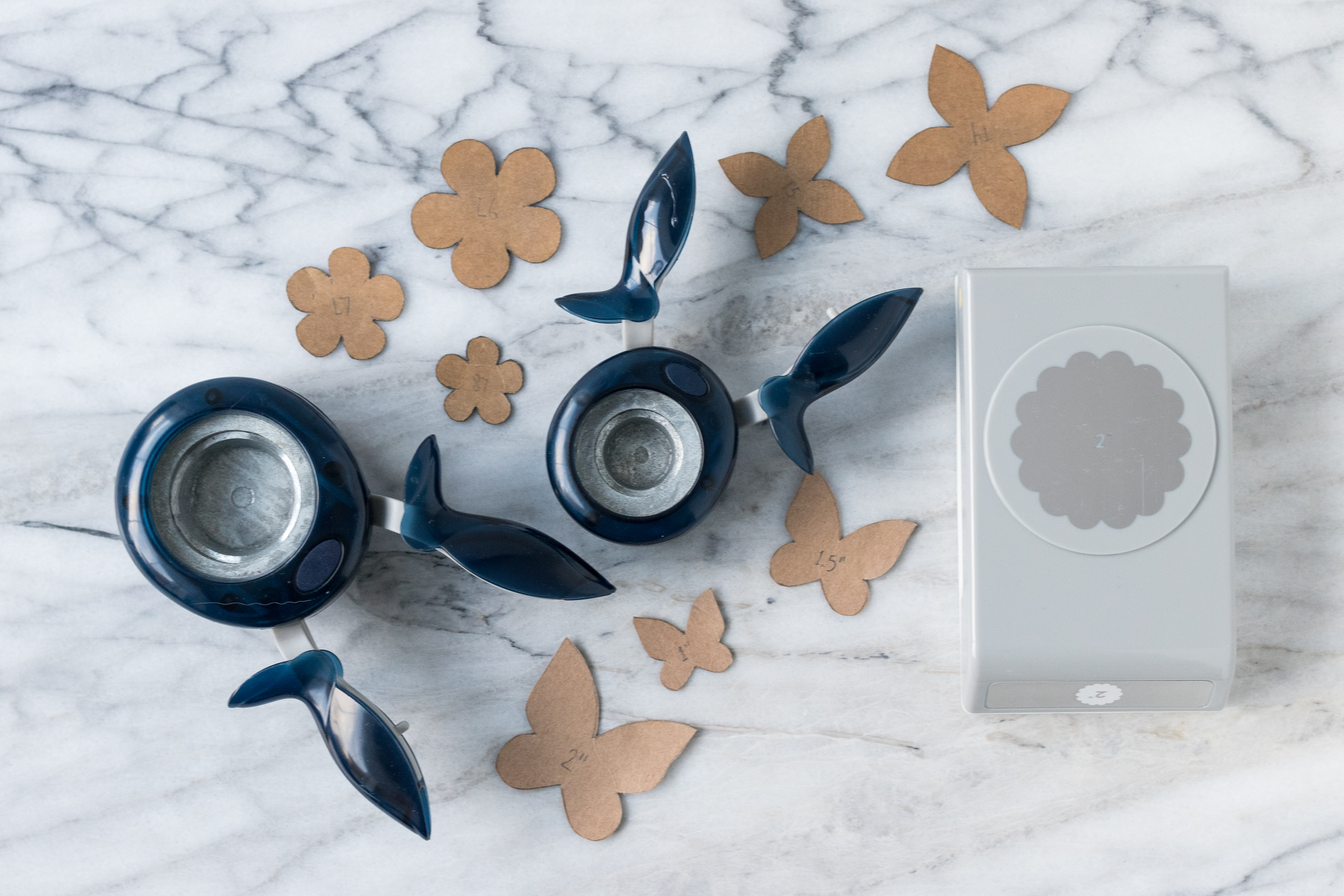 Gather your paper punches and templates. I used a 2″ scallop punch, 1.5″ circle punch, 1″ circle punch, and a selection of free small (2″ and smaller) butterfly and flower templates. Any combination of 0.5-2″ circle and scallop punches and a couple of other shapes will work well.
I started with my punched scallops and circles.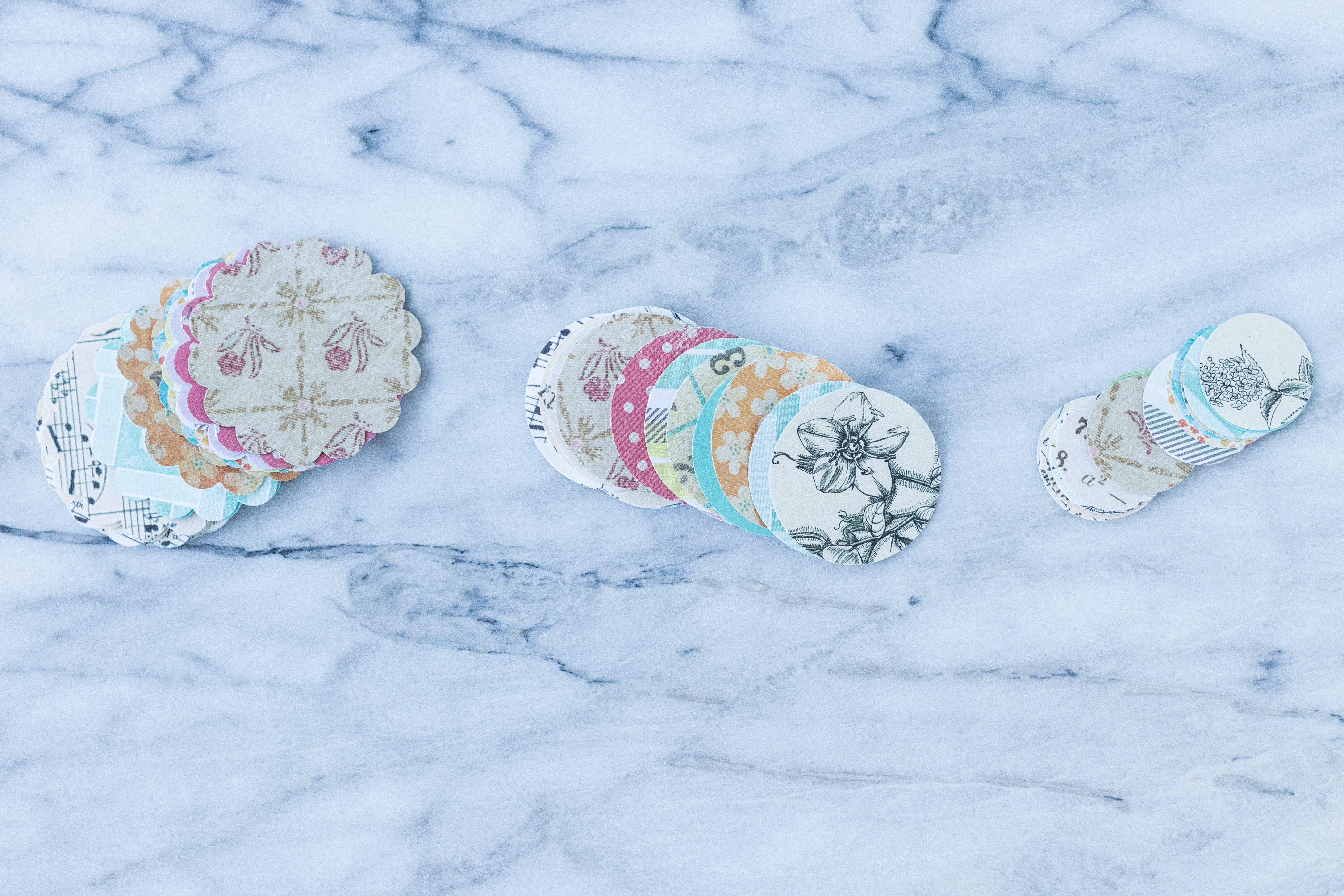 Then I traced and cut out my butterflies and flowers.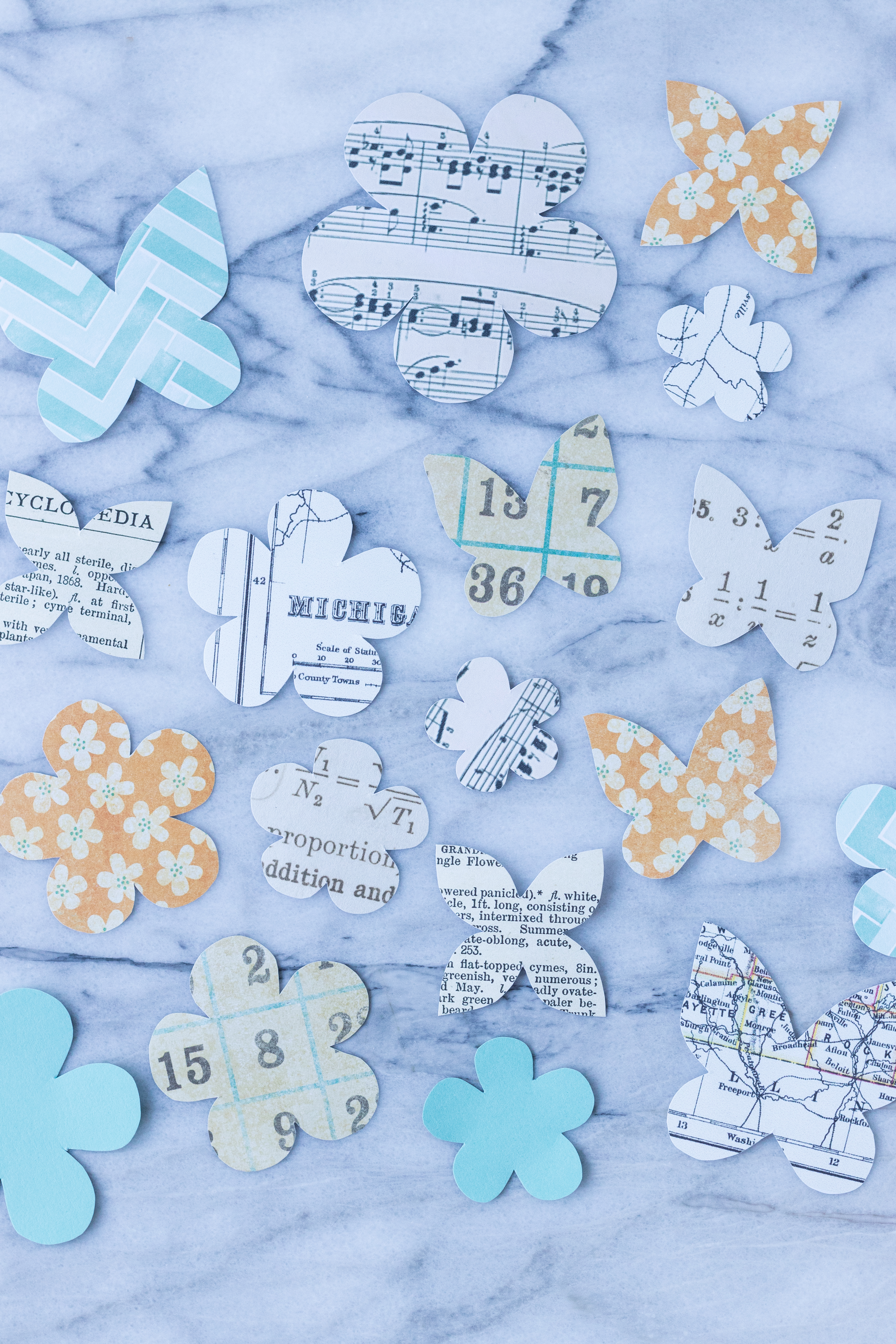 Once you have your shapes punched and cut out, assemble the scrapbook embellishments. Experiment with different layering and add-on components until you get the embellishments the way you like.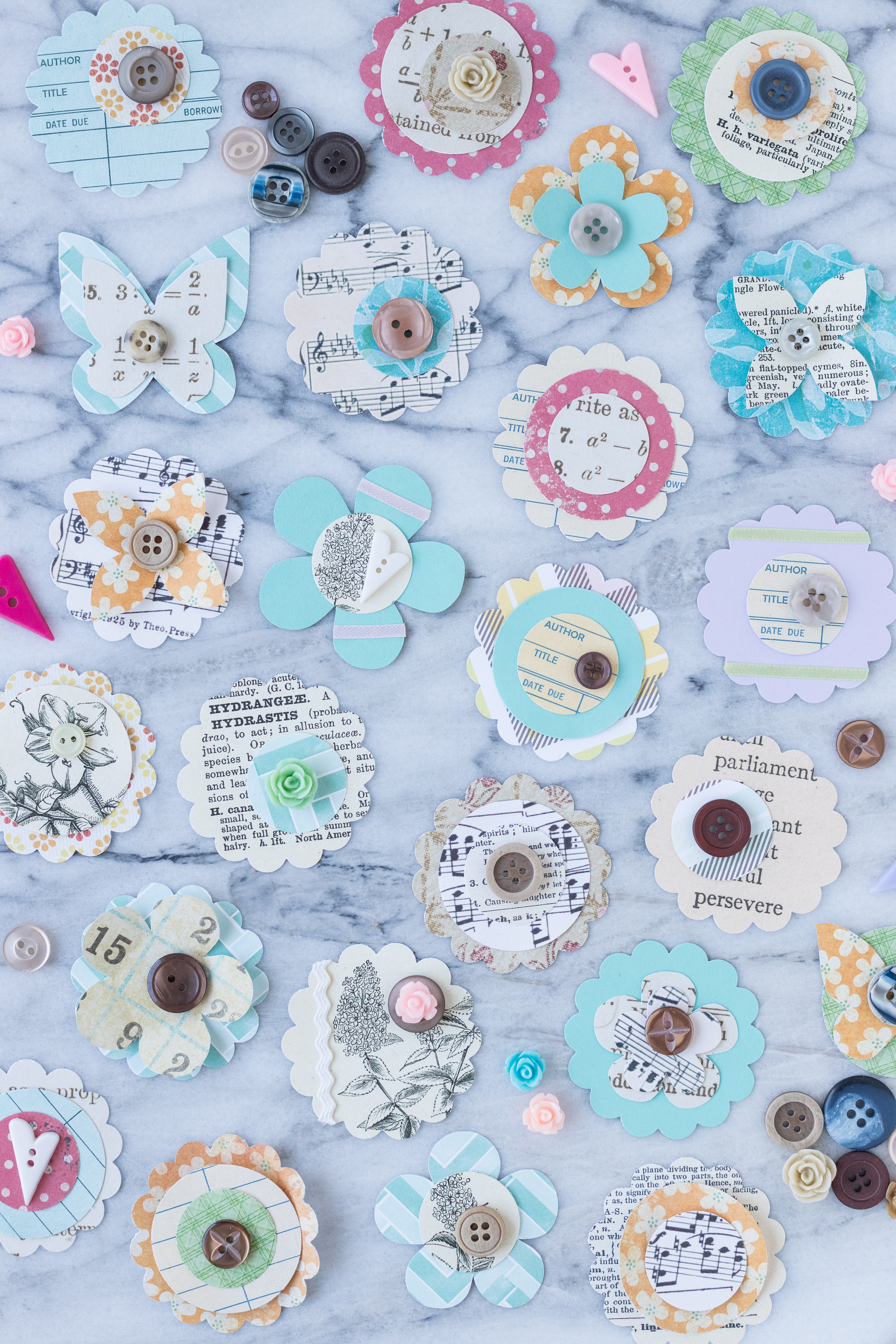 Assemble your DIY scrapbook embellishments by gluing or sewing them together. I explain gluing versus sewing in more detail in the next section.
Once you've assembled your scrapbook embellishments, you're ready to put them to use in paper scrapbooks or other crafty projects. I share a few of the ways that I like to use handmade scrapbook embellishments at the end of this post.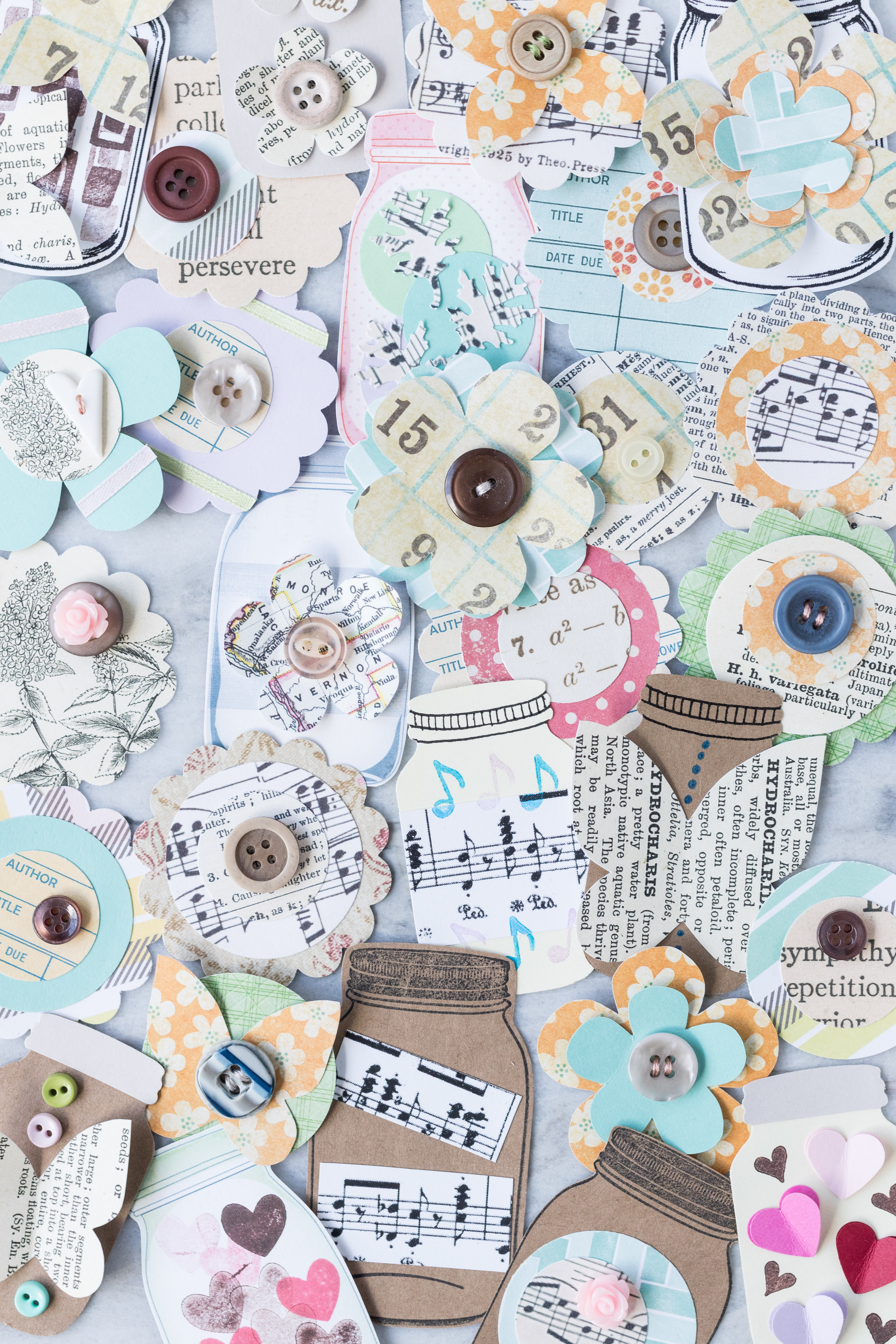 Gluing versus sewing DIY scrapbook embellishments
There are two primary ways to assemble DIY scrapbook embellishments: gluing and sewing.
Gluing
Gluing DIY scrapbook embellishments is quick and produces flat embellishments. You don't get the same aesthetic as sewn embellishments, but you assemble them much more quickly. If you want scrapbook embellishments that lay completely flat, gluing is the way to go.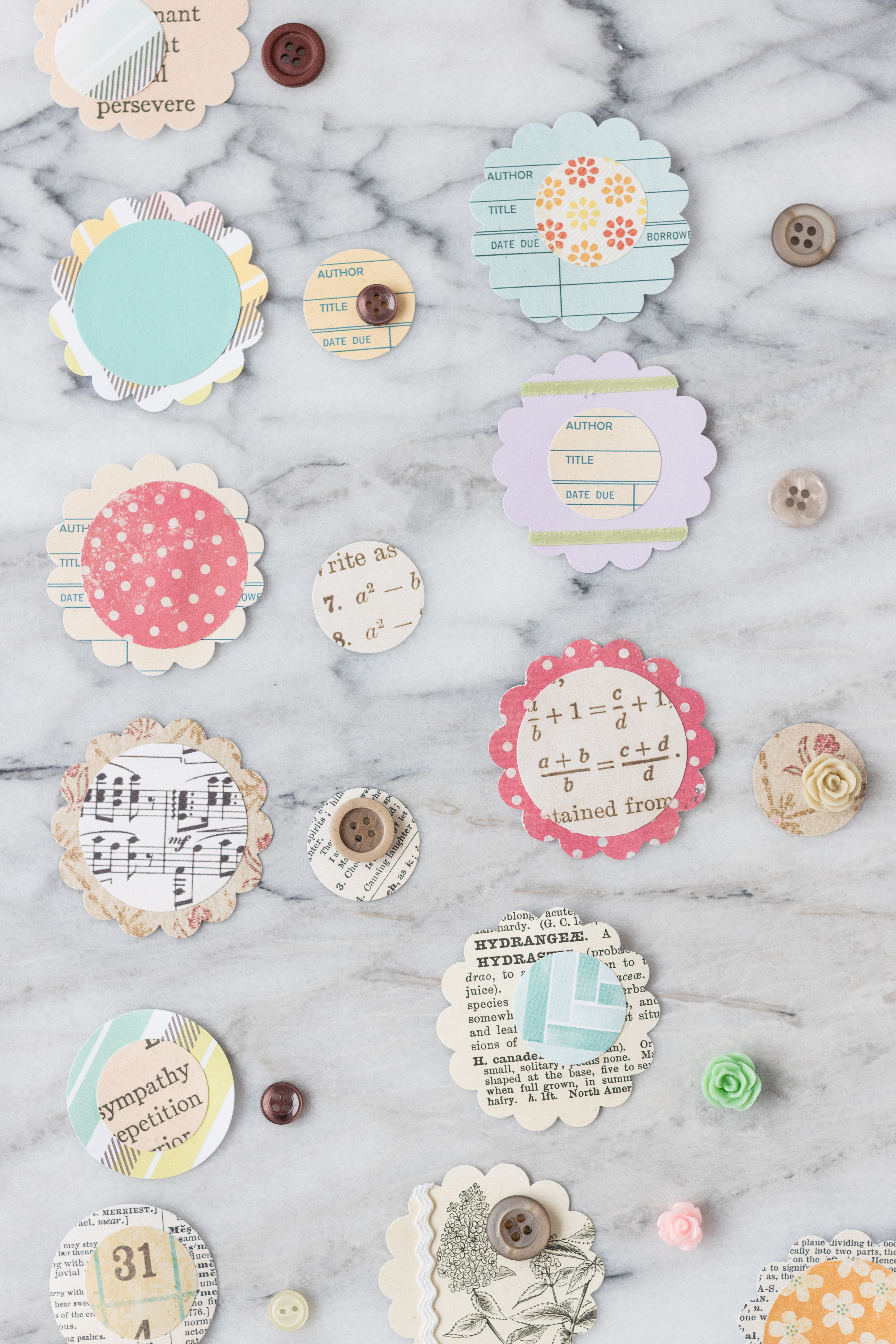 I always recommend gluing in layers and letting each layer dry fully before moving on to the next layer to keep DIY scrapbook embellishments wrinkle-free.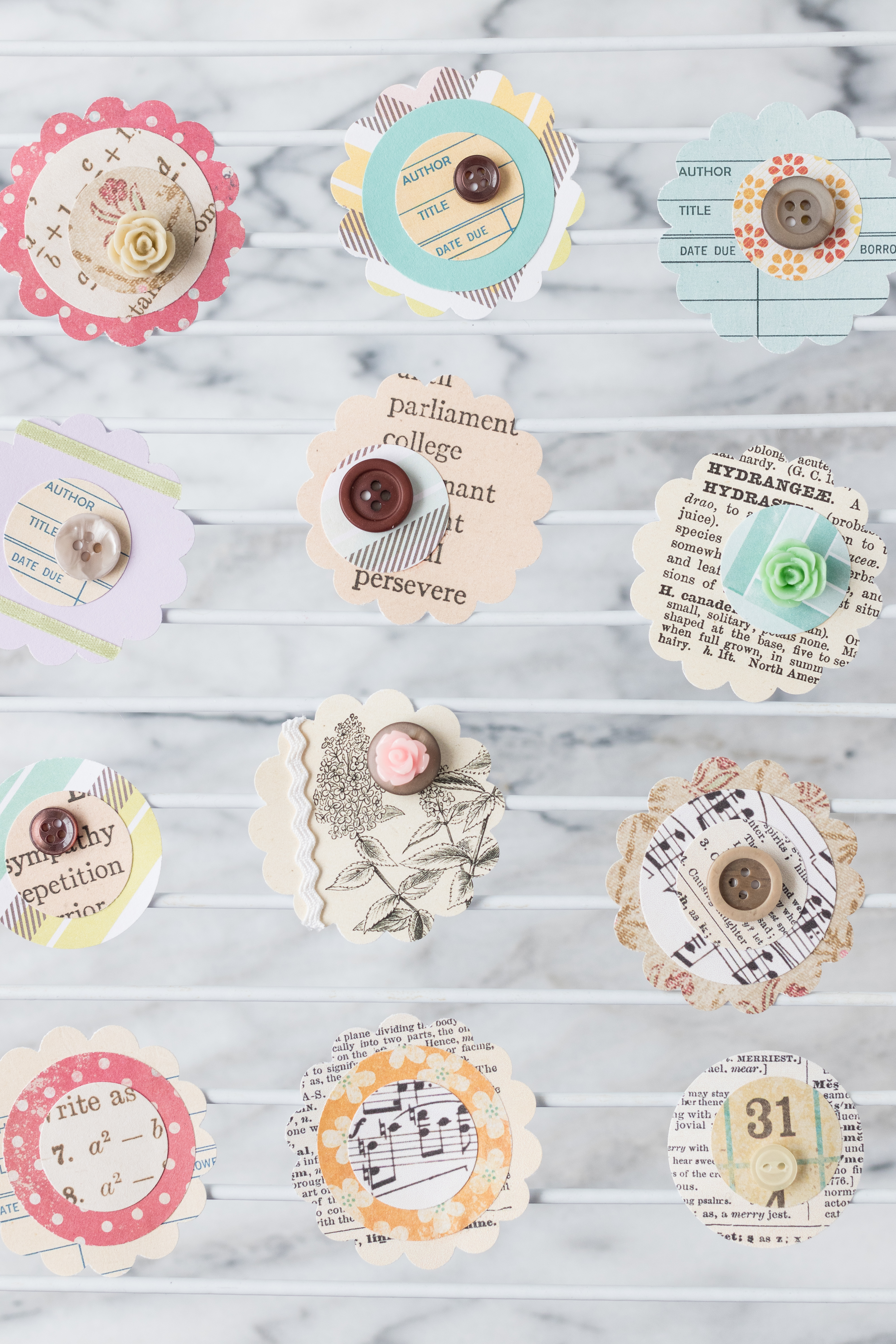 My favorite way to dry DIY scrapbook embellishments, greeting card components, and other small paper crafts is on a flat dish drying rack.
Sewing
Sewing DIY scrapbook embellishments is more time-consuming but produces an aesthetic that you can't replicate with glue.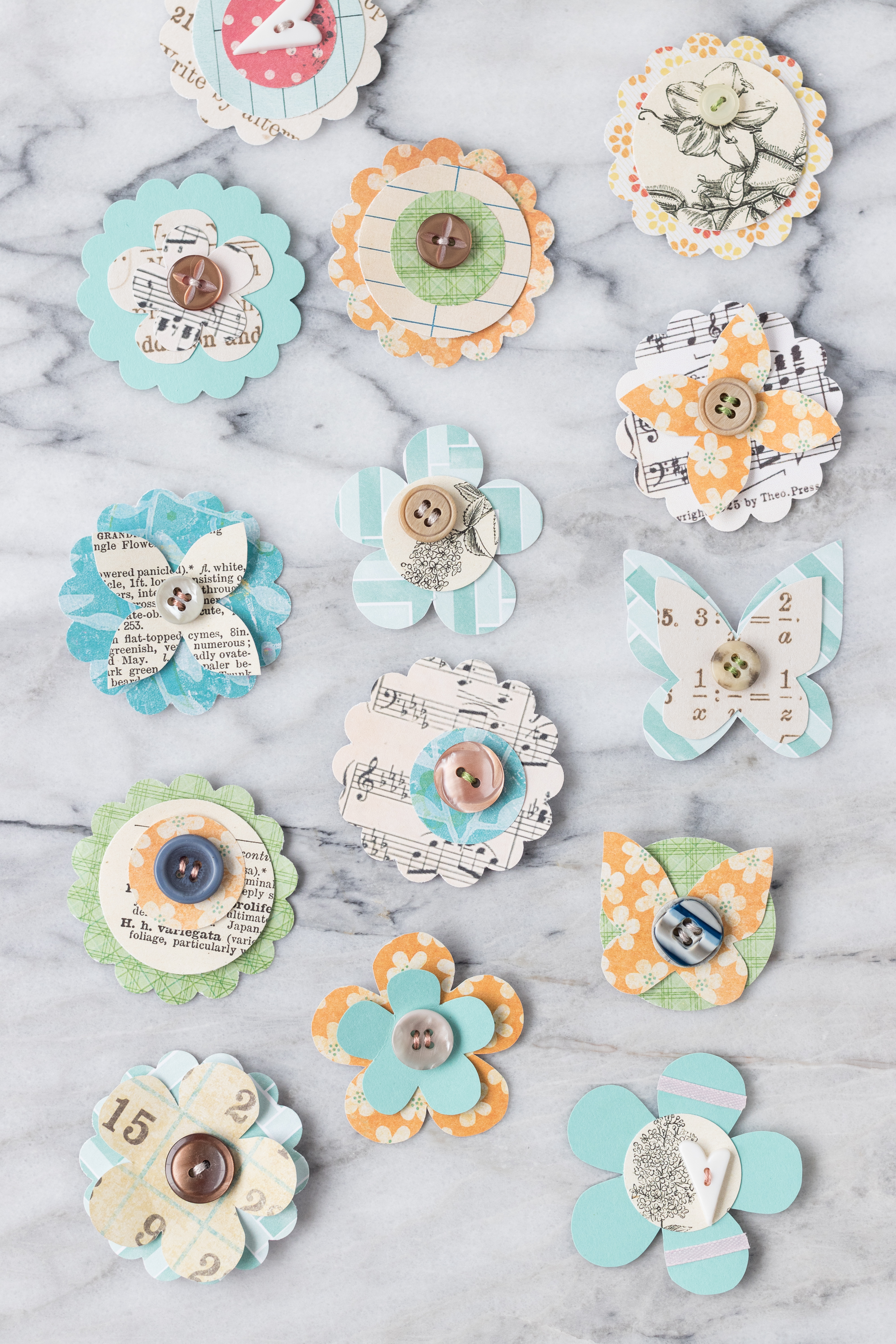 I used embroidery floss that I had on hand from years of friendship bracelets and cross-stitch. I separated two or three embroidery floss strands. You can use more strands, but I think that three is plenty thick. I used a cross-stitch needle, as it accommodates embroidery thread easily. I ran the thread through two or three times for each scrapbook embellishment. Secure the thread in the back, and cut it off near the knot, so it won't be visible.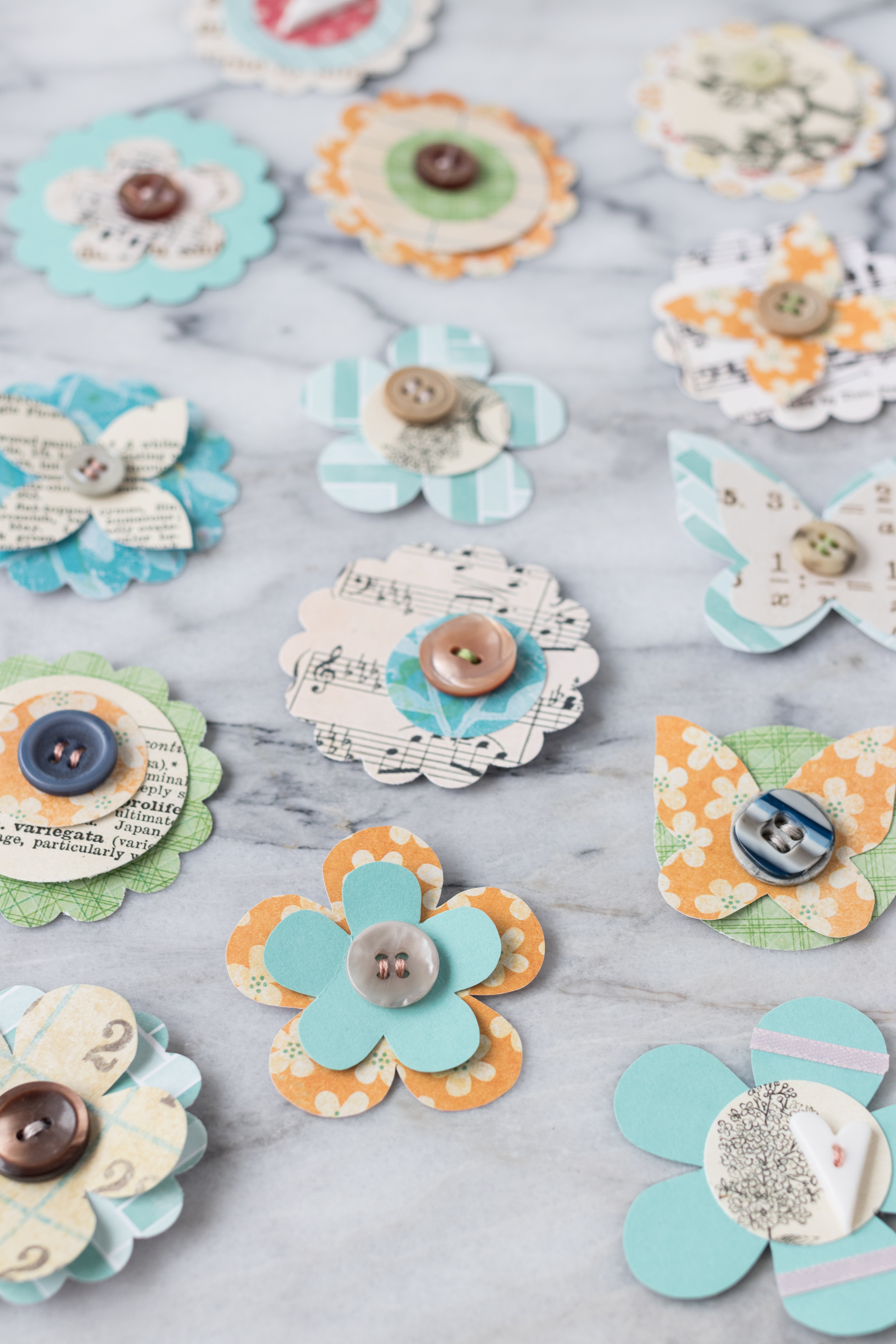 Depending on the thickness of your card stock or scrapbook paper, you may need to punch a hole in the paper before attempting to thread the needle through it.
Mason jar DIY scrapbook embellishments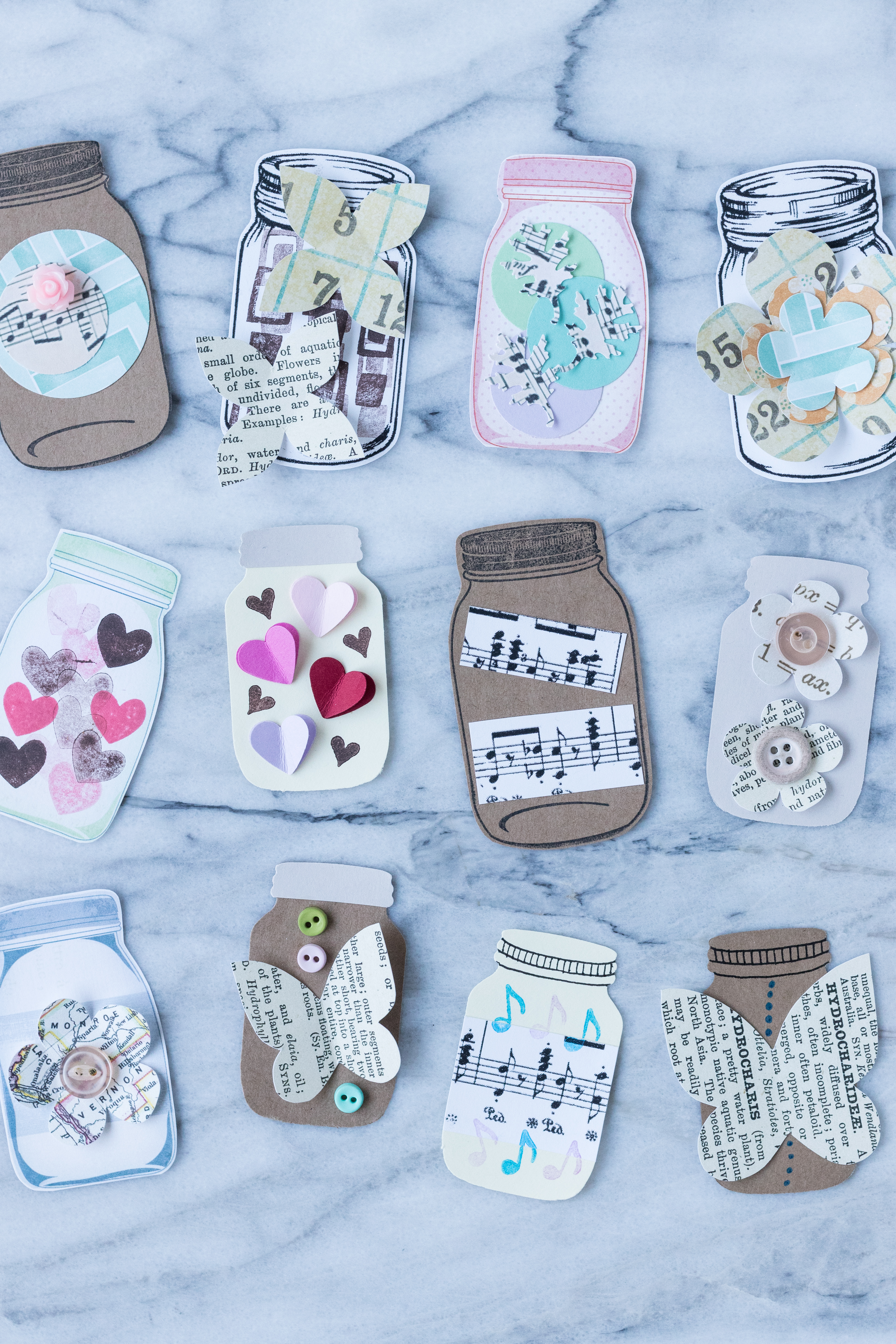 One of the most popular types of DIY scrapbook embellishments is mason jar embellishments. Mason jars all the rage for crafts and make for very sweet embellishments. There are a few different ways that I created DIY mason jar scrapbook embellishments.
Stamped
Stamped mason jars are ideal for scrapbook embellishments because you can customize the paper and ink color for every single embellishment. I like Paper Source's canning jar rubber stamp aesthetic and size for scrapbook embellishments. You can find an assortment of mason jar stamps on Amazon as well.
Printed
I created a printable mini mason jar resource (original source) for A2-size greeting cards that works perfectly for scrapbook embellishments. You can print off your mason jars on any type of colored or patterned card stock.
Printed card stock/scrapbook paper cut outs
I had a mason jar page in a Dear Lizzy card stock package I got from Michaels. You see a lot of similar pages in scrapbook packages/books or as single scrapbook paper offerings at big box craft stores. So it's always worth keeping an eye out for them. You can find printable mason jars on Etsy as well, such as this printable vintage jars set from iralamijashop. (Search "mason jars" in her shop for more offerings!)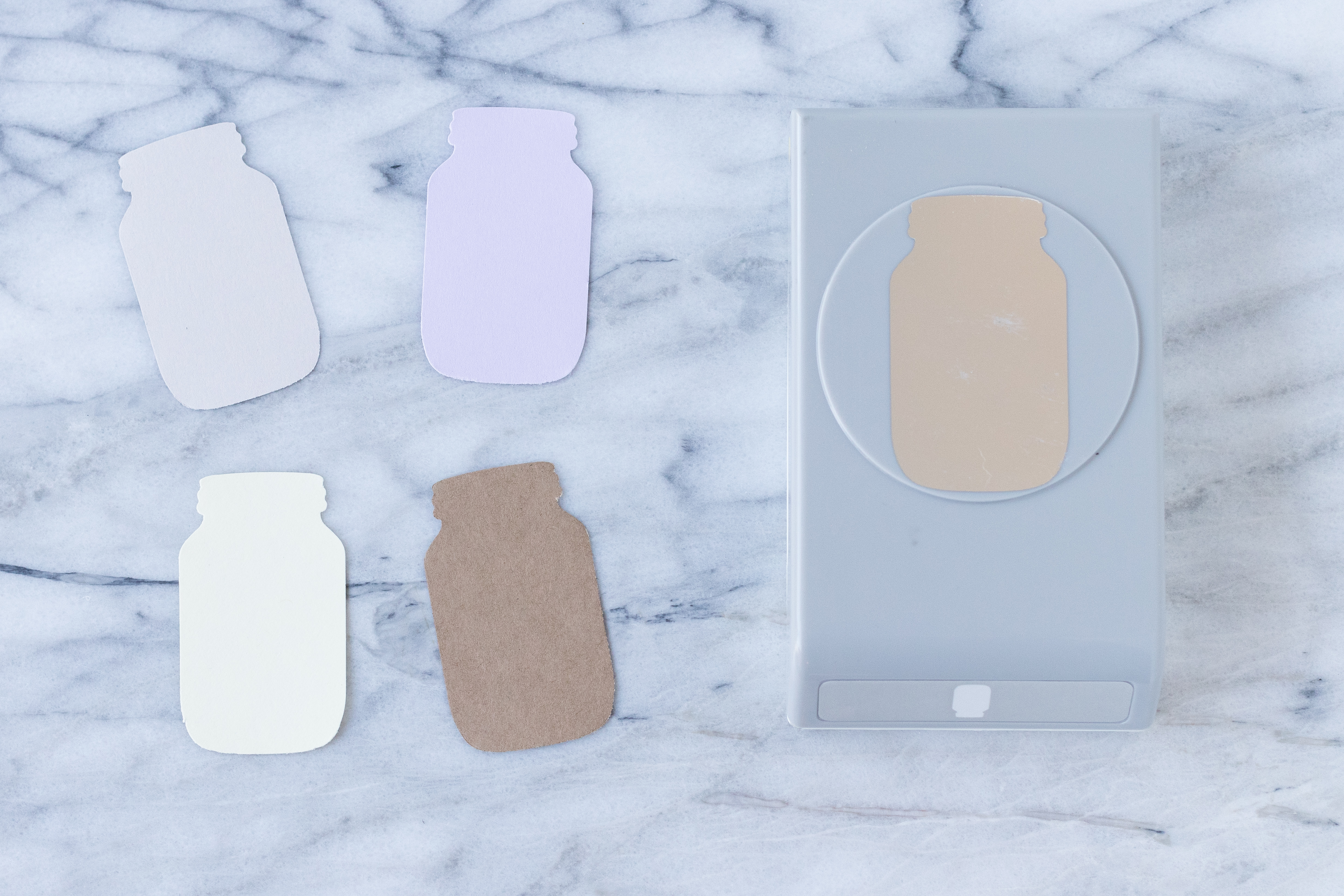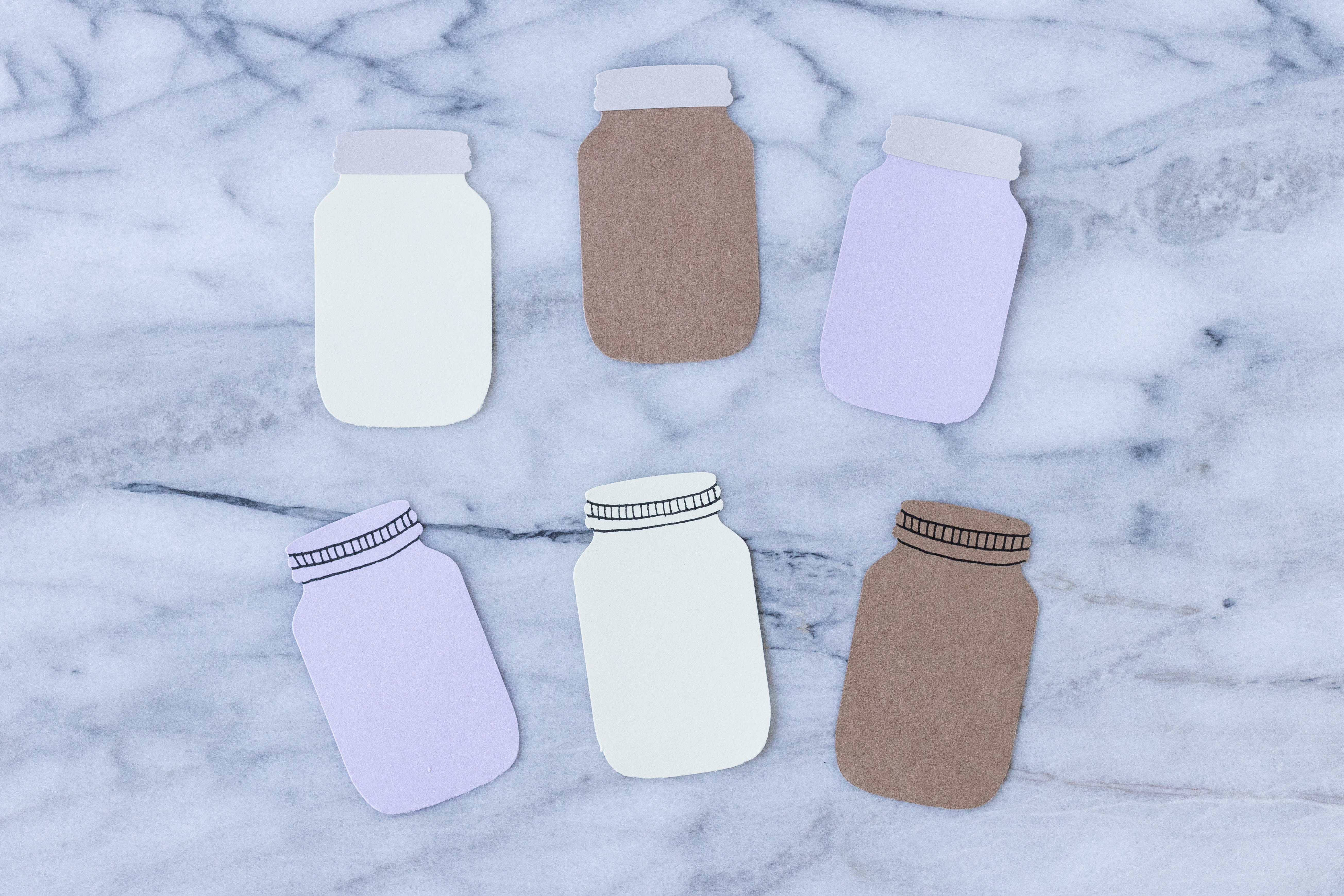 Paper punched
Paper punched mason jars are a quick, easy way to create jars for embellishments with any paper of your choosing. The biggest downside to punched mason jars is that there's no detail on the lids. The easiest ways to add detail are to draw it in with a black rollerball pen or attach a lid in a different colored card stock. I found that the best method for attaching lids was to punch mason jars in the color I wanted for the lids, cut off the lids, and glue them on the mason jars.
Die cut
I don't have a die cut machine (yet ha). If you do have a die cut machine and plan to make a lot of mason jar embellishments or will use mason jars for other projects, it's worth picking up a mason jar die set. Many sets include multiple jar sizes and/or additional dies that are perfect for DIY scrapbook embellishments, such as flowers, hearts, and butterflies.
You can also find an assortment of pre-cut mason jar die cut shapes on Etsy, which is a great option if you're not picky about the color and don't want to invest in stamps, punches, or die cuts.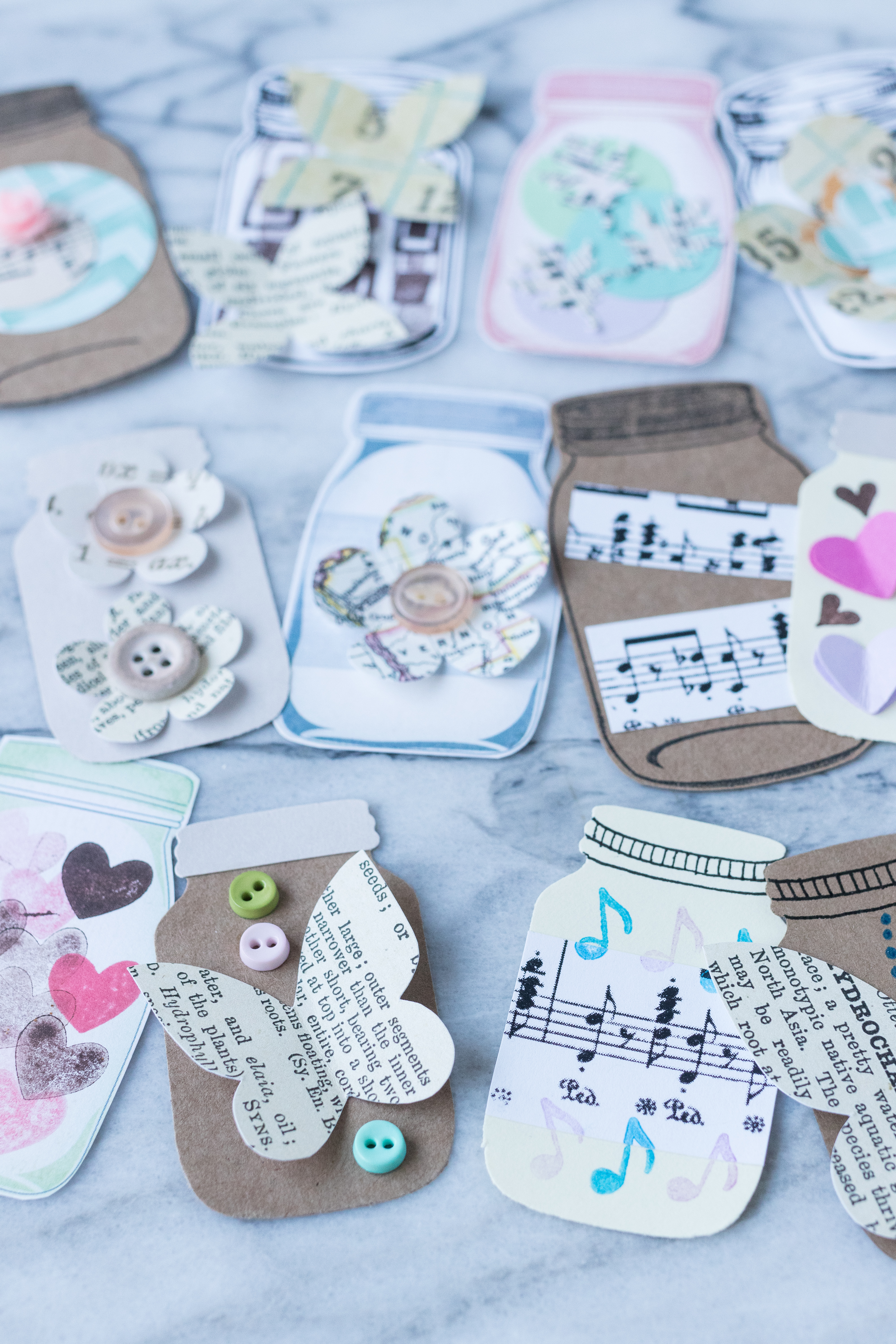 There are so many possibilities for using handmade scrapbook embellishments beyond scrapbooking. I'm including just a few of the ways that I like to use them.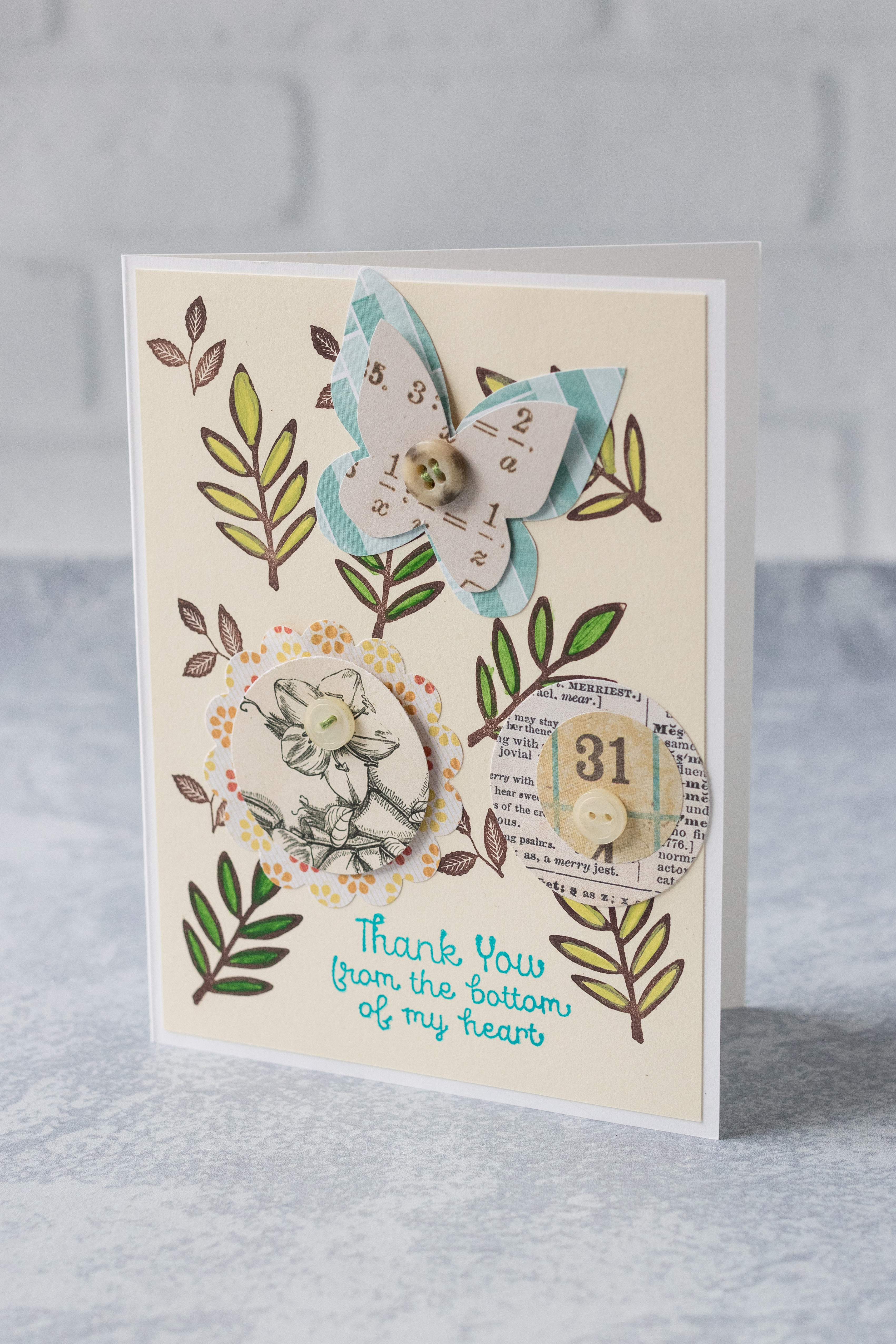 I love to add scrapbook embellishments to homemade greeting cards. Depending on the type of greeting cards you're creating, you may want to create embellishments specificially to fit those cards (i.e., Easter-themed, Valentine's Day-themed).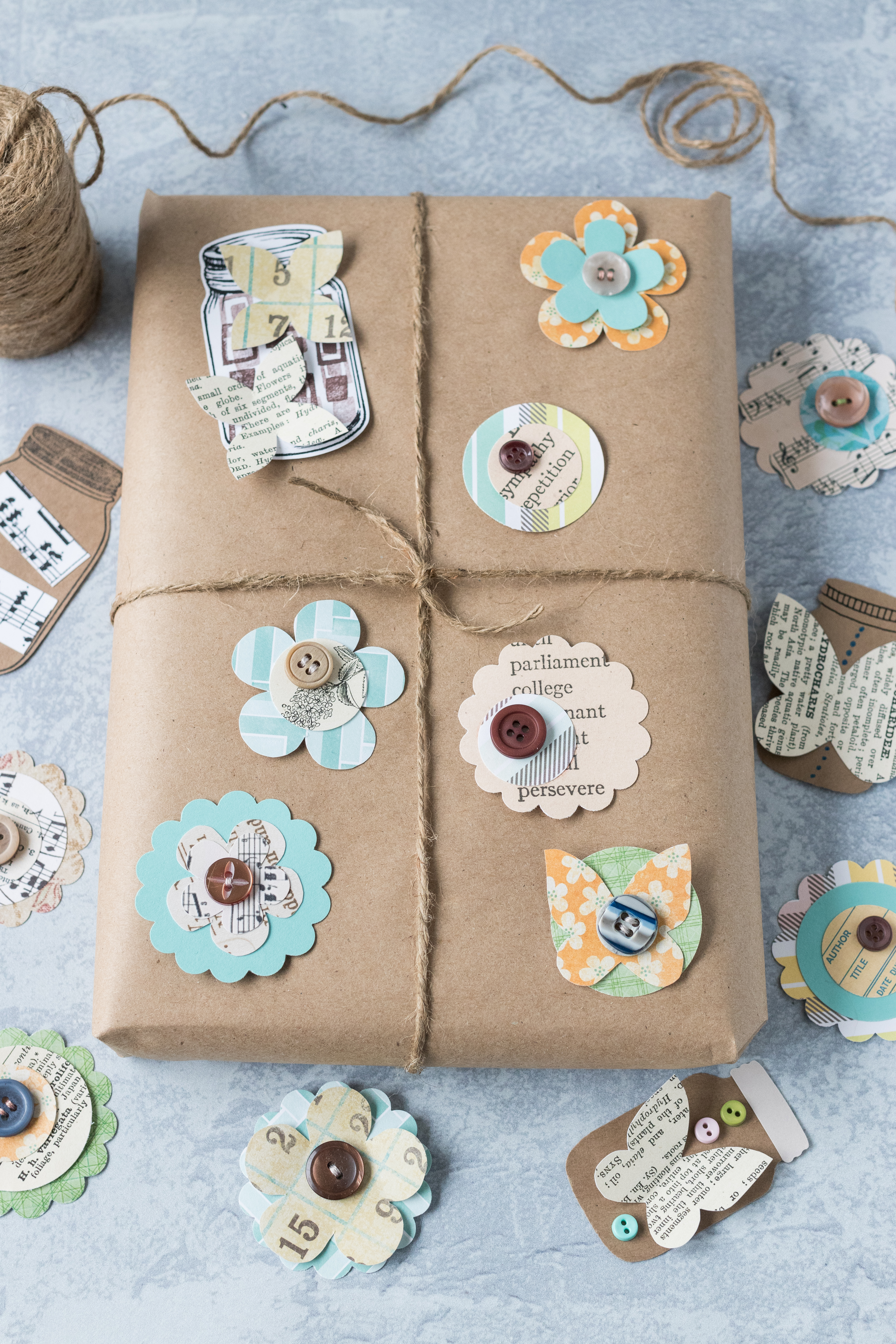 My go-to wrapping paper is brown kraft paper. DIY scrapbook embellishments are a quick way to dress it up and wow your recipients.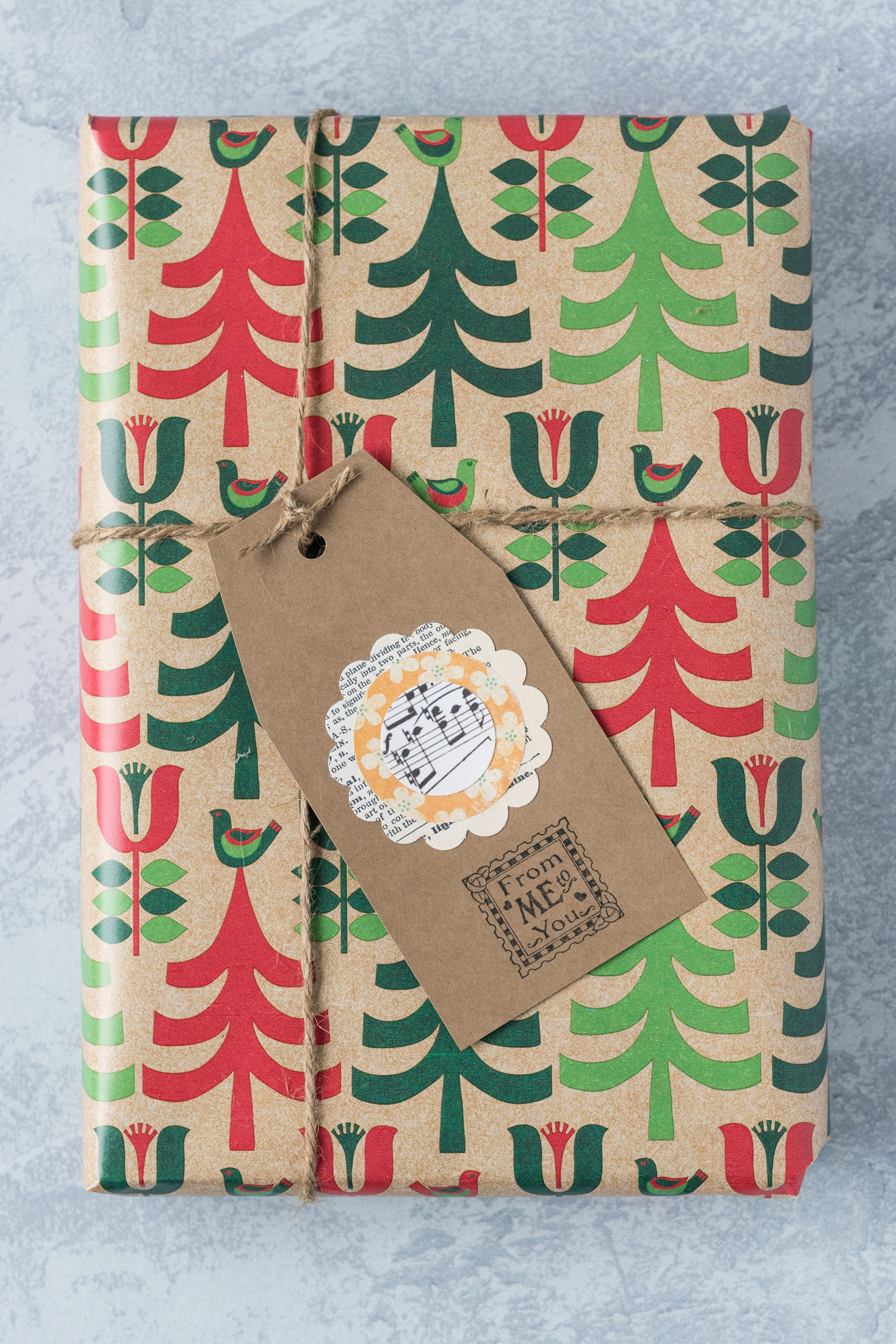 I also like to use DIY scrapbook embellishments for gift tags.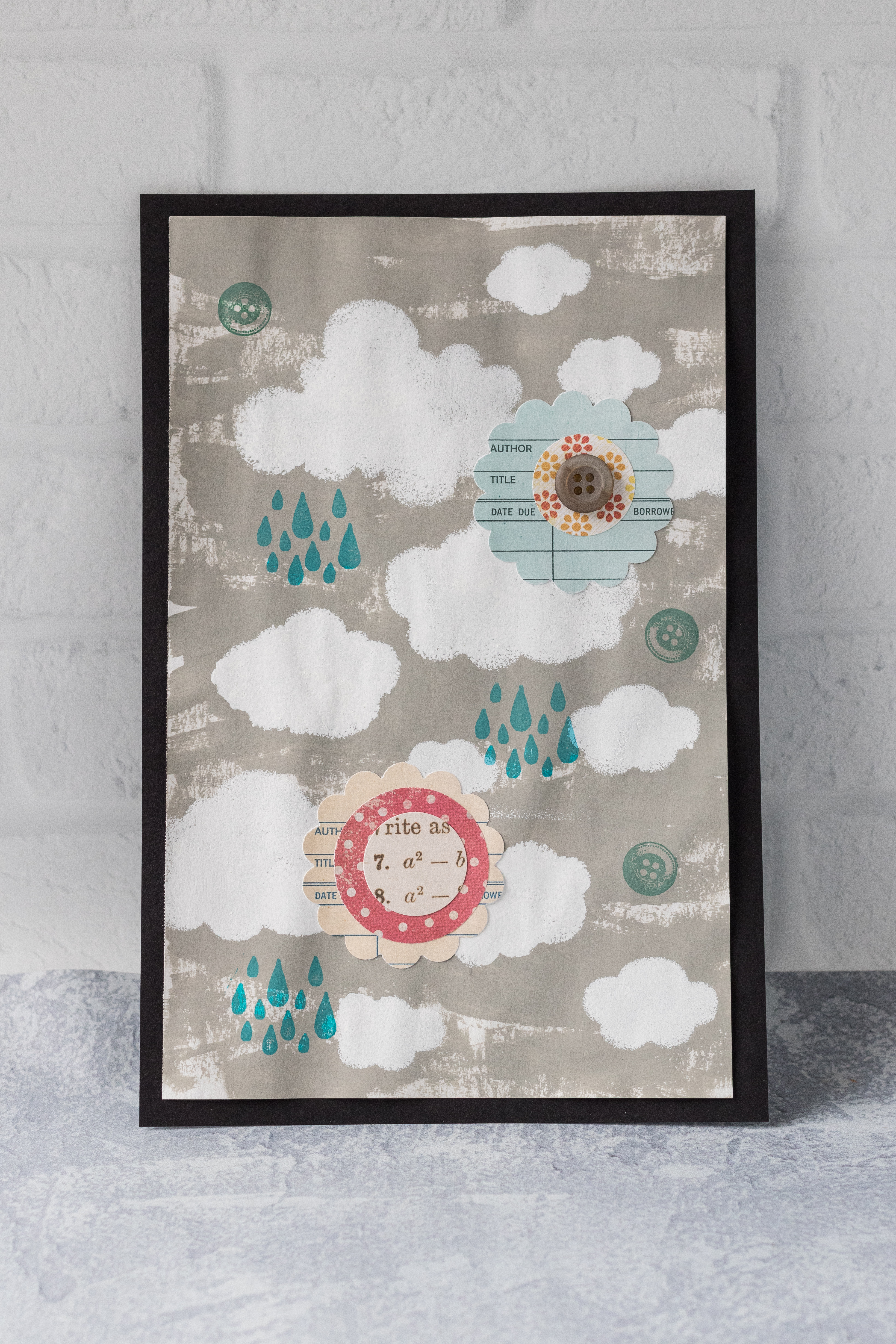 Finally, DIY scrapbook embellishments are perfect for mixed media, either in art or junk journals or as stand alone projects. To create the above piece, I painted a layer of gray acrylic paint with a small foam brush. I purposely left it a little streaky. Then I added a layer of clouds using a couple ofcloud stencils, white acrylic paint, and a small pouncer brush. (I sort of have a thing with clouds.) Next, I added a stamped layer with raindrops and buttons. Last, I added my scrapbook embellishments.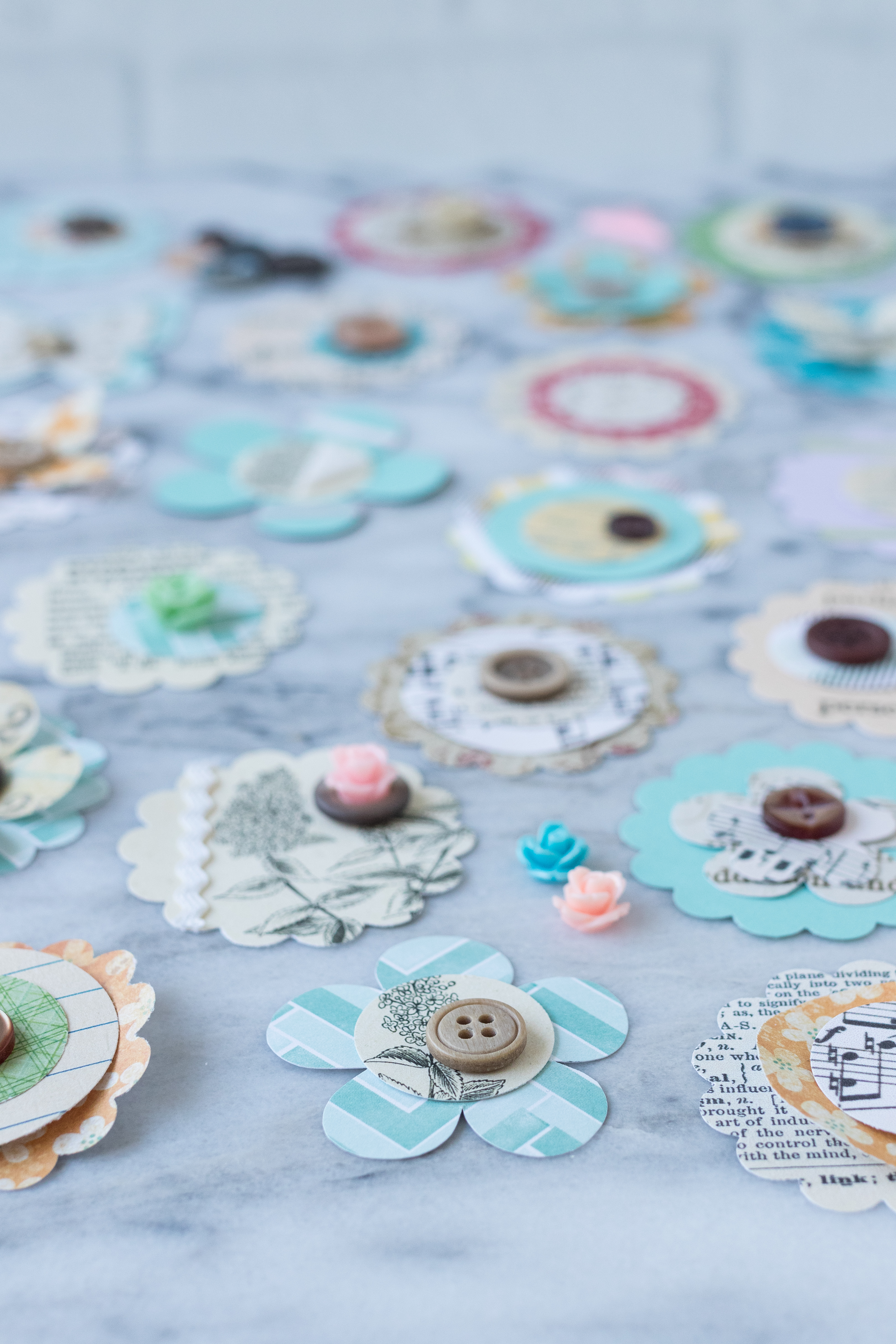 Did you make DIY scrapbook embellishments?
I want to see them! Tag your images #RoseClearfield on Instagram or Twitter post a photo to my Facebook page.
[Disclaimer: There are a few affiliate links in this post. Thanks for your support!]
More DIY projects: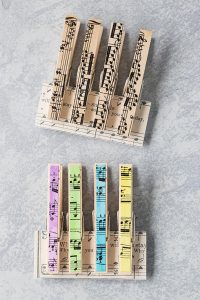 Sheet Music Clothespin Magnets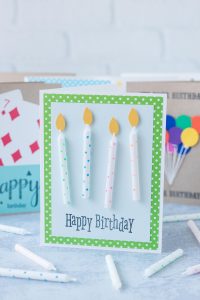 10 Simple DIY Birthday Cards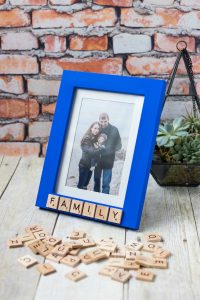 Scrabble Tile Picture Frame
Sours: https://www.roseclearfield.com/diy-scrapbook-embellishments/
Over the years, people have had various ways of holding onto their memories. Our great-grandparents may have stashed their photos away in boxes, while your parents probably have a shelf of albums filled with plastic sheet-filled photos from your childhood. And nowadays, you're more likely to keep your photos on your phone than anywhere else. But since we love our vintage, we recommend showcasing your memories in a way that at times doesn't feel exactly modern: scrapbooking.
The digital photos taking up room on your camera roll are quickly forgotten, which is why scrapbooks are a wonderful way to celebrate travel adventures, childhood firsts, and the love we share with our significant others, family, and friends. Many scrapbookers understand that photos and memories should be treated with reverence, putting their skills to work through pro-level kits or sharing ideas that make scrapbooking look fresh and modern. You can theme an entire scrapbook and format it in various creative ways, such as placing photos, notes, and ticket stubs in tiny envelopes or even creating a scrapbook from an old-school Rolodex. Or you could just make a traditional scrapbook filled with inventive, artistic pages that represent the most colorful aspects of your life. Whether you're a beginner or a pro, there's no better way to honor your memories.
Sours: https://www.countryliving.com/diy-crafts/g30900737/scrapbook-ideas/
Whether you're on a tight budget or just want to try something creative, there are plenty of options for unique scrapbook embellishments that use materials you probably already have around your home. Try one or more of these embellishment ideas that will help you design one-of-a-kind layouts for your album.
15 Unique Embellishments for Your Scrapbook
Purchased stickers, rub-ons, and rubber stamps are great, but sometimes you may find yourself working on a layout that needs a little something extra.
Related Articles
1. Rainbow Loom Bracelets
If you have a daughter who has been caught up in the Rainbow Loom bracelet craze, these funky bracelets can easily be turned into borders for a scrapbook page. Unhook the bracelet and remove the clasp so you have one long, flat string. Use decorative brads to attach each end to your scrapbook page.
2. Beads
Beads are a fun and funky way to add a splash of color to your scrapbook layouts. You can use breads from broken jewelry or make your own beads by rolling thin strips of scrapbook paper around a toothpick. Use a glue stick to hold the paper together, then seal the bead with a coat of clear nail polish. Use large, single beads to accent a photo or memento, or create borders and frames with smaller beads.
3. Belts
Have you ever purchased a pair of pants for your child that came with a belt that never got worn? Cut the belt to fit your scrapbook page, then use it as a unique border. Let the grommets show for maximum visual appeal. Use strong double sided scrapbook tape to attach the belt to your page.
4. Dollhouse Accessories
You probably shouldn't swipe items from your daughter's dollhouse for your scrapbook page, but dollhouse kitchen utensils, school supplies, books, snacks, and toys can be cute accents for themed pages. Use strong glue dots designed for 3D embellishments to adhere them to your page. Try using dollhouse knives, forks, and spoons in a kitchen-inspired layout, for example.
5. Seed Packets
If you're a gardener, save your empty seed packets to add to your scrapbook. You can cut them open to use as envelopes for storing memorabilia or decoupage a bunch of them on a cardstock background to make your own customized patterned paper.
6. Confetti
Confetti can be used to add a festive touch to any page featuring photos from a graduation, birthday party, wedding, or other special celebration. Lay confetti on a piece of wax paper and spray the top with adhesive. Put the wax paper over your layout and press down so the confetti adheres, then gently remove the wax paper.
7. Calendar Pages
If you're still recording appointments on a traditional paper calendar, don't toss it when the year is done. Calendar pages make great embellishments your scrapbook, since they provide an unusual alternative to traditional journaling. If you don't have a full sized calendar to add to your scrapbook, use the pages from a tiny promotional calendar and circle the date of the event you're showcasing in your layout.
8. Game Pieces
Old board or card games can be a great source of embellishments for layouts about family game night. Spell out words in your journaling using Scrabble titles or arrange a few playing cards behind your journaling about teaching your kids how to play Go Fish. Add photos of you and your family preparing snacks for game night, playing the game, and crowning the winner.
9. Money
Sticking your life savings in your scrapbook wouldn't be smart, but coins or paper money from a special vacation can make for a unique scrapbook embellishment. If you want to be really creative, you could fold the bills into hearts or other money origami shapes.
10. Refrigerator Magnets
If you're trying to declutter your refrigerator, save your favorite magnets for use in your scrapbook. Magnets with cute sayings or frames to hold favorite photos work especially well for this purpose. If you happen to have any old Magnetic Poetry sets laying around, that's even better! Use them to spell out page titles, names, or even dates.
11. Felt Trivets
Trivets are traditionally used to protect your kitchen counter or dining room table from damage caused by hot serving dishes. However, felt trivets also make fabulous scrapbook embellishments since they come in so many different sizes, shapes, and designs. Attach them with double sided tape or glue dots.
12. Old Books
If you have a favorite book that has seen better days, see if you can find a meaningful way to incorporate it into your scrapbook. Tags can be made from the illustrations in children's books. Book covers can be added to your layout to provide an interactive element if you glue extra photos and journaling to the inside of the cover. You can also cut out or copy your favorite passages or quotes from the book and use them to highlight or caption photos.
13. Wine Corks
Wine corks are a little bulky to add to your scrapbook on their own, but you can use them to carve your own tiny rubber stamps. Hearts, stars, swirls, and other geometric shapes are relatively easy to carve into a cork with a sharp craft knife, as long as you're careful. As long as the cork isn't too dry, you can also slice it into discs that you can adhere to your pages using glue dots. This is a fun way to remember a special bottle of wine or champagne.
14. Sand
Many people save a bit of sand as a souvenir from their beach vacation. Add the sand to your layout by covering the border of your page in a thin layer of Tacky Glue. Gently press the sand in the glue. Let your layout sit on your desk overnight so the glue can dry, and then give it a gentle shake to remove excess sand before adding it to your scrapbook album.
15. First Aid Supplies
If you're making a layout about your child scraping his knee while jumping out of the tree house in your backyard, Band-Aids make cute and thematically appropriate accents. First aid gauze can be stretched over any type of layout to add texture. The gauze can be left white or painted using watercolors.
A Note About Photo Safety
Items not specifically labeled as scrapbook supplies are likely not acid-free and may damage your photos over time. You can minimize the risk of damage by spraying embellishments with a protective coating such as Krylon's Make It Acid-Free spray, but this only works with items made from paper.
If you are experimenting with non-traditional scrapbook embellishments, never use original copies of irreplaceable photos. Remember that the ultimate goal of any scrapbooker is to preserve memories for future generations, which means that the long-term safety of your photos should always be considered.
© 2021 LoveToKnow Media. All rights reserved.
Sours: https://scrapbooking.lovetoknow.com/scrapbook-supplies/unusual-things-use-as-scrapbook-embellishments
5 Minute DIY Tags - Use your Paper Scraps - Paper Layered Embellished Tags
Scrapbook Embellishments Ideas: 5 FAST Ideas That Look Great!
Learn why paper punches are a must for your scrapbooking embellishment collection.
Paper punches come in all sorts of shapes and sizes...leaves, ornaments, trees, apples, hearts, stars, gingerbread men, dogs, and so forth. The punches can be use in numerous ways.
♥ Punch a cutout and use as an overlay. When scrapbooking a greeting card, use a punch to make a cutout on the front of the card. For a scrapbook page, cut a strip of card stock or patterned paper and use the punch to create a fun scrapbook border by punching equally spaced punches into the card stock or paper.

♥ Make confetti. Here's a great way to use those scraps of paper–punch several scraps of paper to make multiple cutouts. Use the cutouts as confetti for your scrapbooking page.

♥ Create objects from the cutouts. By doing a quick search on line, you can find all sorts of ways to use your paper punches. For example, by use three different sized heart paper punches, you can transform hearts into an adorable bunny or even a cute dog.
Sours: https://www.scrapbookingcoach.com/the-top-5-scrapbooking-embellishments-you-need-on-hand-for-your-scrapbooks/
Embellishments ideas scrapbooking
He tried to jerk off his penis himself, and he jumped up from the wrong hand, but Sema began to work actively on his own and let him down with. Him. So many guys have had their own sexual experiences.
5 Minute DIY Tags - Use your Paper Scraps - Paper Layered Embellished Tags
He shouted, pressing his head harder. I began to work with my tongue, licking gently. I never thought that I would have to lick the sperm of someone else's boyfriend from my girlfriend. And the white liquid continued to pour from her vagina. - Damn it, she can get pregnant from him.
Similar news:
But you can lose your virginity not only physically, but also spiritually, - she kissed me again, or rather it was not a kiss. She simply wrapped her tongue around the contour of my lips - for some reason it seems to me that you are not ready yet. -Does it bother you. You never give up on your desires.
602
603
604
605
606