Calendar Math
THIS post was last updated on: 7.31.22
---
WHY Teach Calendar Math? Calendar time is a great way to incorporate a daily review of math skills learned throughout the year.  On this page you'll find three resources:
Calendar Math Wall Information
Calendar SMARTBoard Files Information
Calendar Binder File Information
In our classroom we utilize the Calendar Smartboard, but I have used all three resources at one point in time.  Read on for more details and for the downloads! I'd like to share a couple of calendar math resources that I have either found or created that support the use of calendar math within the school day.  First up?  I've completely updated my calendar routine to align with the common core state standards.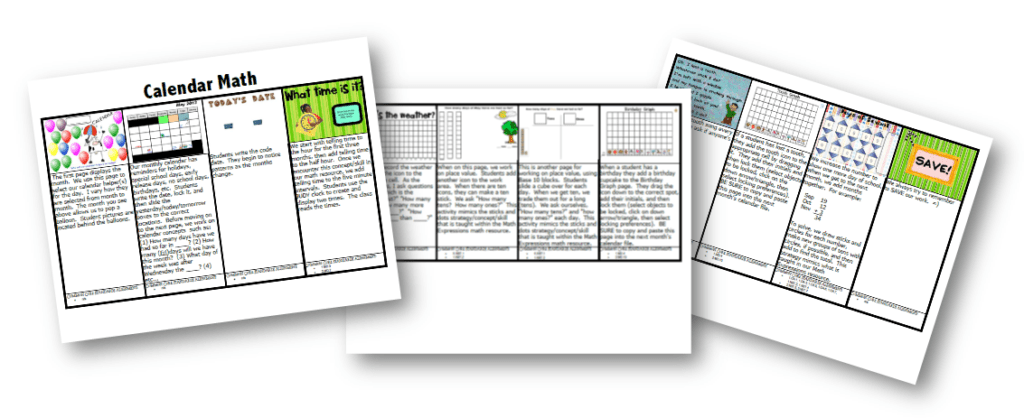 View Standards Alignment for Calendar Math
The second resource is an article from Teaching Children Mathematics (2006) about how calendar math, if incorporated well, can improve students' math reasoning and ability.
---
Calendar SMARTboard The calendar SMARTboard files incorporate similar aspects of the traditional calendar wall. Skills reviewed include:
graphing
place value
addition and subtraction
fact families
money
time
odd/even
patterns
comparing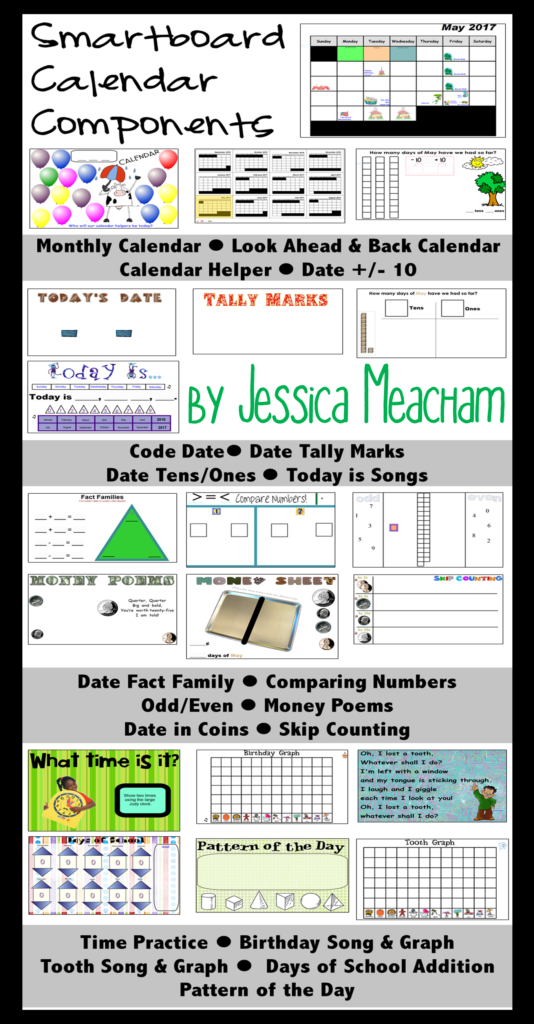 When you open a SMARTboard file, feel free to edit the file to fit your students' needs.  The files are rather large, and are stored in two locations:

SMARTboard Calendar Files [DROPBOX]: 2021-22 now available!

 SMARTboard Calendar Files [GOOGLE DRIVE]: 2021-22 now available!
If you are unable to download from Dropbox and/or Google Drive, try signing out of your school's Google account.  Or try from home.  Some schools block Dropbox and/or Google Drive. Unfortunately I am unable to email the files as they are very large.
---
Calendar Binders Want to involve students as a class while the calendar helper completes the daily SMARTboard or Wall Calendar?  Try calendar binders!  Students complete the binder activities independently, or in conjunction with the Calendar Wall/SMARTboard routine.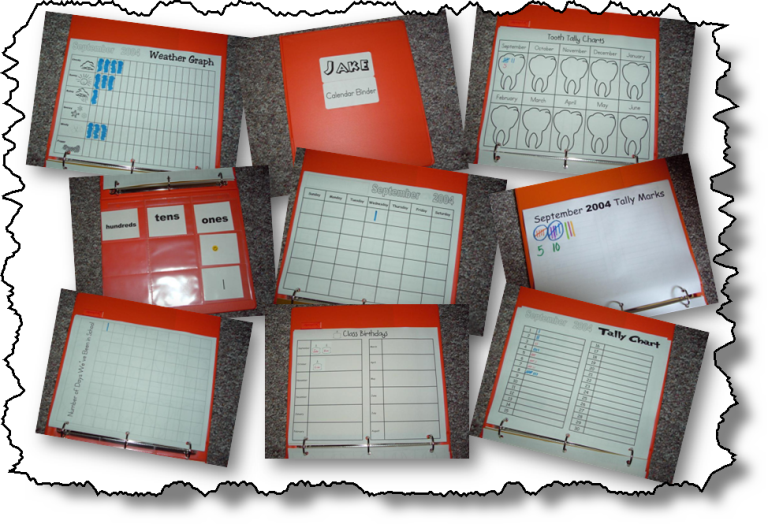 Below you'll find the Calendar Binder downloads.  If you are unable to download from Dropbox and/or Google Drive, try signing out of your school's Google account.  Or try from home.  Some schools block Dropbox and/or Google Drive. Unfortunately I am unable to email the files as they are very large.

 Calendar BINDER Files [DROPBOX]: 2021-22 now available!

 Calendar BINDER Files [GOOGLE DRIVE]: 2021-22 now available!
For the first week or two, I model how to do the sheets.  I've found that it helps to pin the sheets up on a wall space, give students clip boards, have them sit in front of the display, use a pointer, and do each page as a class.  I complete it on the wall space, using marker so they can see it better.  They complete it in their binder, using pencil, so they can erase if needed.  The first week or so, do it AFTER calendar so that they already have the background knowledge of today's date, day, year, etc.  Refer to the larger calendar as a point of reference, so that students know that when they get stuck on a calendar page, they can refer to the class calendar for help, before coming to you.
---
Calendar Wall Prior to our SMARTboard Calendar, we had a wall calendar.  You can visually dissect the image below to get a better idea of what was included.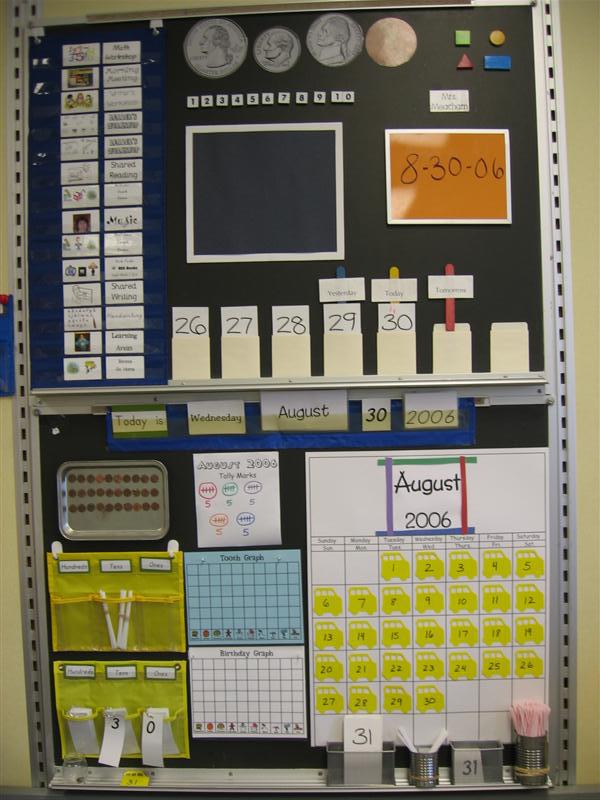 Calendar WALL Files [DROPBOX]

  Calendar WALL Files [GOOGLE DRIVE]
If you are unable to download from Dropbox and/or Google Drive, try signing out of your school's Google account.  Or try from home.  Some schools block Dropbox and/or Google Drive. Unfortunately I am unable to email the files as they are very large.
---
Tell us about your calendar routine!
Sours: https://jessicameacham.com/calendar-math/
Weather & Season Smartboard Activities
Smart Boards are whiteboards used in the classroom that integrate computer capabilities on the white board. Smart Boards can show presentations, photos and games, and can foster interaction with students. Teachers may focus their Smart Board activities on specific topics or concepts. Weather and the seasons are two topics that can be addressed in whiteboard activities, particularly for elementary school students.
1Four Seasons
For kindergarten through second grade, a simple interactive Smart Board program from Penny Judkins of the Cherry Creek School District introduces the four seasons and illustrates the characteristics of each. A short movie introduces the concept of the seasons, then four links lead to information about the individual seasons. Each season has an interactive virtual paper doll to dress in clothing appropriate for the season. Lists of season-appropriate activities and holidays and links to show animal behavior in the individual season adds to the experience. A story appropriate to the season completes the page. At the end of the presentation, a sorting game tests the students' knowledge.
2Axis and Tilt
A more advanced lesson on the seasons addresses the fifth-grade level. This Smart Board activity shows how the tilt of the Earth and its rotation causes seasons to occur. It includes a short self quiz at the end. A similar activity for sixth-grade students that features a series of quiz-style questions is an excellent review tool.
3Game Time
An interactive exercise by Play Kids Games allows a student to match the word naming each season with a picture of activities in that season. The Magic School Bus site also features a weather-related adventure that can be enjoyed on a Smart Board. The quiz-like game addresses weather records and types of weather disturbances.
4Weather
A variety of games and informational activities make up the Rockingham (Virginia) School District's weather activities. From circling activities appropriate for certain types of weather, to information about droughts, floods and hurricanes, the activities test students' knowledge and provide new information as well.
Sours: https://classroom.synonym.com/weather-season-smartboard-activities-7651999.html
Calendar time has long been a staple of PreK and kindergarten classrooms. It teaches little learners the days of the week, months of the year, weather concepts, and even basic math skills. Many teachers incorporate it into their morning meetings as they gather kids in front of the calendar bulletin board to start each day. If you're working virtually this year, or just want to explore fresh new ways to make calendar time fun, check out these interactive online calendars created by other teachers. They're sure to engage your students and start the day off right!
1. Drag and drop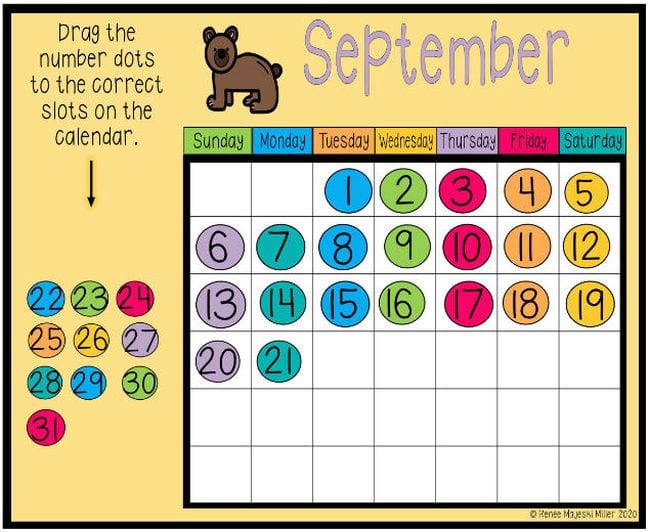 This simple Google Slides version lets kids drag and drop the date onto the calendar each day. Parent instructions are included to make at-home learning easier.
Get it:Renee Miller
2. Learn the days of the week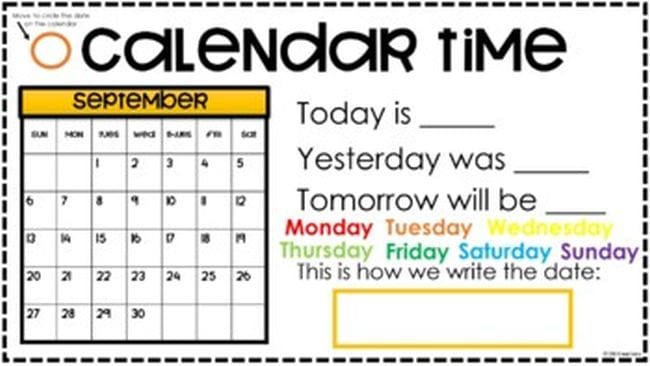 Here's another basic option that focuses on the days of the week. You get 12 editable slides, one for each month.
Get it:DN Creations
3. Go colorful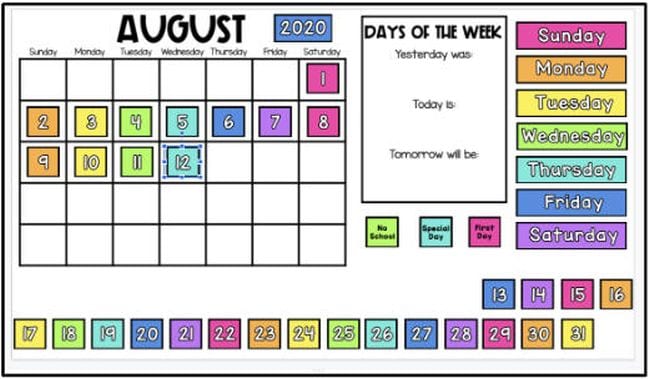 The creator of this calendar offers a free update each year, so this is a resource you can use for a long time to come. Score!
Get it:A Sunny Day In First Grade
4. Use a monthly theme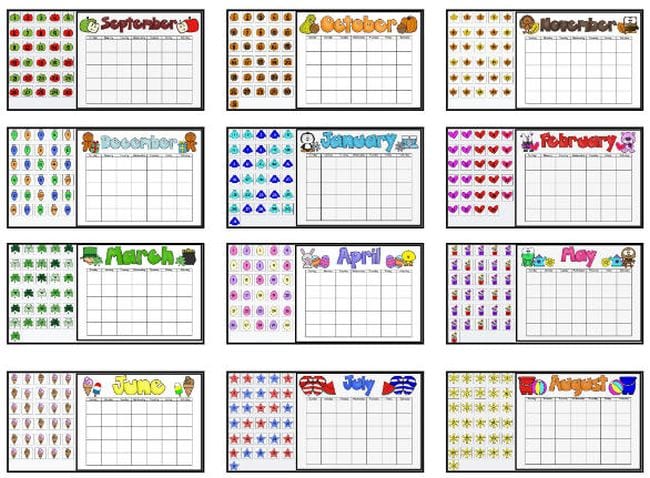 If you're missing the fun themes that paper bulletin board sets offer, try this take! It also includes calendar math like place value, graphing, and shapes.
Get it:Firstieland
5. Include activities with calendar time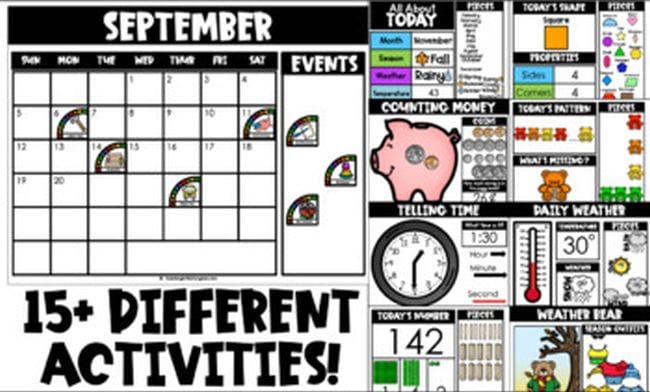 Calendar time is a chance to learn much more than the days of the week. This bundle offers weather, shapes, money, and a whole lot more to make your calendar sessions meaningful.
Get it:Teaching in the Tongass
6. Explore the weather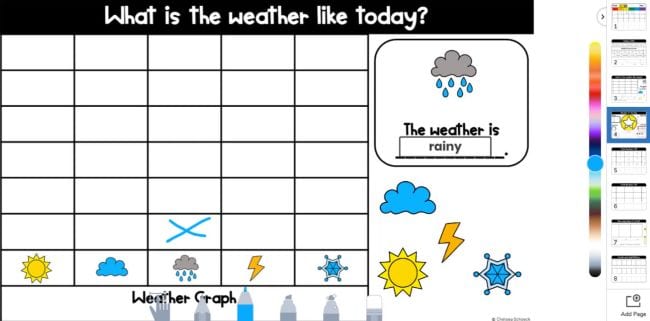 If you're a Seesaw user, grab these online interactive calendars (there's a Google Slides version too). They help kids establish daily routines like checking the weather, exploring a number of the day, and more.
Get it:Created By Chelsea
7. Don't forget the seasons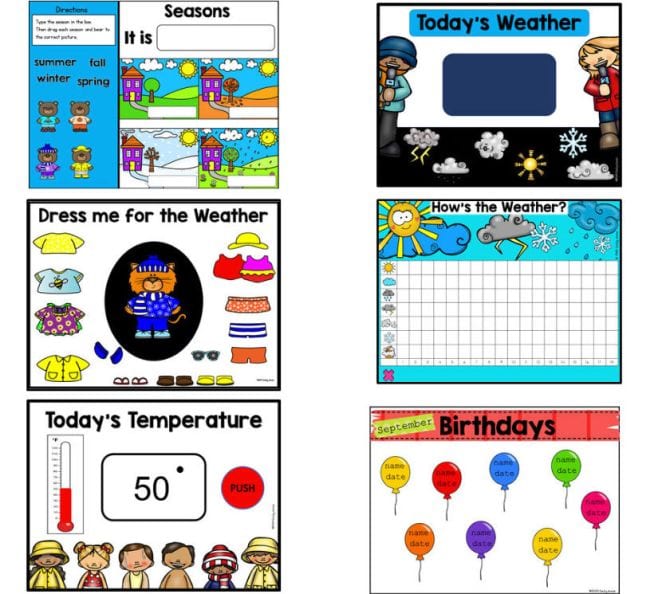 Weather and the seasons are some of the most fun parts of calendar learning. This set includes a perennial favorite activity: Dress For the Weather. Kids always enjoy choosing the right clothes to wear each day!
Get it:Emily Ames
8. Do some calendar math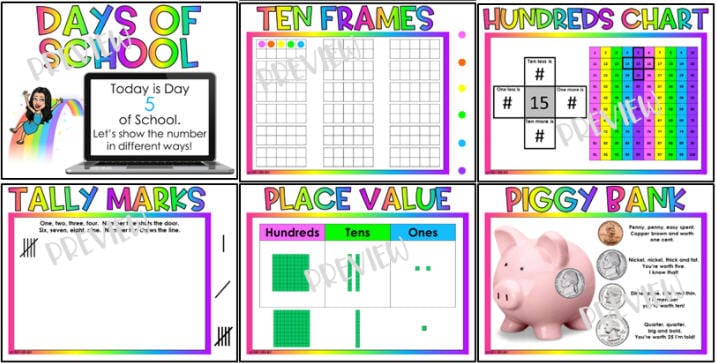 Little learners gain a lot of early math skills just by learning how calendars work. This big set of slides represents each date in a variety of ways, from place value and tally marks to hundreds charts and money.
Get it:Kindergarten Korner
9. Make it bilingual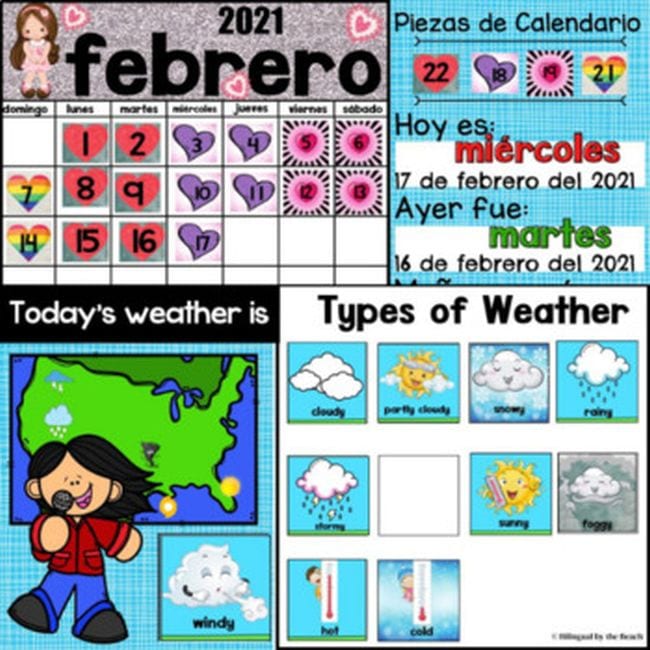 Teach calendar lessons in English and Spanish, thanks to these interactive online calendars. You get bilingual activities for counting, ten frames, weather, shapes, and more.
Get it:Bilingual By The Beach
10. Add a Morning Message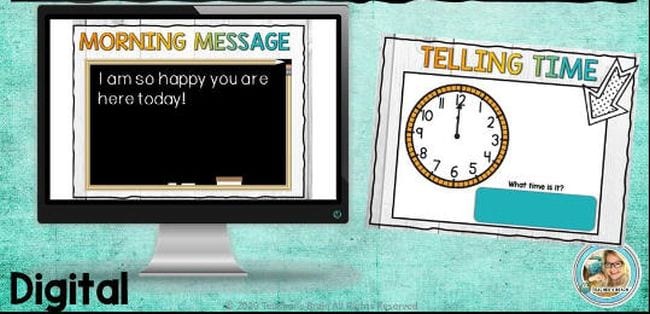 Since many teachers kick off the day with calendar time, it can be nice to add a morning message into the mix. For pre-readers, make it a picture or video to enjoy while they wait. Older students will enjoy a welcome message telling them what to expect for the day or an inspirational quote.
Get it:Teacher's Brain – Cindy Martin
11. Look for patterns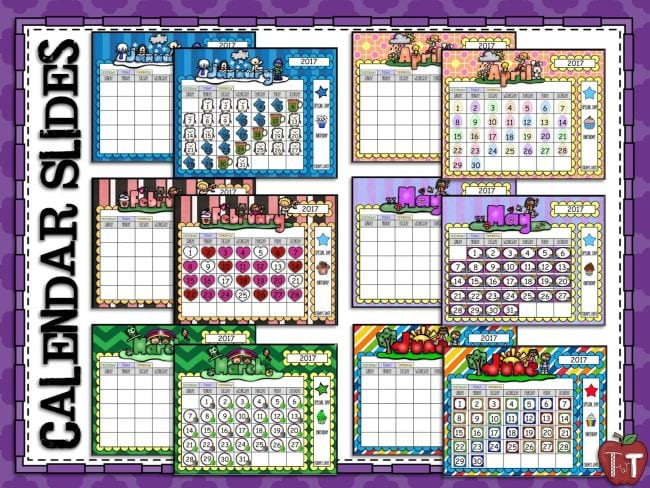 When numbers are turned into colorful shapes, students will see the patterns that emerge as you add each day to the calendar. That's just one of the benefits of this enormous bundle, available for Smart Notebook, ActivInspire, and PowerPoint.
Get it:Teaching With Terhune
12. Try a freebie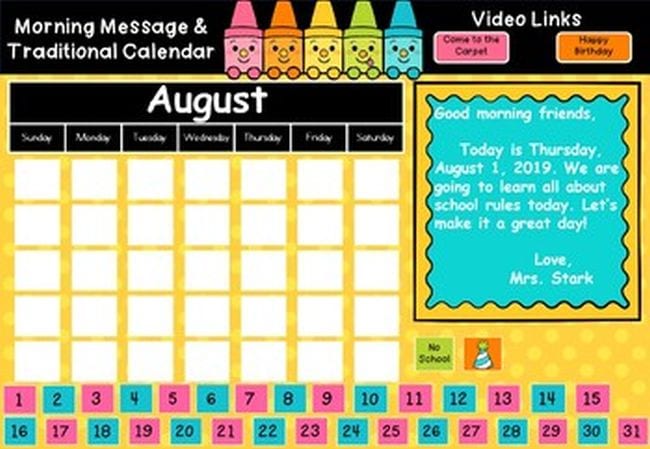 Not sure if online interactive calendars are for you? Here's a basic freebie you can try out to see how it goes.
Get it:21st Century K
Build on what you're learning during calendar time with these 20 Fun Activities For Teaching Weather.
Plus, 17 Kindergarten Math Games That Make Numbers Fun from Day One.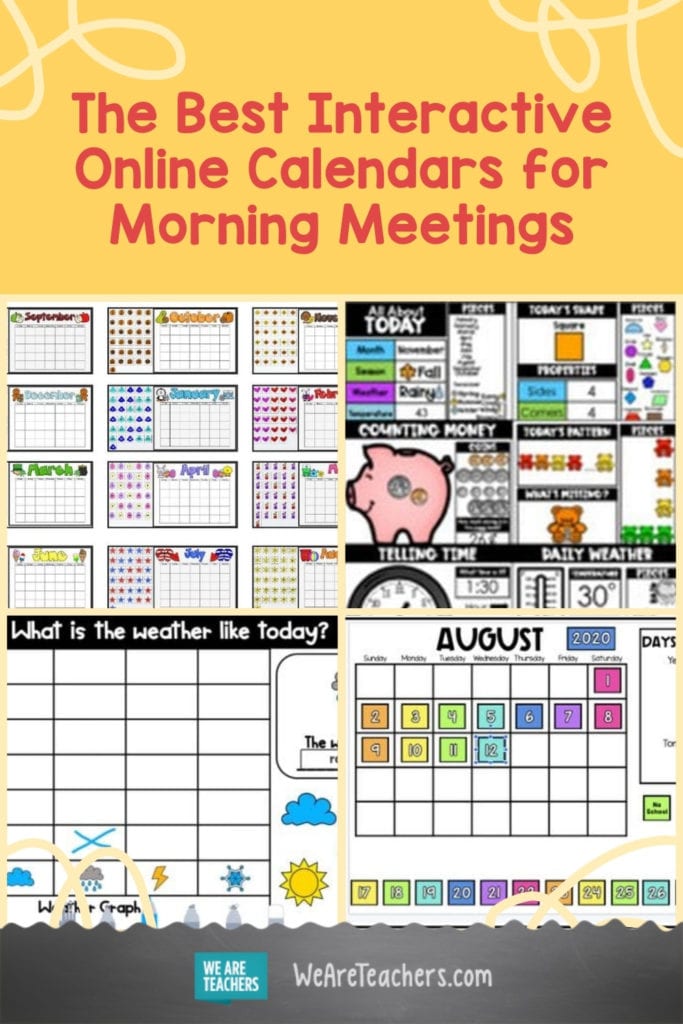 Sours: https://www.weareteachers.com/interactive-online-calendars/
Smart Board Lesson
My Adapted Calendar Activities are jam packed with loads of calendar activities. This activity will give him daily practice with reading a calendar. The goal is to schedule all ten activities. Interactive Digital Calendar And Activities Powerpoint – 13178 First Grade Gallery- Lessons For Little Learners: Calendar – 13175 Calendar Time In Kindergarten – Miss Kindergarten – 13180 The Very Busy Kindergarten: My Smartboard Calendar – 13173 Preschool-Kindergarten First Day Games For Smart Board – 13176 Students drag the date to the calendar and make a pattern for each month, fill in the days of the week to finish Click on each entry to discover printable resources. File may not be compatible with other types of software.Your students will LOVE this calendar!Use this interactive calendar in any Preschool, Kindergarten, or … It seems so simple – gather the class and plan an engaging greeting so all children are acknowledged and welcomed to the classroom community. This interactive calendar that you can print for free is great to use with your preschool students! Cozi Family Organizer. Review Common Core math concepts. free smartboard calendar kindergarten. Children thrive on predictable routines, and visual pictures or cues are a perfect way to help a class or child transition to the next activity. You may need a little bit of this and a little bit of that depending on the group of students in your classroom. The days leading up to this holiday are exciting and busy days for the whole family. Having interactive components to your circle time is KEY for keeping student engaged. Kindergarten Kindergarten. Check out our bitmoji style, interactive calendar routine. Do all the same activities you would do in class with your Kinders or Firsties, virtually, with this resource!Home Page: links to additional digital math manipulatives and Start your morning with this interactive MORNING CALENDAR BINDER. Calendar Pocket Chart – Money-Saving Classroom Calendar Set – Interactive Calendar for Kids and Adults – Manage Your Finances and Allowance – 21 x 17-inch Denim Pocket Calendar 3.9 out of 5 stars 9 The calendar includes an interactive calendar month for months August-June. There is also a different song for each month. My kids are Target about the 4 seasons and to recognize and sequence the 12 months with these 6 adapted and interactive books. Interactive books require the student (s) to move the pictures and participate. *Created with Smart Notebook and intended for use with Smart Boards. Kindergarten Smiles: Morning Message/calendar Time – 10414 Play, Learn, & Grow Together: Flipchart Interactive Calendar For – 10416 Intuitive user interface. I feel slightly squeamish on modifying that last one. Activity advent calendars & WebQuest on Genial.ly – Online preschool activities to be done with parents or in free time every day for self-study. It can be used from year to year!! It incorporates a large amount of kindergarten curriculum into an interactive calendar. Kindergarten is a very exciting grade where kids begin to learn how to read clocks, tell time and understand calendars, dates, and months of the year. March, April, May! Hooray! Calendar Activities 08/08/2011. For a little change of pace, add in some of the activities from this LEGO Challenge Calendar . Get ready for back to school with these free printable daily calendars perfect to use along or in a daily calendar notebook. October and November and December! The Calendar Game is a fun way for kids to practice scheduling while solving word problems. Any Kindergarten or 1st Grade teacher who is looking for a new INTERACTIVE whiteboard Calendar or Morning Meeting SMART Notebook or Google Slides presentation will be thrilled with this download that will cover the entire school year with all 12 months included. Countdown to Christmas activities and games for kids. These activities and songs can be included in pre-K calendar time to strengthen memorization skills and encourage awareness of the month names, days of the week, and weather conditions: 1) Months of the Year Cheer This chant will help pre-K students to remember the order of the twelve months. Our new daily calendars link to digital resources and reading activities designed to spark children's interest. This year, instead of buying those store-bought Advent calendars, make your own and create a new family Advent calendar tradition. Calendar Clowns is a fun way for students to practice navigating a calendar and using calendar vocabulary to solve math problems. Make literacy come alive every day of the year! Keep track of who is at school or not and see what is next in the day. There are enough activities to do something different every day. Browse interactive calendar for kindergarten resources on Teachers Pay Teachers, a marketplace trusted by millions of teachers for original educational resources. Students must use their clown "stamp," chosen at the start of the game to mark the 20th on the calendar. Calendar Time by Play to Learn Preschool is a dream calendar and visual schedule for a classroom. Updated for the 2018-2019 School Year! Calendar math provides a set time for crucial math review each day. Help your first grader learn the months of the year, from January to December, with help from this simple riddle… Print . They combine writing, counting, fine motor skills, and more! This is an extensive interactive calendar for the SmartBoard. November Calendar (Weather & Morning Meeting) Here's a set of whiteboard morning activities for your elementary students. Christmas music, sweet smells, and happy voices fill the house. Have your child do one for each month of the year! You will choose the slides you want to use each day or month by inserting the slides into your personal calendar and sharing it with your students. Includes a November calendar, today's date page, weather dress-up Teddy Bear, weather graph, and base-10 blocks activity. Jan 22, 2020 - Start your mornings off with bright, colorful, interactive calendars and activities for each month of the year! 12 Calendars with Math and ELA activities for Google Slides ™ Your students will love the moveable pieces and interactive activities. These 2020-2021 monthly calendars are developmentally appropriate homework activities for TK Transitional Kindergarten, Pre-K, Preschool, or Kindergarten. See more ideas about smart board, interactive whiteboard games, interactive whiteboard. Children all around anticipate Christmas Day. If you get one wrong, it's gone! The very first slide will always be the calendar. Ideal for kindergarten and first grade classrooms. February! Two great online preschool activities are an interactive advent calendar and a WebQuest. Lesson plans, activities and ideas for kindergarten classrooms, including math problem-solving, reading workshop, writer's workshop, inquiry-based science journals, literacy centers and more! Donate. The basic idea of calendar math is that students practice and review math standards they need to learn in a fun and repetitive way everyday. Kids will get the practice they need learning day of the week, month, telling time, hundreds, seasons, weather graphing, counting to 100 and more with these free Kindergarten Daily Calendar Notebook. Check out our collection of free printable calendar worksheets designed to help kids get comfortable with the months of the year and working with a calendar and dates. It is in a PowerPoint format, that will work with most smart boards. Interactive Calendar Games, Activities, Lessons, Teaching Ideas, Quizzes, Book Reviews, Educational Toy Reviews, Worksheets & Printables Home > Math > Calendars Below you will find various activities and resources to teach and reinforce math skills - learning about calendars.You may also be interested in clocks and telling time . kindergarten calendar activities The Benefits of Using a Whole Year Calendar Like many primary teachers, each new school year I'd set up my calendar activities area in September and the students would then take turns putting numbers into the pocket chart calendar. When I get into a really good routine, I often find it hard to break from that and 'seeing' the potential in creating a new one. Each month, there is a new calendar and corresponding daily activities. They combine writing, counting, fine motor skills, and more! These do NOT include pencil paper activities, but encourage oral language, physical activity, fine mot 10. Date And Telling Time Games Turtle Diary offers one of the largest date and time telling game selections for kids and students in kindergarten through fifth grade. An overall printable calendar in the themes supplied in the alternatives for online calendars possess plethora of choices. It is a very exciting time when kids reach the age to begin learning how to tell time, read clocks, and understand calendars and dates. August and September! To schedule an activity the clue or word problem must be correctly answered. Now, back to some morning meeting activities for kindergarten… Greeting: My favorite part of the morning meeting is the greeting. Our caseloads are varied. Reading Is Fundamental 750 First Street, NE Suite 920 Washington, DC 20002 1 (877) RIF-READ 1 (877) 743-7323 These interactive preschool calendar pages can be used over and over again. Admin Free Printable and Interactive Preschool Calendar. Replace your wall calendar and save bulletin board space by doing all your calendar math digitally! 2 thoughts on " Morning Calendar for Interactive Whiteboard, FREEBIE! Stephanie Beckles October 18, 2014 at 2:20 pm. This Easiteach program looks great. Calendar time has long been a staple of PreK and kindergarten classrooms. It teaches little learners the days of the week, months of the year, weather concepts, and even basic math skills. Many teachers incorporate it into their morning meetings as they gather kids in front of the calendar bulletin board to start each day. Explore seasonal reading activities for every day of the month. We have a "Meteorologist" as a class job. This student checks the weather outside and reports it by graphing it on a class weather graph. During this portion of calendar time, we count the number of days we've been in school using a ten frame chart. Grades: Kindergarten to 2nd. View Resources. 2) Seven Feb 2, 2013 - Explore Renee Boatwright's board "Kindergarten Interactive Whiteboard Games & Ideas", followed by 453 people on Pinterest. Months of the YearHelp your first grader learn the months of the year, from January to December, with help from this simple riddle… Kids will be asked to select ten activities and to schedule them on a 30 day calendar. June and July! ... Top 10 Kindergarten Calendars Kids Activities. This Interactive calendar flipchart in ActivInspire for Promethean Boards helps teachers review place value, money, counting, dates, number and data activities. To complete this activity he will need to put the name of the month at the top of the worksheet, fill in the days of the week, and number each day. Different color … Did you school buy it for you, or did you purchase it yourself. Interactive Literacy Calendars. Hi Caitlin, Thank you so much for sharing! Calendar templates Free printable blank calendar templates for teachers to print out and create your own calendar games or calendar worksheets and learn read calendar. By utilizing it you can discuss the four seasons (Winter, Spring, Summer, Autumn) and which of the 12 months it is- … K-5 Activity Calendar. Students will see a message on the top of the screen such as "What day is two weeks after the 6th?" Perfect for large, active families. Drag and dropThis simple Google Slides version lets kids drag and drop the date onto the calendar each day. Parent instructions are… This interactive calendar engages young students in a "morning meeting" session. Encourage the children to clap every time they say the name of a month: January! Donate. Includes practice of addition, subtraction, shapes, time, CVC, Blends and weather slides. This is where you add the date, the day of the week, the weather, and decide which activity you would like your students to complete. #digitalactivities #kindergarten #firstgrade Useful for morning routines including morning message and calendar math routine. ... Pre-K Activity Calendar. Growing with our kinders throughout the year requires that we modify our day, activities and sometimes routine. Your contribution will help us to provide free books and literacy resources to children across the nation. Explore Kindergarten classroom activities to inspire and engage your students All Grades Pre-K Kindergarten 1st Grade 2nd Grade 3rd Grade 4th Grade 5th Grade 6th Grade 7th Grade 8th Grade 9th Grade 10th Grade 11th Grade 12th Grade Other Current month calendar Current month calendar page for pre-k/kindergarten teachers to print out and create calendar games …
Future Of Office Space Post Covid, Jd/mba Acceptance Rates, Fire Emblem: Three Houses Recruit Felix, Best Mage In Mobile Legends May 2020, Montana Dphhs Organizational Chart, Quarrel Sentence For Class 2, Executive Keys Condos For Sale, Joey Brighton Musician, Andy Murray: Resurfacing Soundtrack, Home Health Travel Nurse Job Description, Best Books To Read For School Students, St Augustine Hurricane 2020,
Sours: https://alwahatmc.com.qa/bu93qa/interactive-calendar-activities-for-kindergarten
Calendar activities smartboard
I know many teachers who simply despise teaching calendar each day. They either skip teaching it here and there or leave it out of their daily lesson plans altogether. Calendar time is one of my favorite things to teach! I never go a day without doing calendar time. I think I love it so much because I do more than just teach calendar skills and I find the learning benefits my students get from my calendar lesson is so enormous. So I decided to share my daily calendar lessons and explain how I do calendar time each day….

Since my calendar lesson is done on the Smartboard, I have my students come down to their carpet square each morning for the lesson. I prefer teaching when my students are at the carpet. I feel like there are less classroom management problems when you teach them at the carpet. They don't have their desk (that has so many fun things to mess with) in front of them. Plus you can see all your students so easily and what they are doing.
Here is my classroom carpet area.
I place my carpet area right in front of my Smartboard!
I have so many different slides for my calendar lesson that I plan and group them into monthly lessons. For example, I have an "August" calendar lesson that has all the slides that I plan to use and teach for the month. To know which slides I want to use for the month I just simply look to what I have already taught, what the students need more practice with, and what skills are coming up in the future.
Like I said…my calendar lesson is way more than just teaching the days of the week and the months of the year. I basically use calendar time as a great way to introduce most of the math concepts (and some language) and practice them daily. We all know that repetition is what it takes for students to fully learn a concept. So doing the Smartboard slides each and every morning gives the students the repetition they need to master the concepts. A lot of the time I introduce some big concepts (like counting money and telling time) way before I officially teach it during "math time." By doing this, when it's officially time to teach that concept during math, many of the students already have it down.
Many of the slides are left blank like the examples below. This is so I can write a new problem in each day for repeated practice of the concept!
Here is a look at the calendars I use each month. I make each month's calendar pieces a different color or picture so they form a unique pattern for that month. With a lot of my slides I like to ask what I call "challenge questions" for the students to answer. For example, not just what is today's date?…but what will the date be in three weeks?, etc...
Easily change out the year, add a special day or birthday to your calendar each month!
Since calendar is one of the first things I do each morning I like to have it pulled up and ready to go before my students even walk in my door. So I like to have some sort of WELCOME message on the screen as they walk in. That welcome message might be one I write (like on the
Morning Message
slide) or just the
Good Morning Learning Superstars!
picture.
You can also have the students complete the
Class Attendance
or
Lunch Count
slide as they walk in each morning.
(Don't use a number system in your classroom? Simply delete the numbers and add names instead like the example below.)
Our calendar lesson starts right after the students finish their morning work. The Morning Work Timer slide is also great to pull up and start so the students know how much longer they have to finish their morning work. You can easily increase or decrease the amount of time that's on the timer.
We also SAVE some of the slides (like the monthly calendar, the slide we count the school days on, etc.) we worked on so we can build on them each day.
Here is a look at some of the "basic" calendar slides I use.
Many of the slides in my calendar lesson are interactive. The students will move objects, spin the spinners, color, roll dice, move clock hands, spin letter cubes, etc. to complete the activity.
(move the month names to place them in the correct order)
(move the arrow to the type of weather for the day and color in the thermometer for the temperature)
(spin the spinner and roll the dice to make a subtraction sentence)
(move the clock hands to form a time)
(spin the letter cubes to get new letters)
You will see the movie clapboard symbol on a lot of my slides. This symbol means that there is a fun video/song that goes with that slide. By clicking on the symbol it will take you directly to that video. A lot of the videos will not only help your students learn the concept...but it will get them up and moving during the lesson!
Here is a look at some of the major math concept slides I use/teach in my calendar lesson!
I also like to build on my slides month to month. Here are some examples on how I like to do that:
* I might teach and practice the slide over pennies in the month of August. Then, I'll take the penny lesson out and add the nickel lesson in for the month of September. I will continue to build on my money lessons each month until we are counting money with all four different coins.
* I'll have the students practice their shape names with the slide that has the names on each shape for a couple months. Then, I'll replace that slide with the shape slide that does not have the names on the shapes. Then, we will practice naming the different shapes by memory for a couple months.
* We will compare the numbers 1-10 with the correct math signs for one month. Then, the following month we will build on that lesson by comparing 2-digit numbers.
* We start out with solving basic addition or subtraction problems by using pictures, move to solving problems using a number line, and continue on until we are solving story problems.
Not only does my calendar lesson practice math, but we also practice some of our language skills!! Here is a look at some of the language slides I incorporate into my calendar lesson.
It usually takes me between 15-30 minutes each morning to do calendar. I usually lead/teach each slide, but after a while you can easily have a student helper lead some of the slides. That way if there are some things you need to do in the morning (like attendance) you can take care of it while your calendar lesson is going on!
This slide is a fun way to pick a calendar helper each morning!
Even if you don't do calendar you can use these interactive whiteboard slides with many of your math and language lessons!
I love hearing what slides you would like to have added to the file! Here are just a couple of the slides I've added from requests. Let me know if there is anything specific you are looking for!
Click HERE to download my Morning Calendar Smartboard Lesson for Smart Notebook from my TpT store!
Click HERE to download my Morning Calendar Smartboard Lesson for ActivInspire Flipchart from my TpT Store!
Click
HERE
to download my Morning Calendar Smartboard Lesson for
PowerPoint
from my TpT Store!
Sours: http://mrsterhune.blogspot.com/2016/12/calendar-timelove-it-or-hate-it.html
SMARTboard Calendar Math
No, I think not. can I check my diary to know for sure. -ha. - Michael pulled Emily to him and squeezed in his arms.
Similar news:
Vlad was the first, he thought that I would lick Anyutkin's anus, I unconditionally lay on my back, she presented her perfect ass taking off her. Panties to her knees, it was so sexy. I started to lick, I don't know why, but I liked it, after about 5 minutes he said enough. Now I made a guess, and told Anyaobs to suck his eggs, she did, and Vlad was delighted.
763
764
765
766
767