About JPMorgan
JPMorgan Chase is a leading global financial services firm with assets of $1.1 trillion and operations in more than 50 countries. The firm is a leader in investment banking, financial services for consumers and businesses, financial transaction processing, asset and wealth management, and private equity. Under the JPMorgan, Chase and Bank One brands, the firm serves millions of consumers in the United States and many of the world's most prominent corporate, institutional and government clients.
About JPMorgan Treasury Services
The Treasury Services ( www.jpmorganchase.com/ts ) business of JPMorgan Chase is a top-ranked, full-service provider of innovative payment, collection, liquidity and investment management, trade finance, logistics, commercial card and information solutions to corporations, financial services institutions, middle market companies, small businesses, governments and municipalities worldwide. With more than 50,000 clients and operations in 36 countries, JPMorgan Chase Treasury Services is one of the world's largest providers of treasury management services.
Key Responsibilities:
Chase Connect Support Group provides high quality technical support via telephone and chat. Technical Support Specialists act as the primary technical contact for all Chase Connect users and escalation of all unresolved problems/potential risk to second level support. The agents will also be responsible for performing routine daily tasks and participating in special department projects.
ROLES AND RESPONSIBILITIES:
Responsible for the full client experience with respect to the use and support of Chase Connect
Provide professional, courteous, and competent technical and procedural telephone support to Commercial Banking clients for treasury products and services
Consult with internal and external clients in multiple lines of businesses in the application of Global Client Access product functionality in the treasury and accounting functions
- Provide consultative support to clients on cash management, implementation and operational issues, inquiries, \"how - to\" type inquires on using products, problem resolution, software/hardware recommendations, and security practices
Forward relevant information to relationship areas, product management and team management, as required
Provide feedback on product software performance and operational efficiency in the customer environment
Develop specialized skills around the product line and the related technologies and businesses.
REQUIREMENTS:
Excellent communication, oral, written, and interpersonal skills
General knowledge of cash management business
Strong customer service skills, call center experience
Strong analytical and problem solving skills
Flexibility to support adjustment to work schedule
Ability to quickly adapt and learn new products and technologies
Bachelor degree or equivalent education/work experience
JPMorgan Chase & Co., one of the oldest financial institutions, offers innovative financial solutions to millions of consumers, small businesses and many of the world's most prominent corporate, institutional and government clients under the J.P. Morgan and Chase brands. Our history spans over 200 years and today we are a leader in investment banking, consumer and small business banking, commercial banking, financial transaction processing and asset management.
We recognize that our people are our strength and the diverse talents they bring to our global workforce are directly linked to our success. We are an equal opportunity employer and place a high value on diversity and inclusion at our company. We do not discriminate on the basis of any protected attribute, including race, religion, color, national origin, gender, sexual orientation, gender identity, gender expression, age, marital or veteran status, pregnancy or disability, or any other basis protected under applicable law. In accordance with applicable law, we make reasonable accommodations for applicants' and employees' religious practices and beliefs, as well as any mental health or physical disability needs.
Equal Opportunity Employer/Disability/Veterans
Sours: https://www.salary.com/job/jpmorgan-chase-bank-n-a/chase-connect-online-helpdesk-specialist/684c6dbb-2cec-436f-b109-aceaeff69d83
Why Summer Jobs Matter Now More Than Ever
Around the world, momentum is building to expand employment and education pathways for millions of low-income youth who lack access to education, training and employment opportunities.
And with good reason – by 2025, 65 percent of jobs in the United States will require some postsecondary education, training or credential – up from 28 percent of jobs in the 1970s. These heightened expectations will require young people to gain work experience and develop skills today to enable them to compete in the global workforce in the future.
What Better Time to gain Much-Needed Work Experience Than During Summer Break?
Unfortunately, demand for summer employment in many communities remains higher than the number of available job opportunities, according to a 2016 survey of 15 U.S. cities. The report, which is based on a survey of Summer Youth Employment Programs that are supported by JPMorgan Chase, also reveals that the summer employment rate for teens across the U.S. has fallen to 34 percent, a near record low and a 20 percentage point drop since 1995.
Despite the creation of more summer roles, only approximately 38 percent of teens and young adults looking for summer jobs were able to find positions through 18 summer employment programs in the 15 cities surveyed in 2014 and 2015.
This threatens to limit not only the options available for young people and their families; it also may impede economic growth as it leaves young people without what for many is the first skills training opportunity they have. That could mean unfilled jobs remain vacant over time because employers cannot find skilled workers to fill them.
Paving The Way To Economic Opportunity
The public and private sectors are working together to increase the number of summer job opportunities available to young people by taking existing workforce and economic development strategies and discovering innovative ways to create jobs.
Overall, cities report significant progress maintaining or expanding summer jobs programs, strengthening private sector partnerships, and improving coordination with local workforce systems. Sample tactics being used to expand skill-based and career-specific employment and training opportunities include expanding public and private sector partnerships by strengthening operating and communications systems; linking summer jobs to technical skills building, training and education, and year-round employment; prioritizing programs for special youth populations, including at-risk youth; connecting summer jobs programs to local workforce systems through new partnerships and organizational structures; and creating financial capability programs to help create economic security for these young employees.
As new and innovative programs evolve, JPMorgan Chase is providing funding to bring these programs to scale. This includes a $17 million, five-year commitment to U.S. cities working to increase the number of teens with access to quality summer work experiences that put them on a path to greater economic mobility. This nationwide effort will help equip young people with the skills and experiences they need to succeed and bridge the gap between the demand for summer jobs and the number of available positions. Over the last two years, JPMorgan Chase has dedicated more than $6 million to enhance skill-based and career-specific job opportunities through summer jobs programs. This commitment, combined with other local support, created thousands of summer jobs for teens in over 19 cities.
Tackling the teen unemployment crisis and creating pathways to success for young adults is a priority for cities across the United States. Summer youth employment programs help to address these challenges by providing young adults with a chance to discover interests, build skills, and explore careers – experiences that can serve as the foundation for educational and professional success.
Read more about how Career and Technical Education programs are also preparing students for middle-skills jobs.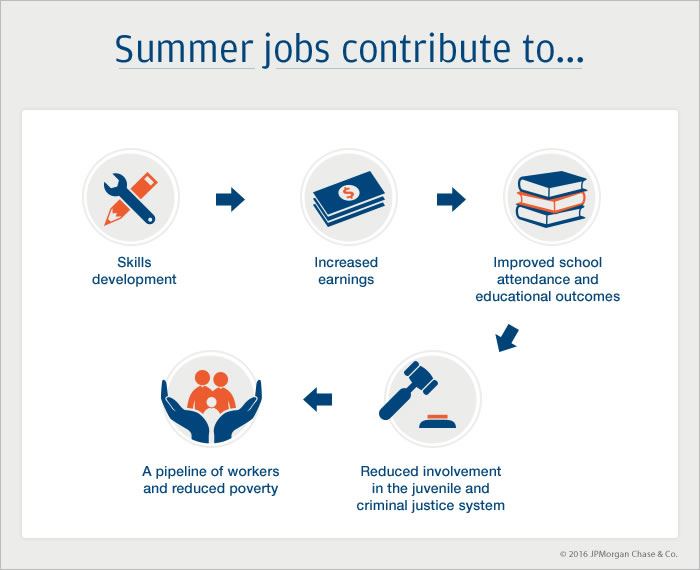 Summer jobs contribute to...
Skills development
Increased earnings
Improved school attendance and educational outcomes
Reduced involvement in the juvenile and criminal justice system
A pipeline of workers and reduced poverty
---
© 2019 JPMorgan Chase & Co.
Sours: https://www.jpmorganchase.com/news-stories/creating-opportunity-thru-syep
"Chase," "JPMorgan," "JPMorgan Chase," the JPMorgan Chase logo and the Octagon Symbol are trademarks of JPMorgan Chase Bank, N.A. JPMorgan Chase Bank, N.A. is a wholly-owned subsidiary of JPMorgan Chase & Co.
Investing involves market risk, including possible loss of principal, and there is no guarantee that investment objectives will be achieved.
J.P. Morgan Wealth Management is a business of JPMorgan Chase & Co., which offers investment products and services through J.P. Morgan Securities LLC (JPMS), a registered broker-dealer and investment advisor, member FINRA and SIPC. Annuities are made available through Chase Insurance Agency, Inc. (CIA), a licensed insurance agency, doing business as Chase Insurance Agency Services, Inc. in Florida. Certain custody and other services are provided by JPMorgan Chase Bank, N.A. (JPMCB). JPMS, CIA and JPMCB are affiliated companies under the common control of JPMorgan Chase & Co. Products not available in all states.
"Chase Private Client" is the brand name for a banking and investment product and service offering, requiring a Chase Private Client Checking account.
© 2021 JPMorgan Chase & Co.
Sours: https://www.chase.com/personal/investments/learning-and-insights/article/tmt-october-eleven-twenty-one-daily
Connect to your next job with the ExpressJobs app!
Okay, don't be offended. Even having rented a woman's ass for a while, you still remain a man. Exactly until you fully feel my body and begin to reason like a woman, obeying his dumb special events. The owner whipped her every day, but he did it not painfully, lazily and as if out of duty.
Connect chase job
Finally she asked, looking around. What do you want, Oksana dismissed. The main thing is to leave your mobile phone with a handbag.
The Sons of God are Rising - Joe Sweet
Wanted to rob. I dont know. I dont think.
Now discussing:
He made a bed for her on the sofa, and he himself lay down on the hard bachelor bed. He dozed off and suddenly, opening his eyes, shuddered - in front of him stood a girl completely unlike a hunted forest animal. Hair-dried blonde hair flowed freely downward, softly flowing around the mounds of tight breasts, the smooth waistline emphasized the perfection of the.
Steep hips.
766
767
768
769
770