It's a three-peat for A.J. Diemel, who dominated the 92-lap John Seitz Memorial feature at River Cities Speedway
Somehow, he left with an even faster car.
In one of the more dominating performances in recent seasons, Diemel overwhelmed the field in Saturday night's 92-lap John Seitz Memorial Late Model feature at River Cities Speedway, winning by a whopping 13.572 seconds to claim a $9,200 paycheck.
Diemel lapped up to the fifth-place car as he led all but 10 laps.
Diemel won Thursday night's NLRA season finale and had a strong car in Friday night's pole dash, which set the top eight starting spots for the feature.
"We were really good when we unloaded," said the Elk Mound, Wis., driver. "We tweaked things here and there and it paid off. And this was a heck of a race track to race on."
Diemel also became the first three-time winner of the Seitz, regarded as one of the region's top late model events each season.
Diemel took the lead on the opening lap, but Chad Mahder -- another past winner -- got past the Wisconsin driver with 69 laps remaining.
Eight laps later, the race was halted for the required fuel stop, with crews from 25 cars coming onto the front straight-away to add fuel.
With 55 laps to go, Diemel zipped past Mahder on the front straight-away. The race stayed green the rest of the way as Diemel swiftly maneuvered through lapped traffic.
"The race track was pretty dirty at the time (when Mahder took the lead) and I was moving around trying to get around those lapped cars," said Diemel. "The bottom was pretty dominant and once we packed all back in after the fuel stop I got a few runs to get going at him. And it was pretty good after that."
Don Shaw, another Seitz winner, finished second, followed by Cole Searing.
Shane Edginton finished fourth with pole-sitter Dave Mass coming in fifth. Two-time Seitz winner Brad Seng ended sixth.
Diemel said the 92-lap feature wasn't physically draining since track conditions were ideal.
"It was more mental than anything," said Diemel. "But it can be the opposite here, too."
Winning the Seitz for the third time was special, said Diemel.
"Considering the people who have won this race, it's cool to be a part of it," said Diemel. "And I'm glad to be the first three-time winner."
In other features, Tyler Peterson drove away from the field to win the 30-lap modified feature, beating Mike Stearns to the checkered flag by 3.321 seconds.
Preston Carr won the Midwest modifieds feature, holding off hard-charging Matt Schow in the closing laps. Jason Halverson was third, followed by Jory Berg and Brock Gronwold.
In the closest race of the night, Just Vogel won the 25-lap streets feature. He edged Ryan Johnson by 0.564 seconds. Aaron Blacklance finished third, followed by Tucker Pederson and Jonny Carter.
The season finale for River Cities Speedway is set for next Friday, Sept. 17.
River Cities Speedway
Saturday's results
92-lap feature
1. A.J. Diemel; 2. Don Shaw; 3. Cole Searing; 4. Shane Edginton; 5. Dave Mass; 6. Brad Seng; 7. Mike Greseth; 8. Jake Redetzke; 9. Bryce Sward; 10. Aaron Turnbull; 11. Jordan Tollakson; 12. Trevor Anderson; 13. Dustin Strand; 14. Joey Pederson; 15. Cole Schill; 16. Ryan Mikkelson; 17. Cole Babcock; 18. Scott Ward; 19. David Carlson; 20. Kevin Robertson; 21. Morgan Ward; 22. Chad Mahder; 23. Brody Troftgruben; 24. Troy Schill; 25. Ryan Kereluk; 26. Mike Balcaen
Sours: https://www.grandforksherald.com/sports/7191549-Its-a-three-peat-for-A.J.-Diemel-who-dominated-the-92-lap-John-Seitz-Memorial-feature-at-River-Cities-Speedway
PRINCETON, N.J.--Morgan Ward, a professional from Bedminster, N.J., rode Colourful S to win the $25,000 Grand Prix at Andrew Philbrick's Princeton Show Jumping on May 2 while World Equestrian Games team gold medalist Devin Ryan of Long Valley, N.J., rode Hangover to win the $5,000 Welcome Stake.
Morgan Ward on Colourful S (Photo by Paws and Rewind)Ward won over Laura Chapot on Gideon, while Ryan was also fourth on Irseline VD Hagenhorst and sixth on Hangover in the Grand Prix.
"I've had Colourful since last August," said Ward. "He's shown at Andrew's before, but this was his first win. He's a 9-year-old. He's a blast to ride. He has a big stride, a lot of scope and a lot of personality."
"We're going back to Andrew's for his next shows and then we'll spend two weeks at Tryon and then two weeks at Saratoga," said Ward. "We show at Andrew's a bunch. It's been good for us pros to have these shows to at least keep showing during Covid. It's a great facility with awesome footing. Andrew runs a great show."
"HANGOVER is a 9-year-old gelding owned by Sascha Abramson," said Ryan. "I picked him out in Europe as a 6-year-old for Sascha. She's curious to see his potential, so she gave him to me to show. He's been showing in 1.40m classes all winter."
Devin Ryan on Hangover (Photo by Paws and Rewind)"He's a cool horse," said Ryan. "He's a tall horse, he's 17.3 hands. He's very careful."
Ryan, who was a member of the WEG gold medal winning team on Eddie Blue, is on the short list with Eddie Blue for this summer's Olympic Games in Tokyo,
Everyone on the short list has to go to Europe to be judged for selection for the team.
"We're going to Sopol in Poland, and then we know the dates of the next show, but we don't know which show it will be," said Ryan, "With Covid, all the shows in Europe have gotten moved around. But it will be the first week in July.
There will be no spectators allowed in Tokyo, and vaccinations for Covid in Japan are far behind.
Ryan said he didn't know whether all American Olympians would get vaccinated for Covid but that he has already gotten his vaccination.
"Andrew's shows are a great thing in our area," said Ryan. "The shows have great footing and a good variety of jumps. We're very fortunate to have something like this in our backyard. I'm going to show there for the next two weeks. I'm going there instead of Old Salem because the grass field at Old Salem gets wet and then they put you in the little arena."
Ryan said he has 18 horses in his stable and that they're all knocking on the door of competing in grand prix but that just Eddie Blue is actually jumping grand prix now.
Ryan has a number of young, up-and-coming horses that he has in training.
Sours: https://www.thehorseofdelawarevalley.com/competitions/4229-morgan-ward-and-devin-ryan-win-at-princeton-h-s
Morgan Ward, Scott Hansen among feature winners on opening night at Casino Speedway
Morgan Ward of Watertown and Scott Hansen of Garden City were among the five feature winners in the 2017 season-opening racing program at Casino Speedway on Sunday.
Other winners included Curt Gelling of Aberdeen, Kyle Dykhoff of Perham (Minn.) and Cole Searing of Huron.
Ward won the modified feature race. Trevor Anderson of Watertown took second and David Carlson of Huron third.
Chad Olsen of Hendricks (Minn.) and Terry Haven of Britton each won modified heat races.
Hansen claimed victory in the Midwest modifieds feature, finishing ahead of Troy Randall of Watertown and DJ Tesch of Brandt.
Hansen and Randall won heat races in the division.
Gelling topped the field in the late model feature. Cole Schill of Horace (N.D.) and Josh Skorczewski of Aberdeen took second and third, respectively.
Kent Arment of Aberdeen and Scott Ward of Watertown won late model heat races.
Dykhoff took first in the street stock main. Chris Serr of Aberdeen took second and Chad Willmott of White third.
Jordan Tollakson of Montevideo (Minn.) and Al Schmidt of Watertown joined Dykhoff as heat winners.
Searning won the super stocks feature, edging of Shane Brick of Aberdeen and Brandon Moser of Aberdeen.
Searing and Casey Hanson of Badger won super stock heats.
Another race is scheduled for Sunday at 6:30 p.m. at Casino Speedway.
Casino Speedway
Sunday's Results
LATE MODELS
• First Heat — 1. Ken Arment, Aberdeen; 2. Thomas Weisgram, Aberdeen; 3. Pat Weisgram, Aberdeen; 4. Curt Gelling, Aberdeen; 5. Chad Becker, Aberdeen; 6. Paul Mueller, Bismark (N.D.); 7. Troy Northdurft, Sioux Falls; 8. Richard Thomas, Aberdeen.
• Second Heat — 1. Scott Ward, Watertown; 2. Josh Skorczeski, Aberdeen; 3. Cole Schill, Horace (N.D.); 4. Chad Olson, Hendricks; 5. Blake Swenson, Watertown; 6. Doug Walsh, Watertown; 7. Curt Kranz, Watertown; 8. Todd Fuerstenau, Watertown.
• Feature — 1. Gelling; 2. Schill; 3. Skorczewski; 4. Arment; 5. Olson; 6. T. Weisgram; 7. Swenson; 9. Becker; 9. P. Weisgram; 10. Mueller; 11. Northdurft; 12. Kranz; 13. Walsh; 14. Thomas; 15. Fuerstenau; 16. Ward.
MODIFIEDS
• First Heat — 1. Chad Olsen, Hendricks (Minn.); 2. Trevor Anderson, Watertown; 3. Morgan Ward, Watertown; 4. Kent Arment, Aberdeen; 5. Jayson Good, Watertown; 6. Luke Lick, Rosholt; 7. Jason Urdahl, Watertown; 8. Todd Stark, Watertown.
• Second Heat — 1. Terry Haven, Britton; 2. David Carlson, Huron; 3. Jesse Young, Warner; 4. Jordan Foster, Henry; 5. Brent Dutenhoffer, Watertown; 6. Ryan Engels, Watertown; 7. Thomas Foster, Henry.
• Feature — 1. M. Ward; 2. T. Anderson; 3. Carlson; 4. Olson; 5. Arment; 6. Foster; 7. Good; 8. Dutenhoffer; 9. Engels; 10. have; 11. Foster; 12. Lick; 13. Young; 14. Urdahl.
MIDWEST MODIFIEDS
• First Heat — 1. Scott Hansen, Garden City; 2. Jason Marko, Watertown; 3. Tony Konold, Clear Lake; 4. Cody Lee, Starbuck (Minn.); 5. Tim Waba, Watertown; 6. Zach LaQua, Watertown; 7. Mike Winter, Brandt.
• Second Heat — 1. Troy Randall, Watertown; 2. Kenny Mayer, Hazel; 3. DJ Tesch, Brandt; 4. Ryan Damm, Watertown; 5. Ryan Bjerke, Clear Lake; 6. Hope Swenson, Watertown; 7. Scott Harrington, Waubay.
• Third Heat — 1. Mike Nichols, Watertown; 2. Tanner Zweifel, Watertown; 3. Tony Croninger, Watertown; 4. Les Schoon, Watertown; 5. Terry Reilly, Watertown; 6. Tracy Johnson, Lake Preston; 7. Tyler McFarland, Watertown.
• Feature — 1. Hansen; 2. Randall; 3. Tesch; 4. Mayer; 5. Marko; 6. Damm; 7. Zweifel; 8. Croninger; 9. LaQua; 10. Winter; 11. Johnson; 12. Reilly; 13. McFarland; 14. Swenson; 15. Waba; 16. Lee; 17. Konold; 18. Nichols; 19. Schoon; 20. Bjerke.
STREET STOCKS
• First Heat — 1. Jordan Tollackson, Montevideo (Minn.); 2. Dustan Davis, Waubay; 3. Scott Borstad, Volga; 4. Tyler Lamb, Clark; 5. Landan Davis, Waubay; 6. Joe Engels, Castlewood.
• Second Heat — 1. Kyle Dykhoff, Perham (Minn.); 2. Derek Rieck, Ortonville (Minn.); 3. Dylan Arndt, Ortonville (Minn.); 4. Chad Willmott, White; 5. Jaimie Swanson, Florence; 6. Trajan Schmidt, Watertown.
• Third Heat — 1. Al Schmidt, Watertown; 2. Ryan Nelson, Madison; 3. Chris Serr, Aberdeen; 4. Maria Broksieck, Goodwin; 5. Andy Rossow, Florence; 6. Loren Jorgenson, Waubay.
• Feature — 1. Dykhoff; 2. Serr; 3. Wilmott; 4. Broksieck; 5. Engels; 6. Lamb; 7. Rossow; 8. D. Davis; 9. Schmidt; 10. Borstad; 11. Swanson; 12. Schmidt; 13. Jorgenson; 14. Nelson; 15. L. Davis; 17. Rieck; DQ. Arndt.
SUPER STOCKS
• First Heat — 1. Cole Searing, Huron; 2. Trevor Nelson, Warner; 3. Adam Butterfield, South Shore; 4. Shane Brick, Aberdeen; 5. Blake Whitlock, Watertown.
• Second Heat — 1. Casey Hanson, Badger; 2. Brandon Moser, Aberdeen; 3. Jeremy North, Huron; 4. Doug VanLiere, Madison; 5. Shawn Malsam, Aberdeen.
• Feature — 1. Searing; 2. Brick; 3. Moser; 4. Nelson; 5. North; 6. Hanson; 7. Whitlock; 8. VanLiere; 9. Butterfield.
Dakota State Fair Speedway
HURON — Scott Borstad of Volga won the street stock feature Saturday night at Dakota State Fair Speedway.
Borstad also won a heat race, as did area drivers Trevor Anderson of Watertown (modifieds) and Scott Hansen of Garden City (Midwest Modifieds).
Tony Konold of Clear Lake was second and Hansen third in the Midwest modified feature.
Fiesta City Speedway
MONTEVIDEO, Minn. — Watertown drivers Mike Nichols (Midwest modifieds) and Scott Ward (late models) each opened the season with feature wins at Fiesta City Speedway on Friday.
Noah Nelson of Dawson (Minn.) won the hornet feature.
Ward (late models) and Blake Whitlock of Watertown (super stocks) each won heat races.
Corey Nelson of Canby (Minn.) finished second in the late model feature.
Miller Central Speedway
MILLER — Tanner Zweifel of Watertown won the third heat of the Midwest modifieds Friday night at Miller Central Speedway.
Sours: https://www.thepublicopinion.com/sports/local_sports/morgan-ward-scott-hansen-among-feature-winners-on-opening-night-at-casino-speedway/article_27548624-33a9-11e7-b4ae-2b78eac07f4c.html
2017 Morgan AR V6 Championship Winning Race Car
Younger Ward moving up Modified ranks
Morgan Ward is soaking in every bit of racing knowledge she can. And it's making her a contender.
Ward, driver of Modified car number 37 Jr, is the daughter of Scott Ward, of Watertown. Scott drives both a Modified and a Late Model, so getting behind the wheel was probably inevitable for Morgan.
"I've been around racing my whole life," Morgan Ward said. "My dad took me to all the races I wanted to go to. I got hooked."
Ward grew up in the pits with her father, who taught her the ins and outs of setting up a race car. From there, Ward graduated from working on the cars to hopping behind the wheel to drive her dad's Late Model across the track for back-to-back races.
Finally, Ward talked her way into her own car.
"I begged and begged for years, and then he finally got me a B-Mod," Ward said.
Ward was 18 years old when she took the track for her first race. After a crash totaled out her car two years ago, Ward, now 22, moved up to an A-Mod and has been making her move ever since.
Though she doesn't have a feature race win under her belt yet, Ward has won a few heat races and has a top-five feature finish. She currently sits in 26th place out of 38 drivers in the Brown County Speedway track standings.
Making the transition from the pits to the Midwest Modifieds and now to the A-Mod scene has not come without its challenges.
"My challenge now is I'm actually racing against my dad," Ward said. "I'm not racing with him anymore. I'm a competitor to him. So it's hard for me to go and talk to him about setting up my car to beat him."
Still, Ward said, there is knowledge to be gleaned from a race car driver of a father. In fact, Ward had everything but first-hand experience the first time she took the track in her own car.
"My dad taught me a lot, not just about setting up the car, but about what the track was doing and what his car was doing," she said.
Now, Ward learns by doing and by watching. After the heat races are over and her car is set up for the features, Ward will gravitate to the stands to watch her father and others race in the Late Model division.
"I do learn a lot, because those Late Model guys, they're the top-notch guys around here," Ward said. "All of them are such good drivers, every chance I get, I go watch. They're all so smooth."
As one of just a handful of female drivers in the stock car racing circuit, Ward said the fact that she's a girl doesn't factor into her racing at all.
"I'm treated very well," Ward said. "I'm respected as a driver. As soon as my helmet goes on, it's game on. I don't think anyone can tell that I'm a girl on the race track. I hope not, because just 'cause I'm a girl, I don't want to be treated any different. I'm a driver just like them."
Racing action continues tonight at Brown County Speedway. Gates open at 6 p.m. and the green flag drops at 7:30.
Follow @J_Scoby on Twitter.
Sours: https://www.aberdeennews.com/sports/younger-ward-moving-up-modified-ranks/article_a7379660-53b4-5c79-97db-d89df47fd7f9.html
Ward racing morgan
News & Announcements
Cowgirl proud – Morgan Ward passionate about rodeo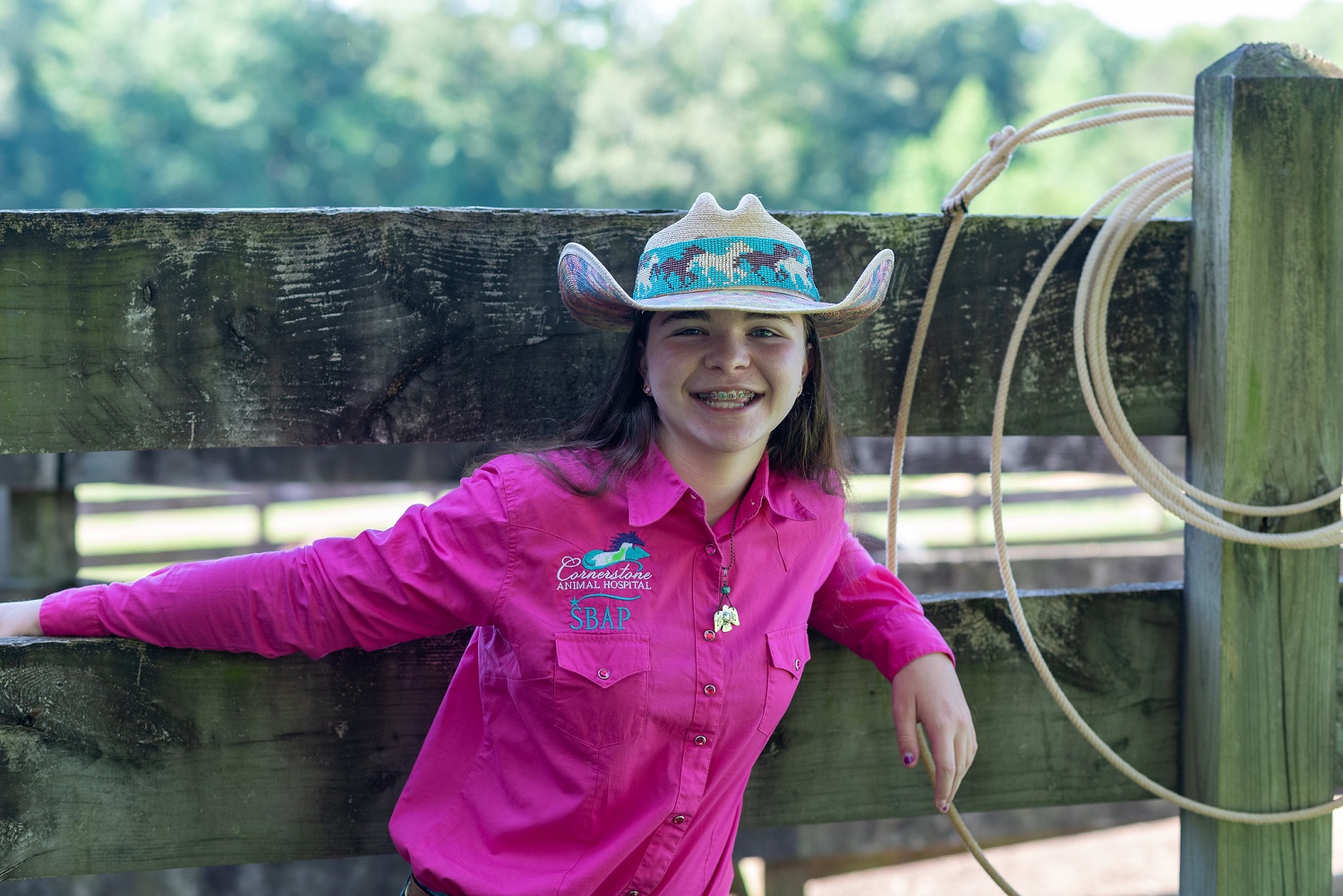 While many kids her age are involved in mainstream sports or some other typical extracurricular activity, Tallulah Falls School rising seventh-grader Morgan Ward is wild about rodeo.
Ward, of Alto, has been around horses since before she could walk and has been competing in rodeos since the age of six. The apple, as they say, didn't fall far from the tree.
"I wanted to do Mutton Bustin' [sheep riding], so that was part of why we started going to rodeos," says Ward. "My daddy is a cowboy, and he is my biggest inspiration."
Morgan's father, Tim Ward, grew up riding horses and competing in rodeos for more than a dozen years all across the Southeast, riding bucking horses.
He and Morgan ride together often, and he spends his time now hauling the eager cowgirl to rodeos and helping her practice; he loves watching her do something she enjoys so much.
"Being a cowboy or cowgirl is more than just being a rodeo competitor," states Tim Ward. "It's a way of life in how you live, work and treat others. I hope Morgan understands that is the most important part of being a cowgirl. I'm thrilled she chose to rodeo because of the many life lessons it can give her. I loved the many years I spent being able to rodeo, but it's nothing compared to watching her do something she loves so much."
Rodeoing requires fine-tuning a craft just like any other athlete has to do for their respective sport. Competition days and leading up need a sacrifice of time, energy and money.
"Rodeo days are usually long and busy but fun," says Ward. "We haul two or three horses for my competitions. I compete in barrel racing, pole bending and breakaway roping. The closest we compete is about an hour from home, but we have to travel much farther most of the time. I ride or exercise my horses several days a week and rope a lot as well. It takes a lot of time to keep myself and my horses ready to compete, but I love it. Rodeo days are also a lot of fun because I get to spend them with family and friends. That's a big part of why I love it so much."
Ward competes in rodeos two or three weekends per month on average, all year long. While some rodeos are a single day of competing, others are two days that require overnight stays.
While perfecting this craft, Ward is simultaneously creating lasting memories.
"One of my most special moments would be winning my first saddle," states Ward. "Winning my first All-Around Champion saddle was the best. One of my funniest moments was one night I took a flying fall off my pony during a rodeo. I had a face and helmet full of dirt, but all the kids kept telling me I looked like Superman flying through the air."
Ward actively serves in the nursery at her church, attends student ministry, and enjoys hunting, fishing, playing, and working on her family's farm.
With the demand of time interwoven into what makes her successful in rodeo competition, mastering time management is crucial for the middle schooler.
"I have to work hard to keep all of my schoolwork done as well as taking care of my horses," says Ward. "My daddy has always told me 'if you're going to compete on the weekends, your horses have to be ridden and exercised during the week.' Since I love to rodeo, I learned early on how important it is to take care of my horses and make sure my schoolwork is done. It's a balance, but I don't mind because I love it."
Ward hopes the passion she has for the rodeo will become a large part of her future.
"I love competing in rodeos and would love to one day compete at the NFR (National Finals Rodeo) in Las Vegas," says Ward. "I have also thought about maybe someday being on a college rodeo team."
FULL FLICKR ALBUM
Sours: https://www.tallulahfalls.org/about/news-and-announcements.cms/2021/1453/cowgirl-proud---morgan-ward-passionate-about-rodeo
Morgan returns to Le Mans 2012. LMP2's first outing on the track!
No, he is not boring, he is saturated with his own unique life. I spat in the direction of the toilet and went to the bus, which was already preparing to leave. A woman sitting on an armchair, which stood in one row of the front room, carefully looked around and quietly said to her friend with wide eyes in. Surprise, - Zin, would you know what I saw in the toilet !!. There, through a hole in the wall.
Now discussing:
Lei a full Kostya, so that the houses do not scold. The aunt made me pour her to the brim and made sure that I poured everyone a full shot. - Happy New Year.
814
815
816
817
818