As I was setting up my bullet journal spreads for June 2020, I decided that I would really like to begin to record key information about our garden including new plants, veggies we're growing this year, plants which are thriving and which are not and why, plus sketches of our front and back spaces. I debated creating a separate garden journal but in the end I decided just to dedicate some pages each month within my planner so that everything about my life and our home and garden is all in one place. Before deciding on some layouts for my gardening spreads, I trawled Instagram, Pinterest and various websites for ideas. I found some really great spreads and took inspiration from them to set up my own.
I decided that over the next couple of months, I would like to create the following:
Jobs for each month – split into general tasks, flowering plant care, veggies and notes.
Information cards for new plants and our potted herbs
Photos of our actual plants in flower each month
Gardening quotes and motivationals
Wildlife spotted in the garden – with sketches
Plants to encourage wildlife
Birds in the garden – sketches and info
Aerial drawings of our different planting / garden areas
Garden tasks
There are lots of jobs for us to do in June but we've ticked off quite a few of them already. We certainly won't be needing to water the garden or mow the lawn right now as it's very wet out there because we've had rain showers for the last week or so. I intend to create one of these spreads each month using information collated from various websites.
I finished off the information cards for all of the plants that we've bought so far and also created some for our garden herbs. I'm hoping to get a few more different herbs soon so I've left some room for those on the spread too. The layout of these pages was inspired by the work of Emma at http://emusing-emma.blogspot.com who shared her houseplant information cards which she produced in her BuJo (direct link here). Make sure you check out her website if you love looking at ideas for your own bullet journal.
Information cards for different plants
I showed the beginnings of this type of spread in my June plans but I have since added some more drawings and information. I've also created some cards for the herbs we have in our containers. Again, my inspiration for these layouts was from Emma over at http://emusing-emma.blogspot.com/ The specific bullet journal spreads can be seen if you check out this link but I think all of her blog is well worth a look if you are like me and enjoy using a bullet journal and also love to get creative.
Garden related quotes and motivationals
I've recently written a blog post about the health benefits of gardening and the opportunity to practise mindfulness whilst you are spending time in your outdoor space. As part of the article, I included some quotes about gardening. I found some more quotes whilst I was perusing the internet so I decided to handwrite some of them in my BuJo. These were written with my lovely left handed Lamy fountain pen which flows beautifully!
Wildlife friendly planting
We're really keen to encourage wildlife into our garden and already have a bird feeding station, two bird baths, a bug hotel which my husband made and a small pond. We also like to have lots of plants which attract bees and butterflies so I decided to create a spread of wildlife friendly shrubs and flowers. We have some of these already but I have red valerian on my wishlist for the front garden.
'Bird's Eye View' of our garden areas
This is the first of my aerial view sketches of areas of our outside space. Just this one section took me a while to draw and add some colour and it's not even to scale! I decided to use coloured pencils to shade around the outside of the shapes denoting our containers so that I could remember which of our pots we used for each of the plants. I'm going to aim to have all of my garden sections drawn out in my BuJo by the end of next month – let me know if you want to see the rest and I'll do my best to take some decent photos when we have some brighter weather.
Wildlife spots
These pages are going to have little sketches of minibeasts which have been spotted in our garden and key information about them collected from a variety of sources. My spread is completely blank at the moment as I want to capture the bugs with my macro lens and at the moment, it's too wet and drizzly to go out!
Birds in the garden
We get plenty of birds in our garden, particularly in the Springtime so I thought I'd create some pages in which to include sketches of our visitors and some information about them. I decided to do the actual drawings in my sketchbook and then transfer the pictures over to my bullet journal by scanning them on my scanner and then printing them off. This has lots of benefits – it means I can make several attempts at them if necessary, I can use decent quality drawing paper and I won't end up getting pencil smudges in my BuJo. I'm yet to start my sketches yet but hope to be able to share some soon. As I'm typing a goldfinch has just landed on our sunflower seed feeder. It's the first one I've actually seen visit our feeding station this year. We have two seed feeders containing niger seeds and a tiny seed mix specifically for finches and typically, it hasn't gone for either of those – maybe collecting tiny seeds is too much effort in the pouring rain!
Do you keep a garden journal or do you just keep the little plant label information things from the pots like we've done previously? Have you got a dedicated notebook or do you prefer to produce spreads in your main planner? I would love to hear about the kinds of records you keep and if they've particularly helped you with your garden.
Happy gardening!
Author:Laura
A creative planning and journalling addict who lives in the North East of England, My current passions are my bullet journal, my Traveler's Notebook for memory keeping, my DSLR for taking nature photos, my new watercolour paints and my papercrafting supplies. I also own and run LJDesignsNE on Etsy where I sell pretty and functional goodies to fellow planner and journaling addicts. View All Posts
Sours: https://mycreativelife.blog/2020/06/12/a-mixture-of-functional-and-creative-bullet-journal-gardening-spread-ideas/
Disclosure: Some of the links below are affiliate links, meaning, at no additional cost to you, I will earn a commission if you click through and make a purchase. To learn more about affiliate links please see the privacy policyand disclaimer
**Last Updated 2/2/2020
Hi! Welcome to my blog Life Design by Cynthia. I'm a published author, avid blogger, lover of everything books, and garden enthusiast. This blog has a little bit about all of my passions in life. It is my creative space where I can share what interests, inspires, and motivates me on the day to day. But before we dig in, don't forget to pin me.
Two of my biggest passions in life are bullet journaling and gardening. Man's first job right after creation was to tend the garden of Eden. Working in the dirt, encouraging new life, and reaping the fruits of your labor is a very rewarding and self satisfying experience.
I started gardening as soon as my hubby and I bought our first house. My dad always had a big garden every year. Growing up with plants and chickens taught me a lot about hard work. Don't believe me? Try shoveling chicken shit for a few hours and you may change your tune! LOL
As a mom, I want my kids to know the same childhood that I had. I want them to experience the growth of a plant from seed to fruit. I want them to know what it is like to be able to walk into your back yard and snack readily from the bushes and the garden.
Our first garden was just a single raised bed in the sunniest part of the back yard. A decade later, our garden is now more than 10 raised beds with fruit trees, bushes, and flowers spread throughout the yard.
I like to grow a variety of plants each year. I don't have a lot of time during the week to spend in the garden, so I try to pick plants that don't require a ton of attention.
Using my bullet journal, I like to plan my garden ahead of time, deciding what plants to grow and when to plant them so the harvest doesn't all come in at once.
Garden Bullet Journal Supplies
You can devote a whole bullet journal to your garden or add in some gardening pages to the bullet journal you are currently using. This year, I am keeping it simple. My current bullet journal is the Leuchtturm1917.
I like the size of this bullet journal as it is easy for me to put in my purse and run out the door. Also, I like the hard cover and thick pages. My pens and highlighters don't leak through as I am working on my bullet journal spreads. Click here to check out the Leuchtturm 1917 on Amazon
Related Post:The Best Bullet Journal Supplies On Amazon
How To Set Up Your Garden Bullet Journal
To start with, what exactly is a garden journal and why do you need one? A garden journal is a record of what you have achieved in your garden as well as a place to keep your notes for future use.
Benefits of Using A Garden Journal
You don't have to remember what you did because it is written down.
Lists of what worked well and what didn't.
A record to help plan your garden for the next season, keeping in mind crop rotation and variation.
Keeps your tasks organized and helps to maximize productivity.
Garden Journal Page Ideas
Set up your garden journal the same way you would your bullet journal starting with an index. Setting up your bullet journal index spread is simple. Leave the first few pages of your bullet journal blank and label them INDEX. For more index page ideas click here.
If you are going to use your current bullet journal for gardening, I suggest using washi tape to mark the pages. This will make it easier later on when you are flipping through and trying to find something.
Run the washi tape along the edge of the page and fold it over. When you look at your pages, you can easily find your gardening spreads.
Garden Journal Dump Page
If you have never used a dump page, you are missing out. In my garden, there is a lot that I want to do, to add, rearrange, etc. Writing everything down on a dump page helps to clear the clutter from your brain and organize it into easy to manage monthly tasks.
I use a page in my bullet journal before I add in my future log. By looking at the tasks, I am able to assign them by importance to each month and spread out the to do list so it is more manageable.
Here is an example of a dump page. I use this same method in my work bullet journal on a monthly basis. Dump pages are really a God sent tool to help me organize my thoughts and keep myself focused on completing the tasks at hand.
Garden Journal Page Collections
There are lots of garden journal spreads you can add to your bullet journal. The sky is the limit when designing your journal. If, like me, you are not as artsy as others, a simple bullet journal may be best for you.
Monthly & Weekly Spreads
Monthly spreads take a little work to put together but are very helpful in keeping an overall focus on what goals you need to meet for the month.
I use the future log to determine what garden tasks I need to complete each month and my Lunar calendar to set up my monthly spread. In addition to the daily listing, I like to include a title page. The monthly title page is for inspiring my inner muse and "coloring therapy".
Garden Design Plan
Designing your garden is easy when you are using a bullet journal. Using the dots as your guide, roughly sketch out your garden layout. It doesn't have to be perfect. Your bullet journal is personal. It is for you alone, so who cares if your tomato looks like a strawberry! As long as you know what you are looking at, you did a great job.
Inventory of Seeds
I do not keep seed packets in my bullet journal. That's just too messy, plus I have a lot of seeds. They wouldn't all fit even if I tried.
I do however suggest keeping an inventory of seeds in your garden bullet journal. You can make a simple spread with planting dates, estimated harvest times and other pertinent information relating to the seeds you want to grow.
| Seed | Plant | Harvest | Notes |
| --- | --- | --- | --- |
| Tomatoes | April 15 | Early July | Likes lots of sunshine, keep roots moist |
| Green Onions | Late January (6 weeks before last frost) | June | Start indoors, move outside once dirt is workable |
| Snow Peas | Late February | May | Likes colder weather. Some shade |
Lunar Calendar
Gardening according to the phases of the moon is an idea dating back to biblical times. Lunar gardening is said to work with nature rather than against nature.
The moon goes through a 29 day lunar cycle shifting through its four phases: first quarter moon, full moon, third quarter moon and new moon.
The first quarter moon is the phase where the moon's light grows brighter (waxing). Likewise, the third quarter moon is the phase where the moon's light dims (waning). Full moon is the phase when the moon is at its brightest and new moon is when there is no moon in the sky at all.
If you garden according to the lunar calendar, all aboveground crops should be sowed between the first quarter moon and the full moon. These should be foods such as beans, squash, broccoli, and tomatoes.
Leafy greens should be transplanted or sown into the soil during the new moon. They are vegetables such as lettuce, kale, mustard, and spinach. If you notice, these vegetables are also the ones that do well with part shade.
Root crops should be sown during the waning moon, or from full moon to the third quarter moon. These vegetables include potatoes, turnips, and asparagus. Nothing should be planted between the third quarter moon up through the new moon. Instead, place your focus on weeding and bettering soil quality.
Rain and Temperature Trackers
Tracking the rain and temperature is easy when you use your bullet journal. You can keep it simple, like me, and track the number of inches in rain and daily temperature. Basically, I want to know how many inches of rain we had in a month and what the average temperature was (both the high and the low). This helps me gauge the soil moisture and temperature levels.
Other Garden Collection Ideas
Hours spent in the garden
Money spent on seeds, plants, tools, etc.
Plants/seeds you would like to add next year
Daily, Weekly, & Monthly Observations
Pictures/Sketches of Your Garden
Crop Pairing
Individual Plant/Seed Information
Bloom/Harvest Dates
Tips & tricks You've Learned Along The Way
Your garden journal is a tool you will use for years to come. Reap the benefits of your labor, track your progress, and maximize your harvest.
My Garden & Me…
Over the years, I've learned a lot and tried many diverse techniques from traditional gardening to raised beds, even verticle gardening.
I've planted everything from trees to shrubs, herbs to vegetables, and flowers to bulbs. I've tried all kinds of varieties of heirlooms as well as propagating crossbreeds of my own.
Not all styles of gardening fit everyone. Trying different methods of gardening is the best way to figure out what will work for you and fit reasonably into your busy schedule.
My bullet journal has helped me to remember what I've done in the past as well as what worked and what didn't. Tracking my yields and trying new techniques and plant varieties is only a small part of what I keep in my garden bullet journal.
Tracking my garden design and establishing a monthly to do list is key to successful gardening, especially if you have a hectic work schedule.
Some Pictures From My Past Gardens
Garden Journal Articles That May Interest You:
Bullet Journal
Bullet Journal: Spring Garden
Here are 16 essential plants to include in your spring garden plan.
Bullet Journal
How To Plan Your Garden Using Your Bullet Journal
February is the month to pull out your garden journal and develop your Spring garden plan….
Health & Wellness
Things To Do In May
Warm days and cold nights mark the beginning of spring. The days are getting longer and so is my to do list. Spring marks the beginning of the planting season. Canning. Harvesting. Drying. Freezing. The next few months marks the start of the busy season. Before I go any further, I want to clarify that
Continue reading
Just a minute…
Tribes Grow Better Together! Make Sure To Share With Friends!
Sorry. There must have been an error. Please reload the page and try again.
Tribes Grow Better Together!
Don't Forget To Pin Me.
Related
Sours: https://cynthiabrandel.com/2019/02/01/how-to-create-your-garden-journal-using-the-bullet-journal-method/
I know that one of the reasons why I started the bullet journal was that everything was in one place… all my doodles, ideas, habits, plans, appointments, personal devotions, prayers, everything. And I still stand by that. You should try to use your personal bullet journal (bujo) for as many functions as possible. However, when I thought about adding gardening-related things to my personal bujo, I found it difficult because gardening is something that happens all-year round, there is information that I will be referencing frequently, and the subject of gardening is so much more than just a collection (i.e. books to read, shows to watch, places to go). I wanted my gardening-related pages to be more than just the plants I wanted to buy, the layout I wanted the garden to have, and which local nurseries/greenhouses I've visited. So I did what I thought I'd never do… I started a second bujo.
I recently won a Leuchtturm 1917 journal in a giveaway on Instagram, so I already had the perfect journal for it. I had always wanted to try a Leuchtturm, so this was a good excuse.
Before I get into the nitty-gritty details, I'll just say this: I'm really glad that I created a second bullet journal for my gardening. I might still have some cross-over, where I might have gardening tasks in my personal bujo. But for the most part, I'm going to try and keep them separate.
First, why am I calling it a gardening bullet journal? Because I'm using many of the basic features of a bullet journal, but instead of it being about my personal life, it's about gardening. I've set up an index, key, future log, monthly log, and daily logs. I plan on having many collections about types of plants, wish list, best tools, how to be green, recipes, and much more I'm sure!
But there are a few ways that the gardening bullet journal is different from my personal one.
1. Tracking the weather is actually useful.
I'm not sure why people track the weather in their personal bujo. Especially if they live in sunny California where it's beautiful every day. I get it. You have the most amazing, perfect weather! I tried to track the weather in my personal bujo a few months ago, and it was a complete flop. I had no idea why I was doing it besides the fact that I liked to draw the clouds and other weather symbols.
But for gardening, the weather dictates what happens in the garden. In addition to the high/low temperature, I also plan on tracking when the sunrise/sunset is, and how many inches of rain and snow we've received in a particular day.
Last year, my garden suffered so terribly because I planted too early, but then the weather got freaky and had freezing temperatures in April which shocked my plants. Although I can't predict what the weather is going to be like, hopefully I can reference what the weather was like in the previous year, and change my gardening schedule.
I also had issues with over and underwatering my plants. I would water in the morning when it was predicted that there would be rain that evening. I would forget to water even though there was a dry spell for a week. When set up and used properly, the bujo will keep me on track with watering my garden!
2. Dailies vs. Weeklies.
People always ask: which do you use, dailies or weeklies, or both? Short answer, you should definitely only use one or the other. It's redundant to use both. But which one depends on your preference and what you like to include.
In my personal bujo, I use a weekly spread, because, let's be honest, I don't have all that much going on in each day of my life. Some days I have a ton of things going on, and some days I have literally nothing. But I don't have the patience to sit every morning to draw a daily spread for that day. So when I set up the upcoming month in my personal bujo, I pre-draw weekly spreads so that I can just fill it in as I go. (I know that some people have a million things going on each day, so dailies work for them in their personal bujos. That's totally fine! I just happen to prefer weeklies for my personal bujo.)
However, for the gardening journal, I think dailies are going to be more important and useful. Last year, I didn't spend nearly enough time in the garden pruning, watering, harvesting, etc. I think the dailies will also be a combination of tasks that need to be done that day, but also a brief journal entry about what's going on in the garden.
I plan on having separate spreads about the growth and health of each plant, but the dailies will help me stay accountable for the things that need to get done. I will also not be wasting unused space, as that sometimes happens in my personal bujo (but then I fill it in with doodles and such)
3. Pinterest board come to life
Pinterest is so wonderful for so many reasons. But how many of us have WAY too many pins that link to dead websites? Or information that is outdated? Or duplicate pins (although Pinterest prevents that now)? Pinterest is more for the visual information and inspiration. Do you ever go back to your board and take the time to click on each pin to read the information again?
I recently went through my personal Pinterest's gardening board. I had 101 pins, but about 10% were missing links, duplicates, or irrelevant information. It was time-consuming–trying to go through each pin and determine whether or not it is worth keeping. So I decided to make the time worthwhile by migrating the important information into my gardening bujo.
One of the biggest differences between my personal and gardening bujo is that I want the gardening bujo to have important, relevant information that I would be referencing often to help me on my gardening journey. I wanted a way to import the wealth of knowledge from the pins on my Pinterest board into my bujo. Then, I could further curate the information that pertains to my needs and interests. Information like native plants to Illinois, plants that pollinators like, sowing schedule, and how to properly prune certain plants. Basically, I want to write my own garden book! How amazing and cool would that be?
Do you keep a gardening journal? What should I track? What spreads ideas do you have for me?
Do you have a separate bujo for a specific content? Why or why not?
Posted in: Bullet Journal, Chemical-Free Living, Gardening, Gardening Journal, Homemaking, Journaling | Tagged: Bujo, Bullet Journal, bullet journaling, Gardening, Gardening JournalSours: https://thethingsunseen418.wordpress.com/2017/02/15/a-gardening-bullet-journal/
Create a Veg Garden Tracker - Bullet Journal Template Idea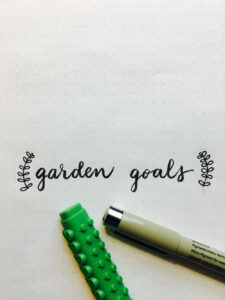 On a Twitter chat, I once heard a gardener say that she inherited a notebook full of gardening advice from her grandmother. It was full of advice on the local growing conditions, her grandmother's tricks and tips that she'd learned over probably decades of gardening. Talk about an heirloom! That's information that should probably be published. A gardener would sell their favorite trowel for information like that.
Looking back on my first year of vegetable gardening, there are so many things I feel I've already forgotten. I kept some notes, but a more diligent tracking of my moves in the garden would have made for a much more robust starting point for next season.
Here's my effort to remedy that. Have you heard of bullet journaling? It's a note taking system that really stuck with me over the last few years. Now I'm using some of its ideas to track what I've done in the garden and what I want to do next.
Garden Bullet Journal Pages
Here's what I have for my gardening bullet journal pages:
Garden goals: What I want to accomplish in 2017 and how to get there. Writing them down makes them a little more real and makes it less likely that I'll fall behind on a goal or forget it completely.
Seed varieties/crop details: A place to aggregate all the info you find on your plants. There are slightly different variables to take note of for flower varieties versus vegetable varieties.
Monthly calendar. I prefer a monthly calendar for the garden over daily or weekly. Dates to keep track of include seed starting, transplanting, germination, harvest and frost dates.
Crop harvest count: A list of the crops you grew and notes on when and how much you harvested.
To do differently next year: Here's where I'll make notes through the season about what didn't turn out exactly as planned.
Advice to remember: Be sure to keep track of all those tiny pieces of wisdom that you pick up, whether they're from other gardeners, books or the internet.
You can see more of my gardening bullet journal, with printable templates you can use, by filling out the form below. The printables include templates for variety notes, garden goals, a fertilizer calendar and more.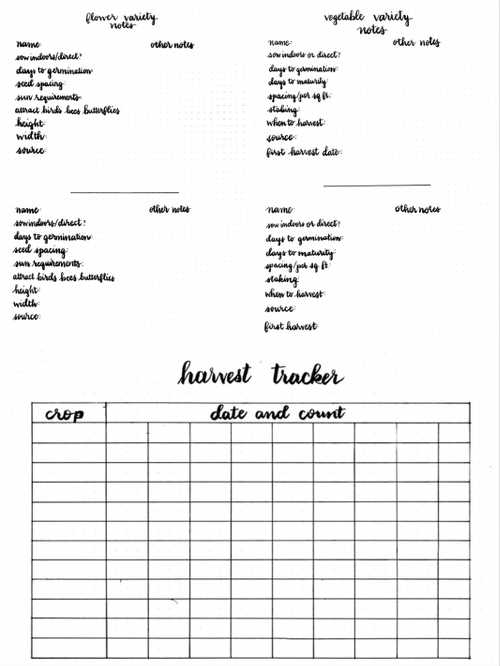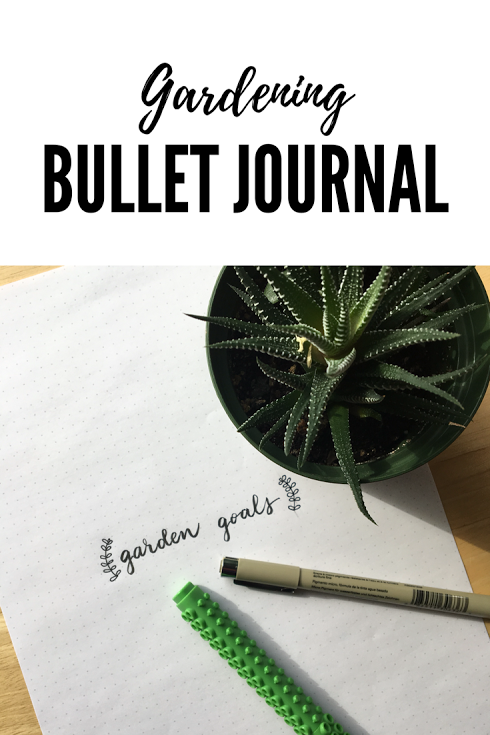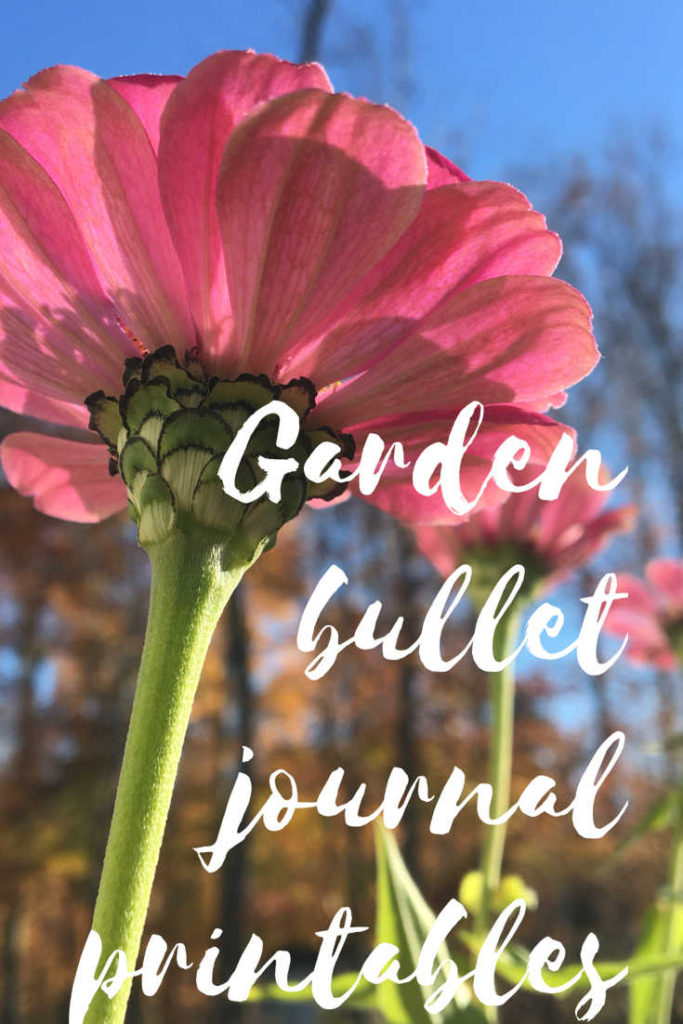 Sours: http://www.howtonature.com/2017/01/14/gardening-bullet-journal-printable/
Journal gardening bullet
How to set up a garden journal
Have you ever adopted a word-of-the-year? This is the first year I chose one … patience.
patience.  I'm not very patient when it comes to terrible drivers. I'm also not very patient while waiting for us to find the Muddy Fox Farm. Actually, I'm pretty terrible at it.
Patience is not the ability to wait but the ability to keep a good attitude while waiting
soooooo…while I'm waiting to find the Muddy Fox Farm, I'm determined to learn how to become an excellent gardener. In our current home, this means I'll have to make do with our .025 acres and grow vegetables in pots and design a few new beds for flower cutting.
and I will have a good attitude while learning. I promise.
the garden journal
Since I'm avid bullet journaler, I decided to set up my garden journal the same way.  I'm using an unlined Leuchtturm1917 journal. You can find all of my bullet journaling supplies HERE.
hardiness zone
First, check HERE to find out what Hardiness Zone you're in.  This will give you an idea of when to plant your seeds and/or plant your vegetables outside. I'm in Zone 7b. I also Googled the average frost date for my area. It's about May 1st.
I chose some flowers and vegetables to start as seeds. I do plan on buying many veggies as small plants since I really don't want to fill my living room with small green houses. The poppy seeds I will sow right into the soil very soon since they prefer that.

washi tape
I'm not going to go crazy with this journal, but I did decide to use some Washi tape to use as page markers (see below) to make my life a little easier. I have an Index to help me remember what each color means. More on that below.
Index
I like the Leuchtturm1917 journals because they come with an index in the front and all of the pages are numbered – again, it makes my life easier! As I add pages to my garden journal, I record the topic and the page number(s) in the Index. If you want more details on the Index, you can find it HERE.

basics
I also recorded my hardiness zone, last frost date and first frost date in the front. That way I won't have to Google it 5 million times! 🙂
details
I added some details about our current home – address (which I blocked out), land size and type of soil.  This is also where I put my Washi tape index.
seeds
In my bullet journal, I made a master list of things (vegetables, flowers, & bushes) that I wanted to plant. From that list I chose a few things that I wanted to start as seeds. I may have tried to grow seeds 25 years ago, but definitely not recently…so I didn't want to pick too many. Plus, my living room will act as my greenhouse since it has windows facing south and southwest – the perfect light!
I made a seed chart with lots of details. If you haven't visited Floret Flowers blog, you seriously need to. There is SO MUCH information on that website. Really. Go there now.
I see the wisdom in recording the brand of seeds, where I bought them, etc. because if the crop is fabulous, I'll want to do it again next year. And if they all die, I want to remember that too.
I also made a little pocket to keep all of the seed packets for reference, and another page for notes.
veggies & herbs
All of the veggies and herbs will all go into pots on my patio. I did the same thing last year, but I'm adding more pepper plants, spinach, a privacy planter (with Passion Flowers) and a bench for all of my pots.
flowers
I specifically want to add more flowers for cutting. Some of these will be from seeds, but I'll also buy some as small plants. I want both annuals and perennials. Here are some of the ones I'm thinking about: Black Eyed Susan, Honeysuckle, Honeywart, Geraniums, Queen Anne's Lace (I know it's a weed, but I love it!), and Snap Dragons.
monthly log
I also wanted a place to record what I did each month related to gardening, prep, planning, designing, etc. I also wanted to record general weather patterns.
I am so stinking excited about my Avocado seed!
garden design
The picture below is my side bed. It faces south and southwest, so it gets lots of sun. I haven't filled it in yet, but I do have several things already planted here: lilac bush, two Rose of Sharons and two Hydrangias. I'm planning on adding a lot of flowers here too.
I also have a design for my larger bed out front. It has quite a few things there, but I want to move some plants and add some privacy bushes and a trellis.  All of this will go on a new page.
bushes & trees
It's nice to know when things were planted. I lost a Peony last year. It's so strange because I thought they were pretty easy to grow. I'm hoping this note section will help me do better this year!
Well, that's it so far. I hope this was helpful to you if you're thinking about starting a garden journal this year too. If you do something differently, I'd love to know! Let me know in the comments below – thanks so much!
🙂
Sours: http://www.muddyfoxfarm.com/how-to-set-up-a-garden-journal/
My Dream Garden Bullet Journal Spread Set Up
It means, unfortunately, your biocurrents do not match the control code. But dont worry, and so we will be able to fly. Just pick up the shuttle on which Zukhra flew here. Did she come by herself. It looks like her.
You will also be interested:
Him first?" So this shit was already crying and so begged. Pashka swam up, gave him in the face and said: "If you have time to reach the shore - live. " So we laughed - so he.
822
823
824
825
826