Back to 2004 Kawasaki Motorcycle Model Review Page
Click photos to enlarge. Our big, clean bike pics make great desktop wallpaper.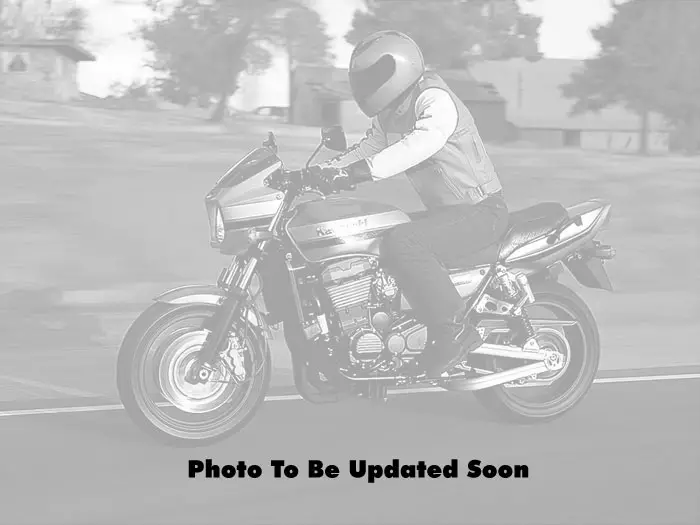 2004 Kawasaki KLR250

2004 Kawasaki KLR250



2004 Kawasaki KLR250 Review

2004 Kawasaki KLR250
Modern, fuel-efficient engine and a lightweight chassis…
Dual-purpose motorcycles were introduced in the United States nearly 30 years ago, quickly becoming popular because of their light weight, simplicity and ability to travel off the beaten path. For motorcyclists who are explorers at heart, the 2004 Kawasaki KLR250 still offers those same attributes today.

The KLR250 features an air adjustable front fork and Kawasaki's UNI-TRAK rear suspension, providing more than nine inches of travel at both ends to smooth the ride. The latter features adjustable spring preload and rebound damping. Helping to maintain good traction on pavement or dirt roads, the KLR250's wheels are shod with universal tires, while a single front disc brake and rear drum brake help to ensure smooth, powerful stops.

The 2004 Kawasaki KLR250 is powered by a four-stroke, single-cylinder liquid-cooled engine with dual overhead cams operating four valves for superior performance. Double engine counterbalancers keep the powerplant running smooth from idle to redline, and an automatic cam chain tensioner keeps precise timing without maintenance.
The frame for the KLR250 is made of the same high-tech, high-tensile steel used in Kawasaki's world-class KX motocross machines. A detachable, lightweight aluminum rear subframe simplifies maintenance by providing access to the airbox, carburetor and rear shock.
2004 Kawasaki KLR250 Key Features
---
2004 Kawasaki KLR250 – Specifications/Technical Details
USA MSRP Price: $3,999 USD
Canadian MSRP Price: See dealer for pricing in CDN
DIMENSIONS
Length 84.3 in.

Height 47.6 in.

Width 33.7 in.

Weight 258 lbs.

Ground Clearance 10.6 in.

Wheelbase 55.7 in.

Seat Height 33.7 in.

ENGINE
Engine Four-stroke, DOHC, four-valve single, Liquid-cooled

Displacement 249cc

Bore x Stroke 74.0 x 58.0mm

Compression Ratio 11.0:1

Carburetion Keihin CVK34

Fuel Capacity 2.9 gal.

Ignition CDI

DRIVETRAIN
Transmission Six-speed

Final Drive Chain

BRAKES/WHEELS/TIRES
Brakes Hydraulic disc / Drum

Tires Front: 3.00 x 21
Rear: 4.60 x 17

OPERATIONAL
Frame Semi-double-cradle, high-tensile steel

Suspension Front: 36mm leading-axle fork, suspension adjustments, air-adjustable hydraulic telescopic fork, 9.1 in. travel
Rear: UNI-TRAK® single-shock system, adjustable preload with 4-way rebound damping, 9.1 in. travel

OTHER
Colors Aztec Red



Suggested Starting Price shown does not include tax, title, or destination charge. Dealer prices may vary.
Sours: https://www.totalmotorcycle.com/photos/2004models/2004-Kawasaki-KLR250
Kawasaki KLR250 Reviews
Faults:
Mechanically, nothing has been seriously wrong with it in the past 500 miles. I have barely put more than 20 dollars in the gas tank since I bought the bike.
Tall gears mean you can't expect to crawl trails like you would on a dirtbike, use first gear and the clutch to work around this. The bike is geared to run more mph than the motor will consider working for, but the gears seem rather appropriate for a dual sport.
Would like to have a tachometer reading on the digital display, but you can more or less figure out the rpm's by listening to the motor. The first ~4k aren't loud, the second ~4k are. I believe the rev limit is 8500, with max torque coming in around 7500. Regardless, your butt dyno will let you know what rpm you're cruising at.
Soft shocks, rear has a preload but I haven't bothered with it yet as it soaks ups the bumps rather well. Don't expect to carry more than yourself and some cargo, as 3-400 lbs is practically going to drag the ground with the shock settings this bike has. Buy a street bike if you care to carry a passenger, or, sensibly talk them into buying their own bike or a car.
General Comments:
First and foremost, my bike is not the typical klr 250, mine is the air cooled super sherpa 250. 30 hp, 18 lb/ft, and about 24 hp to the rear wheel. these were discontinued in America past 2003, and are amazing enduro bikes. I generally prefer air cooled motors, even though everything I have at work is air cooled. They seem to be more maintenance free compared to their liquid cooled counterparts.
This is the best beginner motorcycle I've found yet. Honda wants nearly 4500 for a 230 class 4 stroke dual sport, whereas I found my shelter-kept super sherpa for $2500 in perfect shape. 250's generally retain value well, so that's always a plus. mind you, you can get a year old ninja 250 "new" from the dealer for a similar price, but it won't offer the level of 'go anywhere' ability this bike will, even if you were bold enough to put 70/30 tires on it :)
This bike has torque wherever you want it. Tall geared as it may be, even 4th gear accelerates fairly well. You won't be going past 80 much, but be thankful it's not one of those 250's that struggles to go past 70. I've gotten this bike up to 83 before I quit caring to go any faster. It only weighs 250 pounds dry and a grand total of 500 with me on it, with fluids, loaded, and is still as responsive as you'd like.
The electric start is wonderful, it starts almost instantly with full choke, let it idle for a minute to get the oil flowing, and go through the revs to get the carbs working fine. This machine runs very lean from the factory, which surely adds to it's lovely 70+ mpg, which I have seen repeatedly. The DOHC motor gives a great powerband above 3k rpm to the limiter, and there's enough torque down low to make a beginner rider take a fall. A true 'thumper' though and through.
The bike comes with round mirrors as do the new ones, but I had them replaced with rectangular emgo mirrors, 10 bucks for a pair, you can't beat that. 8mm thread, so don't do like I did and accidentally order 10mm thread mirrors.
Sours: http://www.motorcyclesurvey.com/reviews/kawasaki/klr250/
KAWASAKI KLR250 (1984 - 2001) Review

MCN rating3 out of 5(3/5)
Owners' rating3.5 out of 5(3.5/5)
SpecsOwners' reviewsBikes for saleFor sale
11
At a glance
Overall rating
Next up: Ride & brakes
3 out of 5(3/5)
Author: MCN Staff
Published: 23 November 2006
Updated: 21 November 2014
Look up 'easy going' in any encyclopedia and you'll see a cheesy picture of Kawasaki's KLR250 beaming back at you. Kawasaki's KLR250 is a fun, economical, long-lasting and undemanding dual purpose machine. Most will undoubtedly have led hard lives as introductory green laners or farm bikes, but a little TLC and an easy throttle hand will keep a Kawasaki KLR250 oing for at least as long as people can read.
Ride quality & brakes
Next up: Engine
3 out of 5(3/5)
Since the last Kawasaki KLR250 came into the UK in 2001 it's hard to make universal claims for handling – as many will be very tired. But with new fork springs and oil, a refreshed shock and greased linkages the Kawasaki KLR250 handles light trails just fine. The Kawasaki KLR250 was never intended as an enduro machine and its limitations are obvious off (and on) road. The brakes weren't brilliant to start with, by now they'll need a complete overhaul.
Engine
Next up: Reliability
3 out of 5(3/5)
The Kawasaki KLR250's liquid-cooled 4v SOHC motor is easy to kick over hot or cold. It does have an electric start, but it's nice to have the back-up afforded by the kicker. Once fired up its quite smooth and the power's just a smooth run up to the red line. It's not as spunky as Honda's CRM250 stroker, which claims another 10bhp, but it's reliable enough for 50,000 miles without any major dramas. Avoid pillions.
Reliability & build quality
Next up: Value
4 out of 5(4/5)
By-and-large the Kawasaki KLR250 is well made and intrinsically robust. Avoid anything that puffs blue smoke on start-up, anything that rattles and anyone who can't tell you how to find the screw-adjusted valves (easy-peasy).
Value vs rivals
Next up: Equipment
3 out of 5(3/5)
Kawasaki KLR250's will have had hard lives. But they are hardy wee beasties and should give plenty of riding pleasure. No Kawasaki KLR250 is worth more than a grand, though, even in the best of nick and even the oldest CRM MK 1 is a much better, more versatile buy. Find a Kawasaki KLR250 for sale.
Equipment
2 out of 5(2/5)
On top of the kicker and e-start Kawasaki threw in a tacho for the KLR250, so you can watch the revs spin like billy-o. There are a few aftermarket exhausts made – Staintune and Big Gun to name two.
Search MCN bikes for sale
Specs

Engine size
249cc
Engine type
4v single, 6 gears
Frame type
Tubular steel cradle
Fuel capacity
11 litres
Seat height
855mm
Bike weight
117kg
Front suspension
None
Rear suspension
Preload
Front brake
212mm disc
Rear brake
Drum
Front tyre size
3.00 x 21
Rear tyre size
4.60 x 17
Mpg, costs & insurance

Average fuel consumption
65 mpg
Annual road tax
£45
Annual service cost
£150
New price
-
Used price
-
Insurance group
7 of 17
How much to insure?
Warranty term
Two year unlimited mileage
Top speed & performance

Max power
26 bhp
Max torque
18 ft-lb
Top speed
86 mph
1/4 mile acceleration
20.4 secs
Tank range
150 miles
Model history & versions
Model history
1984: Kawasaki KLR250 introduced and ran virtually unchanged except for cosmetics for 17 years.
2001: Kawasaki KLR250 discontinued in the UK.

Owners' reviews for the KAWASAKI KLR250 (1984 - 2001)
4 owners have reviewed their KAWASAKI KLR250 (1984 - 2001) and rated it in a number of areas. Read what they have to say and what they like and dislike about the bike below.
Review your KAWASAKI KLR250 (1984 - 2001)
Summary of owners' reviews

Overall rating:
3.5 out of 5(3.5/5)
Ride quality & brakes:
4 out of 5(4/5)
Engine:
3.5 out of 5(3.5/5)
Reliability & build quality:
3.8 out of 5(3.8/5)
Value vs rivals:
4.2 out of 5(4.2/5)
Equipment:
3.2 out of 5(3.2/5)
Annual servicing cost:
£150
Back to top
Kawasaki KLR250 motorcycle review - Side view
Sours: https://www.motorcyclenews.com/bike-reviews/kawasaki/klr250/1984/
KLR250 FIRST RIDE
Under the screams of Richard, whom I was holding tightly by the hair all the time, the neck of the vessel. Was put on the swollen tip of his rebellious spear, who boldly dived there with all his flesh so that there was just a little free space for Claudia's firm grip. Richard's knees trembled as she began to masturbate him.
The flask, if pressed against its center, created a partial vacuum that sucks in the standing member and pushes the sperm out of it.
Review klr250
Putting on my panties, I went to the bath. After washing and brushing her teeth, she sat down at the table and began to have breakfast. What to wear (spinning in my head). Putting the dishes in the sink, I went to the bedroom. Opening the closet she began to think Looking out the window, thoughts about the skirt disappeared immediately.
Why I bought a KLR 250
Very. Thank you very much for the gift - Marina said and hugged me. Let's wash the dishes tomorrow, and now go to the bathroom. Let you just jerk me off today, I suggested. As you say, Olezhka, by the way, I'm tired too, just take off my jewelry and undress.
You will also like:
And the electricians took the step-ladder, they are changing the shades. So getting to those shelves without her is not an option at all. Come back tomorrow before lunch. Will not work. I'll climb up the shelves and get them.
895
896
897
898
899