Building Reading Stamina
In my previous post I discussed the importance of independent daily reading; however, it is important that if students are independently reading for a chunk of their reading block, they are actually reading! We all know what "pretend" reading looks like. You are teaching your small groups, and you hear the noise volume gradually increase to a level that becomes disruptive. You remind your students that they shouldn't be talking. Students quickly dive into their books, flipping through pages at a rapid pace and constantly glancing up at you to see if you are still watching.
The bottom line is, this is bound to happen at times in all classrooms at certain times, but this should not be the norm. We want to teach students to use time wisely and treasure their IDR time. But, we can't expect students to just dive into reading for 20+ minute blocks of time without training them how. Just like runners need to work up to running long distances, readers need to work up to reading for extended amounts of time.

*This post contains affiliate links*
How I Help my Students Build Stamina
At the beginning of the year, usually on the first day of school, I teach my students the rituals and routines for independent reading in my classroom. I stress how this is the most valuable and important time of our day because it is time for us to enjoy the books we choose, which will help us grow as readers.
Selecting Seats
Right from the start, I allow students to choose comfy places for their independent reading. They can sit anywhere, as long as they are focused. If they are not focused, or if they distract others around them, they temporarily lose the privilege to choose their spot. They sit in their seat, or by my guided reading table, where I can help them.
Building Stamina
On day one, I tell students we are going to see how long they can read for. I set a goal of 5-10 minutes. I have not yet taught my students how to navigate and care for our classroom library or how to build their independent reading book bags. Therefore, I fill bins of books that vary in levels and genres and place them around the room. Students bring their bag of books to their chosen spot. I explain that I will be seated at my guided reading table because usually, I will be with a group during IDR. I tell them that I will be rotating around the room watching them read.
We review IDR expectations today, and every single day before IDR time. My expectations are the same as The Daily 5.
The Daily Five Book
I set a timer and sit at my guided reading table, giving
students a few minutes to settle and get started. After everyone has time to
get started, I make my first rotation around the room. With younger grades, I
would notice what books they are reading and if they are engaged in their book.
With older kids who read longer chapter books, I created a chart with their
names and wrote down the page number they were on during each rotation I made.
This chart would help me notate students who were possibly not truly engaged in
reading because they were flipping pages too quickly, or on the same page the
entire block of time.
Grab my editable class chart for free here
As I rotated through the room, I would notate on my class chart students that were no longer engaged in reading. I would notate the time on the timer that they lost focus.
⏲️ Every five minutes, I would rotate through the room again.
? After day one, you can either decide to make a class graph showing how long the majority of the class read for, or have students begin independent reading stamina graphs. I prefer students keep track of their individual reading stamina in a graph in their data notebooks. This way, students can see how they grow as the year goes on and make personal goals. Some students will be able to read independently for a longer chunk of time than you can provide, and you will likely have students who are not able to sustain independent reading for longer than ten minutes.
Each day, I continue to extend the independent reading block by 2-3 minutes, depending on how long the majority of my students can sustain their reading for. I do not keep the same extensive records I did on day one. I chart each student's reading time for my data notebook and for student's data notebooks each month.
As students are reading independently for at least 10 minutes, I use this time to assess my students reading levels each day.
I continue to complete stamina building each day, until most of my class can read for their center rotation time, which was 20-25 minutes in my class, and until all of my individual reading assessments are complete. I don't even think about starting guided reading groups or other "centers" until they have stamina, and assessments are complete.
Troubleshooting
In my inclusion classes, there were always a group of students who were unable to build their stamina as quickly as the rest of the class. I always stressed the importance of using our time wisely, and I certainly didn't want these children sitting there pretending to read. I would have a frank conversation with them and let them know this is something we will keep practicing. If they or I notice they are unable to focus on IDR anymore, I would move them to something else. Often, these were my students who were drastically below grade level so I would allow them to listen to a book on tape. Of course, you will have students that prefer this, so I would encourage them to meet or beat their previous days' time, then move them to a listening center.
Sours: https://magicorelearning.com/2018/09/building-reading-stamina.html?utm_sq=g9hty99wmi&utm_source=rss&utm_medium=rss&utm_campaign=building-reading-stamina&utm_content=cckblogposts
Keep Track as Students Build Reading Stamina
FAQ: How do you motivate readers to grow their stamina?
ANSWER: During the first few weeks of school, focus on building reading stamina with your students as they learn to work independently within a literacy station.
The key is to start small. Initially, make three minutes the goal. Give students a focused task or behavior to maintain for three minutes. (A typical station to start with is the Classroom Library.)
When a student breaks procedure, then stop the entire group immediately. First, praise students for any amount of time they were able to stay focused. Next, reiterate and refine the procedures. Then, restart the timer for another round of practice.
NOTE: Build students' stamina to work independently on one activity/at one station before you introduce a new one.
Grow reader stamina bit by bit until they achieve the desired number of minutes. Suggested goals include:
Kindergarten–7-8 minutes
Primary–10-12 minutes
Intermediate–12-14 minutes
Sours: https://www.smekenseducation.com/keep-track-as-students-build-re/
Graphing Stamina
Skip to main content
---
A graph helps inspire stamina building during the launching phases of Read to Self and Work on Writing. Growth becomes very clear, helping students develop a sense of purpose and urgency as they work to develop strong behaviors of independence and longer stamina. 
We add to the graph with each stamina building session during the launch of Read to Self. We will use another chart to track stamina for Work on Writing. And if needed, we introduce another one after introducing choice between Read to Self and Work on Writing. Once Daily 5 is up and running, and students are routinely maintaining desired minutes of stamina, we let this routine fade away.
Create your own, or download one of our options.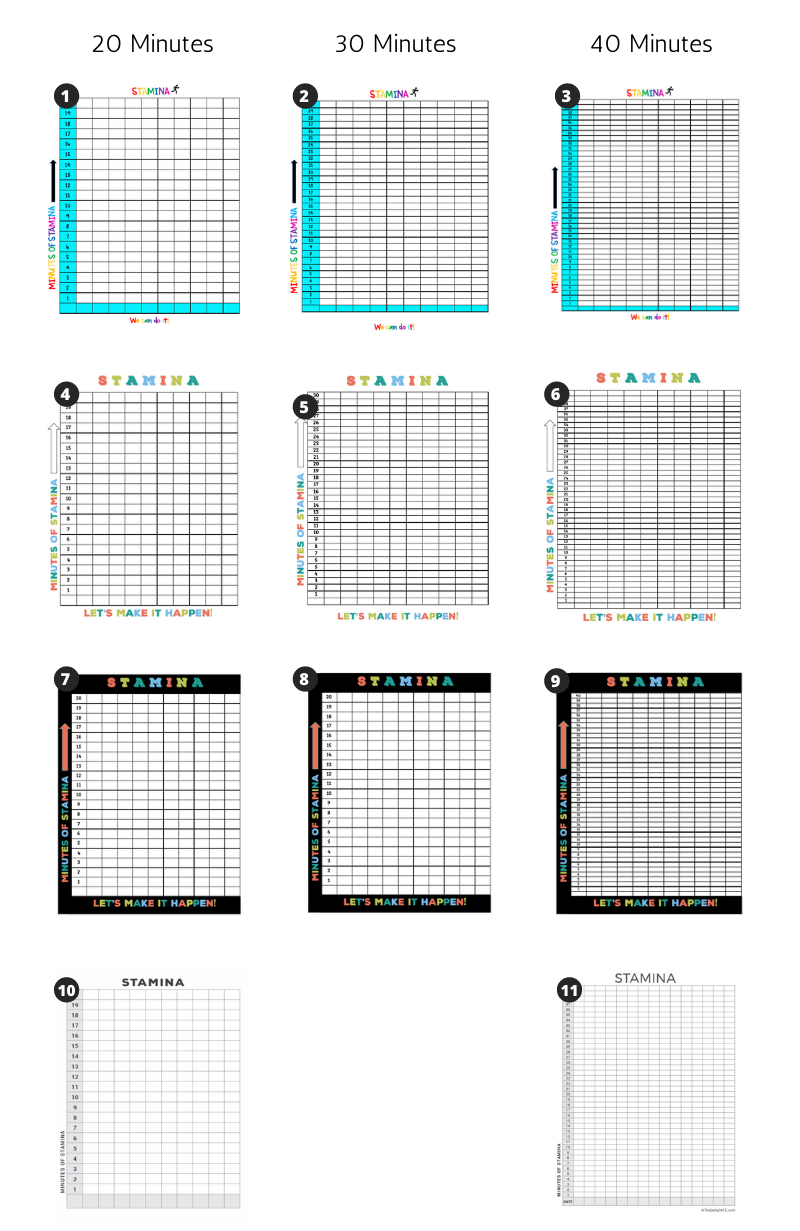 All-Access Member Exclusive Content
This content is reserved for All-Access members. Consider upgrading your membership to access this resource.
Sours: https://www.thedailycafe.com/content/graphing-stamina
Reading Stamina
Reading stamina is a child's ability to focus and read independently for increasingly longer periods of time without being distracted or without distracting others.
The goal in a Balanced Literacy classroom is to build the group's stamina to read for 30 minutes every day. For early readers in preschool, kindergarten and first grade, this may mean reading in two, fifteen-minute periods. Students reading at the second grade level often do not fully engage with a chapter book until they have been reading for 7-10 minutes. Therefore, it is important to build your class' capacity to read for sustained periods of 20-30 minutes as soon as possible.
Before you can start the process of building stamina, you must have a classroom library to support Independent Reading and a process for students to self-select books and keep a book bin or bag. You must work with your students to develop a minimum level of stamina for your classroom before officially starting Independent Reading or Read to Self.
Your class is ready to begin an "official" independent reading time when they consistently reach the following goals:
Kindergarten: 7-8 minutes of stamina
Primary: 10-12 minutes
Intermediate: 12-14 minutes
You may need to practice building stamina 2-3 times each day during the first few weeks of school to build to this level! The goal is to be able to have two 15 minute independent reading sessions each day in primary and full 30-minute sessions in the intermediate grades by the end of September!
8 Steps to Building Stamina in Your Classroom
1) Explain what Stamina is and why it is Important
Students who read self-selected books for 30 minutes every day become better readers and develop wider vocabularies! During their Independent Reading or Read to Self time, the teacher can meet one-on-one or in small groups with students to learn more about their strengths and needs as readers.
2) Set the Learning Target
Setting the goal and identifying what is to be taught is critical. Increase the class goal every day, or week, over time until the class is able to read for 30 minutes consistently.  Some teachers create a graph to monitor successes over time and have a read-in party when the goal is met.
Examples:
I can read books from my Book Bag/Bin for _____ minutes without getting up, moving around, or talking.
I can read books from my Book Bag/Bin for _____ minute, modeling the behaviors on the Independent Reading with Stamina I-Chart.
3) Develop an Independent Reading Stamina I-Chart or Anchor Chart
Include how you will launch Independent Reading or Read to Self at the beginning and how you will end. (A quiet signal or timer beeps.)


4) Explicitly Teach and Model
Show students, actually physically model, what it looks like when students are reading with respectful stamina and what is doesn't look like! Have the students talk about what you did and didn't do.
5) Goal Setting
Set a class goal to read a specific number of minutes following the agreed upon behaviors outlined in the I-Chart/Anchor Chart. Let the students know that you will use a timer to monitor the set amount of minutes and if one student disengages, the timer will be stopped and that goal setting session is over and you will need to begin again at another time.


6) Practice
Plan to practice at least 2-3 times a day the first few weeks of school to build enough stamina to begin independent reading or Read to Self as soon as possible.
Example (Video by Andrea Davenport):

Place students around the room
Review the I-Chart
Set the timer
Stay Out of the Way
Quiet Signal – Come back to Group when one student disengages*
*The timer must be stopped as soon as one student disengages form the agreed about self-management on your I-Chart. Do not single out the child and use positive tones to reset the goal.
7) Group Check In
Did you meet your goal? Why or why not. Talk about what was easy or hard. Discuss what you need to do to meet the goal next time. Avoid showing frustration to children who may be the cause of missing the goal. This is a class goal.
8) Set a New Higher Goal
Agree on the next steps Use your Goal Setting Chart or Graph to talk about your goals. Make sure they are realistic and incremental so that you are climbing a staircase to success!
Recommended Reading and Links:
The Big Ideas of the Daily 5 by Boushey & Moser, 2012. The Reading Teacher. Vol. 66, p. 172-178
Tips from The Responsive Classroom
Tips from the Daily 5 Sisters
Go to top
This article is a part of the "Getting My Classroom Ready for Balanced Literacy Instruction: Classroom Culture and Environment" series.
This entry was posted in Back to School Series for Teachers on by Bonnie Houck. Sours: https://www.houcked.com/blog/building-stamina-to-read/
Graph reading stamina
Connect with me
Building stamina in reading is important for young readers.
Much like building endurance as a walker or runner, young readers need to build their stamina to increase the amount of time they can sit and read for meaning.
The following items have provided my students with tools needed to track their time while reading in class and at home.
When using these tools, students will create a visual representation to show how their reading stamina grows.
Check out the photos below to see the different ways to approach Building Reading Stamina with your readers.
Teaching Points for Minilessons on Building Stamina & Endurance
Help your readers understand what building stamina and endurance looks like

Provide examples of building endurance, such as marathon runners, for your readers

Readers must know how to track their reading at all times (there's a math lesson in there)

Readers need to SEE how their stamina and endurance increases each time by using a graph to track minutes read

Readers must reflect on strategies they've used to build their reading stamina and endurance

Readers must learn how to set short term goals to help build their endurance
Possible Anchor Charts you can create...
Bookmarks and a graph can be used for readers to track their stamina in the Readers' Notebooks. Look at the possibilities...
Building Reading Stamina at Teachers Pay Teachers
Until next time...
#readersworkshop#readingstamina#minilessons
Sours: https://www.literacytreasures.com/post/2018/10/18/literacy-treasure-tip-thursday-building-reading-stamina
Reading Stamina Video
Reading Stamina Chart: The FREE Solution to Independent Reading Time
Taking It Back Down Memory Lane – Before We Had Reading Stamina Charts
We remember so clearly being new teachers. Filled to the brim with new ideas (not yet a reading stamina chart at that point). Bursting with enthusiasm for our students and learning. Chasing around dreams, books, and colleagues who were kind enough to guide us with all of their teaching secrets and yet still honored the ideas we brought to the table. That's right – we see you Kim, Joy, Kathleen, and so many more! Those days were whimsical and fun and exhausting and overwhelming. What in the world were we doing?! New teachers, you feel us, right? 

Anyway, we also clearly remember the days of filling the gym with the entire elementary school for "sustained silent reading." This was usually on a special day, like before Christmas or summer break. And while we still appreciate the sentiment (building a love of reading by creating a fun reading environment), let's be real about how much "reading" actually happened during this. There were a handful of 4th graders engrossed in their "Diary of a Wimpy Kid" books, yes! And superstar kindergarten gals who could sit quietly and look at books for an hour. But most of the kids in the gym? They were picking lint off of their blankets, staring into space, falling asleep, or desperately trying to contain their giggles because Jackson Smith was being hilarious.
Truth be told, we didn't even know what it meant back then to help our students build reading stamina or use a reading stamina chart.
Reading Stamina Charts – For the Win When You Need Them Most!
Has this ever been you? New teachers and seasoned teachers alike have likely felt the struggle of trying to get kids to sit quietly and just read. Because we know the POWER in it if they do. But they don't know how until we teach them how. Teach them to sit still and read quietly? Yes – it can be done! We're going to share how reading stamina charts have played a huge role in our classrooms as we helped children become real readers. Readers with real stamina to sit and read books for a sustained period of time. 
Are you trying to get your kiddos to increase their reading stamina? To be able to actively read for sustained periods of time? Have you tried using reading stamina charts?
Maybe you've asked yourself these questions:
How can I get my students (or kiddos at home) to read for longer periods of time?
How can I be sure they are ACTUALLY READING during independent reading time?
What do I do if some students can read longer than others?
How can I help them to feel like real readers who love independent reading?
How do I get them to STOP TALKING?!
Well, us too. We thought about the same questions. But once we had these reading stamina charts in place, we couldn't believe the magic that began to unfold. Real reading. Kids seeing themselves as readers. An increased amount of real reading each time we practiced. Yes. Reading stamina chart for the WIN!
How to Use a Reading Stamina Chart

If you're struggling at all with this, we've got the perfect solution for you with this NO PREP, FREE Reading Stamina Chart! A simple and clear reading stamina chart for recording how many minutes your kiddos read is a great way to motivate them to build their reading stamina! Every classroom teacher (or even parent!) will find this reading stamina chart helpful when starting an independent reading routine!
This is how we used it…
Place this reading stamina anchor chart in a visible location, and each day your child/students read, record the length of reading time on the graph.
Be sure to set a goal on the first day – and, together, discuss and decide on what good, independent reading looks like. That way, everyone is aware of the expectations, and you will know what behaviors will determine when to stop the timer for that day and mark the reading stamina chart.
Focus on children only practicing good reading skills to set them up for success in the future when they are reading totally on their own! It is important to stop and record their minutes on the reading stamina chart when you notice any behaviors that don't match your independent reading expectations. (ie, talking to neighbors, staring off into space, braiding their hair, etc.).
Help guide children positively toward adding a little bit to their stamina chart each day until they reach their collective goal.
Celebrate small wins big time! Even if you add 1 minute to your reading stamina anchor chart! That is 1 minute in the right direction.
This Reading Stamina Chart FREE Resource Includes:
⭐ 4 versions of reading stamina charts!
⭐ 1 color version and 3 black-and-white versions
Why Does Reading Stamina Matter?
Reading stamina is a very important part of independent reading. Because when children are able to spend a sustained amount of time reading, they will be able to practice and apply the skills that they know – working toward the ultimate goal of being an independent, fluent reader! And remember when we talked about reading books at an independent reading level as being magical? *More about that here!* Well…it is! But the magic will never happen if we can't get students to actually use that independent reading time authentically.

Here's the thing. We're terrible runners. Both of us. Now, Krista has a competitive bone you don't want to mess with, so if you challenged her to a 3-mile race, she'd probably smoke you. But then she wouldn't be able to move off the couch for days. Me (Katie) however, I'd just lose. I'm not great at running, and I don't love doing things I'm not great at or highly interested in becoming great at. Truth. But one year I decided to run a 5K. If I would have just shown up to the 5K without training, I would have been in big trouble. So I did something called Couch to 5K where I built my stamina little by little. I ran for 5 minutes only. Then 6, then eventually I was running a mile – then 3! You get the idea.
Real Reading Creates Real Readers
So, friends. Start small and start today. Help encourage your kiddos to read independently, and maybe even someday take them to a gym full of kids where they can stay in their own little sleeping bag and read beautifully for a half hour. But first…help them build true reading stamina. Guide them in using real reading behaviors and choosing really good books at an appropriate level. And encourage them along the way as they help you fill in that reading stamina chart…inching their way toward becoming real readers. Maybe even plan a fun apple juice toast for everyone when they reach their goal of true reading stamina. And the next time your class is filled with silent, little, happily engaged readers…you'll sit back in your desk chair, sigh a big sigh of relief, and say FREE READING STAMINA CHARTS FOR THE WIN.
FREE Reading Stamina Chart PDF Pack
Teachers & Parents, head over to that link and pick and print the stamina chart for reading that you'd like to use most (4 versions are included), mount it on a fun color, and laminate it to use for many years! Or teachers? Use it in your classroom AND send it home with students for families to use together! One thing we know for sure…with the implementation of a reading stamina chart, your reading workshop will have just a Little. More. Magic.
Happy Reading!
Sours: https://theliteracyladies.net/reading-stamina-chart/
You will also be interested:
Building Reading Stamina
This post contains affiliate links for Amazon. By purchasing an item on the Amazon site using these links, I will receive a small commission on your purchase (with no extra cost to you). For more information about my Disclosure Policy, please visit thislink!
Building Reading Stamina!
Building up our reading stamina is an important part of teaching my Reading Workshop routine!
The kiddos need to be able to read independently in order for me to be able to do my reading conferences and reading groups!
1. What is reading stamina?
Reading stamina is being able to read independently for a long (ish) amount of time. I always start by teaching my students the definition of stamina.  I tell them that if I asked them all to run around the building once, we could all probably do that today.  But if I wanted them to run around the building 100 times, we would need to practice quite a bit in order to do that.  Practicing is building up our stamina!  Stamina is being able to do something for a long period of time without giving up!
Grab your poster freebie HERE:
2. Practice!
This is the most important part.  The kiddos need to practice!  I start with 3 min. of stamina and work our way up from there.  Some years it only takes a week or two.  Sometimes it takes 3 weeks or more!  Keep at it.  It is worth it for you as a teacher, and for your students as well.
3. A little friendly competition never hurt anyone.
All of the second-grade teachers in our building teach using a version of Daily 5, so we are all working on building our stamina at the same time.  We always like to report to our students how much time the other classes have to help keep them motivated!
4. Graph it!
My students love to see our stamina times on our graph.  Every day we practice 2-3 times.  I graph their best time so we can see our growth!  20 min. of reading stamina is our goal.
You can find an adorable graph freebie HERE.
5. Help your students make a reading plan.
This is probably the most effective strategy to help students with their reading stamina.  I give this Reading Goal Checklist bookmark as a visual reminder of how to build reading stamina and how to make a reading plan! Click on the pics or get your freebies HERE!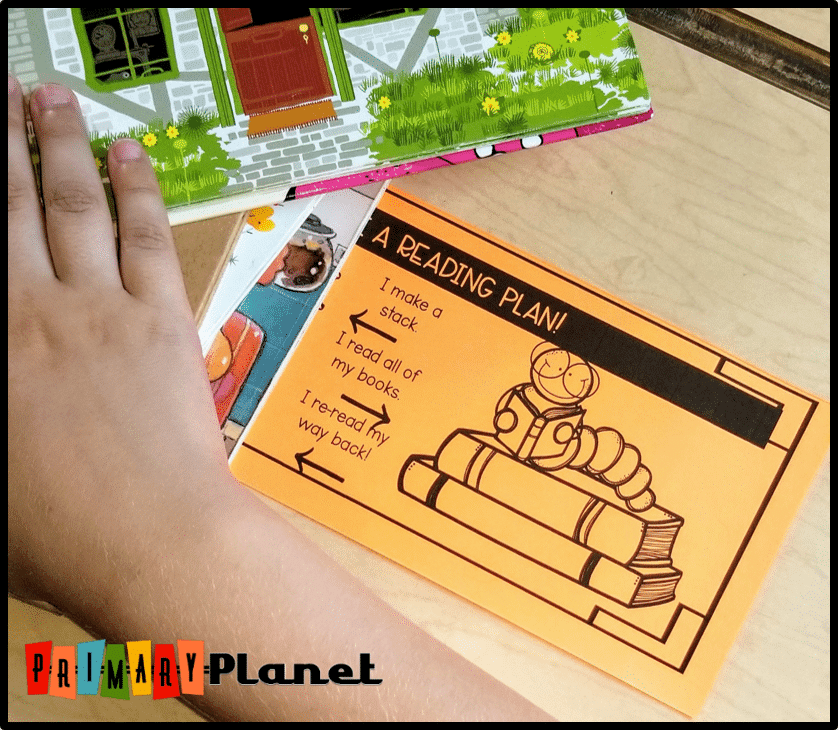 This bookmark is part of my Reading Goal Checklist Bookmarks!  You can learn more about them HERE, or click the video to see more!
music in video: Rainbows Kevin MacLeod (incompetech.com)
Last, but not least: Be consistent.
If your students aren't doing it the way that you want them to, stop them and try again.
They will need lots of practice, but it will be worth it!
Looking for the Daily 5 book?  I couldn't teach without it!  You can find it here (this is an affiliate link. By purchasing an item on the Amazon site using these links, I will receive a small commission on your purchase (with no extra cost to you).
I have also included a few other things to help make Building Reading Stamina a little easier with your kiddos!  In the zip file you will find ALL of these Building Stamina Resources:
Stamina Poster

Stamina Graph

Stamina Reading Goal Checklist Bookmark

Stamina Reading Goal Checklist Anchor Chart and Notebook page

Stamina Reading Conference Labels

Digital Stamina Reading Goal Checklist Notebook page
CLICK HERE TO GET YOUR AMAZING FREEBIE!
These are all part of my Complete Reading Goal Checklist Bundle:
Get your freebies now, or Pin for later:
Like what you see?  Sign up for my newsletter and don't miss a thing!
Thanks so much for stopping by!  I hope to see you again soon! Happy Teaching!
Sours: https://theprimaryplanet.com/building-reading-stamina/
9384
9385
9386
9387
9388